Easy Keto Pizza Roll-Ups | Genius 2-Ingredient Snack Idea
When you're craving pizza, keto pizza roll-ups are the answer!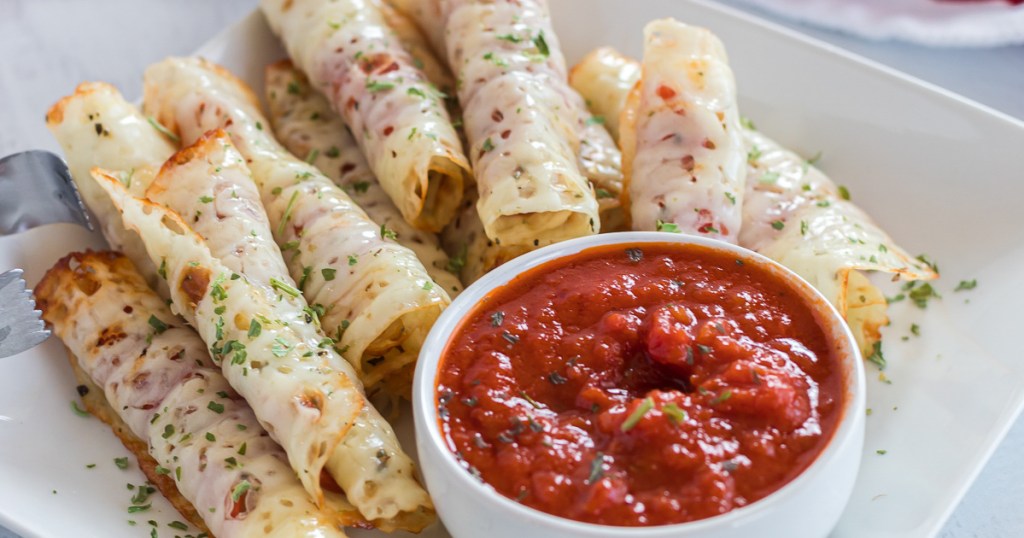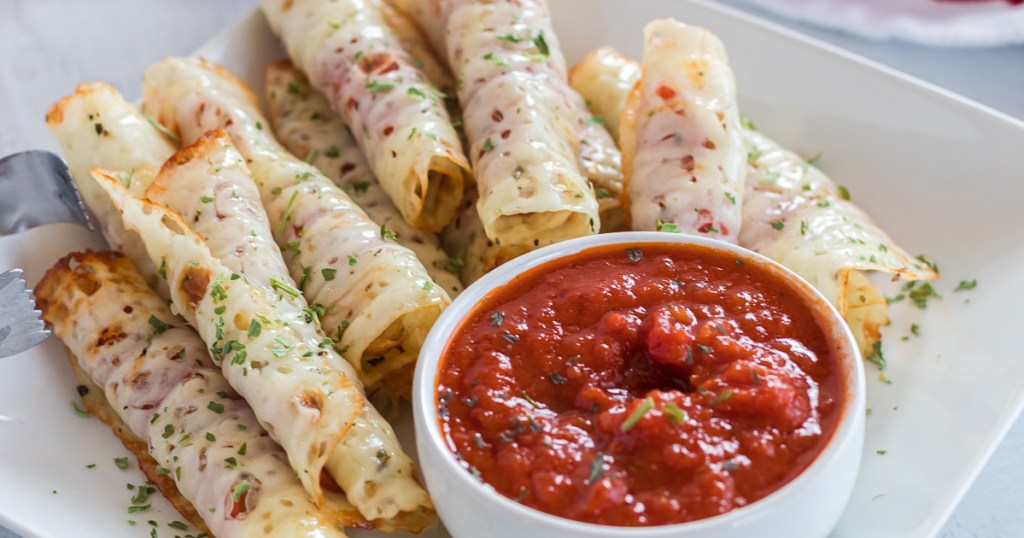 Need a super simple keto snack idea?
These keto pizza roll-ups are one of our most popular recipe hacks! They're really easy and quick to make – and oh SO good. When those pizza cravings hit, you'll be set with this recipe. It totally hits the spot, and all you need is a couple of basic ingredients that you may already have on hand. If you've got cheese and pepperoni, you can make keto pizza roll-ups! 🍕
That's right… we only used TWO ingredients!
This recipe is extremely versatile because whatever pizza toppings you love would make great additions to this simple pizza canvas!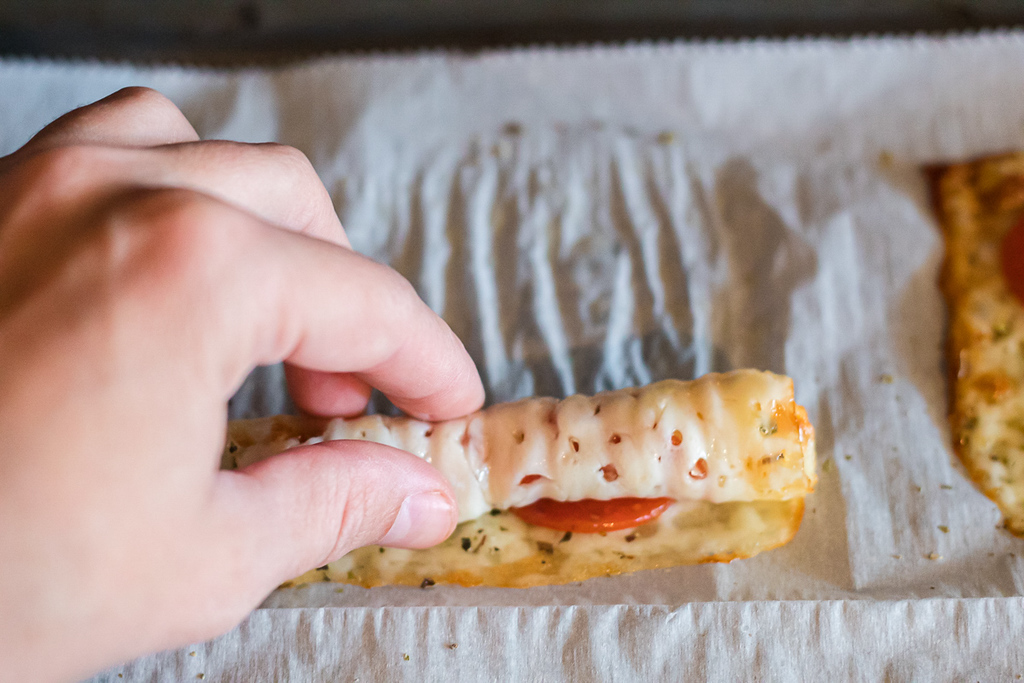 Make this snack your own. 👏
Have fun with various kinds of cheese! I used mozzarella, a classic staple to pizzas, but provolone would probably be just as delicious. Make sure you let the cheese cool slightly before removing it from your baking sheet to make it easier to handle and roll.
Not a meat eater? No problem! Try using green pepper, onion, thinly sliced mushrooms, and tomatoes. The topping options (or should we say filling options) truly are endless!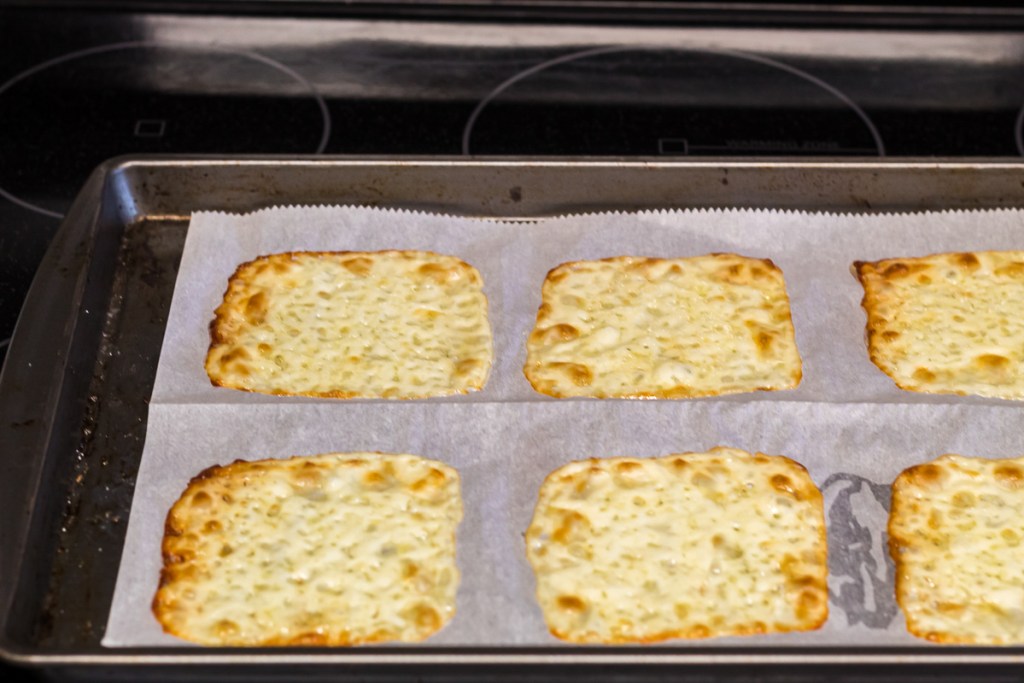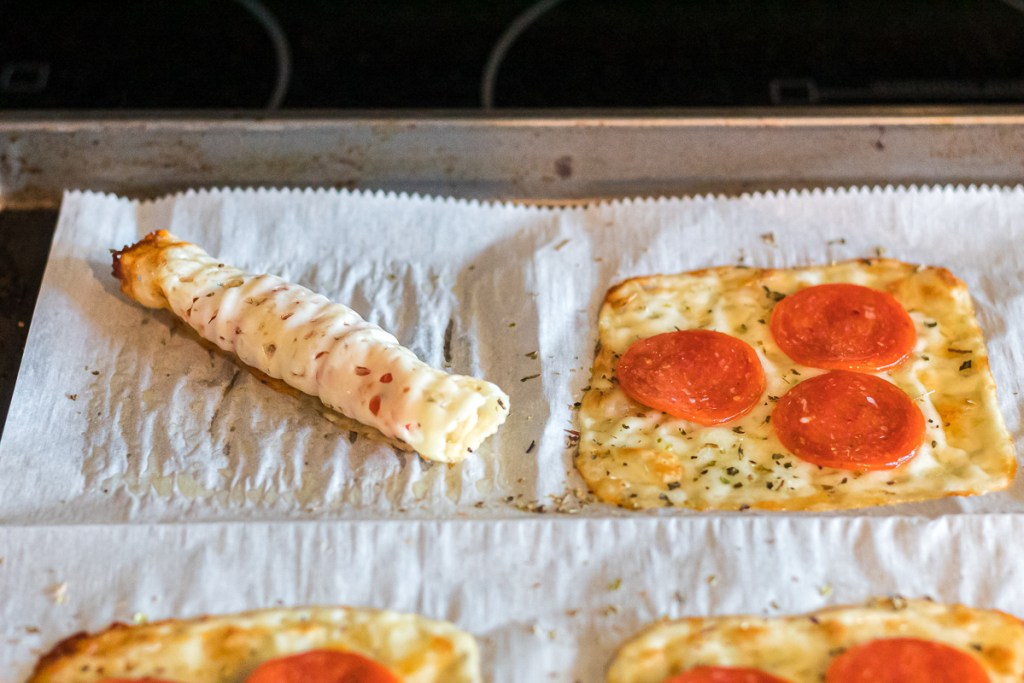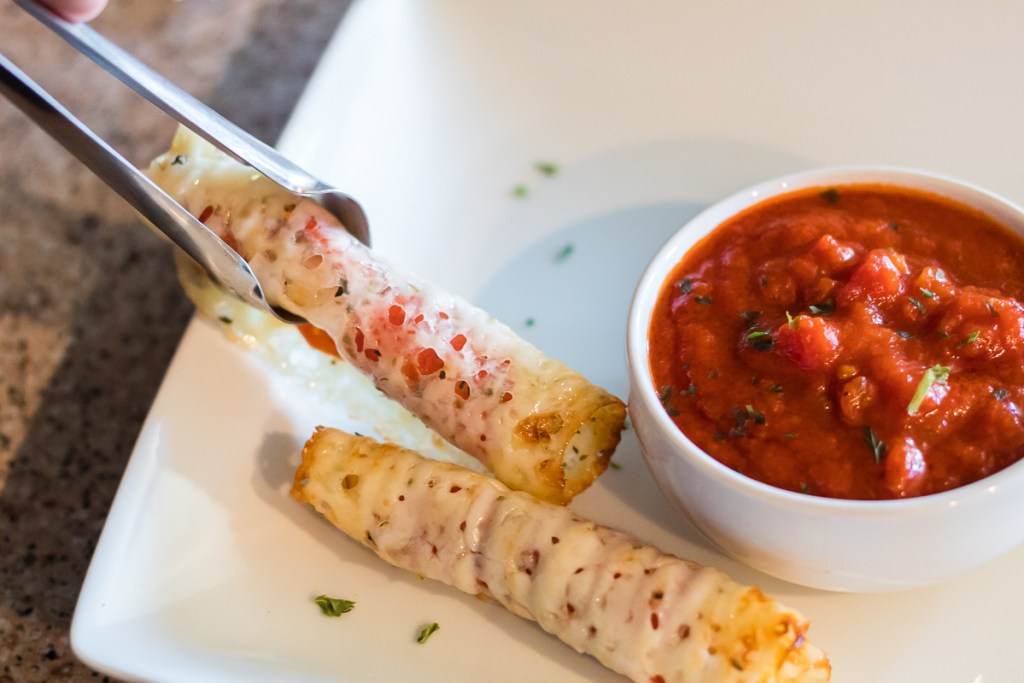 ---
Print
Keto Pizza Roll-Ups
yield: 11 SERVINGS
prep time: 2 MINUTES
cook time: 6 MINUTES
total time: 8 MINUTES
When you're craving pizza, these low-carb pizza roll-ups are the answer!
Ingredients
11 slices of mozzarella cheese
mini pepperoni slices
Italian seasoning (optional)
marinara or keto dipping sauce
Directions
1
Preheat oven to 400 degrees.
2
Line a cookie sheet with parchment paper. Place sliced cheese (shredded works, too) on parchment paper to avoid any sticking. Put in the oven for 6 minutes or until cheese slices start to brown around the edges. Remove from the oven.
3
If desired, sprinkle Italian seasoning on melted cheese and add as little or as much pepperoni as you would like. I did 3 mini slices per cheese slice.
4
Give the cheese about 2 minutes to cool, then gently roll them up and serve. Enjoy!
Additional Notes
Nutritional Values below are for the keto pizza roll-up itself, not the dipping sauce as so many sauces vary in nutrition.
Nutrition Information
Yield: 11, Serving Size: 1
Amount Per Serving: 73 Calories | 5.2g Fat | 0g Total Carbs | 0g Fiber | 6.5g Protein | 0g Net Carbs
---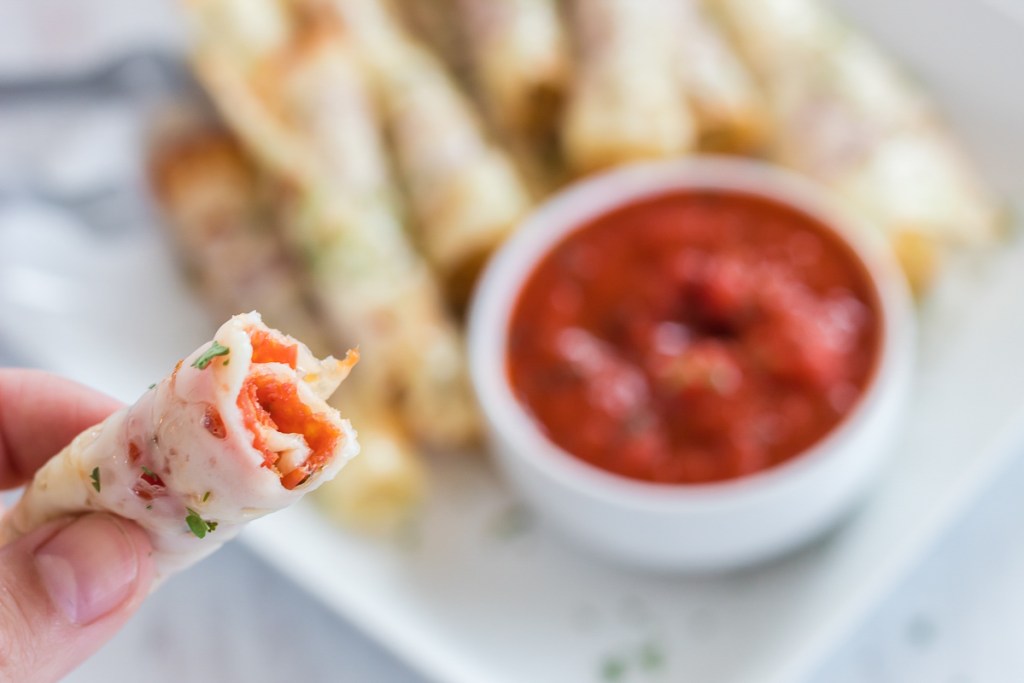 Hip Tips for making easy keto pizza roll ups:
I used sliced mozzarella but you can use whatever cheese slices you already have in your fridge.
Adding a sprinkle of Italian seasoning really gives it the pop of pizza flavor.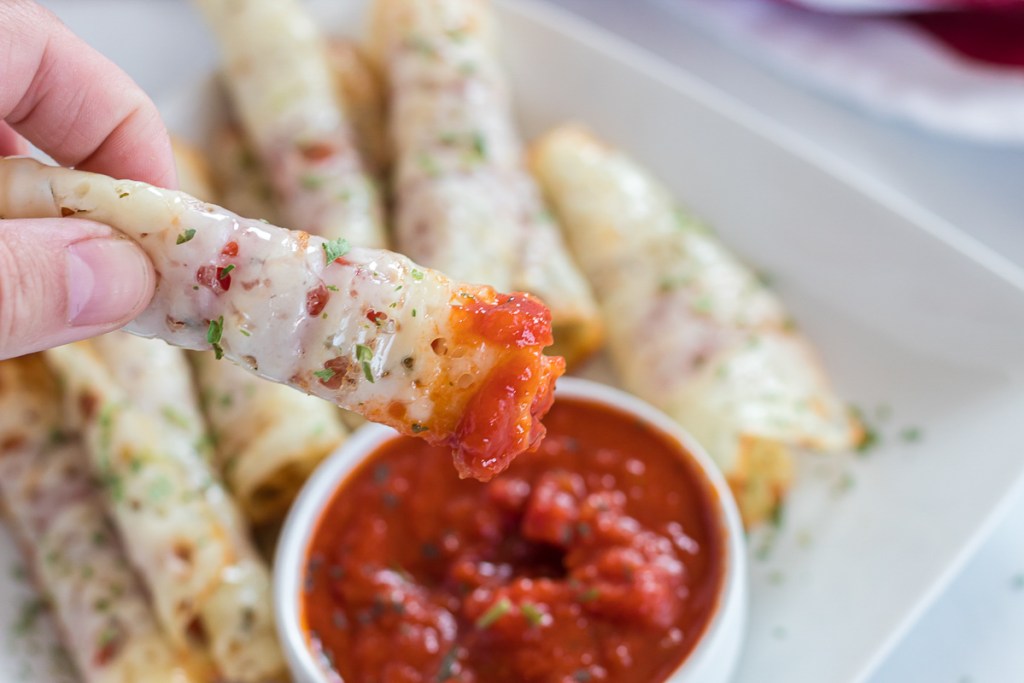 Now you have the perfect snack!
Crispy edges with a soft and warm center. Now that I've enjoyed this, I don't think I'll ever go without this snack on a weekly basis!
Enjoy these for movie nights or whenever the craving strikes! These would also be perfect for your kiddos because who doesn't love anything related to pizza? 😉🍕
---
Love dipping recipes? Try our keto buttery garlic breadsticks next!