Keto Sausage Crust Pizza | Yep, You Read That Right… SAUSAGE CRUST!
It doesn't get any better than this keto sausage crust pizza!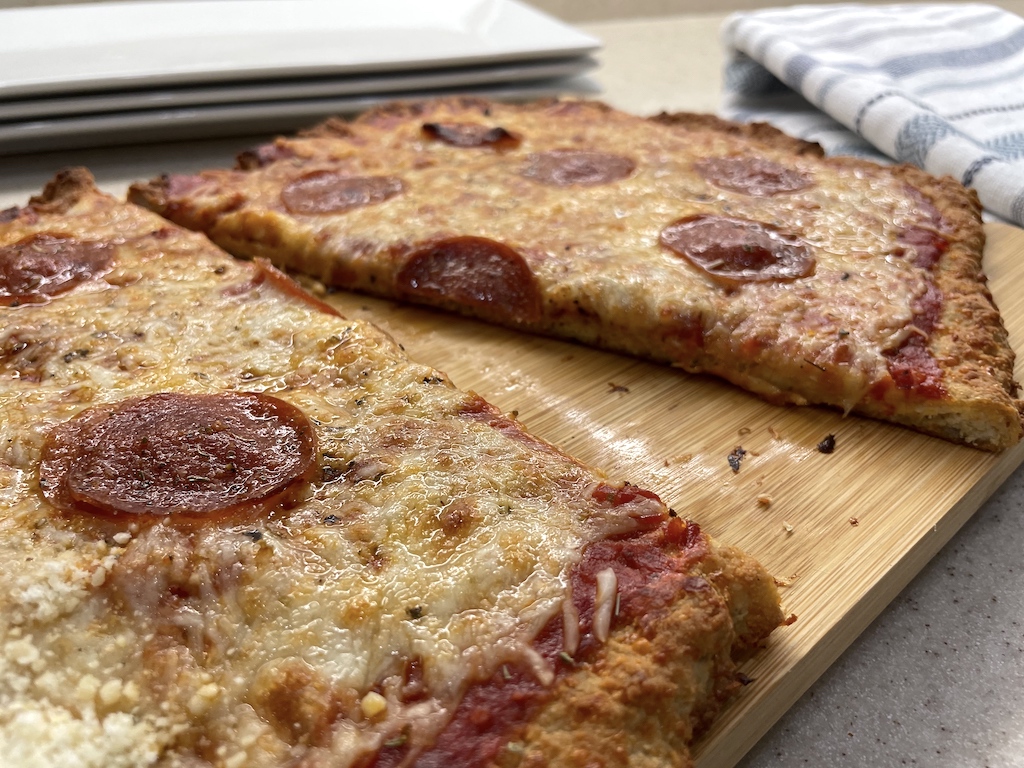 Mama Mia! 🤌 This pizza is outrageous!
Keto sausage crust pizza is stepping your pizza game up several thousand notches. Imagine Fathead dough, but with ground Italian sausage mixed into the dough. Hello, pizza heaven! 🍕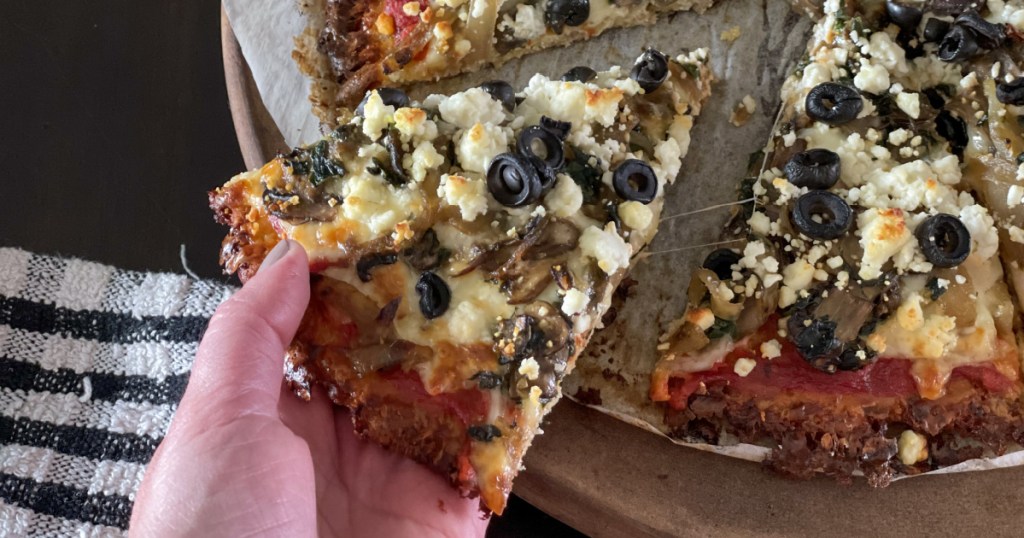 One of the pizzas I made (as pictured above) not only has sausage, mozzarella, and parmesan in the crust but I topped it with mozzarella, caramelized onions, sautéd mushrooms, garlic, and spinach. Oh, and don't forget the olives and goat cheese. Is your mouth starting to water yet?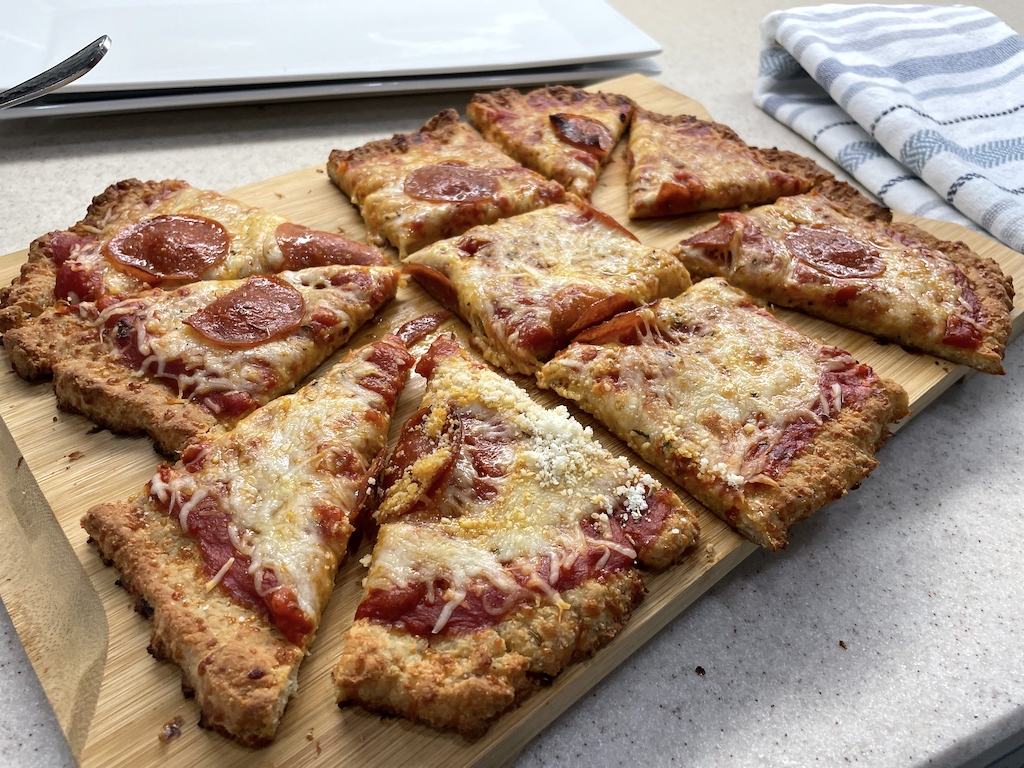 This crust is amazing for ALL pizza varieties so use whatever toppings you and your family love most for the best keto pizza night yet! My team member, Erica, topped her sausage crust pizza with pepperoni and her kiddos ate it up. 🍕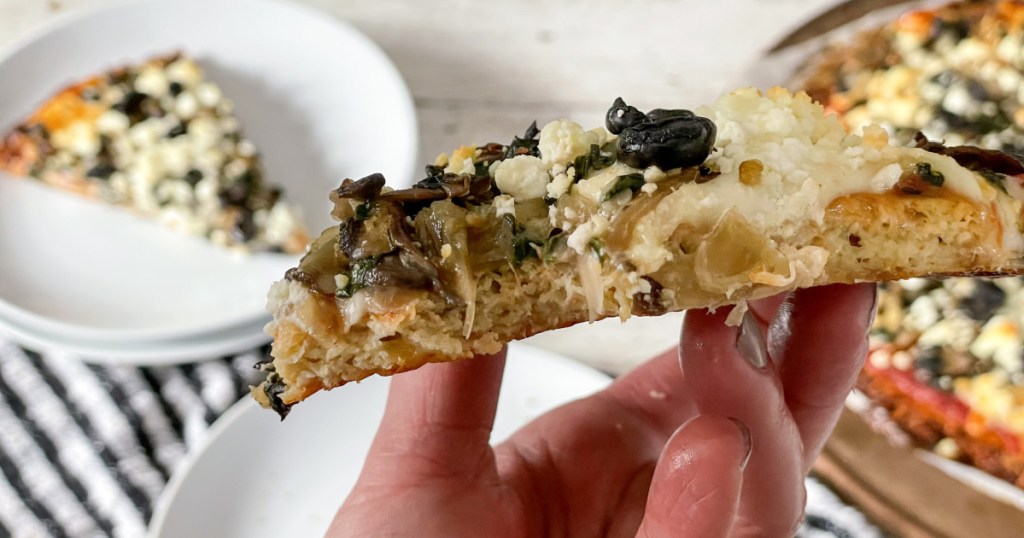 Is it possible to have a love affair with pizza?
Pizza is one of my favorite foods, but before going keto, I always felt terrible after eating it. My life changed when I discovered Fathead dough and the other keto pizza crust options.
To keep the carbs low with this pizza, I used a no-sugar-added marinara sauce. There are quite a few keto-friendly marinara sauces available. It's impossible to have a zero-carb marinara as tomatoes contain natural sugars, so you just want to make sure you're avoiding those sneaky added sugars.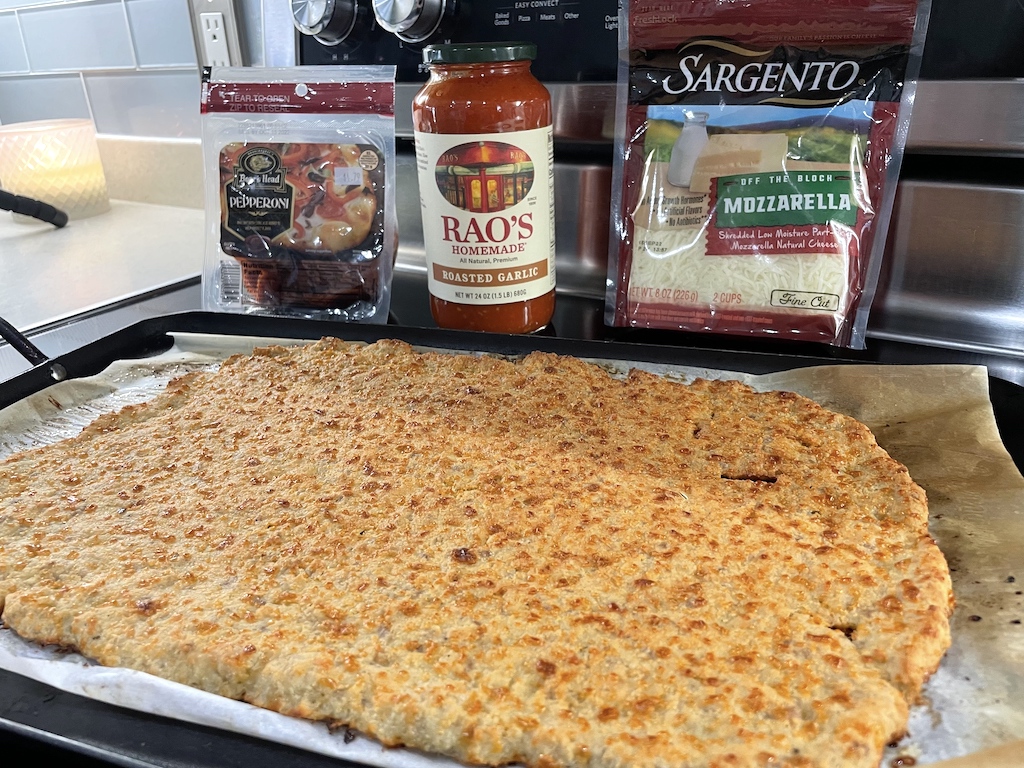 Tips for making the best keto sausage crust pizza:
Try to get your sausage crust pretty thin, about a 1/4-inch thick, as this will help it crisp up when you bake it. The crust is baked before adding toppings.
Broil both sides of the crust to also help crisp it up. If you don't broil both sides, it'll likely end up flimsy and become a "fork and knife" kind of pizza. Just be careful when you flip the crust over so that it doesn't break.
You can use any of your favorite pizza toppings and make this pizza your own! I listed the toppings as optional. It's great with even simple marinara, pepperoni, and mozzarella. Note that the baking time after you top it will be different depending on what toppings you use.
I ended up using 1 pound of whole milk low-moisture mozzarella cheese for both the crust and topping. I generally prefer to shred the cheese myself as pre-shredded cheese usually has a starchy coating on it to keep the cheese from sticking together.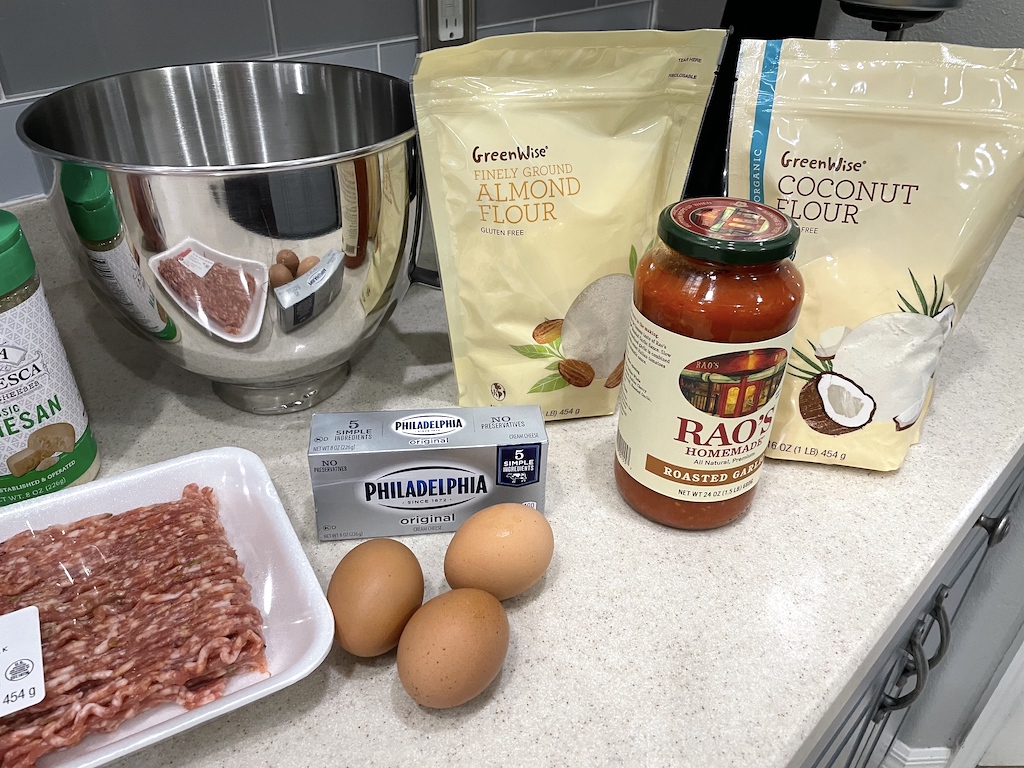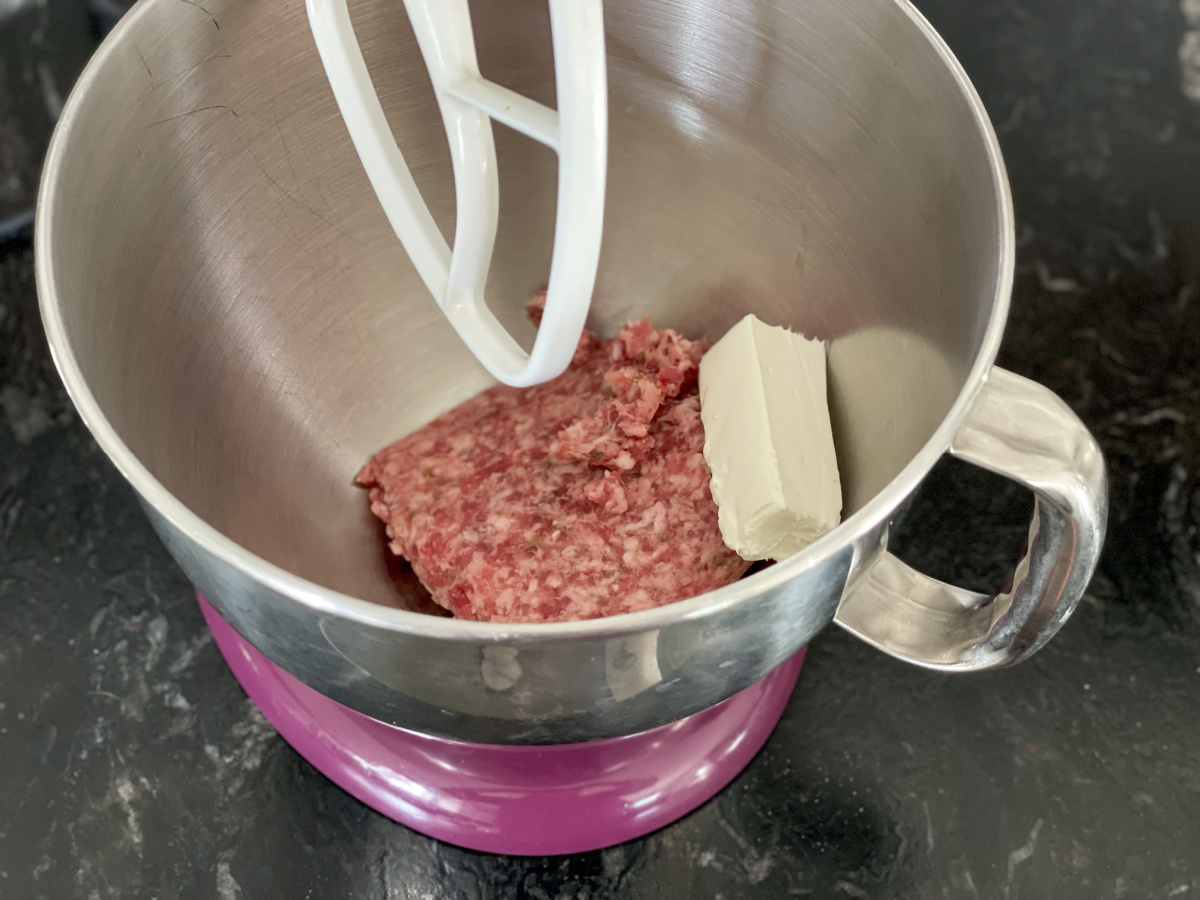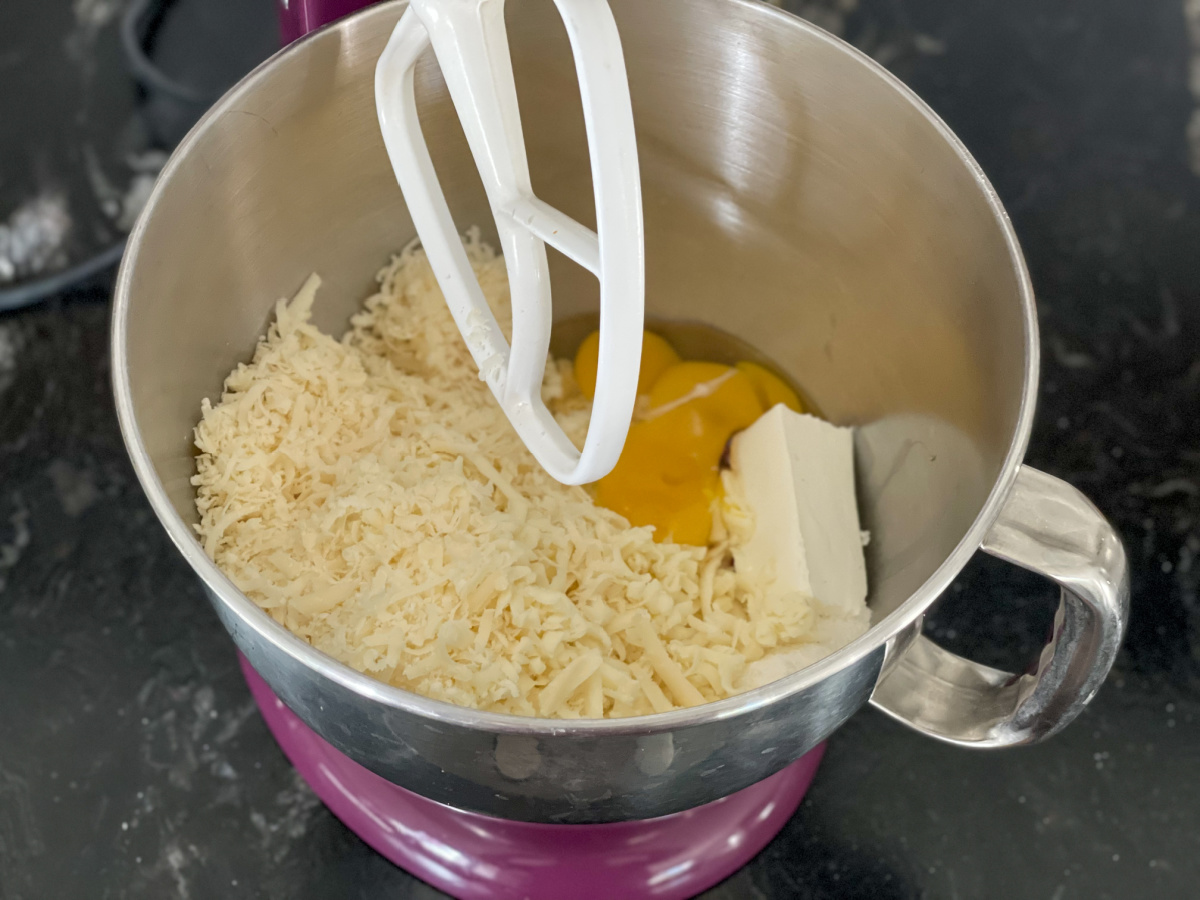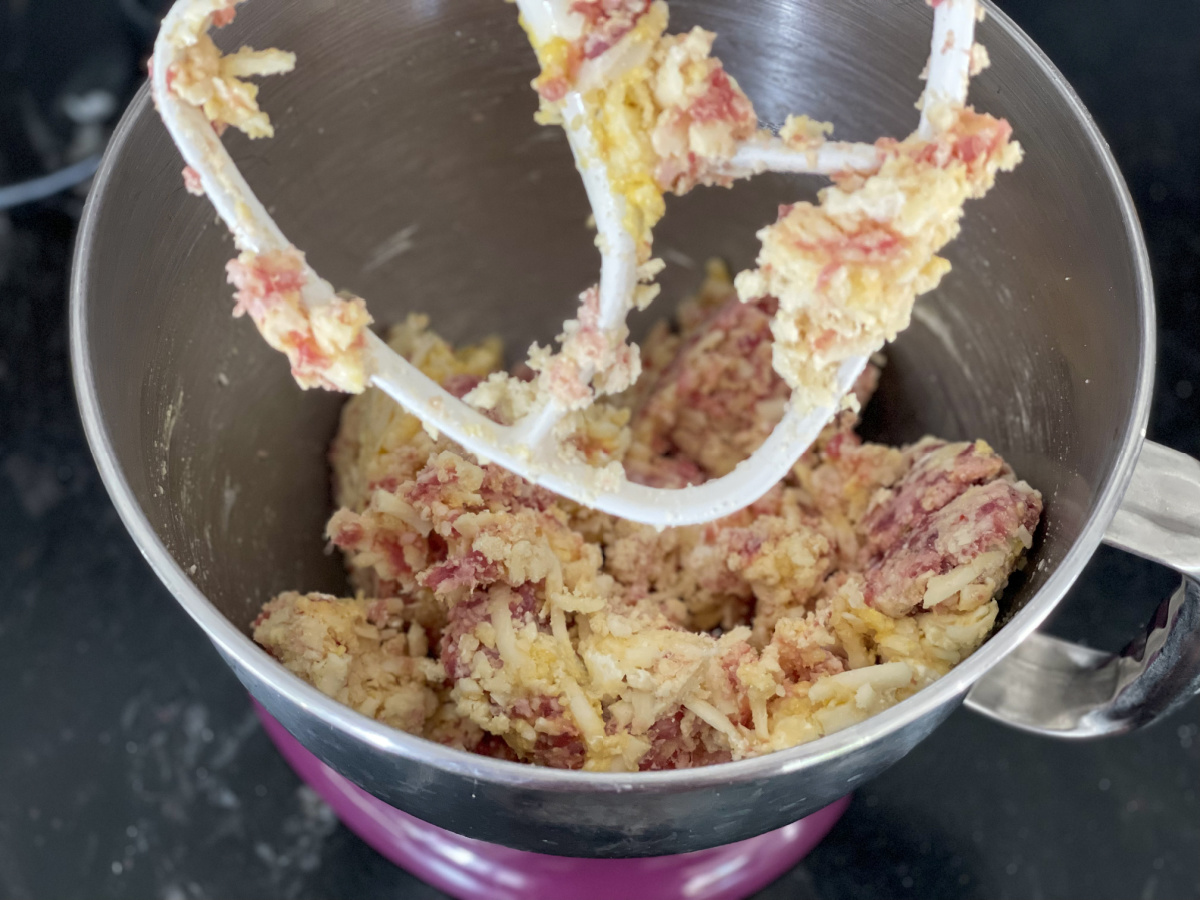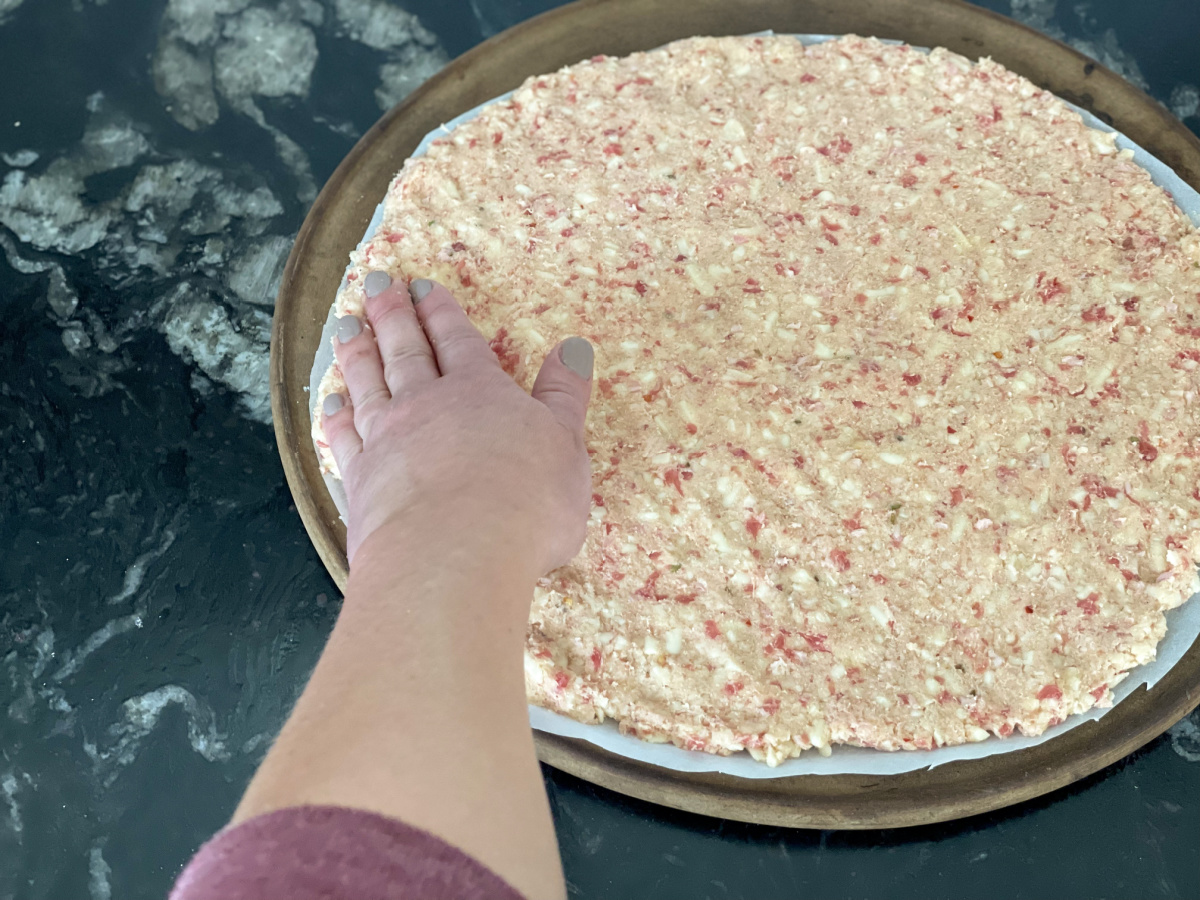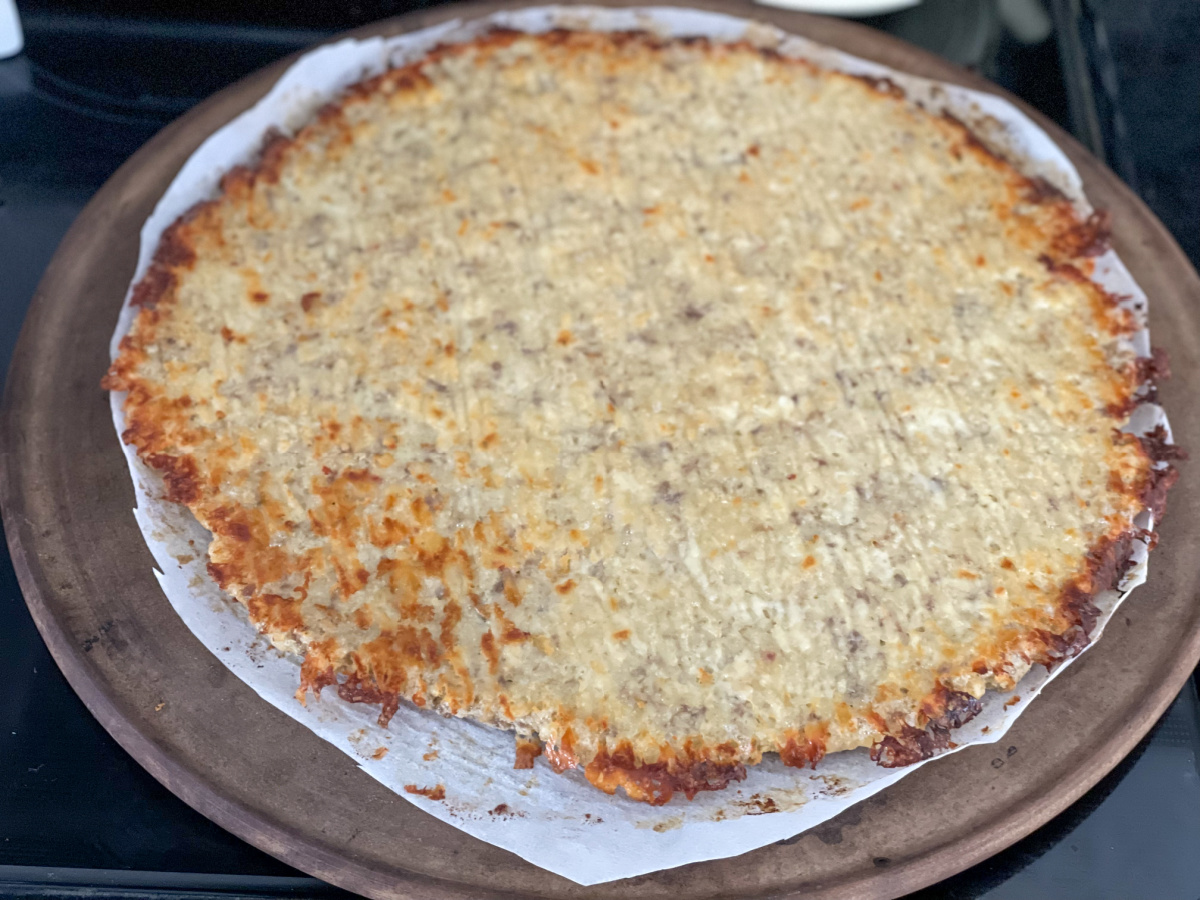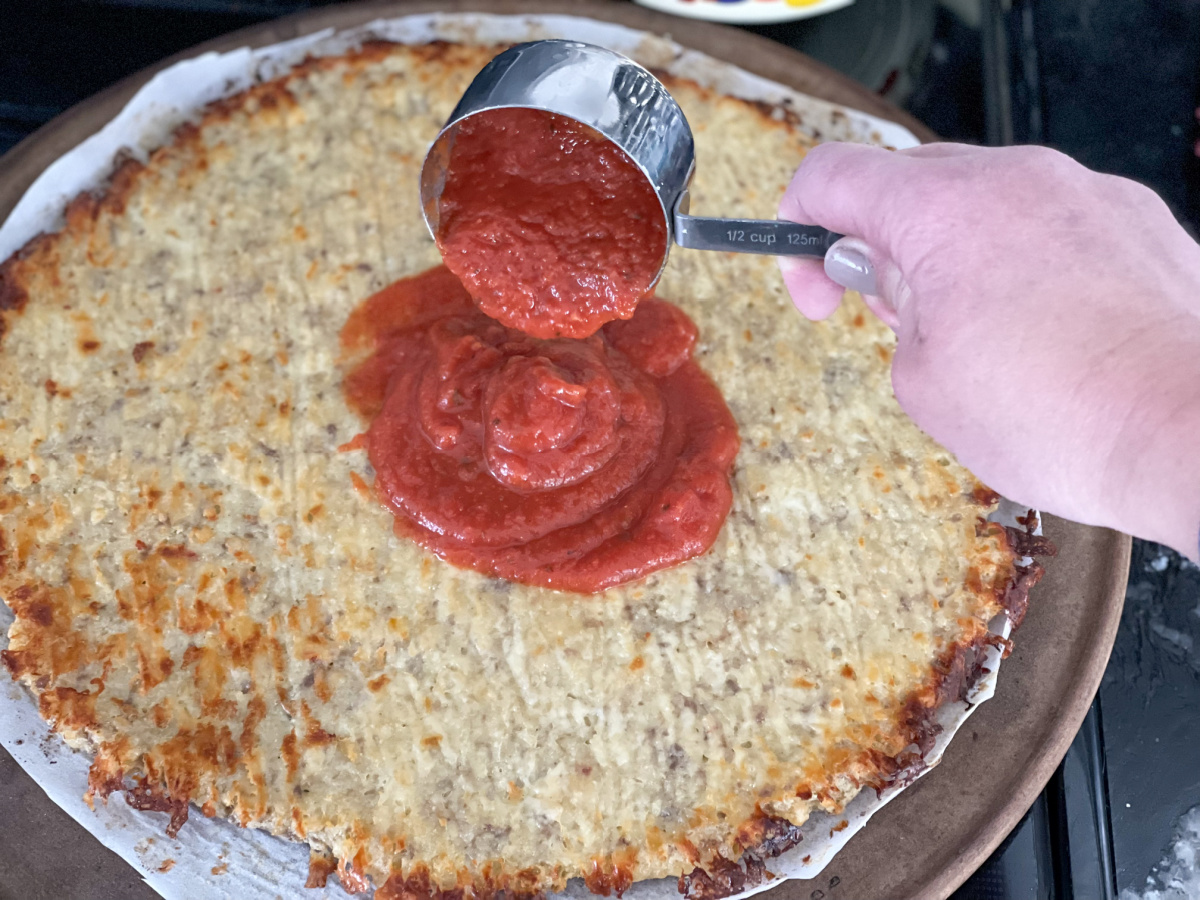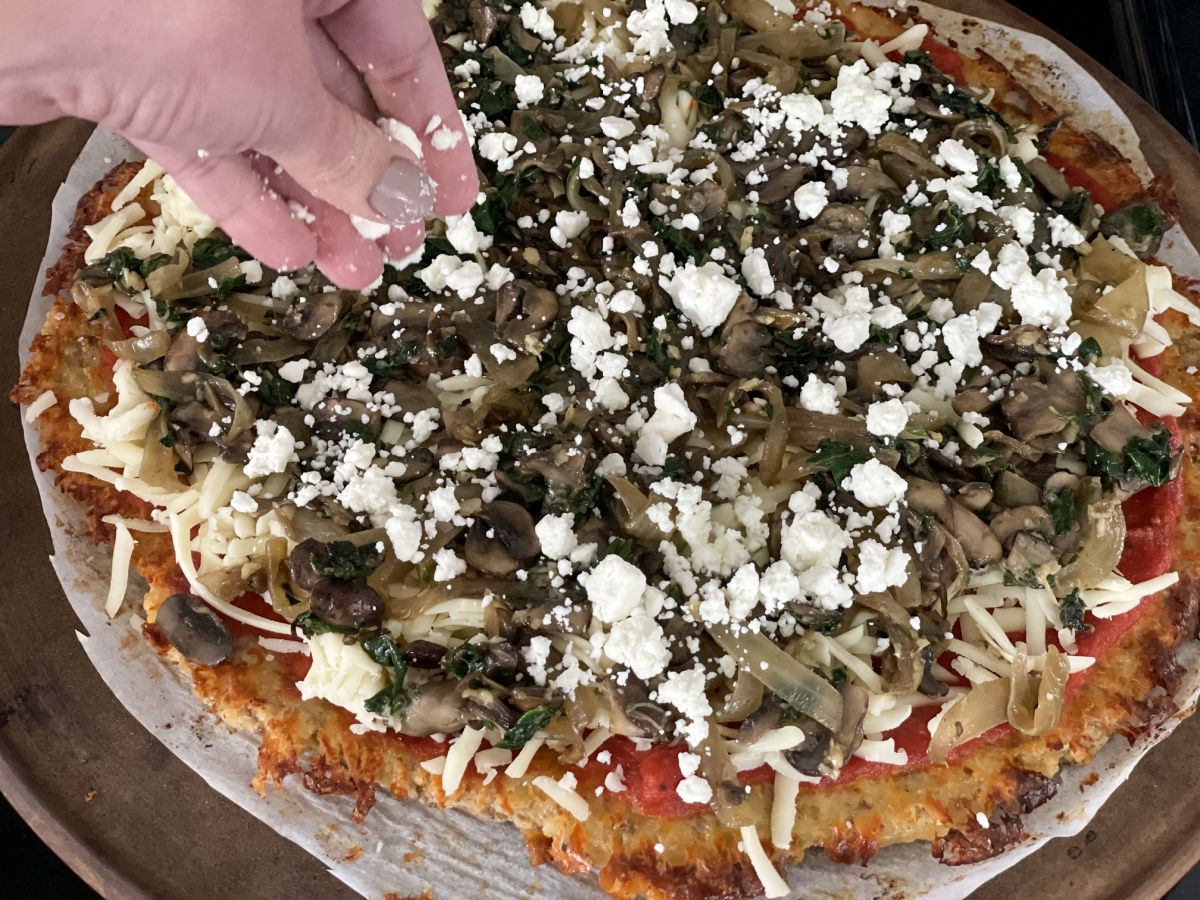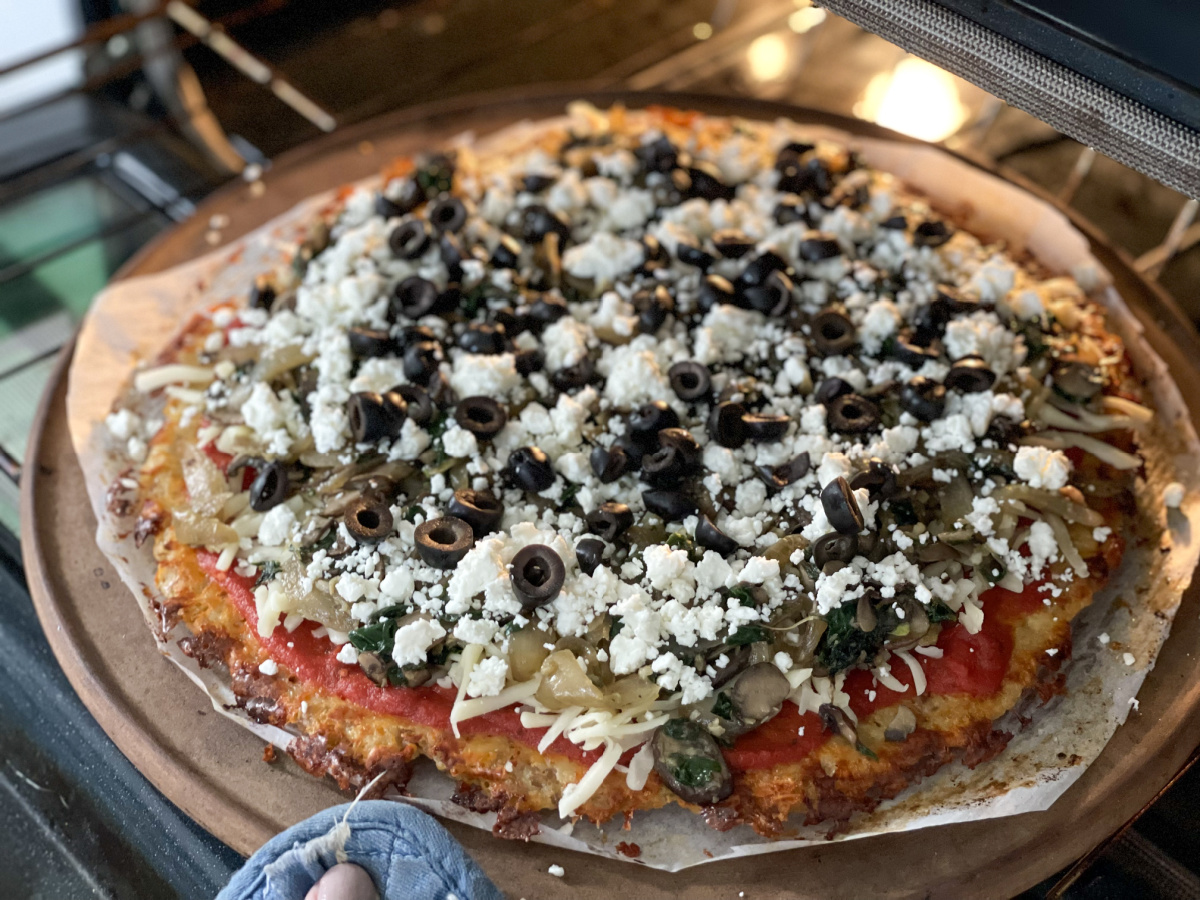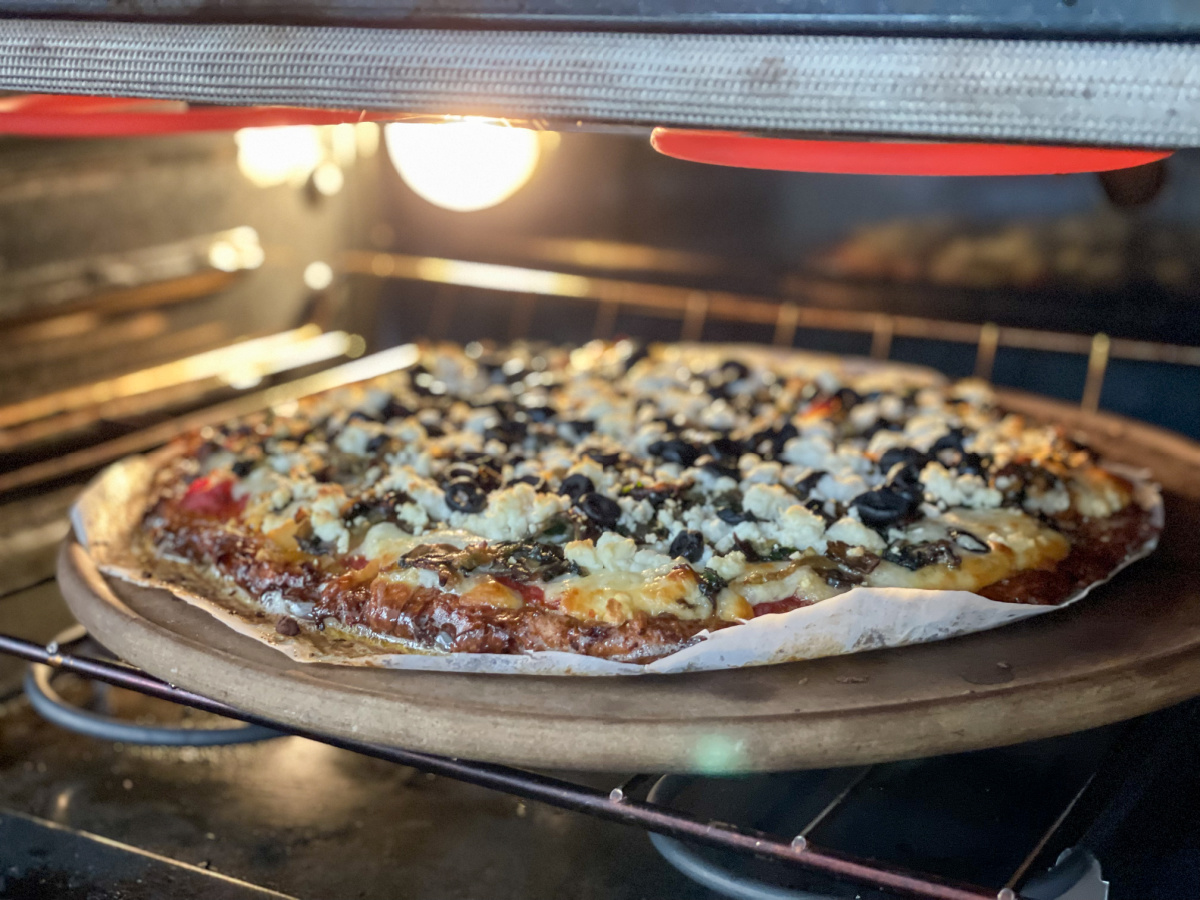 ---
Print
Keto Sausage Crust Pizza
yield: 8 SERVINGS
prep time: 30 MINUTES
cook time: 30 MINUTES
total time: 60 MINUTES
Savory pizza crust made with sausage, almond flour, and cheese.
Ingredients
Sausage Crust:
1/2 pound mild Italian sausage
2 tablespoons full-fat cream cheese
1 1/2 cups mozzarella cheese, shredded
1/2 cup parmesan cheese
2 eggs
Toppings (optional, or use your favorite pizza toppings):
1 tablespoon olive oil
1 medium onion, thinly sliced
8 oz. baby Bella mushrooms, thinly sliced
5 garlic cloves, minced
1 cup fresh spinach, stems removed, roughly chopped
2 cups mozzarella cheese, shredded
1 - 2.25 oz. can sliced black olives, drained
4 oz. goat cheese or 1 cup shredded parmesan
Directions
1
Preheat oven to 375 degrees. Line a pizza stone or 9x13-inch baking sheet with parchment paper.
2
To make the crust:
Using an electric mixer, mix together raw sausage, cream cheese, almond flour, coconut flour, mozzarella cheese, parmesan cheese, and eggs. Beat until well combined. You can also mix this by hand with a spoon or even use your hands.
3
Spread the sausage crust out on the prepared pizza stone or baking sheet. Depending on the size of your pizza stone, the crust should almost reach the edges. It'll end up being about a 1/4-inch thick or just under.
4
Bake the sausage crust for 10 to 12 minutes. Then turn your oven to broil and broil for 2 to 3 minutes, until lightly browned. Remove from the oven and let cool for about 5 minutes or until you can safely handle it.
5
Carefully flip the crust over so that you can broil the other side. Broil the other side for 2 to 3 minutes until lightly browned. Then remove from the oven and set aside until ready to add toppings. Turn the oven back to 375 degrees.
6
To prepare the toppings (optional):
While the sausage crust is baking, prepare the toppings. Heat olive oil in a medium skillet over medium heat. Once hot, add the sliced onion and sauté for about 5 minutes until it starts to turn brown and caramelize.
Next, add the sliced mushrooms and sauté with the onions until soft, about 5 minutes. Add the garlic and spinach. Cook for another 2 to 3 minutes, until the spinach is wilted. Then remove from heat.
7
Assemble and cook pizza:
Spread the marinara sauce on the sausage crust. Then top with shredded mozzarella, the sautéed veggies, olives, and finally the goat cheese.
8
Bake the pizza for 20 to 25 minutes at 375, until the cheese has melted. Then broil for another 2 to 3 minutes to crisp up the toppings.
9
Let the pizza rest for at least 5 minutes before slicing into 8 pieces. The longer it rests, the firmer the crust will get. Enjoy!
Additional Notes
Nutrition Information with toppings: 509 Calories | 38.2g Fat | 13g Total Carbs | 4.5g Fiber | 3g Sugar | 27.7g Protein | 8.5g Net Carbs
Nutrition Information
Yield: 8 servings (crust only), Serving Size: 1 slice pizza crust
Amount Per Serving: 321 Calories | 24.9g Fat | 6.6g Total Carbs | 3g Fiber | 1.7g Sugar | 16.9g Protein | 3.6g Net Carbs
---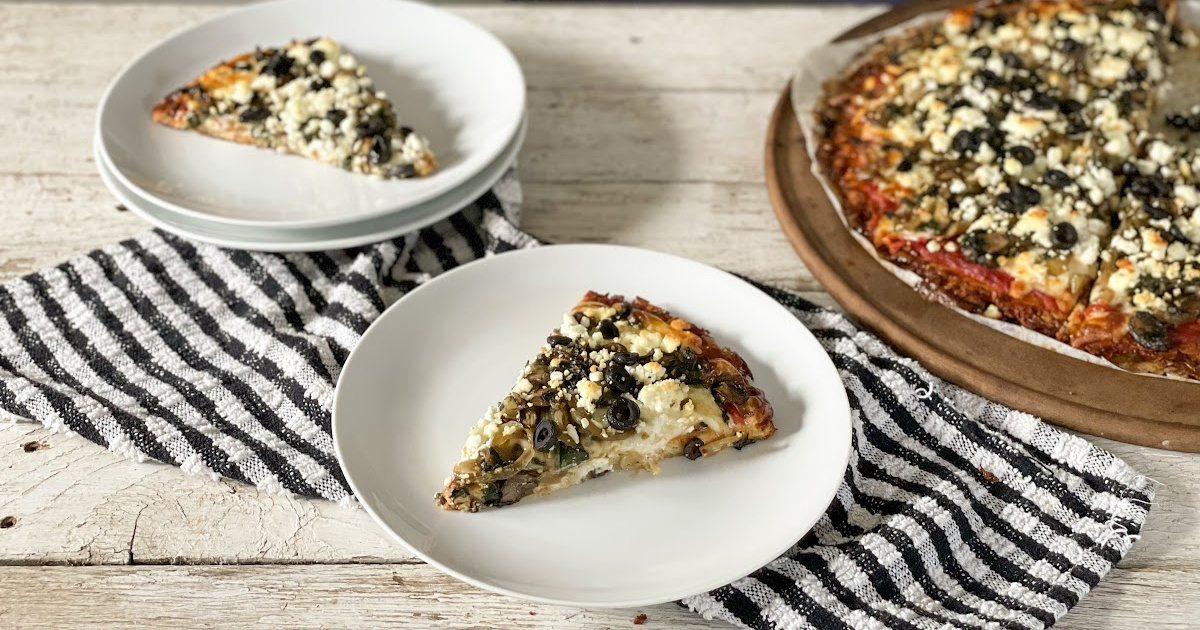 Keep your keto pizza game strong!
What better way to mix up your pizza crusts than by trying this keto sausage pizza crust. But we warned that you might never go back to any other keto pizza crust!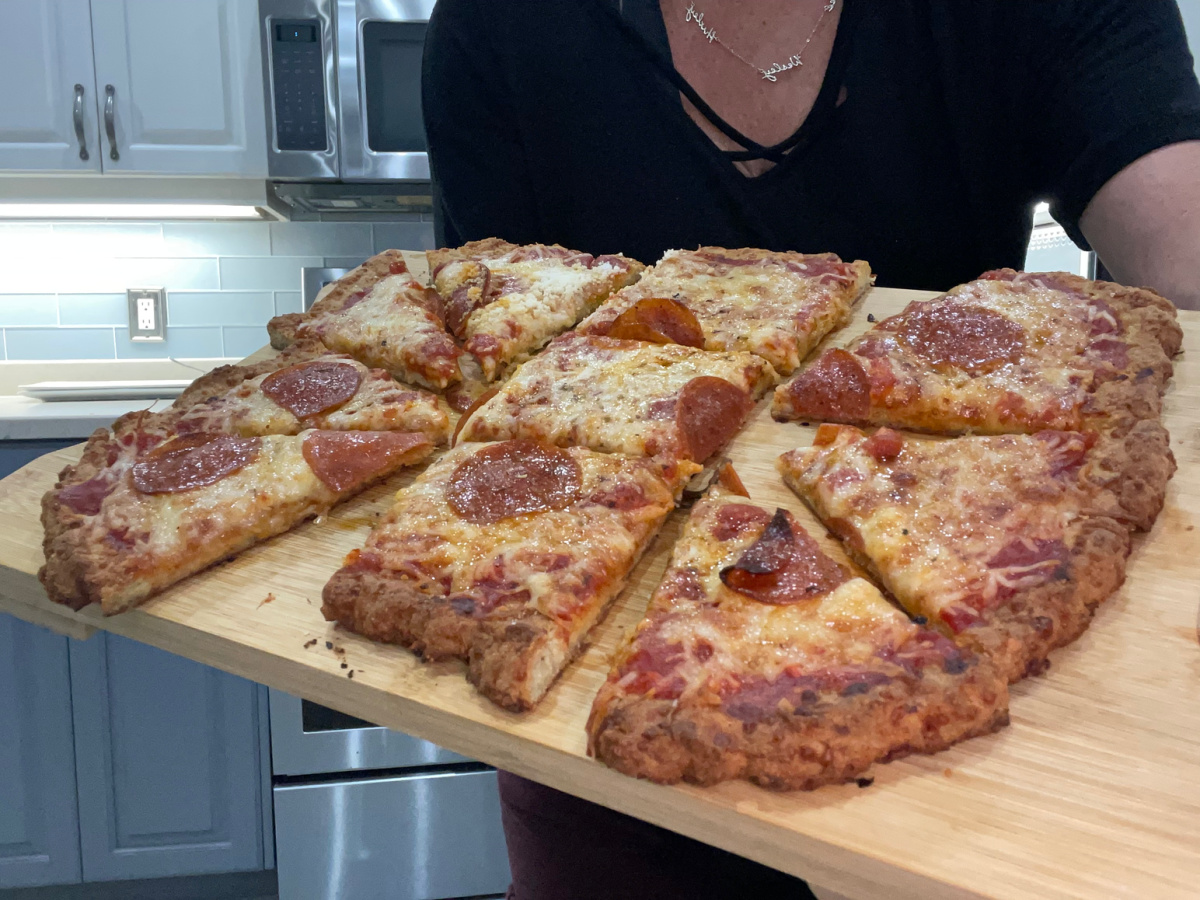 My Hip sidekick Erica had this to say about this keto sausage crust pizza:
"This has to be my favorite way to make pizza crust! It's so unique and puts off the slightest hint of yummy sausage! It also is not flimsy at all, especially if you broil both sides of the crust.
I chose to just add Rao's sauce, mozzarella, and pepperoni! It took about 10 minutes to bake with the topping on there and I did broil it for an additional 2 minutes at the end because I always like it when the cheese on my pizza is starting to brown. SO DELICIOUS! 😋"
---
Check out this keto zucchini pizza casserole recipe next!