Keto Broccoli Pizza Crust Recipe | Nut-Free & Gluten-Free
This nut-free keto broccoli pizza crust will have everyone loving pizza night. It's a great low-carb option for kids and adults alike!
This Broccoli Pizza Crust with all the greens is a win for everyone!
If you've been following a keto and/or low-carb diet for a while now, you are likely already familiar with Fat Head Pizza Crust and Cauliflower Pizza Crust. But did you know that you can also create a perfectly delicious pizza crust using green veggies like broccoli and spinach?!
I especially love that this gluten-free and nut-free pizza crust recipe requires fairly small amounts of chopped broccoli and chopped spinach. If you happen to have these veggies taking up space in your veggie drawer, now is the time to make use of them!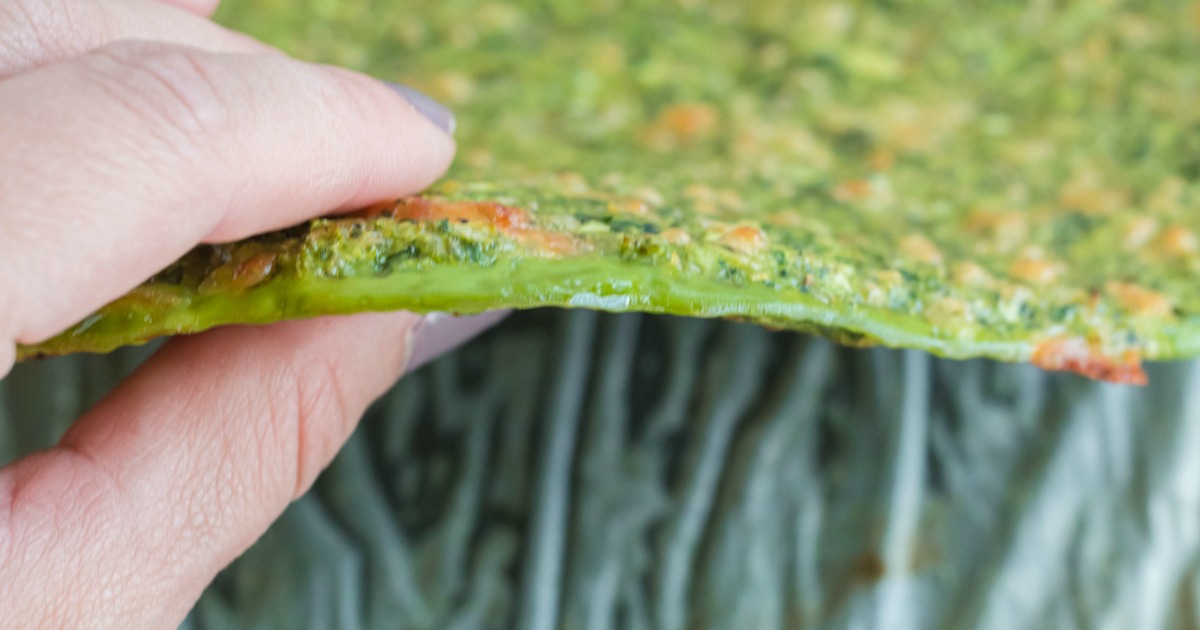 This broccoli crust pizza has a crisp edge but a soft center and it holds together really well unlike some other Keto crusts out there. It is also perfect for anyone who has a nut allergy since it does not contain any nut flours.
And the best part – this pizza dough can be made and served in under an hour. Plus, it's simple and everyone in my family LOVED it!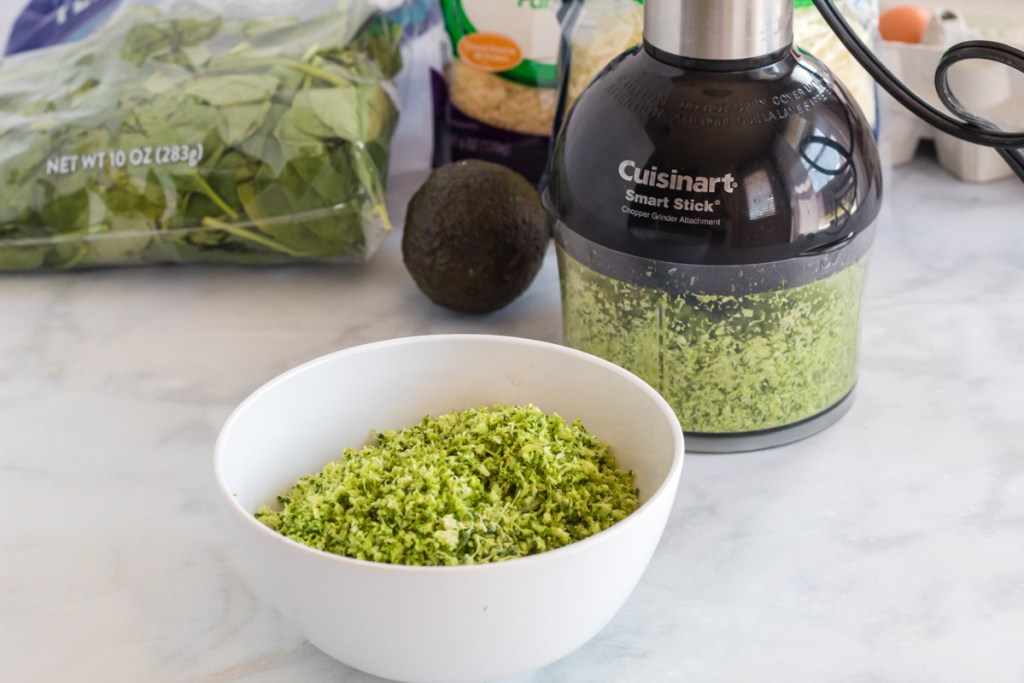 Tips for making the best broccoli crust pizza:
I have owned this Cuisinart Smart Stick Hand Blender for years and it is one of my favorite kitchen appliances! I used the chopper/grinder attachment for this recipe to quickly chop all the veggies!
When making this crust, it is very normal to have a lot of excess liquid appear as you begin to mix all the ingredients together. To remove this liquid, I suggest putting the mixture into a strainer or just scoop out your mixture from the bowl and onto the baking sheet using a slotted spoon.
Get creative with your pizza toppings! I like to raid my refrigerator to make use of leftovers. I found some of our Homemade Alfredo Sauce and a few pieces of rotisserie chicken so I was able to create an Alfredo Chicken Pizza with the broccoli crust! Oh my heaven, who says Keto can't be fun and delicious?!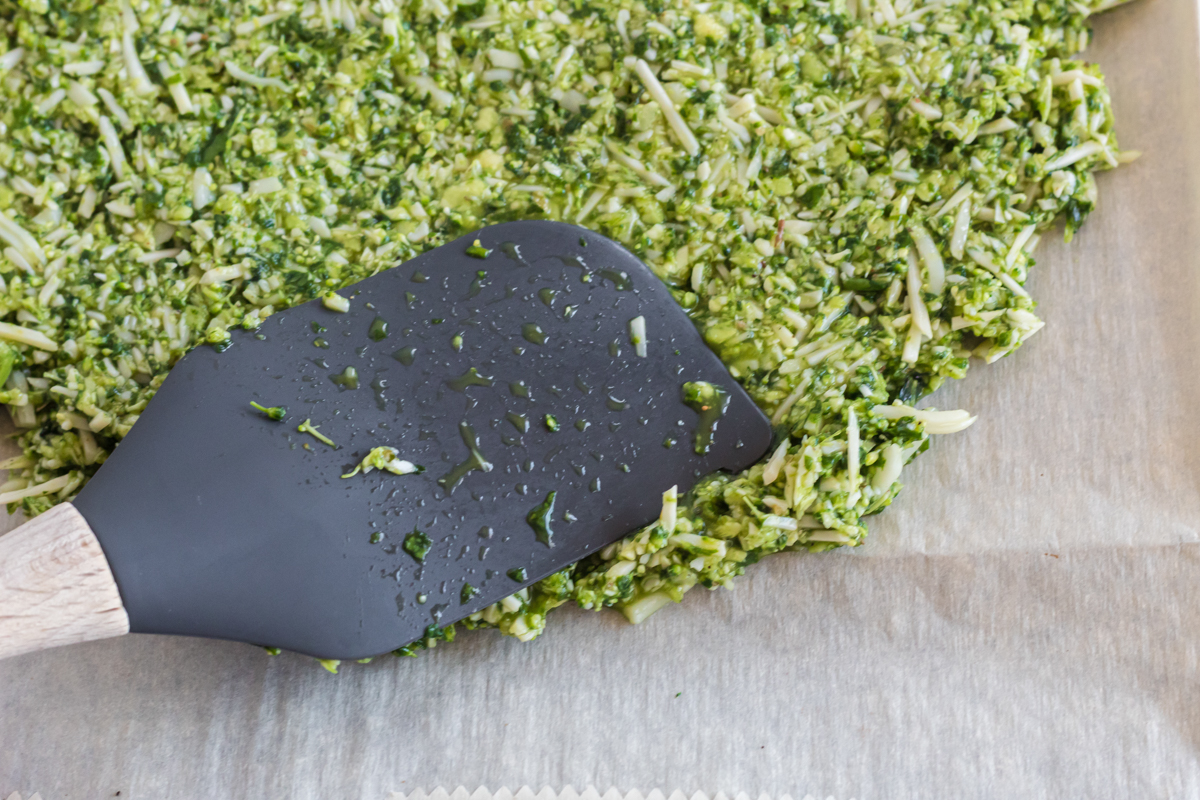 ---
Print
Keto Broccoli Pizza Crust Recipe
yield: 4 SERVINGS
prep time: 15 MINUTES
cook time: 30 MINUTES
total time: 45 MINUTES
Delicious pizza crust that's made with broccoli and both gluten-free and nut-free and just 2 net carbs per serving!
Ingredients
Pizza Crust:
1 cup chopped broccoli
1 cup chopped spinach
1 half of a diced avocado
3 eggs
1/3 cup mozzarella cheese, shredded
1/3 cup parmesan cheese, shredded
1/2 teaspoon garlic powder
1/2 teaspoon salt
1/2 teaspoon pepper
1/2 teaspoon Italian seasoning
Directions
1
Preheat the oven to 400 degrees. Line a baking sheet with parchment paper to avoid any sticking.
2
With a food processor or hand blender, chop up broccoli and spinach. Set aside.
3
In a large bowl, add ALL ingredients and mix together. Note that it is very normal to have a lot of excess liquid appear as you begin to mix the ingredients. See my Hip Tips above on how to remove the liquid.
4
Scoop out the mixture with a slotted spoon (to ensure the extra liquid is removed) and spread the mixture on the prepared baking sheet using a spatula and shape the mixture into a circle.
5
Bake for 15 minutes, remove from the oven and top with your favorite pizza toppings (see Hip Tips above for my topping ideas!). Bake for another 15 minutes. Remove and let cool for a few minutes before slicing. Enjoy!
Nutrition Information
Yield: 4 slices, Serving Size: 1 slice
Amount Per Serving: 162 Calories | 11.1g Fat | 4.9g Total Carbs | 2.1g Fiber | 0.9g Sugar | 11.7g Protein | 2.8g Net Carbs
---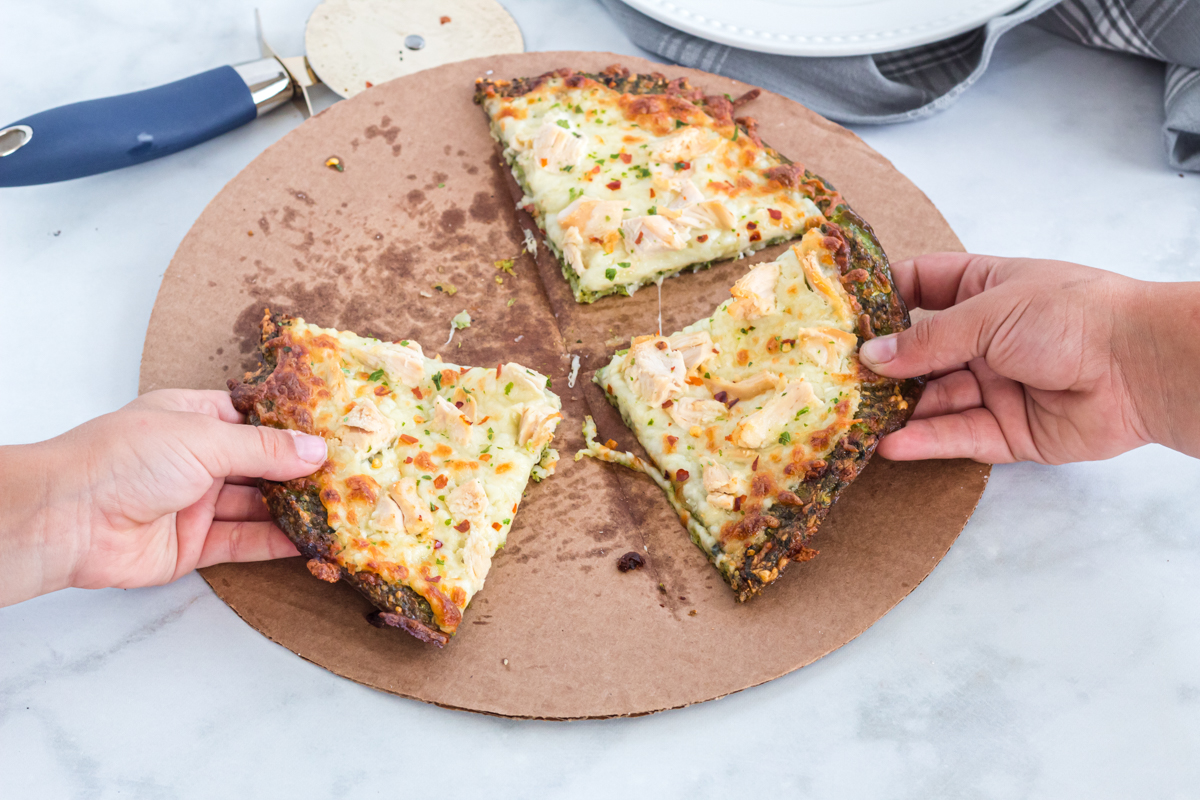 This broccoli crust pizza went fast at my house!
It was fun to come up with a new keto pizza crust recipe, especially one that's packed with veggies! I wasn't joking when I said this went fast at my house and even the kids liked it!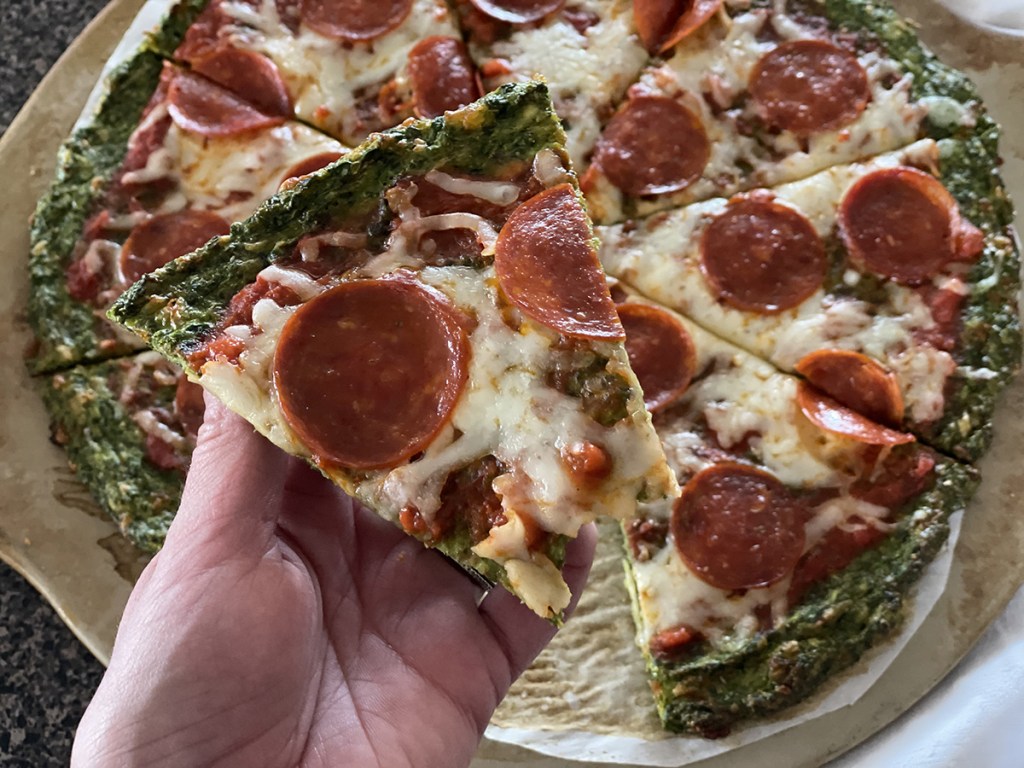 Here's what my Hip sidekick Emily had to say about this broccoli pizza crust:
"I love pizza and so it was really fun to test out something other than Fathead pizza. The best thing about this pizza crust is that it's super light and won't make you overly full. Some keto pizza crusts are so dense, that I feel stuffed after one piece! Also, any way to get in in more veggies is a win!"
---
Be sure to check out our Keto Italian Sausage Crust Pizza Recipe!