This Low Carb Fathead Pizza Dough Recipe is a Keto Game Changer!
Thanks to this fathead pizza dough recipe, I love pizza night again!
I know what you're thinking, pizza dough out of mozzarella cheese and almond flour?! This keto Fathead pizza crust recipe is super simple to make with just a few ingredients. Plus, the texture is not only chewy like normal pizza dough, but it's also sturdy enough to pick up a piece to eat! 🍕
Fathead Pizza is a very popular low-carb recipe idea online and is a favorite among several of my fellow Hip2Keto sidekicks, so I was excited to try it out!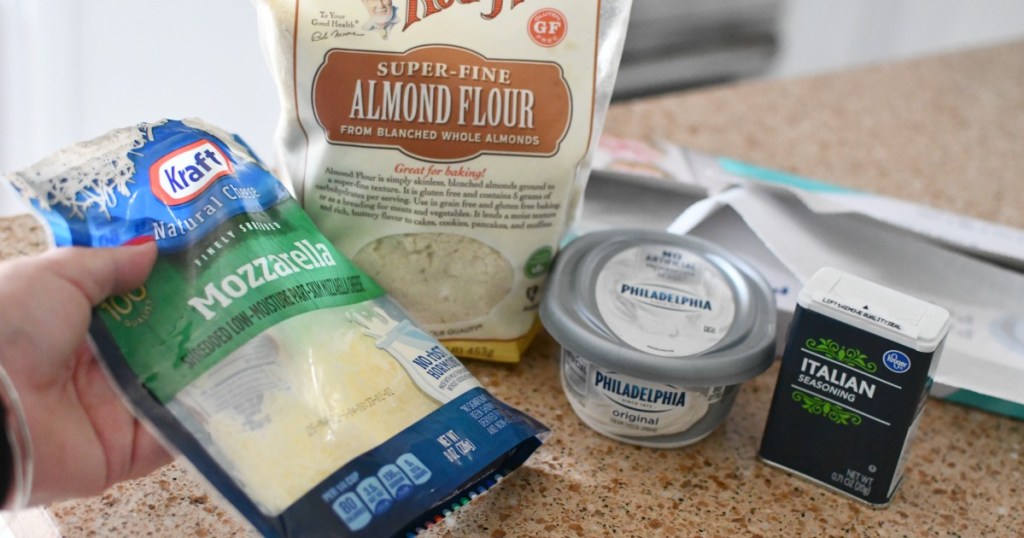 Hip tips for making Fathead Pizza Dough:
I diced bell peppers and mushrooms and sautéed them first on the stove before topping my pizza (just personal preference).
You can divide the dough and make smaller, personalized pizzas.
---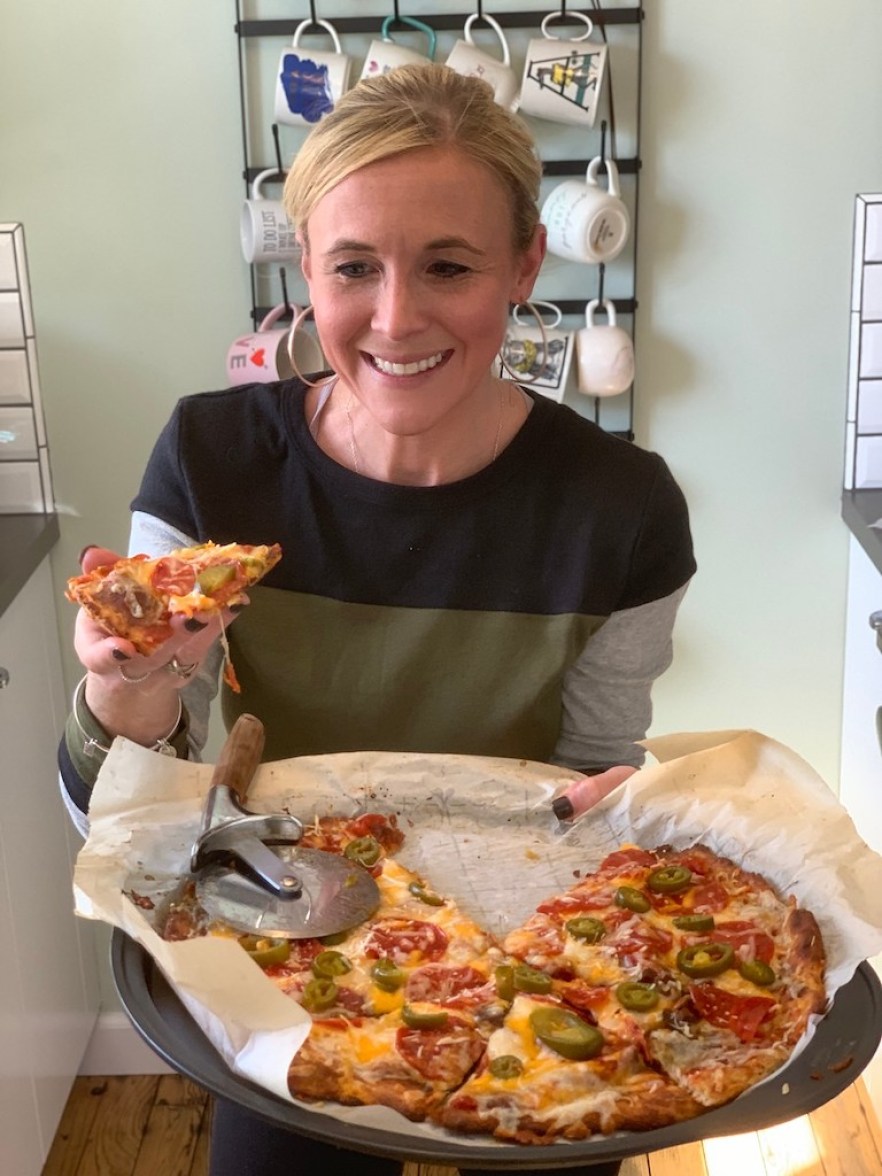 Collin's Fathead dough recipe tips:
Collin whipped this pizza up on Facebook alongside Stetson, and it's pretty clear how tasty it can be. She even shared some great tips to make it perfect!
Be sure to add seasonings (like garlic powder, Italian seasoning, and salt) to the crust to add a burst of additional pizza flavor.
Flatten out the dough on parchment paper, then put a lightly oiled piece of parchment paper over the top of the dough and press down with your hands versus a rolling pin. You can totally use a rolling pin like Lina does, however, I find using my hands helps to get the crust nice and thin which makes for a crispier crust.
Cook the crust to the point where it's well done (not burnt, but brown in spots) to make sure the base will be firm enough to support your favorite toppings.
Be sure to let the pizza rest before eating. If you like a pizza that you can pick up with your hands, then keep in mind that letting it rest will create a much firmer crust.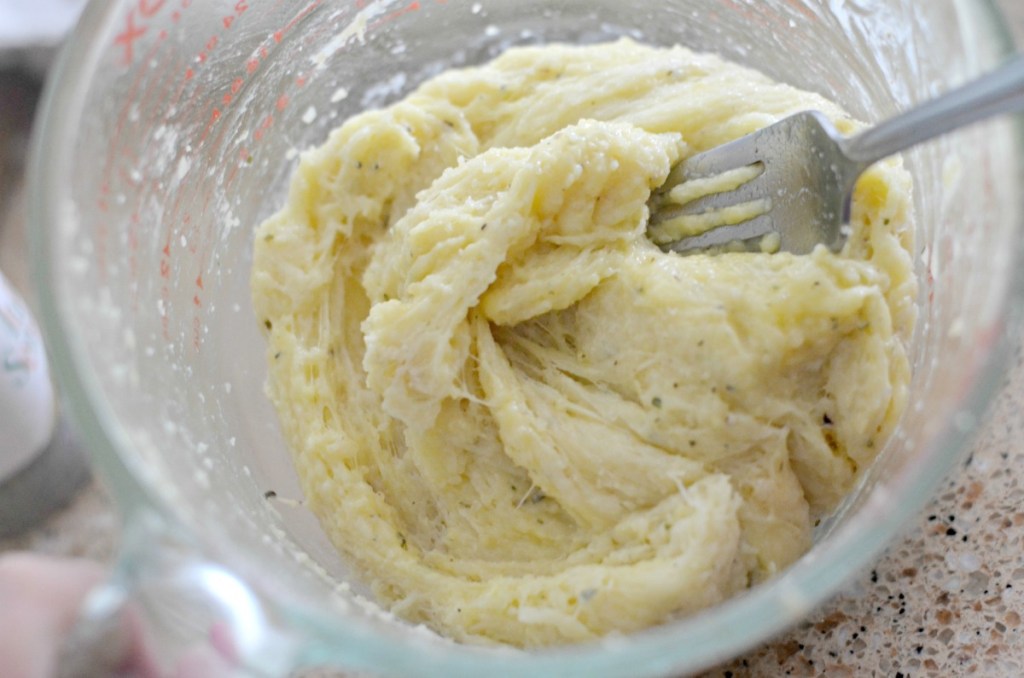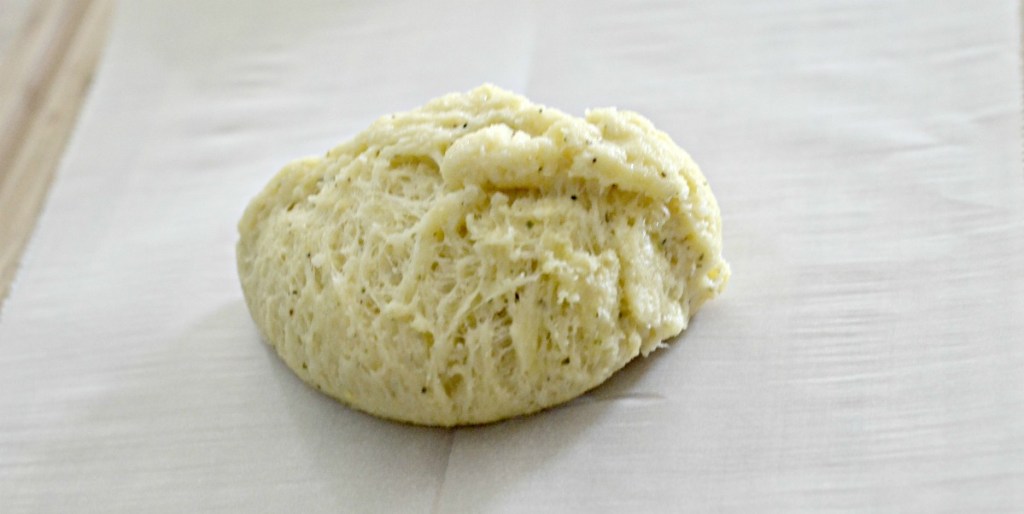 ---
Print
Fathead Pizza Dough Recipe
yield: 8 SERVINGS
prep time: 15 MINUTES
cook time: 15 MINUTES
total time: 30 MINUTES
This is the yummiest keto pizza dough, EVER!
Ingredients
3/4 cup almond meal/flour
1 and 3/4 cups mozzarella cheese, shredded
2 tablespoons cream cheese (1 oz.)
1 egg
pinch of salt
1/2 teaspoon Italian seasoning
Desired pizza toppings (tomato sauce, mozzarella cheese, pepperoni, mushrooms, bell peppers, etc.)
Directions
1
Preheat oven to 425 degrees F.
2
Combine almond flour and mozzarella cheese in a microwave safe bowl. Add in cream cheese and cook in the microwave for one minute. Stir and then cook for an additional 30 seconds in the microwave.
3
Mix in egg, salt, and Italian seasoning, and stir.
4
Shape dough into a ball and place between two pieces of parchment paper.
5
Use a rolling pin on top of the parchment paper to roll the dough in a circular shape. Mine was more of an oval.
6
Remove the top parchment paper and slide dough onto a baking sheet or pizza stone. Bake at 425 degrees in the oven for 12-14 minutes until slightly browned.
7
Add any desired pizza toppings and sauce you'd like to the top of the crust. (Keep in mind, if using raw meat you'd want to cook it first before putting on pizza.) Continue cooking in oven for 5 minutes until cheese melts. Makes about 8 slices.
Nutrition Information
Yield: 8 servings, Serving Size: 1/8 slice (dough only)
Amount Per Serving: 152 Calories | 12g Fat | 3g Total Carbs | 1g Fiber | 9g Protein | 2g Net Carbs
---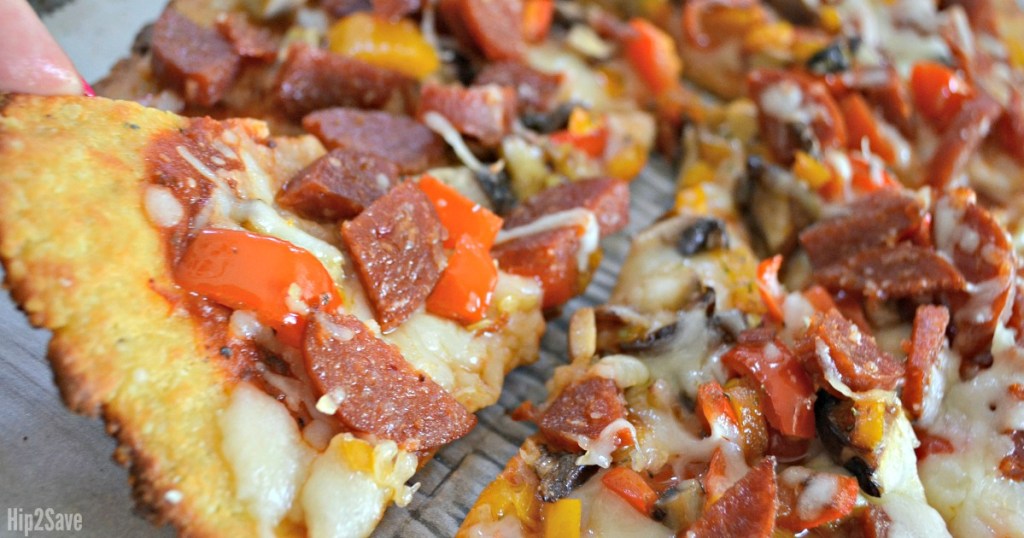 No joke — this Fathead dough pizza is so YUMMY!
So many Hip2Keto readers have told us that this is their favorite recipe for keto pizza, and I agree – it's pretty amazing. I love that you can customize it by adding any keto-friendly topping to the crust you love.
Fathead pizza is a filling meal that's super satisfying, easy to make, delicious, and something my picky eater kids can get excited for! Enjoy!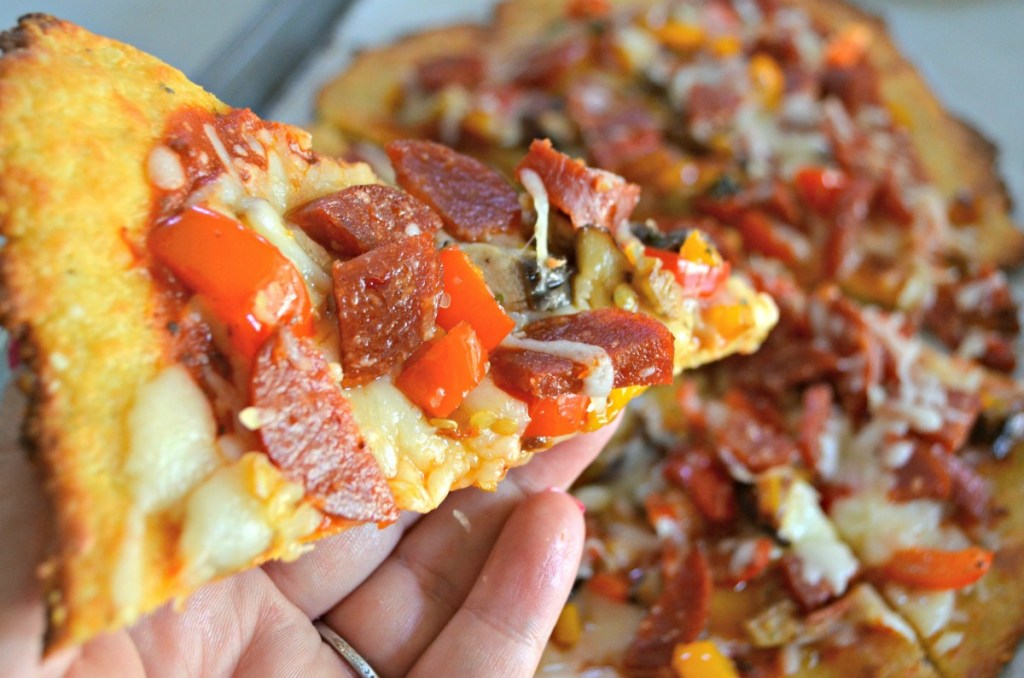 ---