The Best Pork Rind Pizza Crust (Say Hello to Thin & Crispy Pizza!)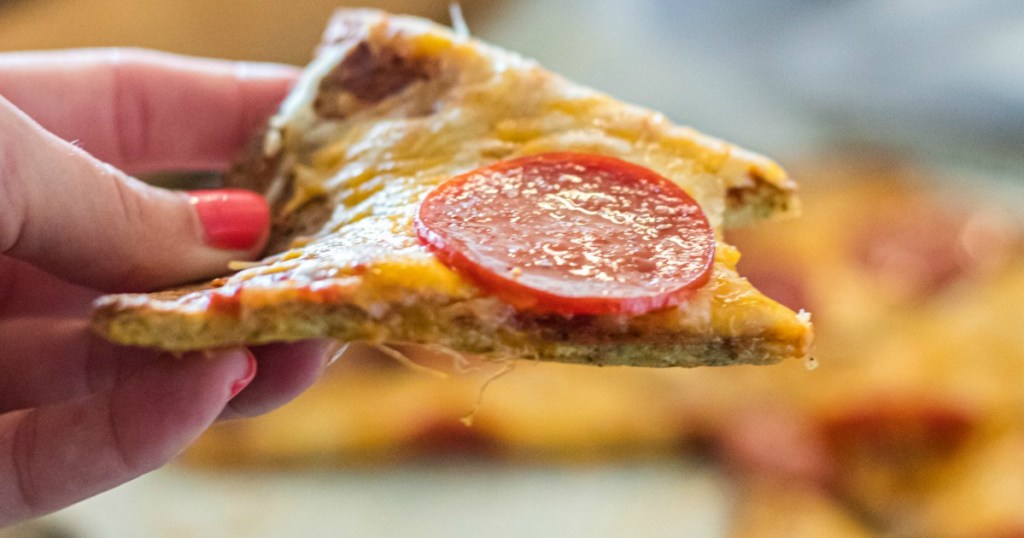 Make it a pizza night!🍕
Searching for a keto pizza crust that's crunchy and full of flavor? I personally love a good cauliflower and broccoli crust (and of course, you can't go wrong with fathead dough), but if you miss a thin crust pizza, I've got the perfect solution! You can actually make a crispy and delicious pizza crust with pork rinds.
Now hear me out, and don't knock this pork rind pizza crust idea until you try it. I personally LOVE it so much that I even made a video showing how simple it is to make and how delicious it is to eat. 😋🍕
---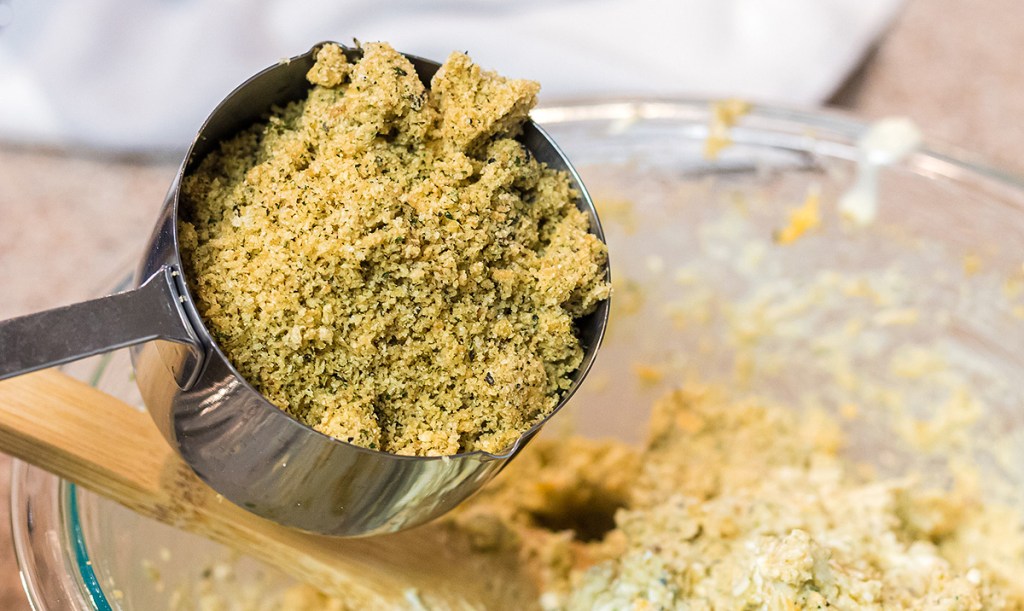 Pork rinds are already crunchy, and we use them for low-carb "breading" on a lot of keto recipes, so why not use them to make a pizza crust?! This recipe is so simple to make and requires only a few ingredients, too!
I used Pork King Good Pork Rind Crumbs with Italian Seasoning which made my crust so crunchy and flavorful! I definitely recommend these! My sidekick, Taylor, even wrote up a whole post on how much she loves these pork rinds.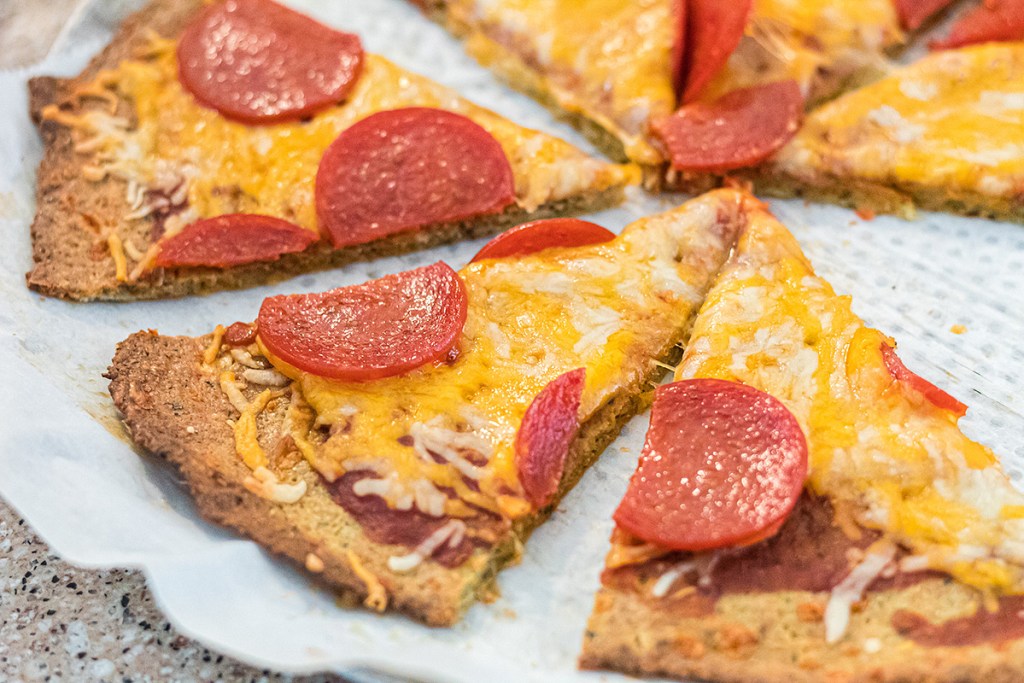 Here are a few recipe tips to keep in mind when making keto pork rind pizza crust:
Be sure to bake pizza crust for 20 minutes before applying toppings. If you add toppings when this crust is uncooked, you'll end up with a soggy base.
If you're in a pinch, you can pulse pork rinds in a food processor to produce the crumbs needed for this recipe. It would be interesting to see how other pork rind flavors work for this recipe.
The toppings are up to you. Low carb marinara with a healthy dose of cheese is great for a classic, but you can also go supreme with loads of veggies and meats!
The crust freezes beautifully! Make a few pizza dough balls or flat crusts and freeze them, so when you're ready for pizza you can just pull out your dough and you're ready to go.
---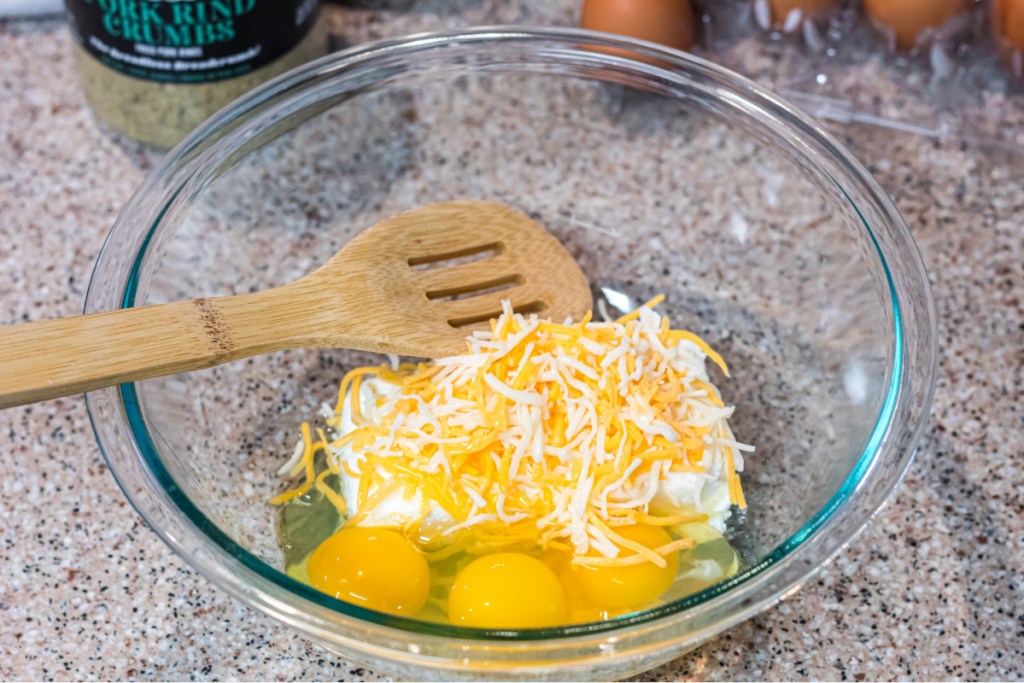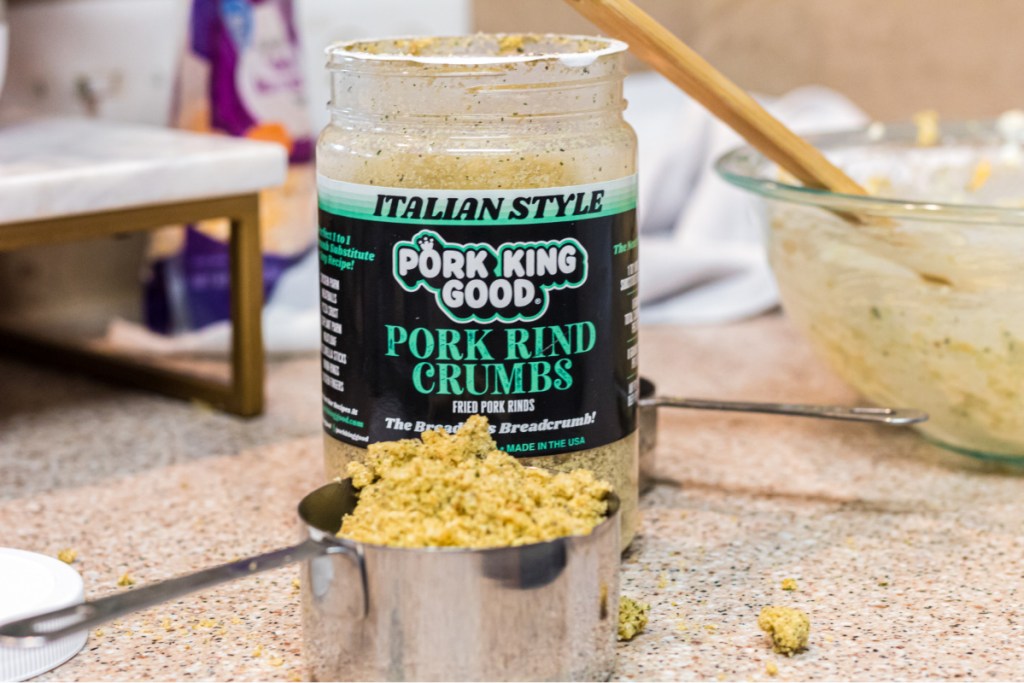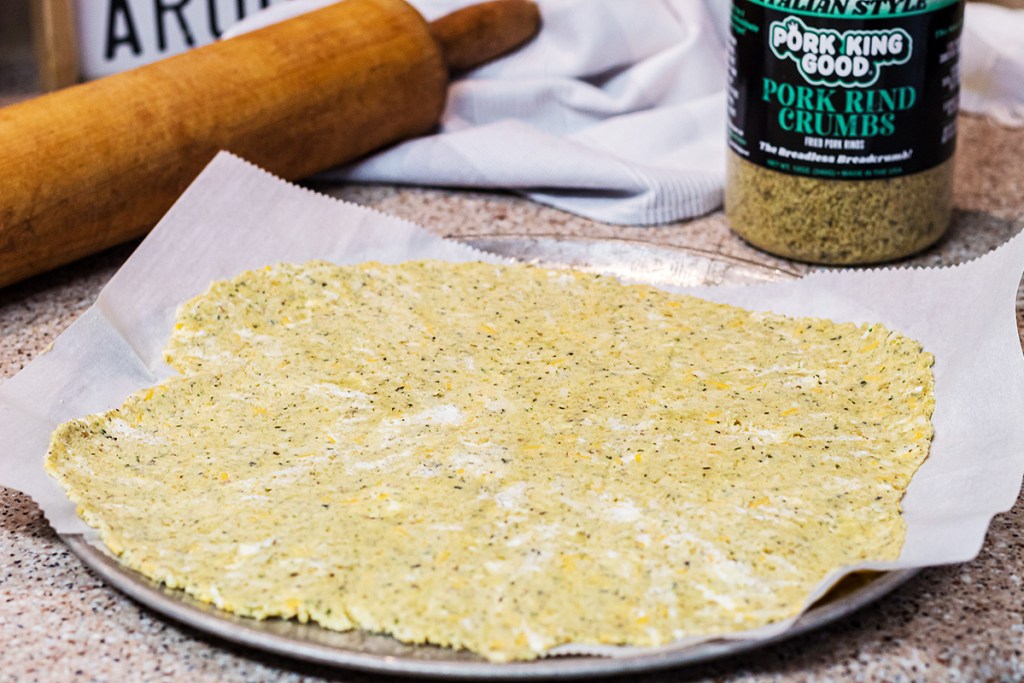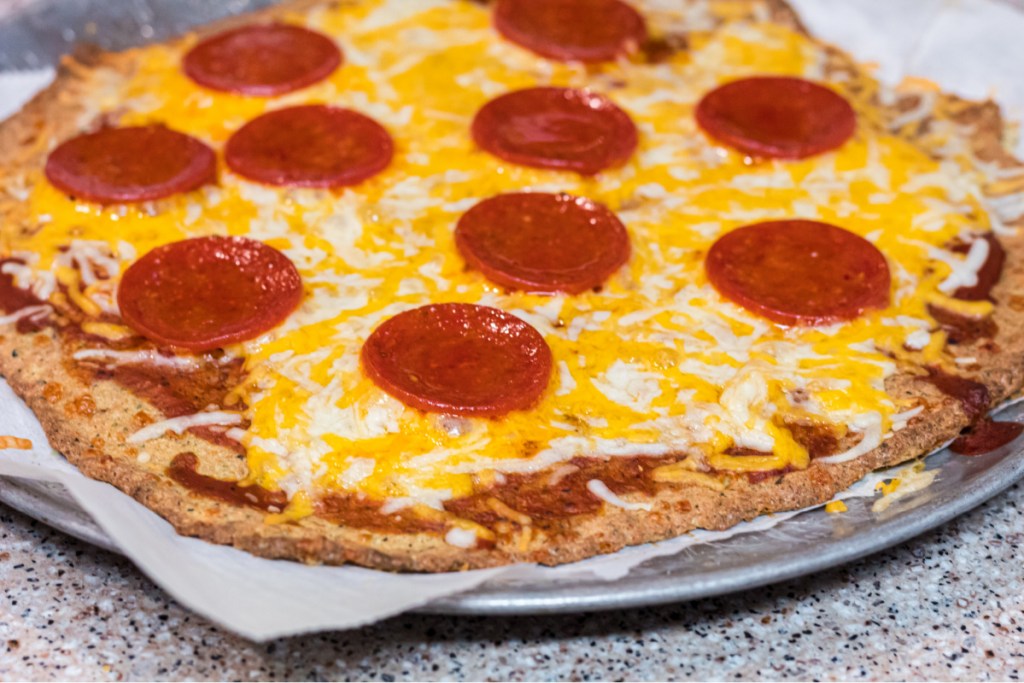 ---
Print
Pork Rind Pizza Crust
yield: 8 SERVINGS
prep time: 5 MINUTES
cook time: 30 MINUTES
total time: 35 MINUTES
Pork rind crumbs are the star of the show in this low carb pizza crust that's as enjoyable to eat as it is to make!
Ingredients
8 oz. cream cheese, softened
3 eggs, room temperature
1/2 cup shredded cheese
Directions
1
Preheat oven to 400 degrees.
2
In a large bowl, add in cream cheese, eggs, and shredded cheese and mix together. Add in pork rind crumbs and continue mixing so batter becomes a thick dough.
3
Place dough between two pieces of parchment paper. Roll out dough to form the pizza crust (you can also opt to use your hands instead). Place on a greased pizza pan or a parchment-lined baking sheet. Remove top piece of parchment paper and throw away.
4
Bake crust in the oven for 20 minutes. After it's finished cooking, remove from oven and apply your desired pizza toppings, and place back in the oven for 5-10 minutes, or until cheese is bubbly.
5
Let cool for 5 minutes. Cut, serve, and enjoy!
Nutrition Information
Yield: 8 slices, Serving Size: 1 slice
Amount Per Serving: 224 Calories | 18.7g Fat | 1.5g Total Carbs | 0g Fiber | 1.2g Sugar | 13.6g Protein | 1.5g Net Carbs
---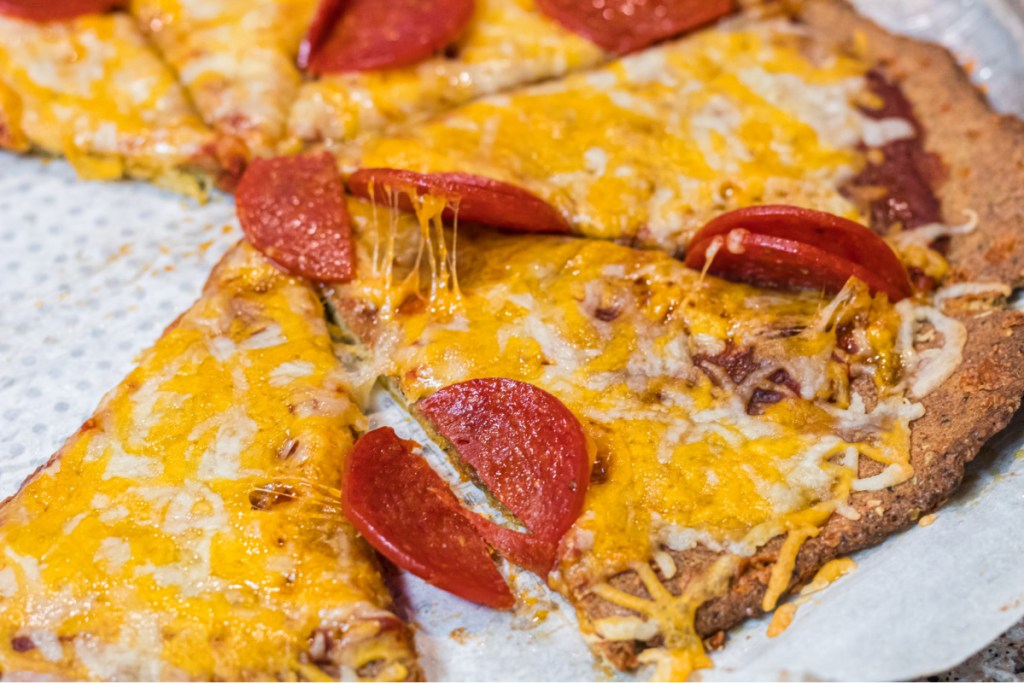 Pizza is served! 🍕
Who knew pork rinds could become the next cauliflower with how versatile they are! You don't want to miss trying out this tasty pork rind pizza crust, and I bet even the kiddos will go crazy for it.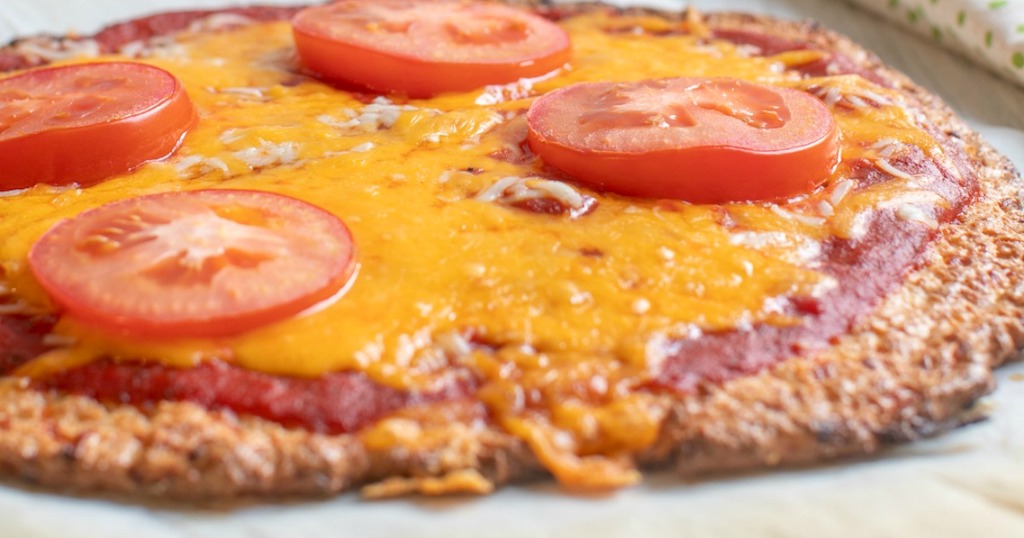 My team member, Jenna, gave this recipe a test for me and here's what she had to say:
"If you told me this only uses a couple of ingredients, I might believe you, but if you told me what the ingredients were, I would definitely not believe you! This crust was so fun to make and turned out so yummy. I don't want pizza any other way from now on! I topped mine with two kinds of cheeses and some tomato slices and I can't wait to have it again!" – Jenna
---