These 4 Pioneer Woman Low Carb Party Appetizers Are a Must Try!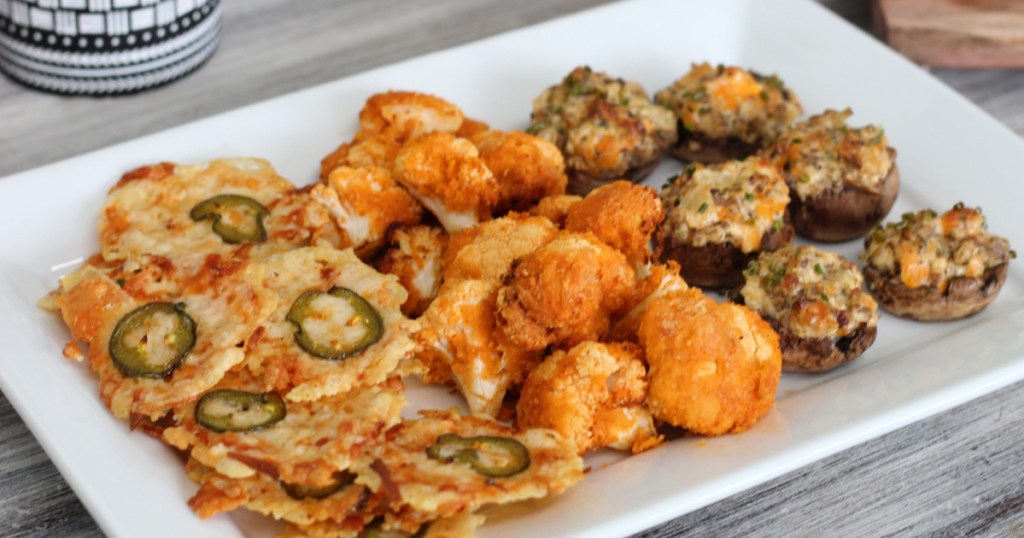 Get your snack on!
There's really nothing better than snacking on keto appetizers when you're at a party or a get-together. I even love to whip some up at home and have them for a quick and easy dinner.
I'm a huge fan of The Pioneer Woman, and while most of her decadent recipes are typically very carb-heavy, I was happy to find some that are not only delicious as anyone would come to expect but totally keto friendly as well!
---
Here are 4 Pioneer Woman low-carb appetizers you need to make ASAP!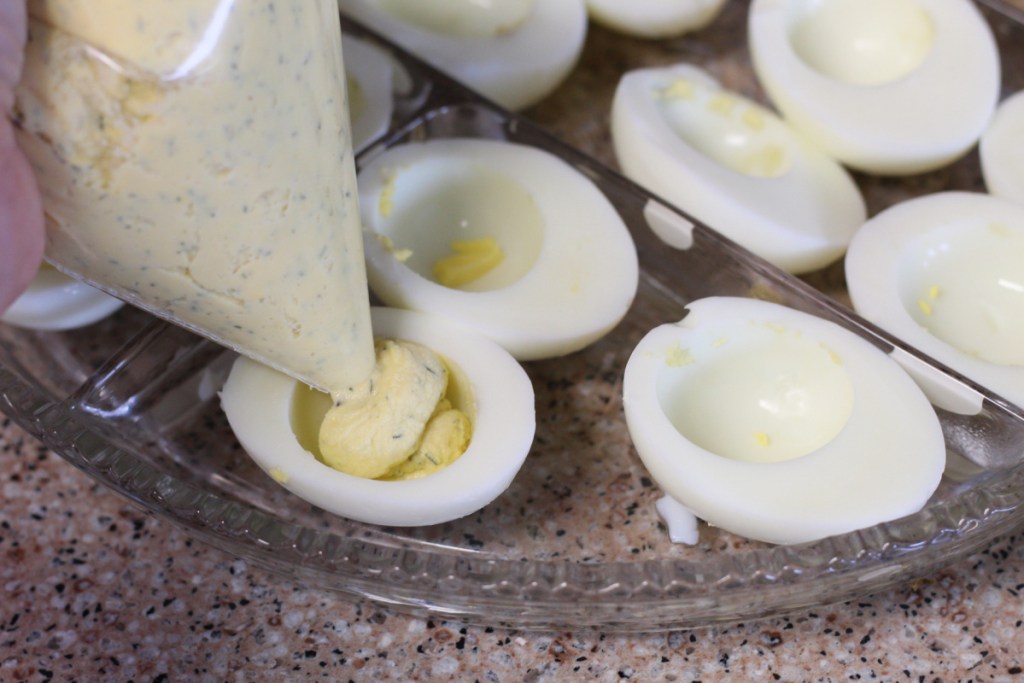 Serving Size: 1 whole egg or 2 halves | 110 Calories | 9g Fat | 0.8g Total Carbs | 0.1g Fiber | 0.7g Sugar | 6.4g Protein | 0.7g Net Carbs
I love how easily these whipped deviled eggs come together. They're simple to make and are super yummy. Grab a few ingredients and you'll have a flavorful low-carb appetizer in no time at all!
---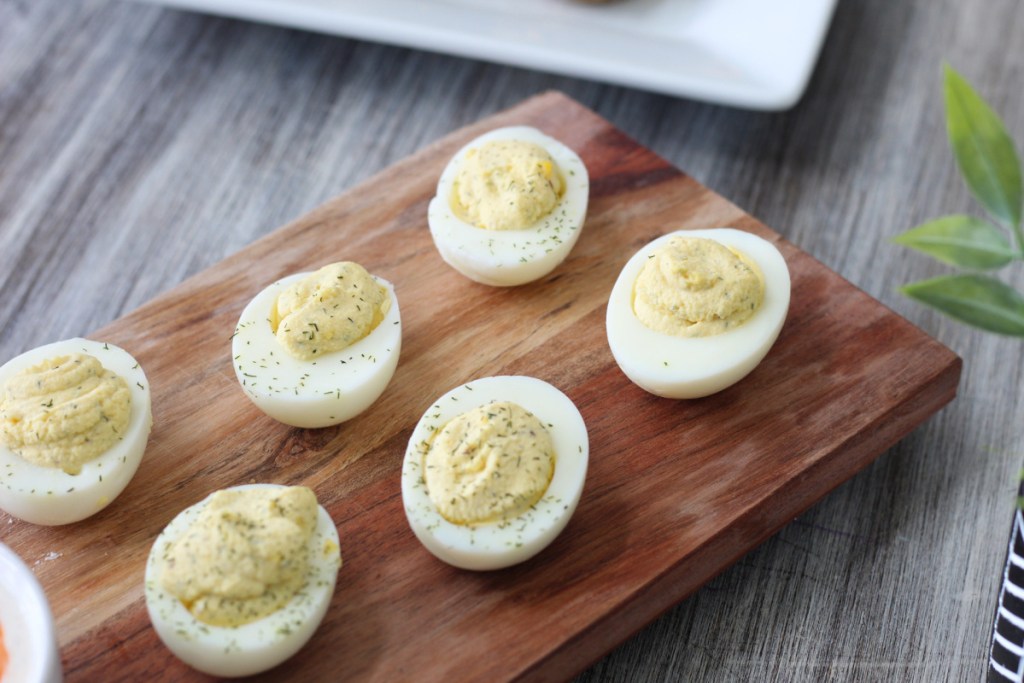 Hip tips for making the best whipped deviled eggs with dill:
Try our favorite cooking method for achieving perfect hardboiled eggs every time. Check one egg before draining and cooling to be sure they've reached the desired doneness. Once you've tried it, you'll never go back to your old way of cooking them again!
Pipe the yolk mixture with a Ziploc bag if you do not have a piping bag. After filling the piping bag, just snip the corner and fill out the hardboiled eggs halves and you are ready to go.
Everything is better with bacon so you could always top these already amazing deviled eggs with some crumbled bacon as we did with our own low carb bacon deviled eggs recipe!
---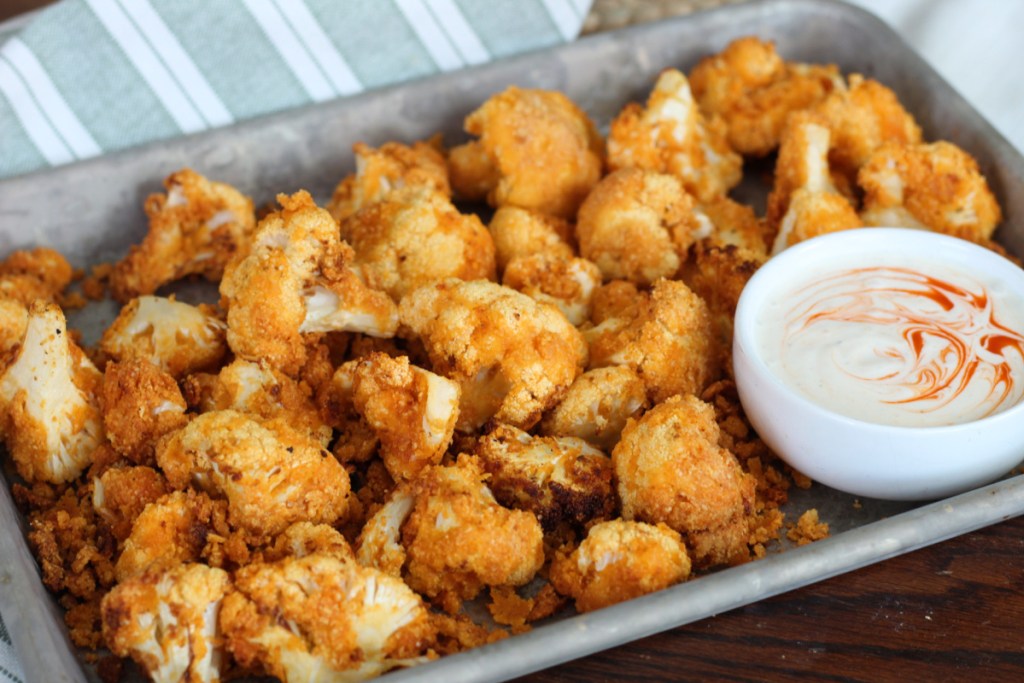 Serving Size: 3/4 Cup | 429 Calories | 35.9g Fat | 13.9g Total Carbs | 7.3g Fiber | 4.6g Sugar | 10.4g Protein | 6.5g Net Carbs
I'm a die-hard Buffalo sauce fan, so I always make something like this to snack on for the weekend. I like how The Pioneer Woman fried these cauliflower bites up in the air-fryer. I usually just bake mine, but I love this so much this will be my new go-to way to prepare them. Make sure to make a large batch because these will be gone before you know it!
---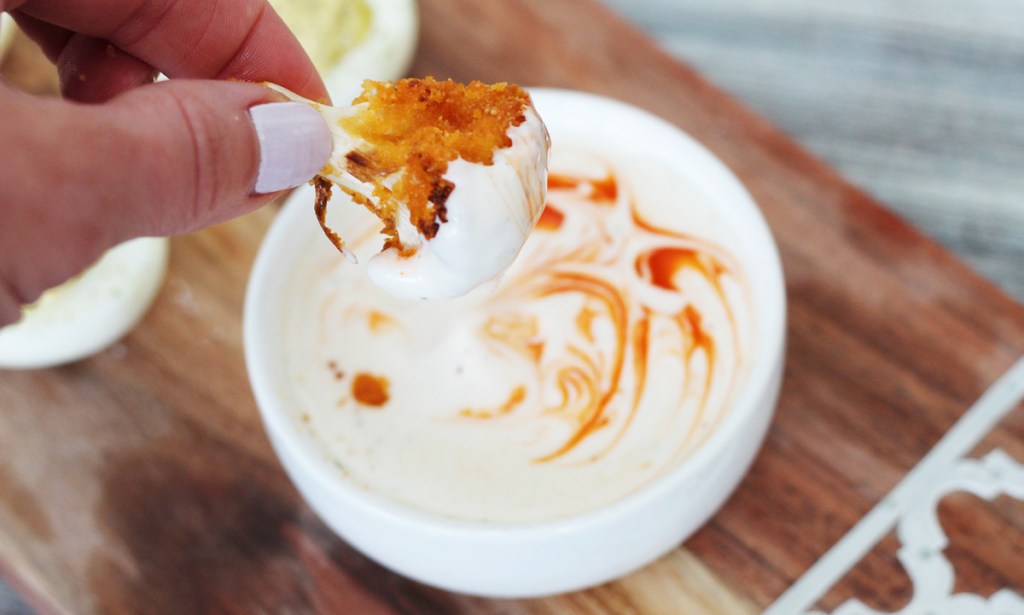 Tips for making the best Buffalo cauliflower bites:
If you are not a fan of almond flour, you can always add a 1/2 cup of pork rind crumbs or even grated parmesan cheese instead. Just be sure to skip the bread crumbs that are mentioned as an option in the original recipe.
---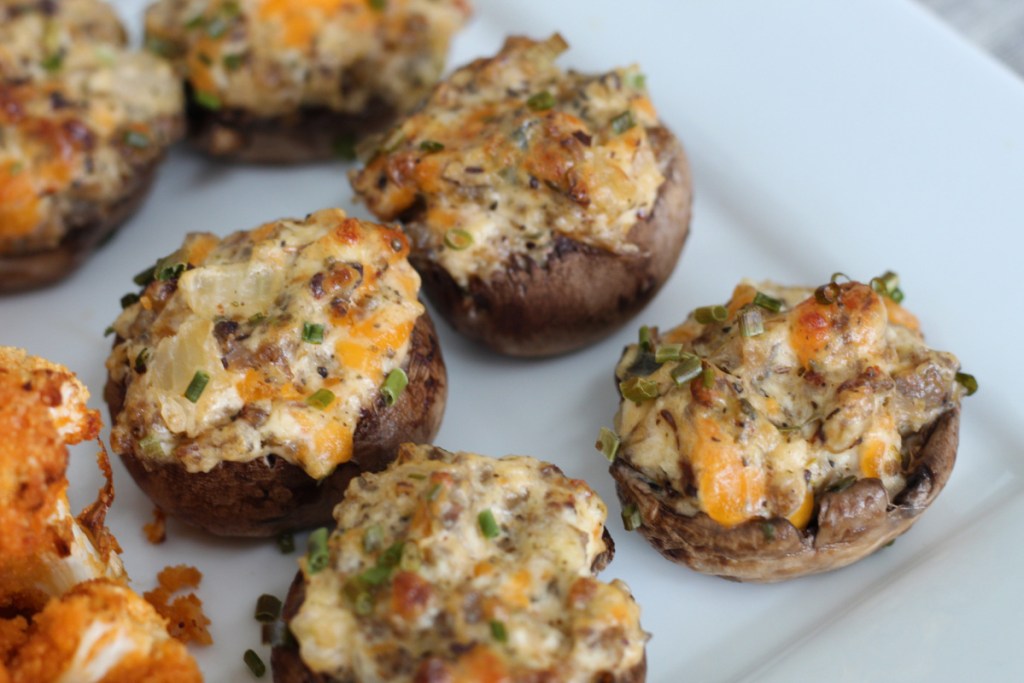 Serving Size: 2 mushrooms | 186 Calories | 14.5g Fat | 4.5g Total Carbs | 0.9g Fiber | 1.0g Sugar | 9.1g Protein | 3.6g Net Carbs
You had me at stuffed mushrooms! I love a little heat so I was excited to use hot sausage in this low carb Pioneer Woman recipe. Also, I love how she uses all fresh herbs – they really give it a nice kick of flavor for a spectacular appetizer. Even non-keto lovers will enjoy this one!
---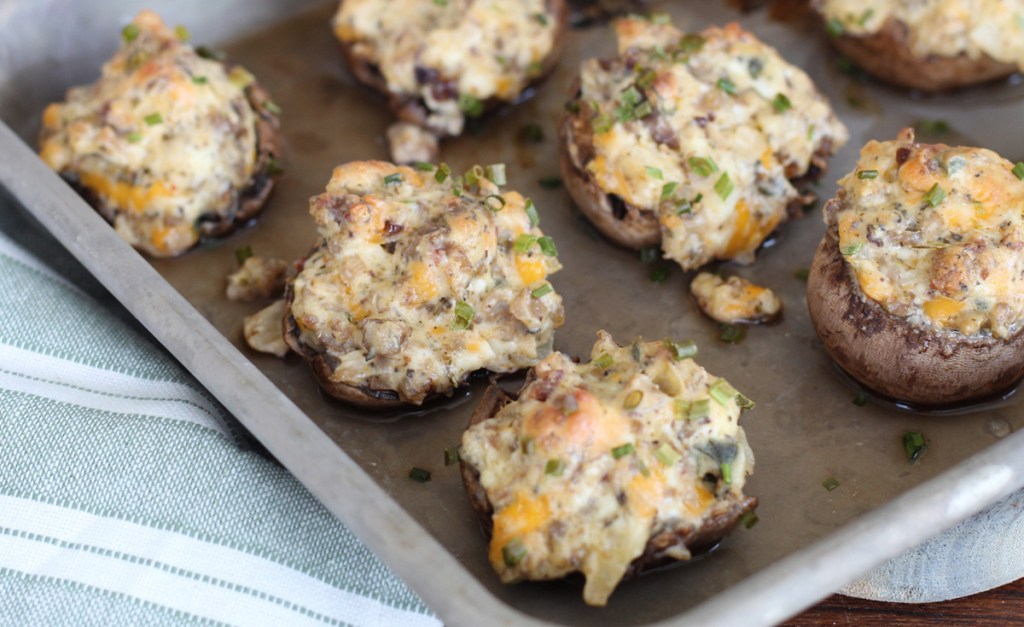 Tips for making the best sausage stuffed mushrooms:
If you don't have wine on hand or prefer to omit it, simply use 4 tablespoons of butter to sauté the onions.
Make sure to scrape the gills from the inside of the mushroom caps first. I used a serrated grapefruit spoon and it worked perfectly.
If you don't like spicy foods, you can substitute hot sausage out for mild/original sausage.
---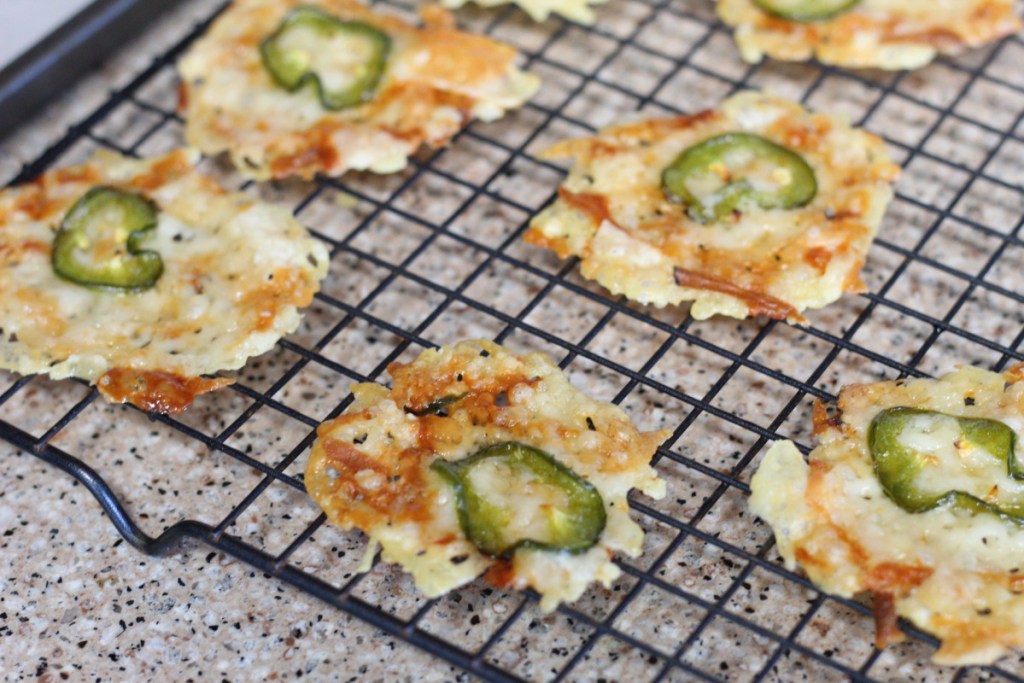 Serving Size: 4 Pieces | 95 Calories | 6.5g Fat | 2.2g Total Carbs | 0.2g Fiber | 0.3g Sugar | 5.6g Protein | 2g Net Carbs
We're fans of cheese crisps at our house, and these were a home run! I actually was asked to make more which hardly ever happens from my non-keto hubby and kiddos!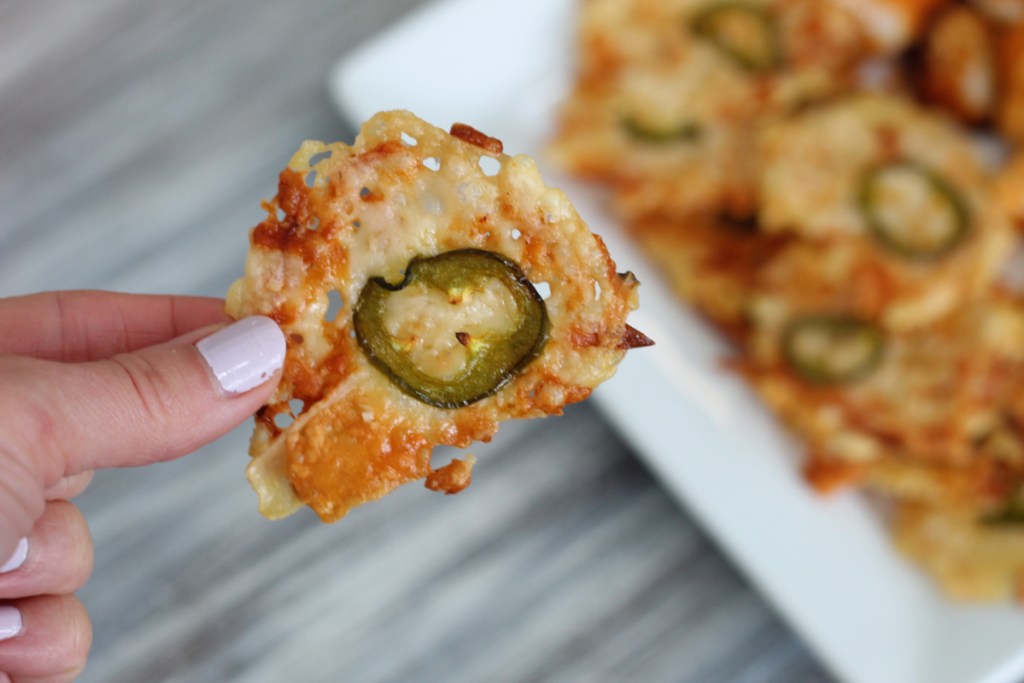 Tips for making the best keto jalapeño cheese crisps:
If you can't find the pecorino or manchego cheeses that the recipe calls for, go with your own tastebuds and substitute with your favorite cheese!
These cheese crisps are perfect for adding to salads instead of using carb-heavy croutons.
---
Bet ya can't eat just one!
These Pioneer woman low carb appetizers are so easy to throw together! Make some for your next cookout, get-together, or party. There's a little something for everyone, and the non-keto eaters will never know the difference!
---
Have a sweet tooth? Make one of these keto desserts!