Easy Keto Sausage Stuffed Portobello Mushrooms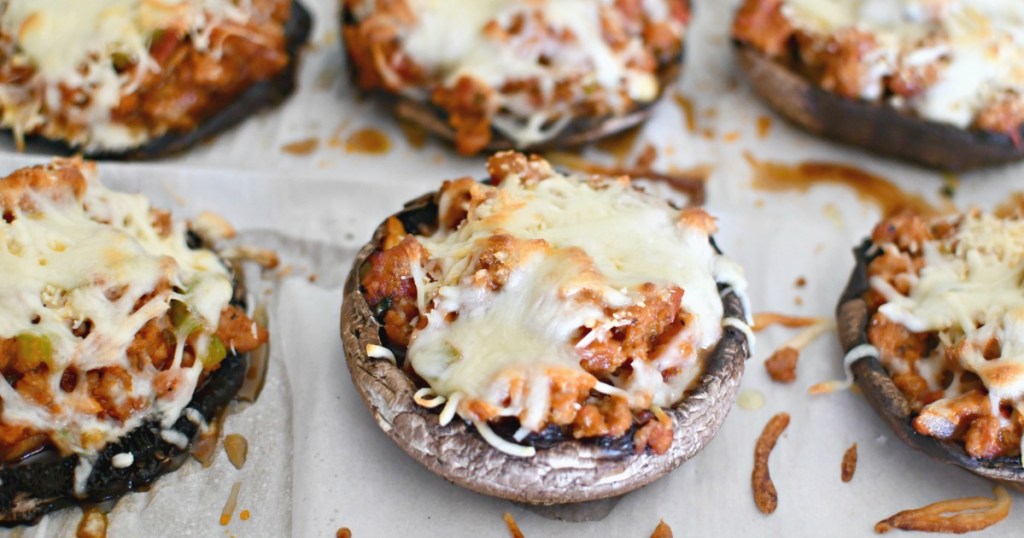 Need a hearty and healthy keto meal?
You all have to try these cheesy sausage stuffed mushrooms! This is such an easy keto dinner idea to add to your weekly meal rotation. A portobello mushroom cap gets stuffed with a flavorful marinara sausage filling, and then topped with cheese, for a melted gooey meaty mushroom. It's super filling and satisfying too, which is awesome!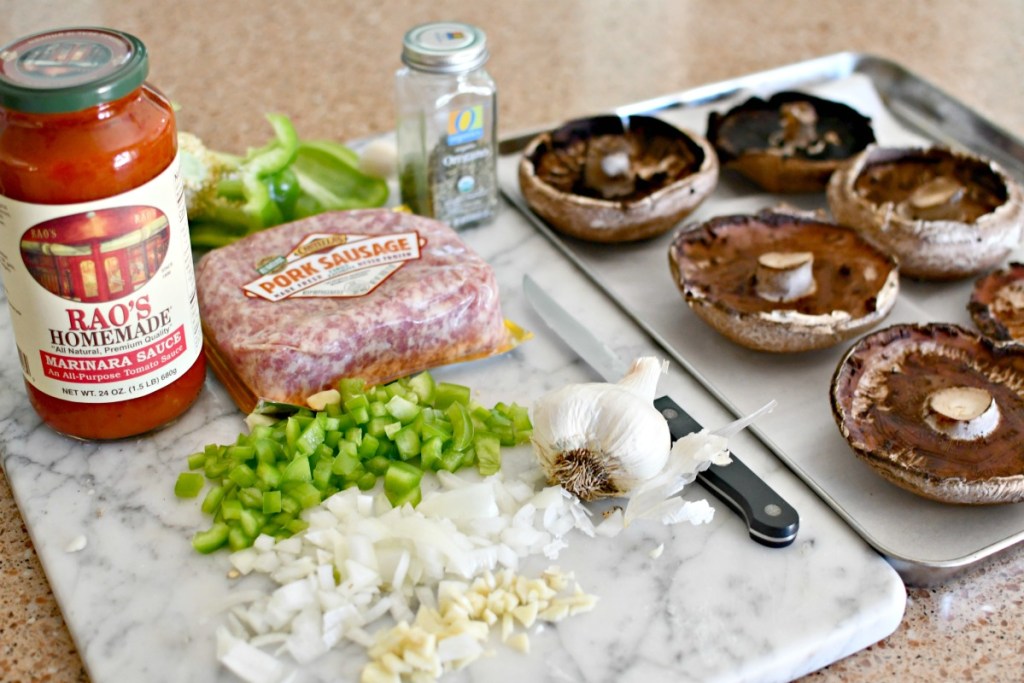 Hip Tips:
---
Make sure to scrape the gills from the inside of the mushroom caps first. I used a serrated grapefruit spoon and it worked perfectly.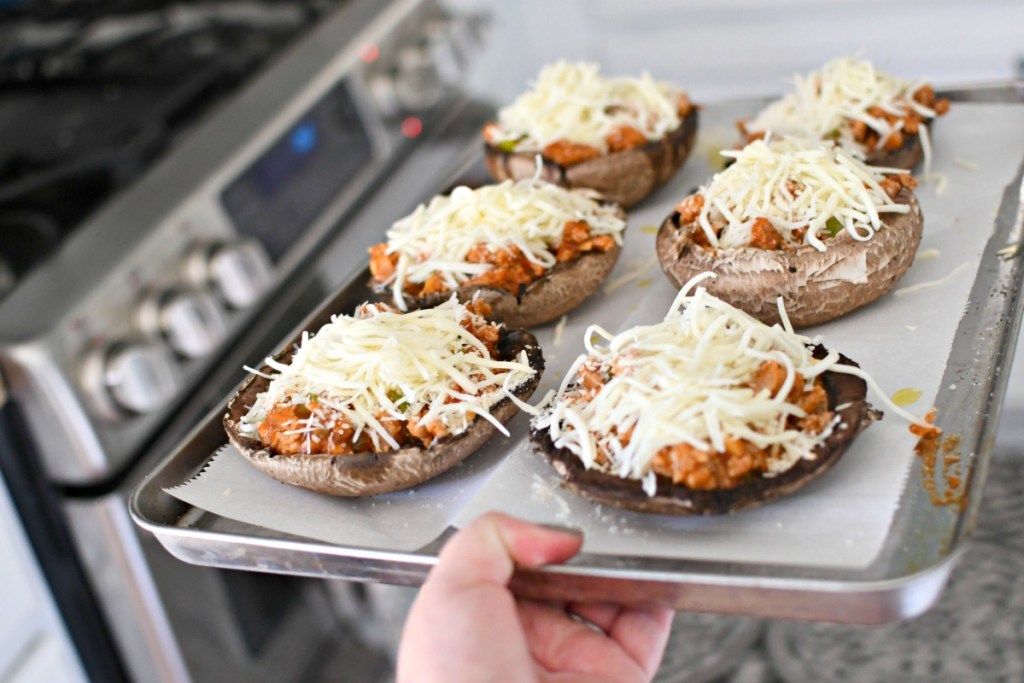 ---
Print
Keto Sausage Stuffed Portobello Mushrooms
yield: 6 SERVINGS
prep time: 25 MINUTES
cook time: 20 MINUTES
total time: 45 MINUTES
Portobello mushrooms get stuffed with sausage, veggies, and two types of shredded cheeses, for a melted delicious meal!
Ingredients
6 portobello mushrooms
1 teaspoon olive oil
1/4 teaspoon salt
1 pound ground sausage
1/2 cup chopped yellow onion
1/2 cup chopped green bell pepper
3 cloves of garlic, chopped
1 teaspoon oregano
1 cup marinara (such as Rao's)
1/8 teaspoon salt
pinch of black pepper
3/4 cups shredded mozzarella cheese
3/4 cups shredded parmesan cheese
Directions
1
Preheat oven to 375 degrees. Prep a baking sheet with parchment paper for easy clean-up.
2
Clean mushroom caps and scrape out the gills from inside the mushroom. Arrange them on the sheet pan. Brush the mushrooms with olive oil and sprinkle with salt. Set aside.
3
Heat a skillet on the stove to medium heat, brown and cook sausage. Drain the grease, but reserve a little to saute veggies. Transfer ground pork out of the skillet to a separate bowl, and set aside.
4
To the skillet add the onion, garlic, and bell pepper. Saute them until soft and translucent. Season with the oregano.
5
Add the meat back into skillet. Add marinara sauce to the skillet as well, and stir all to combine. Season mixture with salt and pepper. Let it simmer for about 10 minutes, and remove from heat.
6
Spoon the meat mixture on top of each mushroom. Top each with the shredded cheeses.
7
Place the portobellos into the oven for about 20-25 minutes until the cheese is melted and the mushrooms are tender.
Nutrition Information
Yield: 6 stuffed mushrooms, Serving Size: 1 stuffed mushroom
Amount Per Serving: 412 Calories | 30g Fat | 9g Total Carbs | 3g Fiber | 24g Protein | 6g Net Carbs
---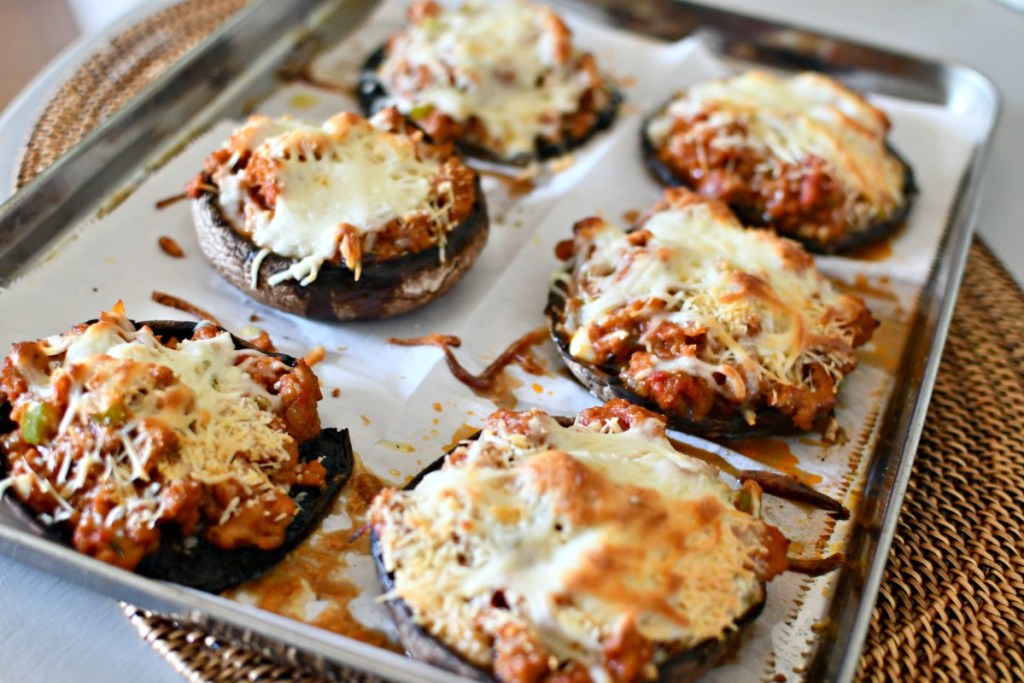 These stuffed portobellos are delish!
These are so good, and would appeal to people who are keto and those who are not. For instance, my husband LOVED this recipe and is quick to tell me if keto meals aren't good- LOL. I also love that these mushrooms are an easy meal to put together any night of the week.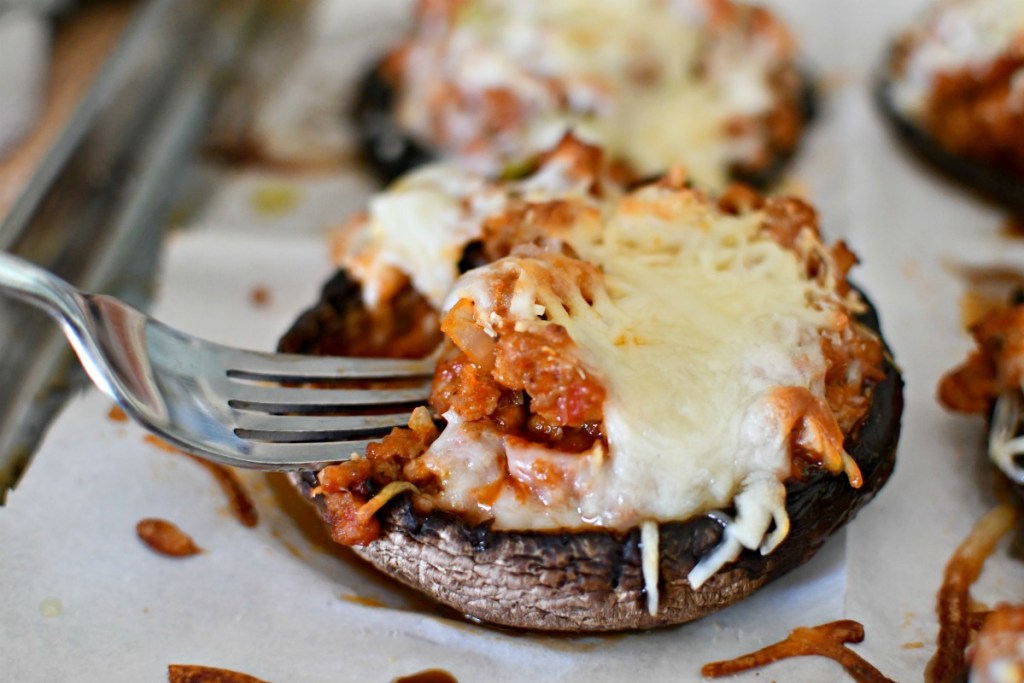 ---
Check out these PIZZA stuffed portobello mushrooms for another tasty idea!