These are the BEST Low-Carb Bacon Deviled Eggs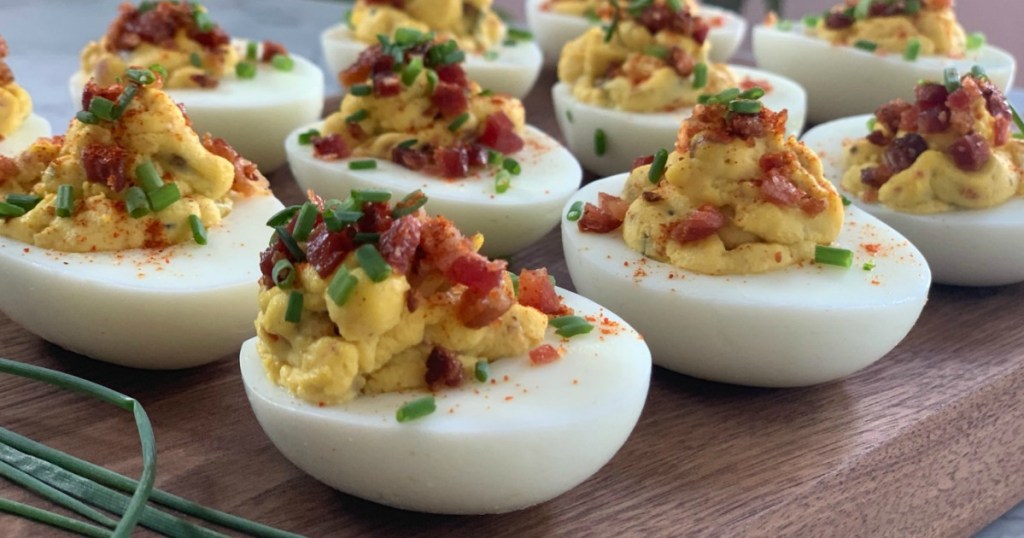 These deviled eggs are heavenly!
And while that may be an oxymoron… it's the truth! 🤣 These low-carb deviled eggs with bacon are SO GOOD, you'll have a newfound respect for the dear old egg. What's more, these deviled eggs are super easy and fun to whip up.
Want a little potluck praise? Whether or not the crowd is keto, this is THE DISH to bring—although, you may get tired of people asking for the recipe!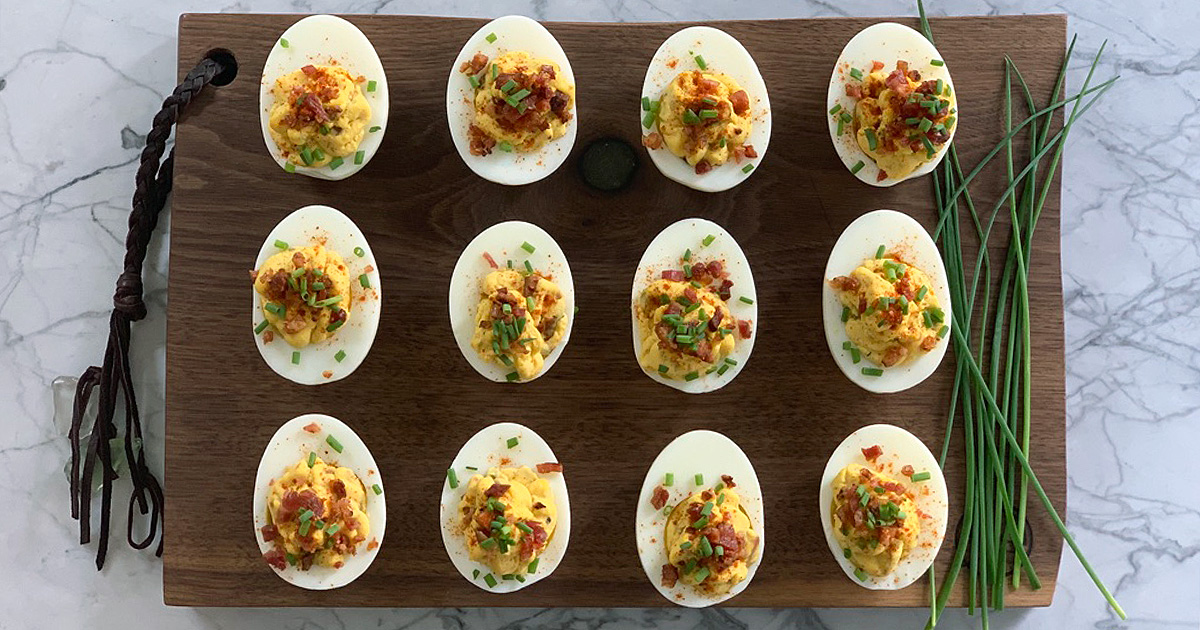 Hip Recipe Tips:
Try our favorite cooking method for achieving perfect hardboiled eggs. I always check one egg before draining and cooling to be sure they've reached the desired doneness.
Did you know that older eggs peel much easier than fresh eggs? Yep, it's true. So if you know you're planning to prepare deviled eggs in the near future, buy them a week or two ahead of time. Just stick them in the back of your fridge and leave them to age.
To make especially pretty deviled eggs, use a piping bag with decorative tips. Just be sure the tip you choose is large enough to push the bacon bits through. Also, use an empty cup or jar to hold your plastic bag up. Fold the edges of the plastic bag over the cup and easily fill it with contents!
Make sure you cool the eggs for at least 1 hour before eating—the flavor is much better!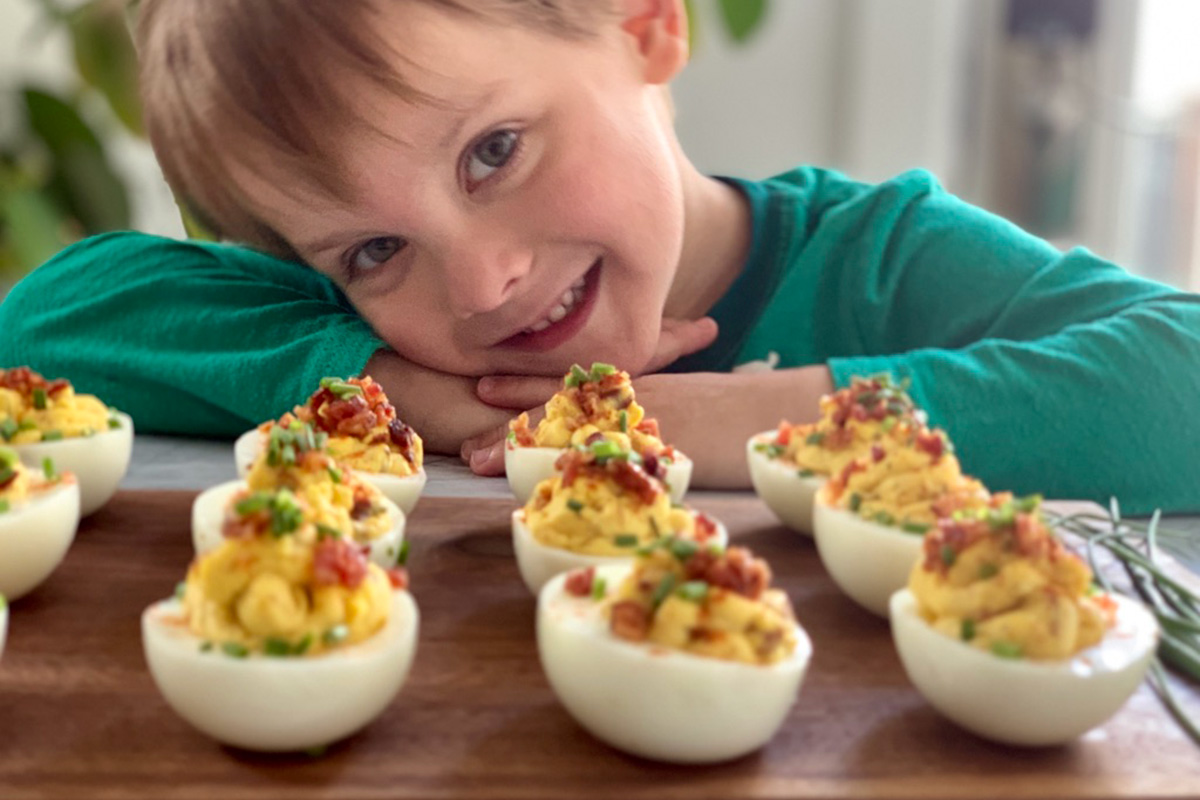 Even the kids love these low-carb bacon deviled eggs!
I don't know about you, but I have some picky eaters on my hands. Luckily, this deviled egg recipe scores a 10 from every member of my family. The kiddos really enjoy piping the filling into the egg halves. And while the eggs may not look as pretty as they could, the proud smiles worn by my four- and six-year-old are worth the aesthetic sacrifice. 😄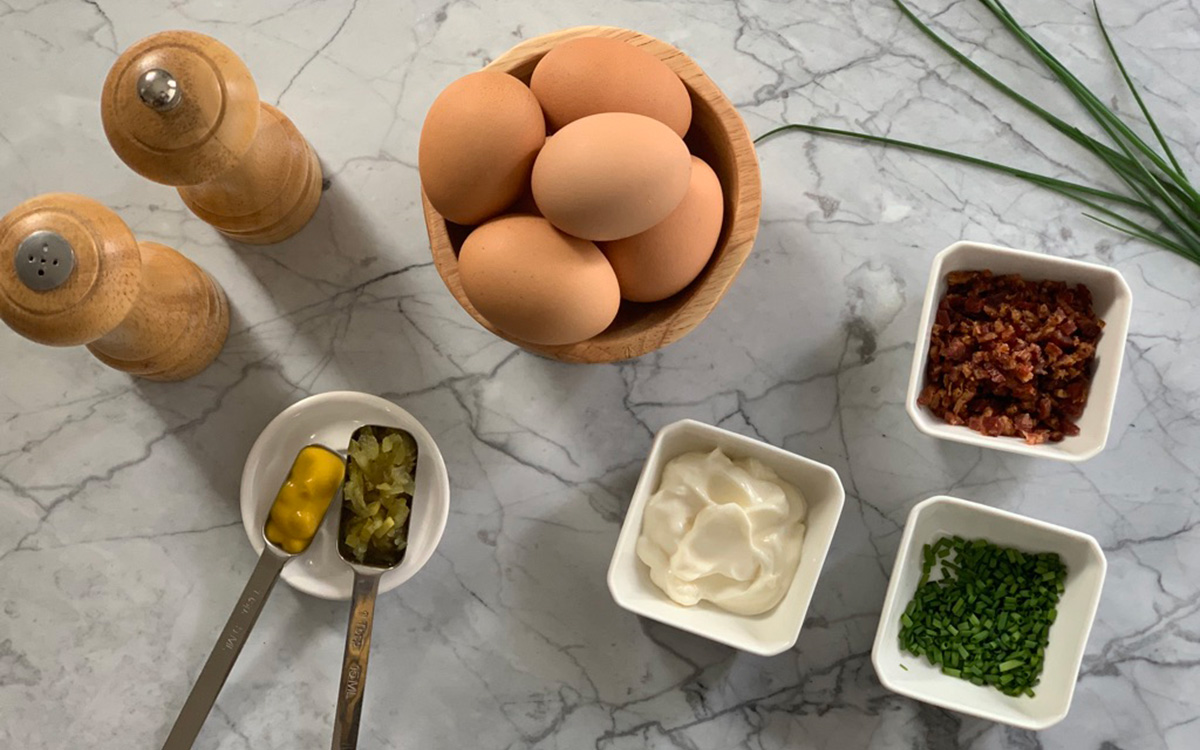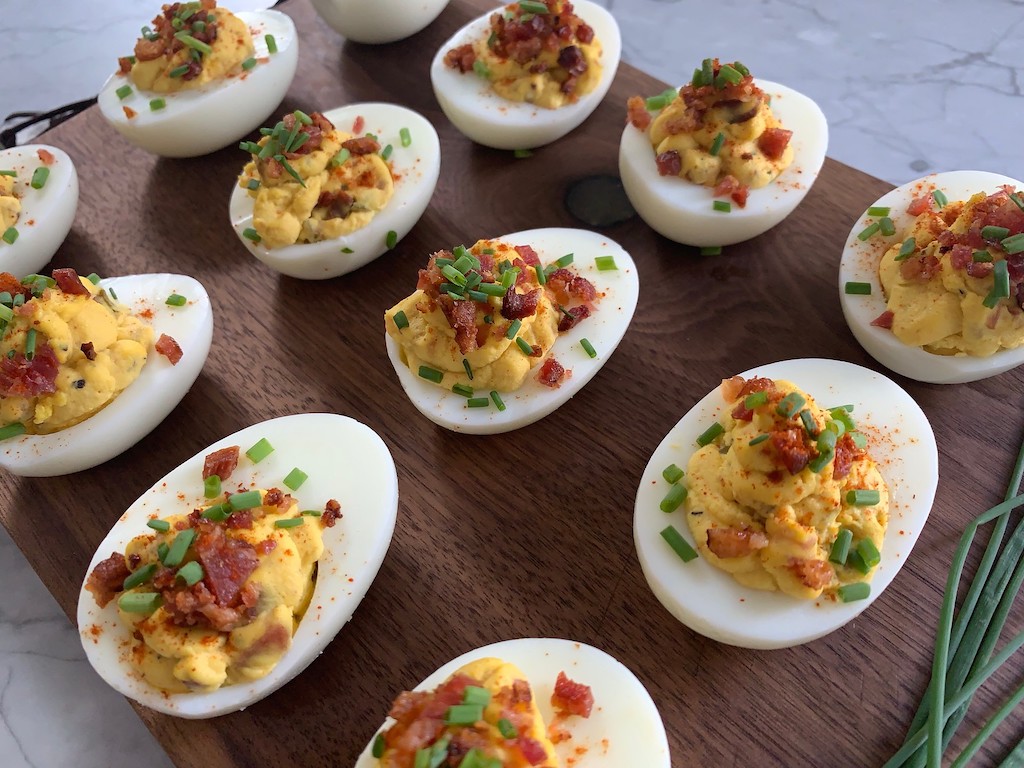 ---
Print
Low-Carb Bacon Deviled Eggs
yield: 4 SERVINGS
prep time: 15 MINUTES
total time: 15 MINUTES
This keto deviled egg recipe is SO GOOD, you'll have a newfound respect for the dear old egg.
Ingredients
6 hardboiled eggs, peeled and halved lengthwise
2 tablespoons mayonnaise
1 teaspoon yellow mustard
1 tablespoon dill pickle relish
4-5 drops liquid stevia (to sweeten relish)
1/8 teaspoon sea salt
5-6 grinds fresh black pepper
3-4 tablespoons finely chopped bacon, divided (about 3 slices, cooked until brown and crispy)
1-2 teaspoons minced chives, for garnish
few pinches paprika, optional
Directions
1
Place all the yolks in a medium bowl and mash well with a potato masher or a fork. Then add mayonnaise, mustard, relish, stevia, sea salt, and black pepper. Mix well. Add two thirds of the bacon, reserving the rest for garnish. Mix until evenly combined.
2
Using a ziplock bag with a snipped corner or a specialty piping bag, fill each hollow egg white with the yolk mixture. Top with remaining bacon and fresh chives. Dust with paprika. Refrigerate the eggs for at least 1 hour before serving. Enjoy!
Additional Notes
Store in the refrigerator in an airtight container for up to 4 days.
Nutrition Information
Yield: 4 servings, Serving Size: 3 deviled egg halves
Amount Per Serving: 224 Calories | 17g Fat | 1g Total Carbs | 0g Fiber | 13g Protein | 1g Net Carbs
---
Please keep in mind that it's really important to wait to eat these eggs until after at least 1 hour of refrigeration to let the flavors fully develop. I tested them right after finishing the recipe, and they were not as good. But after I refrigerated them, the eggs tasted completely different: totally delicious!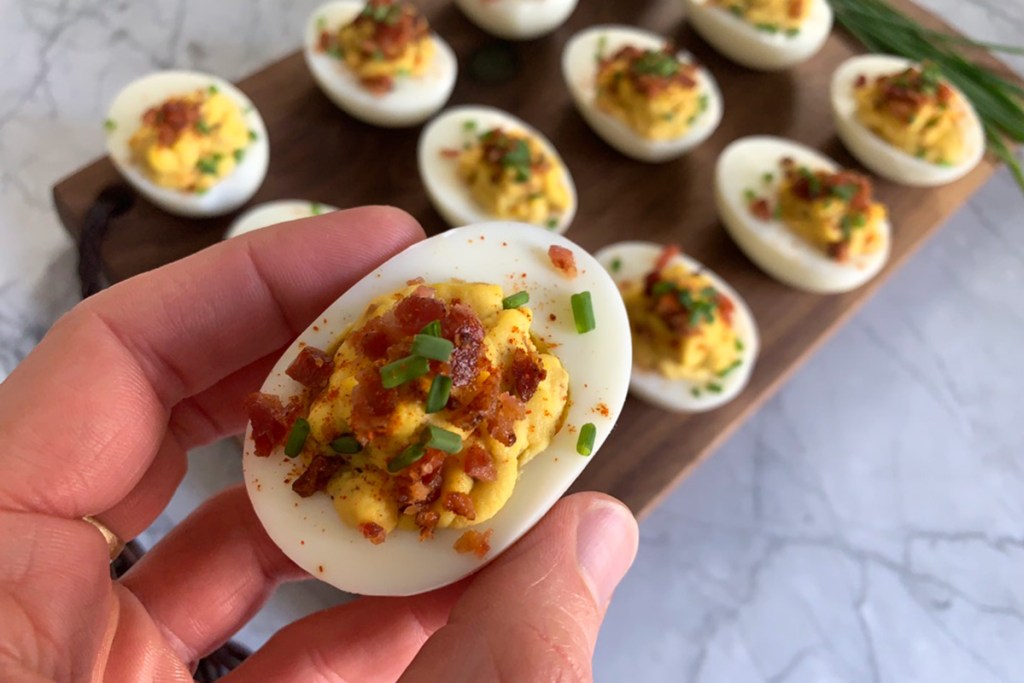 ---
For another eggcellent recipe, try this bacon, avocado, & egg salad!