Keto Pretzel Bites Using Fathead Dough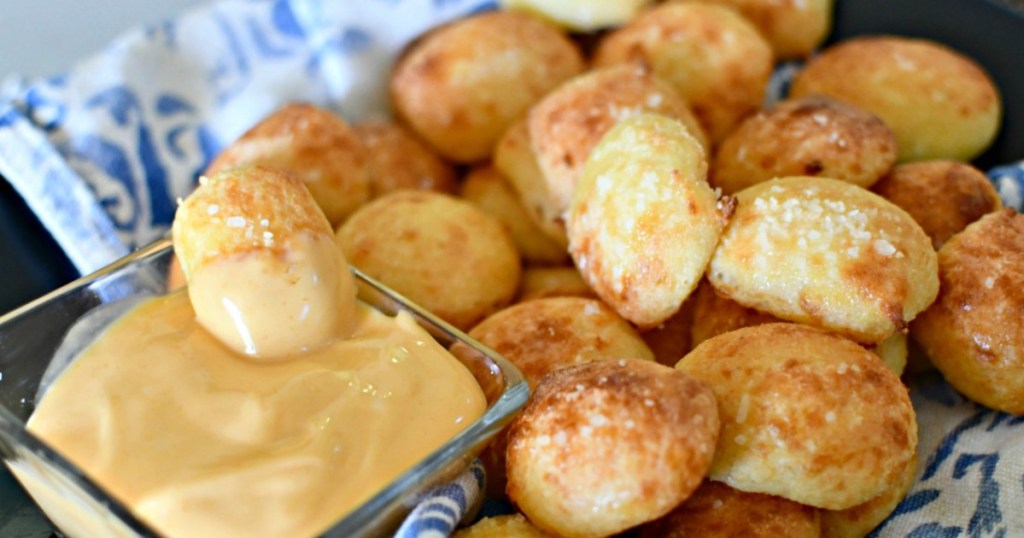 Looking for a yummy keto snack?
Try making these little keto pretzel bites, perfect for dipping into your favorite sauces. They're topped with coarse salt and make a perfect keto appetizer or snack any day of the week.
The secret for keeping these bread bites keto is the mozzarella cheese dough. Fathead dough is a popular, tried, and true dough when creating a healthy keto version of many bread-based recipes thanks to its bread-like texture. This is a Hip2Keto team favorite for pizza crust!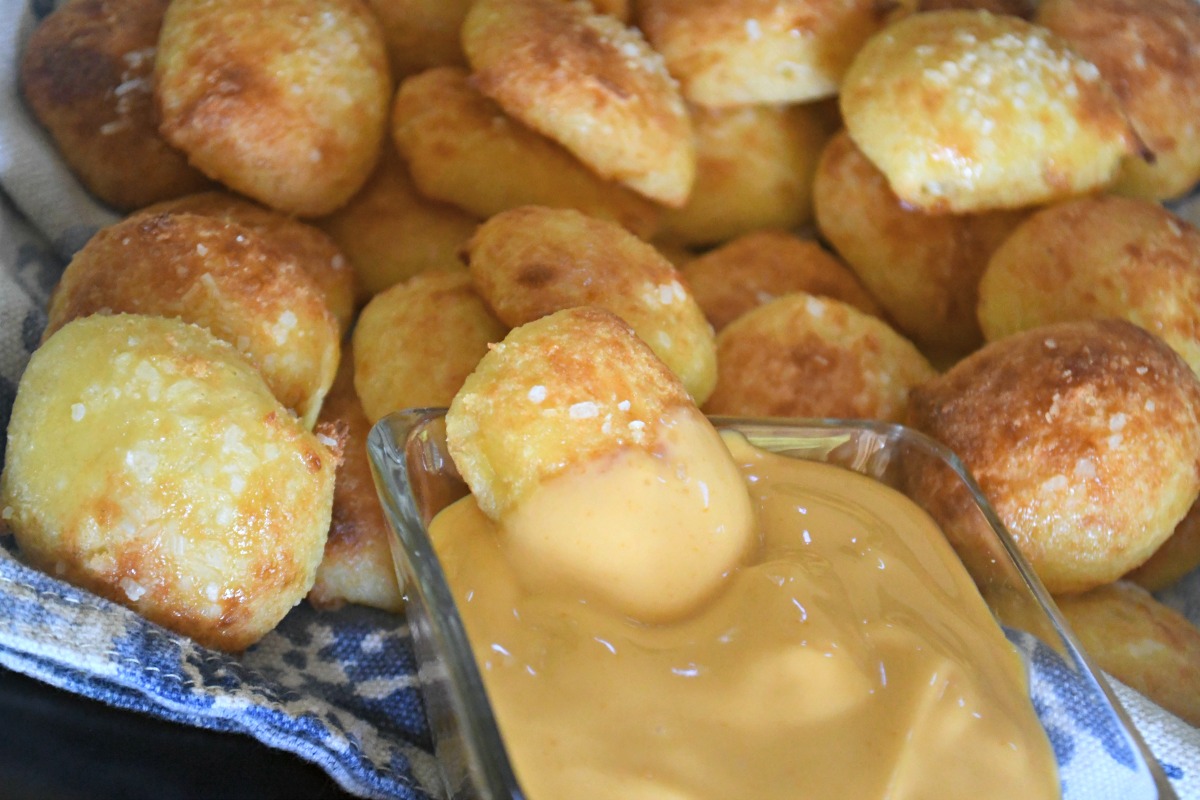 We love that it can be used in so many unique ways, like in these taco stuffed breadsticks, breakfast sausage muffins, and in these delicious keto pigs in a blanket.
Today, I'm so excited to share how to use fathead dough to make soft pretzel bites that you can dip into cheddar cheese sauce or other keto-friendly sauces for a yummy snack!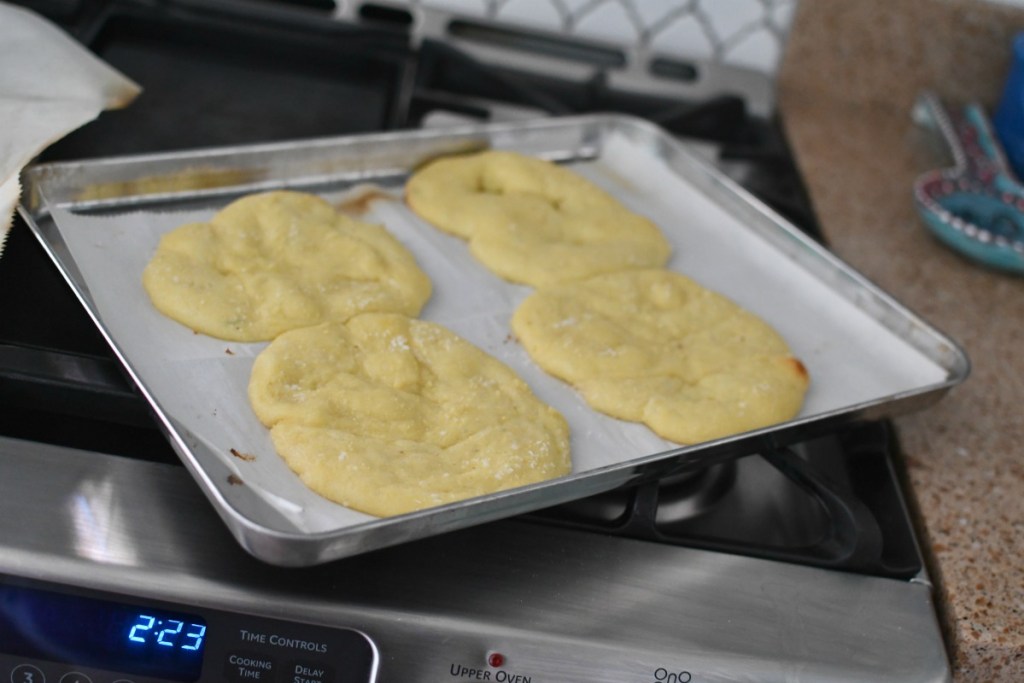 The best part, there are no fancy ingredients needed to make this recipe!
It's funny, I actually tried a different recipe that included dry yeast and water, and… well, as you can see above, it was a big FAIL – HAHA. They were supposed to be shaped like soft pretzels. Sometimes when I try to be fancy, it doesn't work out! Can anyone relate?
Hip Recipe Tips:
Use oil on your hands when working with fat head dough. This type of dough can be on the sticky side. Sometimes it helps to place it in the fridge for several minutes, then add oil to your hands when touching the dough.
A non-stick pastry mat can also help make things easier. I used mine when rolling out the tubes of Fat Head Dough to make the bites, and it was helpful.
When baking, make sure to use a baking mat or parchment paper to avoid any sticking.
Garlic Bites Idea: Another way to serve these would be to brush these bites with melted butter, add a touch of garlic powder, and sprinkle with parmesan cheese!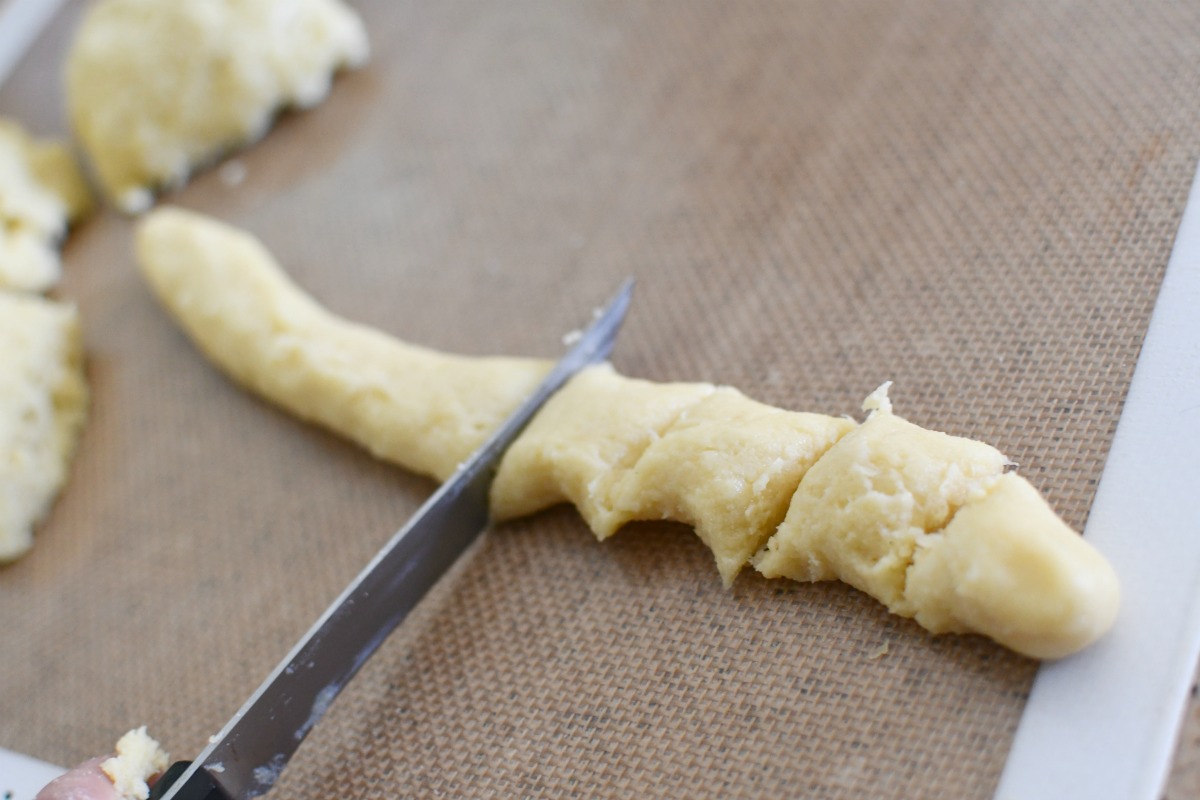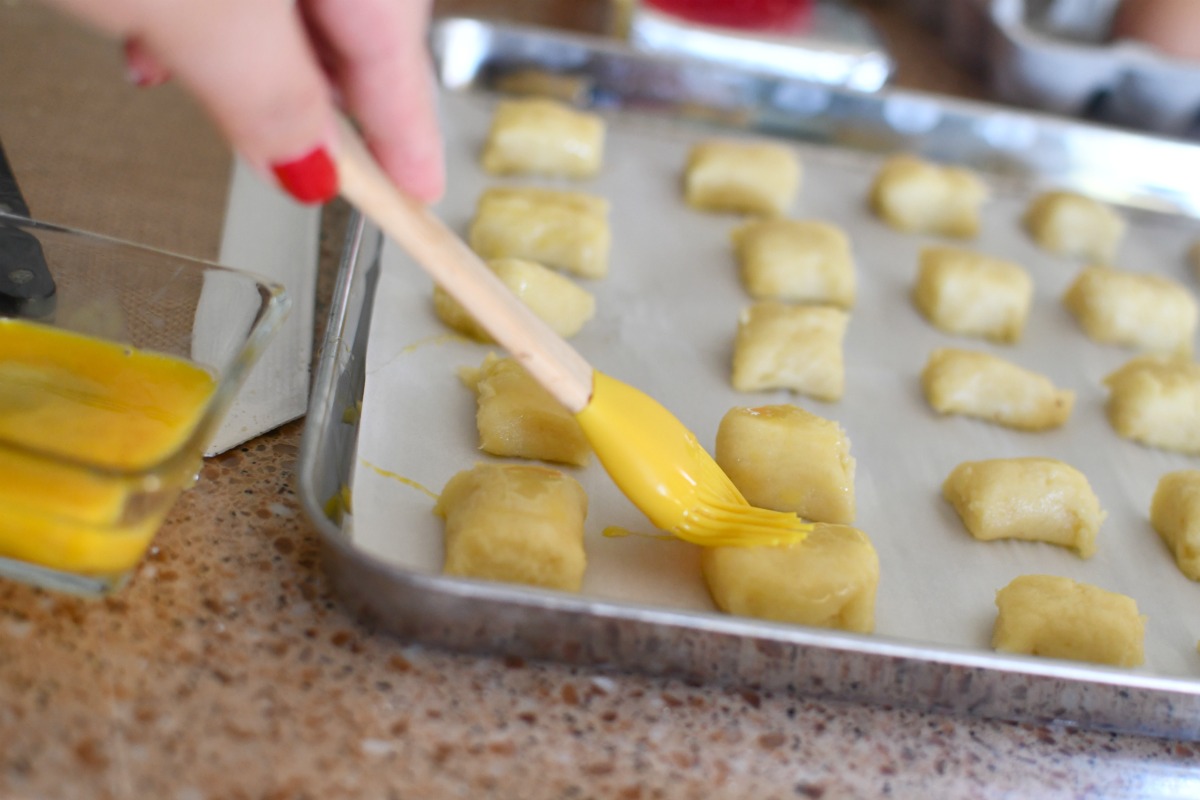 ---
Print
Keto Pretzel Bites Using Fathead Dough
yield: 4 SERVINGS
prep time: 20 MINUTES
cook time: 10 MINUTES
total time: 30 MINUTES
Bite into a warm, soft cheese bread bite straight from the oven that's keto and oh so delicious!
Ingredients
3/4 cup almond flour
1 tablespoon baking powder
1 3/4 cups shredded mozzarella cheese
2 tablespoons cream cheese
1/4 teaspoon salt
2 eggs (one for the dough recipe, one for an egg wash)
1/2 teaspoon coarse salt
Directions
1
Preheat oven to 400 degrees. To a microwave safe bowl, add almond flour, baking powder, mozzarella cheese, and cream cheese.
2
Microwave in 30-second intervals until the cheese is melted, about 60-90 seconds.
3
Add the first egg and salt. Stir very well to incorporate into a dough. Shape into a dough ball.
4
Separate dough into 4 parts. Roll each portion into a one-inch tube shape (approx. 8 inches long). Cut about 8 (1 inch) bites from each tube, and transfer to a parchment paper-covered baking sheet.
5
Beat the second egg in a small bowl and use a kitchen brush to apply egg wash to the top of dough bites. Sprinkle the top with coarse salt.
6
Place in the oven for about 10-12 minutes until the outside is slightly browned. Serve warm with your favorite dipping sauce. Enjoy!
Nutrition Information
Yield: 32 pretzel bites, Serving Size: 8 pretzel bites
Amount Per Serving: 222 Calories | 17g Fat | 4g Total Carbs | 1g Fiber | 14g Protein | 3g Net Carbs
---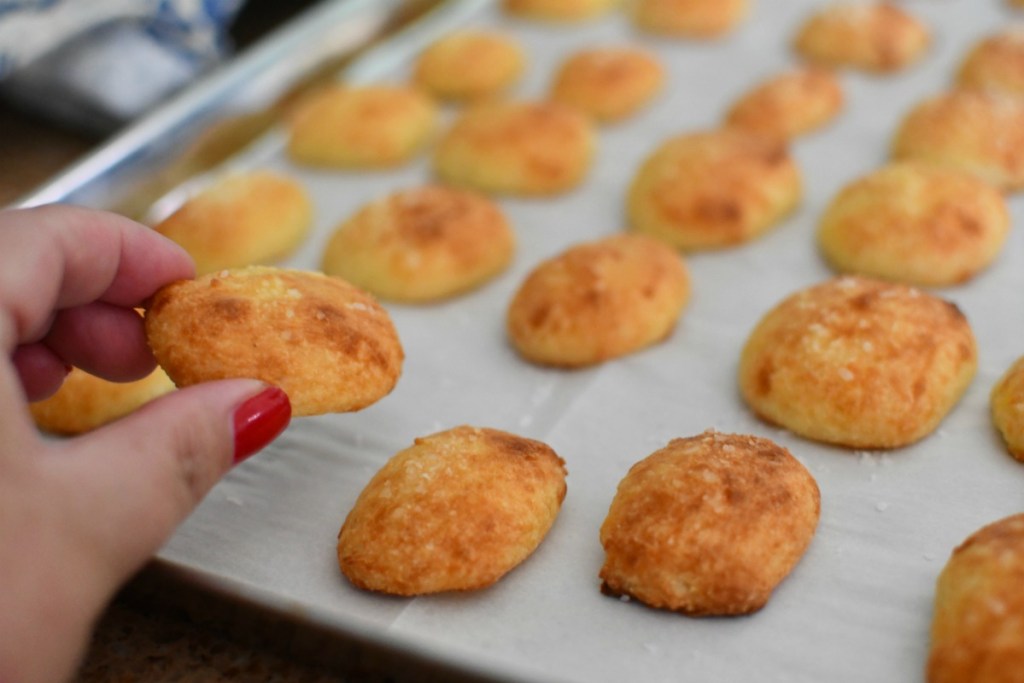 Such a great KETO snack to share with your hungry crew!
If you've got hangry family members 🙋‍♀️, you could easily double or triple the recipe and make a bunch. I love that there were no yeast packets involved or bread-making techniques.
This is a simple and yummy keto recipe I hope you'll enjoy as much as we did!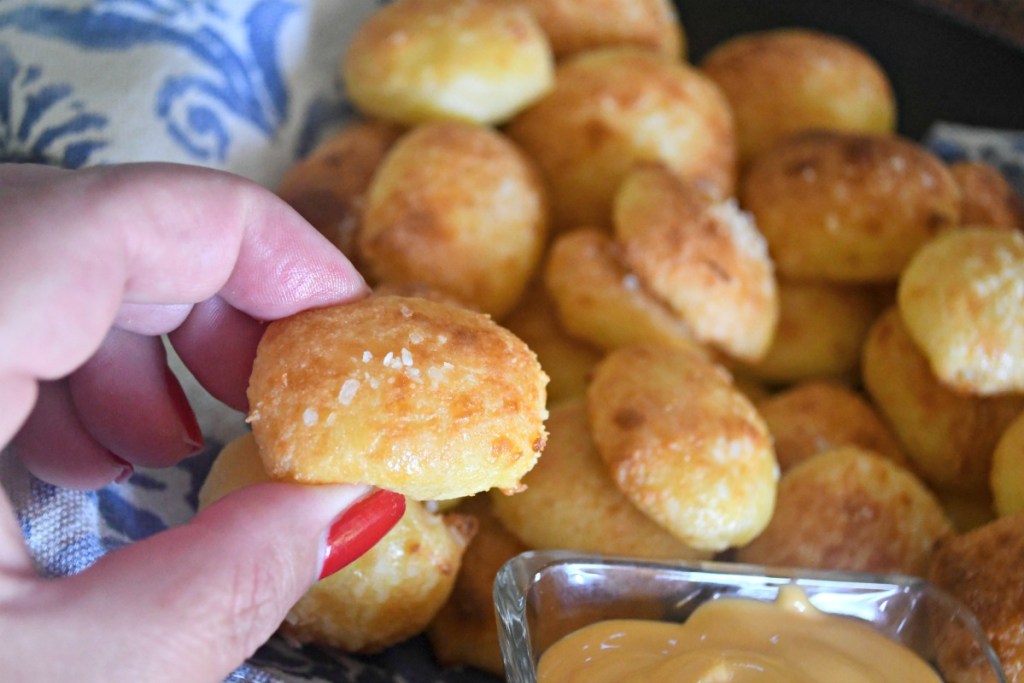 ---