Whole Foods Now Sells Jicama Wraps (So… How Do They Compare to Trader Joe's?)
Have you tried the Whole Foods Jicama Wraps yet? We tested them out against Trader Joe's for a side-by-side comparison.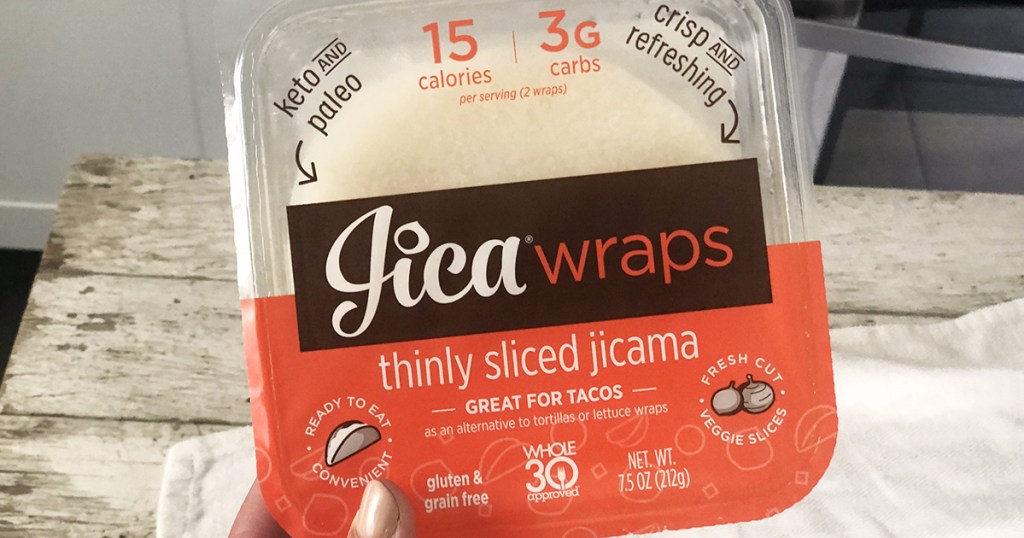 Jica… what?
If you haven't heard about our love for jicama yet, listen up! We've used it as a replacement for potatoes in fries, in pico de gallo, and even as an apple substitute (yes, seriously!), but probably the easiest and most convenient use of jicama we've seen is in wrap form.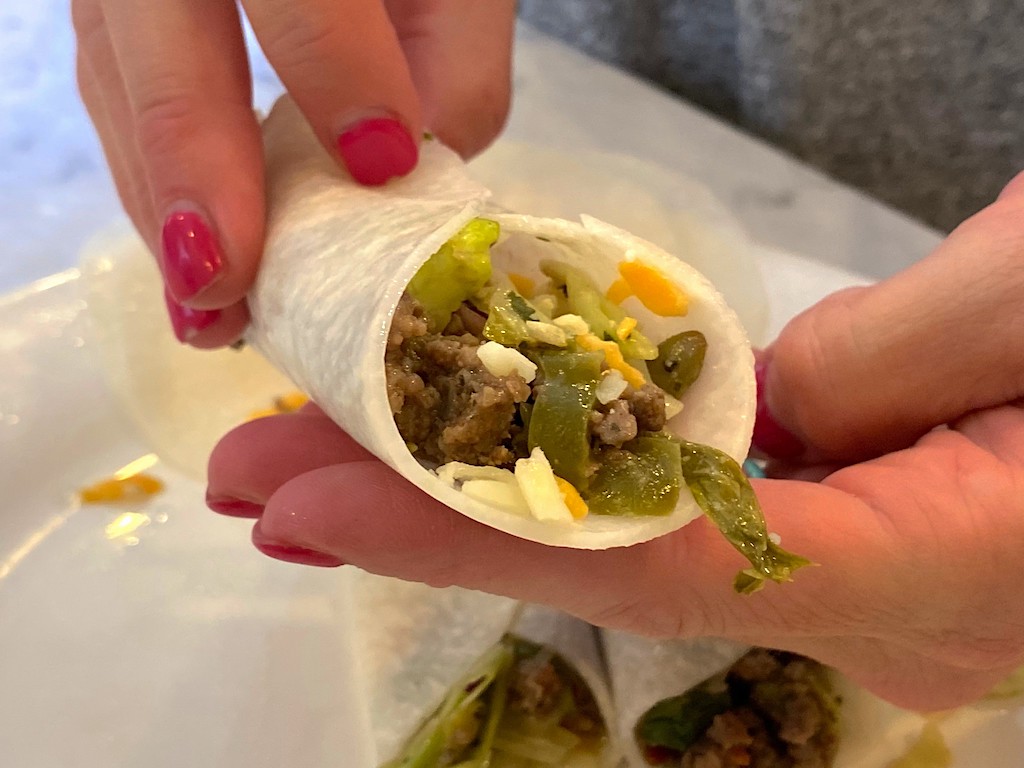 Jicama wraps are a great low-carb and keto alternative to corn and flour tortillas. All they are is a very thin slice of jicama—that's it! How simple is that?! The ingredient list says "jicama" and nothing else… not even any preservatives to help with freshness.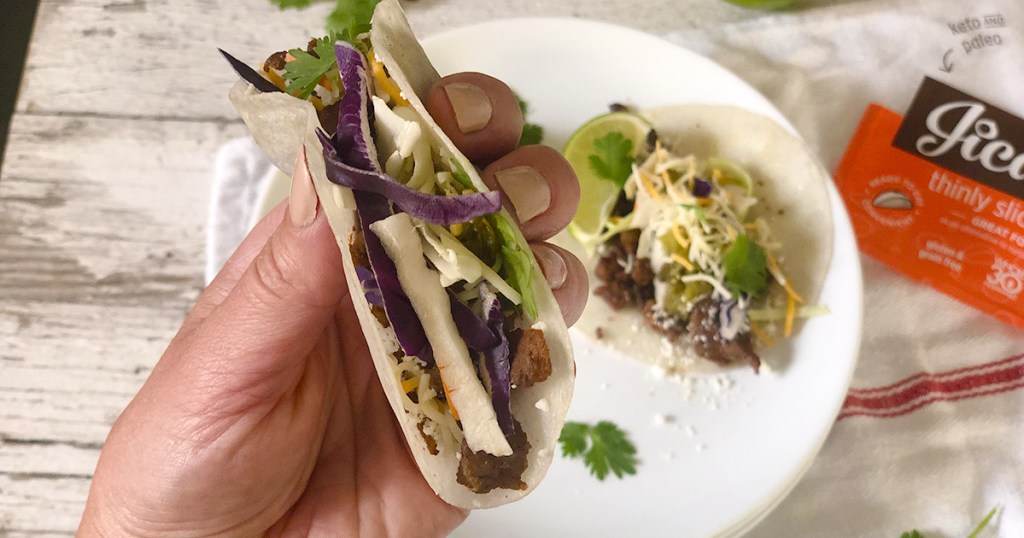 These are great to use as taco shells or as a breakfast or lunch wrap, opting to eat them cold or heat them up in a skillet. The Whole Foods jicama wraps are super flexible and withstand being rolled up, folded over, and heated. It's pretty surprising how well they hold up, much better than corn or flour tortillas actually! No tearing or splitting open while trying to eat a taco with them. 😋
The Whole Food jicama wraps taste delicious heated up, as it almost gives them a slightly sweet and salty flavor. Just heat a skillet over low to medium heat and place the jicama wraps in the skillet for about a minute per side. You may need to slightly grease your skillet to avoid sticking.
Heads up that the jicama wraps will shrink down if you leave them in the skillet for longer than a few minutes, but not to worry, it's just because the slice of jicama is losing moisture. It does make for tiny, street-sized tacos! 🌮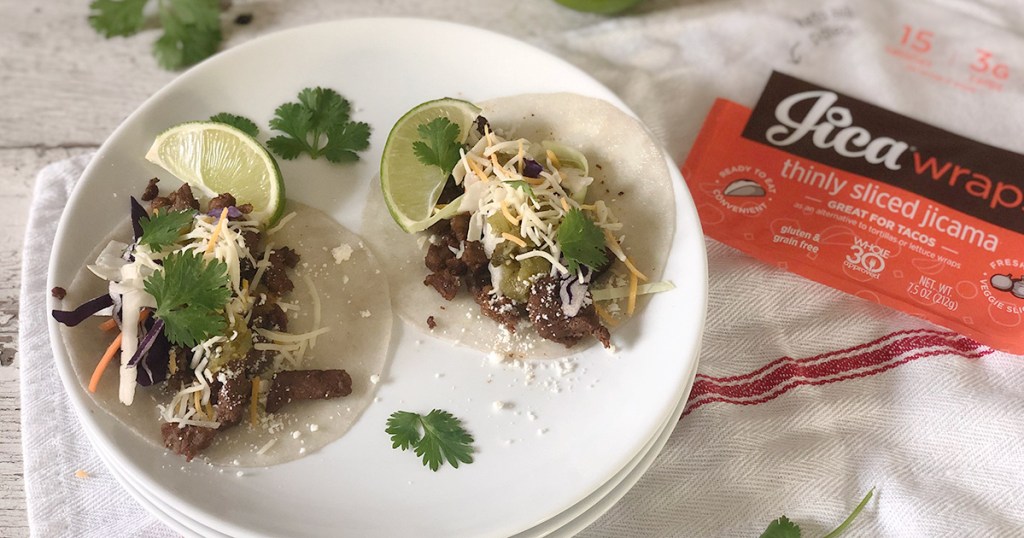 When I made some tacos to try out the jicama wraps from Whole Foods, I made them with simple carne asada cut into small pieces, seasoned with our keto taco seasoning, and browned in a skillet for about 10 minutes. I couldn't stop there so I topped them with shredded cabbage, cotija, shredded Mexican cheese, salsa verde, and cilantro. YUM!
That's just my preference for taco fillings but you can do whatever your heart desires! These wraps are so versatile and would go great with our keto pork carnitas, keto Buffalo chicken taquitos, or keto slow cooker shredded chicken tacos.
Or if you want a super easy meal, try Trader Joe's Pork Carnitas… you just have to heat the meat up!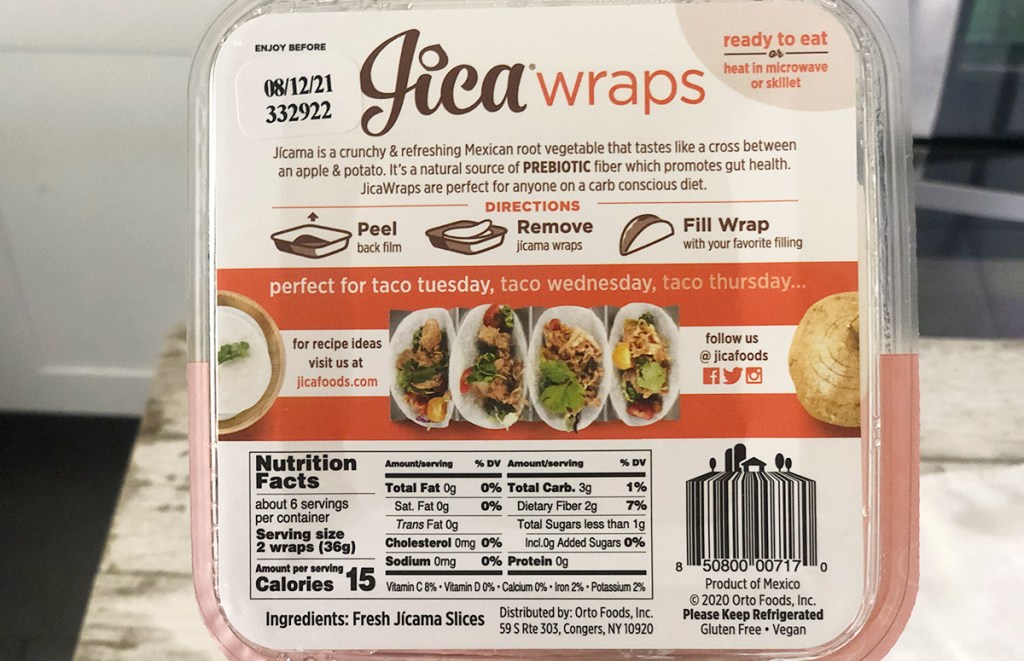 Whole Foods Jicama Wraps Nutrition
Serving Size: 2 wraps | 15 calories | 0g Fat | 3g Total Carbs | 2g Fiber | 1g Sugar | 0g Protein | 1g Net Carbs
Ingredients: Jicama slices (yep, that's it!)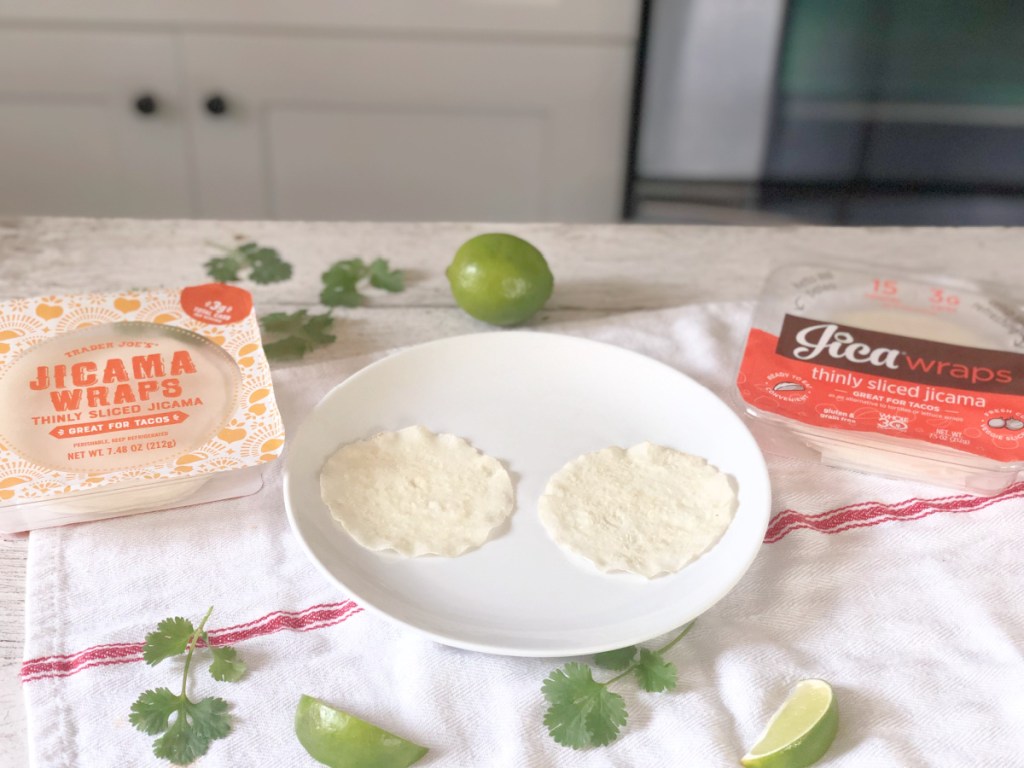 Similarities of both jicama wraps:
Both are made with only jicama.
The serving size is 2 wraps and 6 servings per container (total of 12 wraps).
Nutrition information is the same for both with only 1g net carb per serving – low carb win!
Both of the 12-count packages are the same price at $3.99, which makes each wrap only 33¢!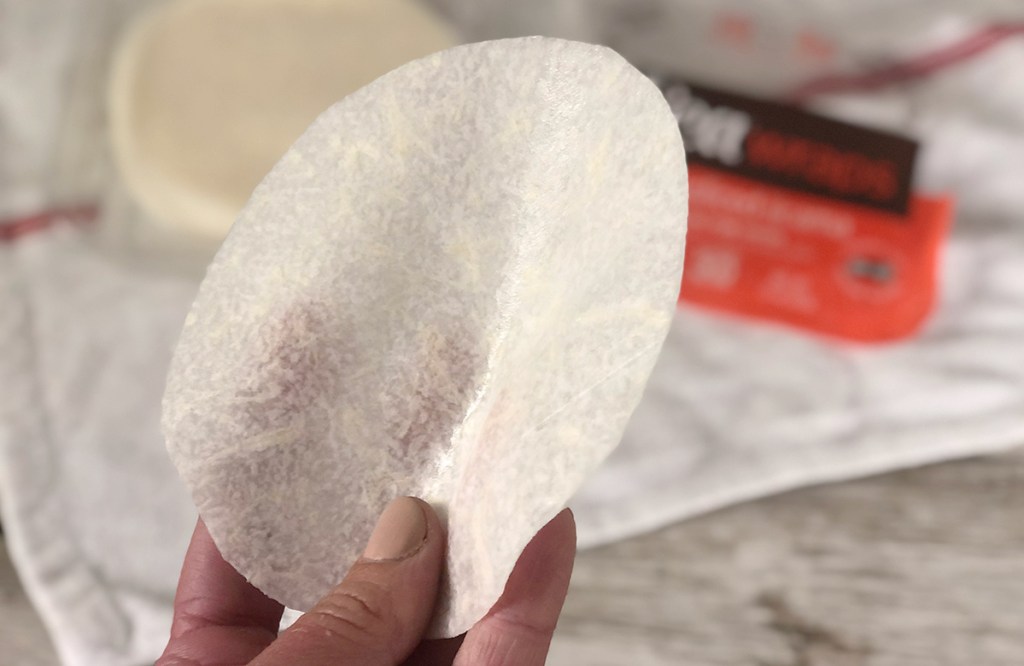 Differences of the jicama wraps:
The Whole Foods Jicama Wraps are very, very slightly thinner than the Trader Joe's jicama wraps, otherwise, you can't really tell the difference between the two. Honestly, they're both delicious!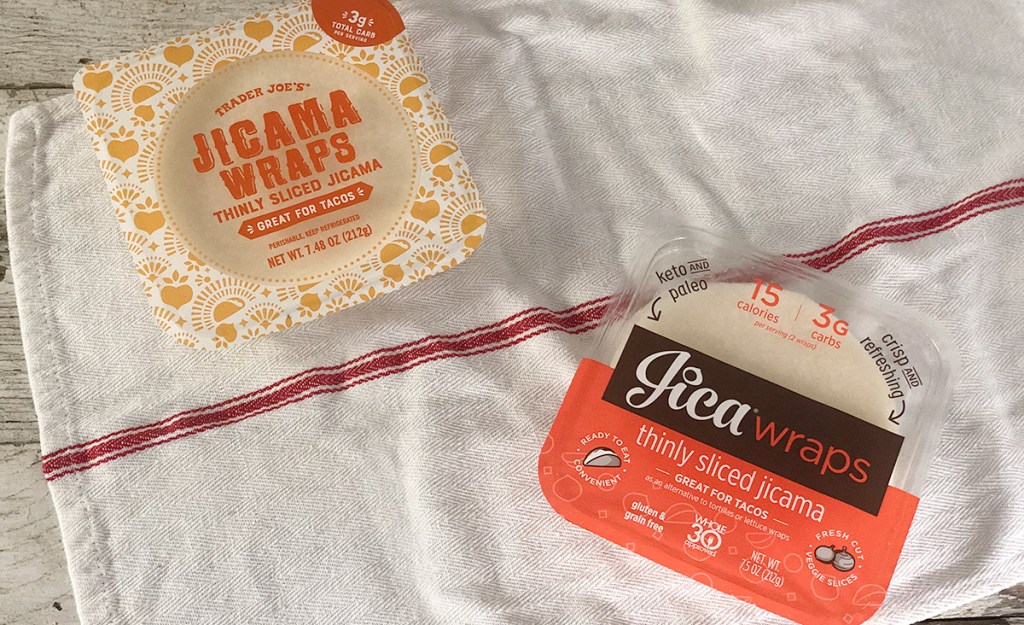 Final thoughts on the Whole Food Jicama Wraps:
Both the Whole Foods and Trader Joe's jicama wraps stood up to the taco test (meaning neither had the fillings tear through), and you can't tell the difference between the two brands when eating them as part of a taco. There was a very slight difference in the thickness, with the Whole Foods ones being a little thinner, but it doesn't make any difference in the quality or flavor in my opinion.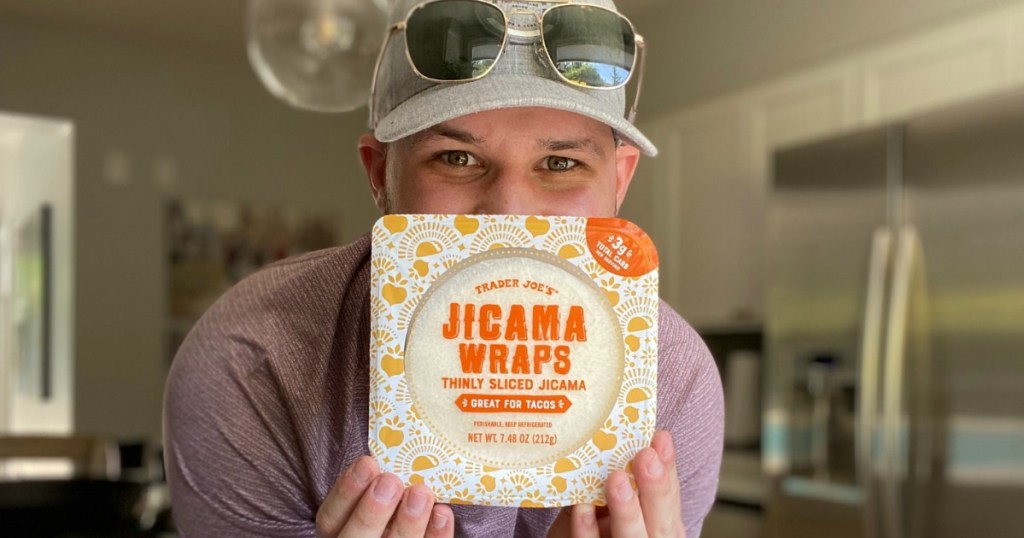 In general, jicama wraps are a wonderful alternative to regular corn and flour tortillas and definitely deserve a regular appearance in your keto diet. We recommend both brands so go with whichever one is more convenient for you!
---
Have you tried them both? What did you think?
---