My Sugar-Free Cherry Pie Filling Is the Best Way To Savor Cherry Season
Dreaming of keto cherry pie? I've created the most delicious sugar-free cherry pie filling!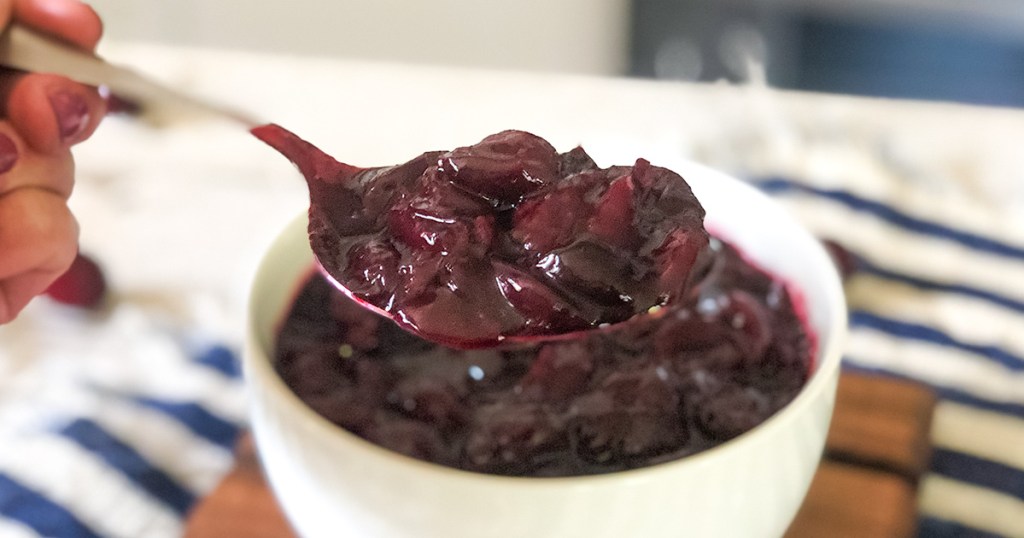 Make a keto cherry pie with my delicious sugar-free pie filling.
Take advantage of cherry season before it's too late by making this sweet and tart recipe. Even if you're not a cherry pie fan (I'm typically not either), I have to tell you that this turned out so good, I'm going to convert you!
Already a lover of cherry pie? Then what are you waiting for, because this low carb recipe is for you! 🍒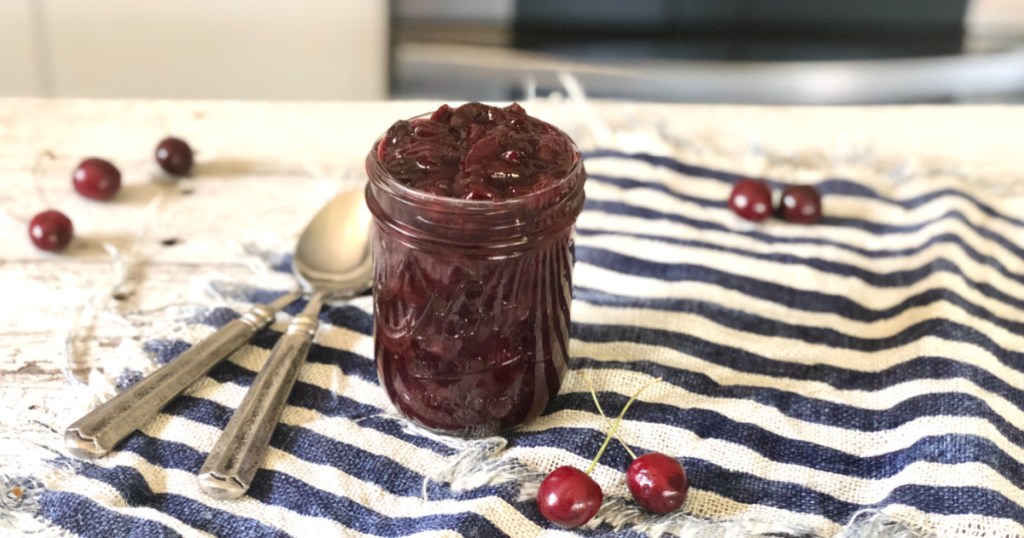 This sugar-free cherry pie filling is made with fresh cherries, lemon juice, lemon zest, vanilla extract, almond extract, and keto confectioner's sugar. The lemon cuts through some of the sweetness and brightens every bite.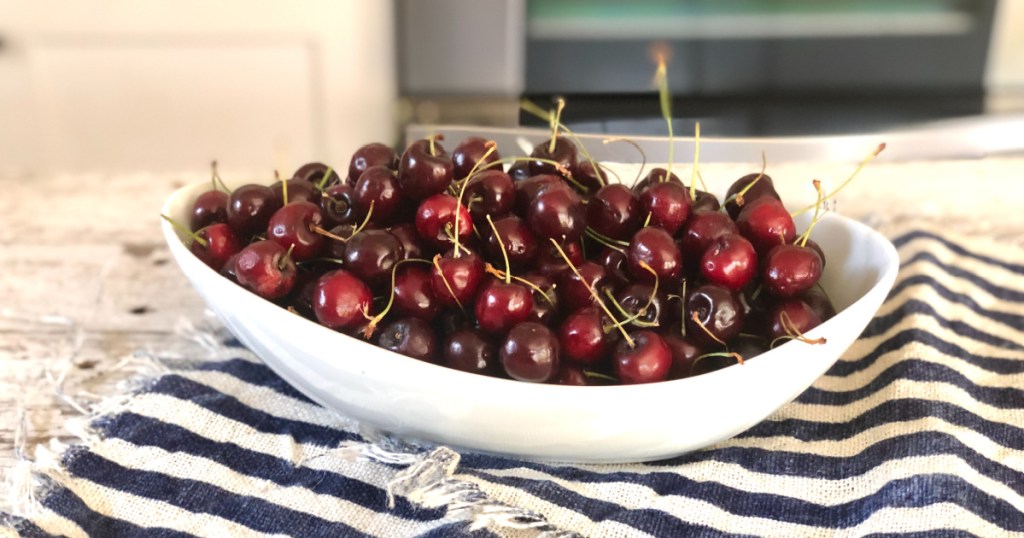 Nothing better than fresh cherries!
Of course, you can use this sugar-free cherry pie filling in a pie, but there are lots of other ways to eat it as well! You could mix this sugar-free pie filling with plain, full-fat Greek yogurt, use it to top keto pancakes or keto waffles, as a filling for keto crepes, or just eat it by the spoonful!
Tips for making the best sugar-free cherry pie filling:
Wear disposable gloves when cutting the cherries in half and pitting them to avoid staining your fingers red…or use a cherry pitter!
You could add 1 teaspoon of cinnamon to the cherries for added flavor and to add some warmth to the overall taste.
Definitely make sure you use all the zest and juice from a large lemon. It really cuts through the tartness!
If you can't find fresh cherries or want to make this out of season, you could use 4 cups of frozen cherries instead.
This will keep in the fridge for two weeks and you can freeze it for up to six months. I suggest making this now with fresh cherries and then freezing it to use for holiday pies. 🥧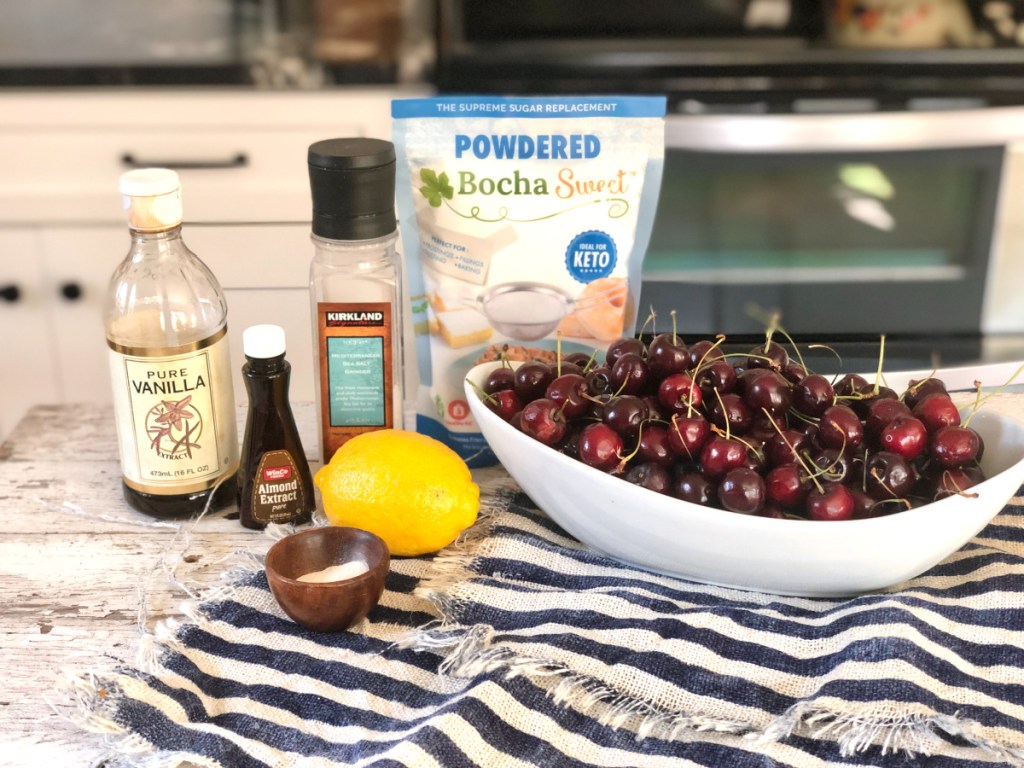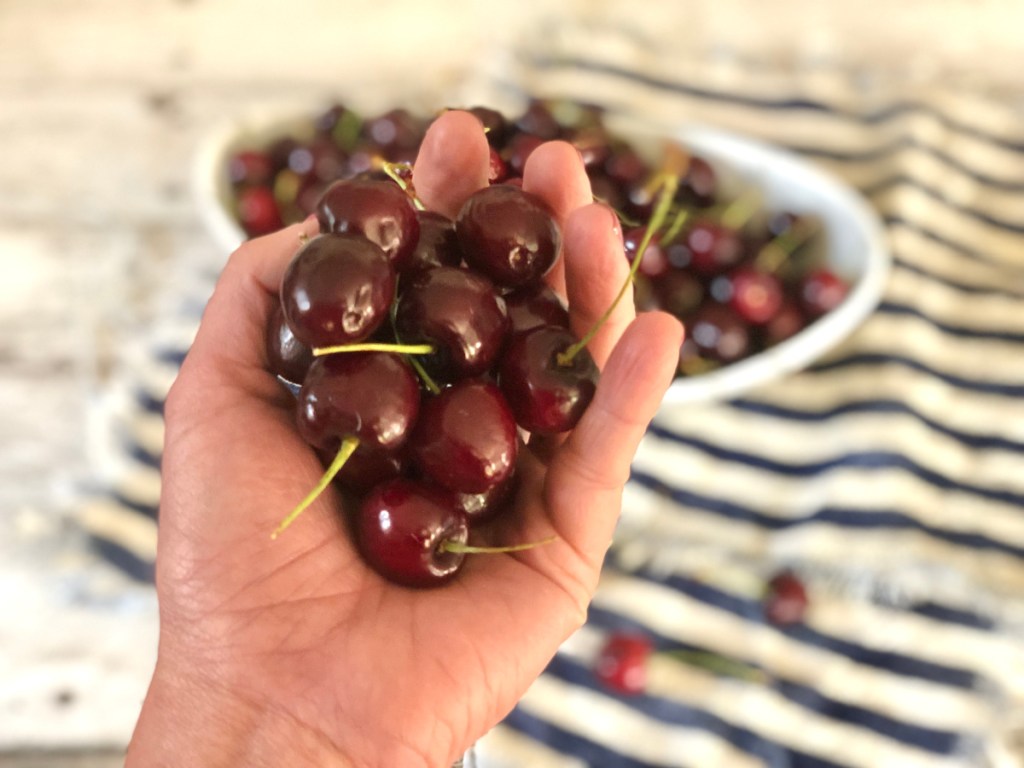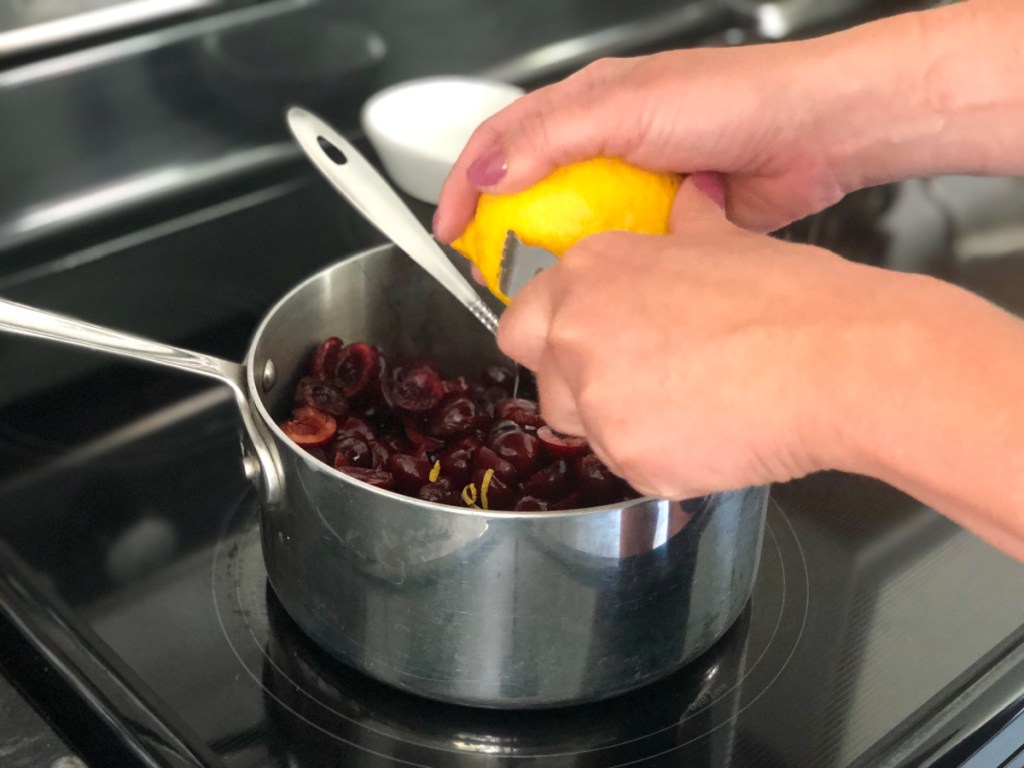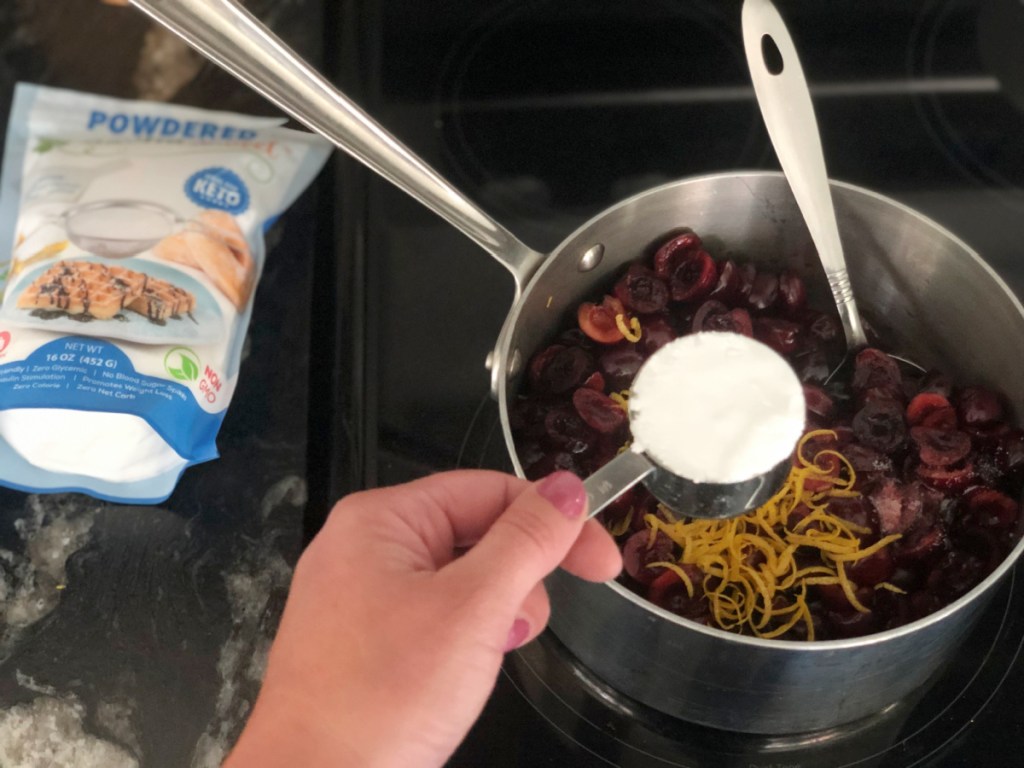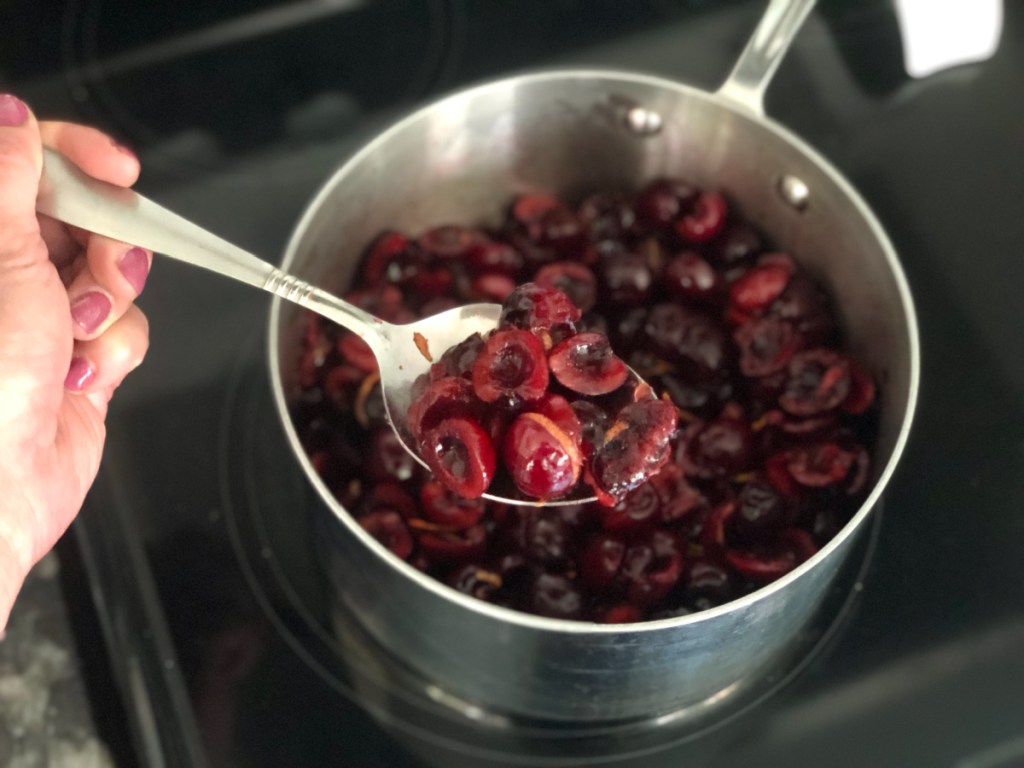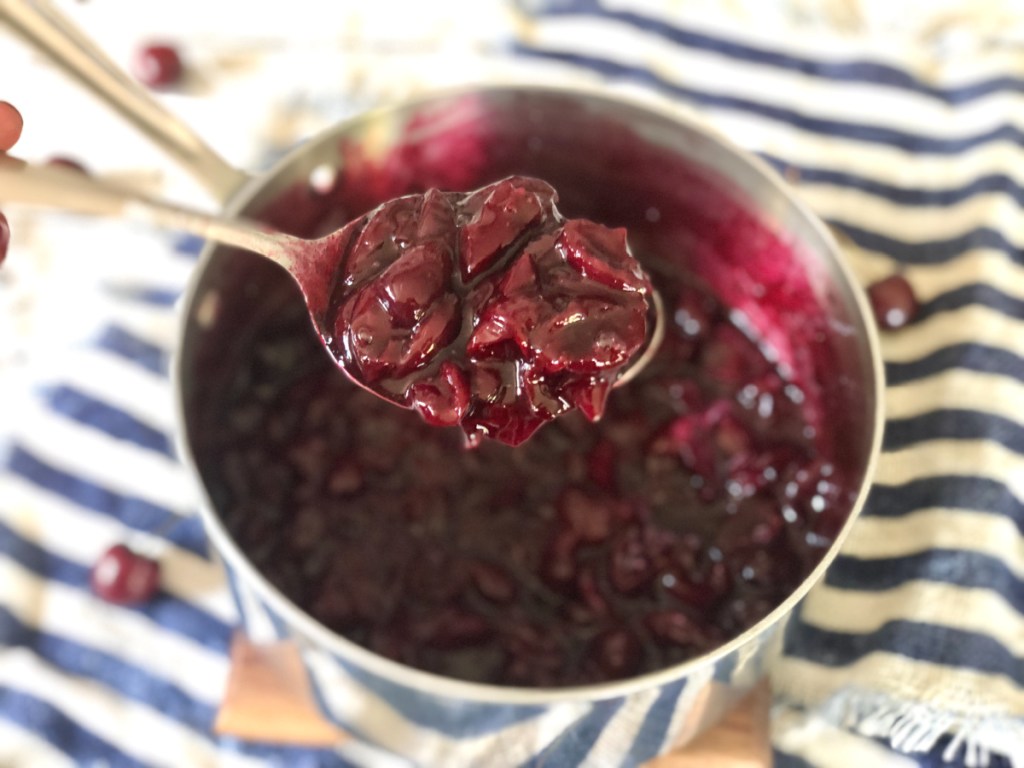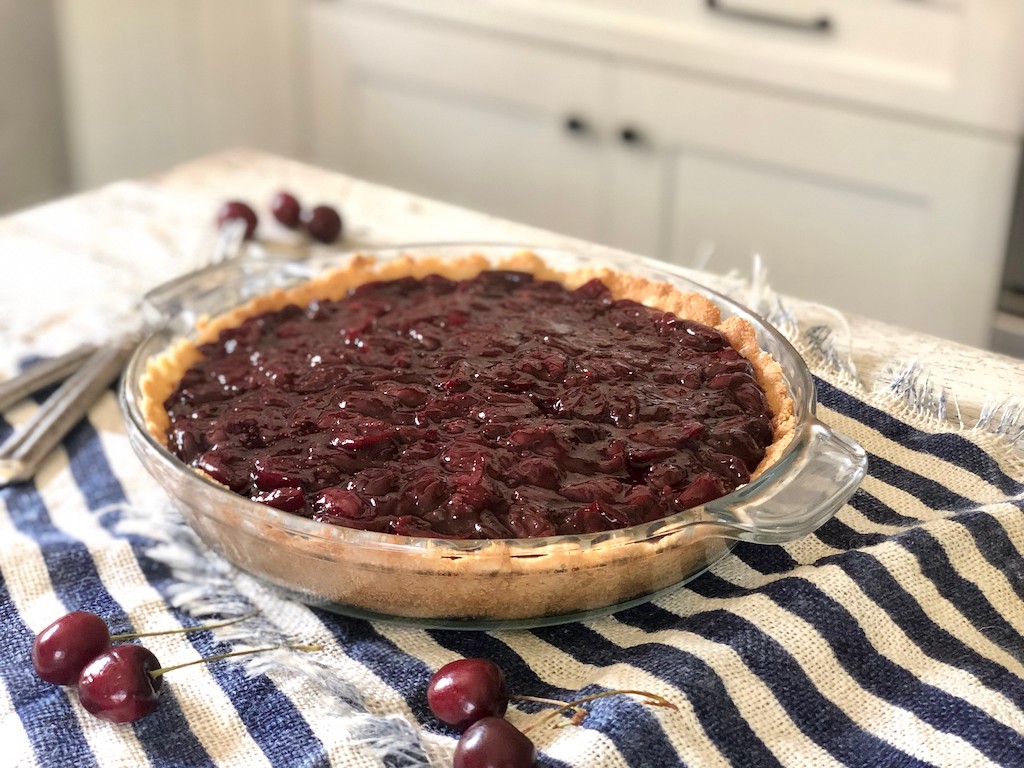 ---
Print
Sugar-Free Cherry Pie Filling
yield: 20 SERVINGS
prep time: 20 MINUTES
cook time: 20 MINUTES
total time: 40 MINUTES
Fresh cherries simmered down with lemon zest, lemon juice, almond and vanilla extracts, and a keto sweetener to create the most delicious sugar free pie filling.
Ingredients
Keto Cherry Pie Filling:
5 cups of fresh cherries, whole (about 2.5 pounds)
zest from one large lemon (about 1 tablespoon or a little more)
juice from one large lemon (about 3 to 4 tablespoons)
1/2 teaspoon salt
1/2 teaspoon almond extract
1/2 teaspoon vanilla extract
Crust (optional):
Directions
1
Cut the cherries in half and remove the pits.
2
Place the cherries, lemon zest, lemon juice, salt, almond extract, vanilla extract, and keto confectioners sweetener in a medium-sized saucepan over medium-high heat. Stir to combine.
3
Continue to stir every few minutes until the cherries start to boil, reduce heat to medium-low and continue to simmer for 15-20 minutes until the cherries are broken down.
4
Sprinkle in the xanthan gum and stir well to combine. Cook for 5 more minutes, stirring occasionally, and then remove from heat. Let cool. The filling will continue to thicken as it cools.
5
Use as desired. This recipe makes enough for one pie. The sugar free pie filling can be stored in an air-tight container in the fridge for two weeks or in the freezer for up six months.
6
Need an easy crust?
Preheat oven to 325 degrees. Combine almond flour with sweetener, and mix in melted butter until you get a coarse, crumb-like texture. Press mixture into the bottom of a pie pan and up the sides. Add foil around the edges of the crust to prevent browning. Bake at 325 for 15 minutes. Remove from oven, and let cool. Fill with the sugar-free cherry pie filling and enjoy an easy no-bake pie! It's delicious topped with whipped cream, too!
Nutrition Information
Yield: 20, Serving Size: 2 tablespoons
Amount Per Serving: 25 Calories | 0.1g Fat | 8.1g Total Carbs | 1.2g Fiber | 5g Sugar | 2.6g Sugar Alcohol | 0.4g Protein | 4.6g Net Carbs
---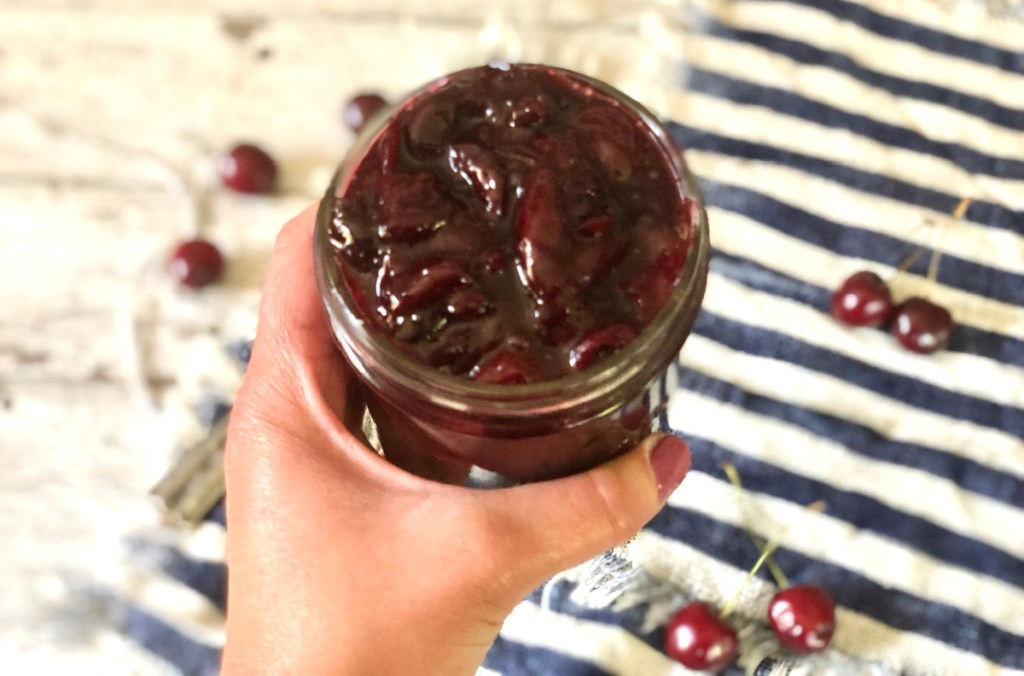 Who knew homemade sugar-free cherry pie filling was so delicious?
This recipe is seriously so easy to make and is a hundred times better than store-bought cherry pie filling, I promise! You'll never be able to go back to the stuff in a can. And to make this even better, the recipe has no added sugar. 🙌
I'm urging you – make this sugar-free pie filling before cherry season is over! You won't regret it when you bite into your first keto cherry pie!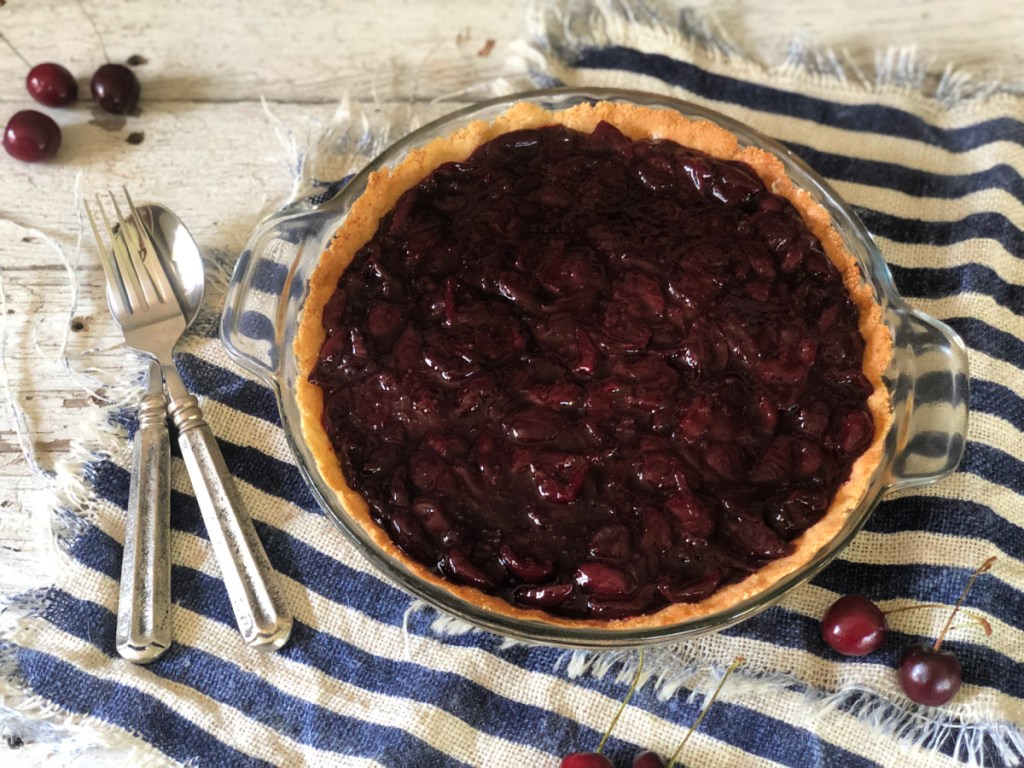 My Hip sidekick Jenna made this sugar-free cherry pie filling and here's what she had to say:
"I absolutely love cherry season! We buy fresh cherries regularly when they are available. However, I have never made my own cherry pie filling before. Luckily this was so easy, I'll totally do it again! And with just a few staple ingredients and some fresh cherries, I am loving this keto cherry pie filling!
I think this would be awesome for some hand pies too. Just make a keto crust, make circles with a biscuit cutter, and fill with the sugar free pie filling…voilà! A fun treat! (We make a lot of hand pies in my family 😂). I have a feeling I'll be making this a few times to prep for the upcoming holiday season!"
---
Craving pie? Check out our recipe for keto pumpkin pie!