Slow Cooker Keto Mexican Pork Carnitas (Comida Fiesta!)

Impress a crowd with this flavorful & authentic keto carnitas recipe
Put a twist on taco Tuesday with these slow cooker pork carnitas! They're cooked in the slow cooker until juicy and fall-apart tender, then oven-crisped to absolute perfection! Invite your loved ones to feast on this luscious, citrusy pork that cultivates friendship and warmth. There's just something about carnitas that says, "Let's celebrate life together!"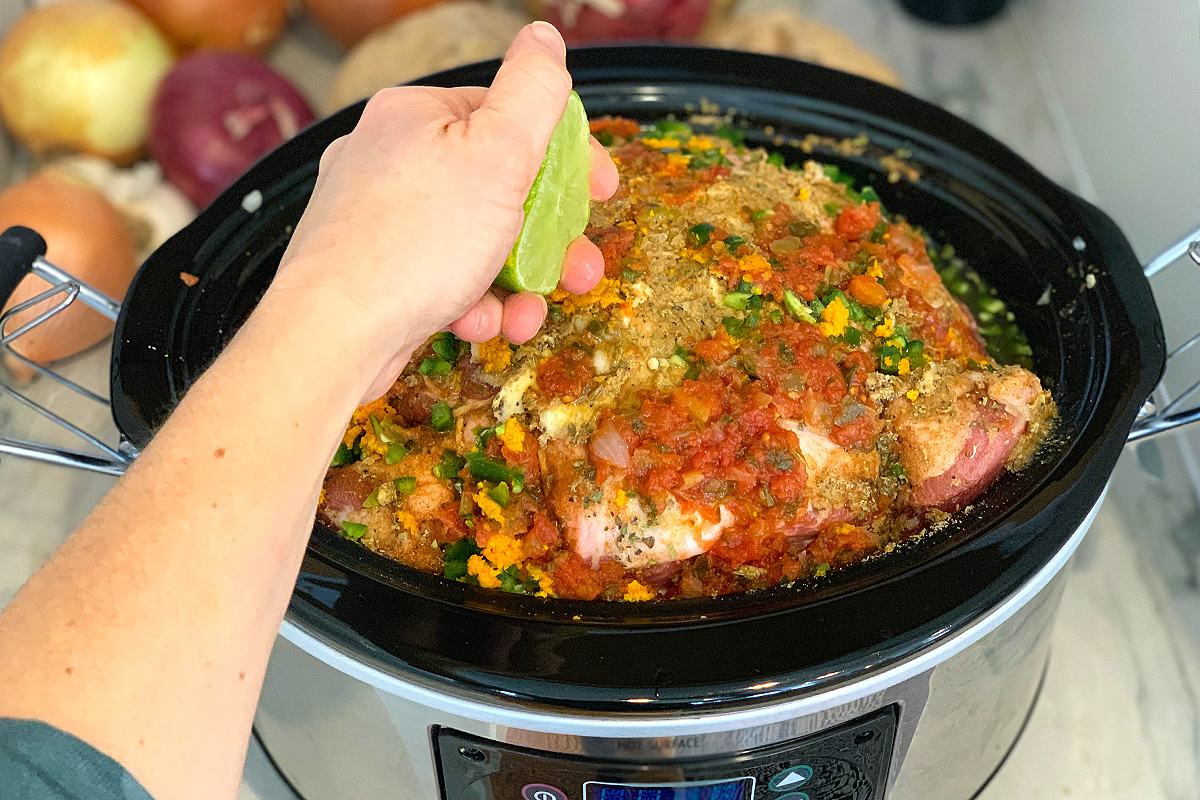 One notable characteristic of traditional carnitas is the use of citrus, often from juiced orange and lime. This recipe includes freshly squeezed lime juice. However, to help maintain a low carb count, I bypass the addition of orange juice. In its place, grated orange rind provides the evocative flavor of orange minus the high carbohydrates and sugar found in its juice.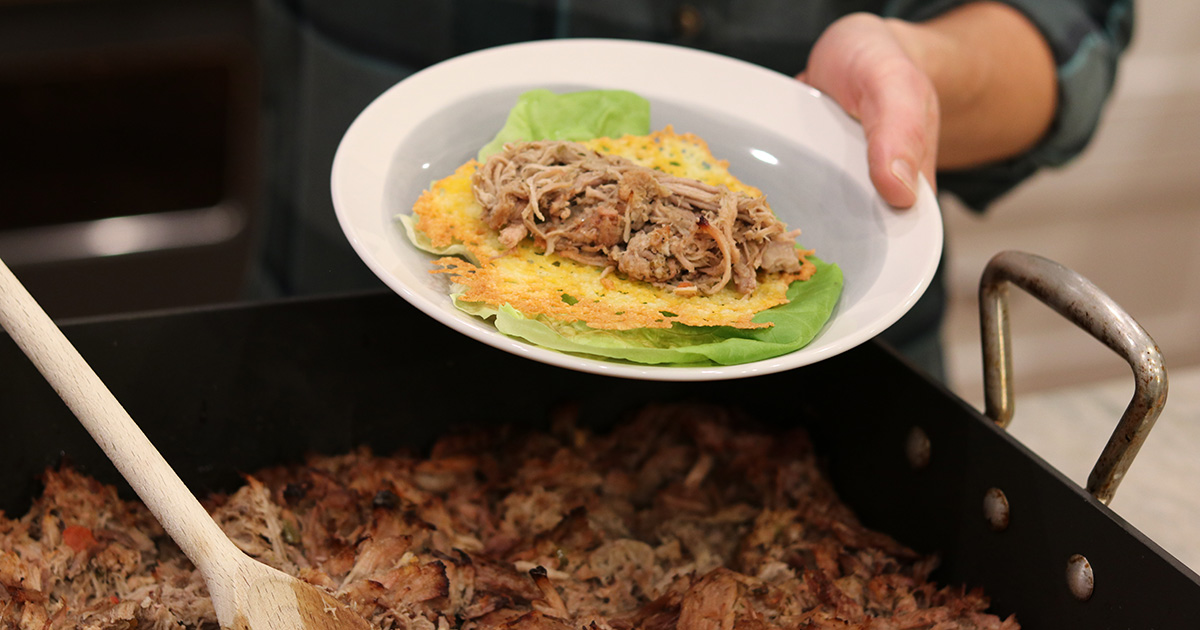 ---
Print
Slow Cooker Keto Pork Carnitas
yield: 14 SERVINGS
prep time: 20 MINUTES
cook time: 8 HOURS
total time: 8 HOURS 20 MINUTES
Slow-cooked Mexican pork that's juicy and fall apart tender, then oven-crisped to absolute perfection!
Ingredients
5-6 pounds no-bone pork shoulder (butt)
1/4 cup butter, softened
1 tablespoon ground cumin
1 tablespoon dried oregano
1 tablespoon salt
1 teaspoon pepper
1/2 teaspoon cayenne
1/4 teaspoon cinnamon
2 tablespoons erythritol
2/3 cup onion, finely diced
1 large jalapeño, cored, seeded & finely diced
5 cloves garlic, minced
14.5 oz can chicken broth
2 limes
1 packed tablespoon orange zest (zest from about 1 medium orange)
1/2 cup salsa (I prefer a thinner variety)
Directions
1
In a small bowl, mix cumin, oregano, salt, pepper, cayenne, cinnamon, erythritol, and orange rind. Set aside.
2
Place onions and garlic in the bottom of your slow cooker followed by chicken broth.
3
Remove any string or netting from your pork roast. Rub it all over with butter followed by premixed seasonings. Place it in the slow cooker, fatty side up, allowing the fat to drip down as it cooks.
4
Pour salsa over the roast along with the juice of two limes and jalapeño. Secure lid on slow cooker and cook on low for 8 hours or until pork is fall apart tender.
5
Remove pork from slow cooker. Shred meat with two forks or meat claws. It should fall apart easily.
6
Preheat broiler. Place the shredded meat on a rimmed baking sheet or roasting pan. Ladle stock from slow cooker over pork. Toss it gently as you add the stock. Continue doing so until the meat no longer absorbs the extra juice. Broil for 5-15 minutes or until edges of pork begin to brown. Toss once halfway through.
7
Serve on butter lettuce, cheese tortillas, or your favorite taco-style wrap. My preferred toppings include homemade pico de gallo, guacamole, and Mexican cotija cheese. Enjoy!
Additional Notes
Stock leftover from the cooking process is included in the nutritional values.
Nutrition Information
Yield: 14 servings, Serving Size: approx. 6 oz
Amount Per Serving: 307 Calories | 16g Fat | 3g Total Carbs | 1g Fiber | 36g Protein | 2g Net Carbs
---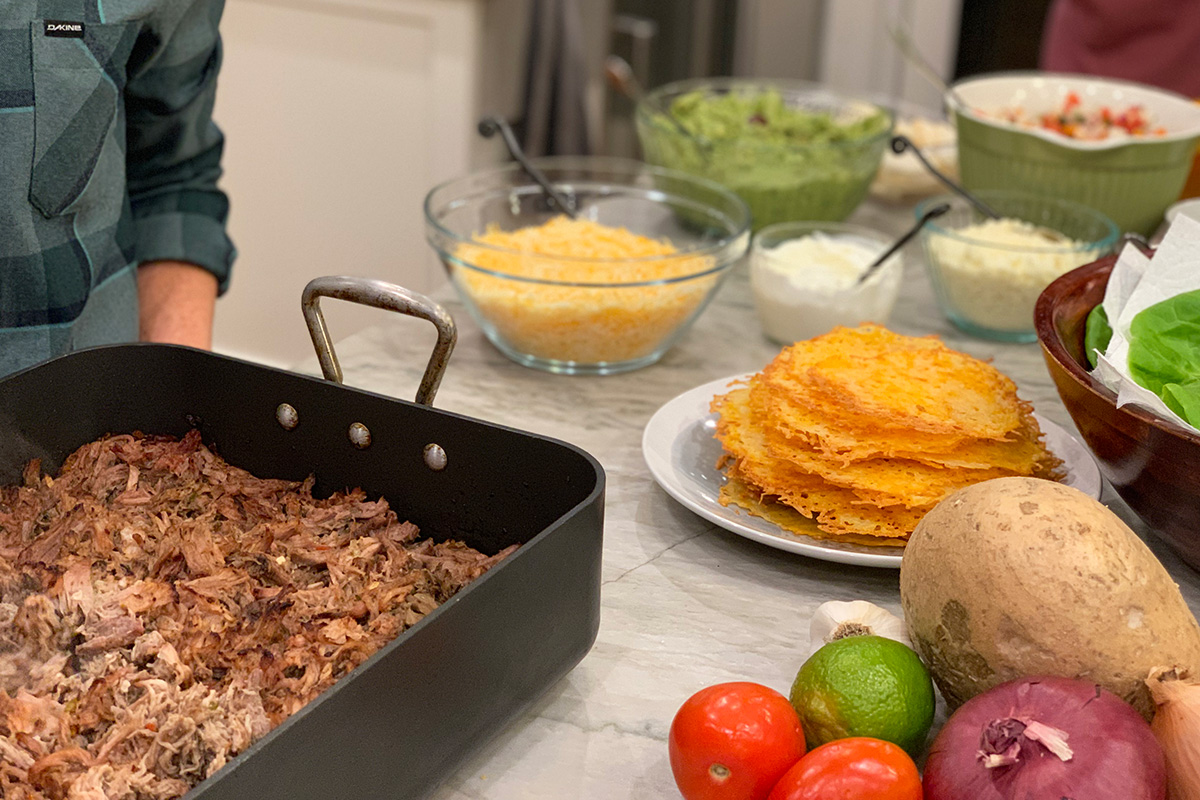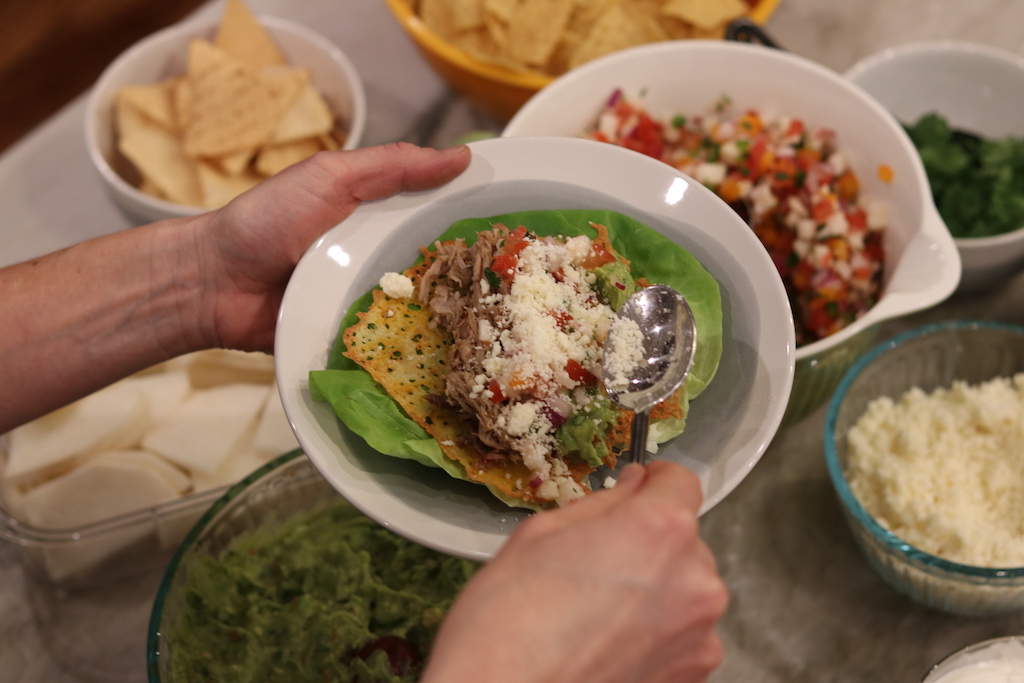 ---