Keto Jicama Pico de Gallo Recipe—Zesty & Bright Flavor!

If you're already a fan of pico de gallo, then prepare to be wowed!
Our keto pico de gallo recipe takes your favorite keto Mexican inspired dishes to new heights! The crunch of jicama adds a wonderful texture, with a touch of sweetness for the perfect keto appetizer. The jalapeno offers a hint of heat, while the lime juice gives a zing that really gets those taste buds dancing. I love serving this pico de gallo with grilled flat iron steak, cheese chips, or scrambled eggs!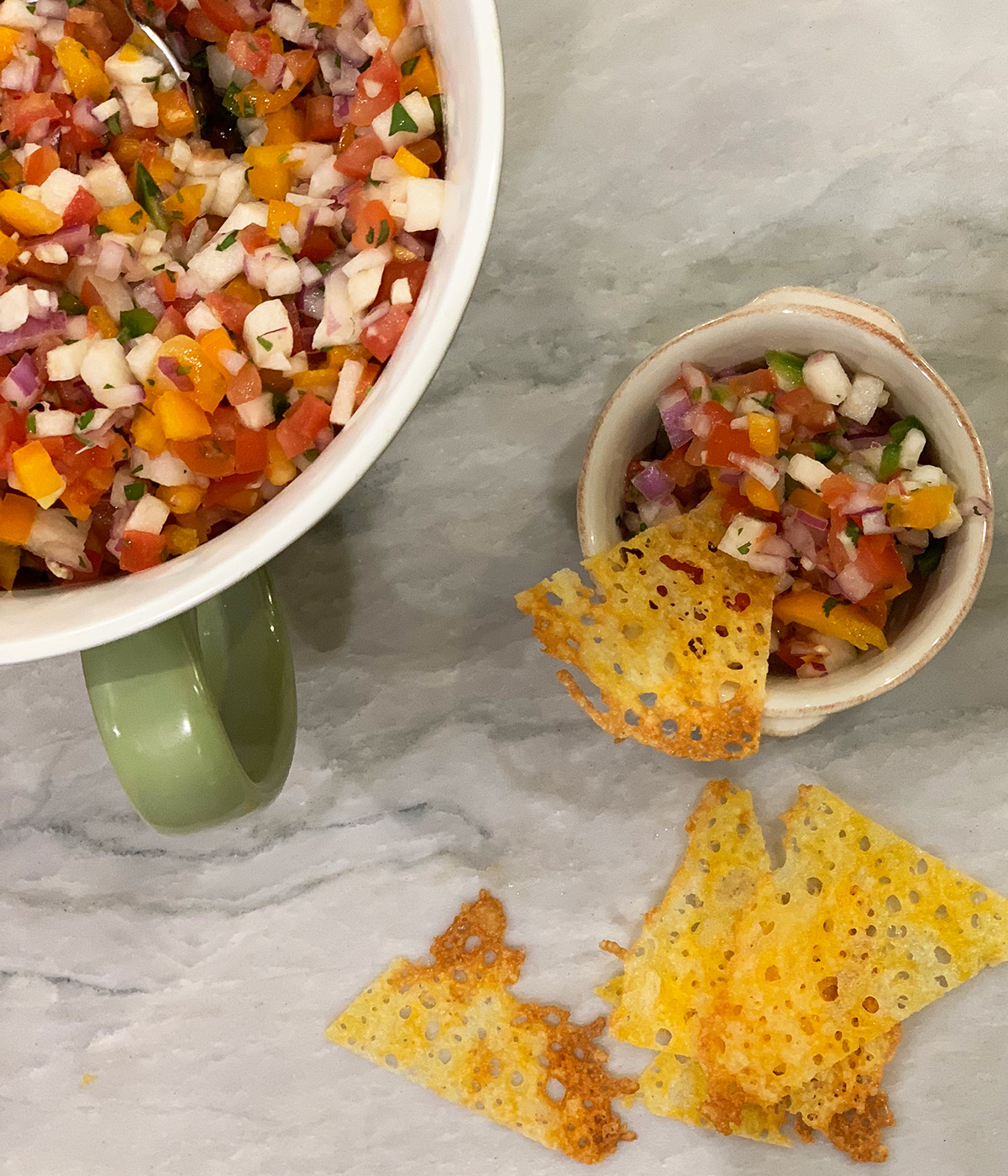 I recently prepared this jicama pico de gallo for our Hip2Keto team, and I can only assume that a few were quite skeptical. After we finished the meal, even those who'd raised their eyebrows at the site of my freakish friend jicama were asking for the recipe afterward. Those skeptics will likely be the first to print off this recipe and add it to their arsenal of easy, yet impressive keto dishes that can serve a crowd!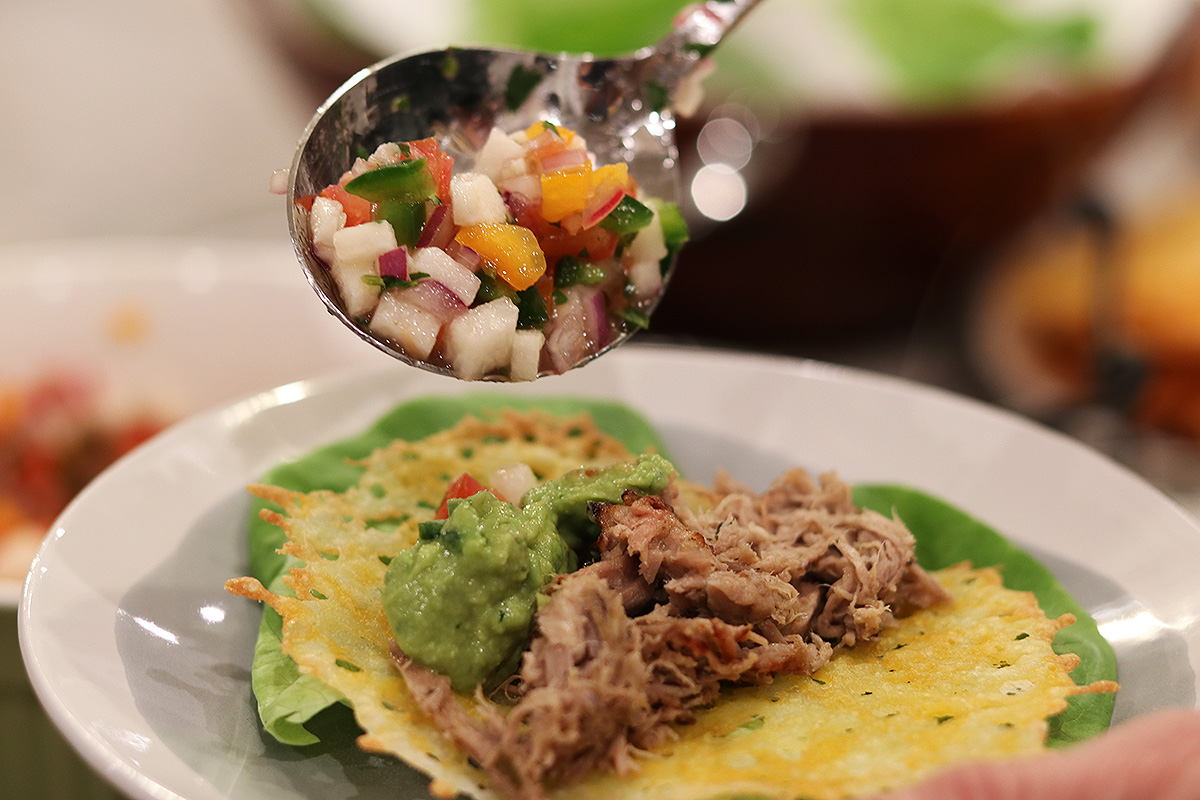 ---
Print
Keto Jicama Pico de Gallo
yield: 16 SERVINGS
prep time: 25 MINUTES
total time: 25 MINUTES
Top your favorite Mexican dishes with this bright & flavorful salsa fresca! This recipe is designed for a crowd but can be easily halved if desired.
Ingredients
6 medium Roma tomatoes, seeded and finely diced (about 3 cups)
1 large jicama, peeled and finely diced (about 3 cups)
1 1/2 cups orange bell pepper, finely diced
1 1/2 cups red onion, finely diced
3 cloves garlic, finely minced
1-3 jalapeno peppers, seeded and finely minced (adjust according to your heat preference)
1/4 cup fresh cilantro, finely chopped
2 limes, juiced
2 teaspoons apple cider vinegar
2 teaspoons erythritol or your preferred keto sweetener
1-3 teaspoons salt
Directions
1
Add prepared veggies to a large mixing bowl along with garlic, jalapeno, and cilantro. Add lime juice, vinegar, sweetener, and 1 tsp salt. Mix until fully combined. Once mixed, adjust salt to taste. Allow flavors to sit and mingle for at least 1/2 hour before serving.
2
Store in a sealed container in the refrigerator. Leftovers are good for one to two weeks.
Nutrition Information
Yield: 16 servings, Serving Size: approx. 1/2 cup
Amount Per Serving: 31 Calories | 0g Fat | 8g Total Carbs | 3g Fiber | .5g Sugar Alcohol | 1g Protein | 4.5g Net Carbs
---
Hip Tip:
Drizzle some high-quality avocado oil or olive oil over your jicama pico de gallo to add some healthy fat!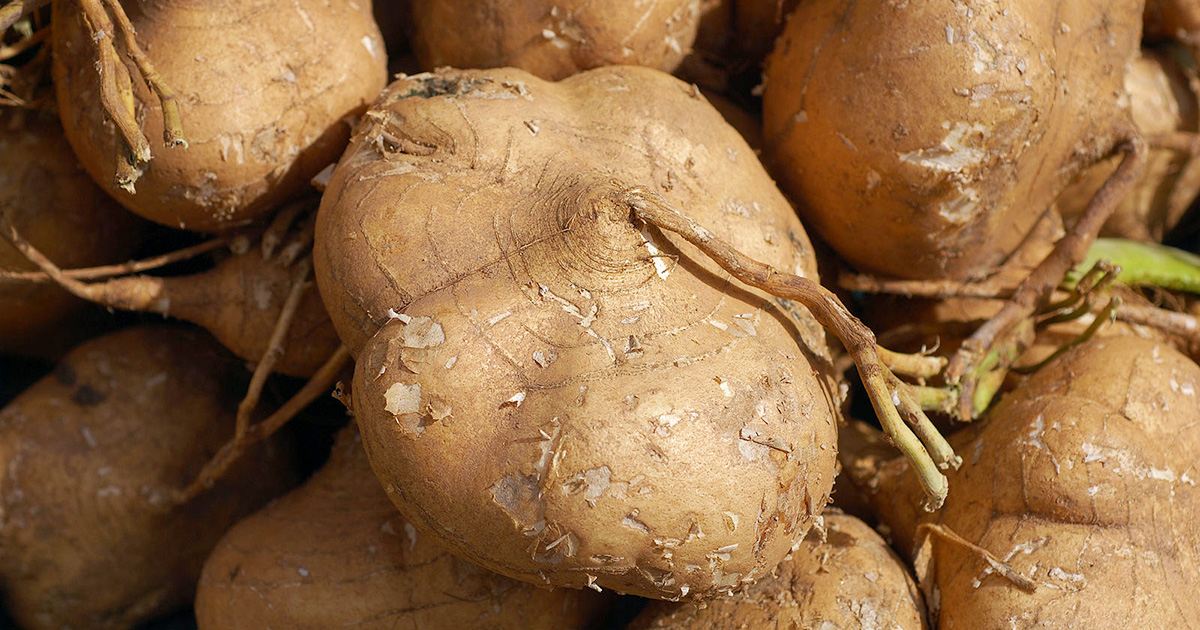 Although jicama may not be the best-looking veggie on the planet, it sure has some attractive health benefits. It promotes good digestion and prevents constipation. Jicama is also said to lower cholesterol and to brighten skin. It's suggested jicama can also maintain blood sugar, strengthen the immune system, and calm nerves and muscles.
Additionally, this little powerhouse is purported to have cancer-fighting properties, as well as nutrients that promote a healthy pregnancy. Oh, and for those of you who are looking to shed a few pounds, many believe that it helps to maintain an active metabolism! Woohoo!
---