Keto Slow Cooker Shredded Chicken Tacos

Shake up taco night with these keto slow cooker shredded chicken tacos! 🌮
TACOS ARE LIFE because everyone can get on board for them, including the pickiest of eaters– and these keto slow cooker shredded chicken tacos are no exception! Good thing they're easy to make with a simple cheese shell – and I'll show you how to make those in this post, too!
Best of all, this easy recipe lets your slow cooker do all the work! I appreciate any and all slow cooker ideas that can make life run smoothly for quick meals during the week, and this chicken dinner is definitely a winner!
Start with well-seasoned meat!
Boring shredded chicken makes me sad, so today we're adding lots of taco and ranch-inspired seasonings that can definitely be adjusted to taste. In fact, make sure to shake up a jar of our keto-friendly homemade taco seasoning to keep things low carb and delicious! Plus, we're adding a diced jalapeno and lime juice for additional flavor.
Once cooked, stir in a can of Rotel tomatoes and chilies, or sub in your favorite salsa. After all, this is about whatever floats your boat. I mean taco! 🌮😉
Hip tips for making Keto Slow Cooker Shredded Chicken Tacos:
Like my shredding claws? These Bear Paws are super handy for shredded meat, and I absolutely ❤️ them!
Print
Keto Slow Cooker Shredded Chicken Tacos
yield: 10 SERVINGS
prep time: 10 MINUTES
cook time: 3 HOURS
total time: 3 HOURS 10 MINUTES
Brilliantly seasoned shredded chicken to build keto tacos or any other low carb meal with!
Ingredients
2 pounds raw chicken breasts
1 tablespoon dried minced onion
1 tablespoon dried parsley
1 teaspoon garlic powder
2 teaspoons dried dill weed
1 teaspoon onion powder
1/2 teaspoon salt
1/4 teaspoon ground pepper
1 fresh jalapeno, seeded and diced
juice from one lime
1 cup chicken broth
1 can Rotel tomatoes & chilies
Shredded cheddar cheese for taco shells (1/2 cup per shell)
any desired keto friendly toppings for serving
Directions
1
Place chicken breasts in slow cooker along with seasonings, chicken broth, jalapeno, and the juice of one lime.
2
Close the slow cooker lid, and cook on LOW for 3-4 hours or HIGH for 2-3 hours.
3
Remove the chicken, shred, and remove most of the liquid. Return chicken to the slow cooker. Stir in a can of Rotel, drained. Serve shredded chicken in tacos as desired. Note: This made about 5 cups of shredded chicken mixture.
Additional Notes
Nutrition calculations are for shredded chicken only. Add 1 net carb per each cheese shell.
Nutrition Information
Yield: 5 cups shredded chicken, Serving Size: 1/2 cup shredded chicken
Amount Per Serving: 121 Calories | 1g Fat | 3g Total Carbs | 1g Fiber | 22g Protein | 2g Net Carbs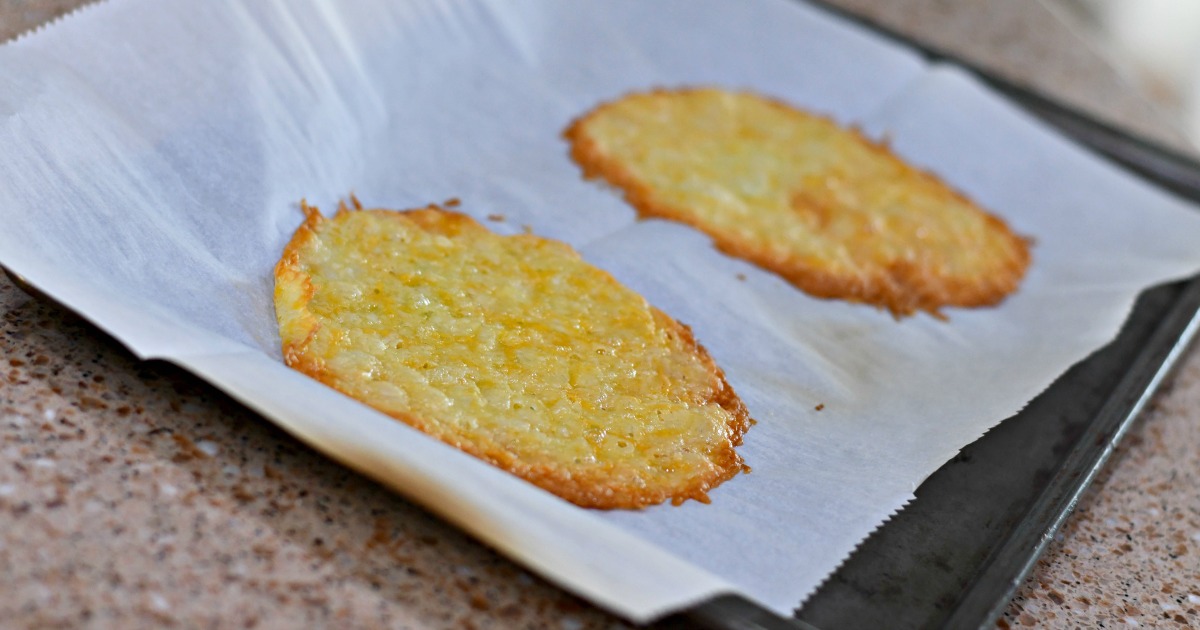 Using JUST shredded cheddar cheese as a taco shell is a genius idea because it's easy and – HELLO – yummy, too!
Preheat the oven to 400 degrees, and prepare a baking sheet with parchment paper.
For each shell: Pile about 1/2 cup of cheddar shredded cheese into a 6-inch circle.
Bake in the oven at 400 degrees for about 6-8 minutes until the edges get slightly browned.
Remove from oven, carefully bend circles in half, and let cool.
Stuff as desired for TACOS!
Loving this idea? Head on over here to see the complete recipe and detailed instructions!
Nutrition Per Each Taco Shell: Calories: 200, Total Carbohydrates: 1g, Fiber: 0g, Net Carbohydrates: 1g, Total Fat: 16g, Protein: 13g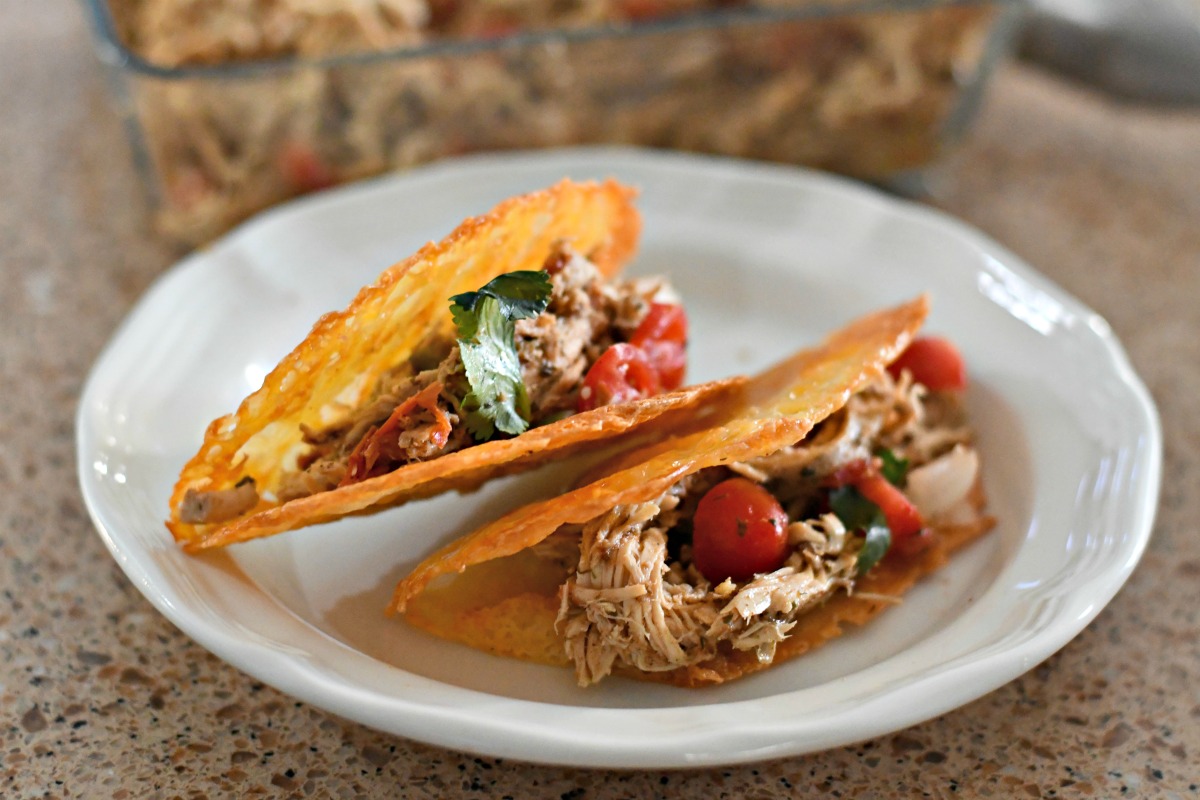 Keto tacos that actually rock!
Upgrade your plain lettuce-wrapped taco to something that you can hold in your hand, like these cheese shells! They pair so well with this tasty shredded chicken. This idea never disappoints, and I think your family will enjoy it, too!
---
Try this: Slow-Cooker Keto Taco Soup Recipe