Make the Best Keto Sandwiches & Pizzas With Trader Joe's Cauliflower Thins!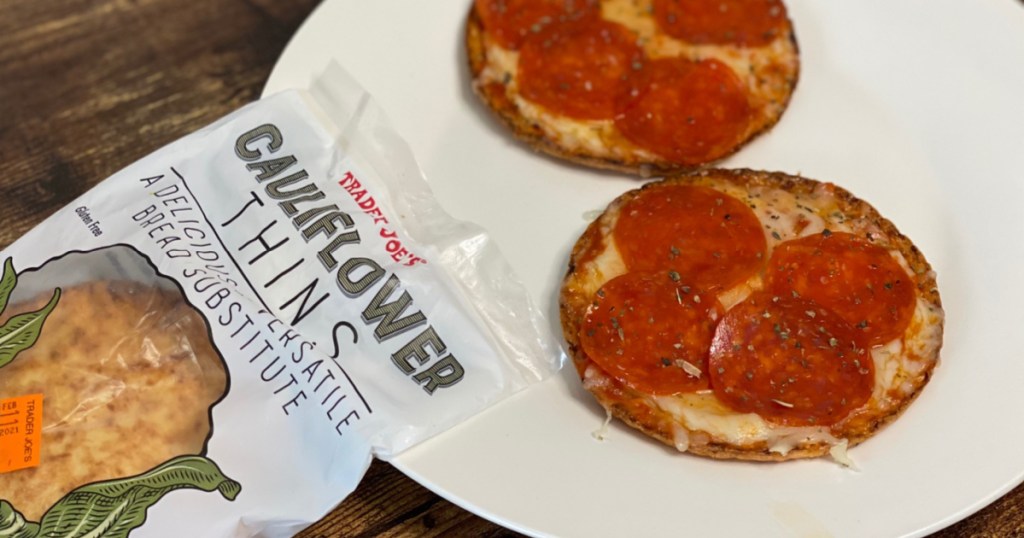 Meet the cauliflower thins that are making bread jealous.
When you remove bread and tortillas from your diet, there aren't a lot of options left to allow you to enjoy staple foods like sandwiches and tacos while keeping it keto.
But thanks to Trader Joe's cauliflower thins, their low-carb cauliflower-based bread substitute, you can dig into all of those foods that you missed and thought were off-limits!
Heads up! I spotted these on my last Trader Joe's run and have instantly become hooked! This post is not sponsored, I'm just excited to share this recent keto find with you all!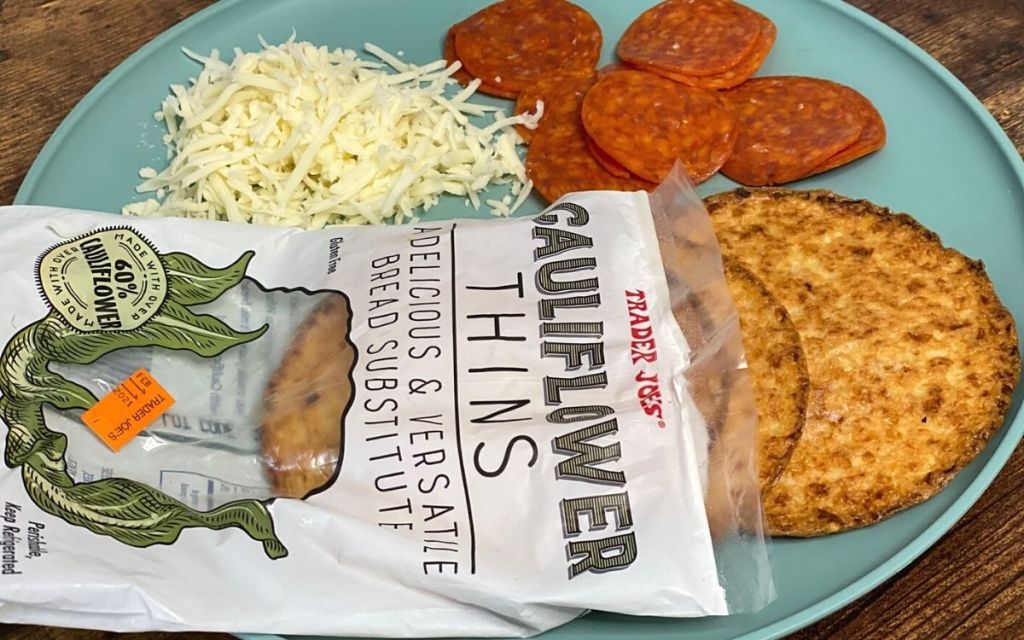 Is there anything that cauliflower can't do?
If you've been eating a keto diet for a while, you probably know that cauliflower is the magical ingredient used to replace a variety of carby foods including rice, pasta, potatoes, and even pizza crust, but who knew it could also take the form of bread and deliver the most delicious keto sandwiches?!
With less than 2g net carbs per cup, cauliflower is one of the lowest carb veggies around and I am continually amazed by how much easier it makes living the keto lifestyle.
---
Here's why these cauliflower thins will become your new favorite keto food: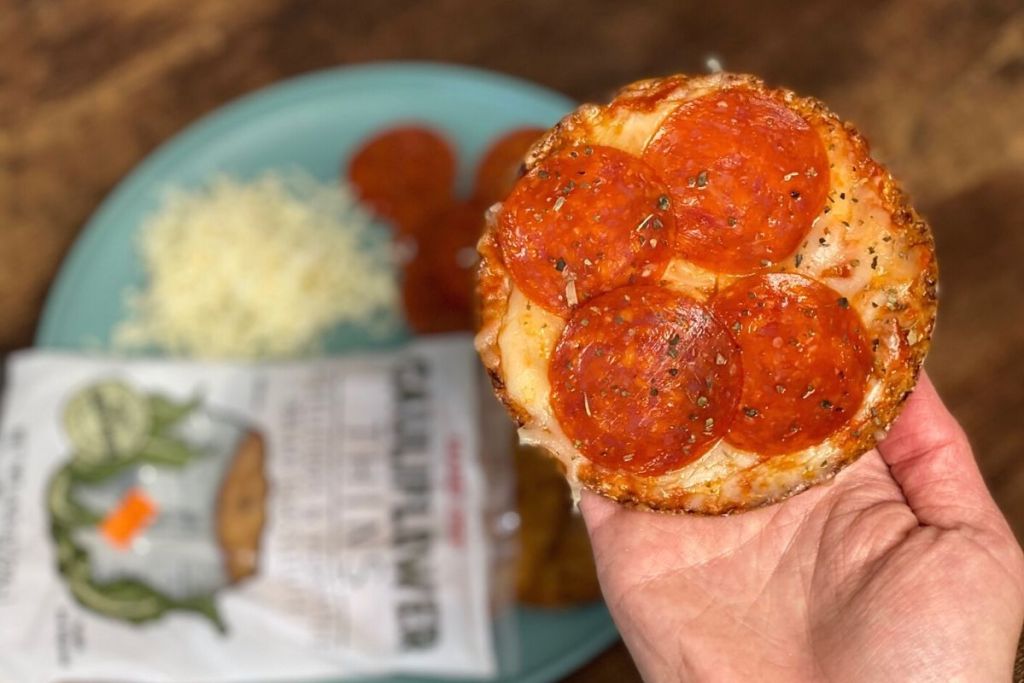 You can use your cauliflower thins to make yummy mini pizzas!
No time to cook an elaborate keto dinner? No problem. Just grab a couple of Trader Joe's Cauliflower Thins, dress them up with your favorite low-carb toppings, and pop them in the microwave, oven, or air fryer for a super easy, but super satisfying meal that'll you'll definitely want to make again.
This bread substitute is ideal for those nights when you just don't feel like cooking, but you still want to eat something more filling than a couple of slices of bacon or a protein bar.
---

Trader Joe's Cauliflower Thins are the perfect keto sandwich companion.
Remember BLT's and club sammies? Just thinking about a savory sandwich makes me want one right now! Before I discovered cauliflower thins, folios and lettuce were what held my "sandwiches" (i.e. the Unwich) together. While they were tasty and low-carb, they were pretty messy and they just didn't provide that hearty goodness that bread does.
After making my very first sandwich using Trader Joe's bread substitute, I was pleasantly surprised by how well it held together and was even more impressed by the flavor—it seriously didn't even taste like a low-carb meal. I may have found my new favorite keto lunch!
---
They're great for breakfast, lunch, and dinner.
I love that cauliflower thins can be used in so many different ways. From avocado toast and savory pancakes to quesadillas and practically any kind of rollup, there are so many tasty foods you can whip up with this keto-friendly bread alternative.
I honestly expected the cauliflower taste to be overwhelming, but that was not at all the case. The addition of the parmesan really enhances the flavor and almost makes you forget you're eating something cauliflower-based. Even my husband who doesn't follow a keto diet thought they tasted great in a loaded sandwich!
---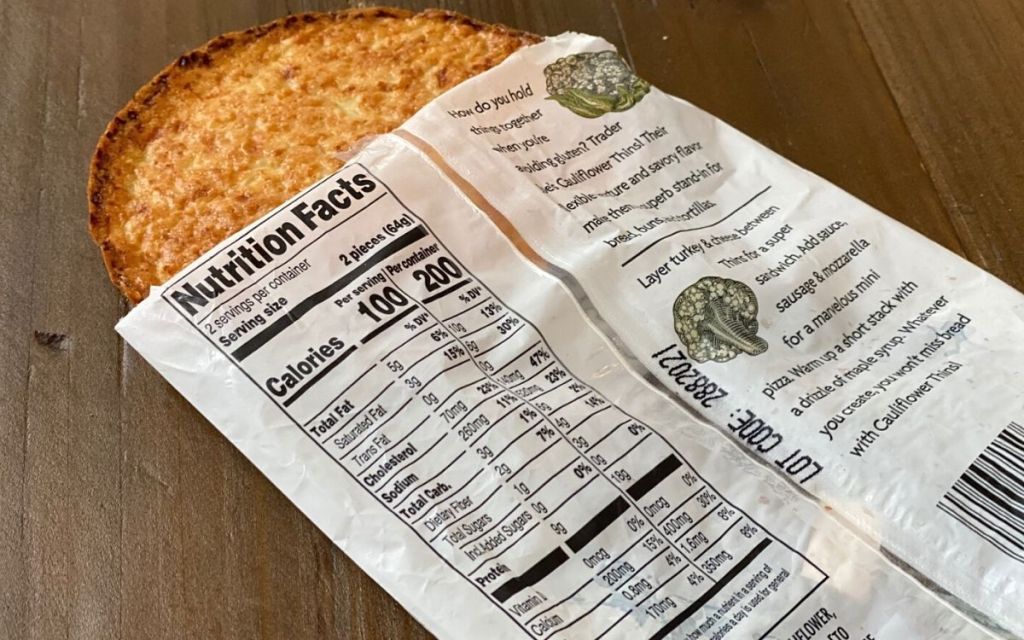 Trader Joe's Cauliflower Thins nutrition:
Serving: 2 pieces | 100 Calories | 5g Fat | 3g Total Carbs | 2g Fiber | 1g Sugar | 0g Sugar Alcohols | 9g Protein | 1g Net Carb
Ingredients: Shredded cauliflower, liquid whole eggs (eggs, citric acid [to maintain color]), grated parmesan cheese (pasteurized skim milk, cheese cultures, salt, microbial enzyme), deactivated yeast. *Contains milk, egg.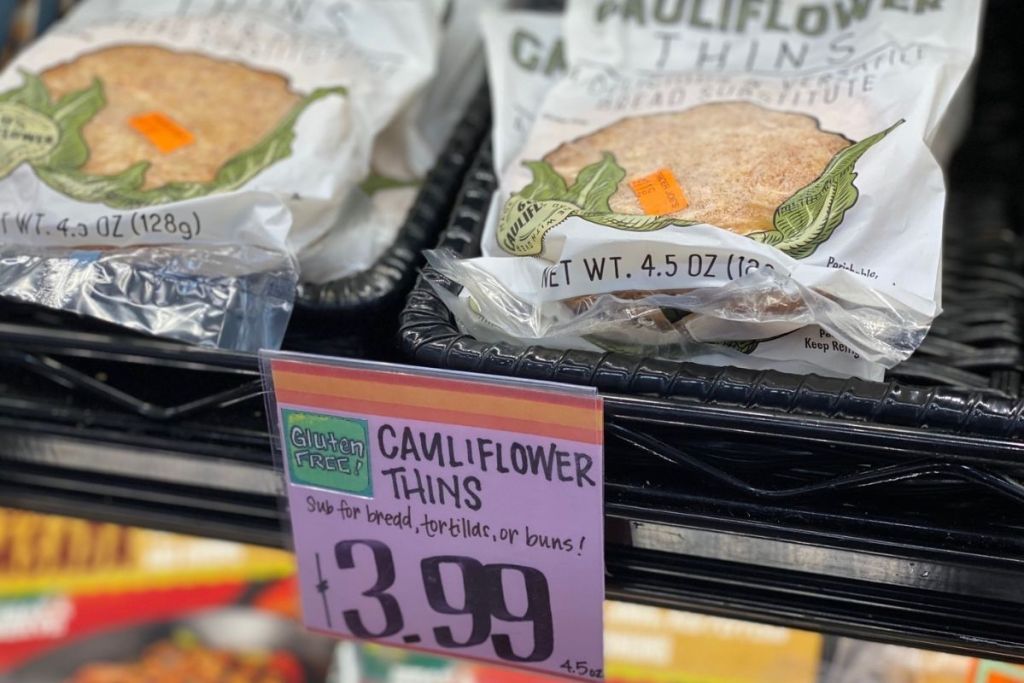 Only 1g net carb per 2 cauliflower thins?! It's almost too good to be true. With this flavorful bread alternative, you'll be eating possibly the lowest carb meals you've ever had!
In addition to how amazingly low-carb they are, they're also affordable at just $3.99/bag with 2 slices inside.
---
Want some munchies to go with your keto sandwich? These Quest Protein Chips taste so much like Doritos!