The Best Keto Cauliflower Mac & Cheese Recipe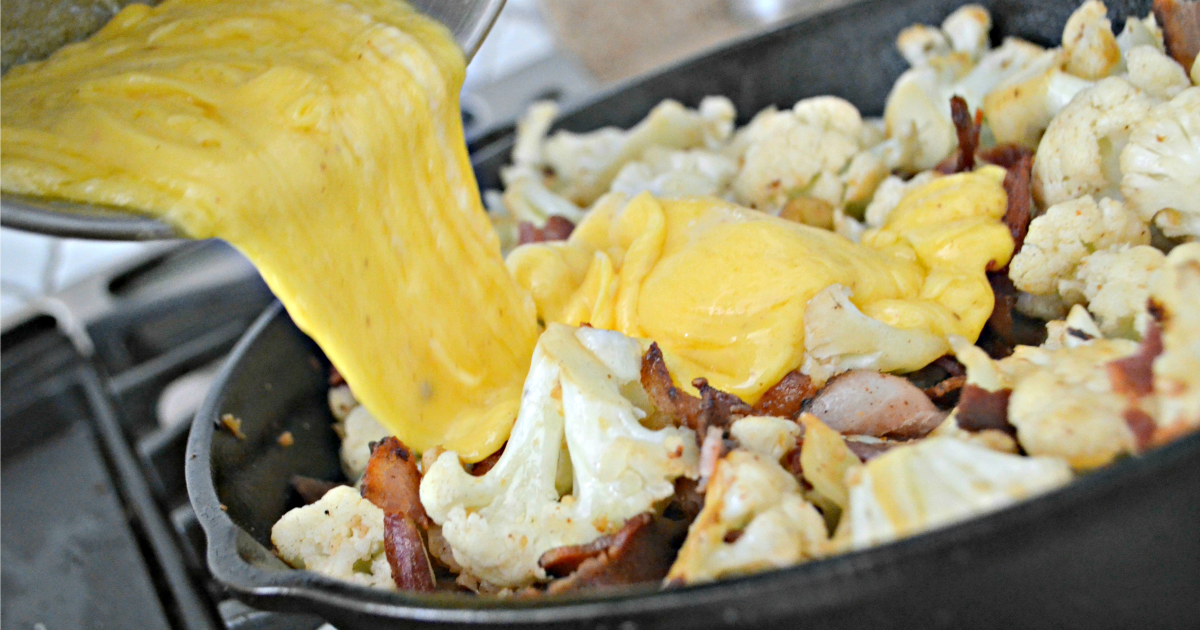 Love homemade mac and cheese?
Try replacing traditional macaroni noodles with cauliflower for a healthy, delicious keto swap that's sure to impress!
Our keto cauliflower mac and cheese is so full of rich comforting flavors, no one in the family will be asking where the elbow pasta is within the luscious cheese.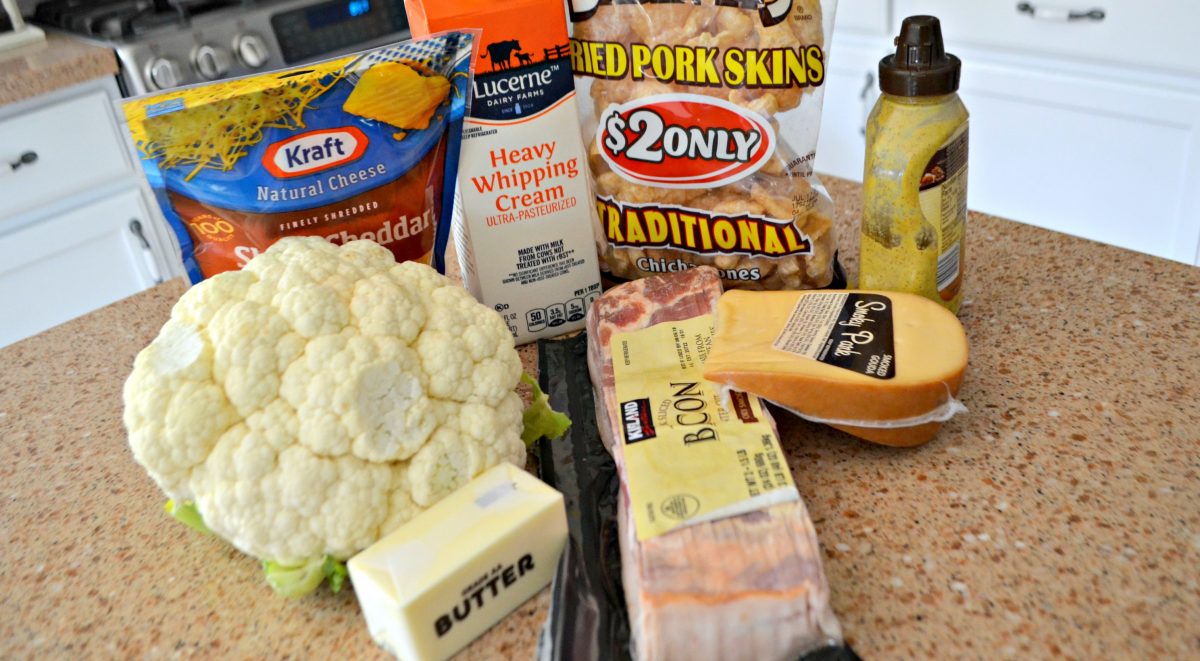 This grown-up mac and cheese features small pieces of cauliflower that have been pan-fried in bacon drippings. We then mix in a simple cheddar cheese sauce and top with smoked Gouda cheese. SO good.
Last (but not least), we topped everything with crushed pork rinds. This is an incredibly rich and satisfying side dish that's over the top delicious!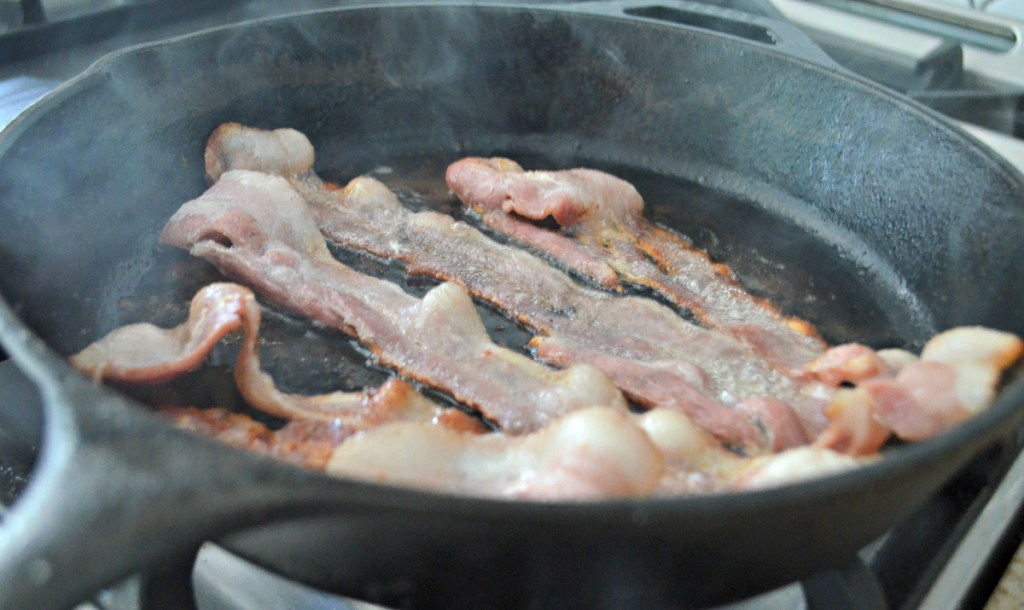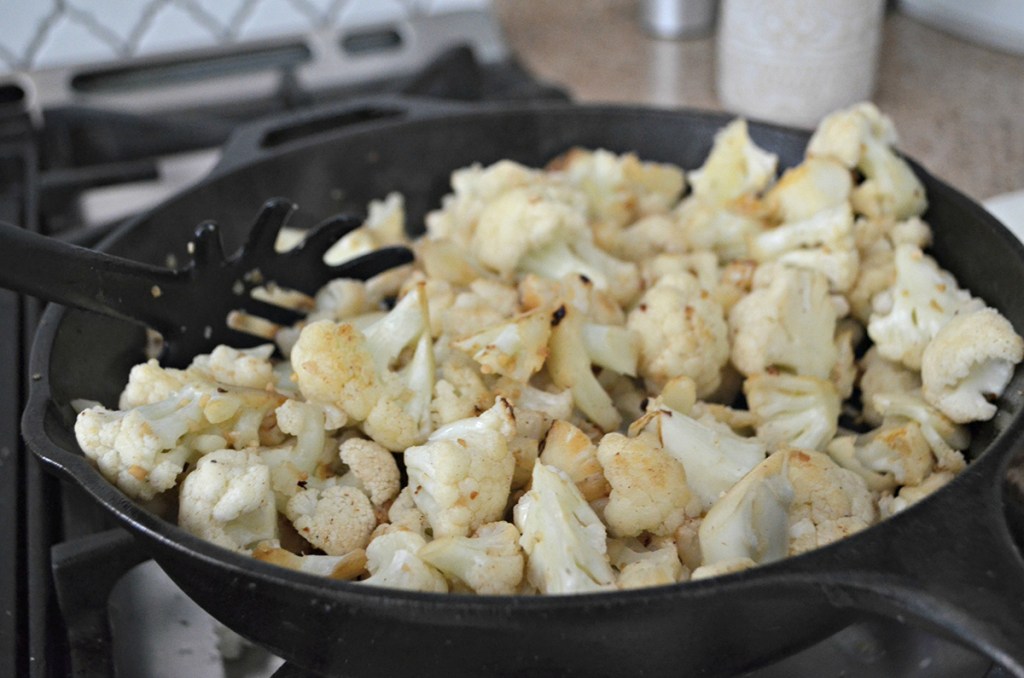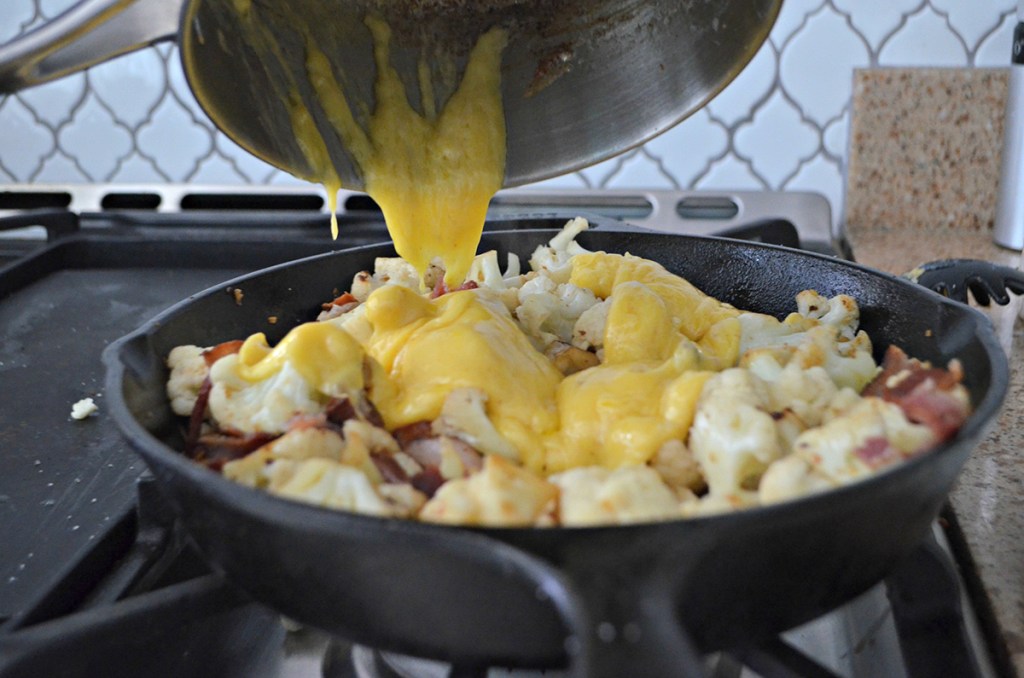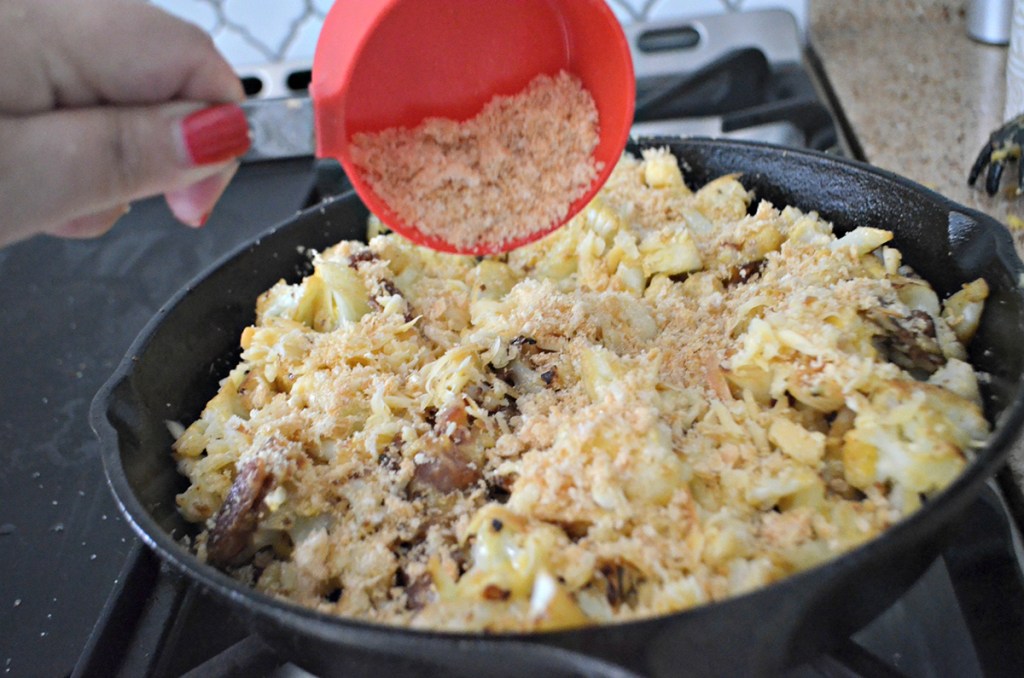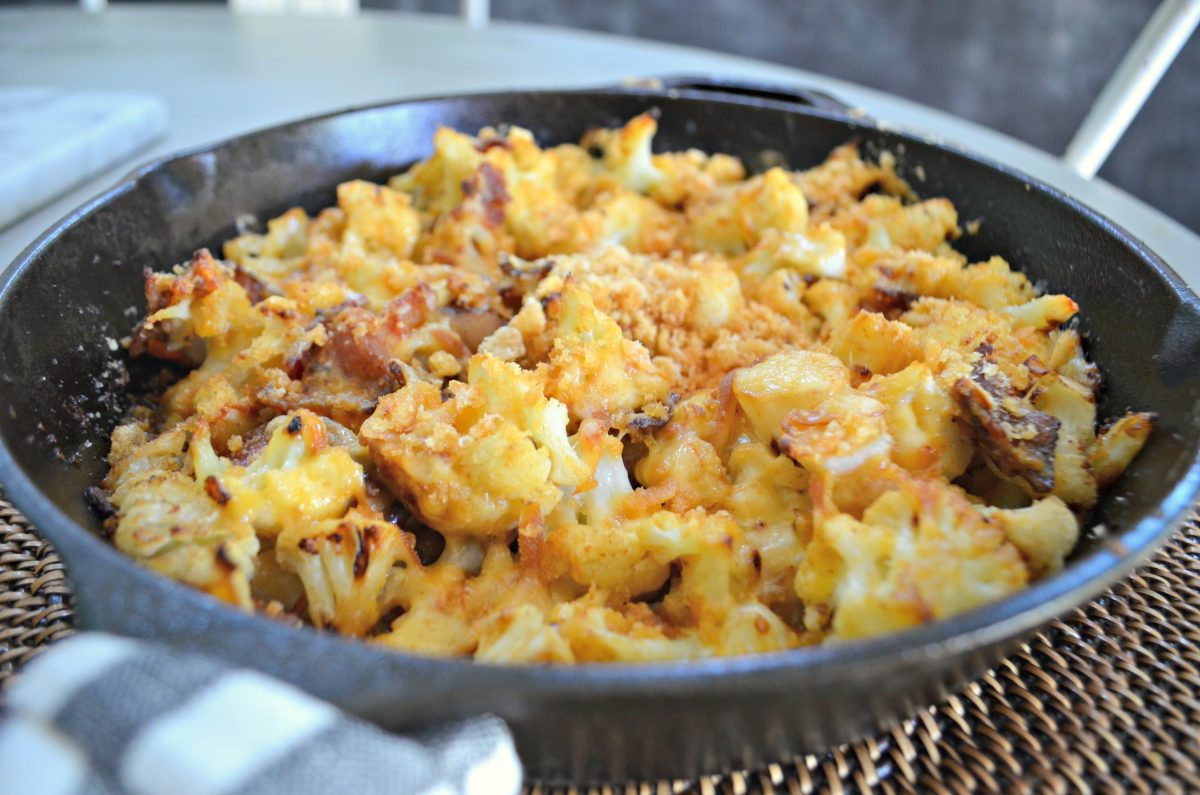 ---
Print
Keto Cauliflower Mac and Cheese
yield: 6 SERVINGS
prep time: 15 MINUTES
cook time: 25 MINUTES
total time: 40 MINUTES
This cheesy bacon & cauliflower side dish is the perfect recipe when you're craving mac and cheese!
Ingredients
For the Cauliflower:
1 head cauliflower, about 6 cups, chopped
4 slices bacon
2 cloves garlic, minced
salt and pepper to taste
For the Cheese Sauce:
2 tablespoons butter
1 cup sharp cheddar cheese, shredded
1/4 cup heavy cream
1 teaspoon spicy mustard
For the Topping:
1/2 cup smoked Gouda cheese, shredded
1/2 cup pork rinds, crushed
Directions
1
Preheat oven to 425 degrees.
2
Cook 4 pieces of bacon on the stove in a skillet. Tip: Cook this in an ovenproof skillet, like a cast iron, so you can transfer to the oven in the same skillet.
3
Remove bacon from skillet, crumble into smaller pieces, and set aside. Leave bacon drippings in the skillet.
4
Add cauliflower pieces and garlic to skillet and cook on medium heat. You'll want to stir and coat them with the bacon drippings. Cook for about 10-15 minutes until tender (yet still a little al dente). Season with salt & pepper to taste.
5
In a small saucepan on the stove over medium heat, melt butter, add cheddar cheese, cream, and mustard. Stir until it forms a creamy sauce.
6
Pour cheese mixture over the cauliflower and mix in. Also mix back in the bacon crumbles.
7
Top with shredded Gouda cheese and crushed pork rinds. Place in the oven and cook for 10-12 minutes until cheese is bubbly and the top is golden brown.
8
Serve as a warm side dish.
Nutrition Information
Yield: 6 servings, Serving Size: about 1 cup
Amount Per Serving: 261 Calories | 20g Fat | 10g Total Carbs | 4g Fiber | 14g Protein | 6g Net Carbs
---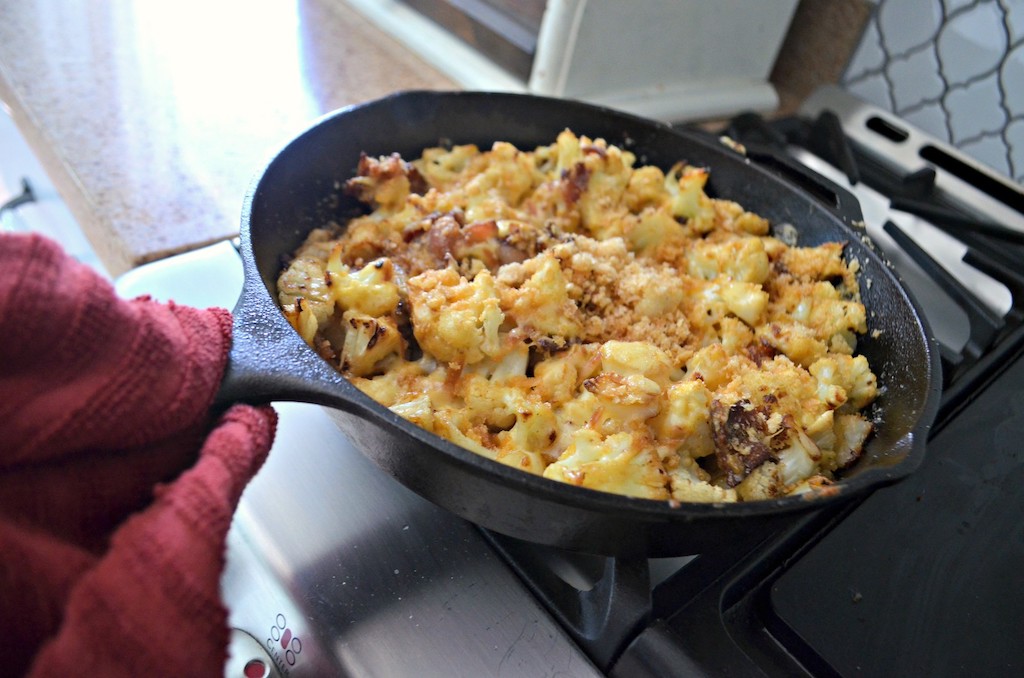 Recipe Tips:
Don't like Gouda? Change up the type of cheese in your keto cauliflower mac and cheese. You can use all cheddar or combine fancier cheeses like Gruyere or Gouda as I did. Parmesan would be yummy as well.
To keep it simple, I used a cast-iron skillet to cook on the stove and then placed it in the oven to bake. You can, of course, place cauliflower in a small casserole dish to bake if you don't have an ovenproof skillet.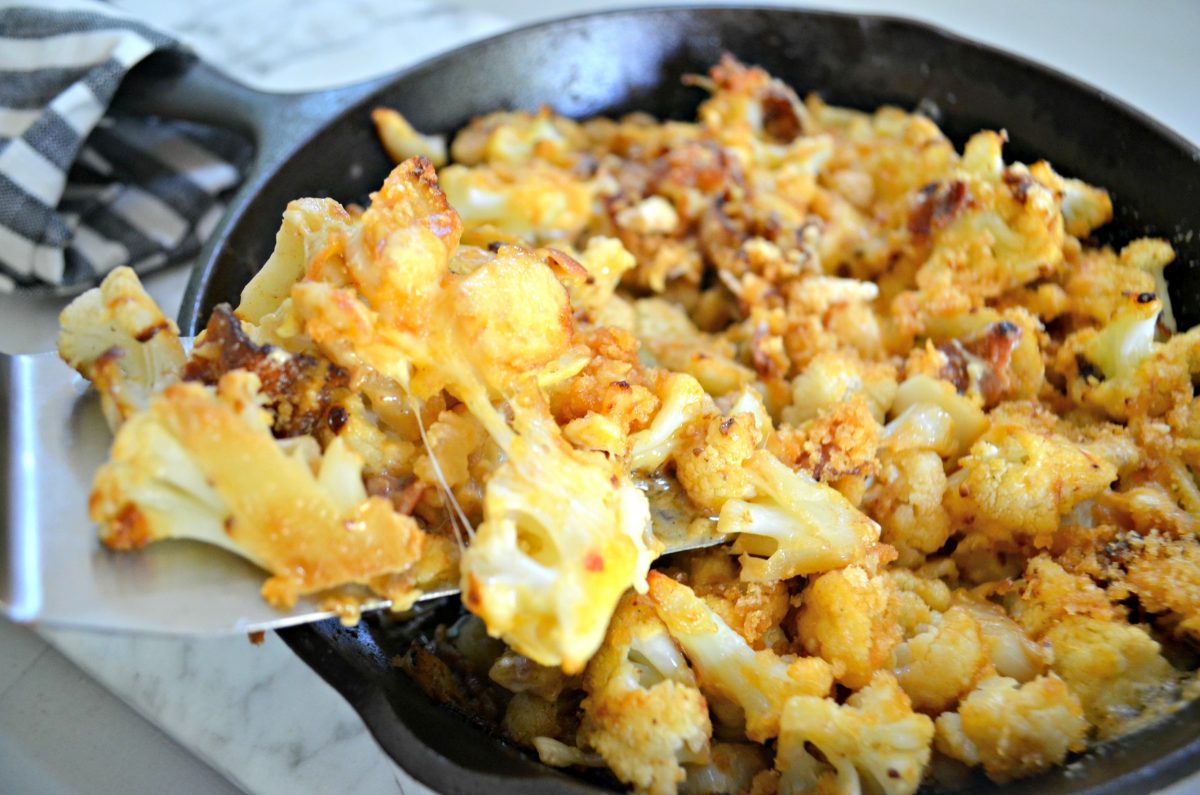 Get ready to dig into cheesy bites of heaven!
This keto cauliflower mac and cheese is insanely delicious! Even non-keto family members will love this! My husband was super impressed and there wasn't a crumble left after my family started eating it.
The bacon, roasted cauliflower, cheese – everything – is YUMMY. It's an incredible, showstopping way to serve cauliflower that I know your family will love, too!
---