Loaded Keto Taco Salad, My Go-To Weeknight Dinner!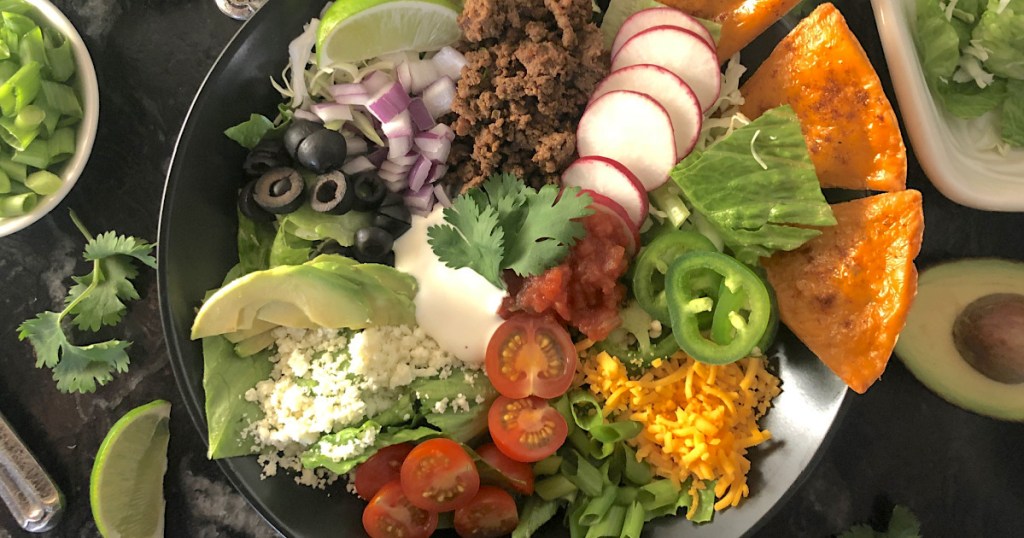 The absolute best keto taco salad you've ever had is right here!
We're not kidding when we say this keto taco salad is amazing. It's so good, it puts the ones you get at Mexican restaurants to shame. It seems that the taco salads you get at restaurants often leave you wanting more… either not enough protein, they skimp on the guacamole, or your salad ends up being all lettuce. No bueno!
Well, not with this version!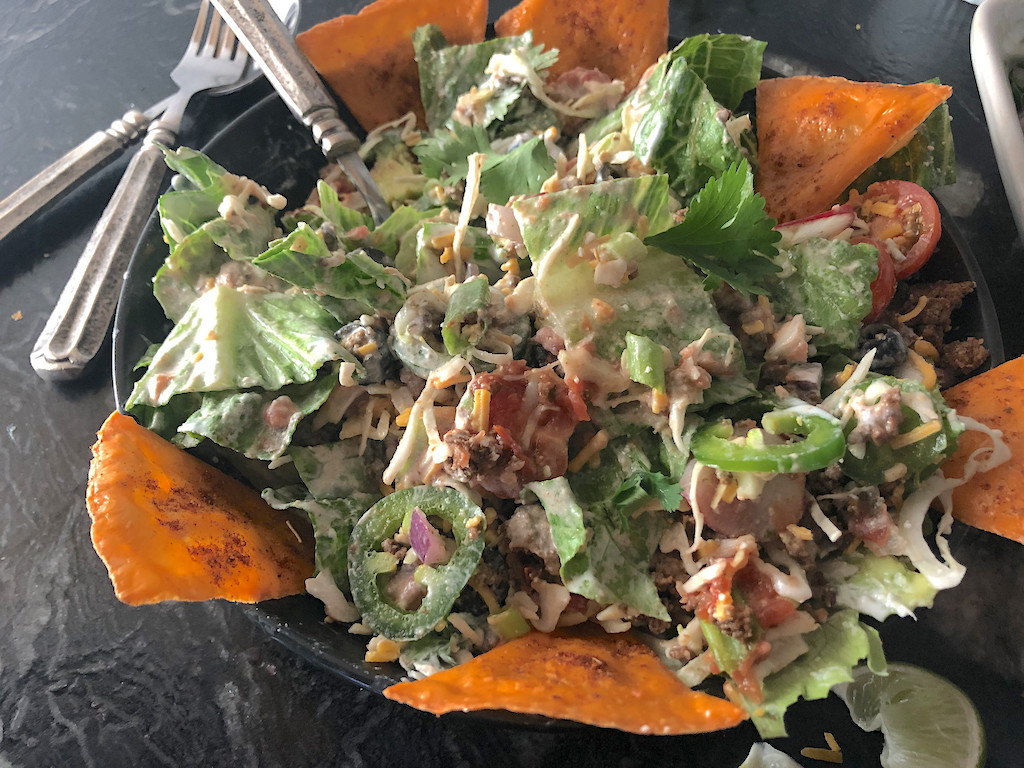 "What should I eat for dinner?" This keto taco salad is the answer!
We went all out with the toppings on this baby! Cotija and shredded cheddar make for the perfect cheesy flavor combo. And don't pass up the crema con sal (as a swap for regular sour cream) if it's available in a store near you. The crema con sal and salsa work together to create the perfect dressing.
For anyone missing that crunch on keto, we thought of you too! To keep the carbs low, we swapped out tortillas for Folios cheese "chips". Be careful not to munch on too many before they make their way into the salad! 😂
The best part about this salad is that you have the option of serving it two ways. You can assemble the taco salad on a big platter for serving, or you can serve this "taco bar" style, and let people build their own salads. Either way works, but the latter is better for picky eaters.
Tips for making this loaded keto taco salad:
Make your Folios chips while the ground beef is cooking to save on time. The chips will take anywhere from six to ten minutes to bake and are done when they start to turn slightly brown around the edges.
Get creative with toppings that you love to enjoy! Not a fan of jalapeños? Swap them out for green bell pepper.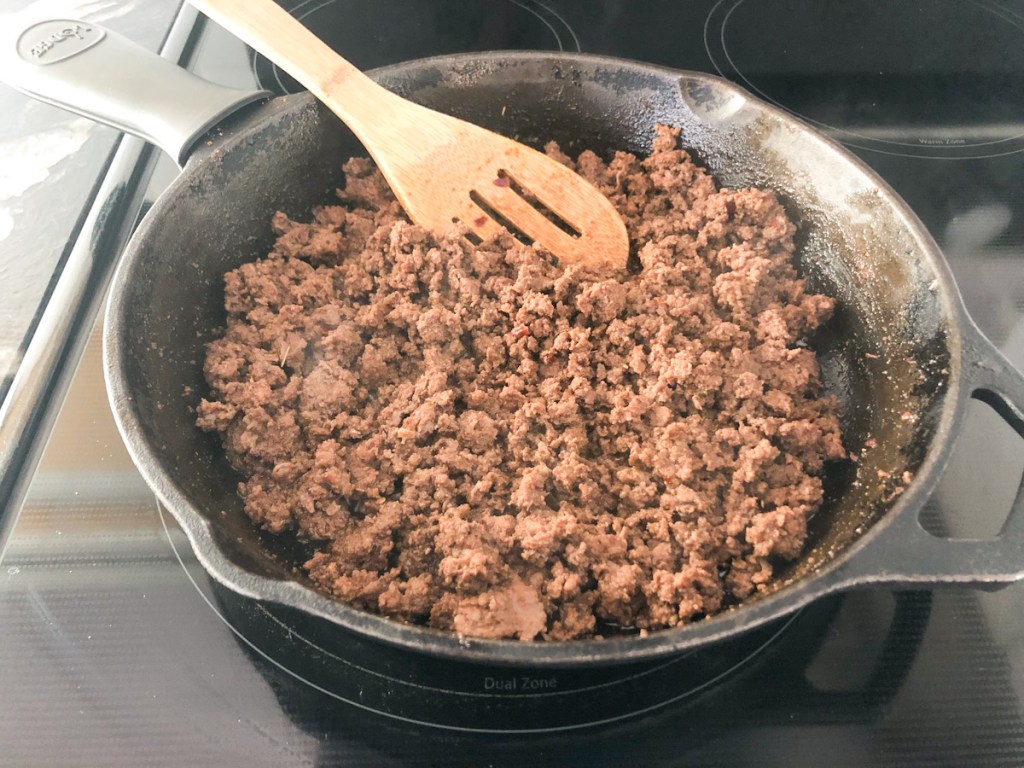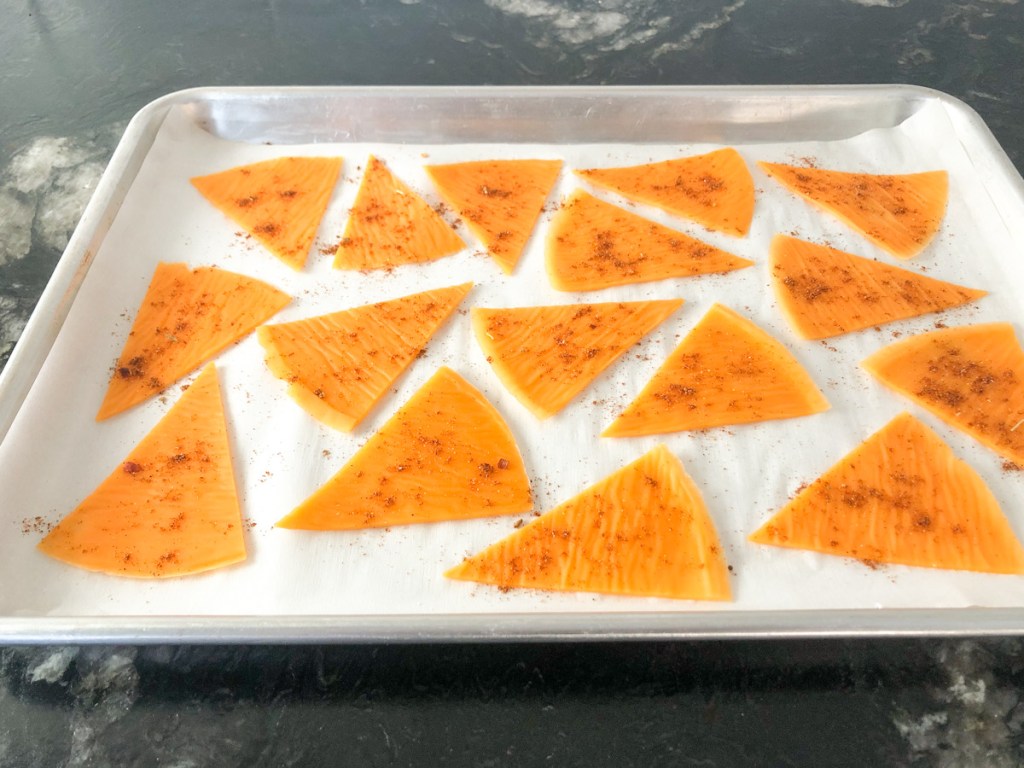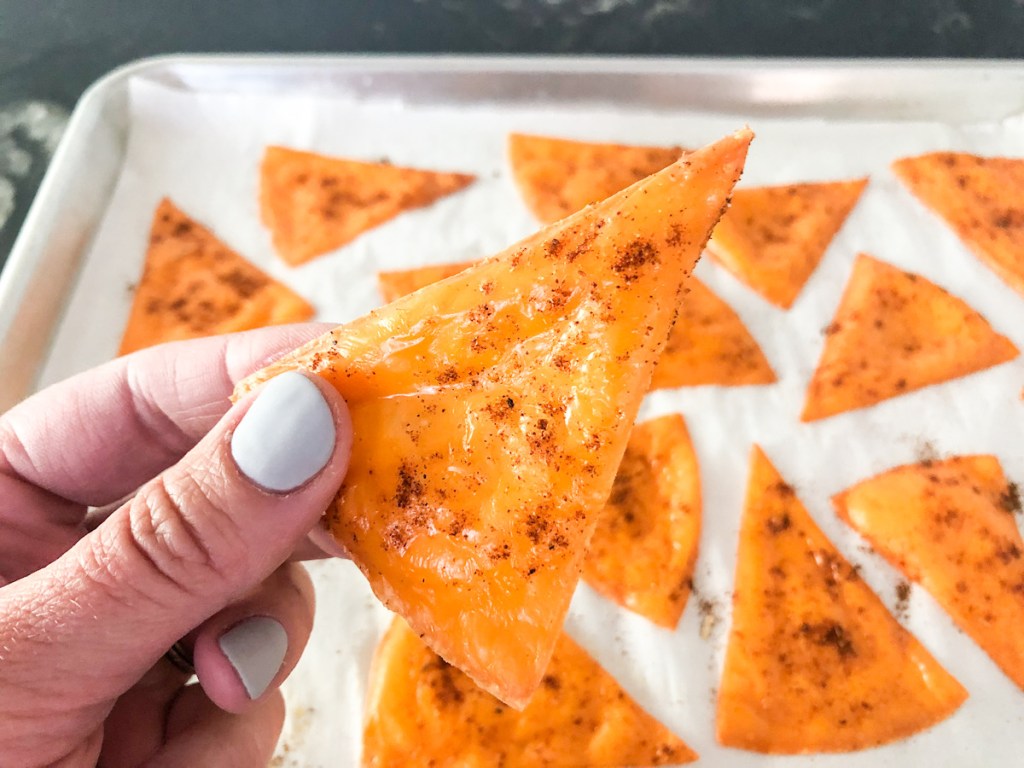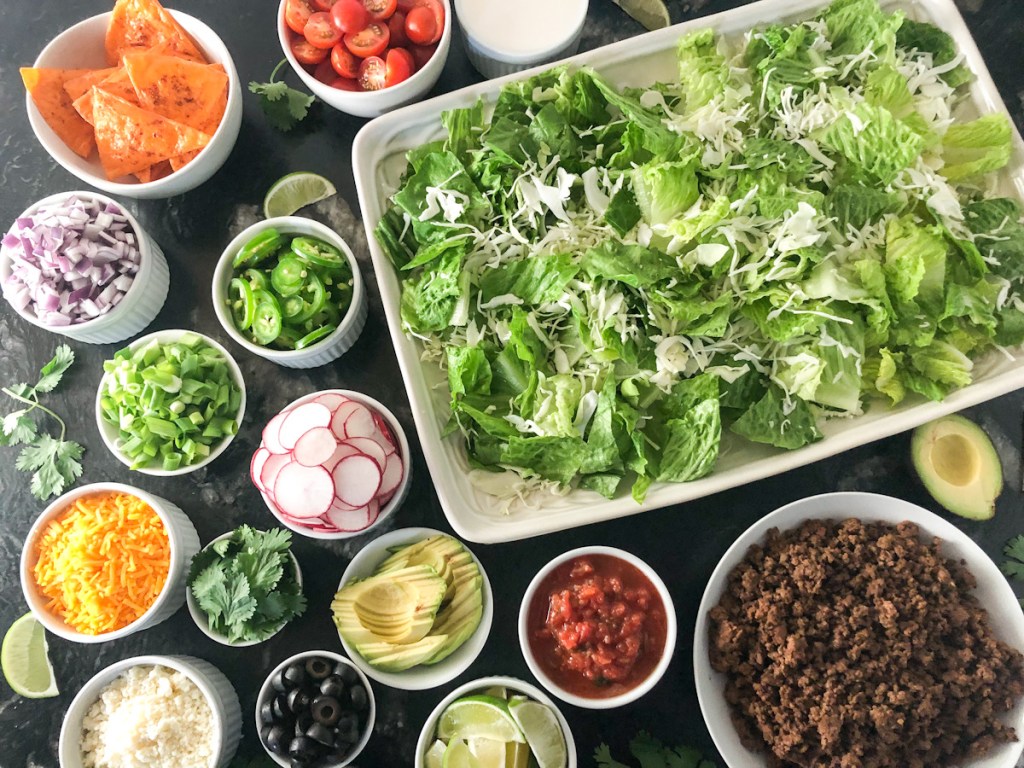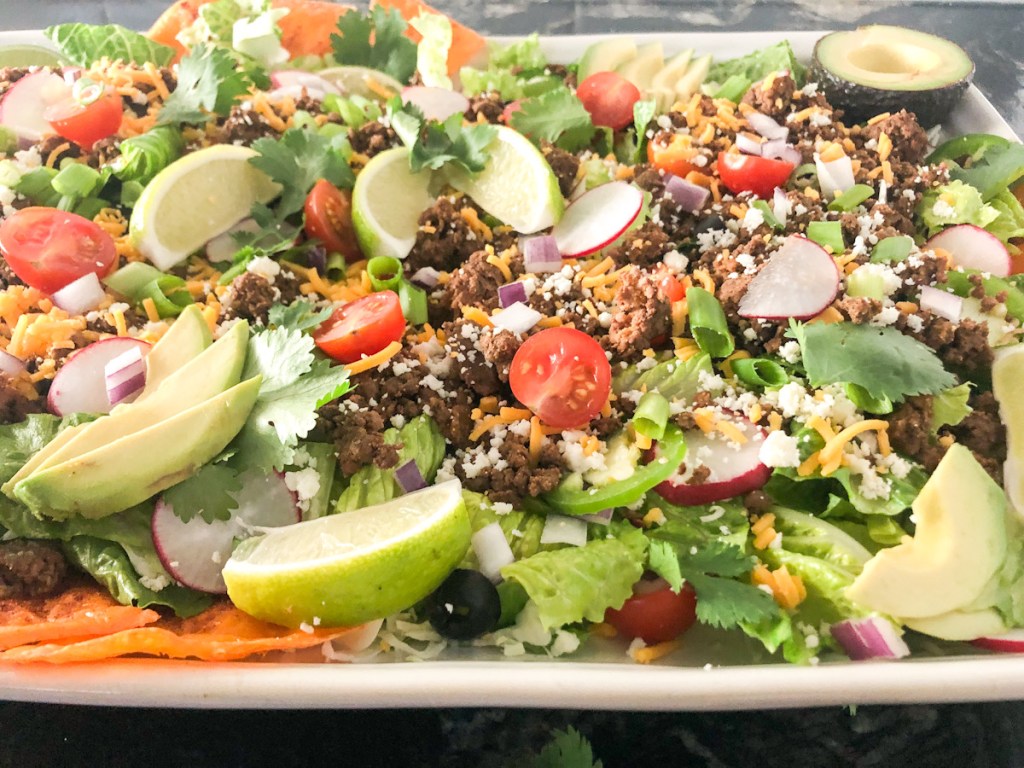 ---
Print
Loaded Keto Taco Salad
yield: 8 SERVINGS
prep time: 20 MINUTES
cook time: 15 MINUTES
total time: 35 MINUTES
A crunchy & fresh romaine and cabbage blend is topped with a plethora of vibrant veggies and taco meat for the best over-the-top Mexican-inspired salad.
Ingredients
1 pound of 80/20 grass-fed ground beef
6 cups of romaine lettuce, chopped
10 oz. package of shredded cabbage
1/2 cup red onion, chopped
1 cup of radishes, thinly sliced
1/4 cup green onions, chopped
2 ripe avocados, sliced
1 pint of cherry tomatoes, cut in half
2 jalapeños, sliced thin, optional (or green bell pepper)
2.25 oz. can of sliced black olives, drained
1/2 cup cotija, crumbled
1 cup shredded cheddar cheese
1 cup of salsa
1/4 cup fresh cilantro, stems removed
2 limes, sliced into wedges
hot sauce of choice, optional
Directions
1
Preheat oven to 375 degrees.
2
Brown ground beef in a large skillet over medium heat. Mix in taco seasoning. Stir occasionally. It will take about 10 minutes or so for the ground beef to cook.
3
While the ground beef is cooking, bake the Folios cheese triangles to make "chips".
Arrange the triangles in a single layer with space between each triangle on a large baking sheet lined with parchment paper. Lightly sprinkle the cheese triangles with taco seasoning. Bake for 6 to 10 minutes, depending on your oven. The chips are done when the edges start to turn golden brown. Let the cheese chips cool before removing them from the baking sheet, about 5 minutes.
4
When the ground beef and Folios cheese "chips" are done, assemble the salad.
Mix together the romaine lettuce and shredded cabbage as your lettuce base. You can make the entire salad on a platter or leave all the toppings in individual bowls and let people make their own taco salads like a taco bar.
5
To make the large platter salad, spread the romaine lettuce and shredded cabbage mix on the platter. Top with ground beef, red onion, radishes, green onions, avocado, cherry tomatoes, jalapeños, olives, cotija, shredded cheddar cheese, salsa, crema con sal, cilantro, Folios cheese chips, and garnish with lime wedges.
6
Toss salad together before eating. Enjoy!
Nutrition Information
Yield: 8 salads, Serving Size: 1 salad
Amount Per Serving: 423 calories Calories | 31.5g Fat | 12.2g Total Carbs | 5.6g Fiber | 4.5g Sugar | 20.6g Protein | 6.5g Net Carbs
---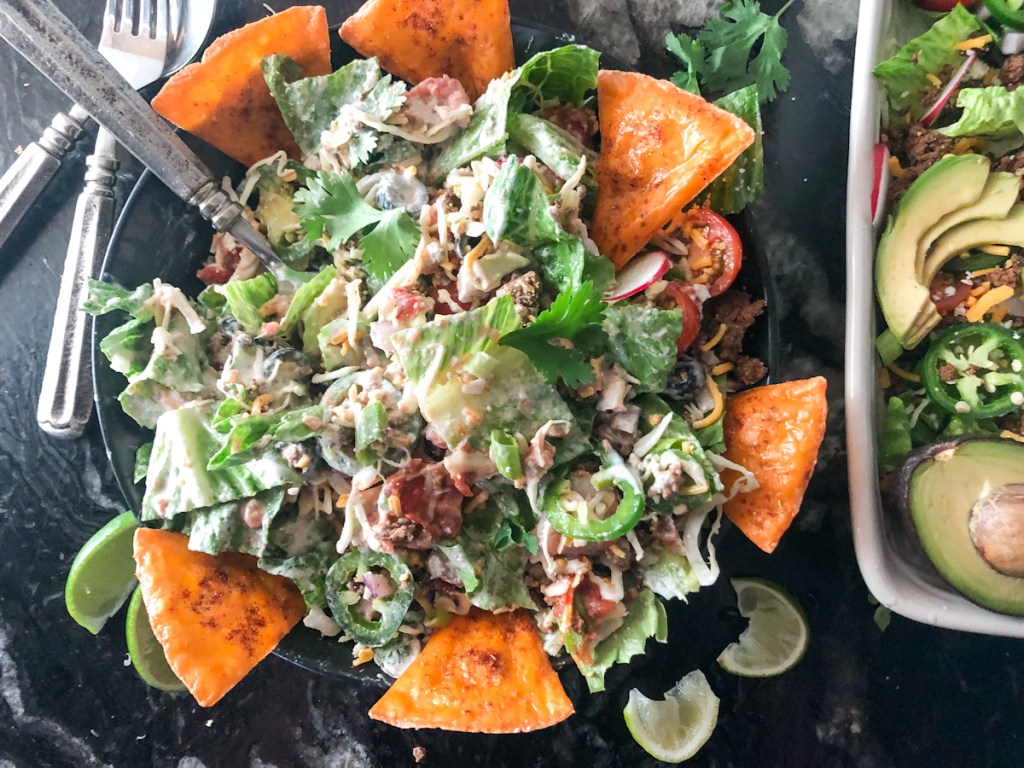 Give this keto taco salad a permanent place on your weekly meal plan!
This easy keto taco salad will quickly become a staple recipe, even for busy weeknights! The best part is that you can personalize it to your tastes.
My Hip sidekick, Jenna, tried out this recipe and here's what she had to say:
"This is so fresh and so packed with flavor, I could eat it every day with no hesitation! I could not possibly pick a favorite part, everything just goes so well together, YUM! Those chips are so awesome, I've been snacking on them all day waiting to put this whole thing together for dinner. Of course, the salad itself didn't disappoint either. I'll definitely be making this again and it's plenty for the entire family!"
---
Love taco salad? Check out all of our keto salad recipes right here!