Best EVER Ranch-Seasoned Keto Cauliflower Mash in the Crockpot!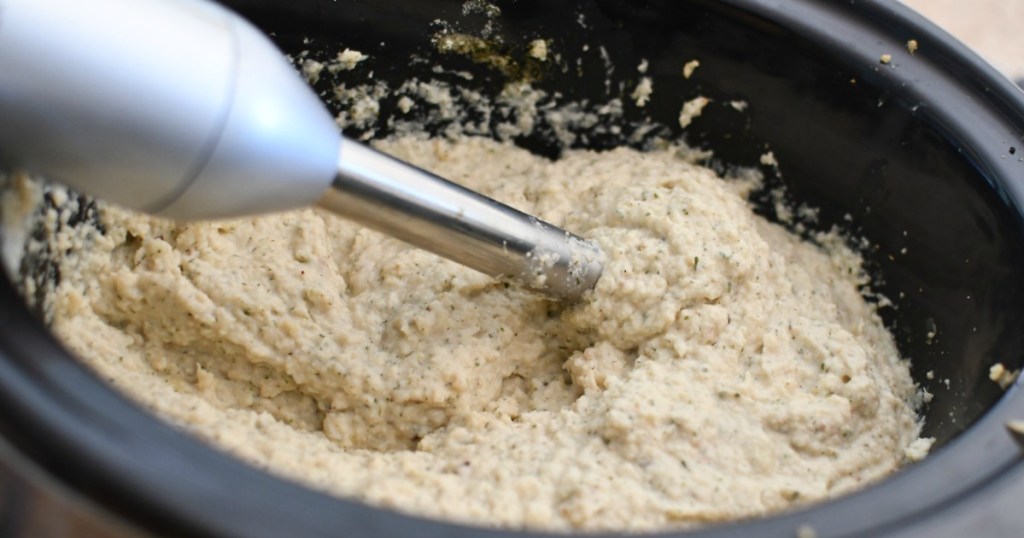 You'll love these faux "mashed potatoes" using cauliflower and ranch seasoning!
Creating a creamy keto-friendly stand-in for traditional carb-loaded mashed potatoes is so easy and smart using cauliflower. It's an easy side dish idea that is excellent to accompany any chicken, steak, ham, or fish main dish.
Making this amped-up keto ranch cauliflower mash in your Crock-Pot couldn't be any simpler!
This process is so easy using the Crock-Pot, and is an one-pot dish everyone will love! If you have a larger family, this is the way to go! You could also of course split this recipe in half for a smaller amount.
We will be cooking the cauliflower first for a couple of hours in the slow cooker and then mixing in cream cheese and seasonings using an immersion hand blender. If you don't have one, consider transferring it to a food processor or even a blender to whip up!
Tips for making the best keto ranch cauliflower mashed "potatoes":
I only used a 1/2 cup of broth because cooking the cauliflower will create water, and I also drained extra liquid before mashing with an immersion blender. This will ensure that your cauliflower will come out creamy and not watery.
Instead of using a store-bought ranch packet, I created my own seasoning blend to add to the cauliflower after cooking, along with the butter, cream cheese, and heavy cream. This can easily be catered to taste, so feel free to use it as a guide and add more salt or pepper and taste as you go along.
I garnished my mashed cauliflower with two pieces of crumbled bacon and chopped green onion. This is optional, yet so tasty!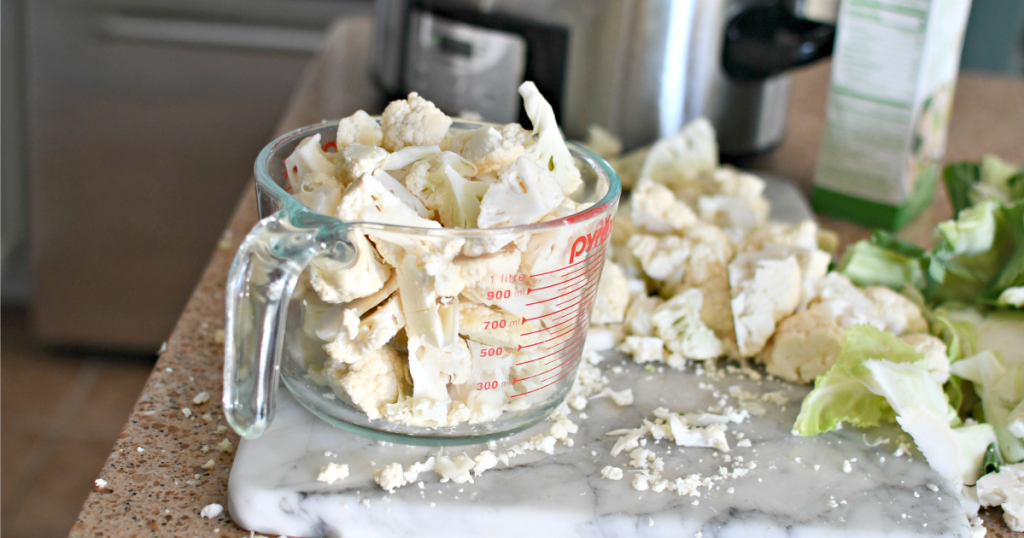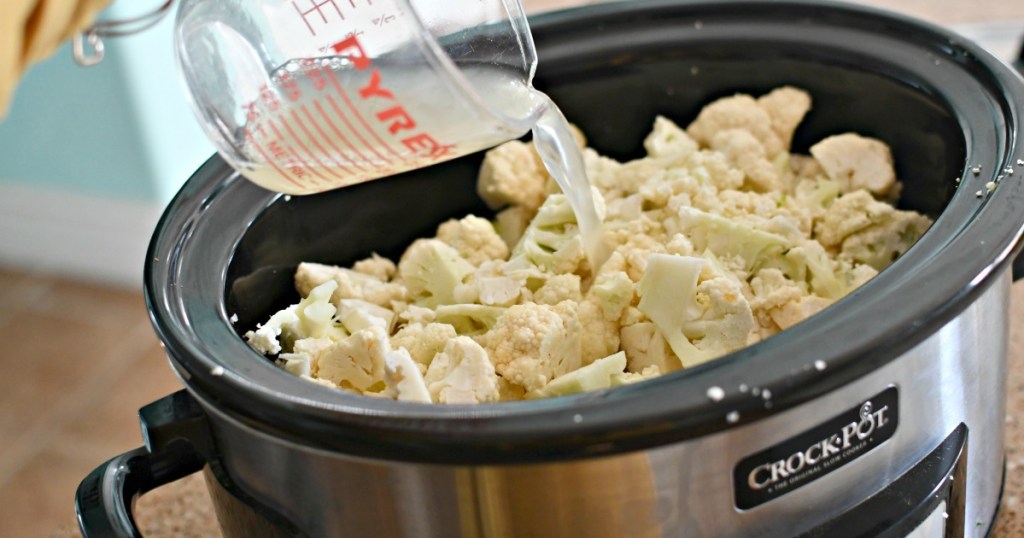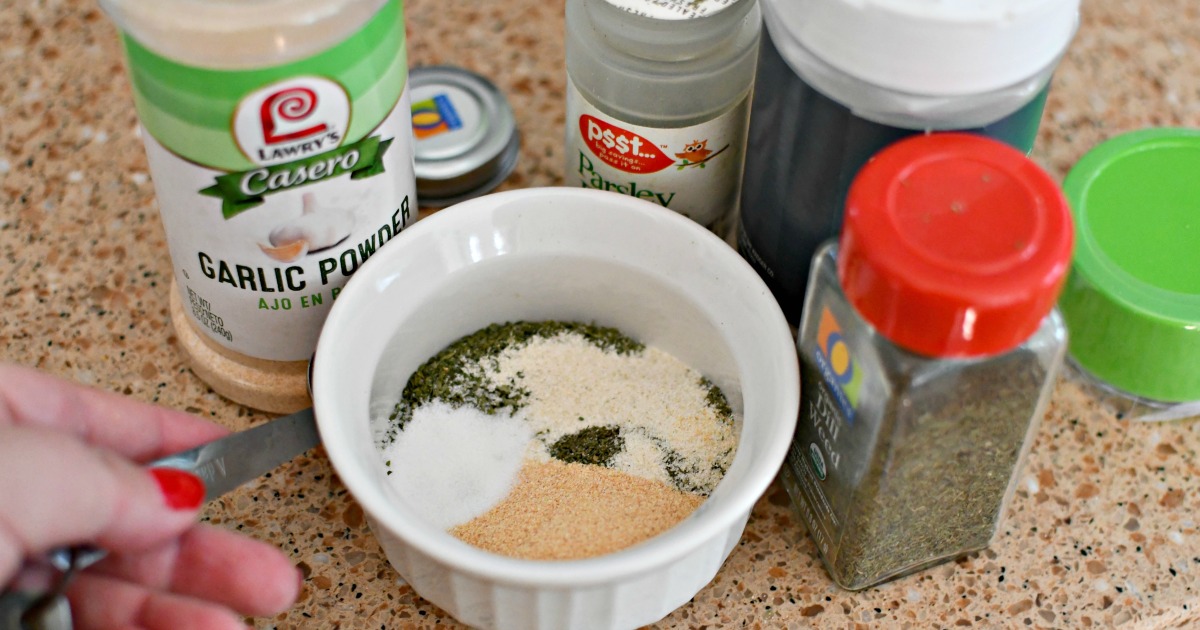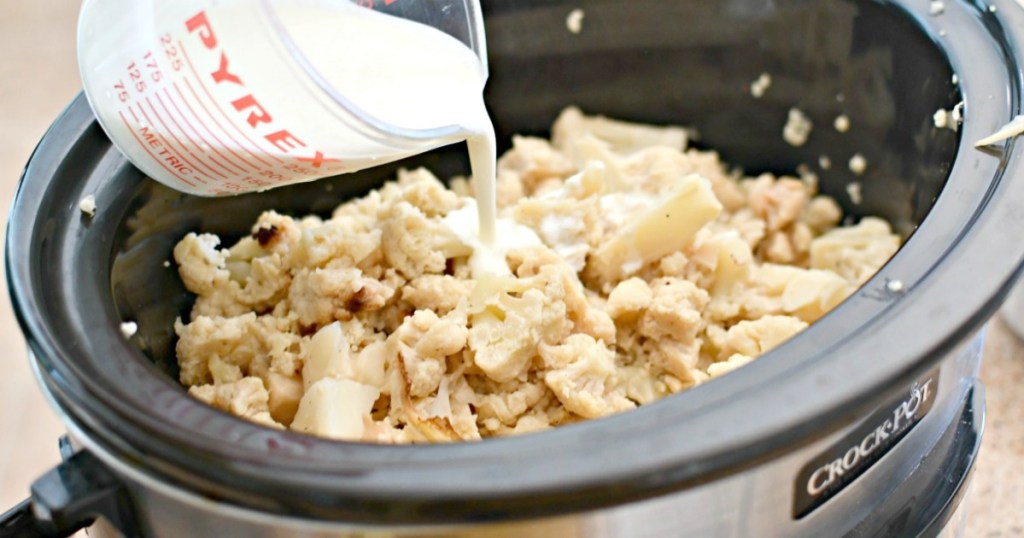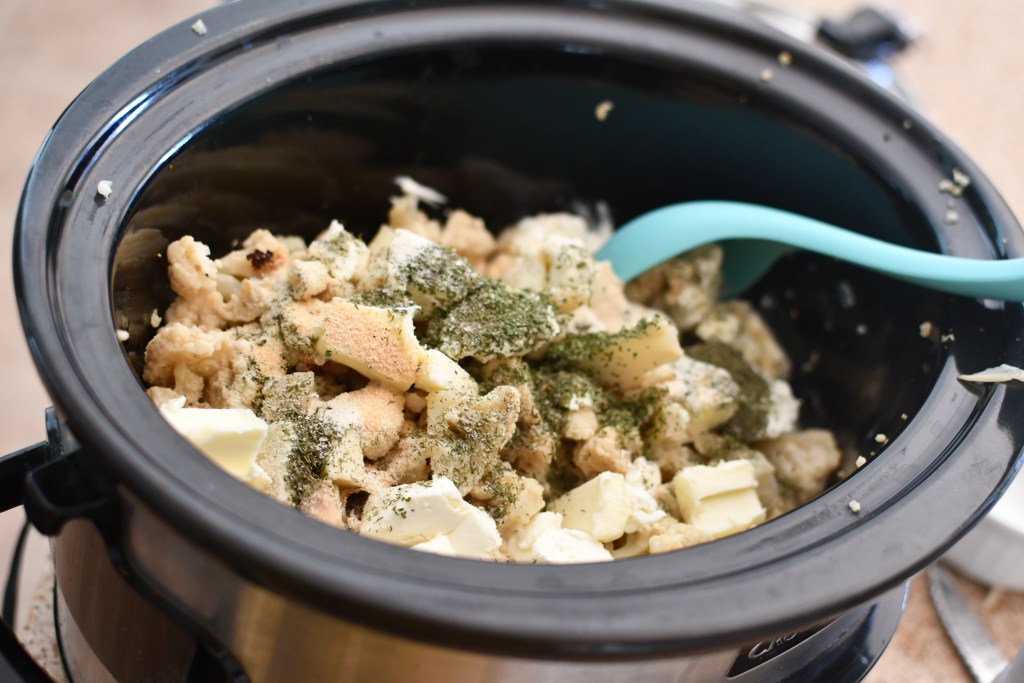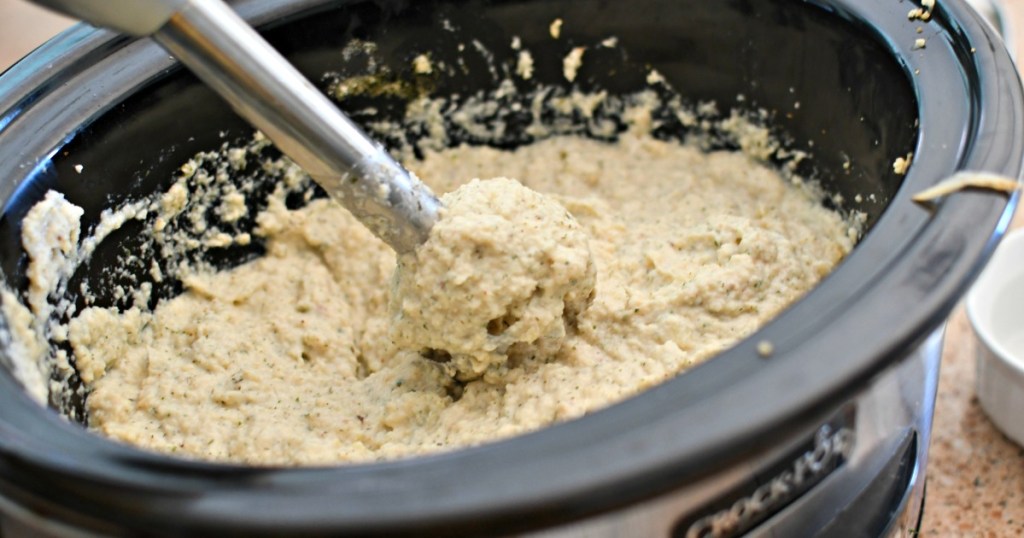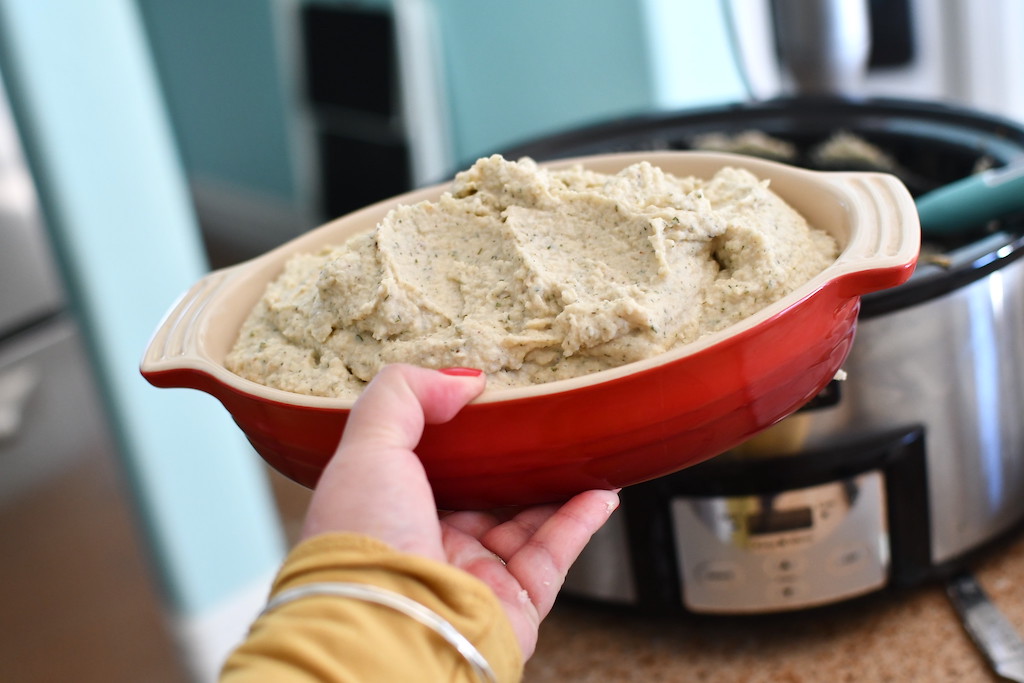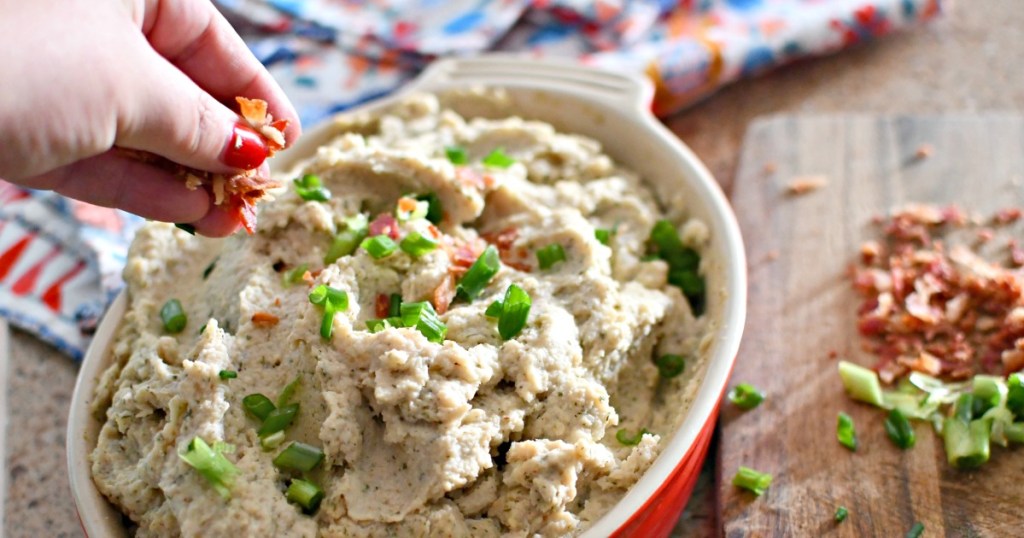 ---
Print
Keto Ranch Cauliflower "Mashed Potatoes" in the Crockpot
yield: 12 SERVINGS
prep time: 15 MINUTES
cook time: 2 HOURS
total time: 2 HOURS 15 MINUTES
Creamy mashed cauliflower made in the slow cooker with ranch seasonings and cream cheese.
Ingredients
3 medium sized heads of cauliflower (about 8-9 cups cauliflower florets)
1/2 cup broth (vegetable or chicken)
8 oz. bar cream cheese, cut into cubes
1/2 cup heavy whipping cream
1/3 cup butter, softened
1 tablespoon dried parsley flakes
1 tablespoon onion powder
1 tablespoon garlic powder
2 teaspoons dill weed
1 teaspoon salt (or more to taste)
1/2 teaspoon pepper
Directions
1
Trim and cut cauliflower into florets. Place them in the slow cooker.
2
Pour broth into the slow cooker, and close the lid. Cook on high for 2 hours, or low for 4 hours until the cauliflower is tender, and turn it off.
3
Place the cooked cauliflower into a colander, and drain extra liquid. Place cauliflower back in the slow cooker.
4
Add the cream cheese, heavy whipping cream, butter, and seasonings to the slow cooker.
5
Use an immersion blender or food processor to whip cauliflower until smooth and fluffy. Garnish with green onions and bacon, optional but yummy. Serve warm and enjoy!
Nutrition Information
Yield: 6 cups, Serving Size: 1/2 cup
Amount Per Serving: 165.5 Calories | 15.0g Fat | 4.9g Total Carbs | 0.9g Fiber | 2.4g Protein | 4.0g Net Carbs
---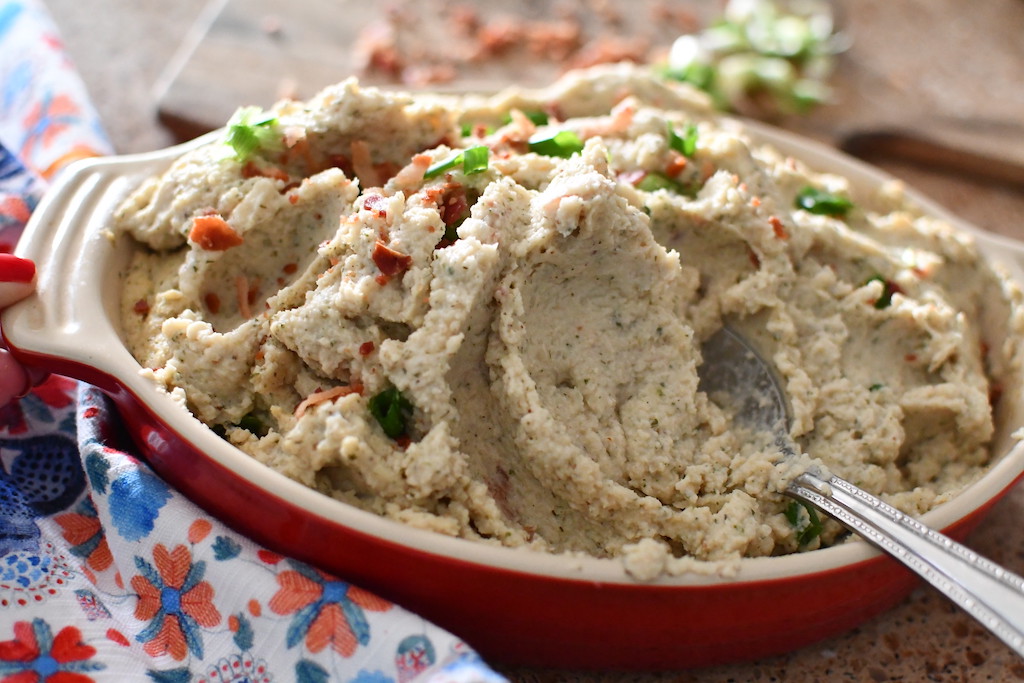 We loved this creative mashed potato-like ranch cauliflower side dish!
The flavors are rich, the texture is dreamy and creamy, and overall a big hit. I appreciate that you can make it easily into a one-pot recipe by using the slow cooker, and the whole process and ingredients are simple and YUM!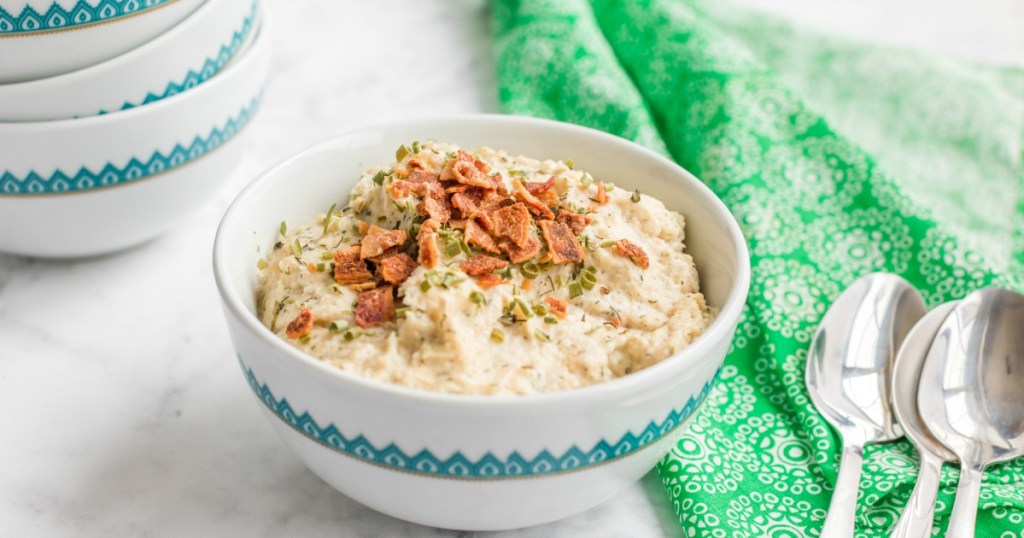 Check out what my teammate Jenna had to say about this ranch cauliflower recipe:
"This is definitely the key to making the best mashed cauliflower! Cooking cauliflower in the broth, then draining before whipping, worked out beautifully! I like the other version too, but this ranch-flavored version really is so good. We found the recipe to be super flavorful and even the kids loved it! I love how this scoops up like potatoes and it's not runny at all."
---
3 ways to turn a bag of frozen cauliflower rice into a meal!