How to Make Homemade Cauliflower Rice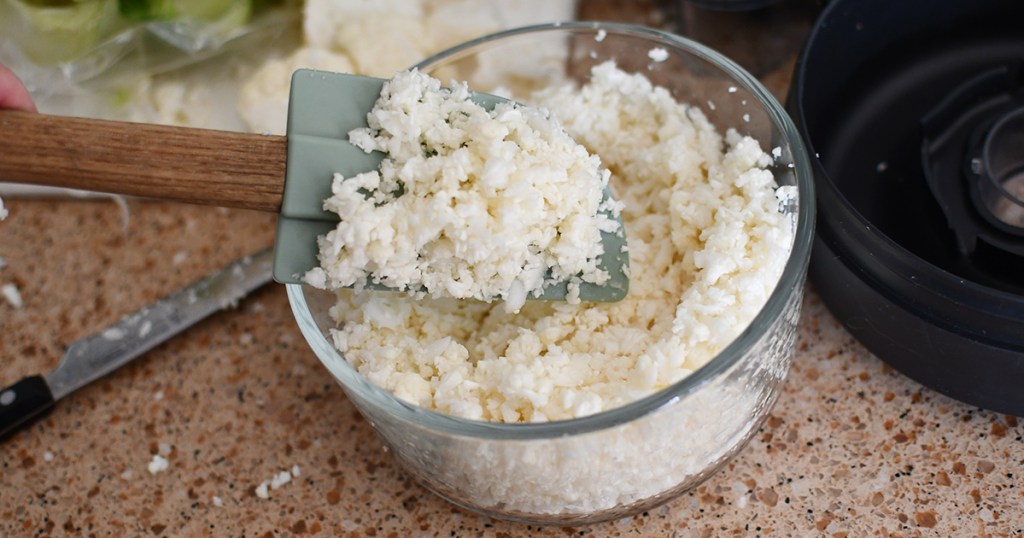 Rice, rice baby…
Are you a cauliflower rice fan and find yourself eating it multiple times a week? Whether it's as a filler for casseroles or even by itself as a keto side dish, learning how to make cauliflower rice from scratch is a must!
I've perfected the recipe for making homemade keto-friendly cauliflower rice and it's kind of life-changing.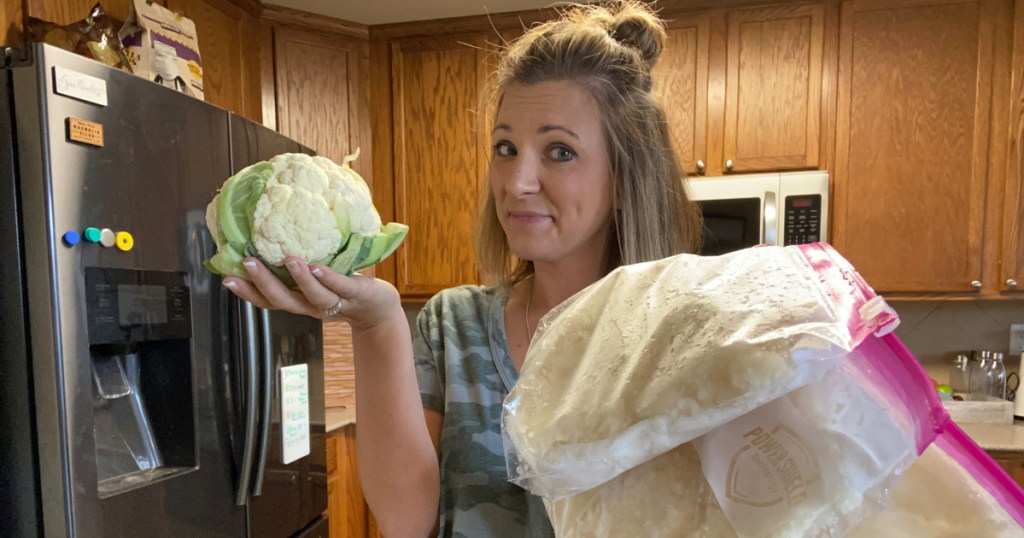 Let's talk about the cost breakdown of store-bought vs. homemade cauliflower rice:
I love the convenience of just throwing a frozen bag of store-bought cauliflower rice into the microwave and having it ready in just a few minutes. But let's do some math here for a second:
Let's also mention that this will result in 3 – 1/2 cup servings, so 1 1/2 cups total, meaning the per cup cost is $1.65. 😱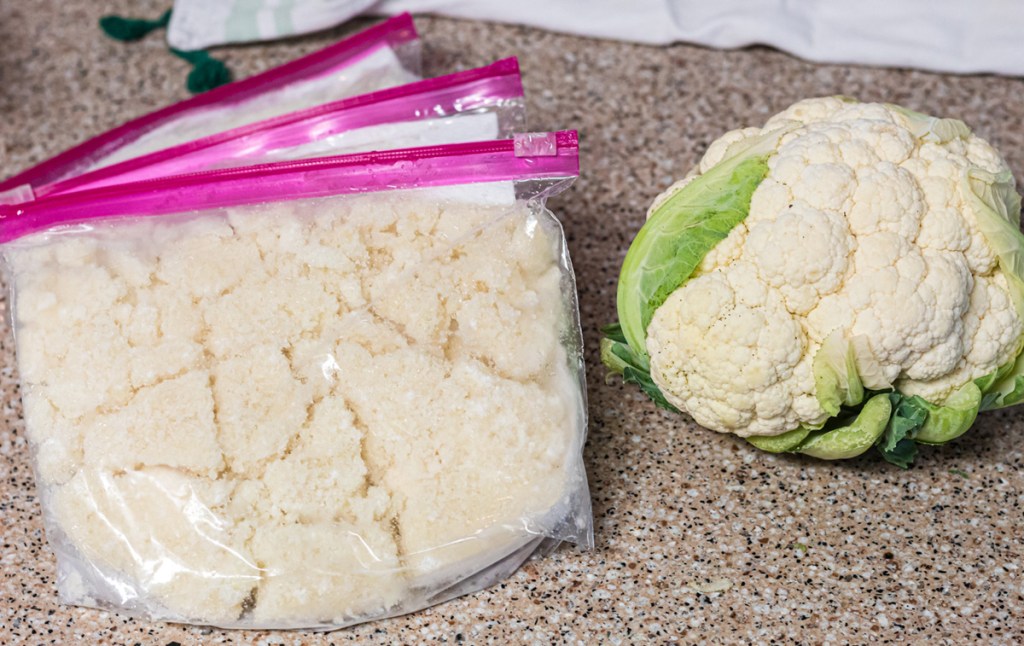 However, with our recipe, you'll end up with 6 cups of cauliflower rice from one cauliflower head, meaning at around $2.77 for a fresh cauliflower head (my cost), your per cup cost is only 46¢, that's 70% less!
And if we assumed you enjoyed 3 cups of homemade `cauliflower rice a week (the equivalent of 2 frozen packages), you're looking at only $72.02 in cauliflower rice costs for the year, $185.90 less than buying pre-made!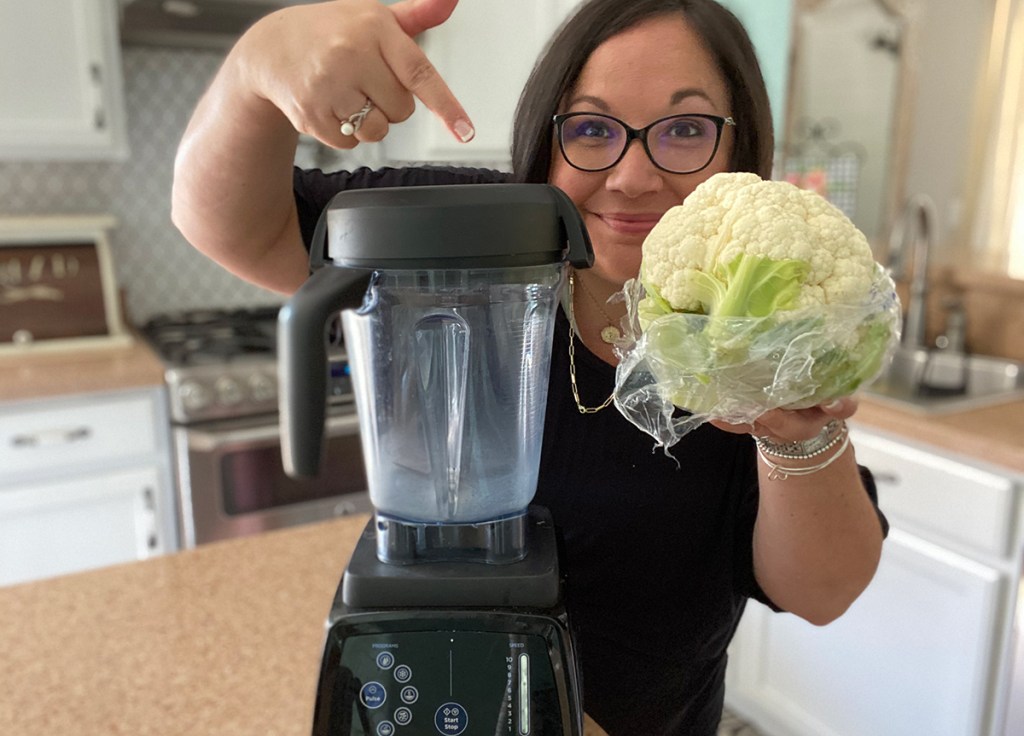 Here are a few recipe tips to keep in mind when making cauliflower rice from scratch:
I used my food processor to pulse the cauliflower into granules, but Lina tested the Vitamix out, and you can even use your Vitamix blender to get the same consistency.
I recommend working in smaller batches so you can have greater control over the consistency (Lina says the same thing when using a Vitamix or blender)!
Make sure to flatten out the bag of rice before placing it in the freezer. It will take up less room and will be easier to reheat when you're ready to serve it.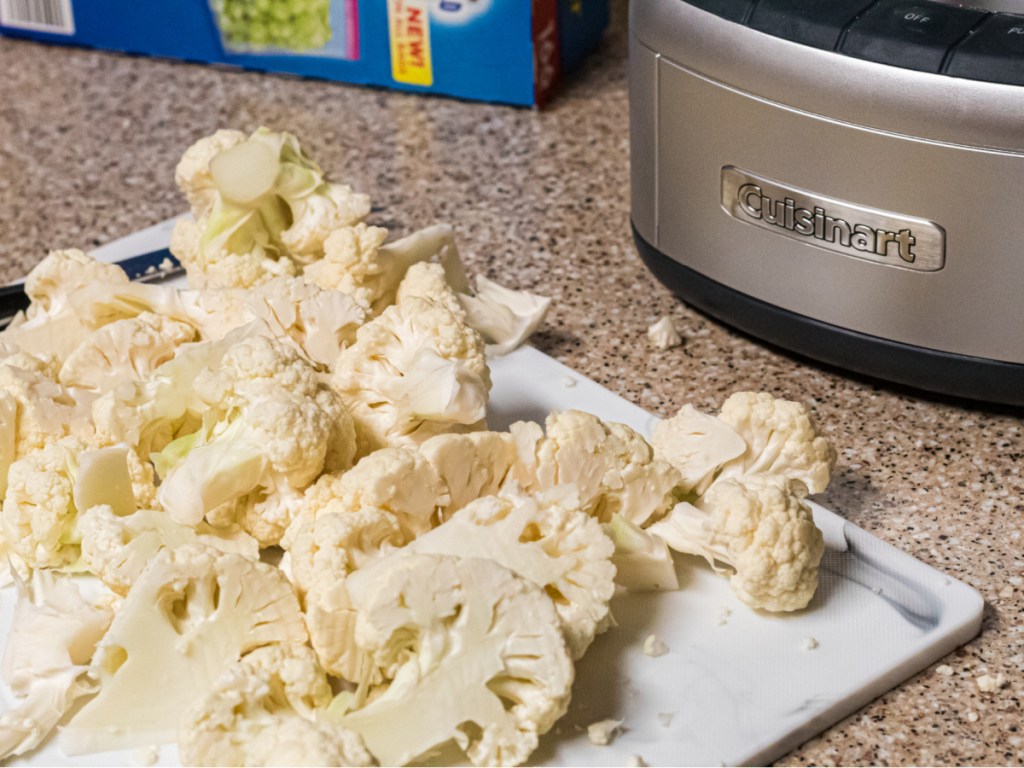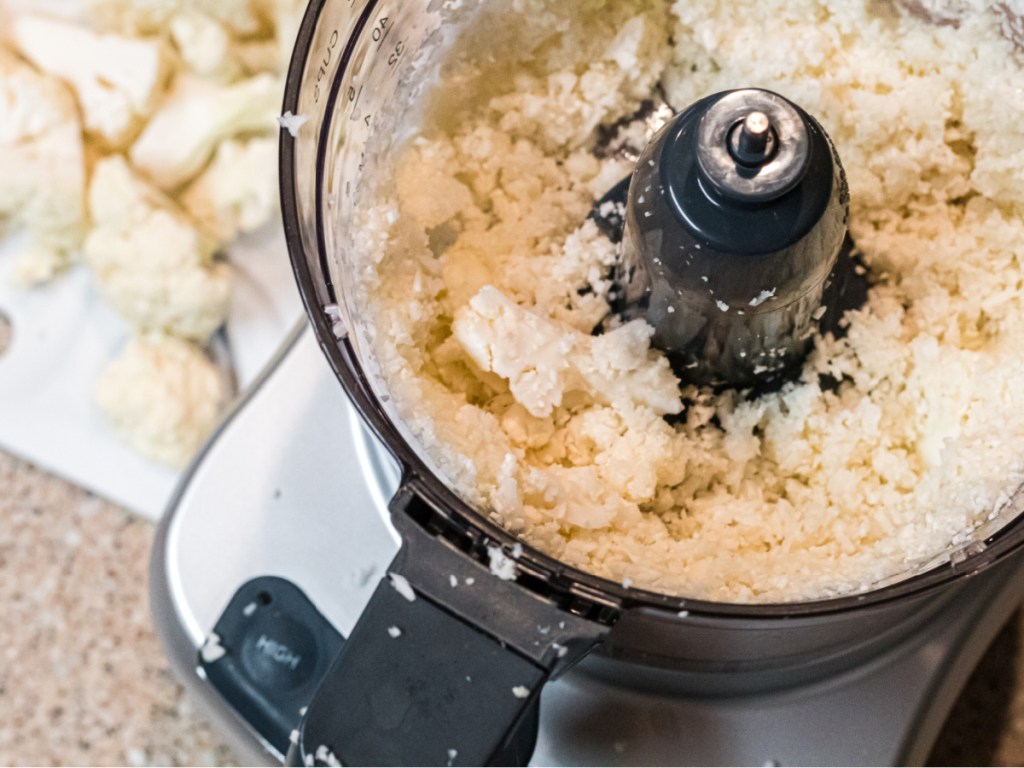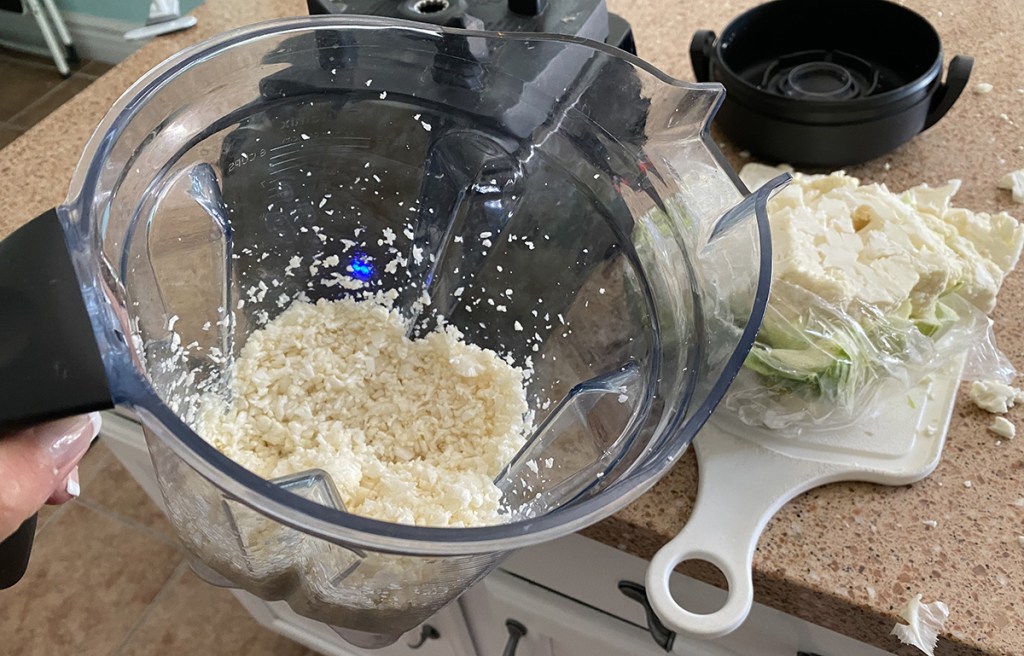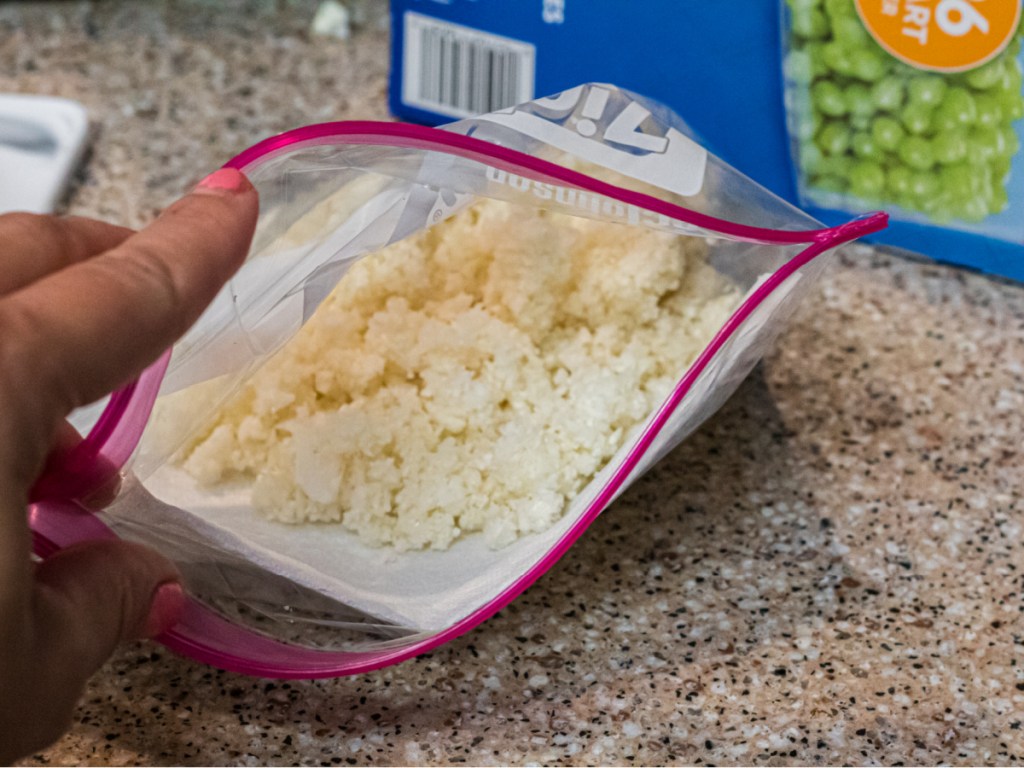 ---
Print
How to Make Cauliflower Rice
yield: 6 SERVINGS
prep time: 10 MINUTES
total time: 10 MINUTES
Make delicious cauliflower rice from scratch for freshness and cost savings, too!
Ingredients
1 head of cauliflower
paper towels
Directions
1
Remove core and green leaves from cauliflower. Cut florets into medium-size pieces. Wash cauliflower florets and pat dry.
2
If using a food processor or Vitamix blender, add a handful of florets and pulse 5 to 7 times until you get a granular rice texture. You might have a few larger pieces and if so, just pull those out and pulse them in your next batch.
3
Pour all your cauliflower "rice" into a large bowl. Once you have processed all florets, you can now bag and store your cauliflower rice.
4
Add a piece of paper towel inside the Ziploc bag (this will help absorb any access liquids). Add in 2-4 cups of cauliflower rice and press down flat and seal. Store in the freezer until you are ready to use.
5
Cooking frozen cauliflower rice:
Microwave: Poke three small holes in the ziploc bag and toss in the microwave. Microwave in 30-second intervals. Mine took less than 2 minutes to cook.
Stovetop: If you are pan-frying the rice, place rice in an oiled or non-stick skillet over medium heat and sauté for 10 minutes, turning over rice occasionally. Season as desired. Enjoy!
Nutrition Information
Yield: 6 cups, Serving Size: 1 cup
Amount Per Serving: 35 Calories | 0g Fat | 7g Total Carbs | 4g Fiber | 3g Protein | 3g Net Carbs
---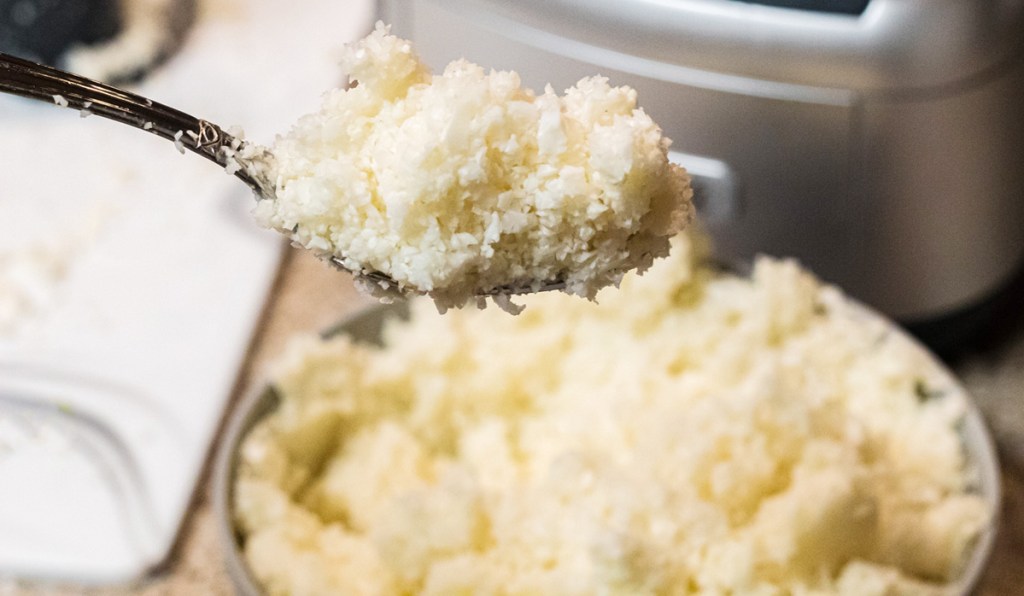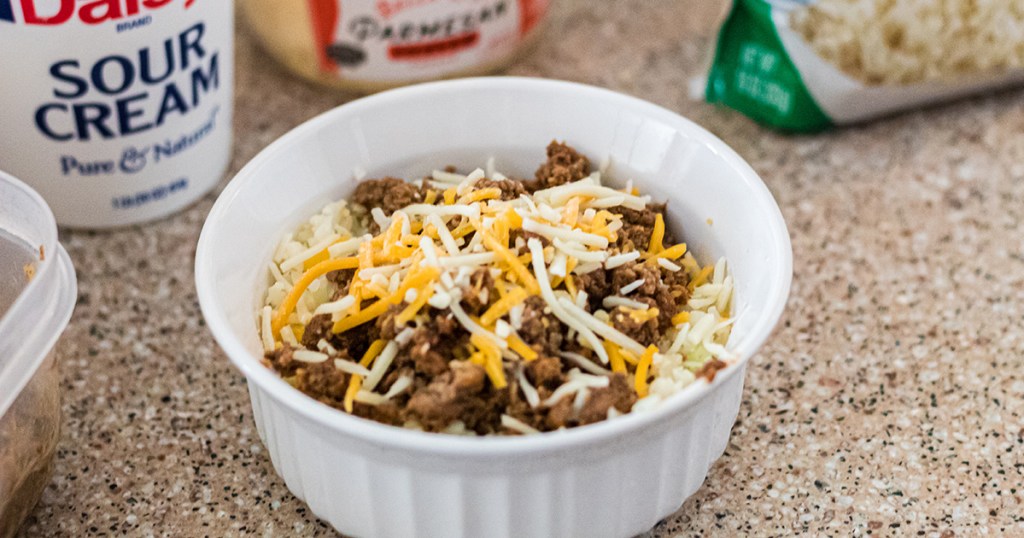 Delicious, easy, and saves you a ton of money!
As you can see, it's pretty simple to make your own cauliflower rice at home. I love that this homemade keto-friendly rice only requires a head of cauliflower, a food processor, and a freezer for storage to have the freshest cauliflower rice around. Better yet, at a huge cost savings!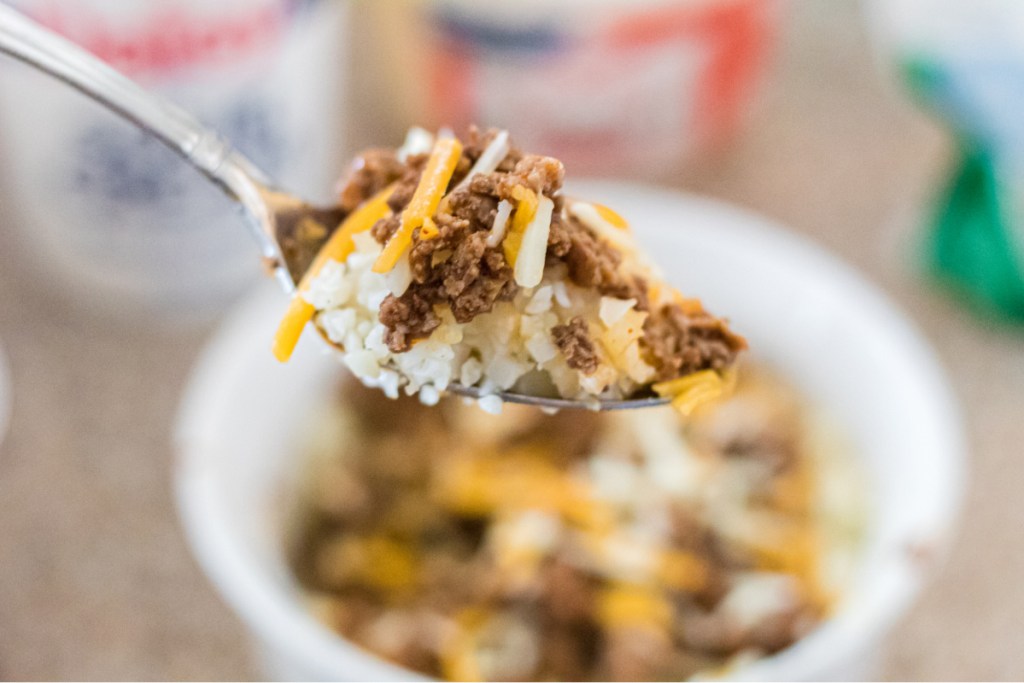 I loaded some up with leftover ground beef and cheese for a mini taco bowl as a super quick, easy, and budget-friendly meal. Having cauliflower rice on hand acts as the perfect vessel to serving up last night's dinner in a flash.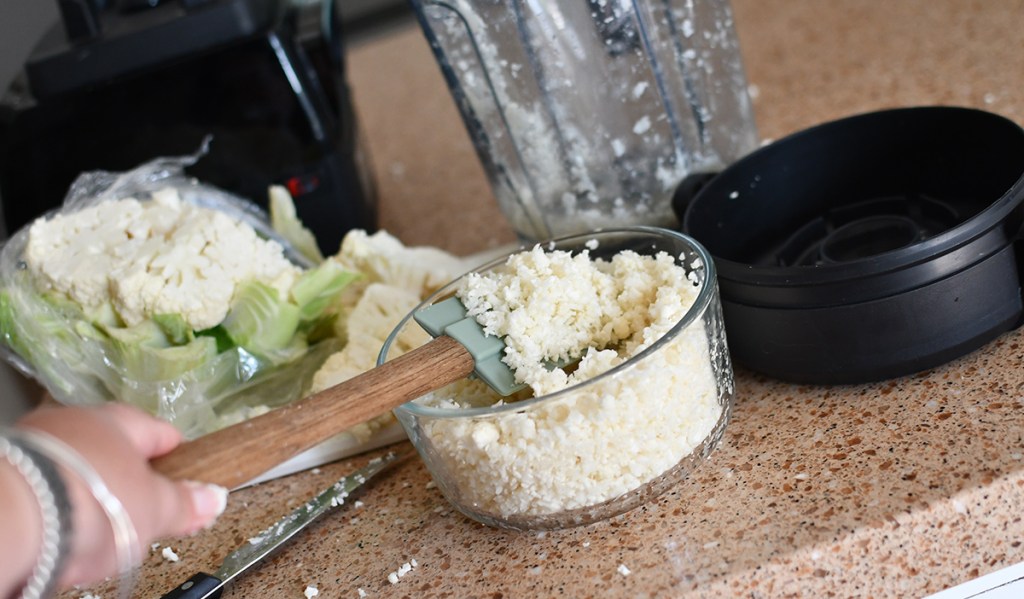 I can't wait to hear your creative uses for your own homemade cauliflower rice!
---
Now that you've made cauliflower rice, try it out in our Keto Burrito Bowl!