These Top 5 Keto Syrups Will Sweeten Your Breakfast Without the Extra Sugar!
Looking for sugar-free keto syrup options? Here are our top 5!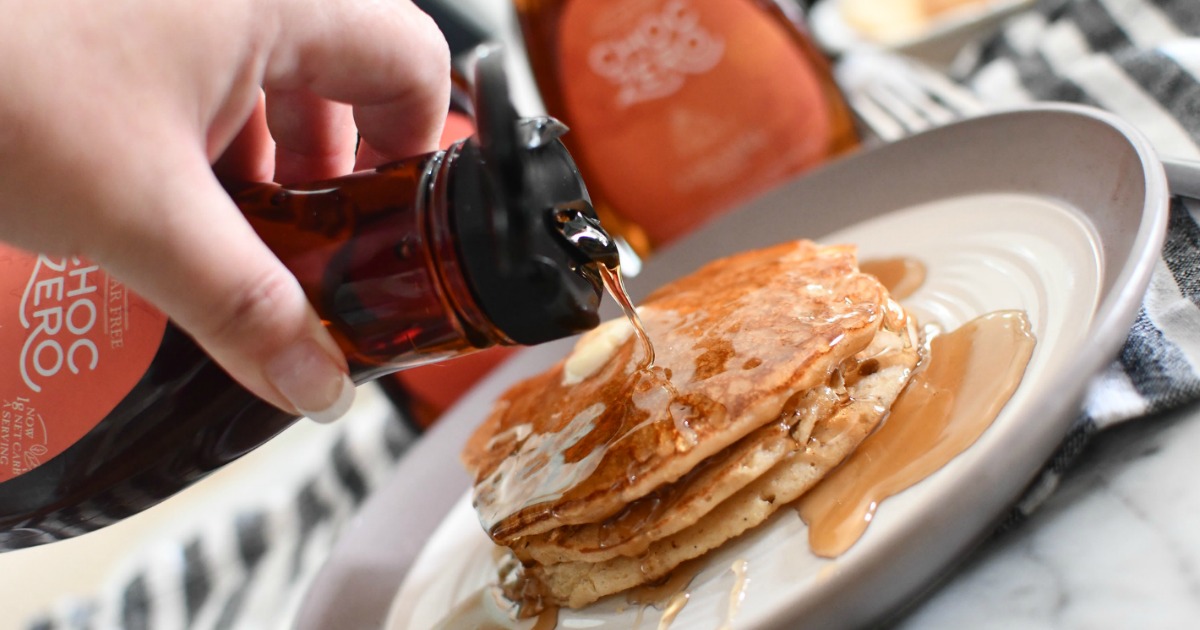 Syrup is the best breakfast condiment, hands-down.
Sure, you can make the keto versions of your favorite breakfast foods, but what's a waffle or pancakes without some syrup to go with them? And if you've never put a little bit on your bacon or breakfast sausages…well, friends, you're missin' out.
Luckily, as the keto diet gets more and more popular, we're seeing a lot of new products that can perfectly fit into a low-carb diet, and syrup is no exception!
We're rounding up the best store-bought keto syrups (maple and other flavors as well!) so you don't have to miss out on the breakfast goodness just because you're cutting carbs. 🙌
---
1. ChocZero Keto Syrups come in different flavors for all our syrup cravings.
Save 10% when you use promo code HIP2KETO at checkout!
Nutrition Info (Maple Flavor):
Serving Size: 1 Tbsp. | 32 Calories | 0g Fat | 15g Total Carbs | 14g Fiber | 0g Sugar | 0g Protein | 1g Net Carbs
We've said it before and we'll say it again: we're absolutely crazy about ChocZero around here, and their maple syrup does not fall short of our (very high) expectations.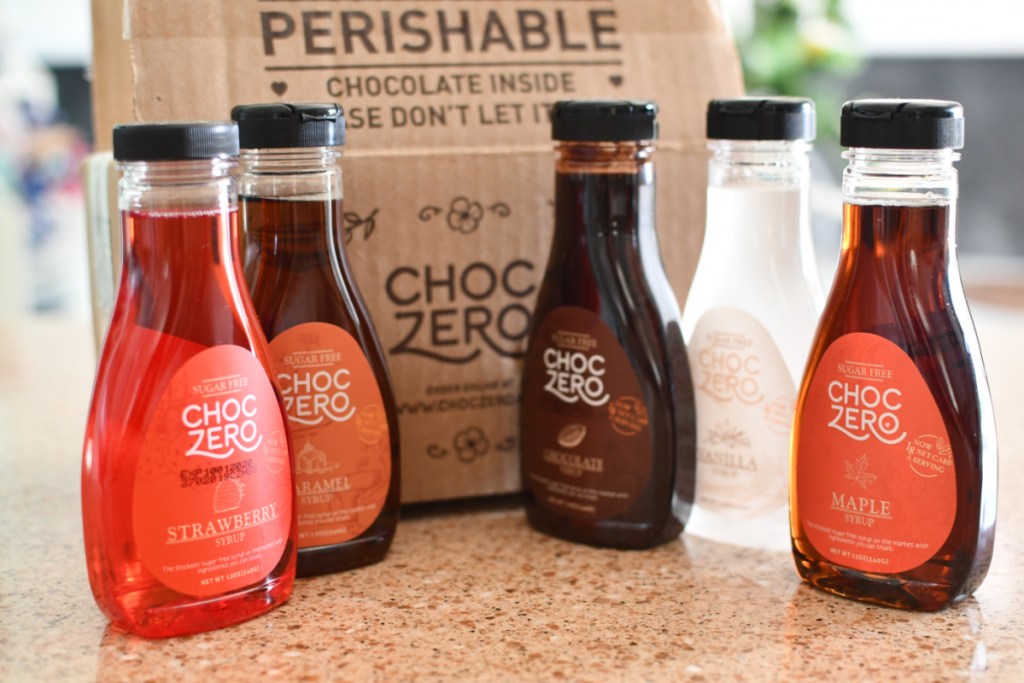 And even better, they have several different sugar-free flavors! I'm personally a fan of anything Maple-flavored, but you can also choose Maple Vanilla, Chocolate, Caramel, and more.
Pssssst! Remember to check out the ChocZero summer syrup flavors and scoop some up while they're still around!
---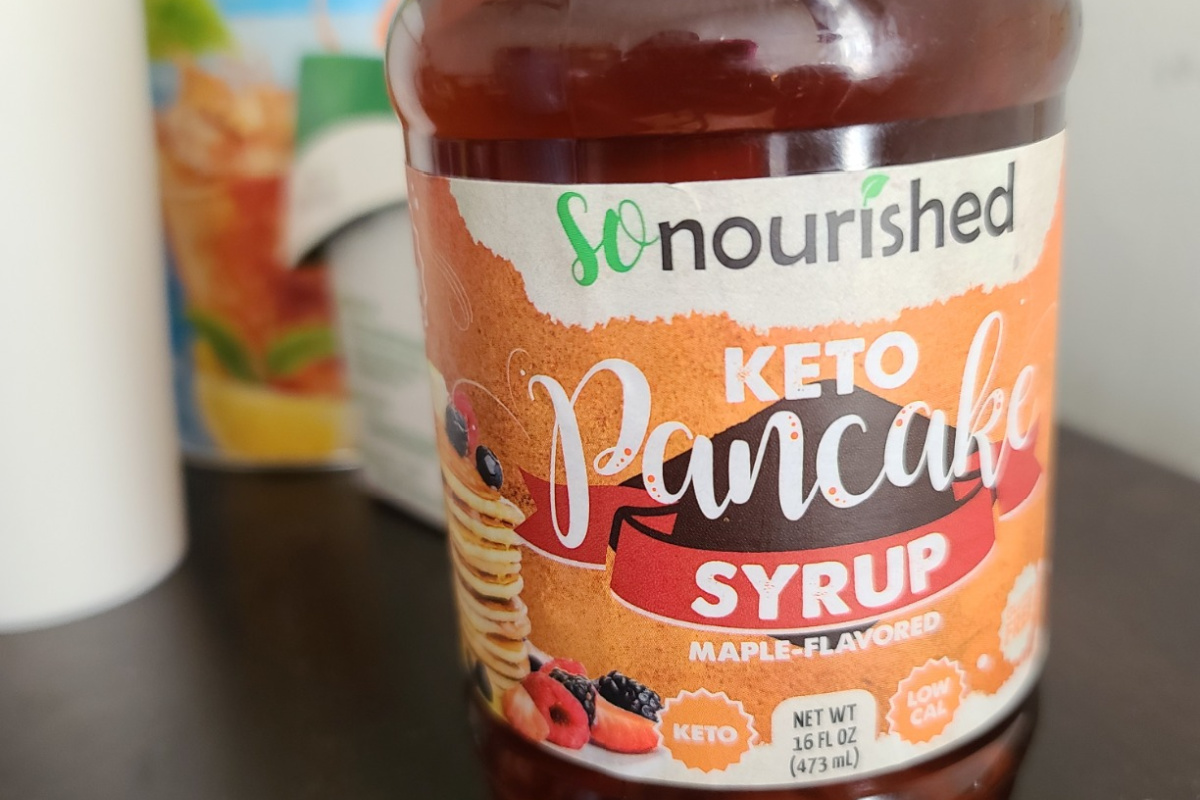 Nutrition Info:
Serving Size: 2 Tbsp. | 25 Calories | 0g Fat | 15g Total Carbs | 9g Fiber | 1g Sugar | 5g Erythritol | Protein: 0g | Net Carbs: 1g
Not only is this syrup delicious, but it's also a steal compared to many other sugar-free syrups! You can score the 16oz bottle on Amazon for only $10.99, and you can clip the Amazon coupon for an extra 5% off. 🙌
The syrup is sweetened with a mixture of erythritol, monk fruit extract, and stevia, so you can enjoy the sweet taste without having to worry about carbs or an upset stomach.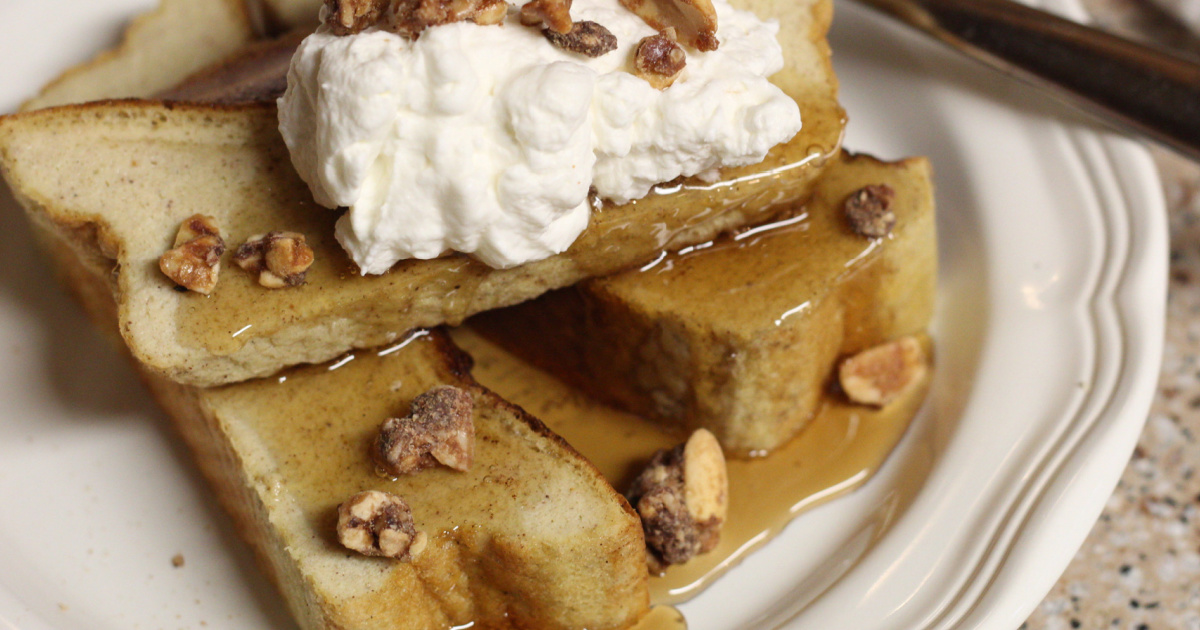 Here's what one reviewer said about their So Nourished maple syrup:
I didn't know how much I've been missing maple syrup! I made keto French toast today and used my new So Nourished maple syrup. The reviews were good, so I was hoping it'd be passable. Wow – it's so good, it totally surpassed my expectations! Light, mapley, buttery, sweet, but not too sweet. And best of all, no bitter aftertaste so common with low-carb sweeteners.
---
Nutrition Info:
Serving Size: 2 Tbsp. | 20 Calories | 0g Fat | 28g Total Carbs | 0g Fiber | 0g Sugar | 26g Allulose | 0g Protein | 2g Net Carbs
If you're looking for a sugar-free syrup that's less watery and more syrupy, this is the one for you! Not only does it have a thick texture that's reminiscent of real maple syrup straight from the tree, but it's also made with no added sugar and won't spike your blood glucose levels. Wholesome Yum also claims that there's no aftertaste, and reviewers seem to agree!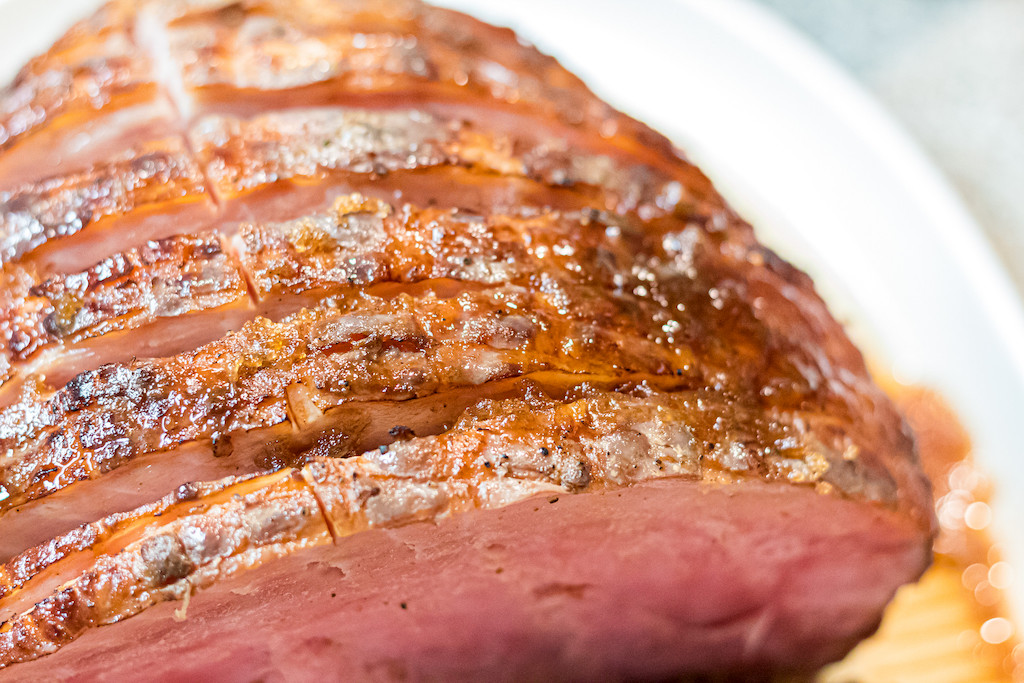 Here's what one of them said about the Wholesome Yum syrup:
This is, hands down, the best Keto maple syrup out there. I'm using it right now as part of the glazing for a baked ham, and boy, does it taste awesome! You need to buy this syrup NOW – you won't regret it!! And I'm so happy to finally find a Keto syrup that actually tastes and is as thick as real syrup – woo hoo!
---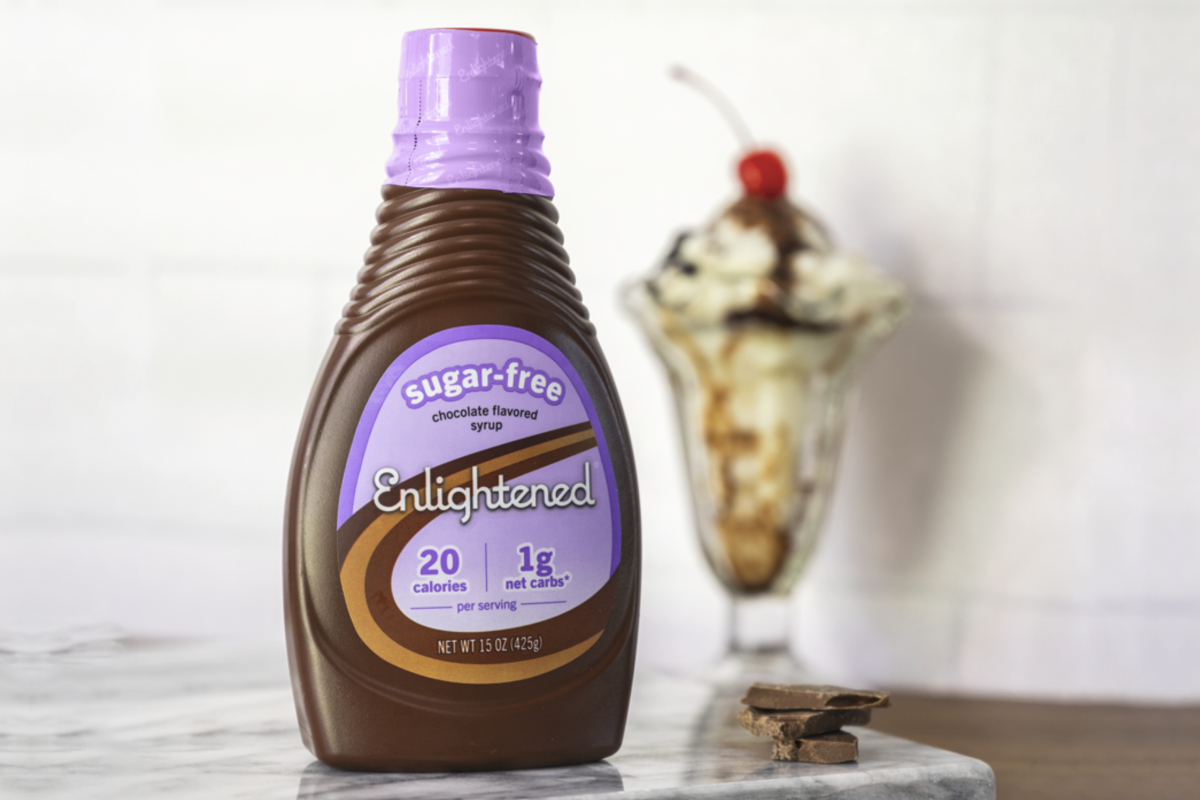 Save $2 with Amazon's clippable coupon!
Nutrition Info:
Serving Size: 2 Tbsp. | 20 Calories | 0g Fat | 28g Total Carbs | 0g Fiber | 0g Sugar | 24g Allulose | 0g Protein | 2g Net Carbs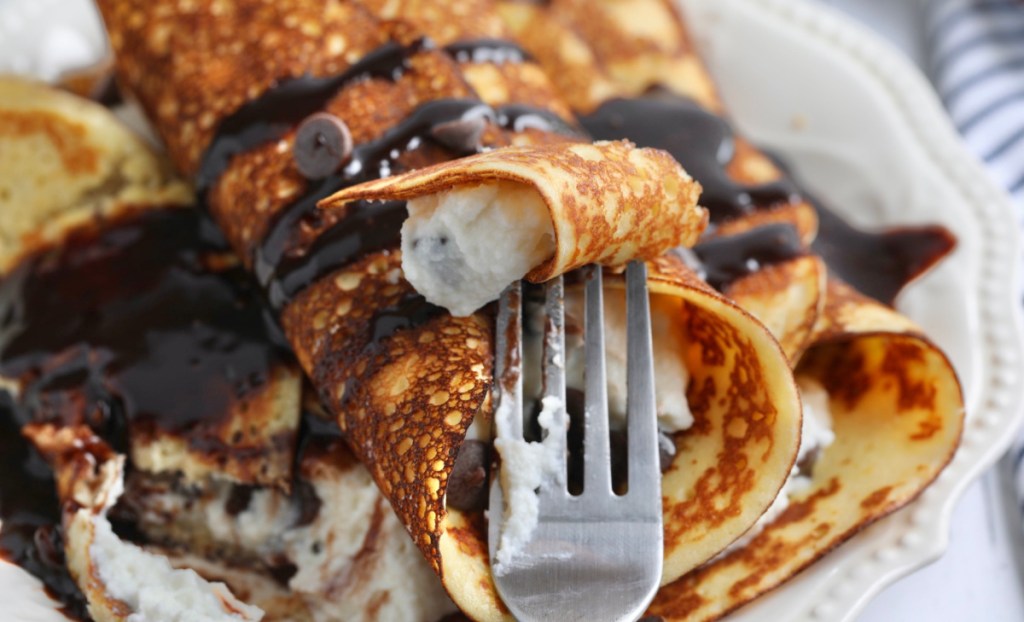 Okay, so this is probably–technically–not a breakfast syrup, but hear me out! If you want to switch it up from plain maple syrup and make breakfast just a little bit more indulgent, try drizzling the Enlightened chocolate syrup on your strawberries, keto crepes, or chaffles.
Or just slap it on some Enlightened Keto Ice Cream… no judgment here. 🙃
I'm a big chocolate fan myself (the darker the better), and when my friends served me some of this syrup with breakfast one morning, it was hard not to smother their delicious keto pancakes with half the bottle. What I love about Enlightened products is that they don't "taste keto," and this chocolate syrup tasted just like the stuff I remembered!
---
5. Livlo Sugar-Free Keto Syrup tastes just like the sugary-sweet syrup you remember.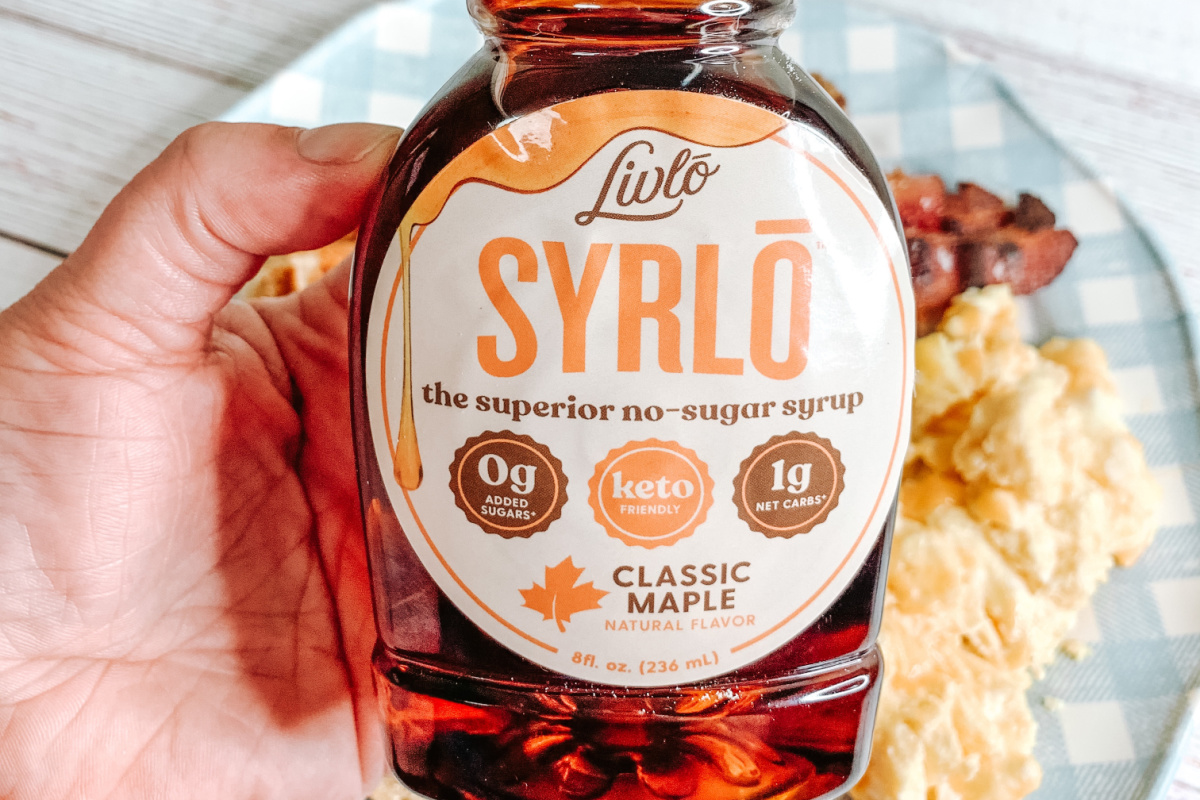 Nutrition Info:
Serving Size: 2 Tbsp. | 10 Calories | 0g Fat | 22g Total Carbs | 0g Fiber | 0g Sugar | 21g Allulose | 0g Protein | 1g Net Carbs
Believe it or not, reviewers are saying that you can't tell the difference between this sugar-free version of maple syrup and the real deal! Like the Wholesome Yum syrup, this one has a pretty clean ingredients list, so you can enjoy the goodness without any mystery add-ins. 🙌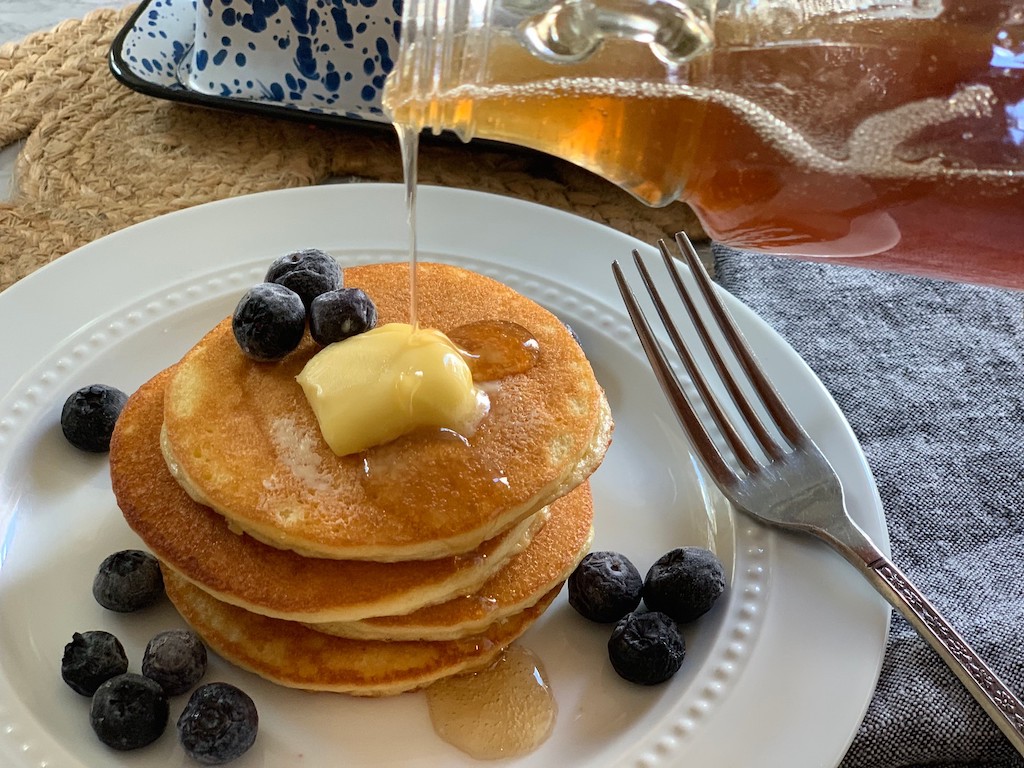 Here's what one reviewer said about the Livlo syrup:
"I no longer have to drive miles to the nearest Cracker Barrel for their iconic maple syrup! Instead, I can save gas and all those carbs with this delicious Livlo Foods Maple Syrup! It is decadent, sticky, sweet and has no after taste, just perfect! And the best part is that it has only 3 ingredients. Livlo Maple Syrup has clean ingredients and it's just divine! My only complaint is that the bottle is too small but a little goes a longgggg way. Definitely give this a try!"
---