Keto Crepes with Cannoli Filling – Brunch Just Got an Upgrade!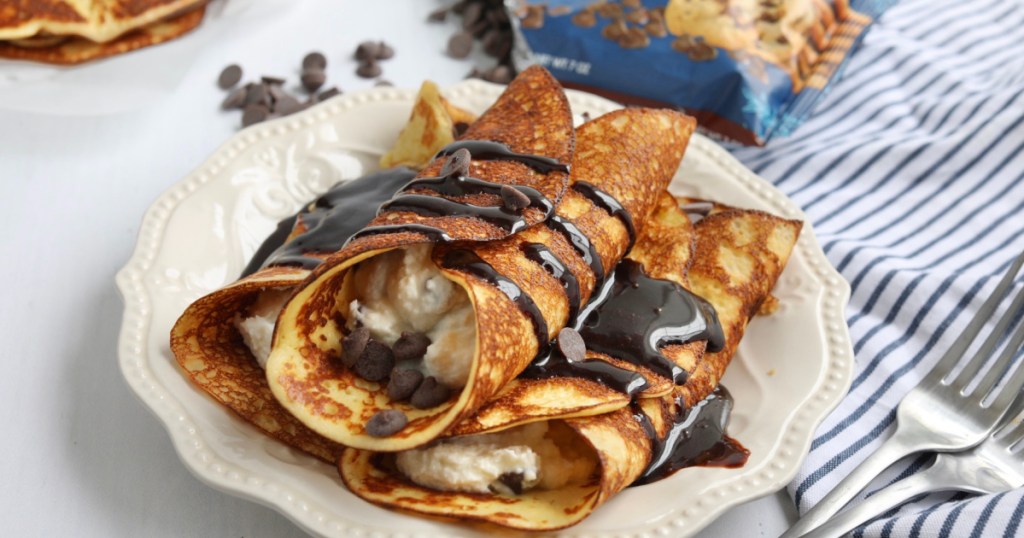 Keto crepes for days! 😋
Have you ever made keto crepes? If not, it's surprisingly pretty easy to cook up a batch at home. For this recipe, you don't need a special crepe pan or spatula — just a good nonstick skillet and your favorite spatula will do just fine.
Crepes are similar to pancakes but the batter is thinner and eggier.
To make these crepes keto, we switched out regular flour for almond flour with just a touch of coconut flour. Then instead of sugar, we used keto confectioners sweetener. And then, to step it up a notch, the keto crepes are filled with a no-sugar-added cannoli filling made with ChocZero Milk Chocolate Chips. Yum! These are seriously so good! It was hard not to eat all the filling on its own!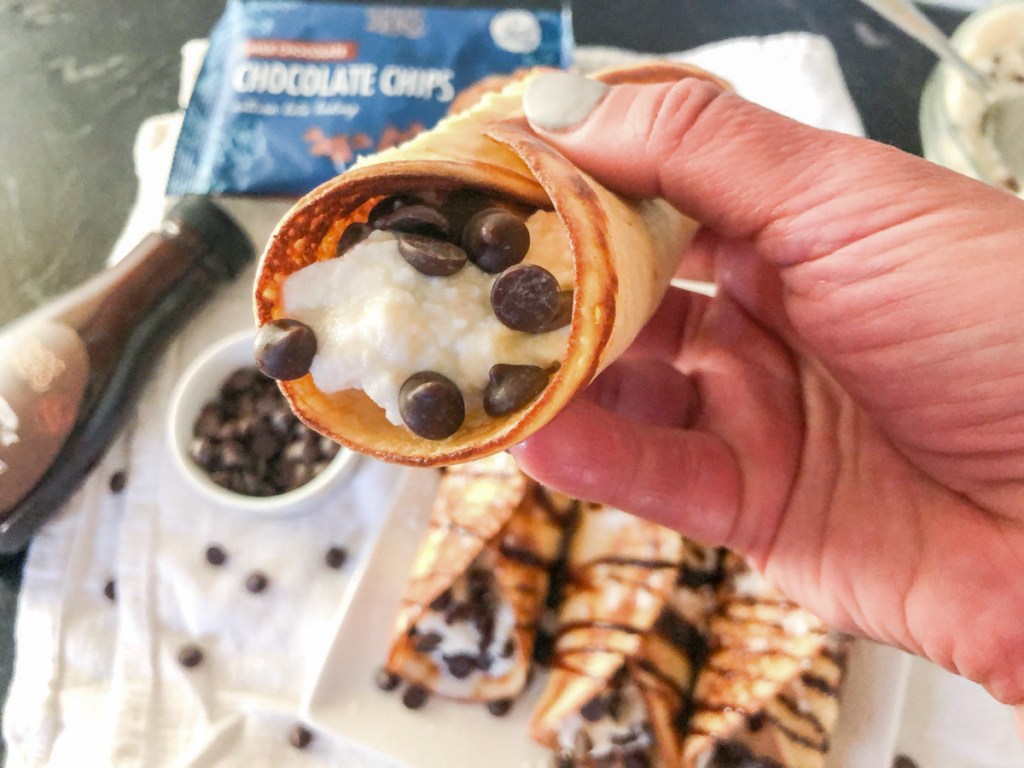 You're going to love the cannoli filling made with the ChocZero Milk Chocolate Chips!
The flavor combination of the keto crepes with the cannoli filling is so delicious! And to get even more chocolate flavor, you can sprinkle extra chocolate chips on top of the crepes or drizzle the crepes with ChocZero Sugar-free Chocolate Syrup! YUM!
One of the best things about crepes is that they are very versatile. You can fill these keto crepes with sweet or savory items. Try our keto Nutella-like spread with some berries or this keto cheese sauce with eggs and sautéed mushrooms!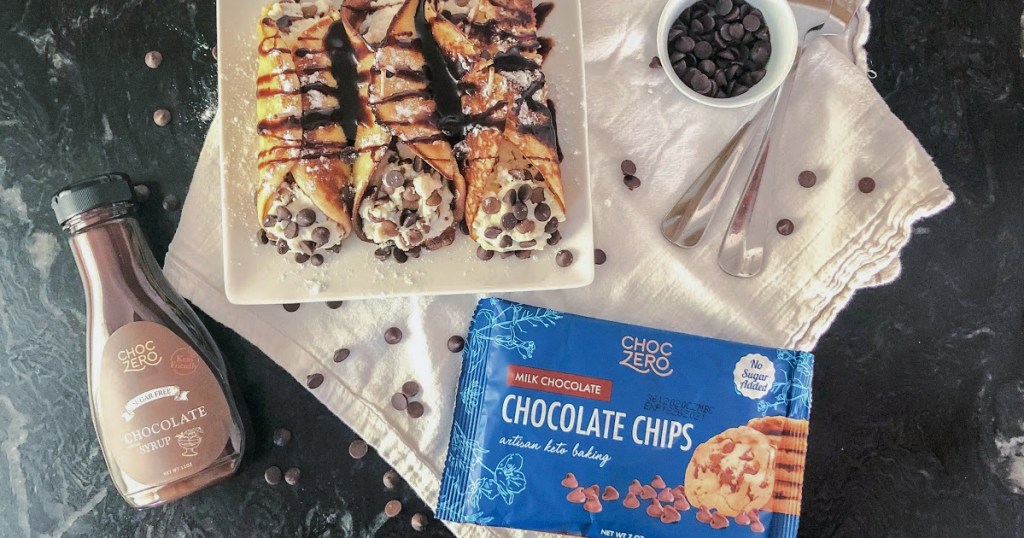 Tips for making the best keto crepes:
Use a blender to mix up the crepe ingredients as the high speed helps incorporate the cream cheese into the batter.
Be patient when cooking the crepes! It can be a little tricky at first to get the batter to spread out enough to make the crepes thin and to make them stay in a circular form. The key is to pick up the pan and tilt it in a circular motion to get the batter to spread out evenly.
When flipping the crepes, loosen up all the edges with a spatula before your turn them over. You can also use your fingers when you make the flip to help prevent the crepes from tearing. Just be careful that you don't burn your fingers!
You're going to love the no-sugar-added cannoli filling made with the ChocZero Milk Chocolate Chips! Use our exclusive promo code HIP2KETO on their website to get 10% off your purchase!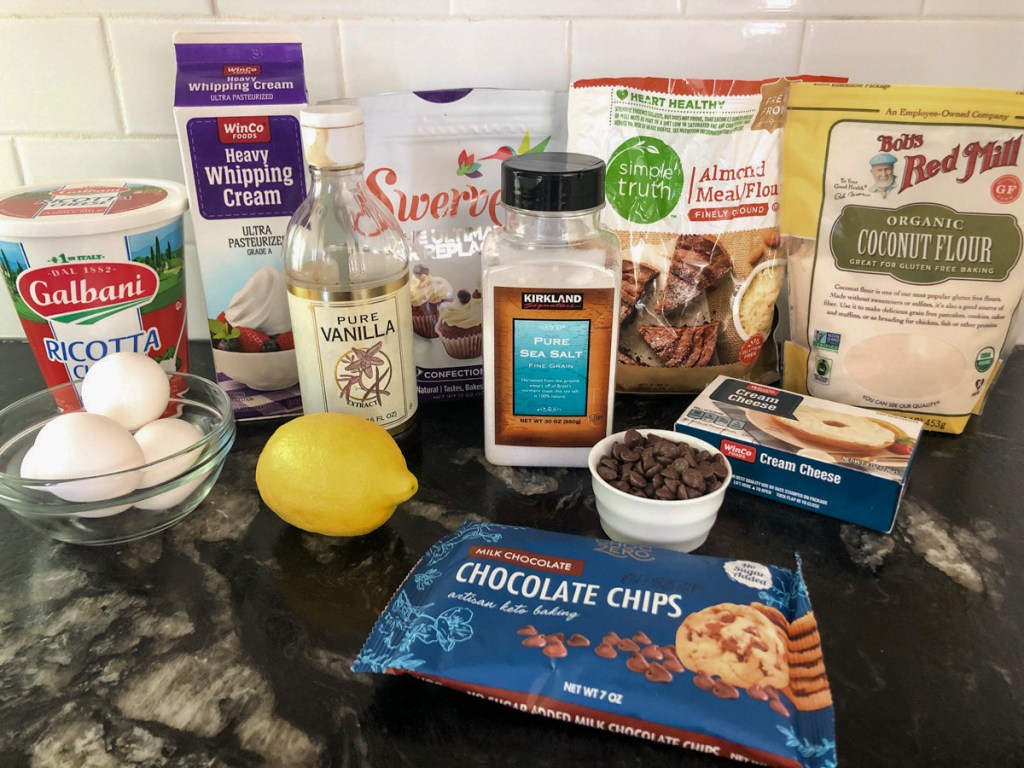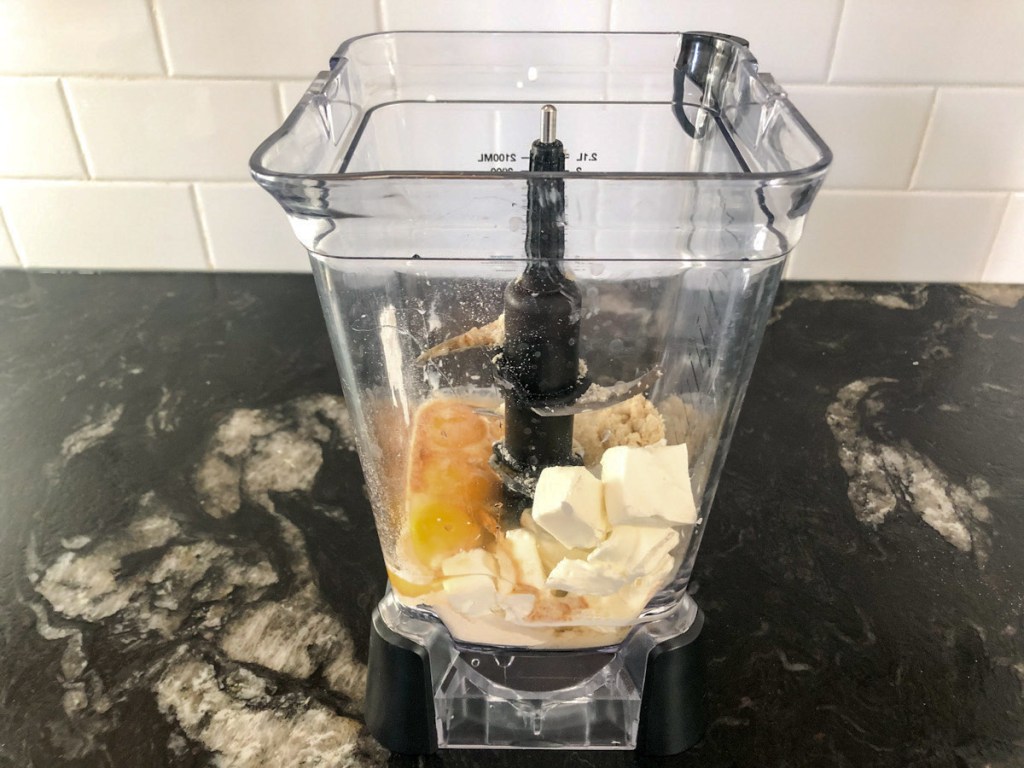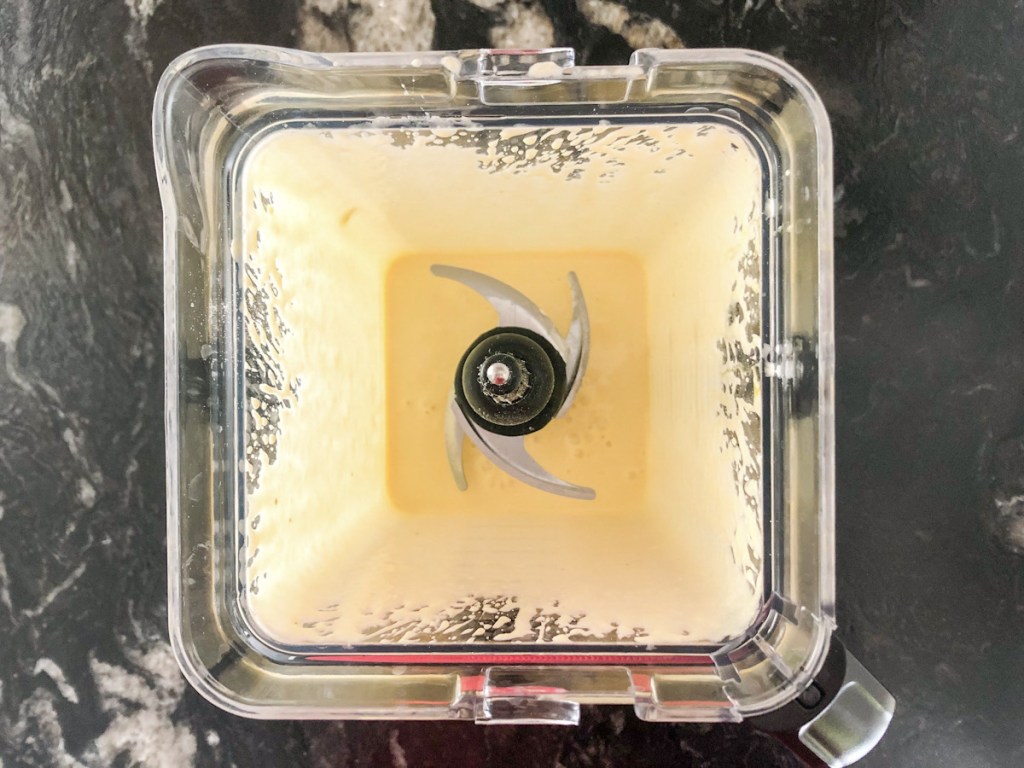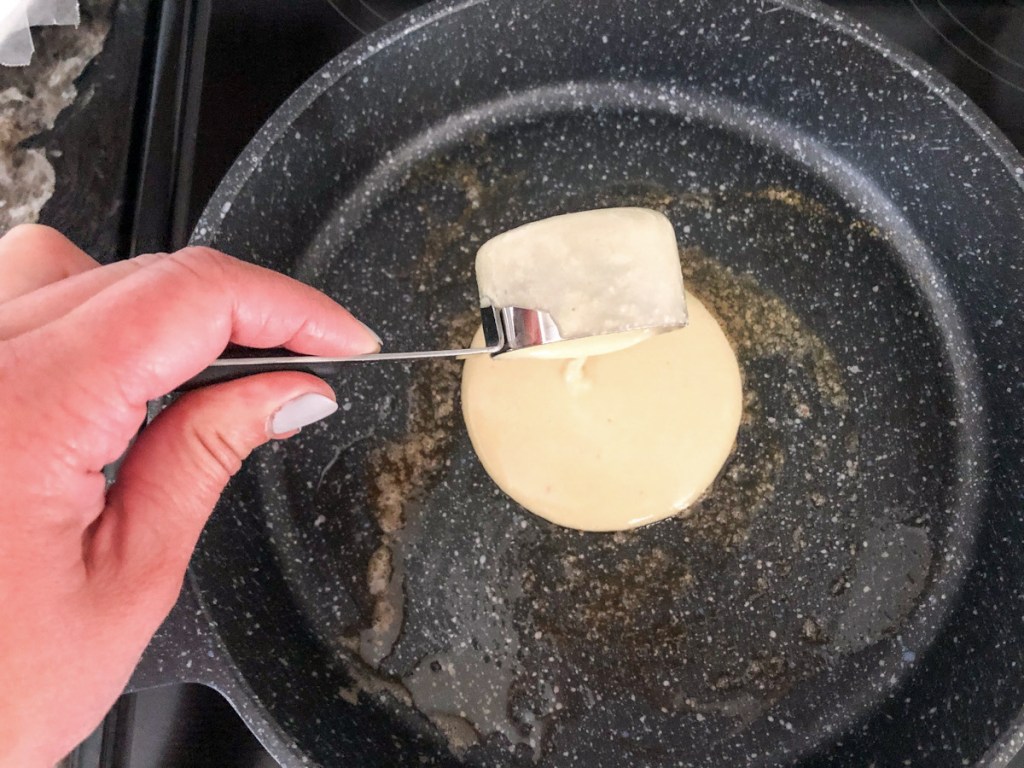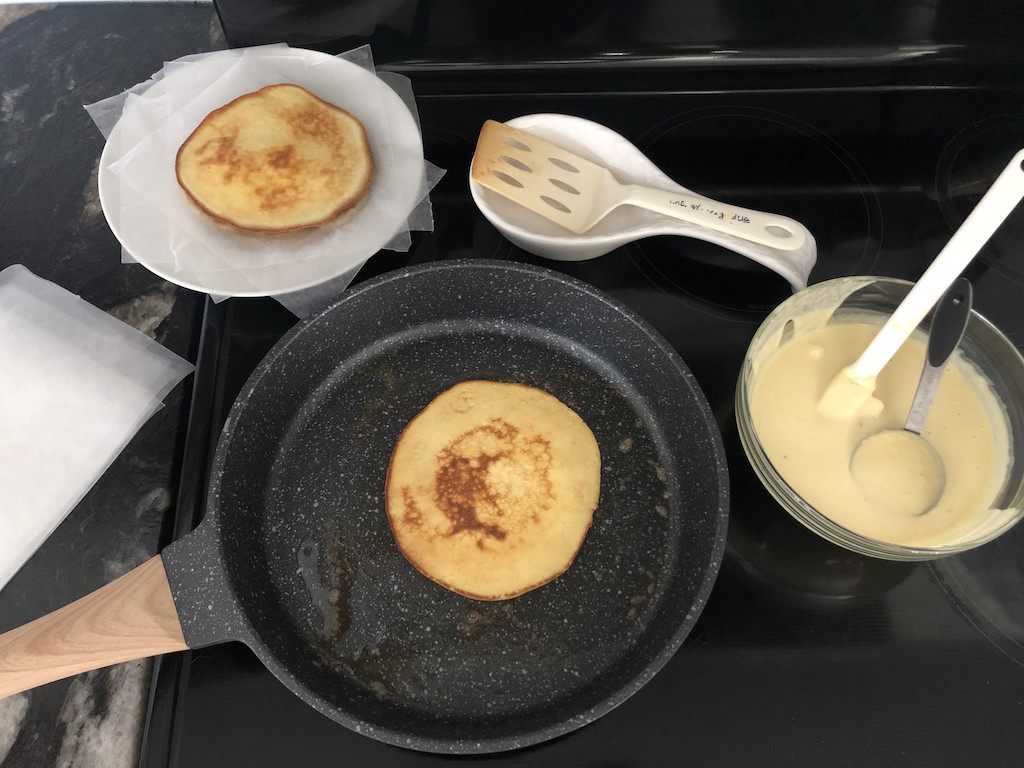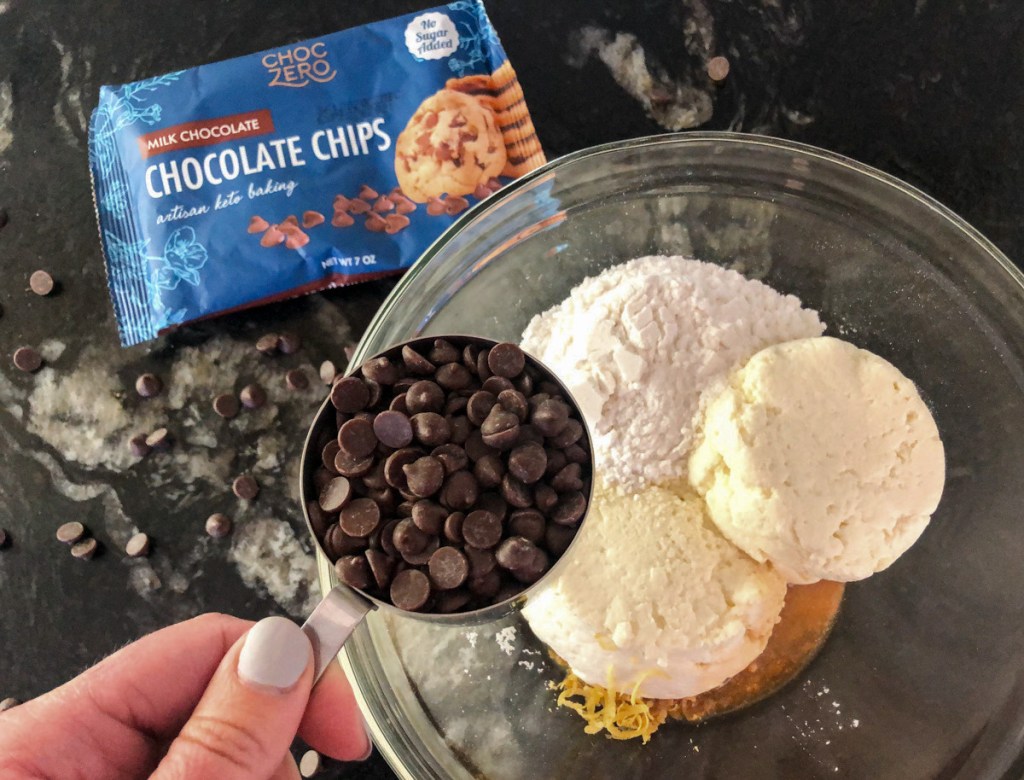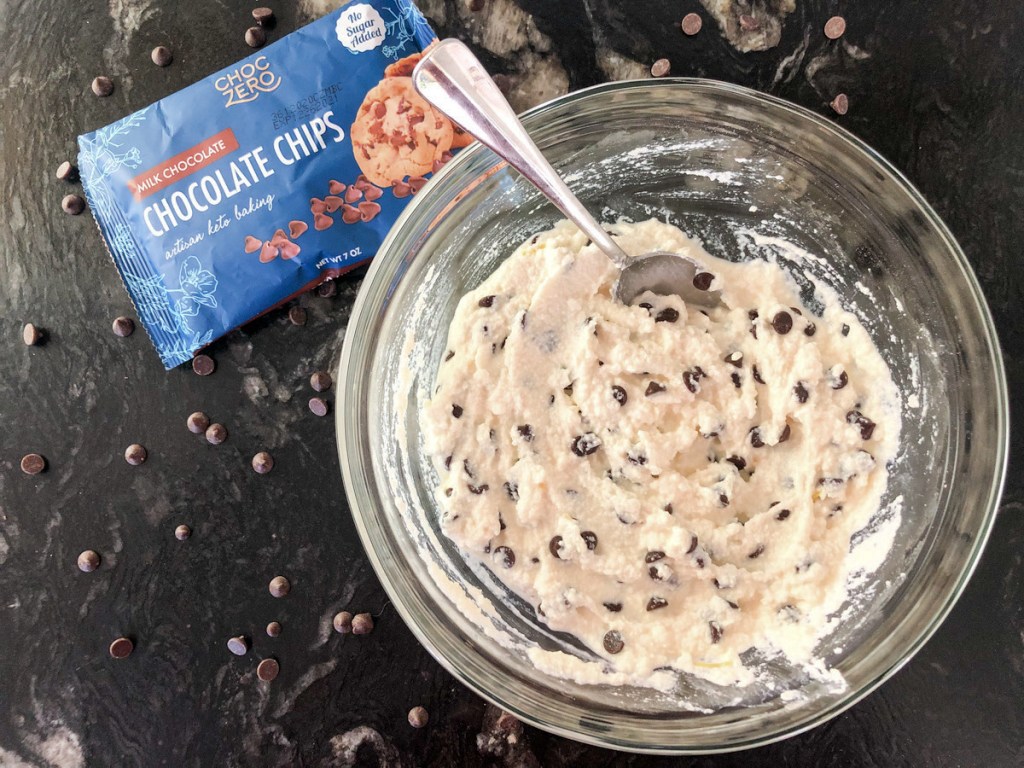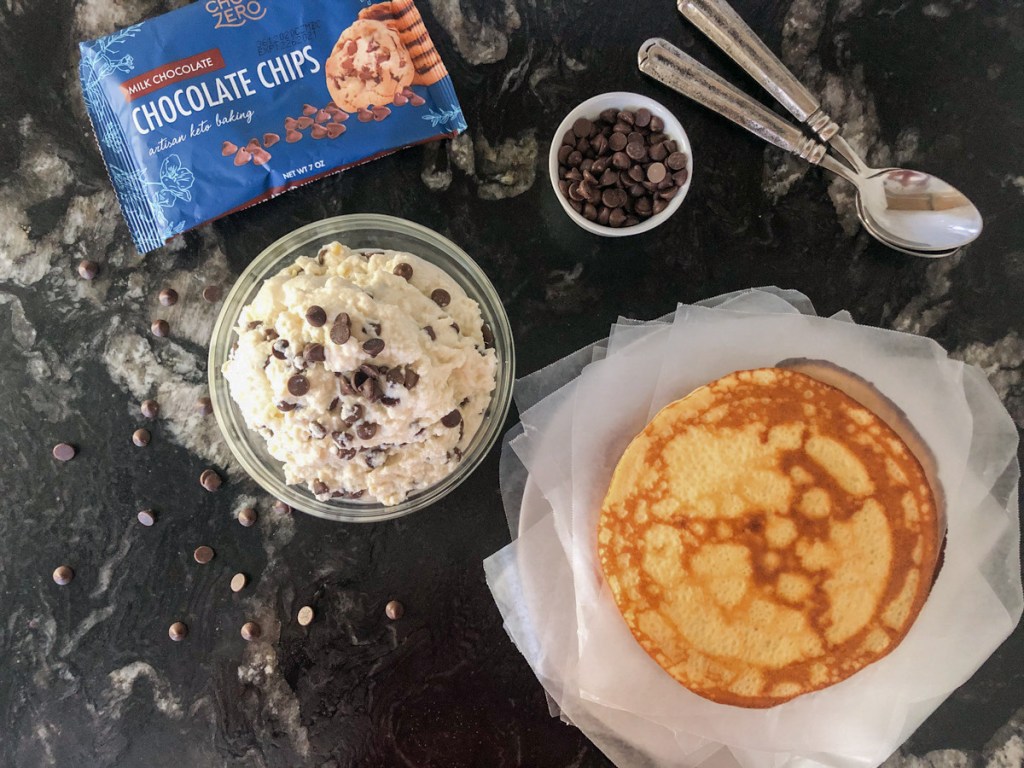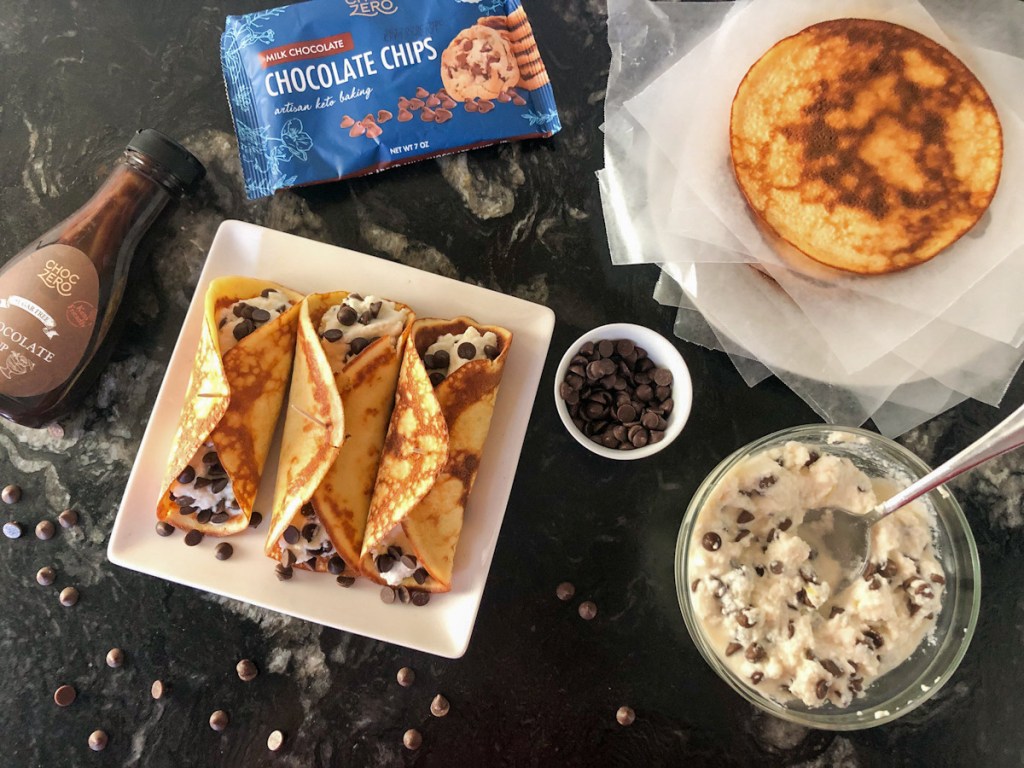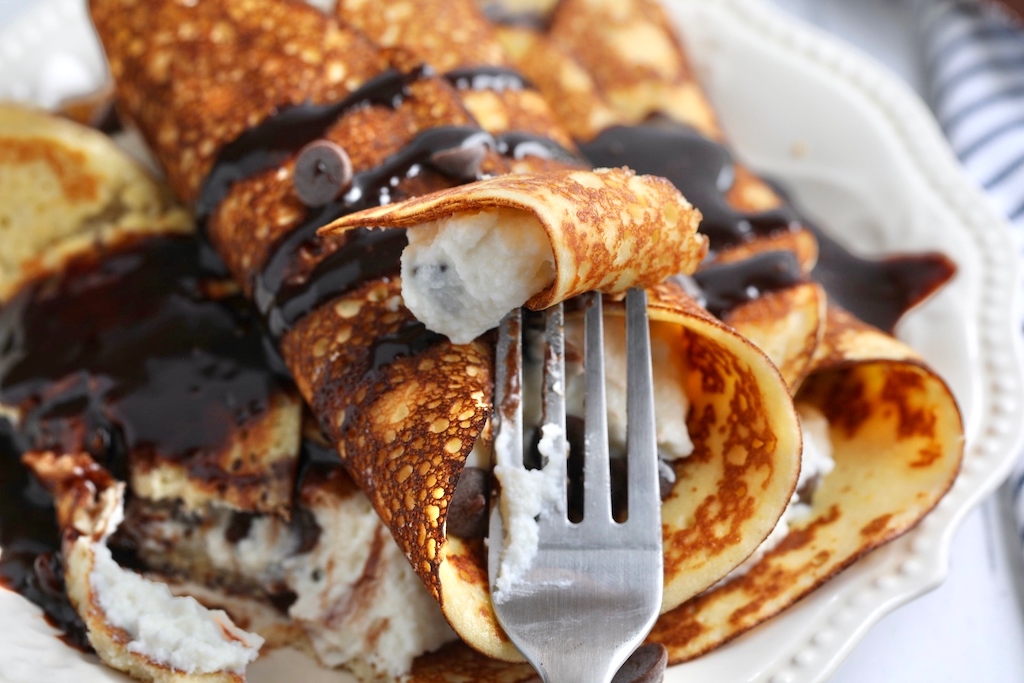 ---
Print
Keto Crepes with Cannoli Filling
yield: 9 SERVINGS
prep time: 30 MINUTES
cook time: 30 MINUTES
total time: 60 MINUTES
Keto crepes made with almond and coconut flour, filled with delicious sugar-free ricotta and ChocZero chocolate chip cannoli filling.
Ingredients
Keto Crepes:
1/4 teaspoon salt
4 oz cream cheese, softened
4 eggs
1/4 cup heavy whipping cream
1 teaspoon vanilla extract
butter or oil to grease pan
Cannoli Filling:
2 cups whole milk ricotta cheese
2 teaspoons vanilla extract
1 teaspoon fresh lemon zest
2 teaspoons fresh lemon juice
Optional toppings:
Directions
1
To make the crepes:
Place all ingredients in a blender and puree until smooth. Let the batter sit for 10 minutes.
2
Heat a large nonstick skillet over medium to medium-high heat. Grease pan. Place 1/4 cup of the crepe batter in the middle of the pan. Then pick the pan up off the burner and tilt it in a circular motion to evenly spread out the batter. The crepes will end up being about 5 to 6 inches across the diameter (about the size of a corn tortilla). Cook for 2-3 minutes per side.
3
To flip the crepe, use a spatula to carefully loosen all the edges before flipping. Crepes are done when golden brown. Separate crepes with wax paper if desired.
4
To make the cannoli filling:
Remove moisture from ricotta cheese by either draining the ricotta with a fine mesh strainer lined with cheesecloth overnight or pat ricotta dry with paper towels after you stir it up. This step is optional but it does help make for a thicker cannoli filling.
5
Mix ricotta cheese with keto confectioners sweetener, ChocZero milk chocolate chips, vanilla, lemon zest, and lemon juice. Stir well to combine. Keep the cannoli filling in the fridge until ready to assemble crepes.
6
To assemble the crepes:
Fill each keto crepe with approximately a 1/4 cup of cannoli filling. Roll the crepe around the filling and secure with a toothpick if needed. Top with additional ChocZero milk chocolate chips, a dusting of keto confectioners sweetener, and a drizzle of ChocZero sugar-free chocolate syrup. YUM!
Nutrition Information
Yield: 9 filled crepes, Serving Size: 1 filled crepe
Amount Per Serving: 326 Calories | 27.3g Fat | 22.4g Total Carbs | 6.3g Fiber | 2.7g Sugar | 11.7g Sugar Alcohol | 10g Protein | 4.4g Net Carbs
Nutrition Information for one crepe:
148 calories, 3.7g total carbs, 1.2g fiber, 0.8g sugar, 1.0g sugar alcohol, 1.5g net carbs, 13.2g fat, 5.5g protein
Nutrition Information for 1/4 cup sugar-free cannoli filling:
178 calories, 5.1g fiber, 1.9g sugar, 10.7g sugar alcohols, 2.9g net carbs, 14.1g fat, 4.5g protein
---
Keto crepes are an undeniable indulgent treat, no matter what time of day!
These keto crepes with the cannoli filling make an irresistible dessert or an over-the-top breakfast idea! Don't skimp out on the ChocZero Milk Chocolate Chips either — they really satisfy any keto sweet tooth. 😋
We can't wait to hear what you all think of them!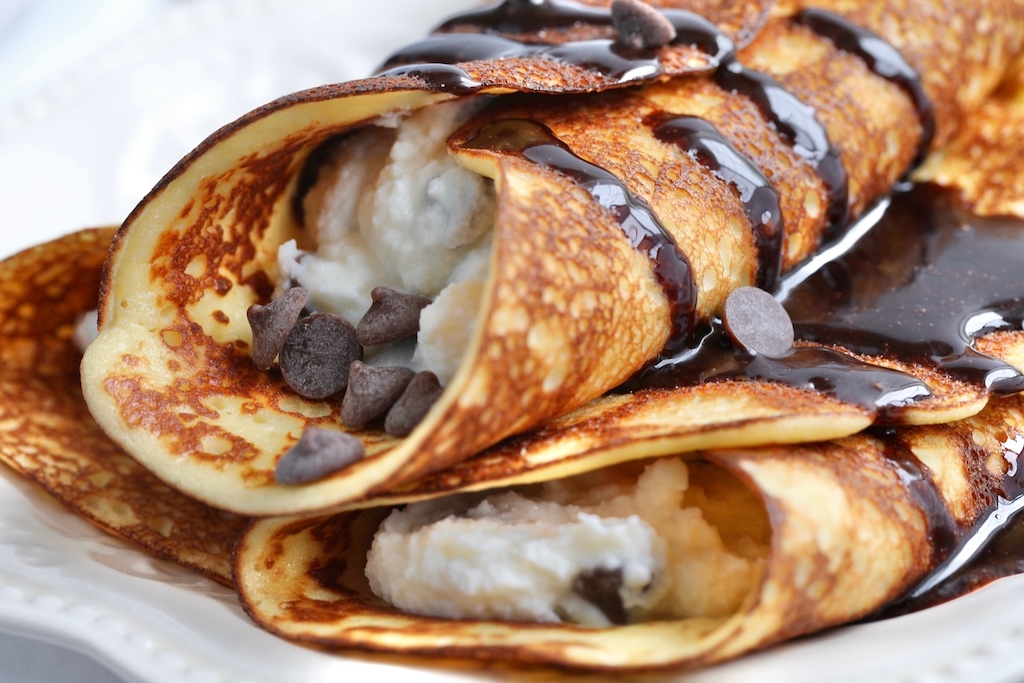 My Hip sidekick Jenna tried out this recipe and here's what she had to say:
"I highly recommend these for breakfast or dessert! What a super tasty dish! I love the filling the most. These were easy to make and totally tasty! I used the ChocZero Chocolate Syrup to really turn this recipe up a notch… and WOW!"
---
Still craving sweets? Check out this keto orange creamsicle cheesecake recipe!