Easy Keto Taco Stuffed Breadsticks | Addicting Low Carb Snack Recipe
These taco stuffed breadsticks are addicting!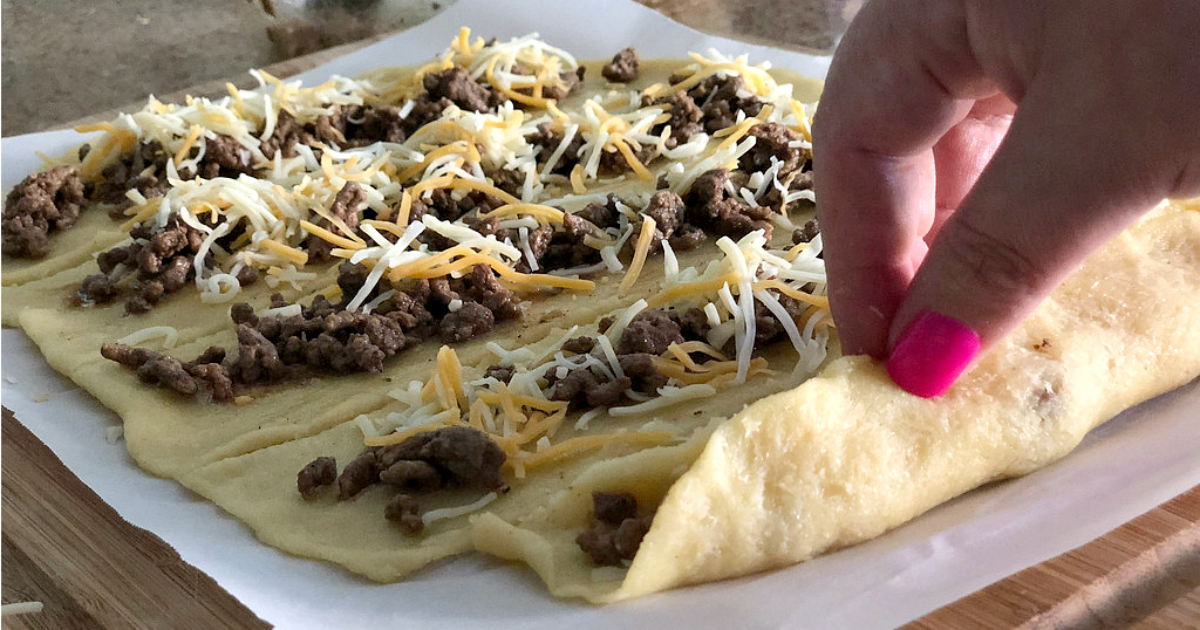 Love tacos and breadsticks?
Combine the best of both worlds into these easy, cheesy keto taco-stuffed breadsticks! This easy appetizer or satisfying dinner idea can be dipped in sour cream, salsa, and/or guacamole!
These are so tasty and they also happen to be very easy to make!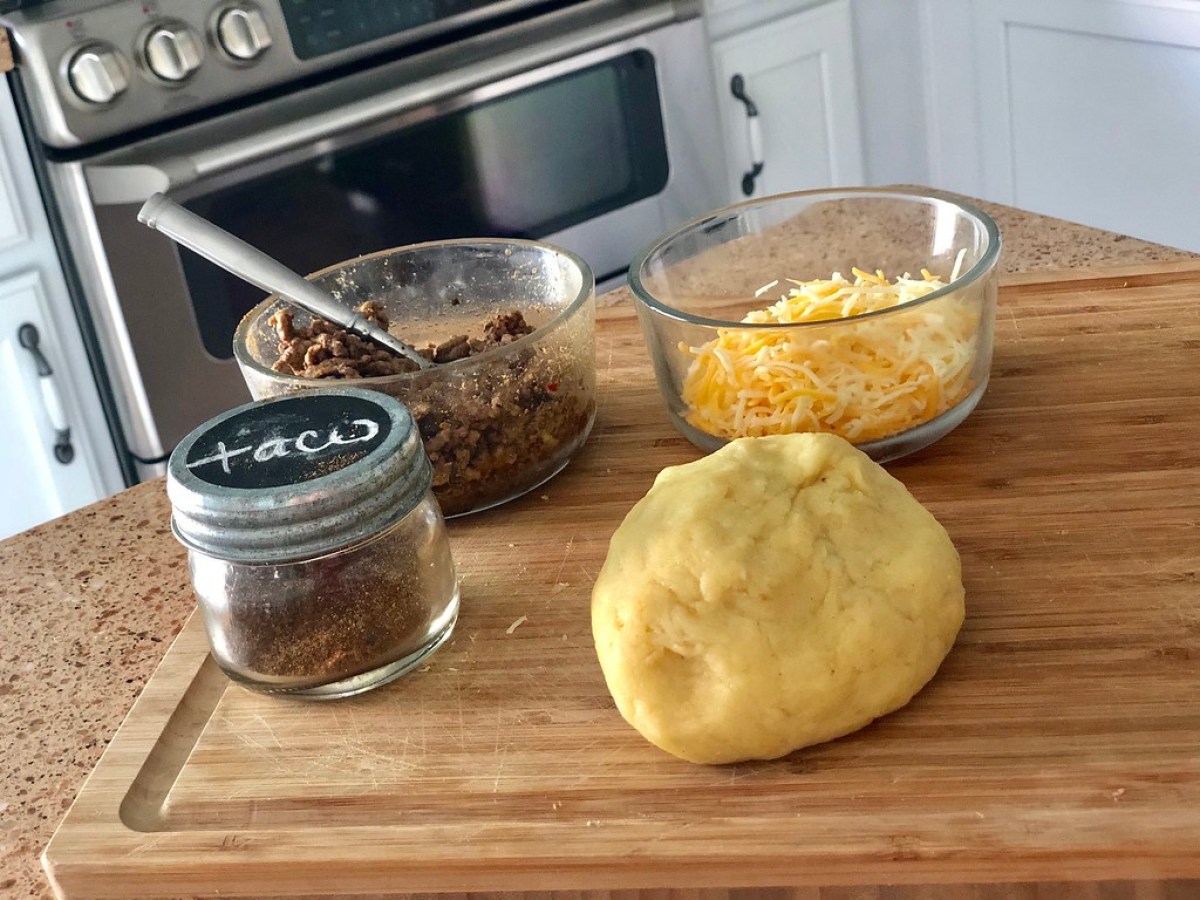 The secret to these keto taco-stuffed breadsticks is fathead dough!
Just make a batch of this simple fathead dough, roll it out on parchment paper, and cut it into strips to make the stuffed breadsticks.
You'll also need some cooked ground beef, which is a perfect opportunity to use up some leftover taco-seasoned meat from taco night! Check out this homemade taco seasoning recipe that I keep in my pantry ready to go.
Hip Tip: Try mixing your dough ahead of time and refrigerating it until you're ready to roll out the breadsticks. Cold dough is easier to work with, and it may stick less than room-temperature dough during the rolling process.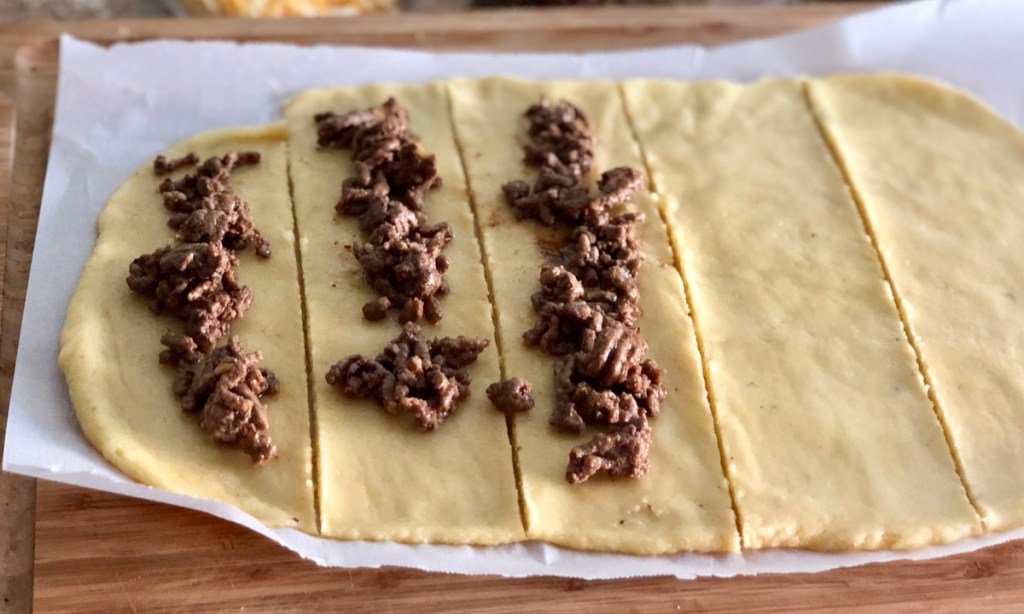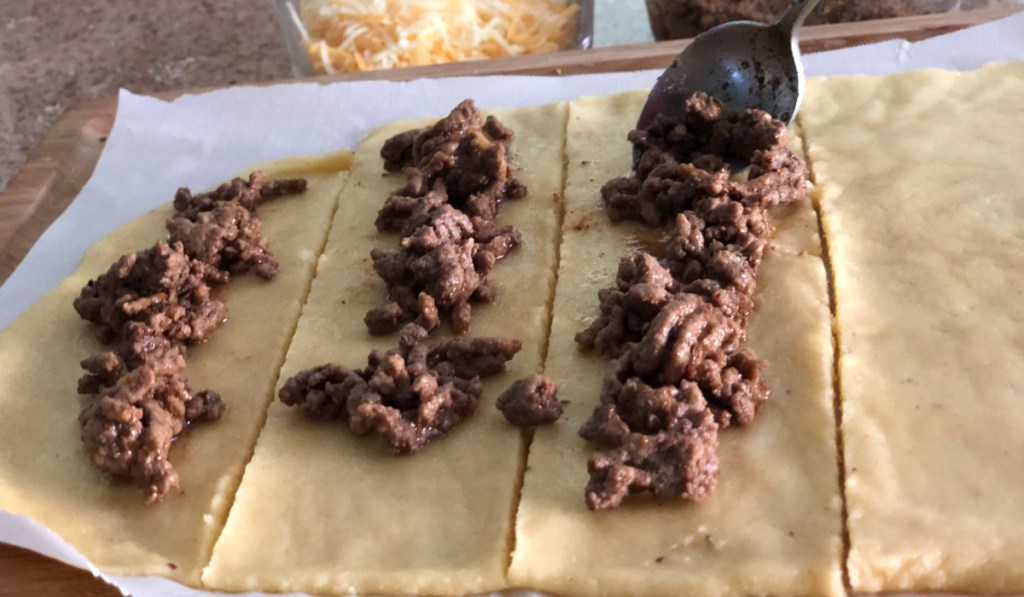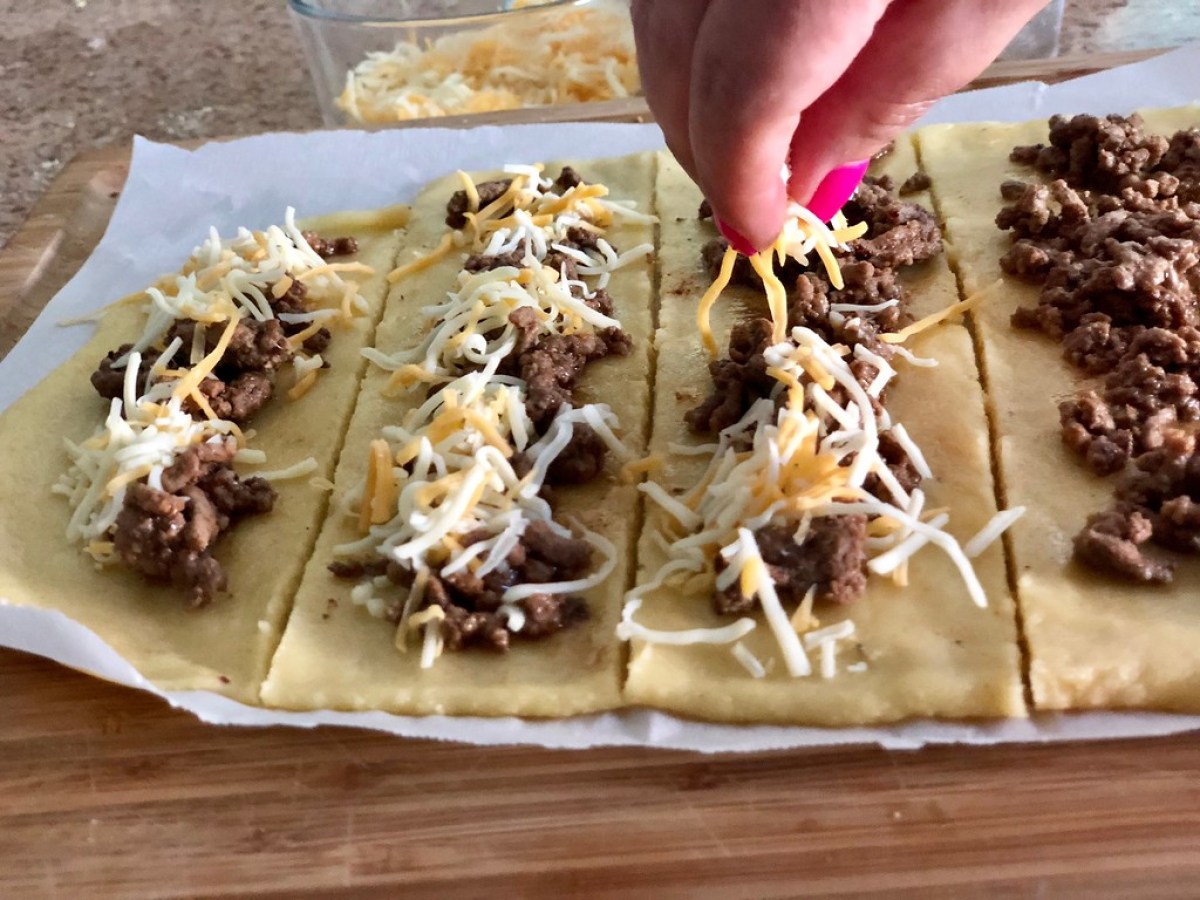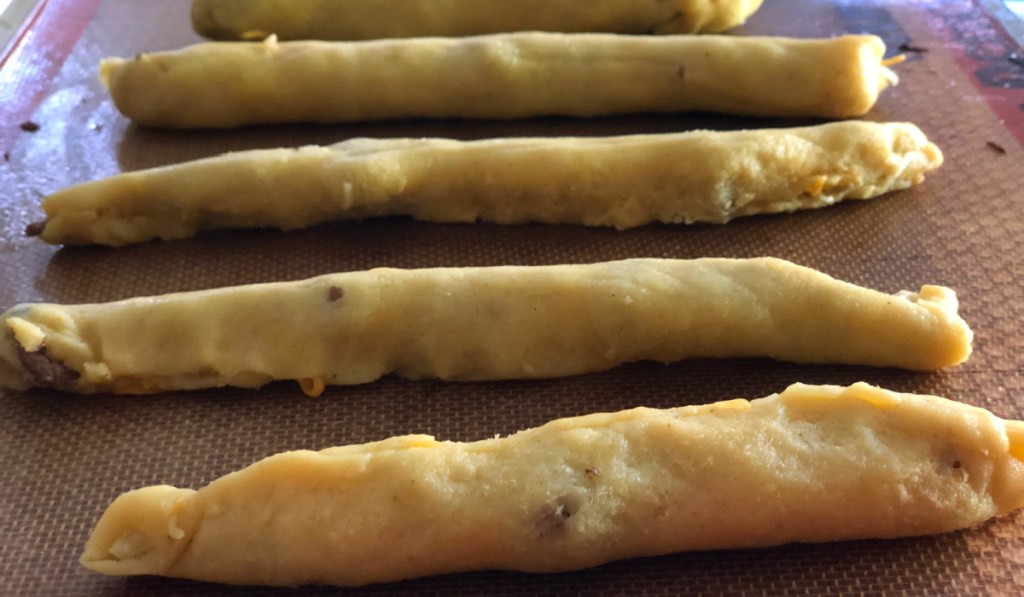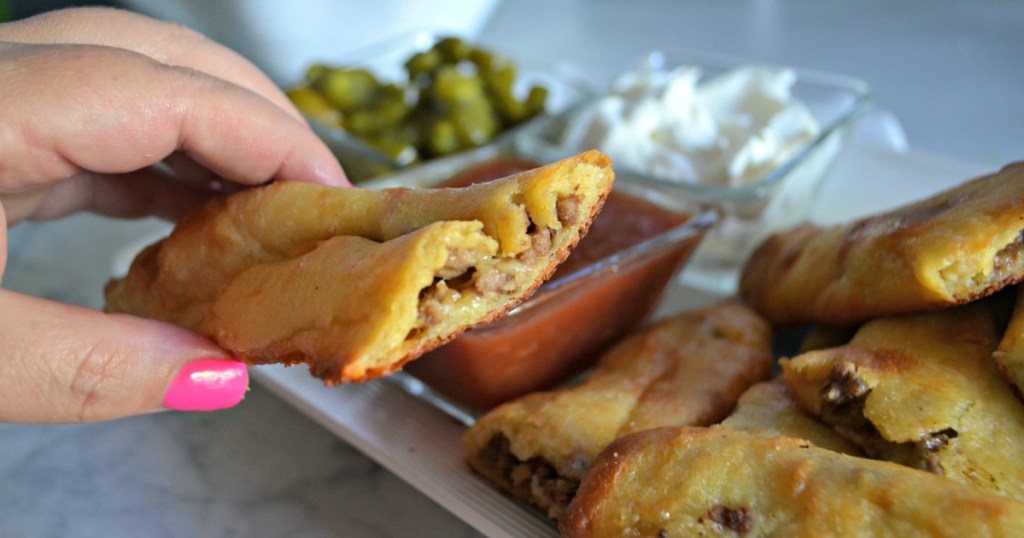 ---
Print
Keto Taco Stuffed Breadsticks
yield: 5 SERVINGS
prep time: 10 MINUTES
cook time: 11 MINUTES
total time: 21 MINUTES
Cheesy breadsticks with seasoned taco meat make an excellent keto appetizer or simple dinner idea!
Ingredients
For the Fathead Dough:
1 3/4 cups mozzarella cheese
2 tablespoons cream cheese
1 large egg
1/2 teaspoon cumin
1/4 teaspoon salt
For the Filling:
1 pound taco-seasoned meat, cooked
1 cup Mexican blend cheese, shredded
salsa, sour cream, guacamole for dipping
Directions
1
Preheat oven to 425 degrees.
2
For Fathead Dough:
Combine almond flour and mozzarella cheese in a microwave-safe bowl. Add in cream cheese and cook in the microwave for one minute. Stir and then cook for an additional 30 seconds in the microwave.
3
Mix in egg, salt, and cumin, and stir well. This could take several minutes of stirring to make the dough pliable... so keep on stirring! It's actually much easier to mix by hand and fold over to incorporate all the ingredients.
4
Shape the dough into a ball and place it between two pieces of parchment paper to avoid sticking. Flatten the dough with a rolling pin into a rectangular shape. Cut dough into 5 strips to make separate breadsticks. I rolled my dough to about 15" wide, which left me with five 3" strips about 8" long.
5
Spoon taco-seasoned ground beef and shredded cheese down the middle of each strip of dough. Don't overfill or your breadsticks may be hard to seal! Fold over the dough and pinch the edges together on both sides to connect. If you're having a hard time sealing your edges, try wetting them with water first.
6
Place on a silicone mat or a greased baking sheet. Bake for 11-14 minutes or until breadsticks is evenly browned.
7
Cut in half to serve. Serve alongside keto-friendly dipping sauces like salsa, sour cream, guacamole, etc. Enjoy!
Nutrition Information
Yield: 5 servings, Serving Size: 1 breadstick
Amount Per Serving: 407 Calories | 28.2g Fat | 5.7g Total Carbs | 1.9g Fiber | 1.8g Sugar | 33.7g Protein | 3.8g Net Carbs
---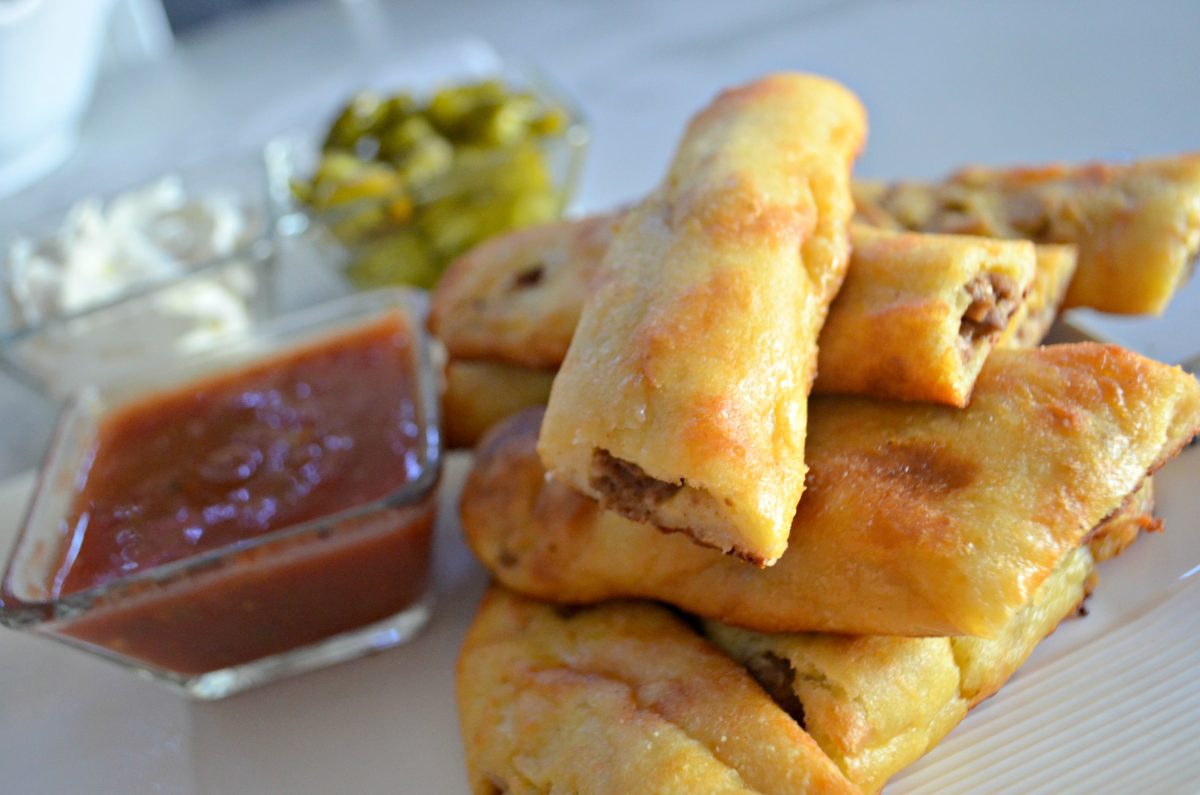 What's not to love about taco stuffed breadsticks?!
Fathead dough tastes closer to bread than any keto bread I've had, and this creative way to use it is truly delicious by adding the cheese and meat inside. Enjoy!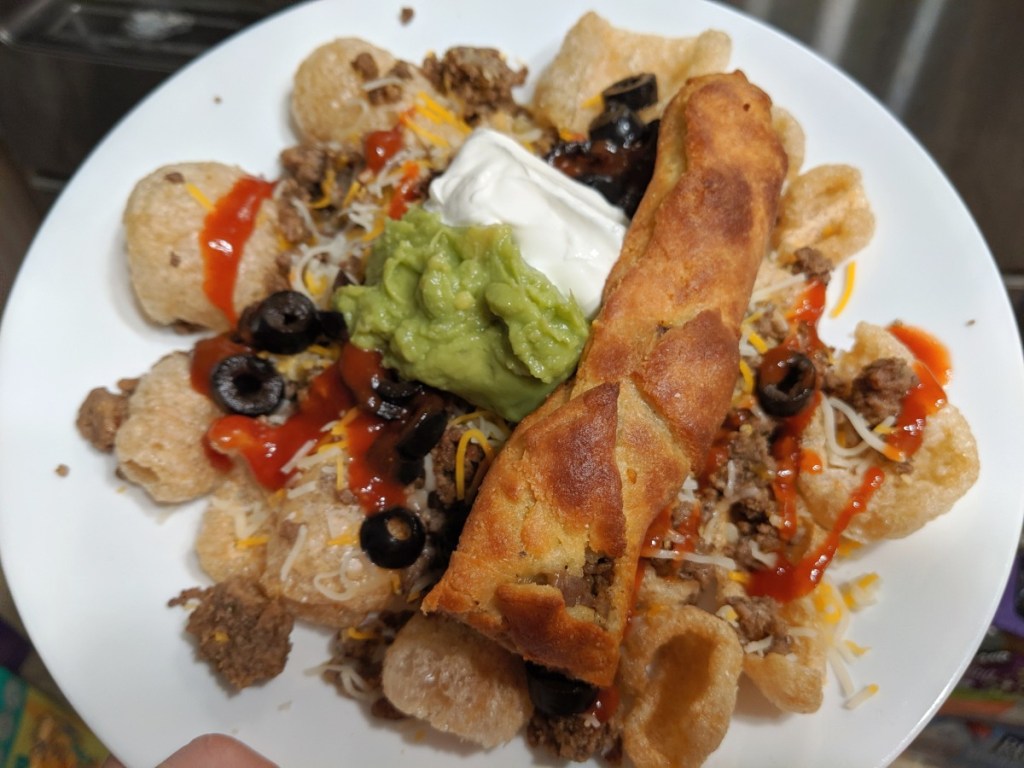 Lots of Hip2Keto readers have tried this recipe, and here's what a few of them thought:
"Overall I felt this was an easy one. Very beginner-friendly as I am new to Keto and this was simple and easy to follow. The ingredients were easy to find in the store and we actually had all but the cream cheese and mozzarella cheese at the house. Overall, it was a success and my 2 & 7-year-olds loved them, even though at 14 minutes they were a bit over-baked. I had mine with pork rind nachos (pictured above)." – Melissa
---
I tried the keto breadsticks tonight. The taste was really amazing, and that cumin really brings it to another level! I used a silicone baking mat and mine cooked in exactly 14 minutes. – Angie
---