Best Buttery Garlic Keto Breadsticks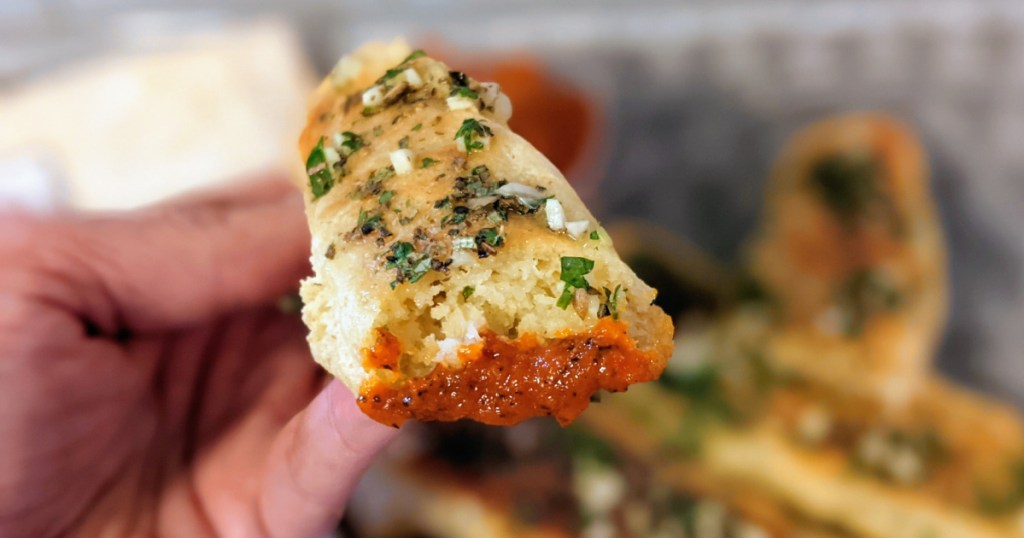 Bread is back on the menu… and it's time to enjoy some keto breadsticks!
Love Italian dinner nights with endless amounts of pasta and bread on the table? No worries! These incredible buttery garlic keto breadsticks only have 2.8g of net carbs compared to about 25g of carbs for regular breadsticks. Yes, really!
This means you can fill your plate again on Italian night and enjoy delicious keto-friendly bread. And no one will even be able to tell the difference.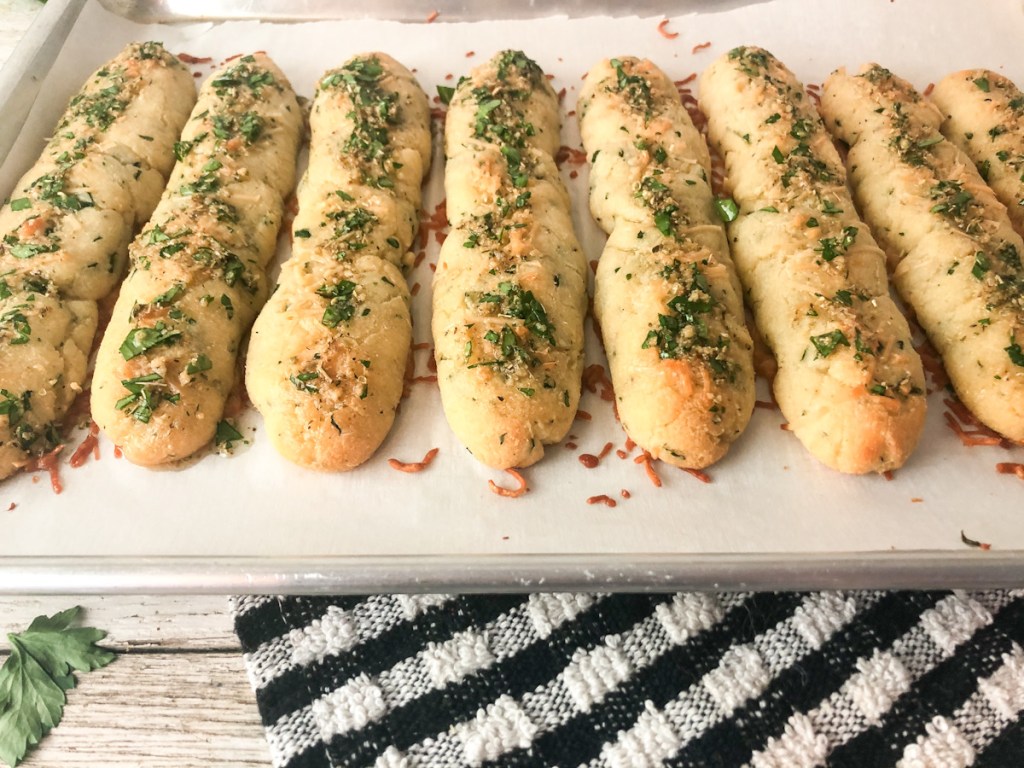 I'm so excited to share this Italian-inspired keto breadstick recipe with you!
These simple keto breadsticks are perfect for any occasion – from busy weeknights to parties to romantic candlelit dinners. One of the best things about making these keto breadsticks is that they are super easy and quick to whip up. This recipe uses out popular fathead dough, which is always a crowd-pleaser.
For this keto breadstick recipe, we recommend using a combination of both almond flour and coconut flour for optimal results. That said, it is possible to make it work using only almond flour, just note that the consistency will be a little different.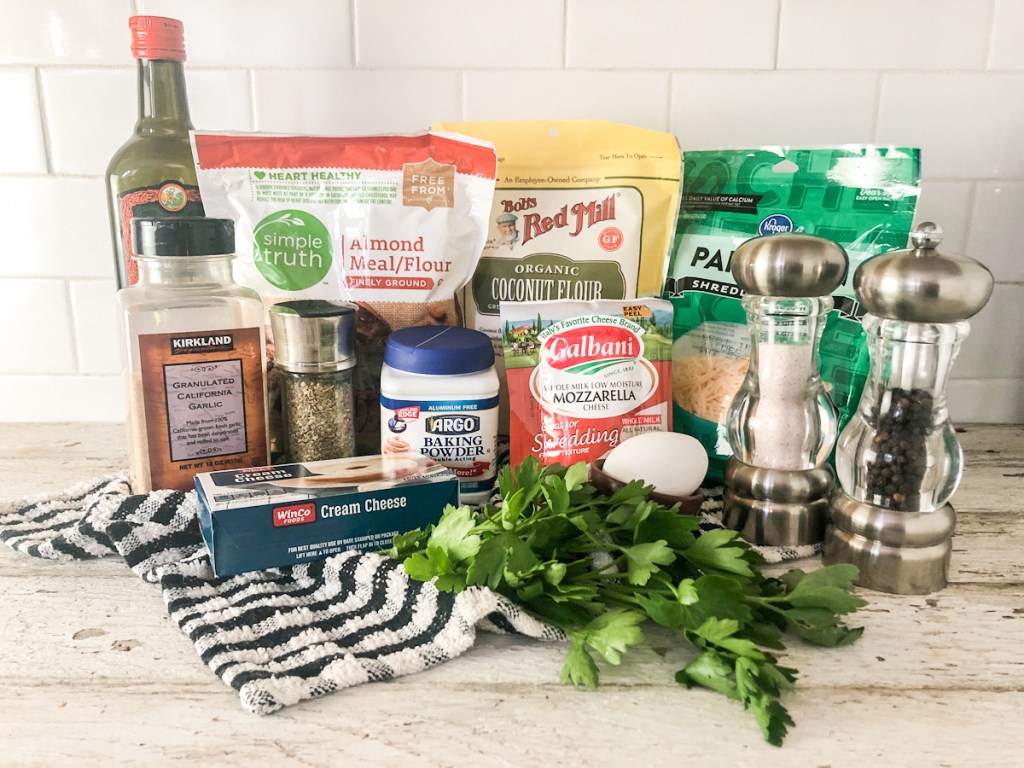 Tips for making the best buttery garlic keto breadsticks:
To avoid sticky dough, coat your hands in olive oil before mixing the dough. If the dough starts sticking, just add a little more olive oil to your hands.
If you don't have a microwave, you can melt together the mozzarella and cream cheese over low heat in a saucepan.
Again, try not to substitute out the almond and coconut flour. The combination of almond flour and coconut flour creates a wonderful texture. Breadsticks made with just coconut flour tend to be a little dry and more on the gritty side. Balancing out the two flours really gives it the perfect consistency. Because coconut flour absorbs moisture, it will also help soak up any liquid when baking and create more of a true bread-like result. If you have to substitute out one of the flours, it would be better to use all almond flour than all coconut flour.
Enjoy these keto breadsticks while they're hot. Since cheese is the main ingredient, the keto breadsticks will become hard once they've cooled. Reheat any leftovers in the microwave, loosely wrapped in a damp paper towel, for a few seconds.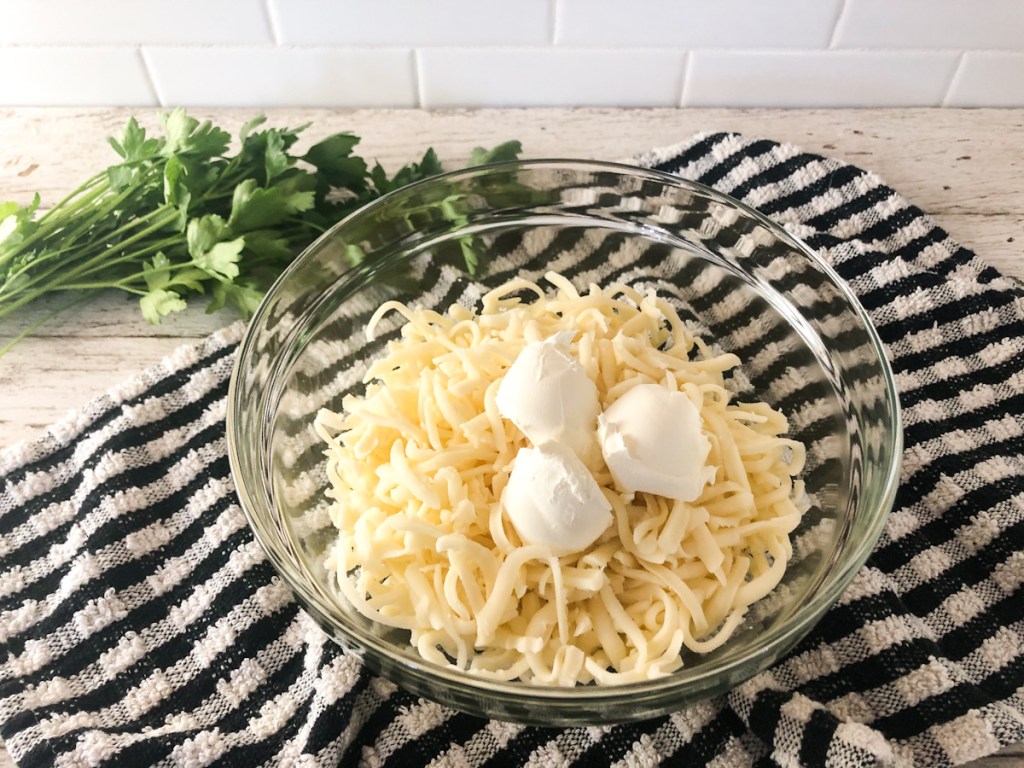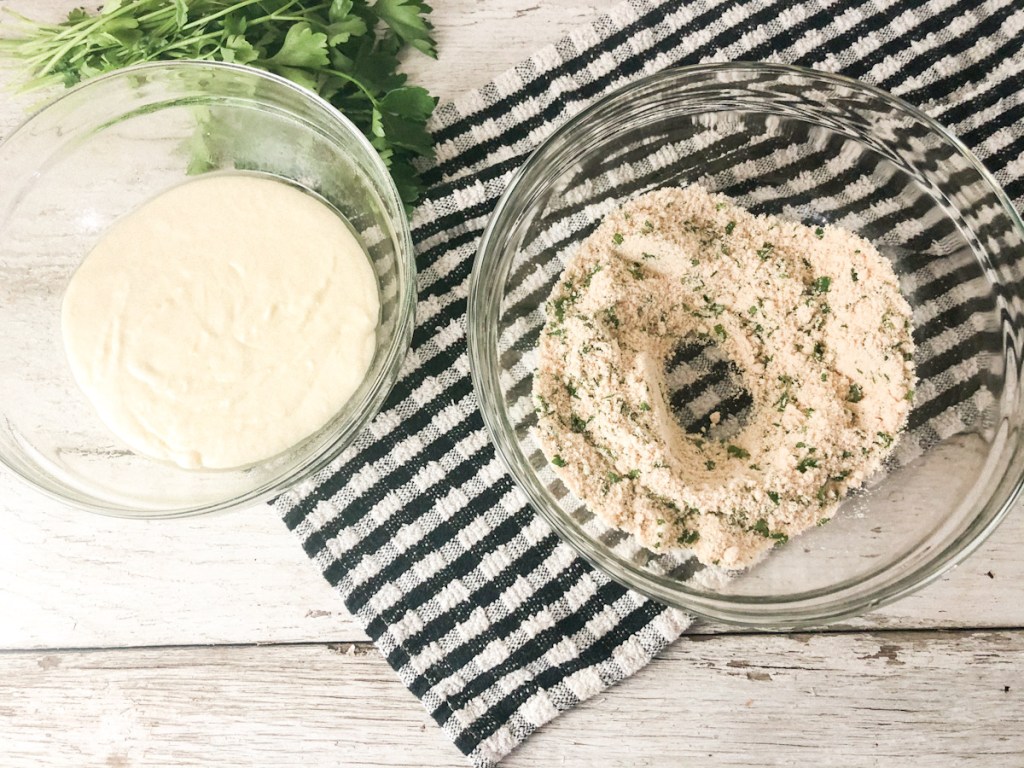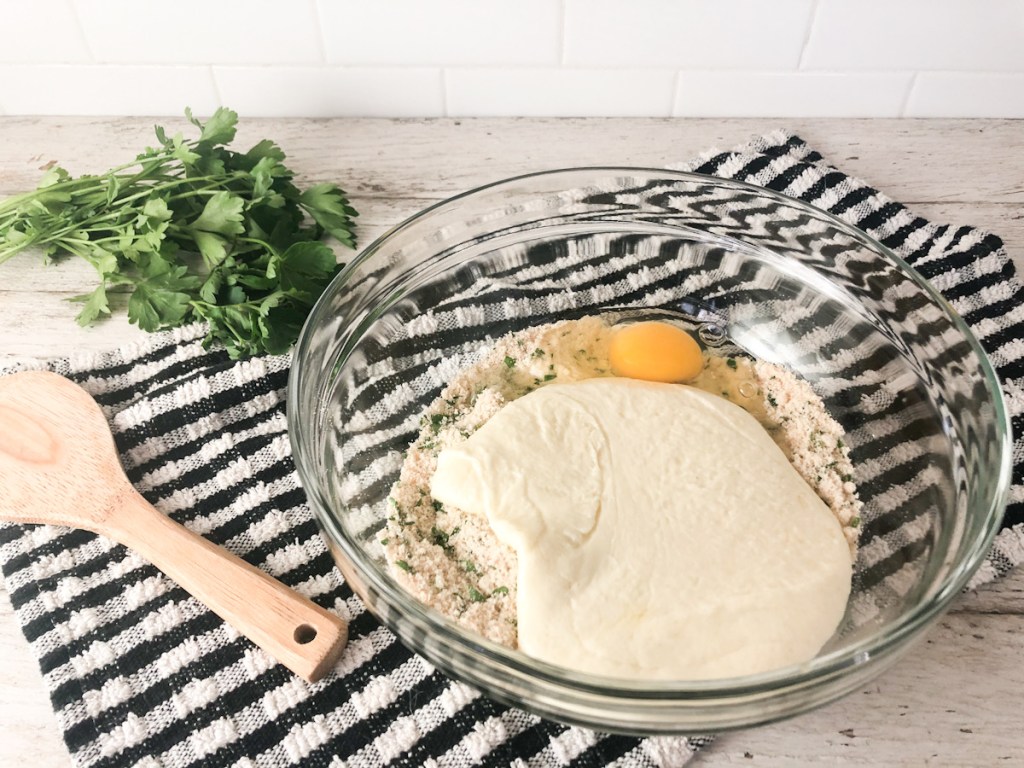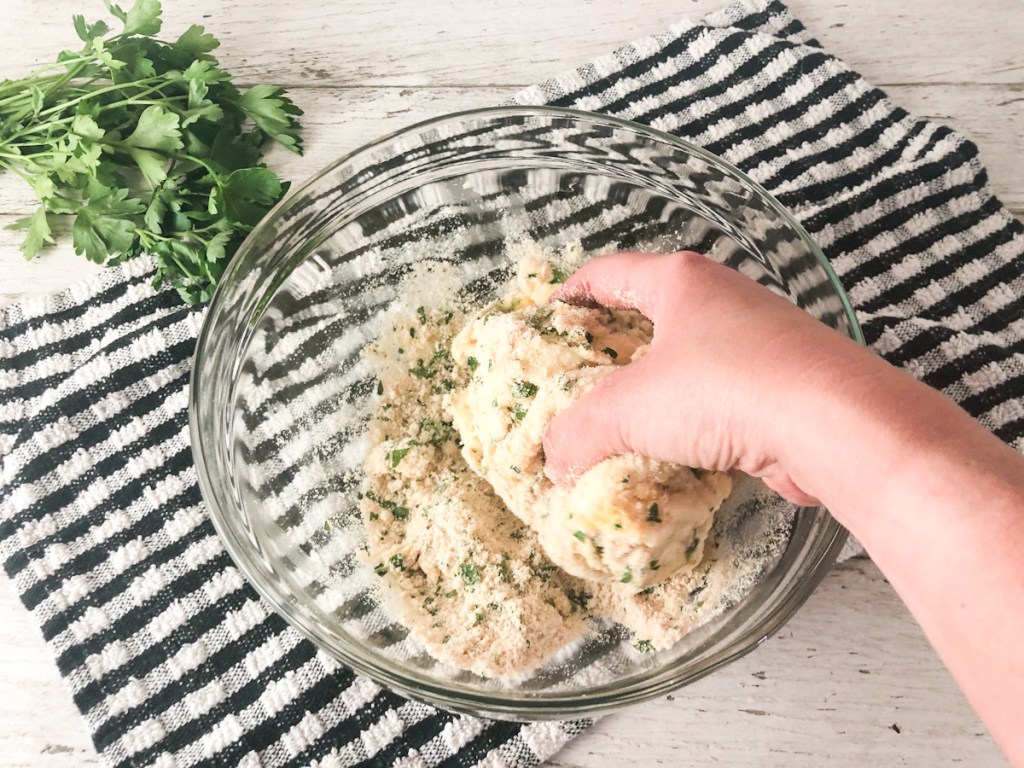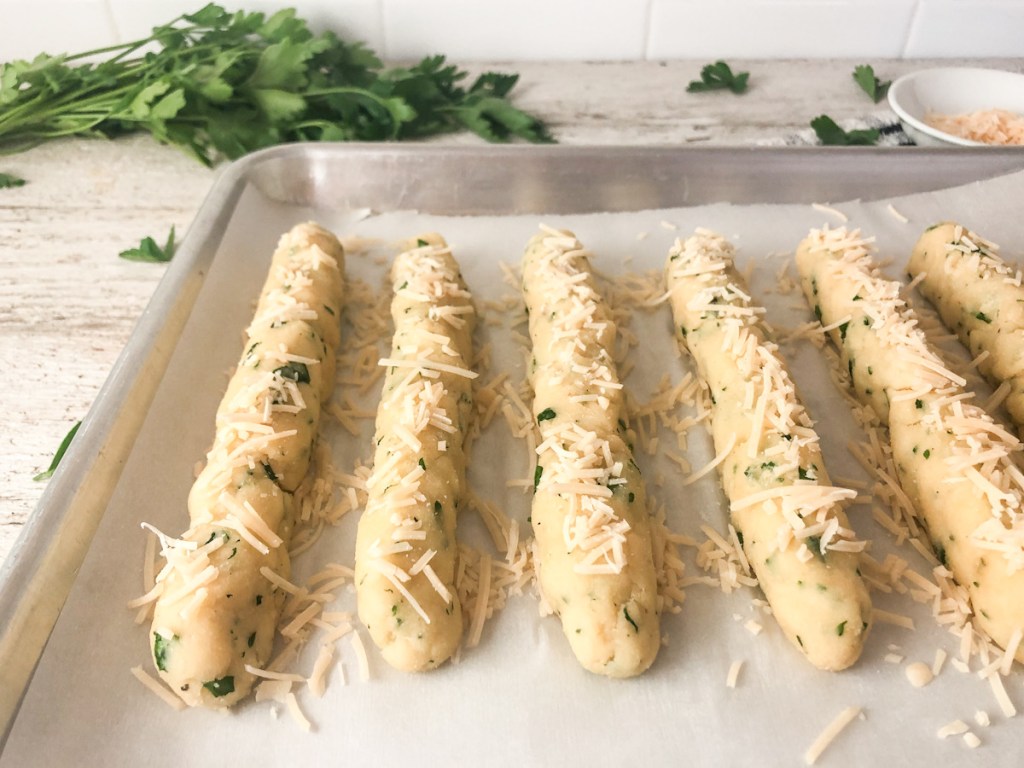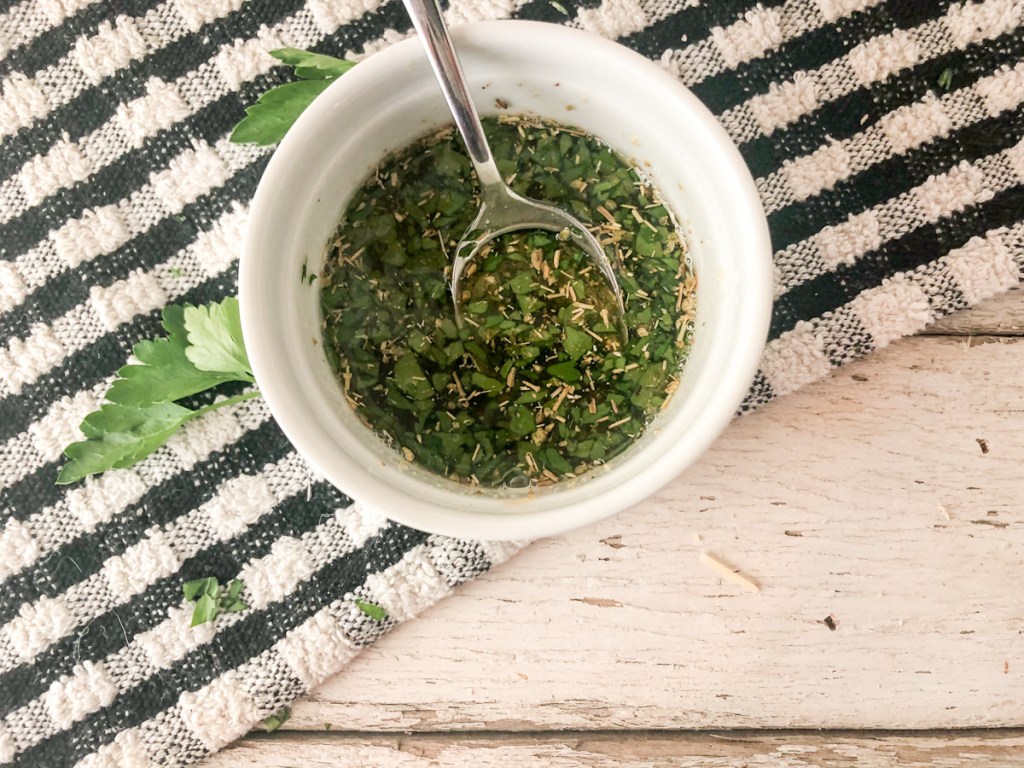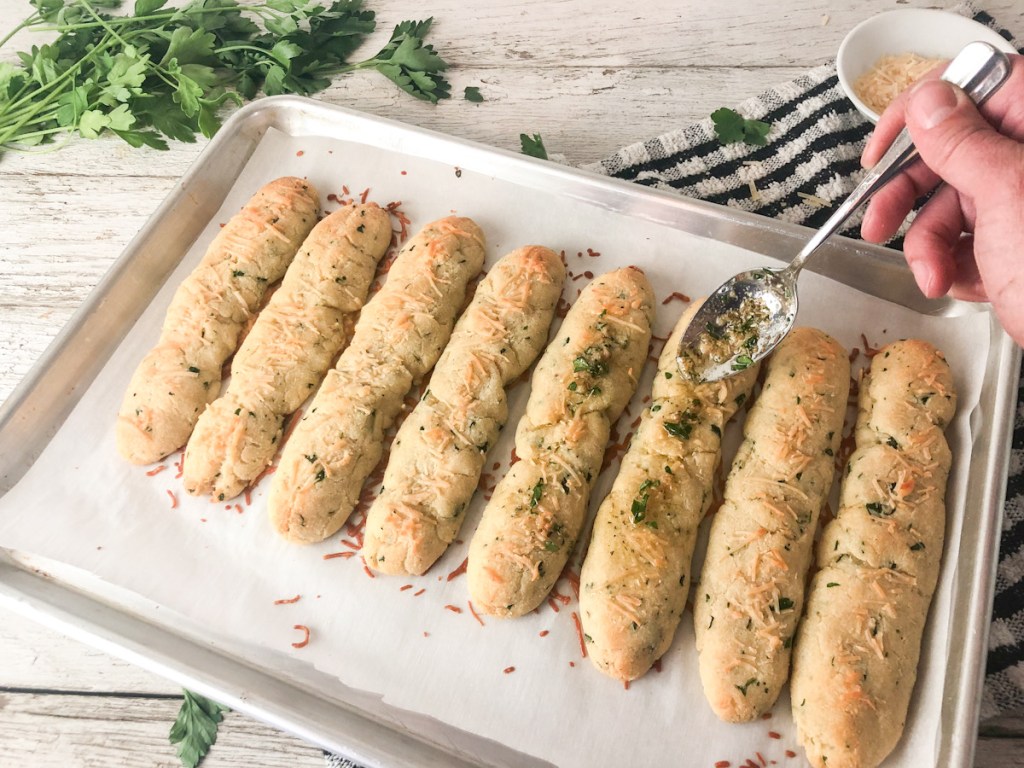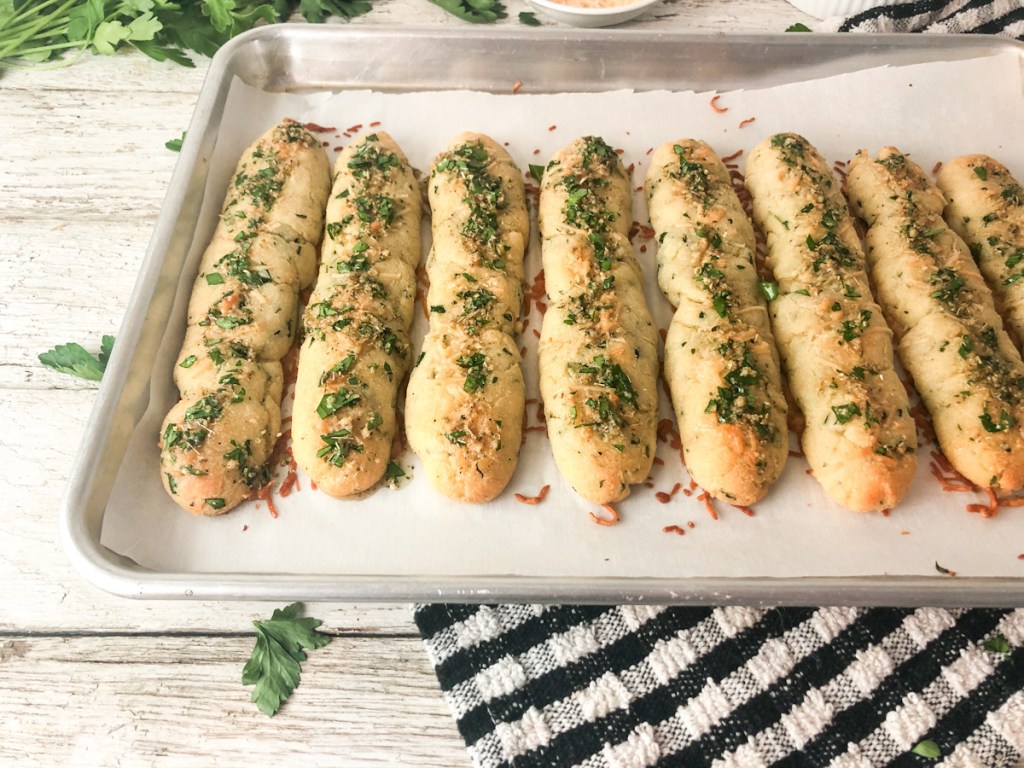 ---
Print
Keto Buttery Garlic Breadsticks
yield: 8 SERVINGS
prep time: 15 MINUTES
cook time: 12 MINUTES
total time: 27 MINUTES
These keto breadsticks having the most incredible buttery garlic flavor. The texture is as close to bread as you can get!
Ingredients
2 cups whole milk mozzarella low moisture cheese, shredded
3 tablespoons full-fat cream cheese
1 teaspoon baking powder
1 tablespoon garlic powder + 1 teaspoon for butter spread (or 2 cloves of fresh garlic minced + 1 clove of garlic minced)
1 teaspoon salt
1/4 tsp pepper
1 egg
2 tablespoons freshly chopped parsley + 1 tablespoon for butter spread
1 teaspoon oregano
1/3 cup shredded parmesan cheese
olive oil, optional
Directions
1
Preheat oven to 400 degrees. Line a baking sheet pan with parchment paper or lightly grease.
2
In a medium bowl, mix together almond flour, coconut flour, garlic powder, parsley, baking powder, salt, and pepper. Set aside.
3
Add mozzarella cheese and cream cheese to a microwave-safe bowl. Microwave cheese mixture for 20 seconds and stir. Continue this process until the cheese is completely melted. Doing this 20 seconds at a time helps melt the cheese evenly instead of microwaving for a full minute.
4
Once the cheese is melted (about 60 seconds total) mix with a spoon to form a dough ball.
5
Form a well in the center of the dry ingredients — this is to make space for the cheese dough to combine evenly with the dry ingredients. Add the cheese dough and egg to the flour mixture and mix together. It's easiest to use your hands to combine the cheese dough with the flour mixture. Coat your hands in olive oil as needed to help keep the dough from sticking to your hands.
6
After the dough is completely mixed together, divide the dough into 8 even pieces. Roll out each dough ball to create a breadstick and place it on a baking sheet.
7
After the breadsticks are formed, sprinkle with shredded parmesan cheese. Pat the cheese onto the breadsticks to help it stick to the dough.
8
Bake in the oven for 12 minutes, turning halfway through. Breadsticks are done when golden and slightly browned on the bottom.
9
While breadsticks are baking, make the butter spread topping.
10
To make the butter garlic herb spread:
Add butter, oregano, garlic powder, and parsley to a small bowl. Melt in microwave for 20 seconds or until the butter is completely melted. Stir to combine.
11
Once breadsticks are done, spoon the butter spread on top of them.
Nutrition Information
Yield: 8 breadsticks, Serving Size: 1 breadstick
Amount Per Serving: 301 calories Calories | 24.2g Fat | 5.4g Total Carbs | 2.6g Fiber | 1.5g Sugar | 16.6g Protein | 2.8g Net Carbs
---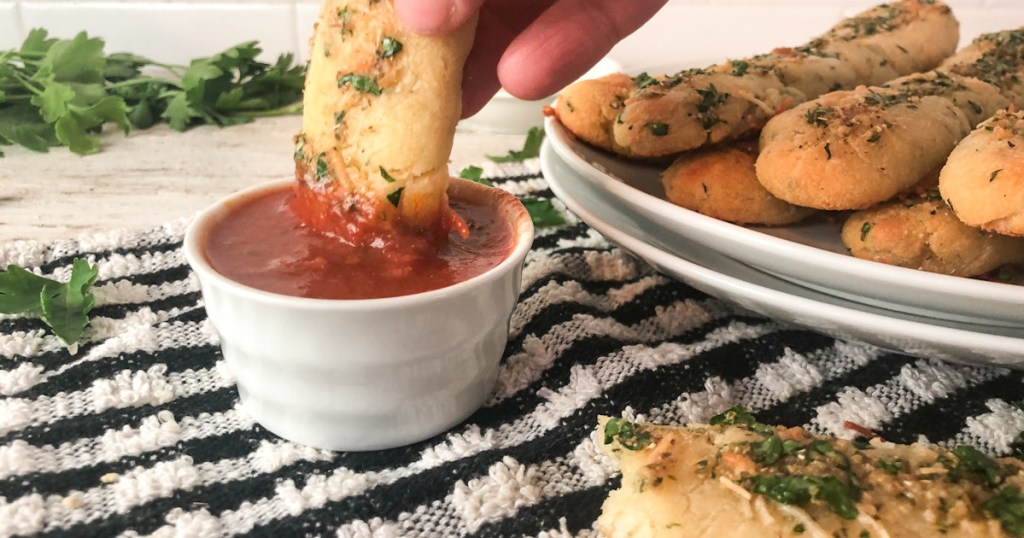 Yum! These keto breadsticks are perfect. You'll be making them for everything from pizza night to Game Day! Try dipping them in our easy keto marinara sauce.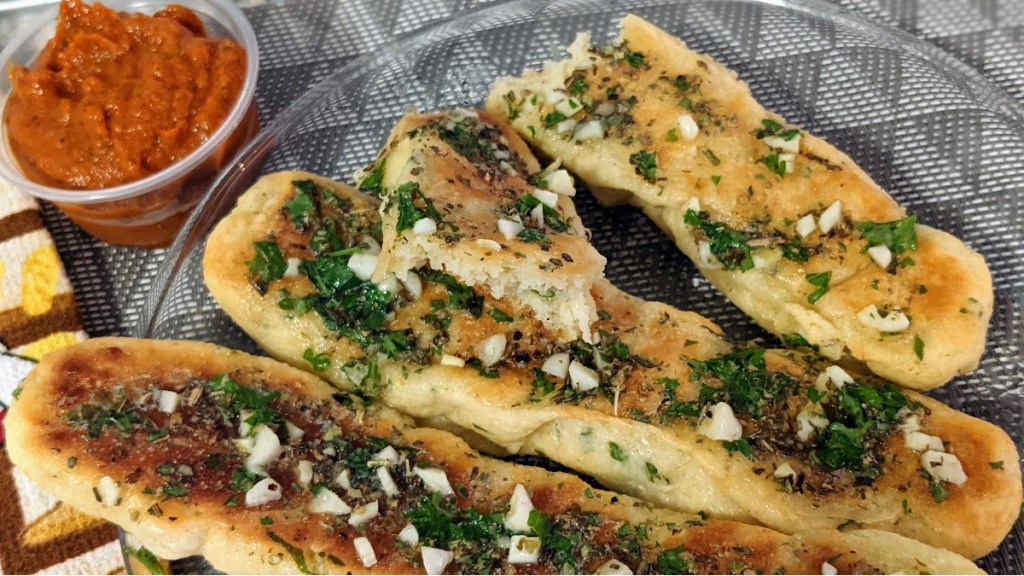 My Hip sidekick Jen tried out these keto breadsticks and here's what she had to say:
"If you miss garlic breadsticks, then you'll love this recipe! These really hit the spot and fill that need. The combination of butter, spices, & herb topping is wonderful. They are warm and break apart like traditional breadsticks, but better! This is perfect to have with a salad or just to dip in your favorite sauce. The only problem you'll have is not eating too many!"
---
Check out our favorite keto pizza recipes and Game Day recipes!