Best Keto Oatmeal Recipe (No Actual Oats Needed for This Hot Breakfast Idea!)
This keto oatmeal is better than the original!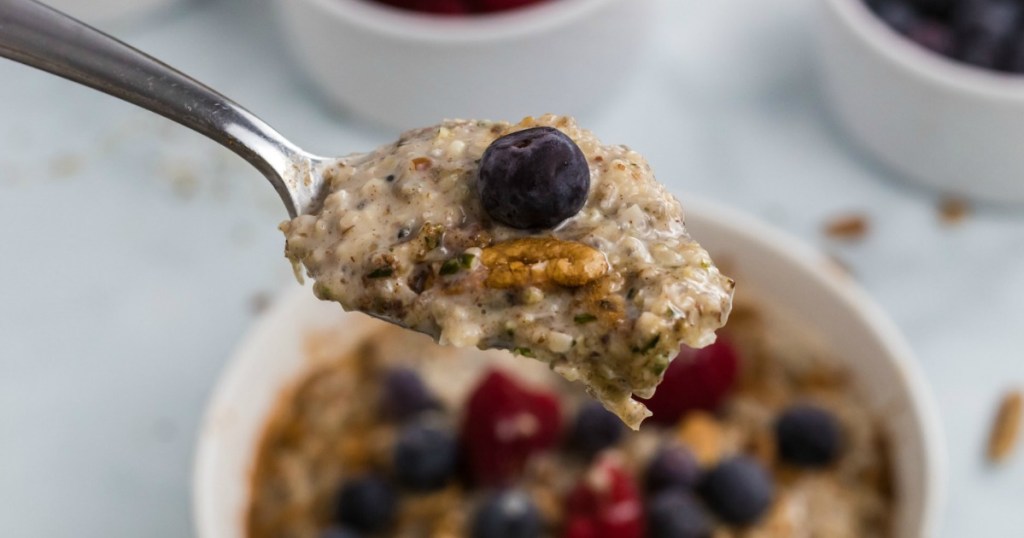 A keto oatmeal breakfast packed with all the good stuff!
Oats are traditionally high in carbs, but there's an easy way to hack the warm and comforting breakfast food by using hemp hearts, chia seeds, and flax seeds. Top this off with a drizzle of ChocZero Maple Syrup, keto-friendly nuts, and/or some berries. 😋 Yum!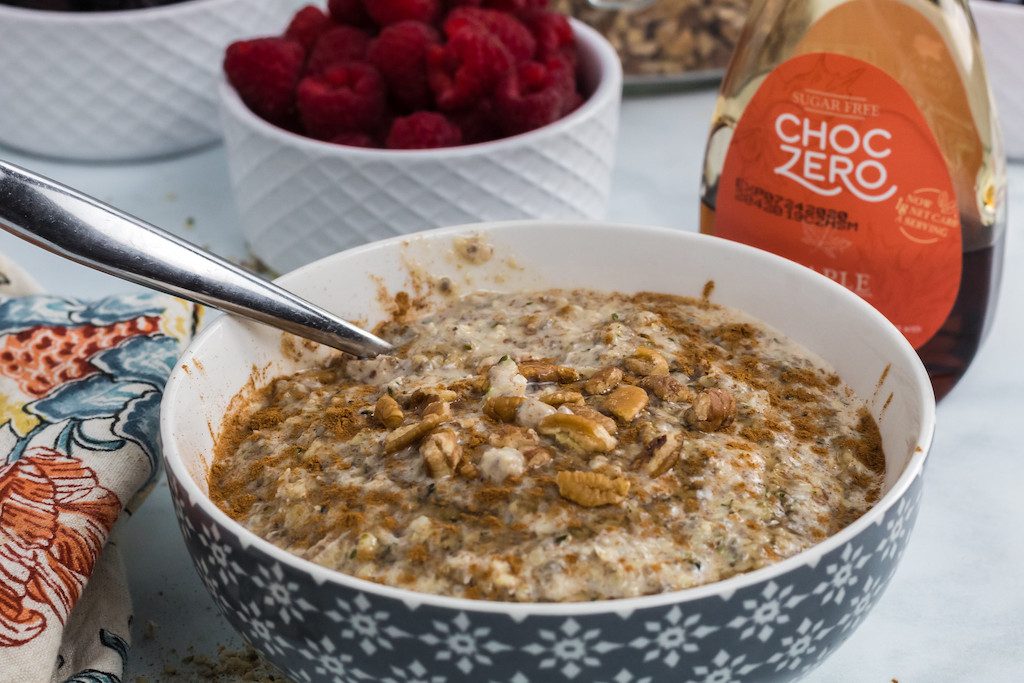 Not only is this keto non-oat oatmeal delicious, but it's also crazy good for you.
---
Here are the benefits of what's inside:
Chia Seeds: Great source of fiber, an excellent source of omega-3 fatty acids, and antioxidants that are good for your skin.
Hemp Hearts: Packed with antioxidants like fiber, helps keep the mind and immune system strong as well as aiming in restful sleep.
Flax Seeds: Natural anti-inflammatory immune booster and helps lower blood pressure.
---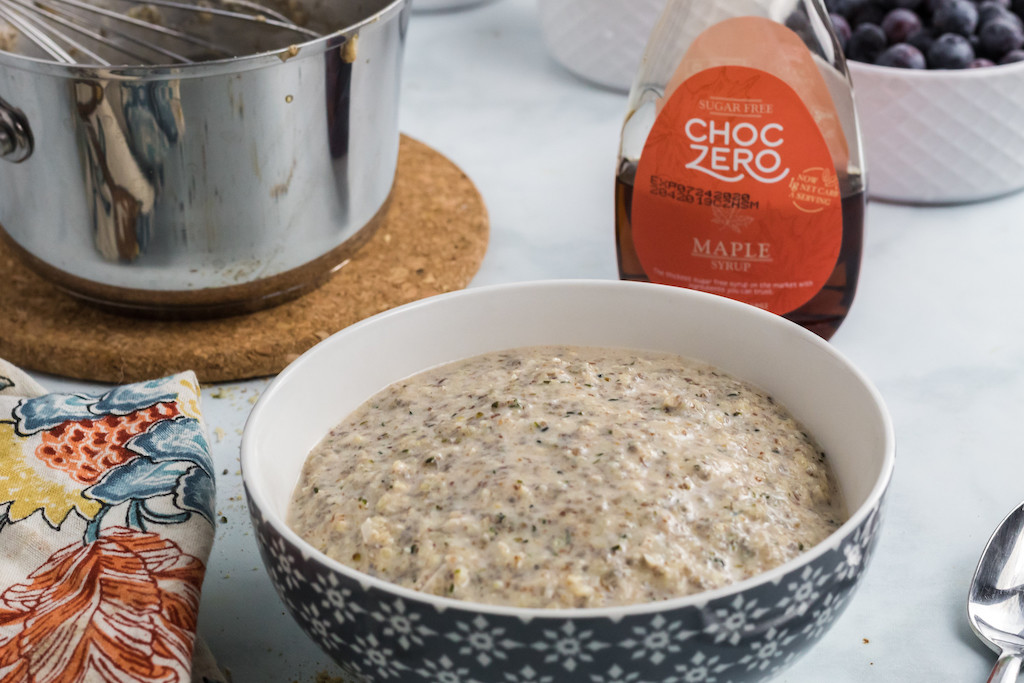 Hip recipe tips for non-oat keto oatmeal:
While this is a hearty breakfast, you won't need much to stay fueled up. About a 1/2 cup of keto oatmeal is super filling and will give you all-day energy!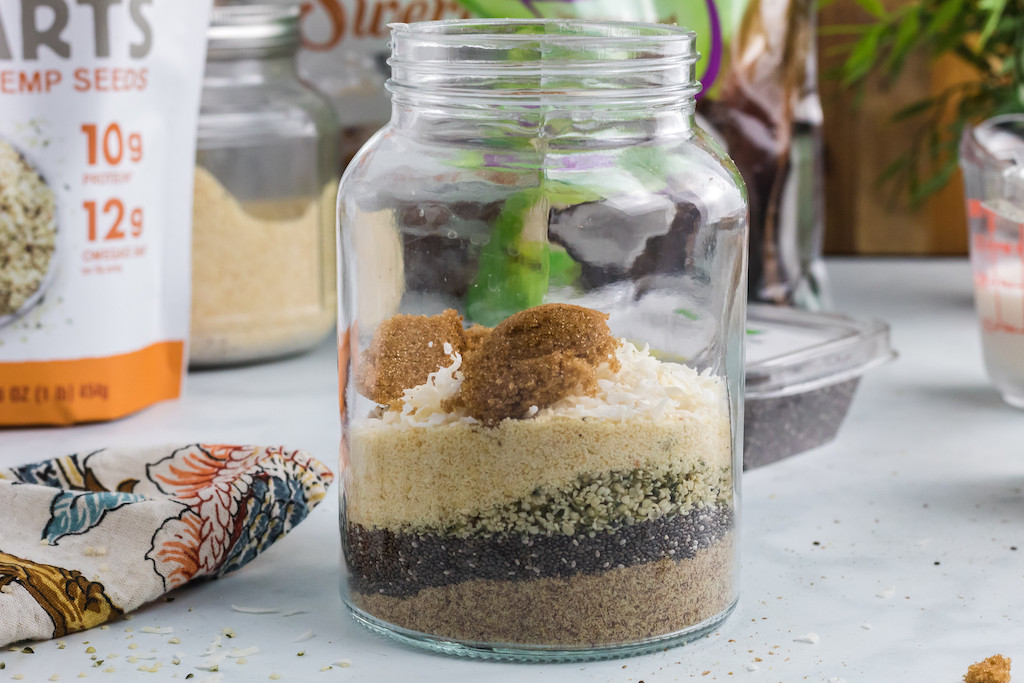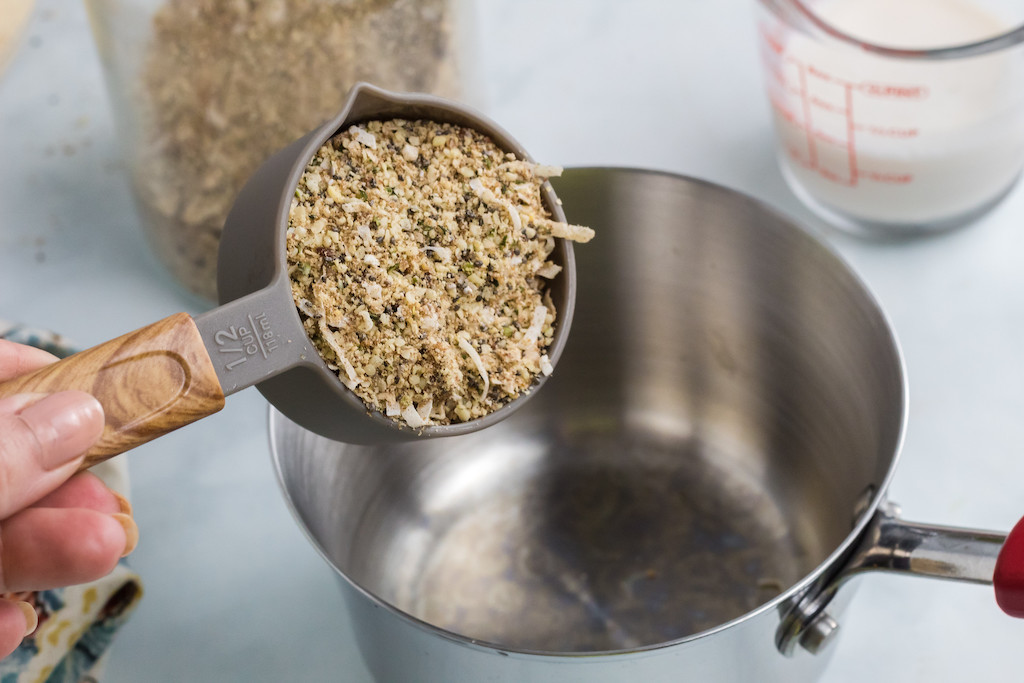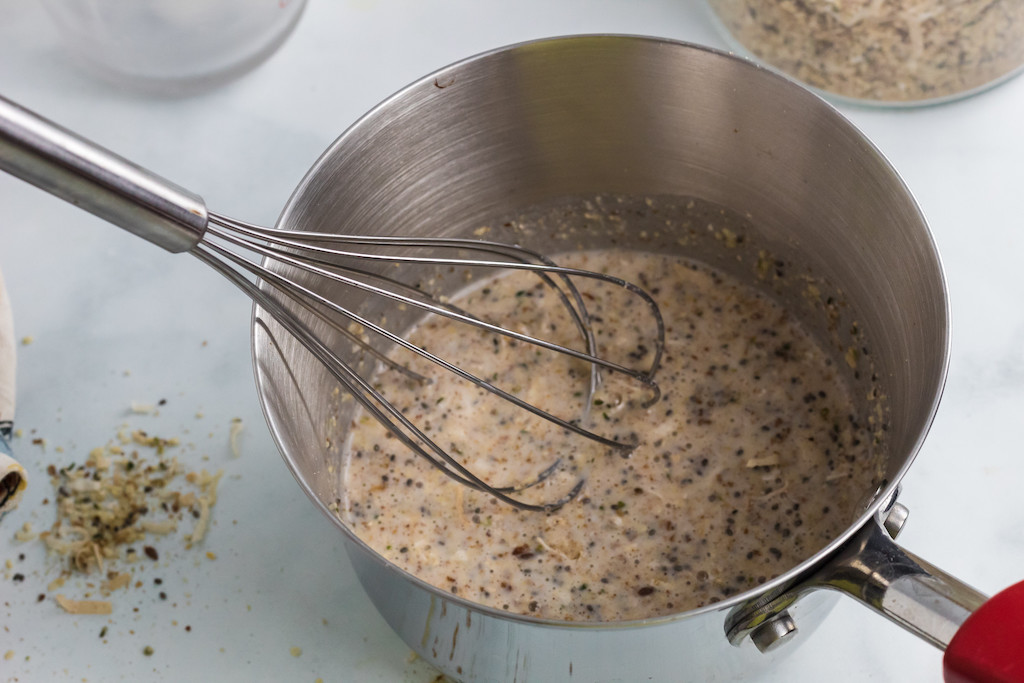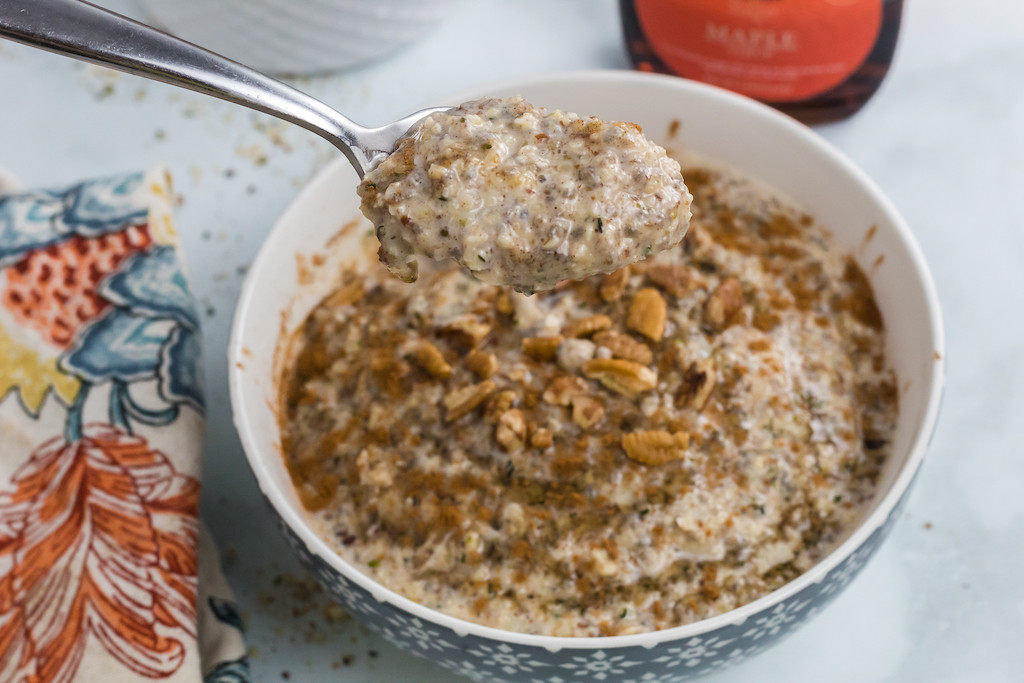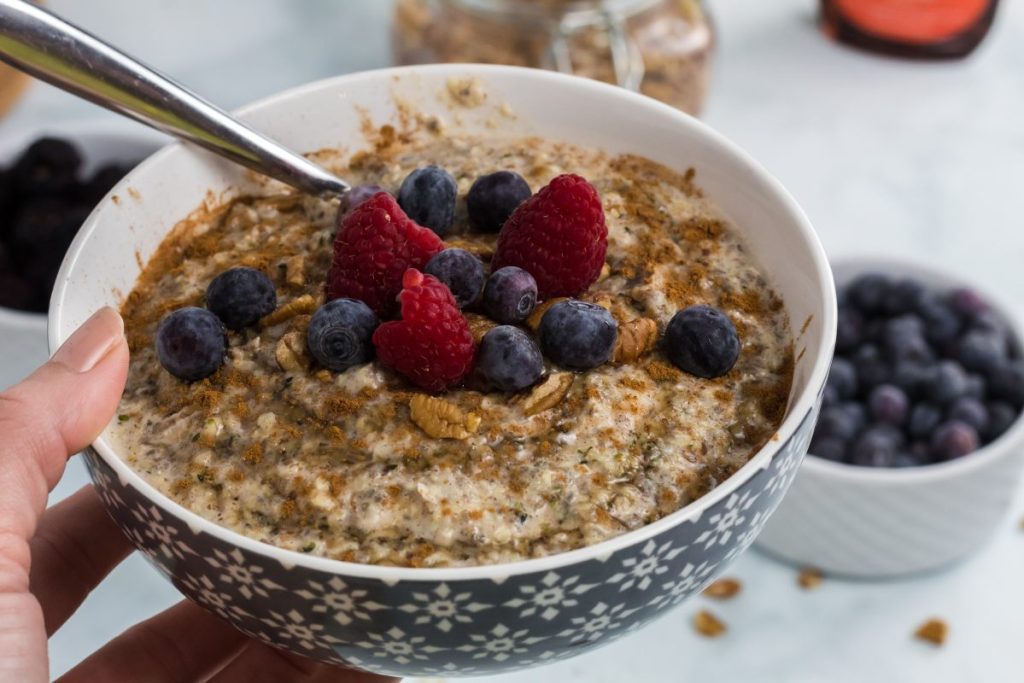 ---
yield: 6 SERVINGS
prep time: 5 MINUTES
cook time: 3 MINUTES
total time: 8 MINUTES
Delicious and warm oatmeal-like breakfast, but without any carb-heavy oats!
Directions
1
Add all ingredients to a large mason jar. If using brown Swerve, crumble in the sweetener so it doesn't completely clump together when shaking. Seal with the lid and give it a good shake to really mix all the ingredients up.
2
To make keto oatmeal:
Add 1/2 cup of non-oats keto oatmeal mix and 1/2 cup unsweetened almond milk to a small saucepan. Over low-medium heat, whisk together oatmeal until you have reached the desired temperature. This should take 2-3 minutes.
3
Pour oatmeal in a bowl and top with your favorite keto maple syrup, fruit, or keto-friendly nut butter. Enjoy!
Nutrition Information
Yield: 3 cups, Serving Size: 1/2 cup
Amount Per Serving: 329 Calories | 26.9g Fat | 14.6g Total Carbs | 7.9g Fiber | 1.2g Sugar | 3g Sugar Alcohol | 13.9g Protein | 3.6g Net Carbs
---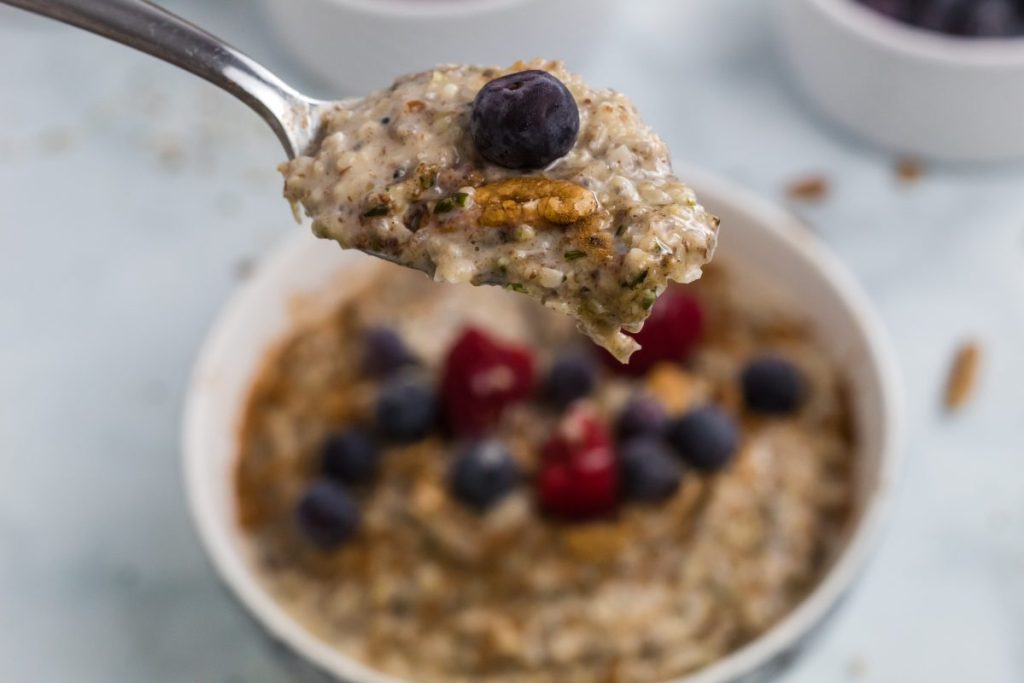 This is the perfect warm breakfast to enjoy all week long!
I leave a jar out on the counter, and this keto oatmeal has been my go-to every morning! Simply make the base and top it off any way you'd like to enjoy some variety in flavors throughout the week. Yum!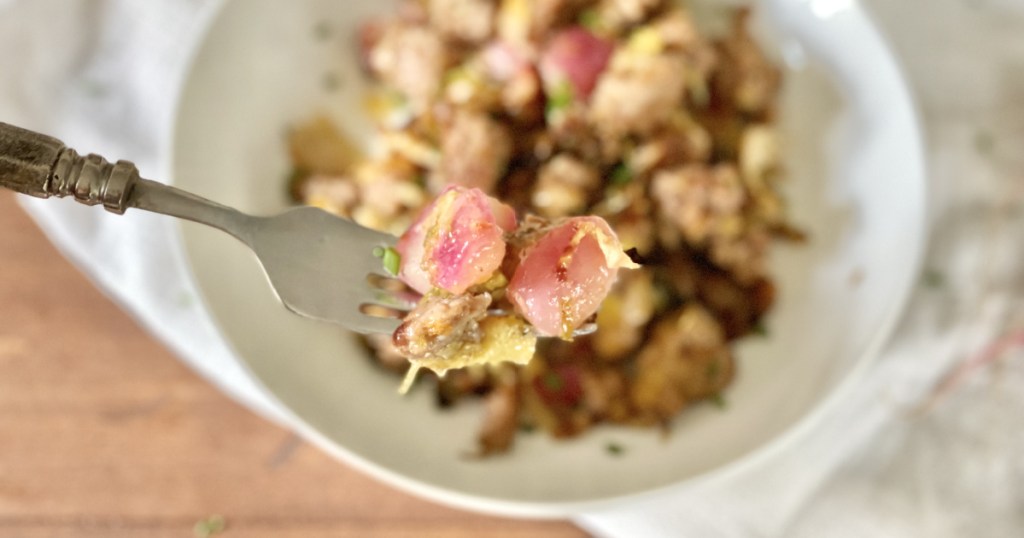 Looking for other no-egg keto breakfast ideas? Here are some of our faves:
---
Want another sweet & easy breakfast recipe? Try out the best keto waffles recipe EVER!