Easy Keto Granola Bars Recipe (Copycat KIND Bars)
KIND bars are delicious, but I've got an even better keto granola bars recipe you can make at home that's lower in carbs and yummier! These keto granola bars are better than anything you'll get at the grocery store.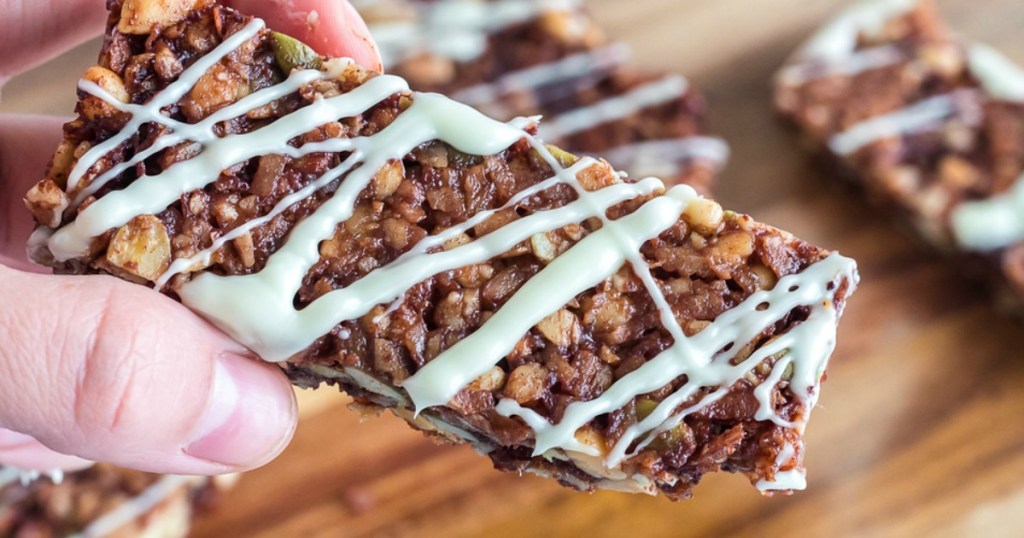 These tasty keto granola bars are the perfect go-to snack!
KIND bars are so delicious, but also aren't as low-carb as you'd think – all of them contain added sugar. So I set out to make a homemade version that tastes similar to the real thing but is much lower in carbs.
Well, I did it! 🙌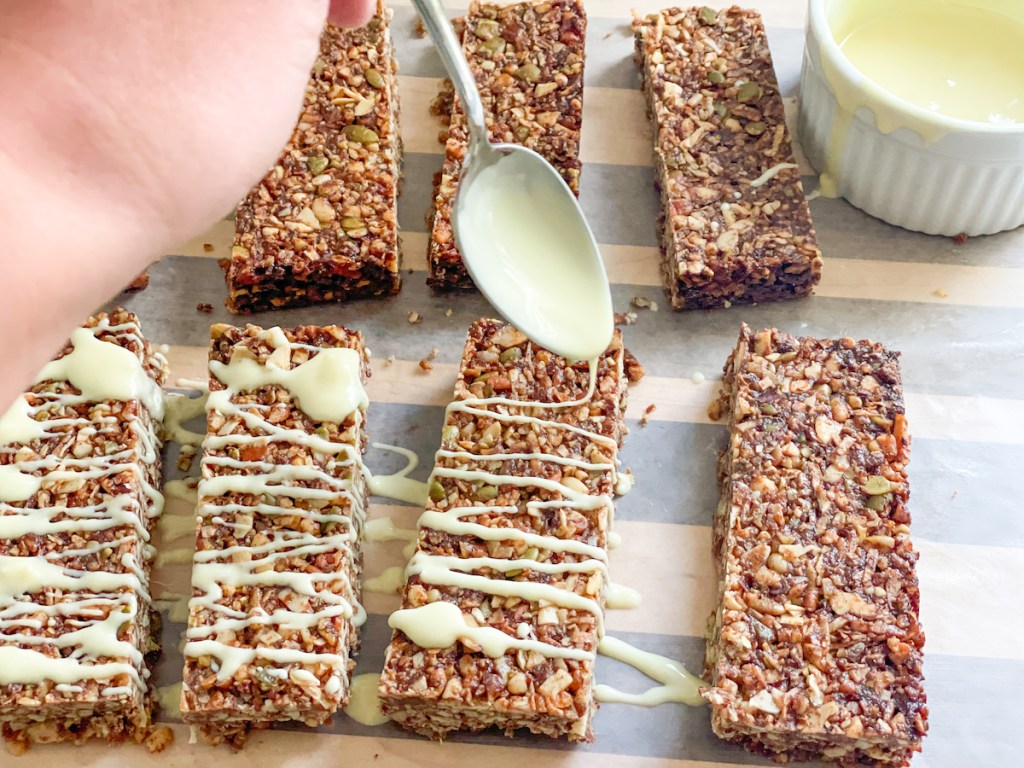 Keto KIND bars are so good, you won't believe they're only 3.4 grams of net carbs each!
Not only are these copycat keto KIND bars easy to make, but they taste even yummier than the real thing. No joke! The homemade caramel syrup is made with keto brown sweetener and butter. It pairs amazingly with the golden brown crunch from the nut mixture and toasted coconut. SO good.
While the bar is amazing on its own, you can easily bump up the yum factor by drizzling melted no-sugar-added white chocolate over the top! 😋 Highly recommend adding the white chocolate drizzle. It actually makes these bars taste more like a dessert!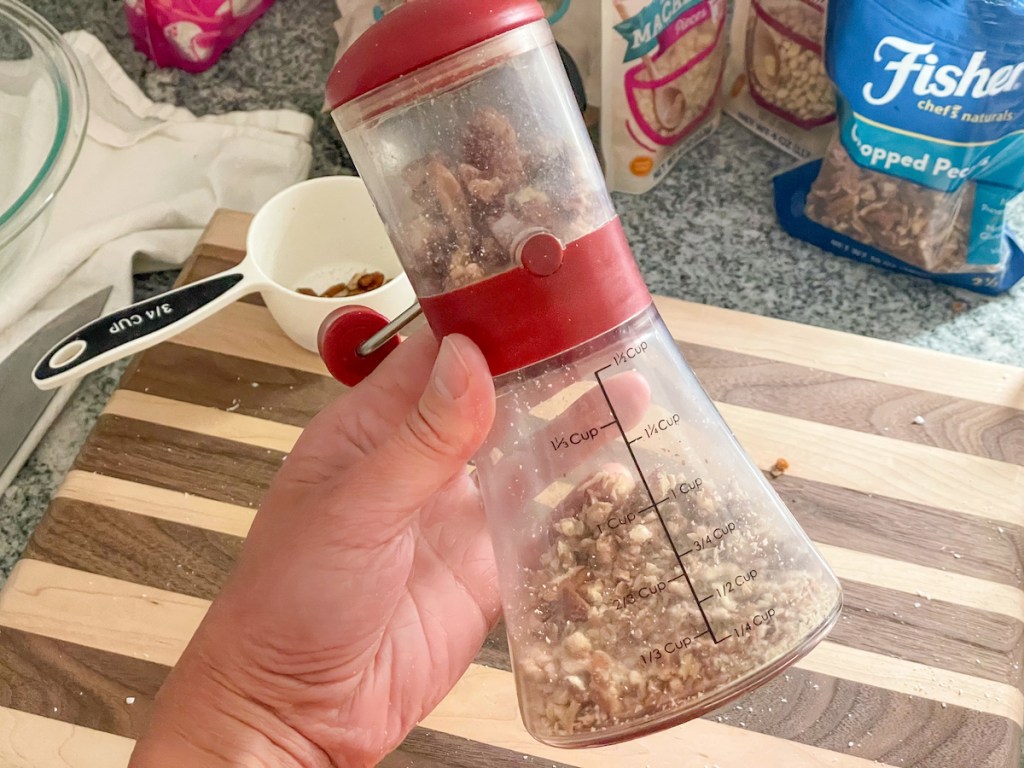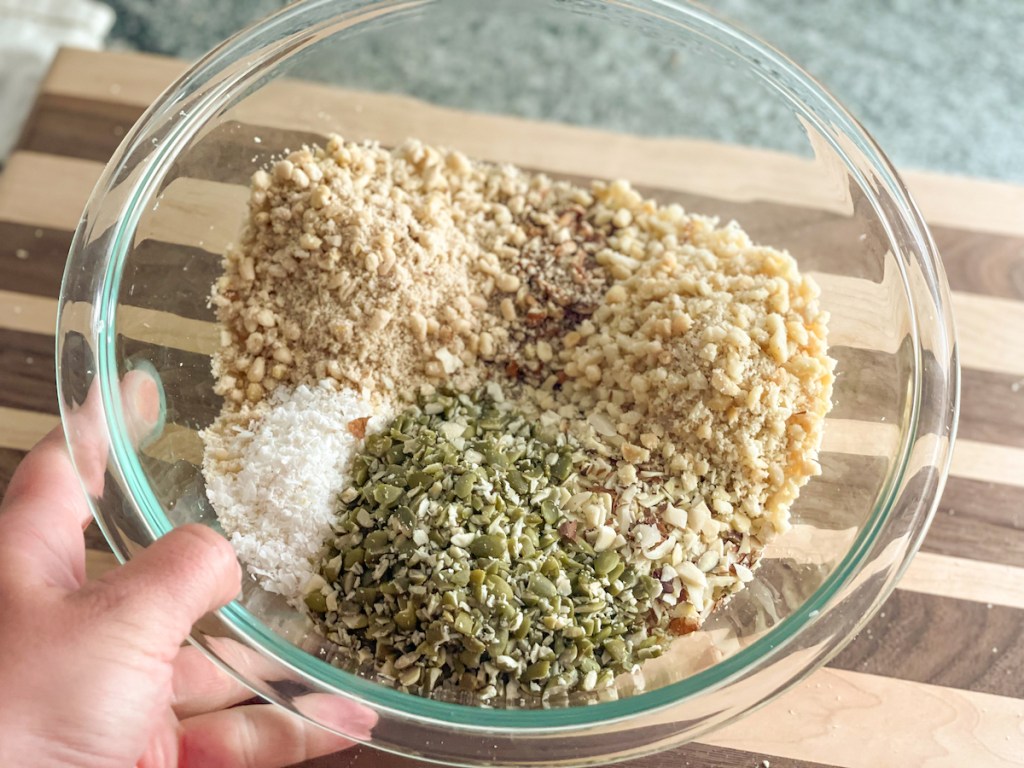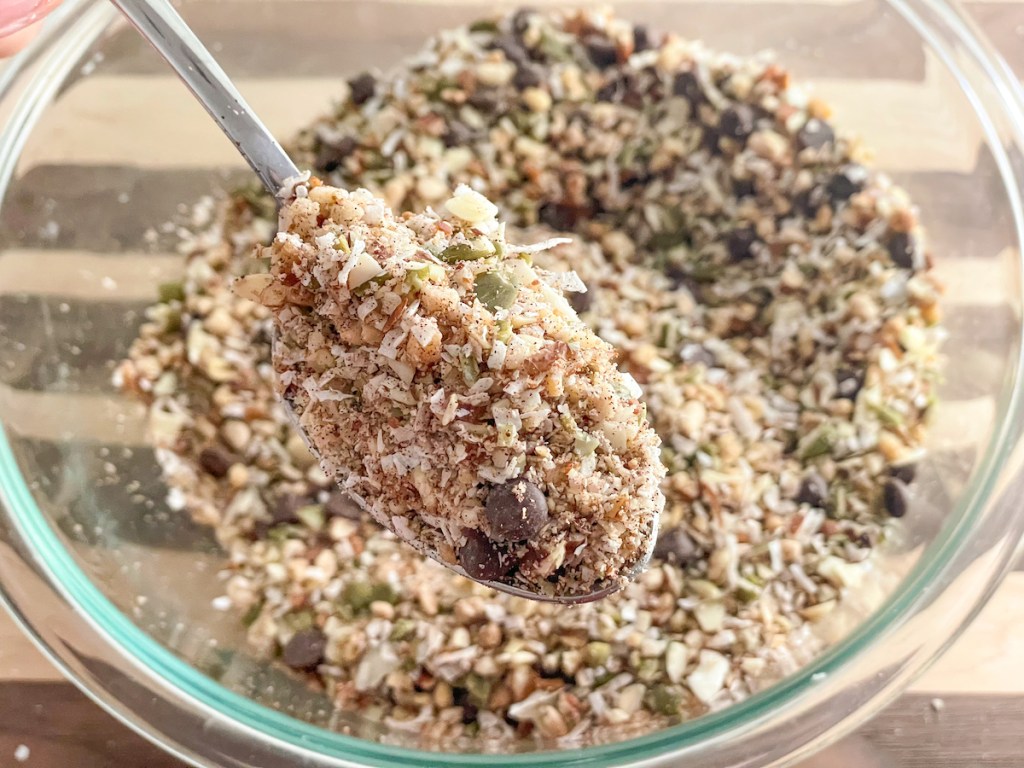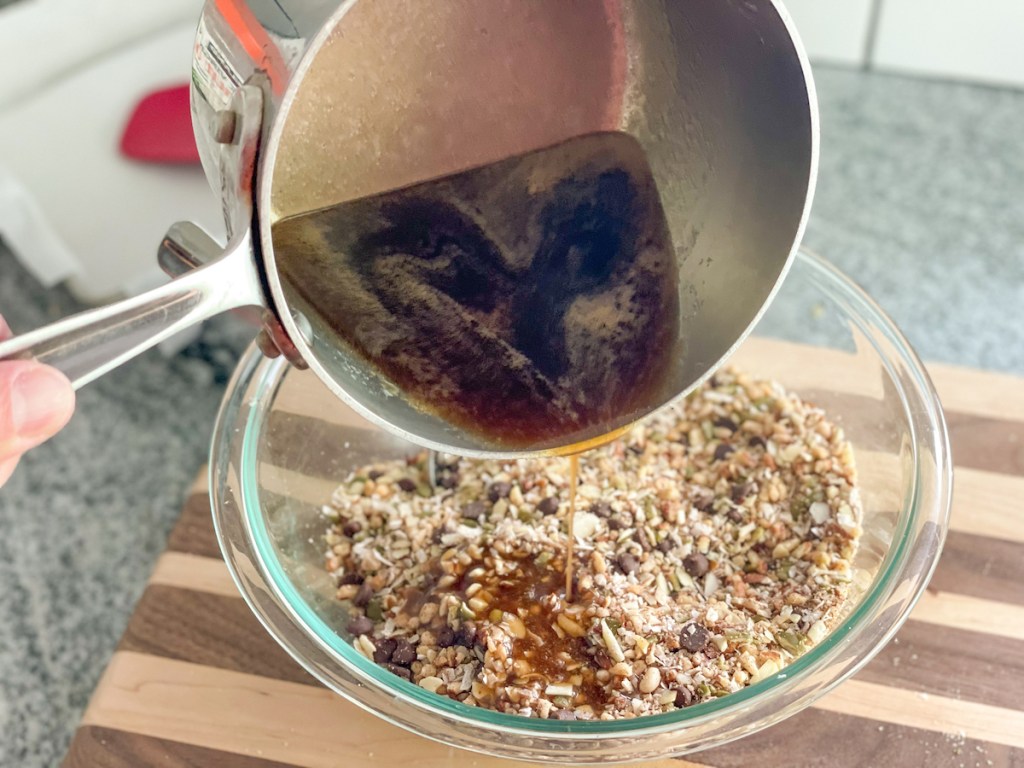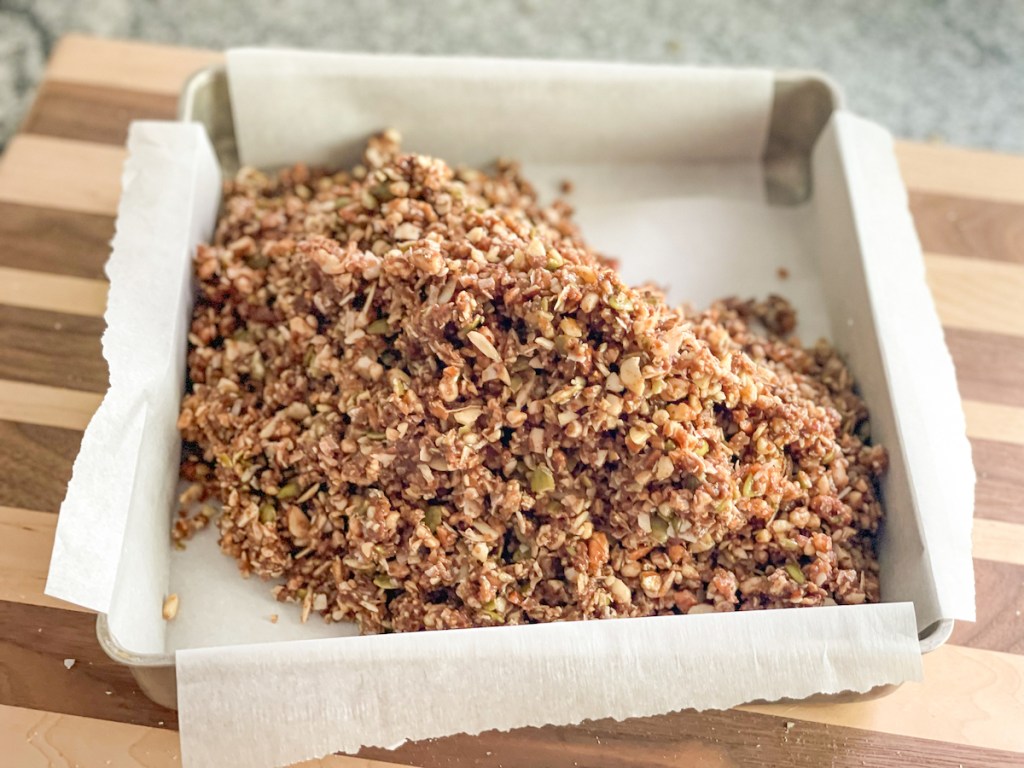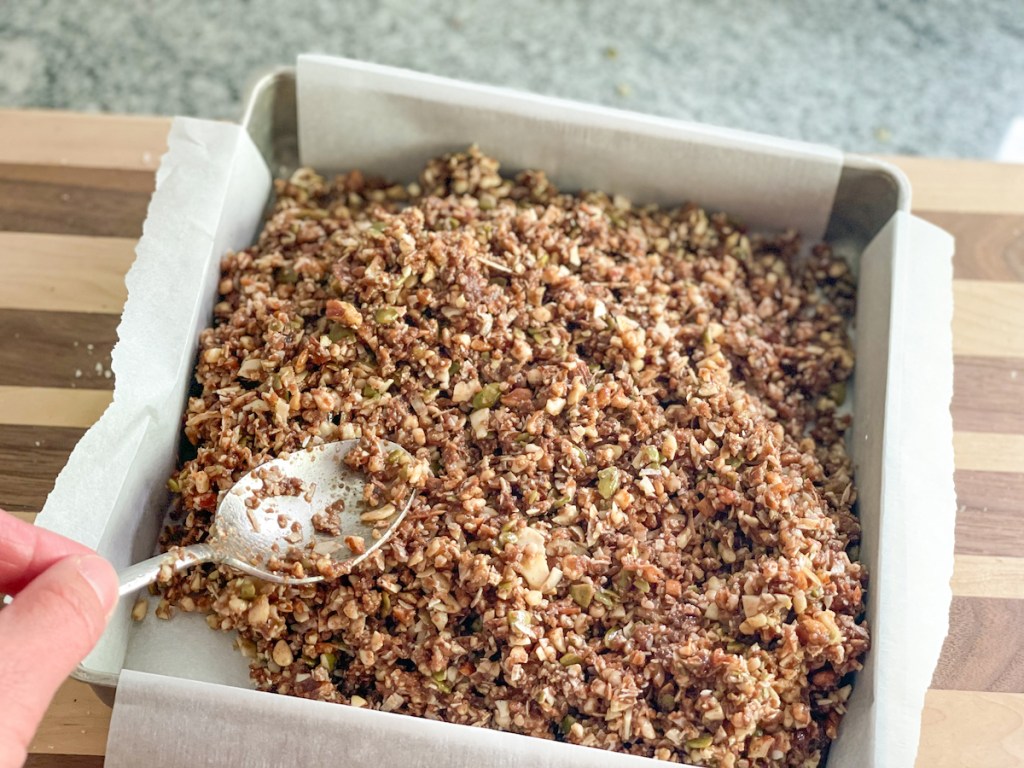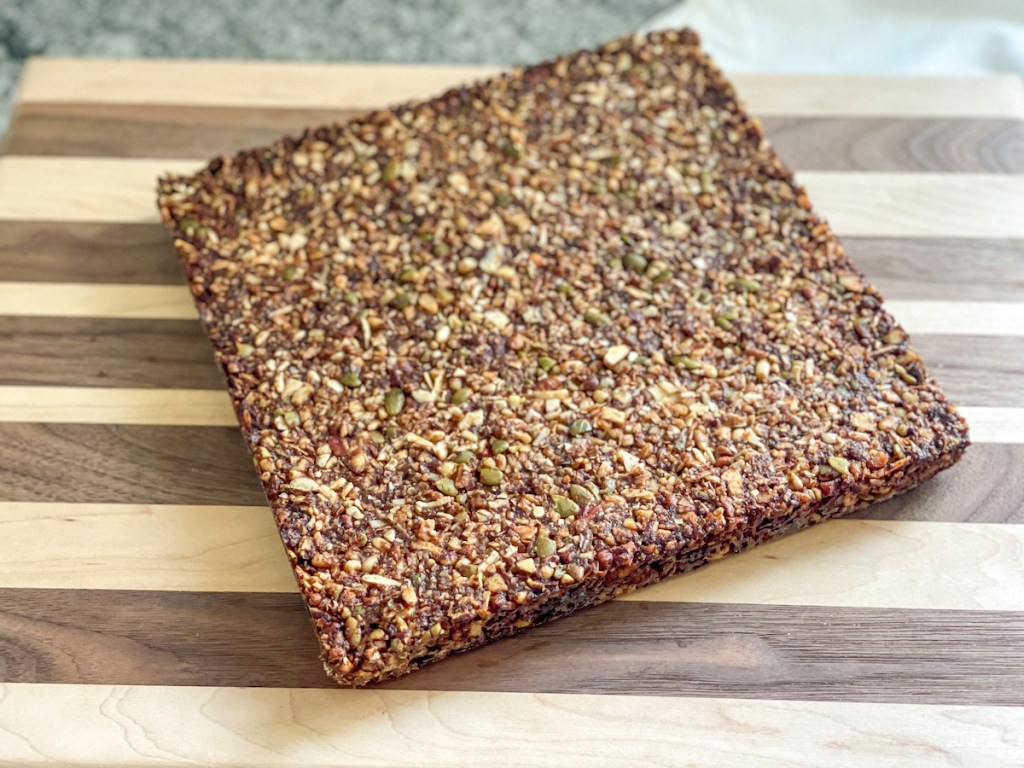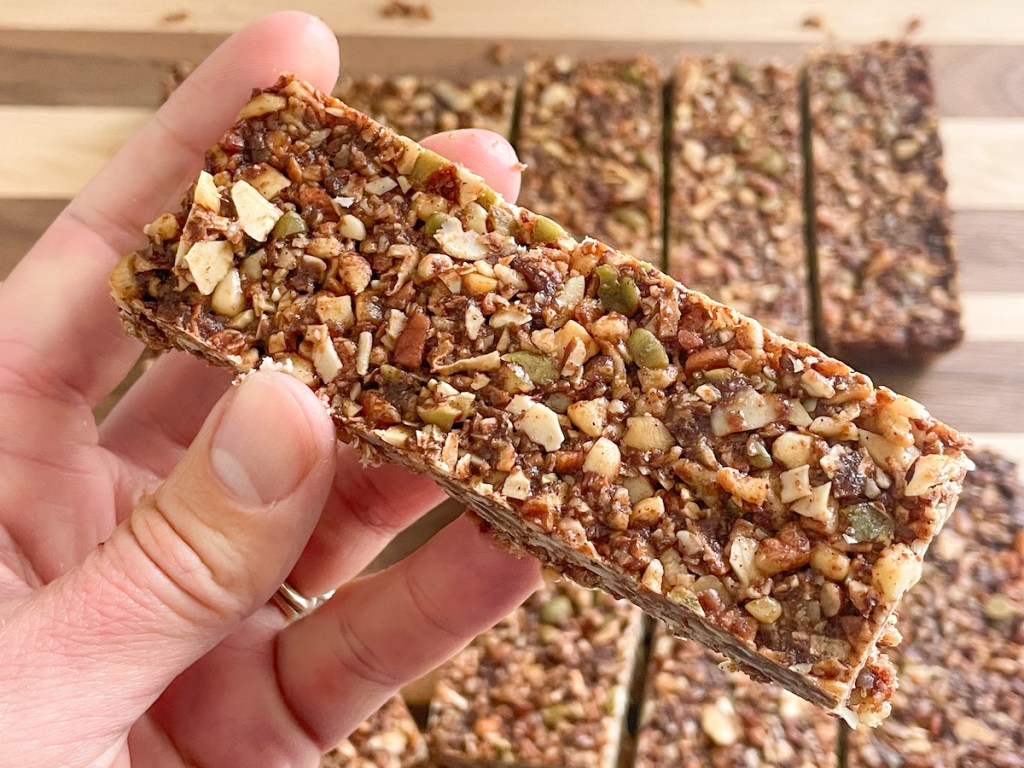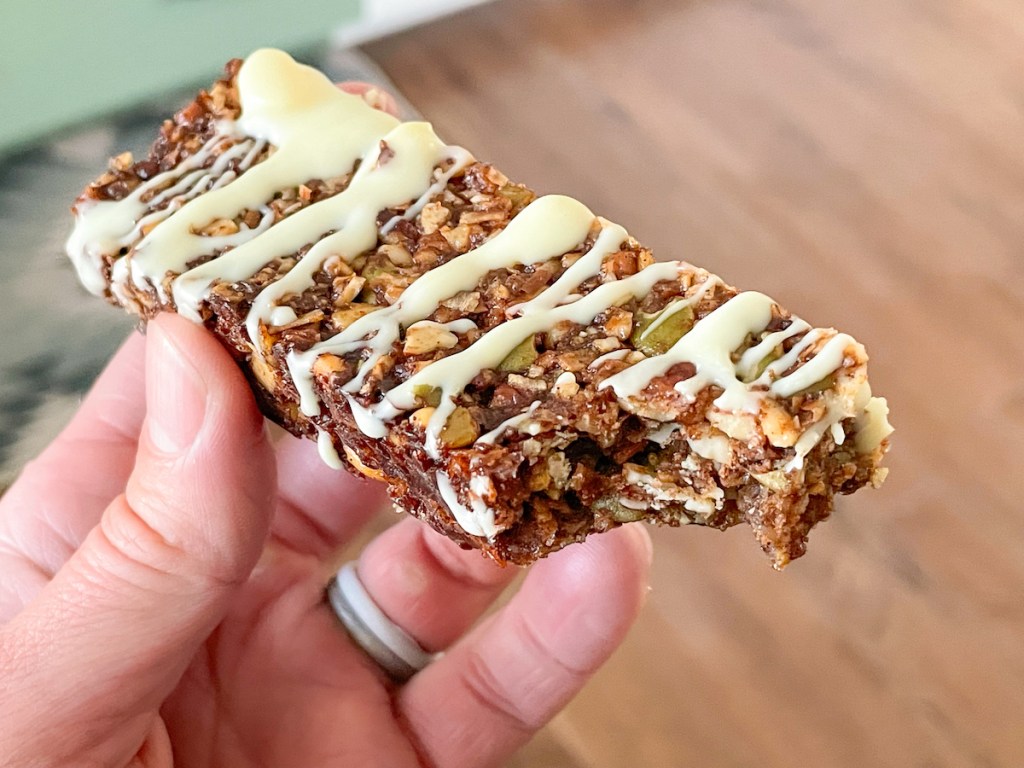 ---
Print
Keto Granola Bars (Copycat KIND Bars)
yield: 10 SERVINGS
prep time: 15 MINUTES
cook time: 25 MINUTES
total time: 40 MINUTES
This recipe is packed with flavor from the keto caramel sauce to the toasted nuts and coconut flakes!
Ingredients
Caramel Sauce:
3/4 cup butter, salted (1 1/2 sticks)
1/2 teaspoon salt (reduce to 1/4 teaspoon or omit if not a salty fan)
Chocolate drizzle (optional):
Directions
1
Preheat oven to 350 degrees. Line a 9x9-inch baking dish with parchment paper for easy removal and set aside.
2
To make the caramel sauce:
Add butter and keto brown sweetener to a small saucepan. Bring to a simmer over low heat, stirring occasionally to prevent scorching. This will take about 7-10 minutes. The sauce will just start to slightly thicken. Remove from heat and stir in vanilla extract. (Be careful as it might bubble up when you add the vanilla). Set aside.
3
While the caramel sauce is simmering, finely chop the coconut and nuts. This will help them stick together better with the syrup.
4
In a large bowl, add all the nuts, coconut flakes, 1/2 cup of chocolate chips, 1 tablespoon of cinnamon, 1/2 teaspoon salt, and mix together.  Once you have created your caramel syrup in the step above, pour over the nut mixture and stir to fully combine.
5
Grab the 9x9-inch dish and pour in the nut mixture. Press down firmly with a spatula making sure you do not have any air pockets.
6
Bake for 25 minutes.  Remove from the oven, and let cool completely before cutting into 10 bars.
7
If you want to drizzle chocolate over your KIND bar, microwave white chocolate and coconut oil in a small bowl for 15-second increments until melted. Drizzle the white chocolate with a spoon over your bars. YUM!
Nutrition Information
Yield: 10 bars with white chocolate drizzle, Serving Size: 1 bar
Amount Per Serving: 493 calories Calories | 47.2g Fat | 24.1g Total Carbs | 11.1g Fiber | 2.7g Sugar | 9.6g Sugar Alcohol | 7.4g Protein | 3.4g Net Carbs
---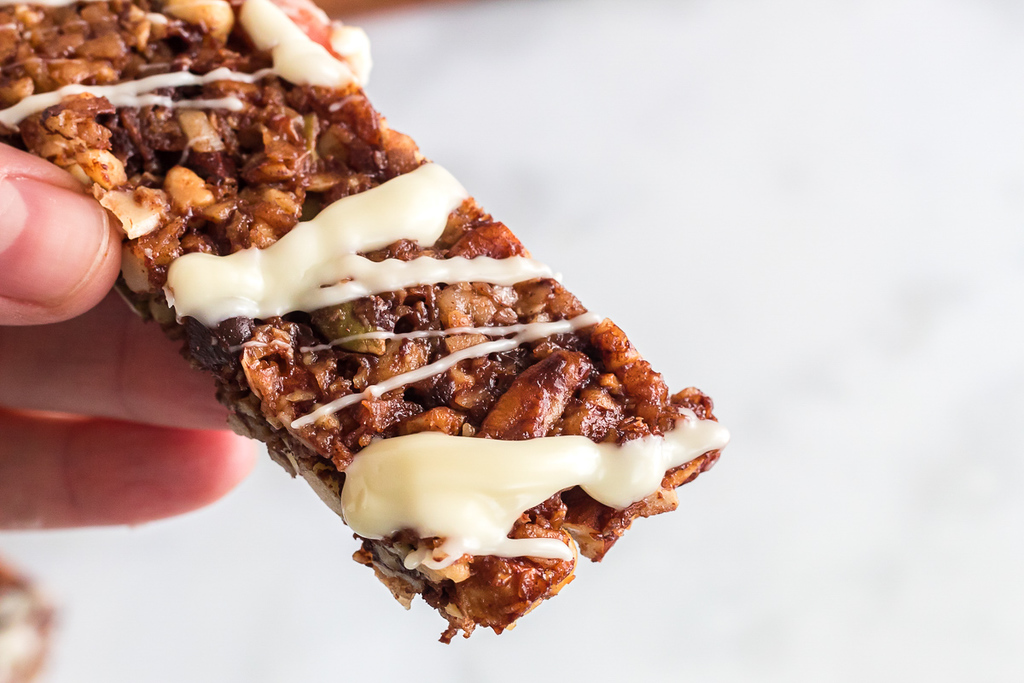 Tips for making the best keto granola bars:
Feel free to swap out any of the nuts and seeds for your favorites. I really love the flavor of the mix I chose but you can definitely personalize it to your preference!
Don't skip the step to finely chop the nuts. It makes a huge difference in helping the bars stay together. We had a hard time getting the bars to hold together initially. They kept turning into granola! I used a handheld nut grinder like this one for all the nuts and it works awesome! It's actually one of my favorite kitchen gadgets!
The caramel sauce just needs to slow simmer for about 7 to 10 minutes. It won't really thicken up much, but that's okay. It sets up while it's baking. I also poured it over the coconut, nut, and chocolate chip mixture while it was still hot and it sort of melted the chocolate chips and just made everything hold together perfectly.
Once you make these special treats for your family, there's no turning back!
You will never want to buy KIND bars from the store again. Everyone will be begging you to make this healthier and lower-carb alternative at home. These make a great breakfast and are especially tasty with coffee.
Enjoy!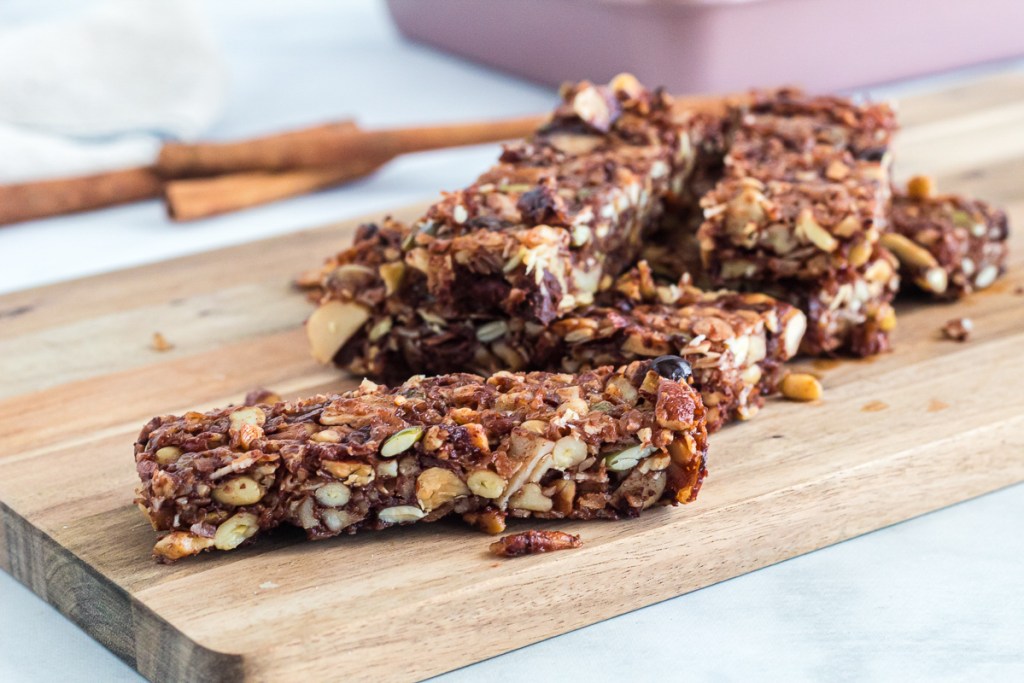 Here's what my Hip sidekick Emily had to say about these keto granola bars:
"I'm usually not a big granola bar person but these are incredible! I've been eating them for breakfast with my coffee and, omg, so yummy! I love the flavor of the caramel sauce with the nut and coconut mixture. It's perfect! And don't skip the white chocolate drizzle!
---