The BEST Keto Waffle Recipe EVER (Tastes Better Than The Real Thing!)
Keto waffles are super easy to make and they honestly taste like you're eating a cheat meal breakfast!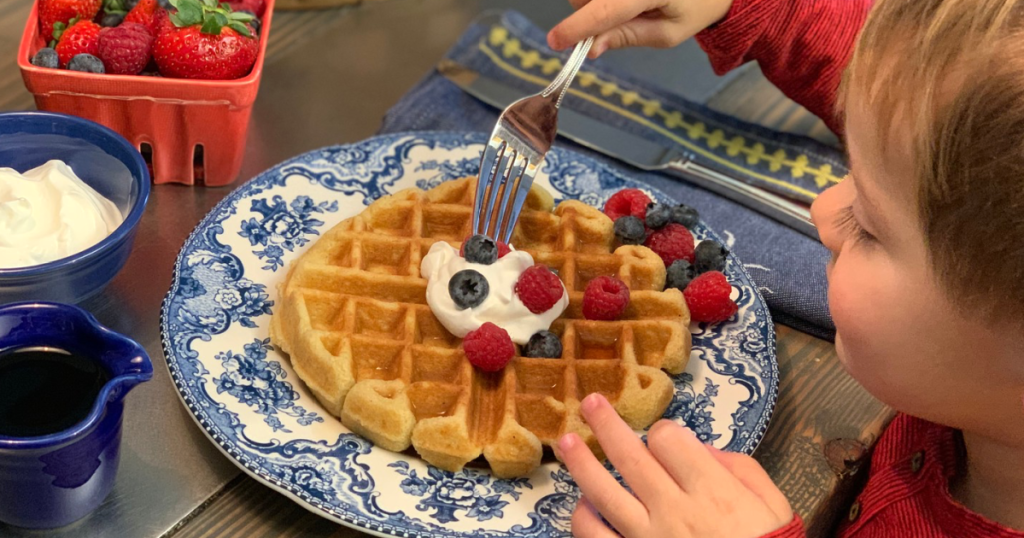 Yep, these delicious little cakes are truly fabulous, and here's why…
For starters, the batter is a snap to make and they puff up to a beautiful golden brown in the waffle iron. They are soft on the inside with a nice chew on the outside.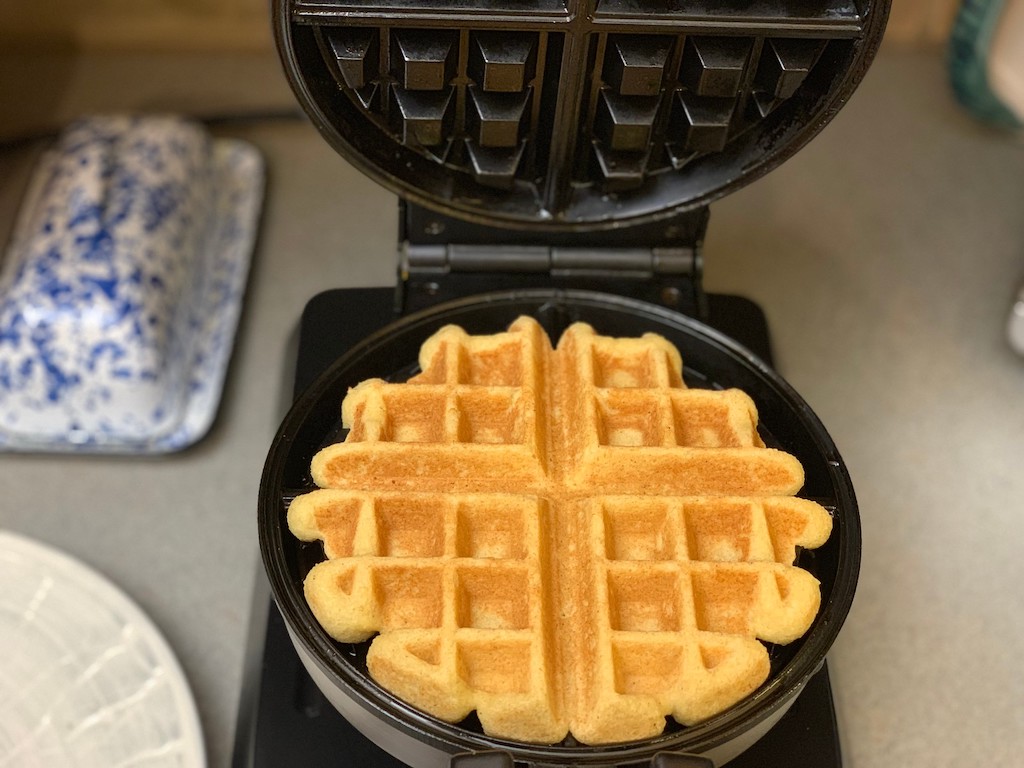 You can also utilize this keto waffle recipe for make-ahead food prep by making a bunch and freezing them! Just pop them in the toaster for breakfast on rushed mornings.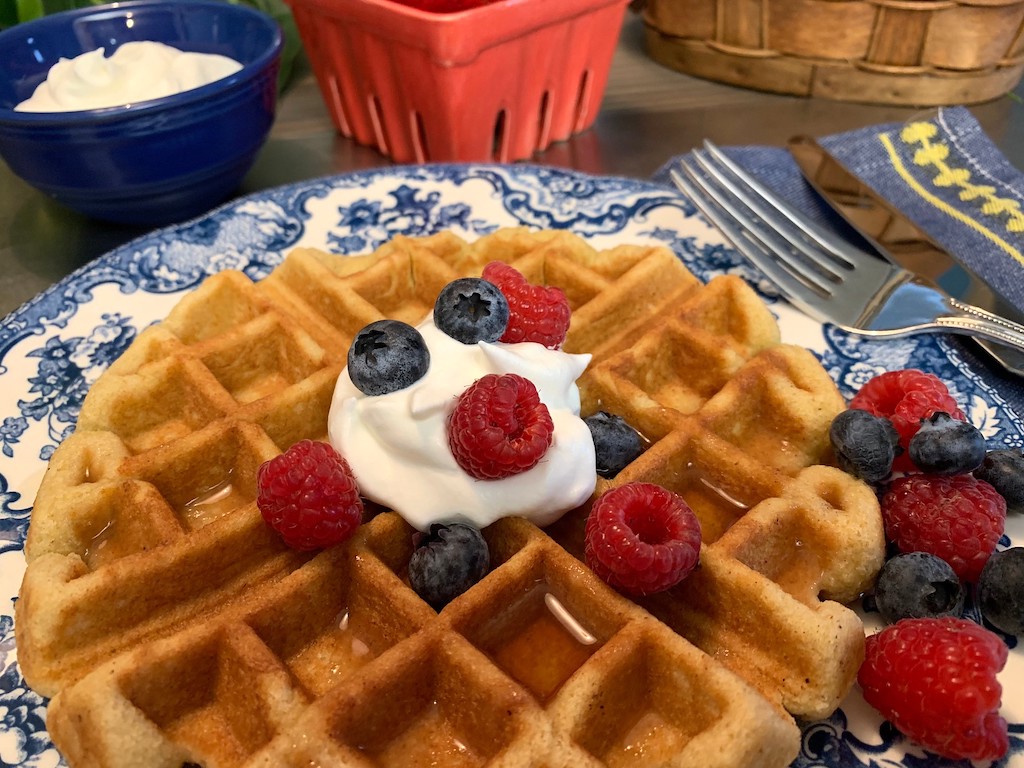 Many keto waffle recipes are time-consuming and tedious, and you end up with a product that has the typical almond flour taste and texture. UGH!
We've spent hours perfecting the BEST low-carb waffle recipe ever to transform your keto breakfast routine into something even tastier!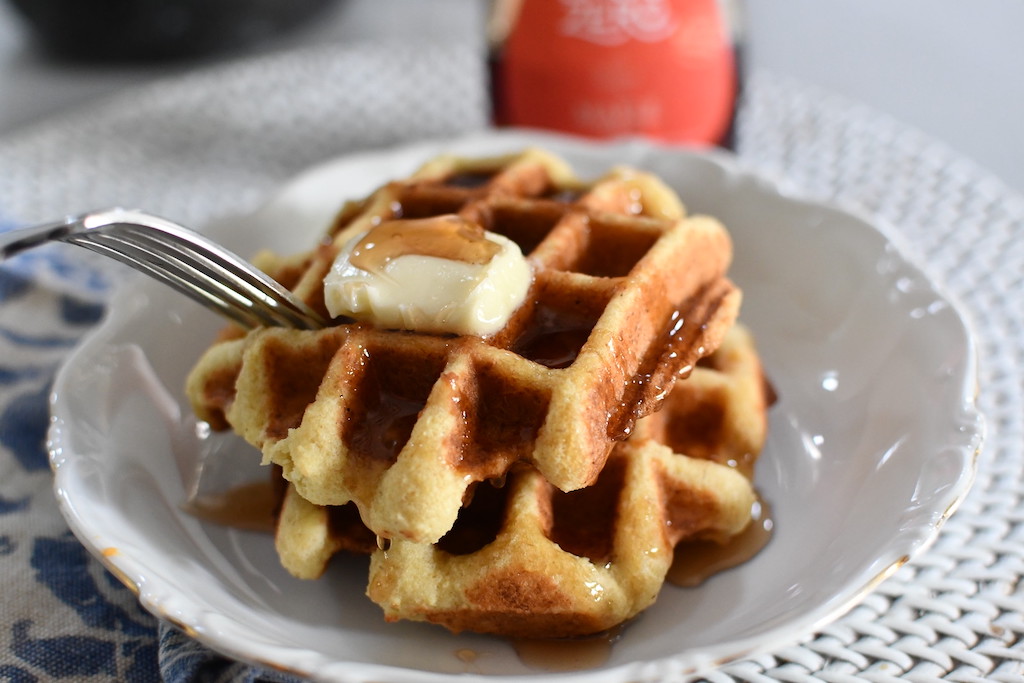 Tips for making the BEST keto waffles EVER:
Make a double batch and freeze these babies! Just because you're busy doesn't mean you can't enjoy a tasty morning waffle. Simply place cooled waffles on a sheet pan, and pop them in the freezer for an hour or so. Then transfer them to a large freezer bag or storage container. If you're reheating them using a toaster, plan to make four 4″ waffles per batch so they fit in the slot.
In a pinch, you can substitute flax meal for psyllium husk, but I don't think the texture and taste are quite as good.
When serving a group, I use this method — First, I make all the waffles in the waffle iron. Then, I place them directly on the middle oven rack in a preheated, 300-degree oven for 5 minutes. This allows everyone to enjoy a warm, crisped waffle together!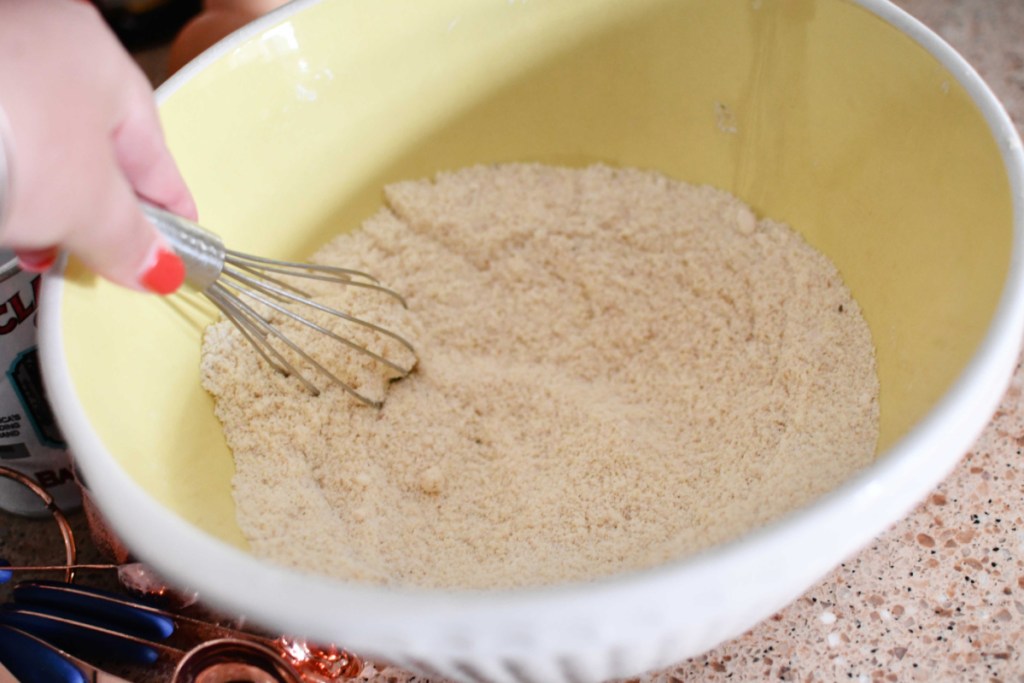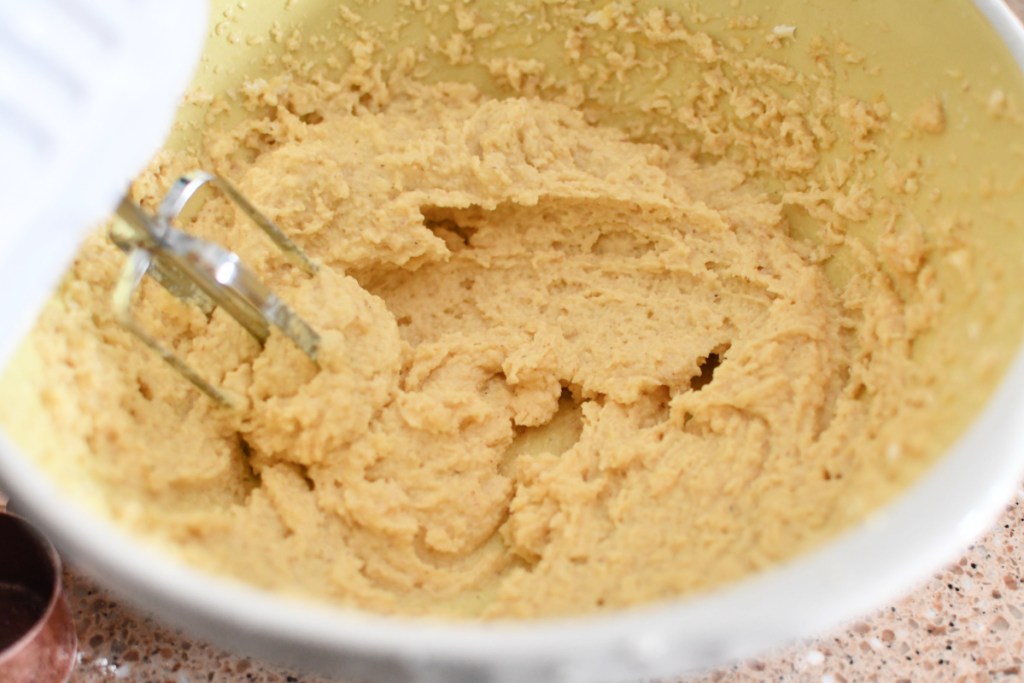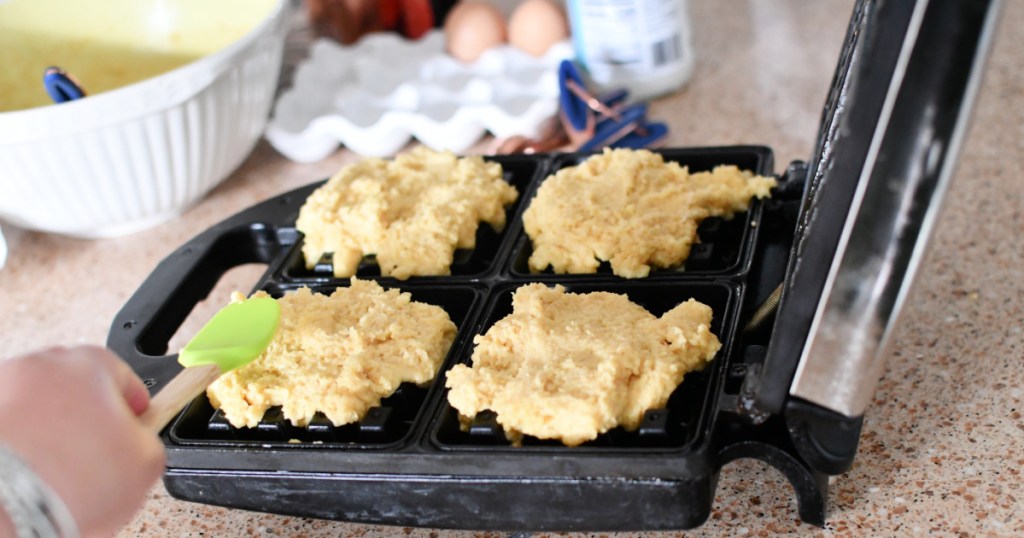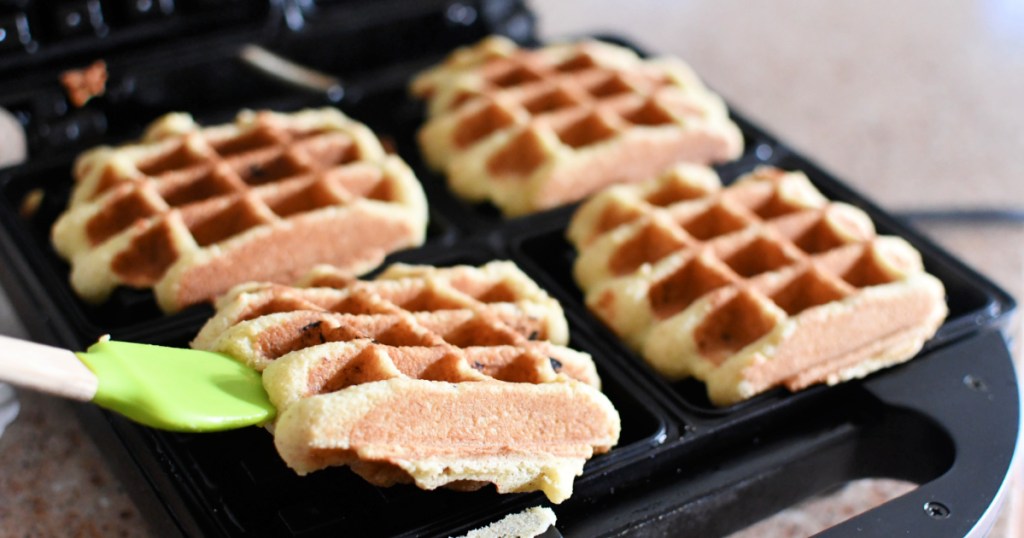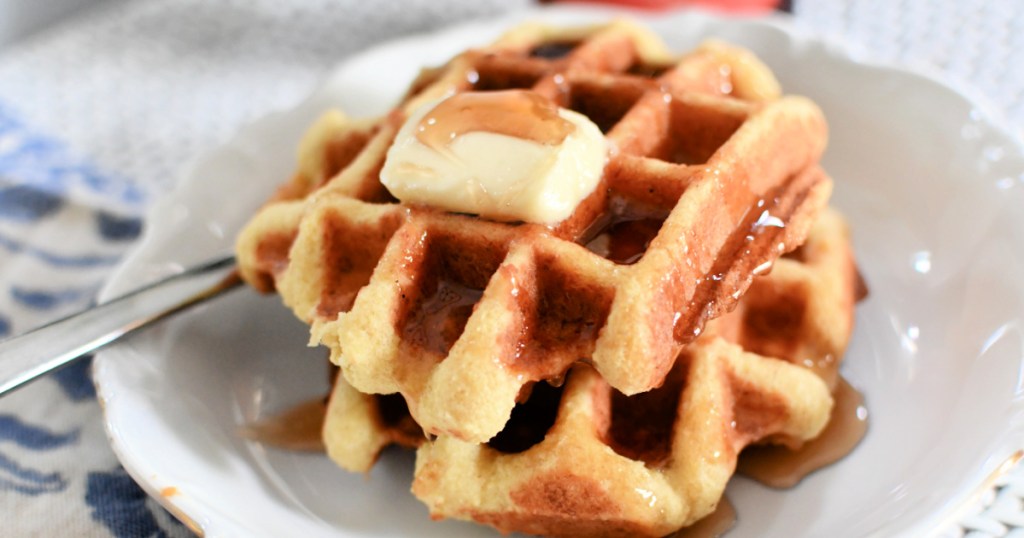 ---
yield: 4 SERVINGS
prep time: 15 MINUTES
cook time: 5 MINUTES
total time: 20 MINUTES
A must-try recipe with a true waffle taste and texture! Makes 4 small or 2 large waffles.
Ingredients
1 1/2 teaspoons baking powder
1/4 teaspoon salt
4 large eggs (best at room temp)
1/4 cup block cream cheese, 2 oz (softened)
3 tablespoons butter, 1.5 oz (softened)
2 tablespoons coconut oil (softened)
Directions
1
Preheat waffle iron. Mix all dry ingredients together: almond flour, coconut flour, psyllium husk powder, erythritol, baking powder, and salt. Set aside.
2
In a separate bowl, beat together the remaining ingredients: egg, cream cheese, butter, coconut oil, vanilla extract, and almond extract using an electric mixer. Be sure that your cream cheese, butter, and coconut oil are nice and soft before mixing. Mix until fully combined and smooth.
3
With the mixer on low, add the dry ingredients to the wet mixture. Increase speed to medium/high. Continue mixing for another minute or so until a uniform, sticky batter has formed.
4
Scoop batter onto a preheated waffle iron (nonstick waffle irons do not require cooking spray). You can choose to divide your batter into 2 large or 4 small waffles. Press down a bit with a spatula. Close the lid and cook until golden brown. Mine took a few minutes of cook time, but each waffle iron may be different. 
5
Garnish with your favorite toppings. Some of my personal loves are sugar-free syrup, butter, homemade whipped cream, fresh berries, nut pieces, peanut butter, and sugar-free jam!
Nutrition Information
Yield: 4 servings, Serving Size: 1 small 4" waffle
Amount Per Serving: 425 Calories | 36.6g Fat | 14.5g Total Carbs | 8.4g Fiber | 0.4g Sugar Alcohol | 12.7g Protein | 5.7g Net Carbs
---

My non-keto kiddos like these keto waffles better than regular waffles!
That's the truth, and they had no clue that they were keto until I told them. Winner, winner, waffle dinner! My family likes them with berries and no-sugar-added homemade whipped cream, which are great additions.
Easy recipes like this are a lifesaver, and this one doesn't disappoint.
---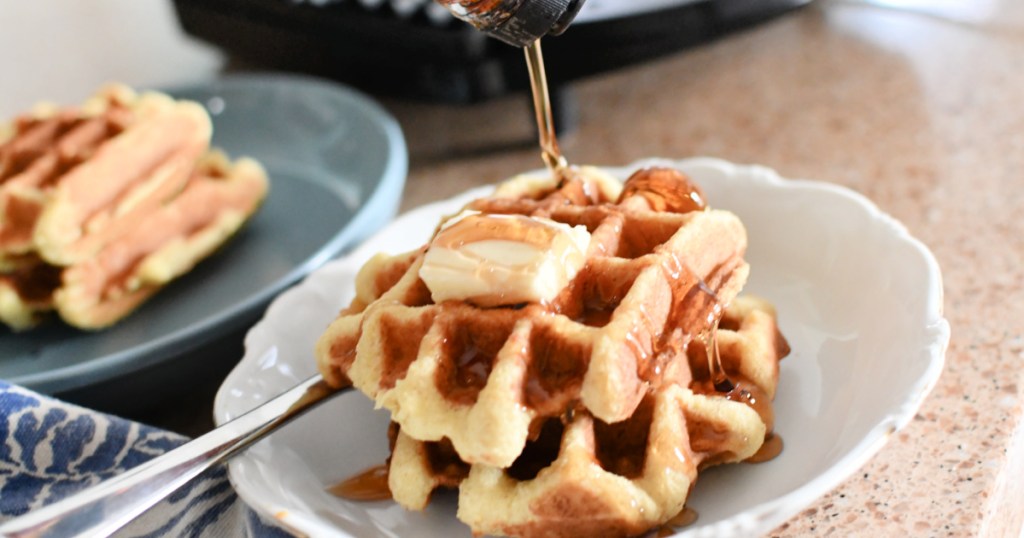 Here's what my teammate Lina thought of my keto waffles:
"Wow, these waffles are legit yummy! I loved how easy they are to make and the taste and texture are excellent. If you are missing out on eating morning waffles, definitely give these a try. I especially enjoyed the addition of almond extract and feel like it made them taste fancy!"
---