Keto Strawberry Shortcake with Strawberry-Infused Pound Cake [+ How-To Video]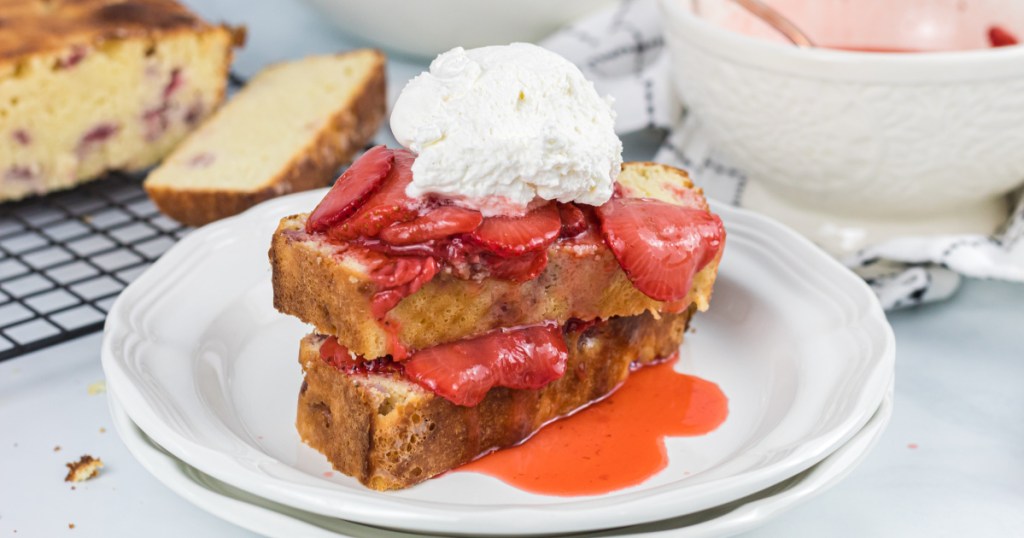 A classic summer dessert gone keto!🍓
When I think of refreshing summertime desserts, the first thing that comes to mind is strawberry shortcake. I love the natural sweetness that strawberries have, and they just so happen to be pretty keto-friendly when it comes to carb count.
I've taken our signature pound cake keto dessert and kicked the freshness up by adding diced strawberries into the cake. This flavorful and easy to make low-carb dessert will be the hit of your summer cookout! 😋
I even created a video so that you can see how easy this delicious keto dessert recipe comes together…
---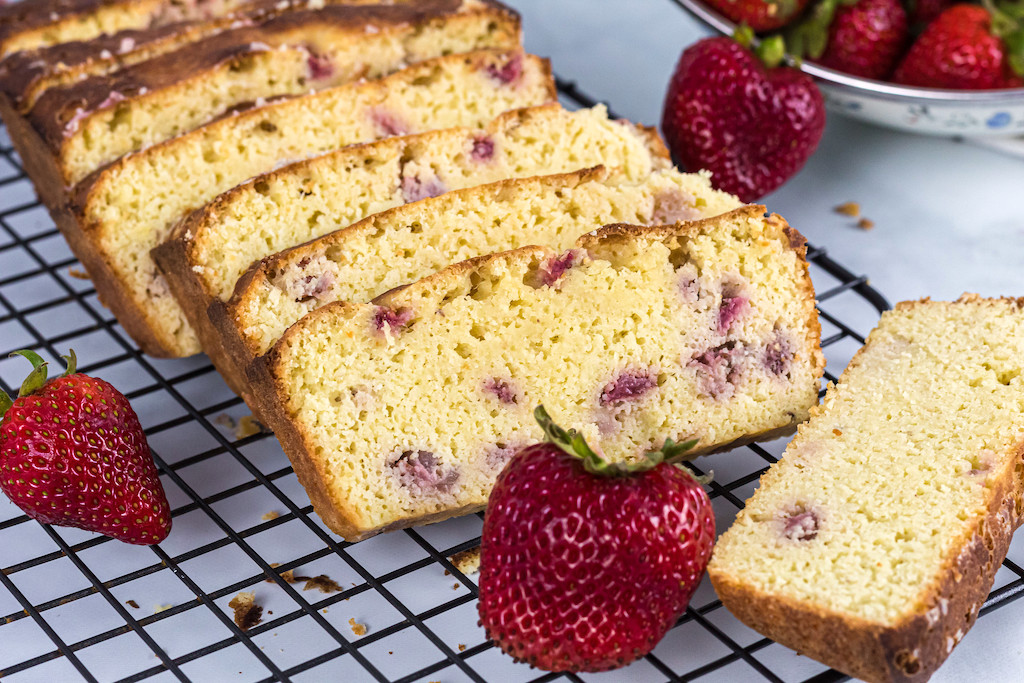 Recipe tips for making perfect keto strawberry shortcake:
Fold the diced strawberries into the batter after all other ingredients are combined to prevent them from sinking to the bottom.
Feel free to slice your cake and then freeze it for a later date. The cake should last in the freezer for a couple of months if wrapped and sealed tightly.
Swerve works great as a keto sweetener in this recipe! However, feel free to use whichever keto sweetener you prefer, and be sure to check out our Guide to Keto Sweeteners.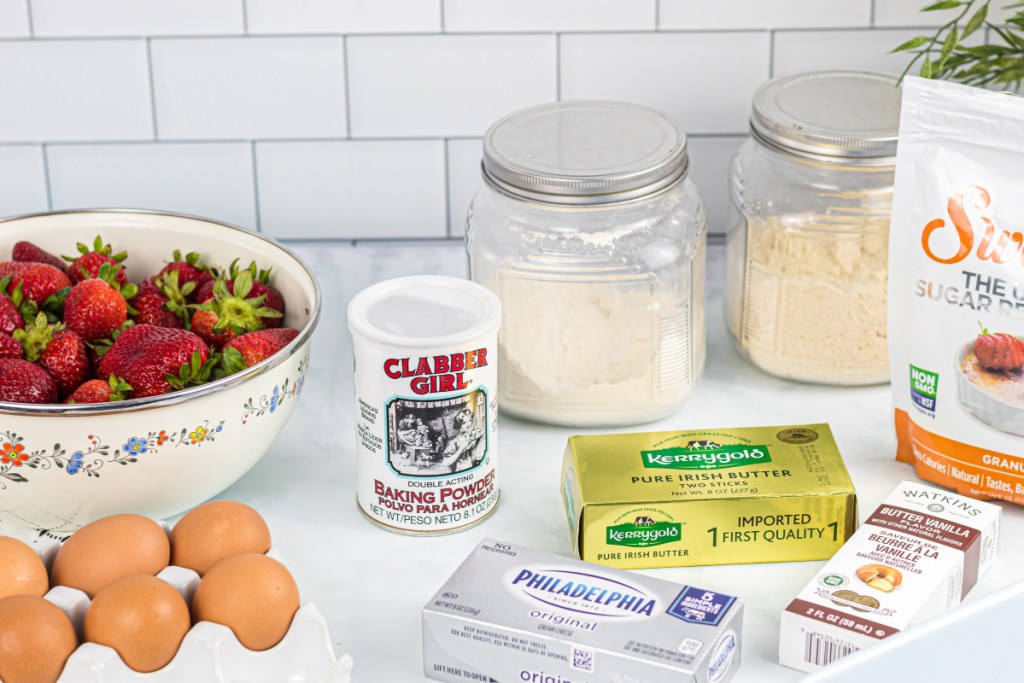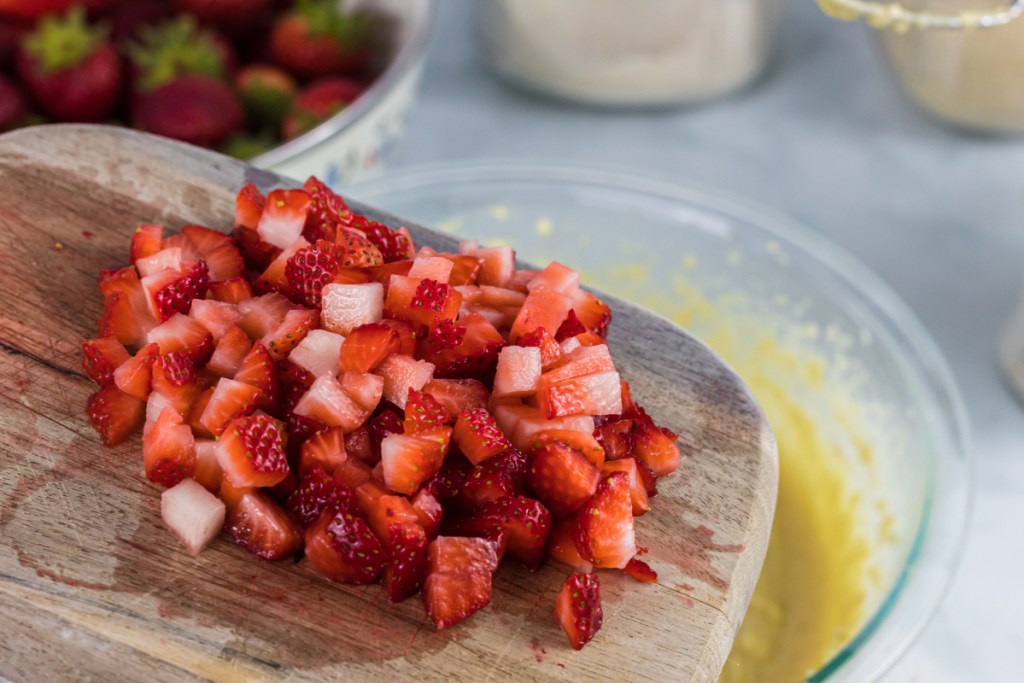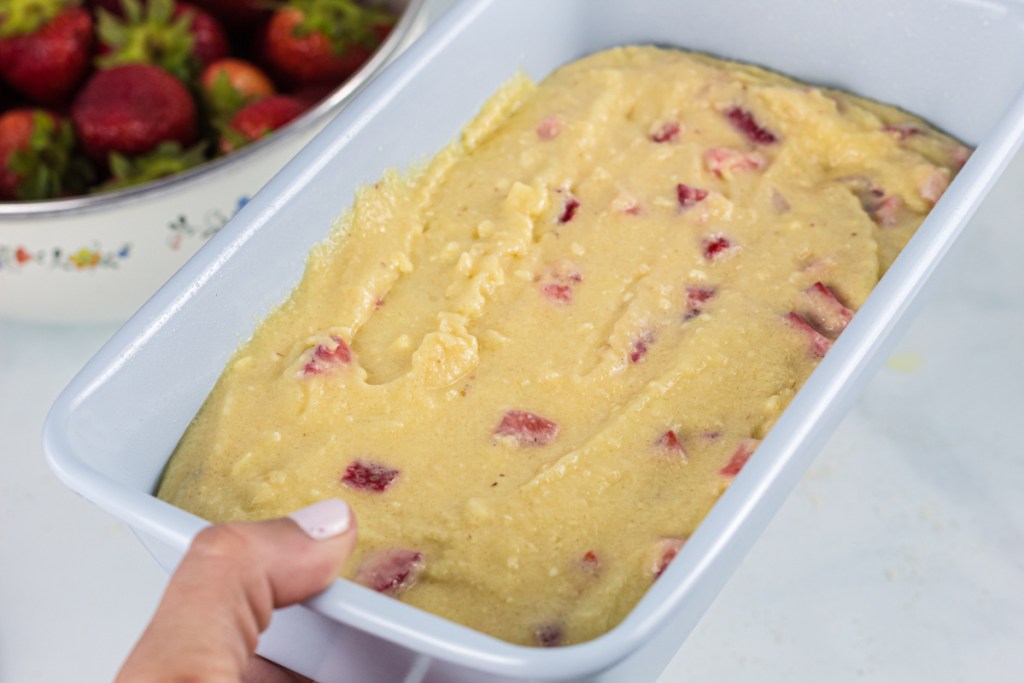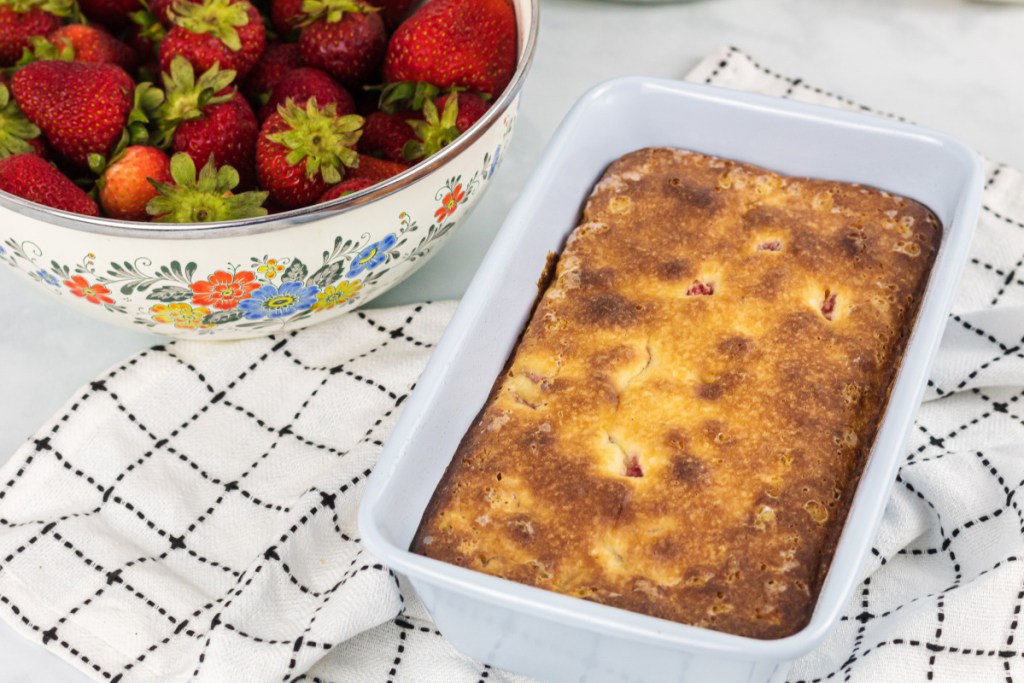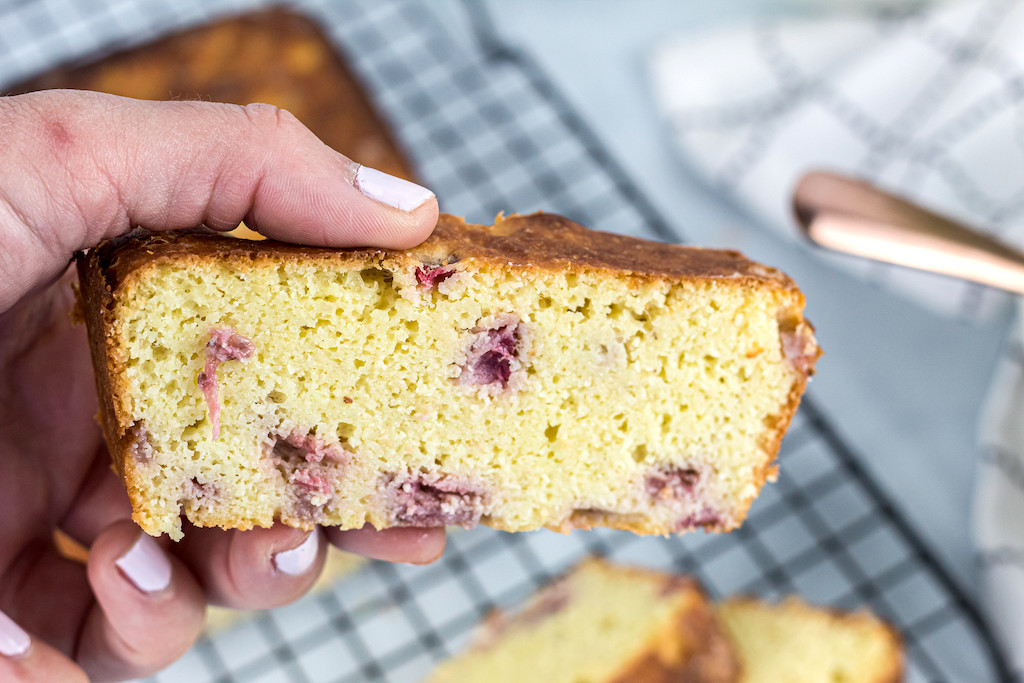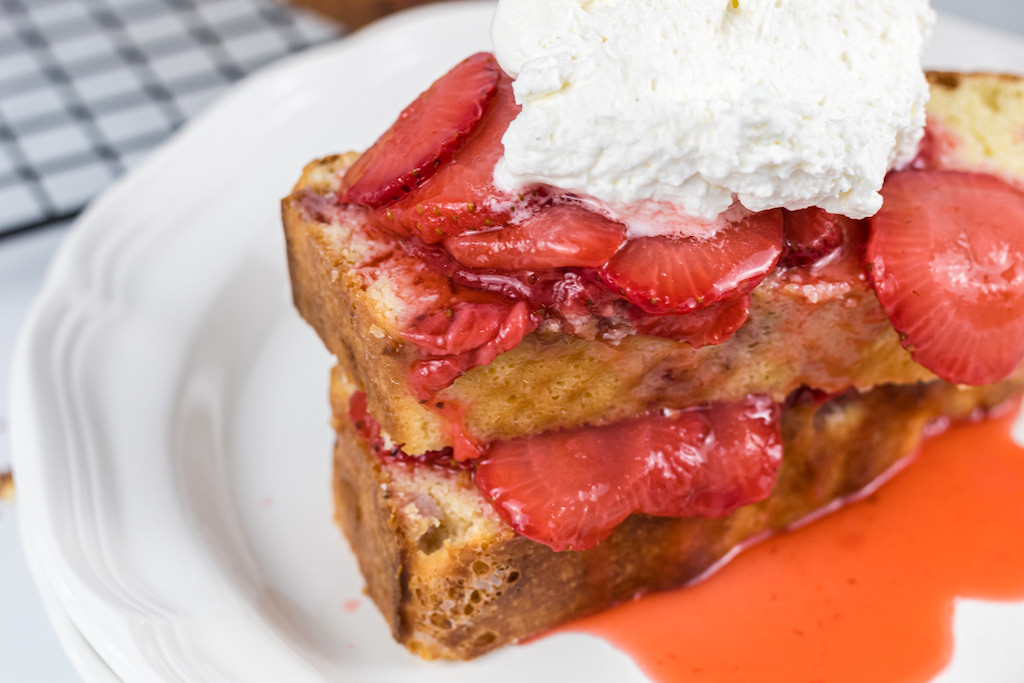 ---
Print
Keto Strawberry Shortcake
yield: 10 SERVINGS
prep time: 25 MINUTES
cook time: 60 MINUTES
total time: 1 HOUR 25 MINUTES
Thick slices of strawberry-infused keto pound cake get covered with layers of sliced strawberries and whipped cream.
Ingredients
Strawberry pound cake:
5 tablespoons butter, softened
4 oz. cream cheese, softened
4 eggs, room temperature
1 teaspoon baking powder
1/4 cup fresh strawberries, diced
Strawberry glaze topping:
1 cups strawberries, sliced
Directions
1
Preheat oven to 350 degrees. In a large bowl, cream together butter, cream cheese, and Swerve with a handheld mixer until smooth.
2
Add eggs and vanilla extract into the bowl. Continue mixing with the hand mixer until fully incorporated, about a minute.
3
In a separate bowl, mix together baking powder and almond flour. Slowly add the flour mixture to the cake batter, and mix for 20 seconds. Fold in diced strawberries to your batter.
4
Grease a loaf pan with cooking spray or butter (although, it may be more likely to stick to the pan with butter), then pour batter into the pan and spread evenly.
Tip - If you're really worried about the cake sticking, I'd suggest first covering the loaf pan with parchment paper, then also spraying the parchment paper with cooking spray.
5
Place into the oven and let bake for 50-55 minutes. Use a toothpick to check for doneness in the middle of the cake. Let cool.
6
While the pound cake is cooling, add in 1 cup of sliced strawberries and 1 tablespoon of Swerve sweetener to a small saucepan over medium heat. Bring to a simmer stirring continuously for about 3 minutes, remove from heat.
Additional Notes
Don't be alarmed by the high total carb count! Erythritol (the main ingredient found in Swerve) does not affect blood sugar in the same way that regular carbs do, so we subtracted them from the total carb count. You'll see that the net carbs are much lower once you remove the sugar alcohols.
Nutrition Information
Yield: 10 shortcakes, Serving Size: 1 slice + 1 spoonful of strawberries
Amount Per Serving: 150 Calories | 14g Fat | 14g Total Carbs | 1g Fiber | 11g Sugar Alcohol | 4g Protein | 2g Net Carbs
---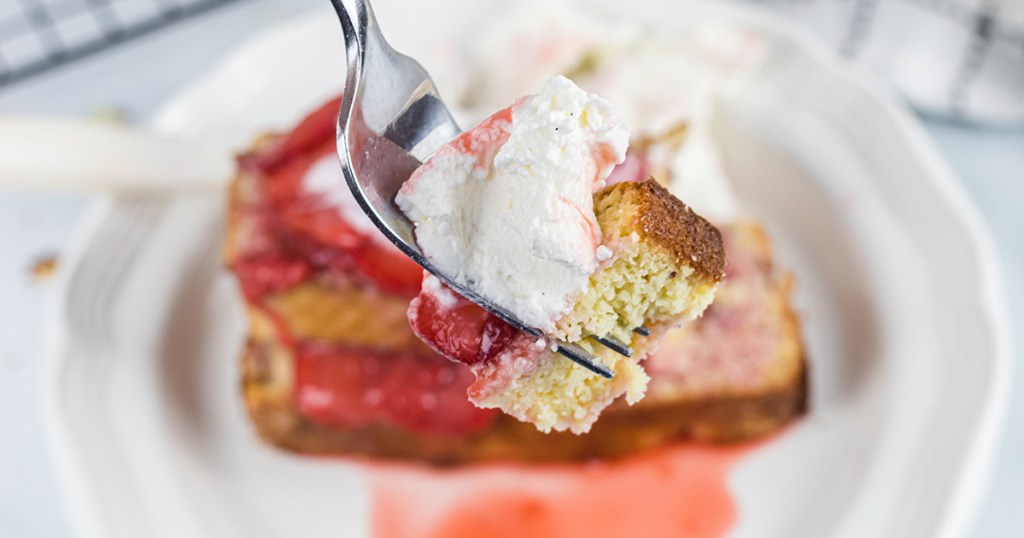 The delicious strawberry glaze on this keto shortcake really takes the flavor to the next level and will surely have your non-keto friends begging for this yummy dessert recipe!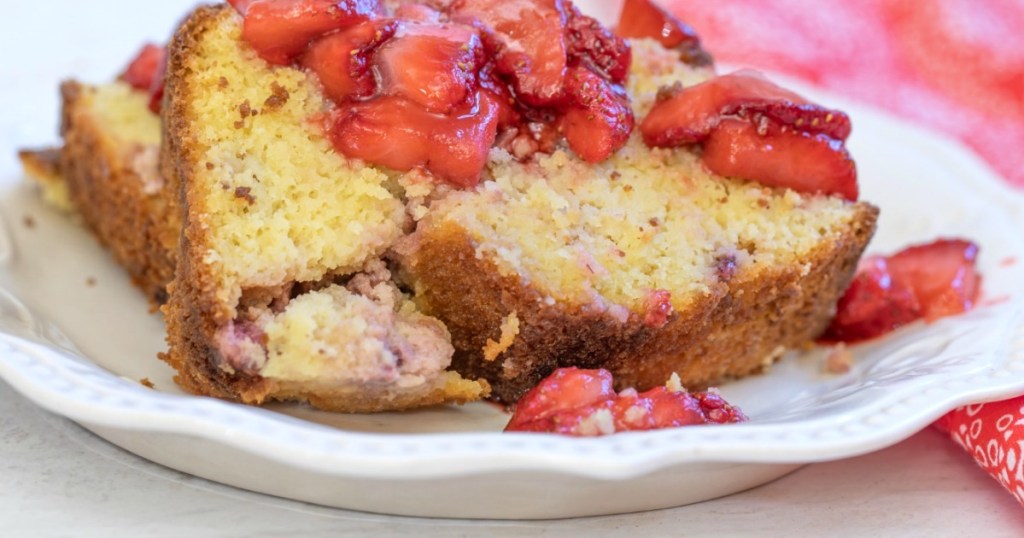 My team member, Jenna, gave this recipe a test for me (as pictured above), and here's what she had to say:
"This dessert has such great flavor, and the diced strawberries mixed throughout the bread was the best part! The sauce for the top is amazing too, and of course, gives this a true, classic strawberry shortcake flavor! The only issue I ran into was that the bread got stuck in my loaf pan. I greased it with butter and it still stuck (which seems to be typical of low-carb breads). I wonder if it would have come out easier by using cooking spray instead? I ended up just cutting it right in the pan and that worked." – Jenna
---