Looking for a No-Egg Breakfast? This Keto Sausage Hash is for You!
This eggless keto sausage hash shines with the addition of radishes, Brussels sprouts, and melted cheddar cheese.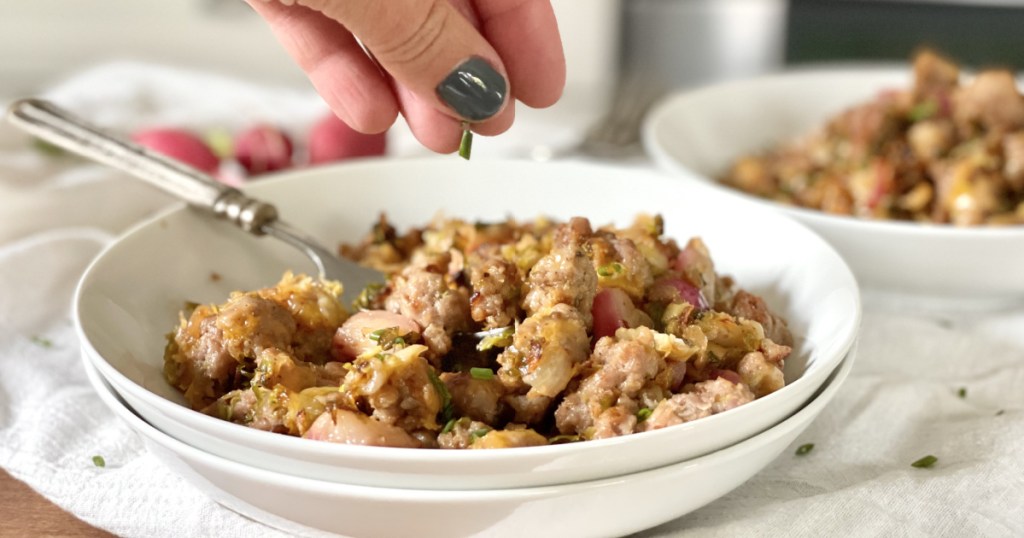 Sausage hash to the rescue!
Do you ever get sick of eggs for breakfast? I think that's one of the most common complaints I hear about the keto diet. People get tired of eating eggs!
Or maybe you just don't like eggs but still want a hot, delicious breakfast every morning that doesn't feature this traditional breakfast ingredient. Egg lover or not, you're going to be egg-static about this recipe either way. 😉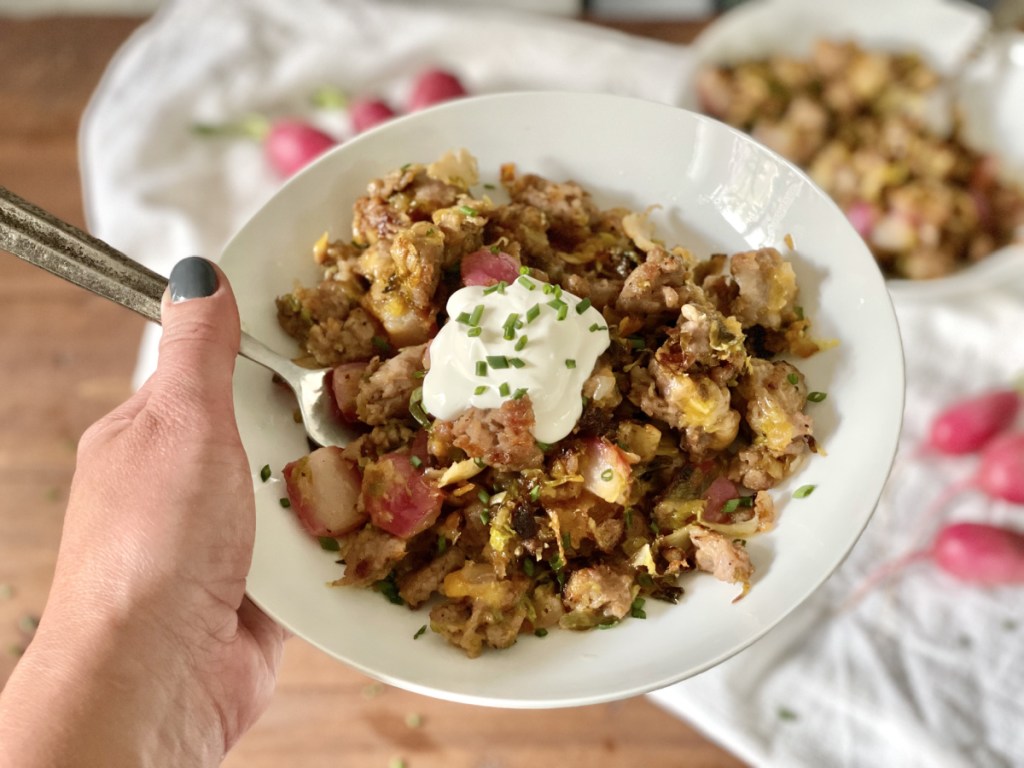 This sausage hash is so incredibly hearty and bursting with flavor, I'm willing to bet that you might not even notice the lack of eggs. Melted shredded cheddar cheese and tasty breakfast sausage provide rich, savory goodness while pan-roasted radishes, Brussels sprouts, and onions give it that perfect hash texture.
Have you ever had radishes or Brussels sprouts in a hash before? Or even for breakfast for that matter? Well now's the time to get creative in the kitchen!
I love using radishes as a low-carb alternative to potatoes, especially when they're first crisped in butter. And shaved Brussels sprouts are just amazing any way you cook them and full of antioxidants and other health benefits. Both the radishes and Brussels sprouts are a game-changer in this sausage hash.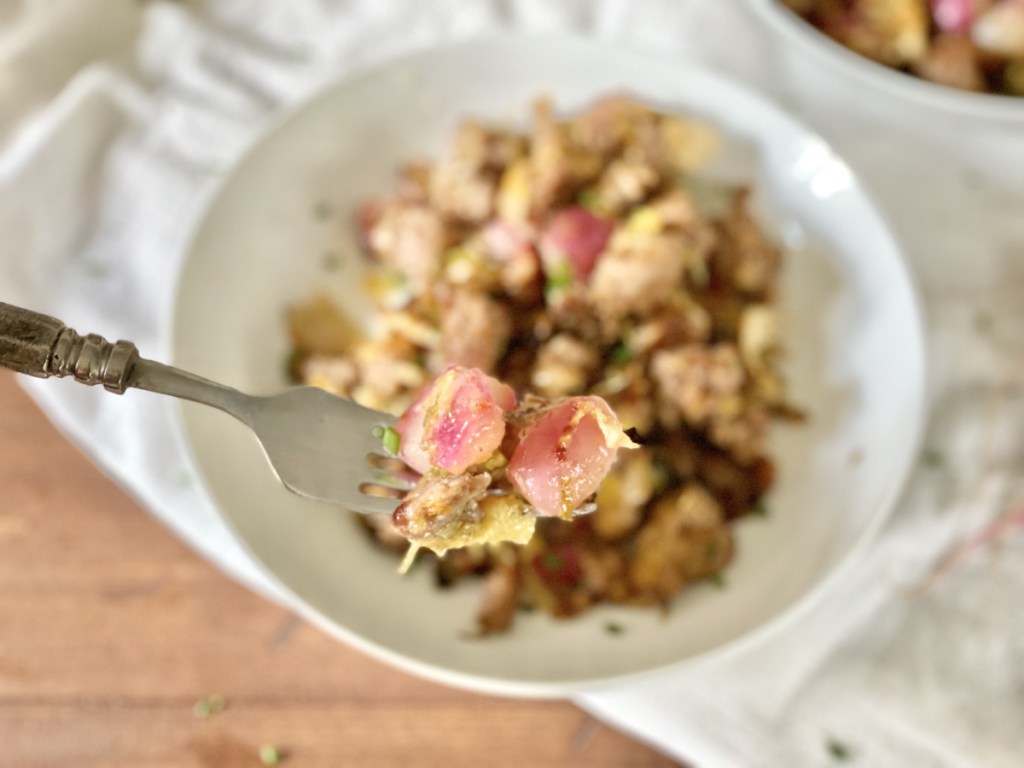 Tips for making the best egg-less keto sausage hash:
This makes a great weekend brunch meal or works as a keto breakfast idea during the week. It reheats wonderfully so you can even make it the night before to save on time in the mornings!
You can sub out the Brussels sprouts for any of your favorite green veggies, such as broccoli, asparagus, or zucchini.
If breakfast isn't breakfast without eggs in your world, this would be yummy topped with a fried egg. 😋
Top with sour cream, chives, parsley, hot sauce, or more cheese to give it that extra wow factor.
Make sure you let the radishes start to get crispy before you add the sausage to the pan. It really helps them take on more of a potato-like texture.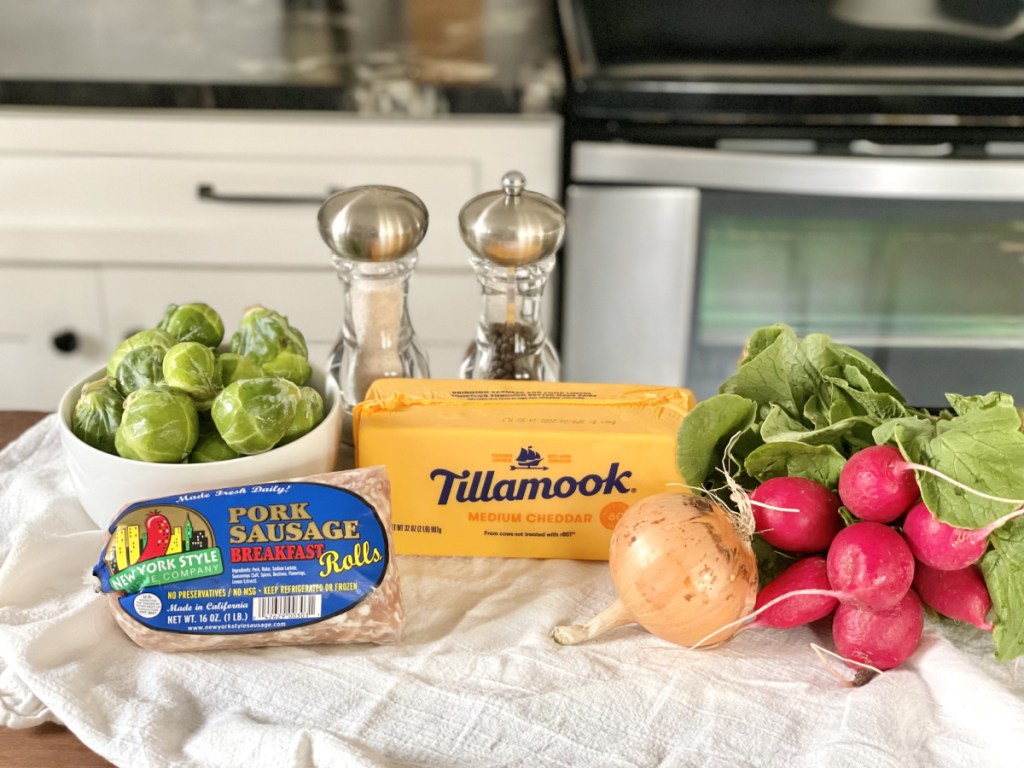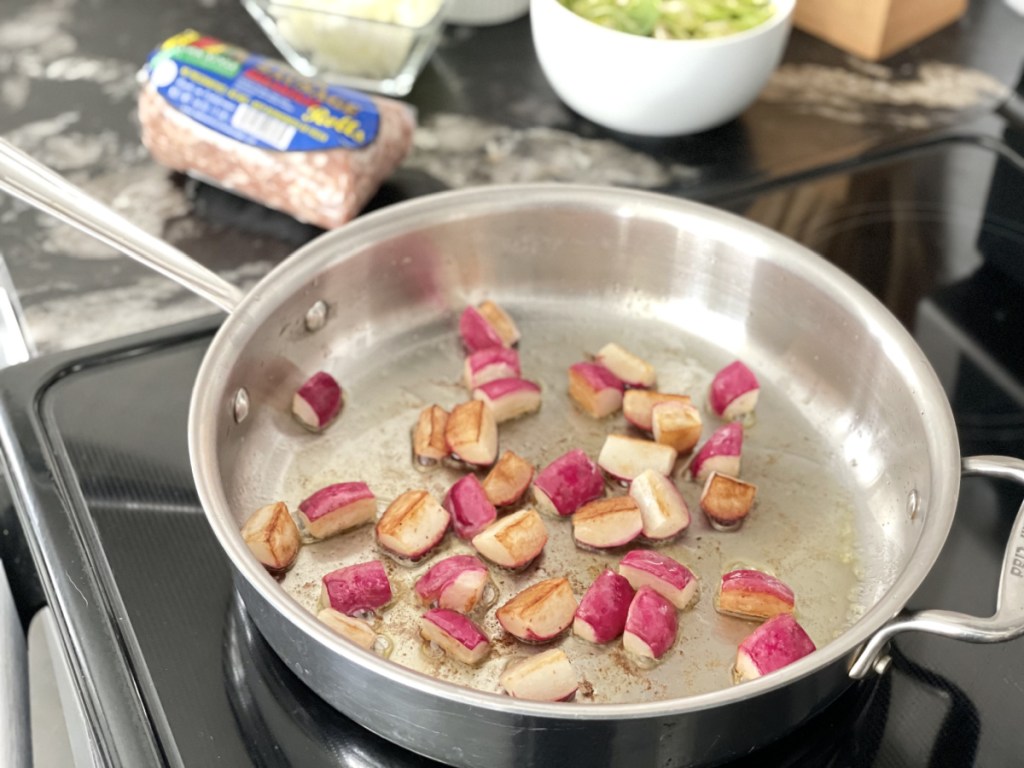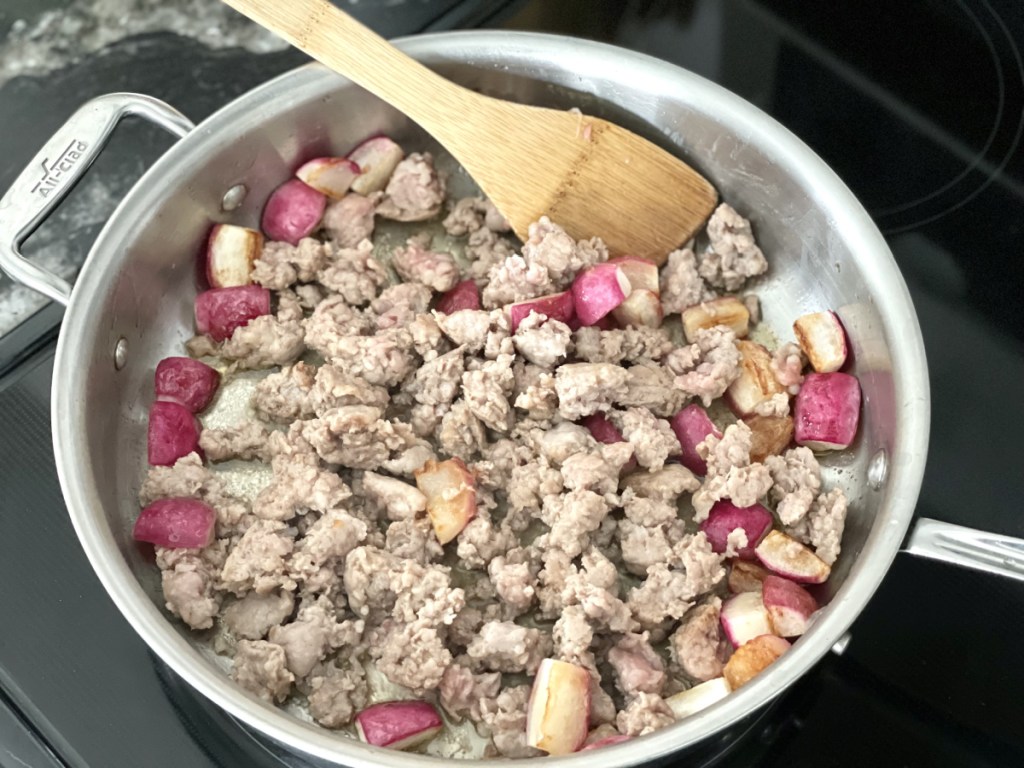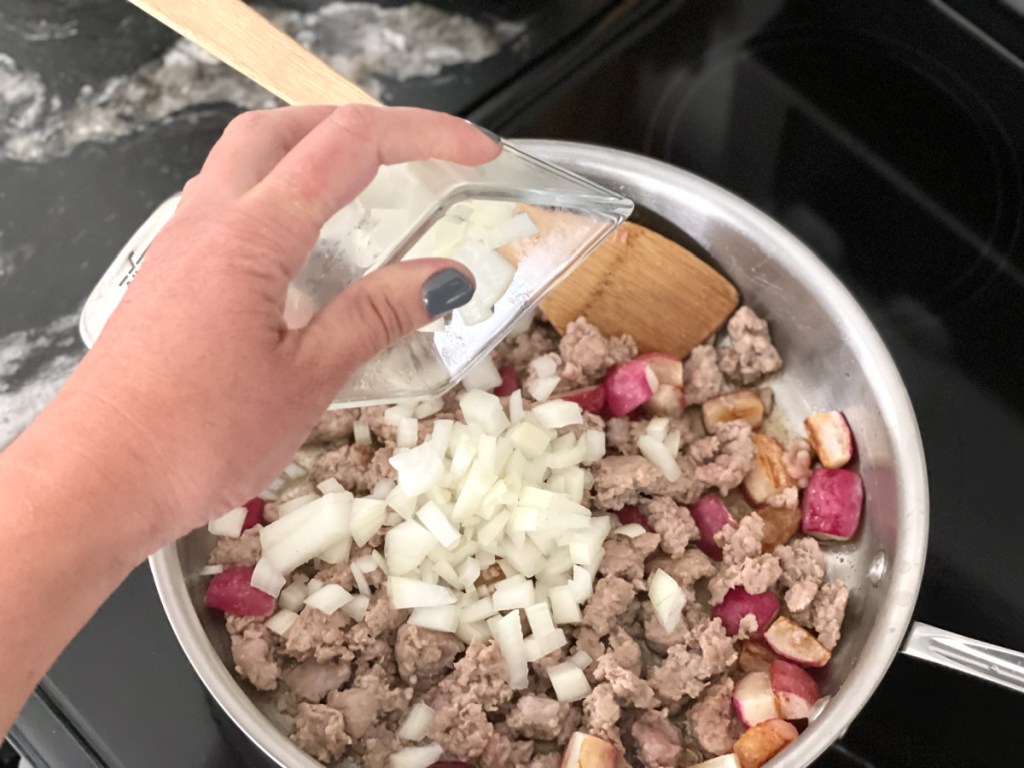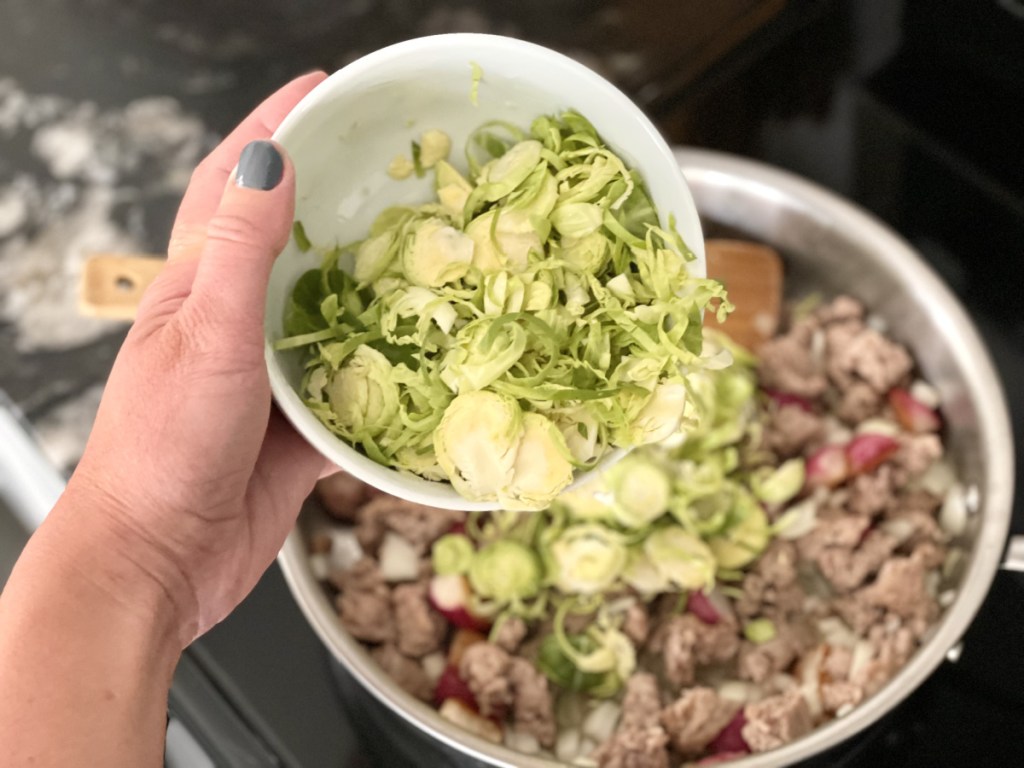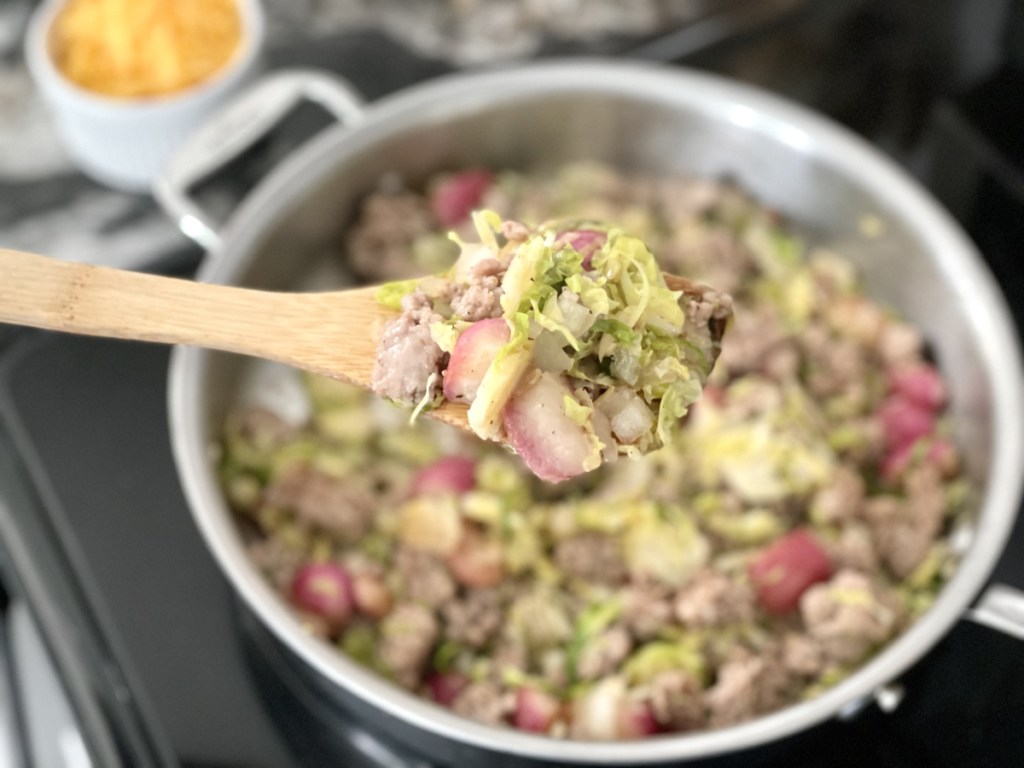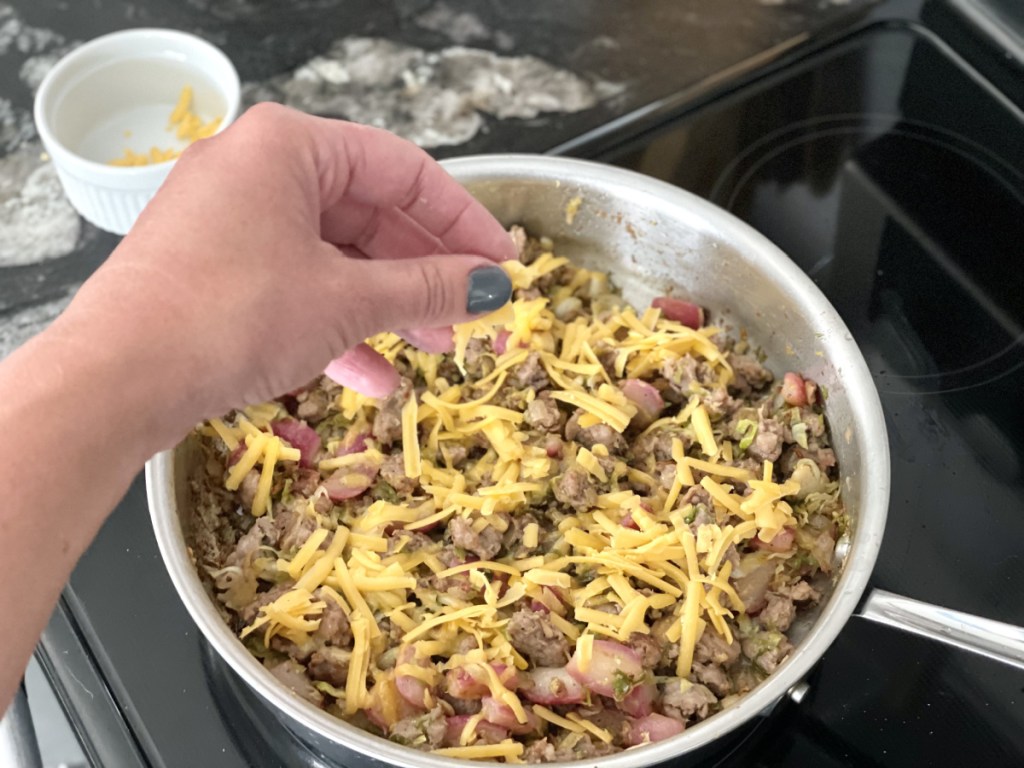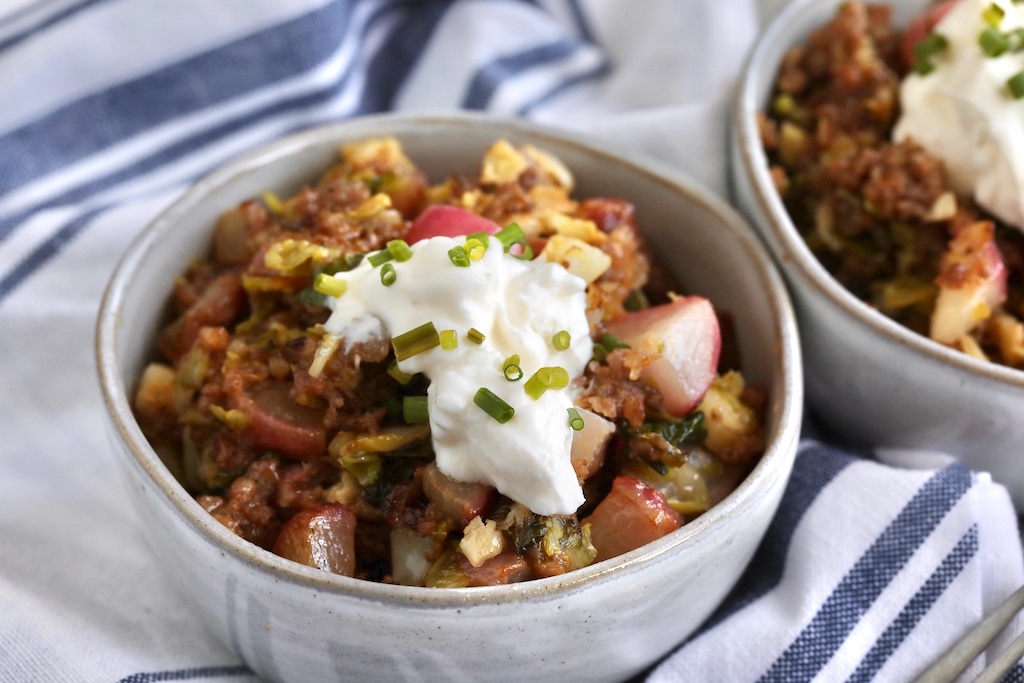 ---
yield: 4 SERVINGS
prep time: 10 MINUTES
cook time: 35 MINUTES
total time: 45 MINUTES
Egg-less sausage hash made with pan-roasted radishes, shaved Brussels sprouts, onions, breakfast sausage, and cheddar cheese.
Ingredients
1 bunch of radishes (about 9), cut into quarters
1 tablespoon butter
1 pound of ground breakfast sausage
1/4 teaspoon salt
1/4 teaspoon pepper
1 small onion, diced
2 cups of Brussels sprouts, thinly sliced or shredded
2/3 cup shredded cheddar cheese
Toppings (optional):
sour cream
chives, fresh, chopped
Directions
1
Melt butter in a medium-sized skillet over medium-high heat. Once the pan is hot and the butter is melted, add in the radishes and let them sauté for 10 to 15 minutes, stirring occasionally until they start to brown.
2
Reduce heat to medium. Add the sausage to the skillet with the radishes and cook for about 10 minutes, breaking the sausage up into small pieces with a spatula. Cook the sausage until almost completely browned. Stir in the salt and pepper.
3
Next, add in the onions and shaved Brussels sprouts and sauté until soft, about 10 minutes.
4
Evenly sprinkle the cheese on top of the sausage hash and gently stir it in until the cheese just starts to melt. Remove the sausage hash from heat and serve immediately. Top with sour cream, chives, hot sauce, or more cheese. Enjoy!
Nutrition Information
Yield: 4 servings, Serving Size: 1/4 of skillet
Amount Per Serving: 398 Calories | 27.2g Fat | 8.1g Total Carbs | 2.1g Fiber | 1.9g Sugar | 32.2g Protein | 5.9g Net Carbs
---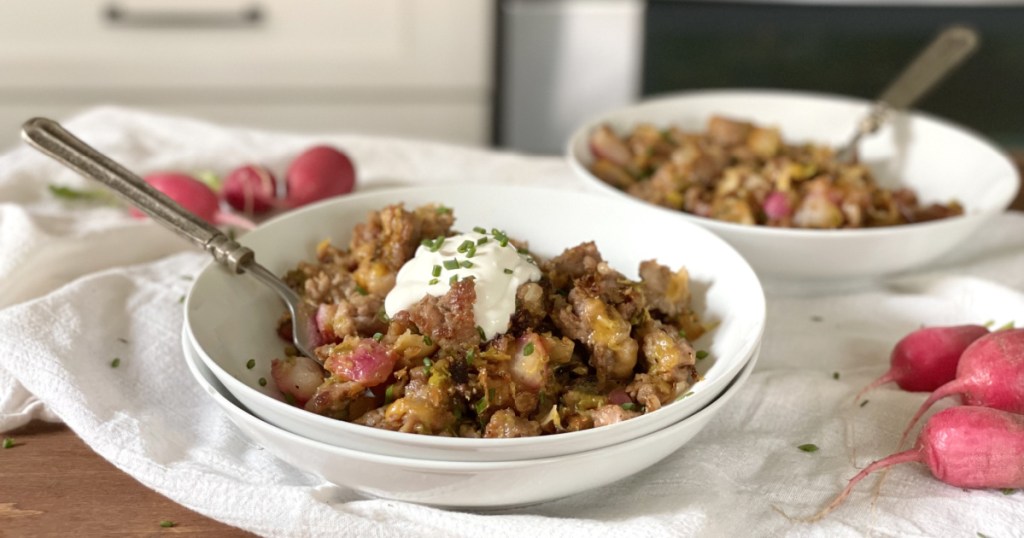 This recipe is a keeper!
Who knew that a sausage hash could be so good without eggs? I'm not joking when I say that you won't miss them. My typical breakfast includes eggs in some form or another, so it was nice to mix things up with this recipe, so I'll be making it again for sure!
Are you an egg person or not so much? Let us know!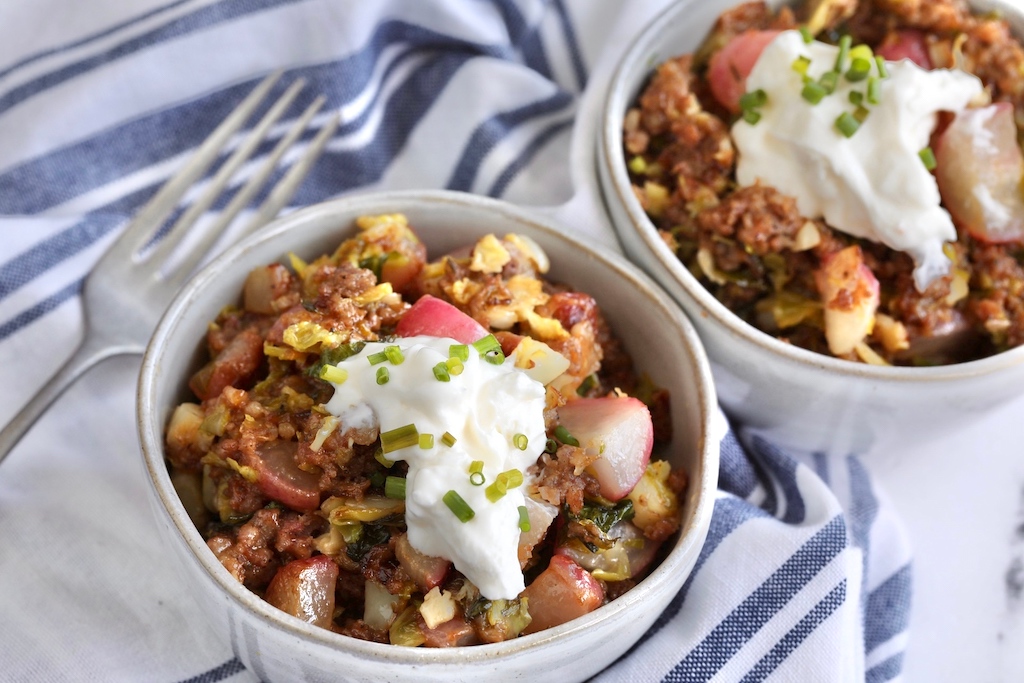 My Hip sidekick Jenna made this keto sausage hash recipe and here's what she had to say:
"This is a super tasty and filling breakfast the whole family will enjoy. It was so quick and easy to throw together, the best part, it's all in one pan! I also love how radishes so easily fill in as a potato, and this recipe uses them perfectly. It's so full of flavor with the melty cheese mixed in, the dollop of sour cream on top, and some fresh chives sprinkled over everything. Yum!"
---
Want more delicious breakfast inspiration? Check out our keto copycat recipe for McDonald's Sausage McGriddle!