The Tastiest Keto Burger Sauce Recipe Ever!
What makes a perfect burger? It's the sauce, of course!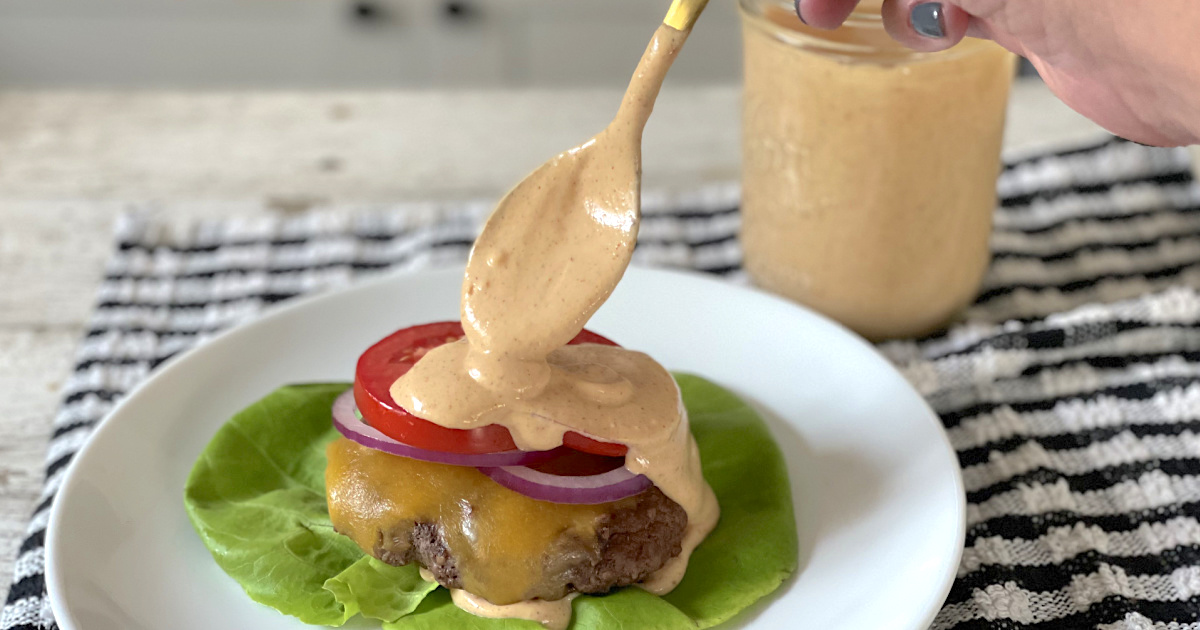 Let's face it – a burger with just plain old ketchup and mustard can get boring, plus regular ketchup is filled with sugar. However, top it with a special sauce instead and your burger goes from ordinary to gourmet! 😋
Now there are a lot of burger sauce recipes out there. The majority of them use mayonnaise as a base and then include a variety of add-ins, usually ketchup, mustard, and some seasonings. Keep in mind that this recipe can definitely be tweaked to your personal preference, but what makes ours so special is that we made sure it stayed keto!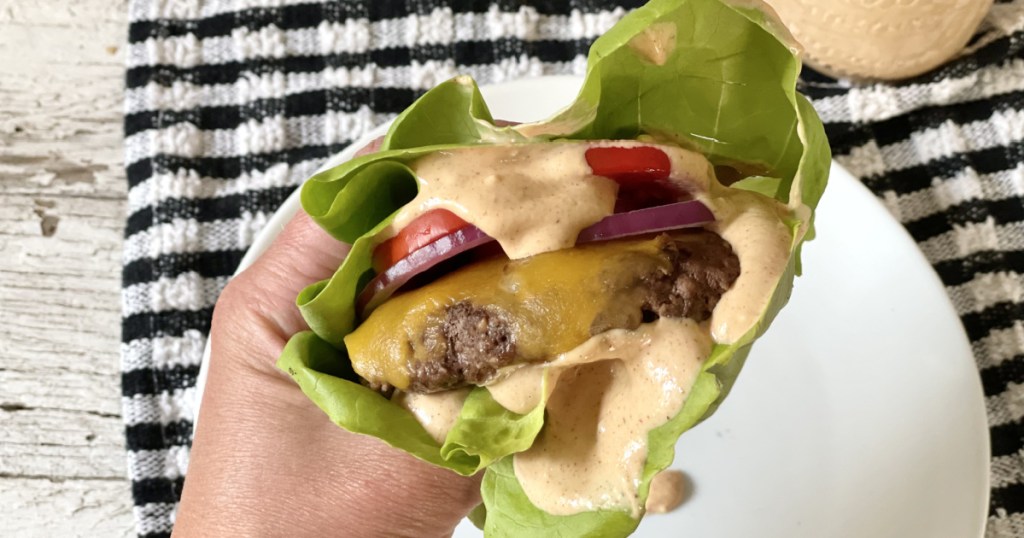 If it's not messy, is it even good?
You just know a burger is good if it's dripping in sauce. Think back to all those Carl's Jr. commercials. 🤤 The sauce makes the burger. There's Shake Shack sauce, Smash Burger sauce, and you can even buy bottles of several different Chick-fil-A sauces – but again, theirs isn't keto!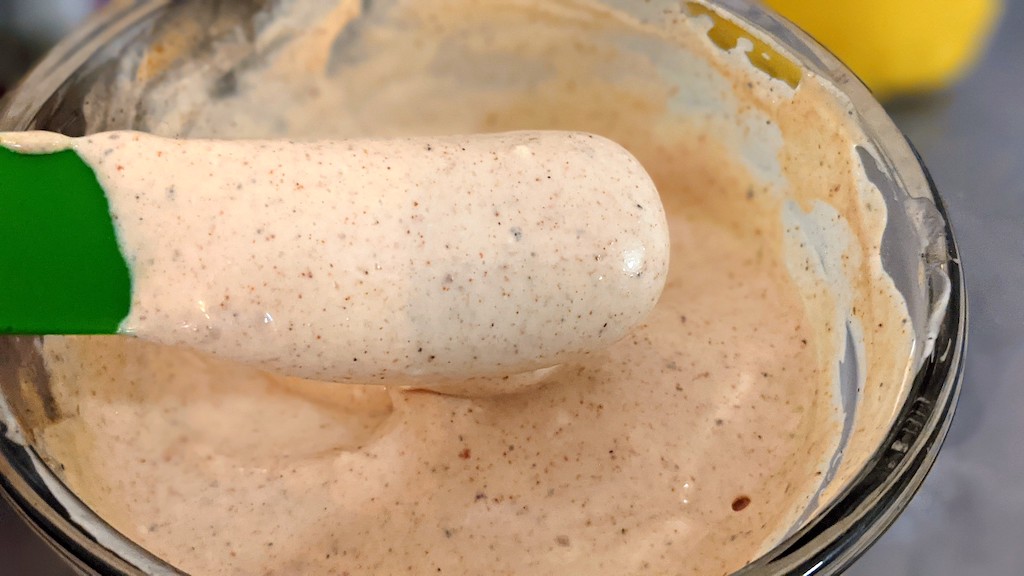 I suggest making up a batch of this keto burger sauce recipe and always keeping it on hand for all your grilling adventures. You can also use it as a dipping sauce for our keto fries or roasted veggies, as well as on grilled chicken or other barbecued meats.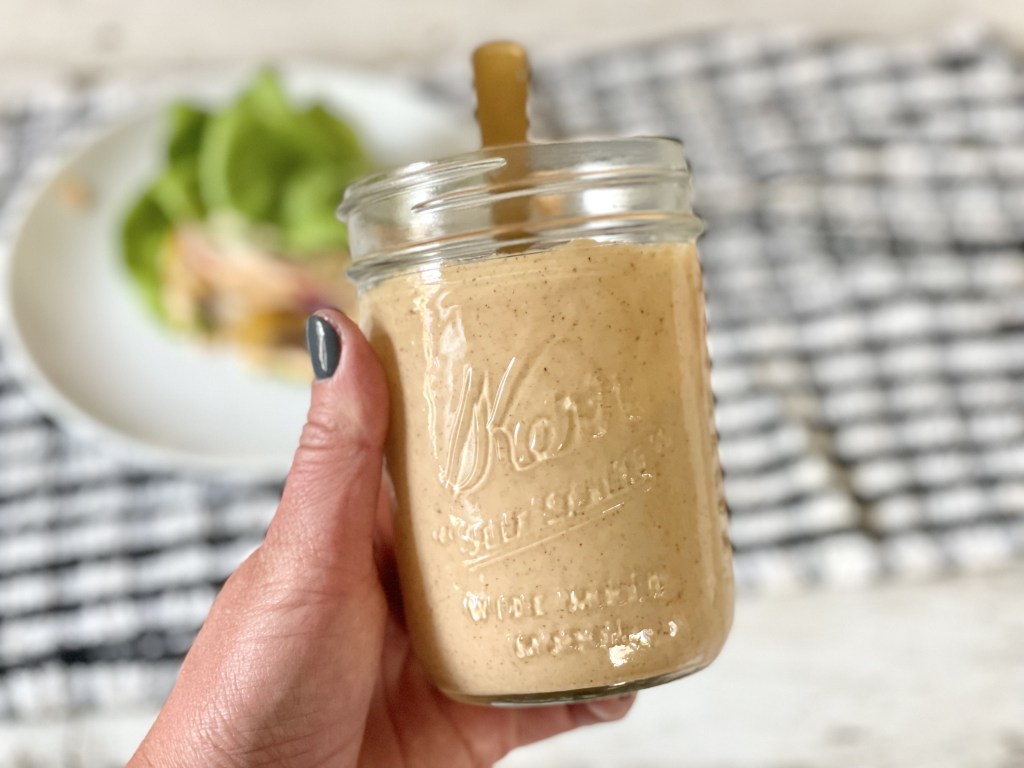 Tips for making the most delicious keto burger sauce recipe:
If you want it spicy, increase the cayenne pepper to 1/2 teaspoon.
Try adding in a tablespoon or two of relish for a salty crunch, just make sure it's not a sweet variety.
You can use Dijon mustard in place of yellow mustard.
Store in a sealed container and this sauce should stay good for up to three months.
Try to make this sauce the day before you're planning to use it to let the flavors really meld together.
You can opt to use our recipes for homemade keto mayonnaise and keto ketchup instead of buying store-bought. I went the store-bought route to save on time.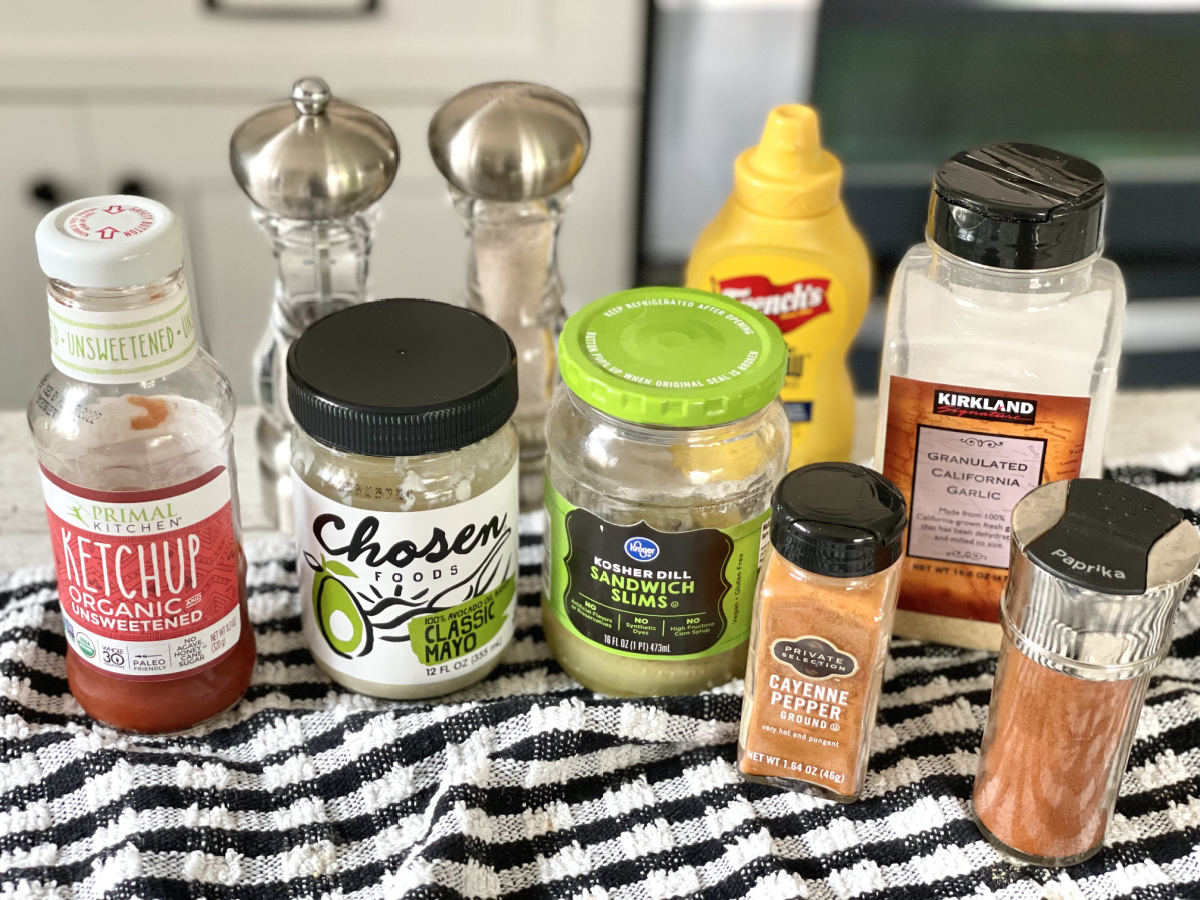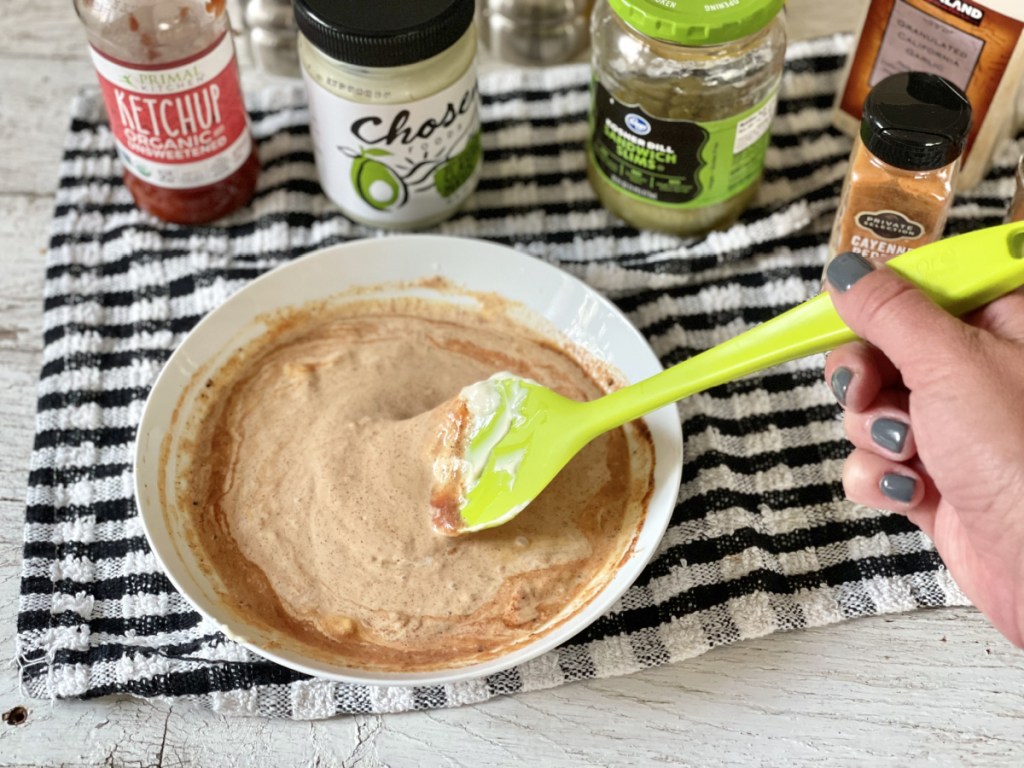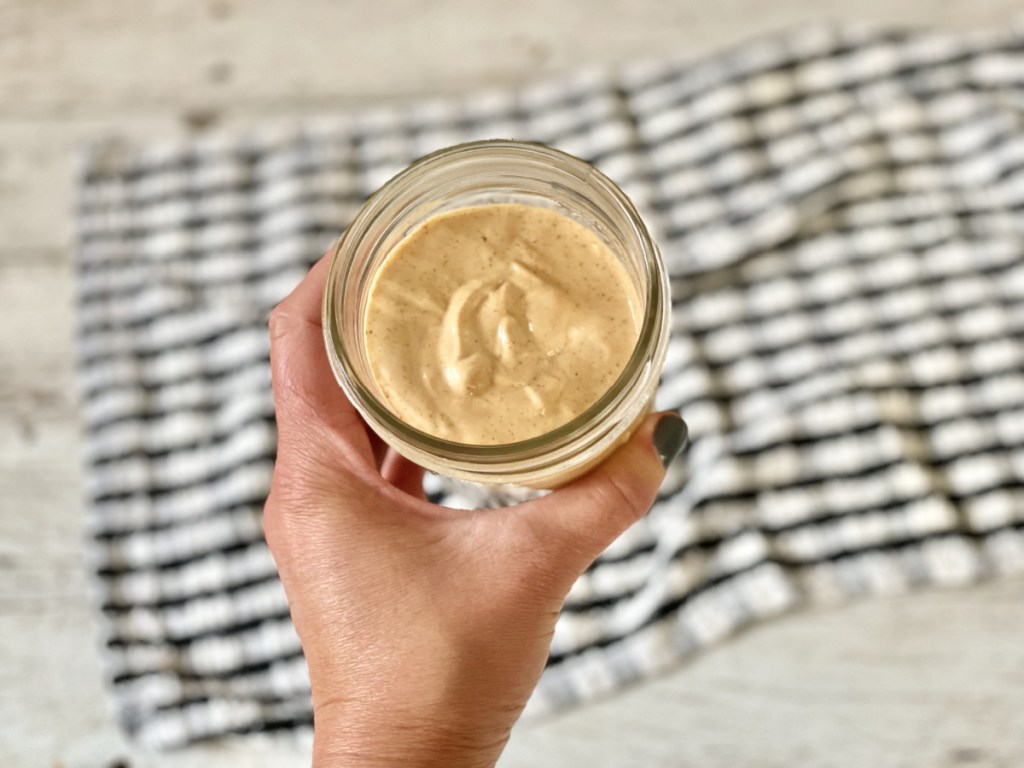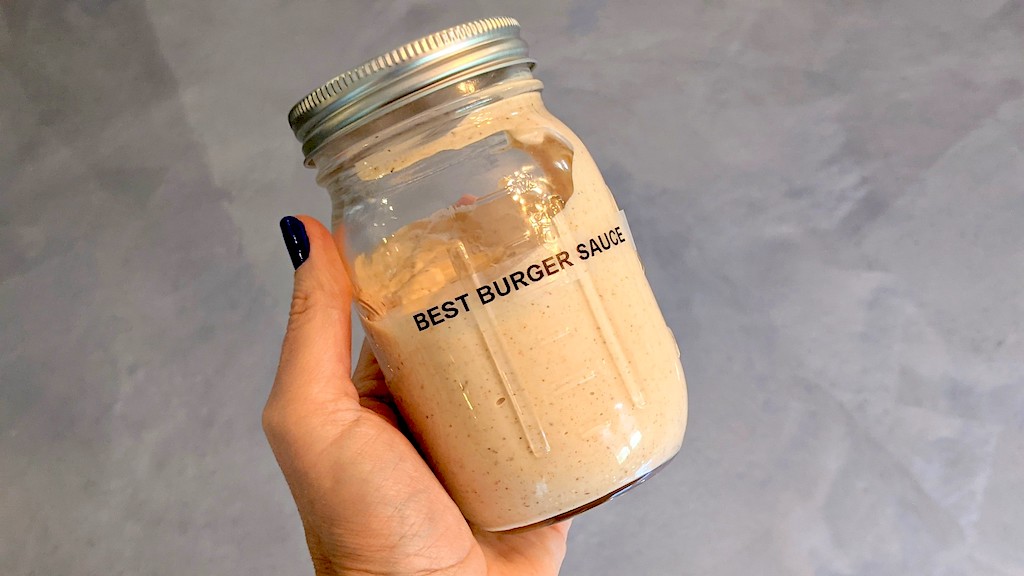 ---
yield: 18 SERVINGS
prep time: 5 MINUTES
total time: 5 MINUTES
Low-carb and tangy burger sauce made for just about any meal!
Ingredients
1 tablespoon pickle juice
1 teaspoon yellow mustard
1/2 teaspoon paprika
2 teaspoons garlic powder
1/2 teaspoon salt
1/4 teaspoon pepper
1/4 teaspoon cayenne pepper, optional
Directions
1
Mix all ingredients together in a medium-sized bowl, stirring well to combine.
2
Store in a sealed container in the refrigerator for up to 3 months.
3
Enjoy on anything and everything!
Nutrition Information
Yield: 18 servings, Serving Size: 1 tablespoon
Amount Per Serving: 90 Calories | 9.8g Fat | 0.1g Total Carbs | 0g Fiber | 0.1g Sugar | 0g Protein | 0.1g Net Carbs
---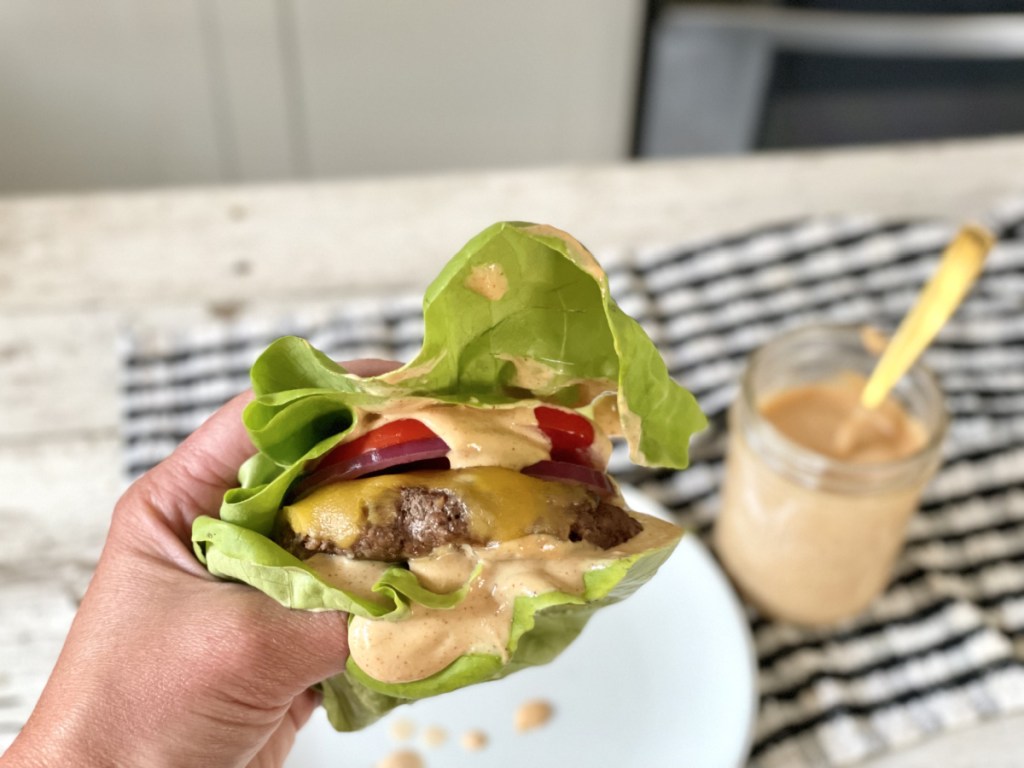 Go crazy with it!
You'll be using this keto burger sauce recipe on everything! We love a good sauce recipe, and this one is a keeper.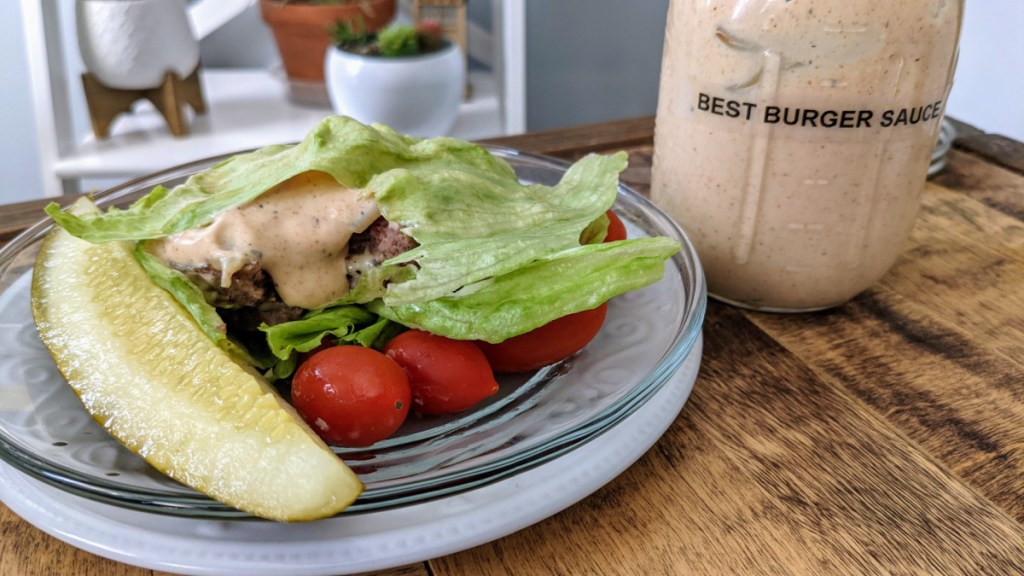 My Hip sidekick Jen made this recipe and here's what she had to say:
"This is yummy and the whole family liked it at my house! We put it on burgers, but it could also be used as a vegetable dip. It's full of creamy goodness and flavor. It reminded us of a fry sauce with a kick. Forget ketchup and mustard when you can give this sauce a try!"
---
Enjoy this recipe? Check out our Easy Keto Cheese Sauce recipe!