Rutabaga Fries – Get Your "Sweet Potato" Fry Fix Without All the Carbs!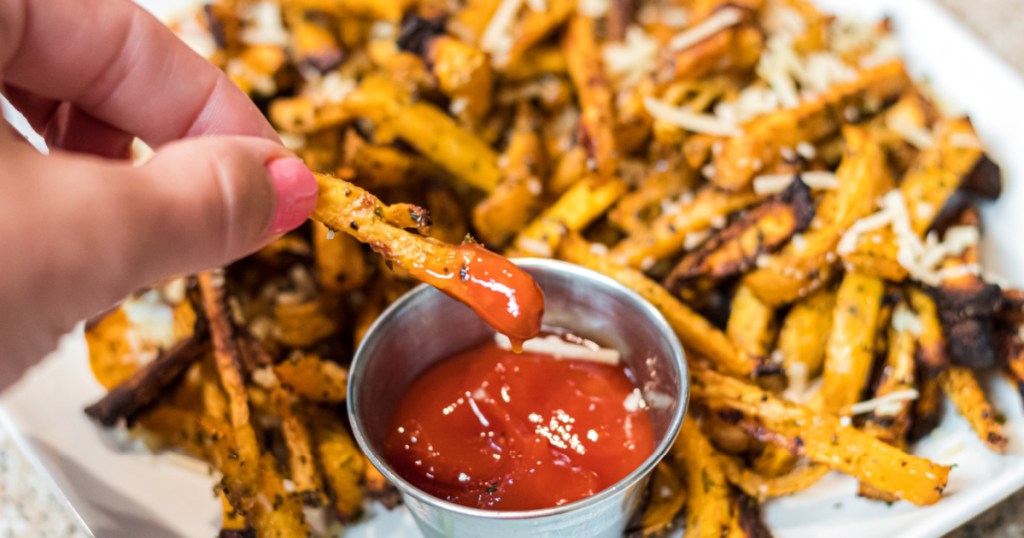 Missing fries since you've gone keto?
If you're like me and love French fries and have had a hard time giving them up, then I've got just the recipe for you!
Today I'm sharing this flavorful rutabaga fries recipe that you can easily throw together in just under an hour. They make the perfect side dish for any keto meal.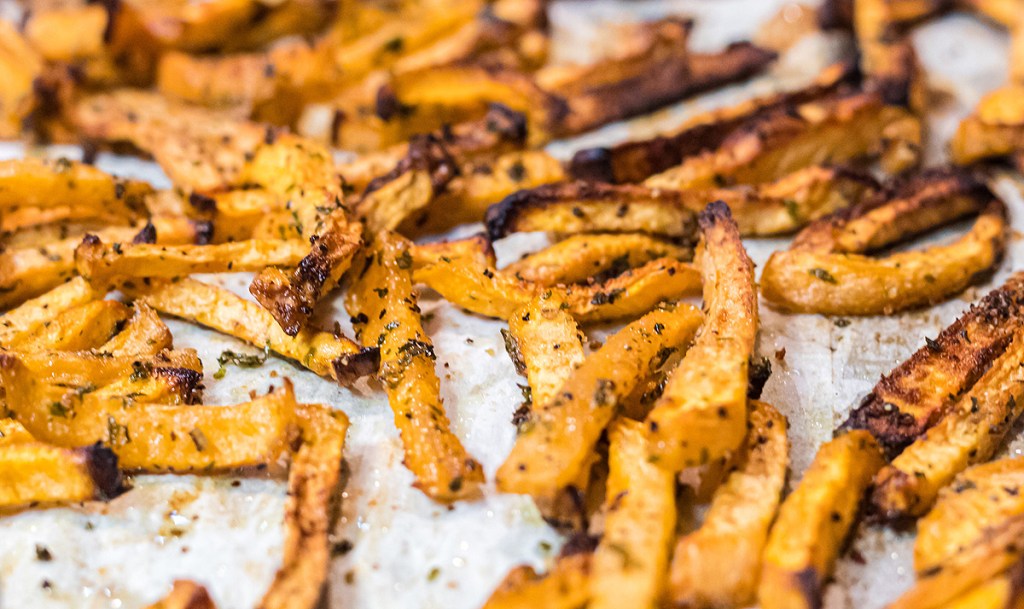 Crispy and oh so delicious!
Do these really taste like french fries? Well… honestly no, I feel like they have more of a sweet potato taste which I actually love even more than regular fries. If you're a sweet potato fry fan like me, you are gonna love these fries!
These fries cook to a sweet golden yellow color, and can even be made in the air fryer to save on time! Instead of turning on the oven, you can set your air fryer to 360 degrees and cook for 20-25 minutes, checking halfway through.
Watch the video below to see how easy these rutabaga fries are to make –
---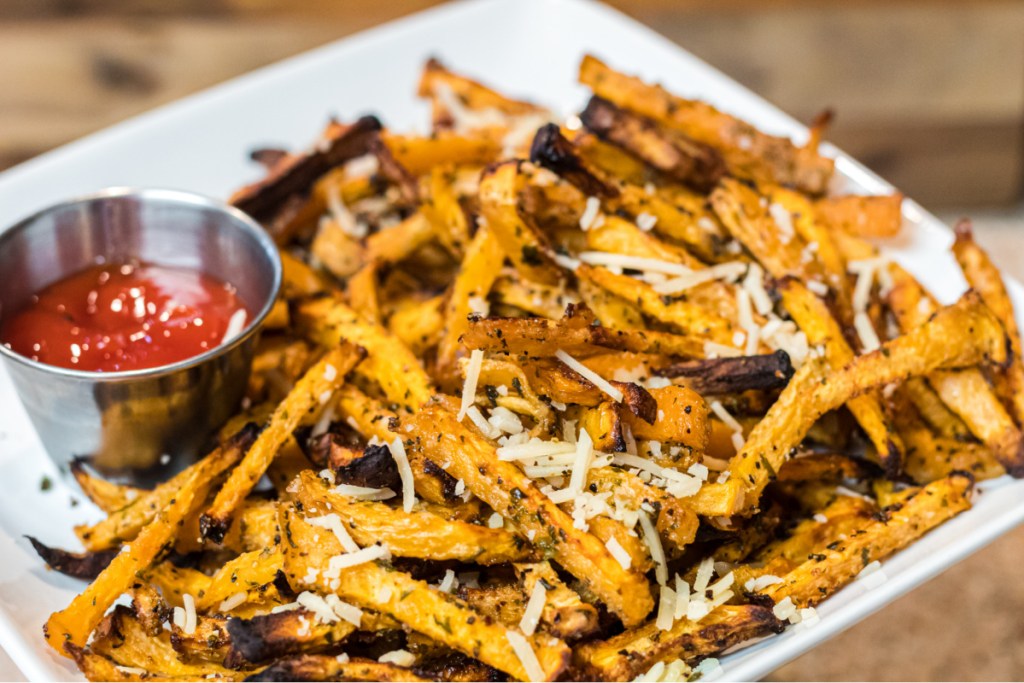 Here are a few recipe tips to keep in mind when making rutabaga fries:
After peeling the skin off, place rutabaga in the microwave for 30 seconds to soften. This will make it easier to cut.
To remove the starchiness, place the cut rutabaga sticks in cold water with 1 teaspoon of salt and soak for 20 minutes. This will help crisp those fries right up.
The fries will shrink up a bit as part of the cooking process so keep that in mind if you're looking to create thin shoestrings or thick steak cut fries.
Serve with our keto ketchup to keep things as low carb as possible!
Make it a meal and add bacon, cheese, and chives for loaded rutabaga fries. 😋 Or you could even make keto nacho fries with cheese, ground beef, and sour cream! The possibilities are endless.
Just like regular fries, you can slice and store the rutabaga sticks in the freezer until you are ready to cook.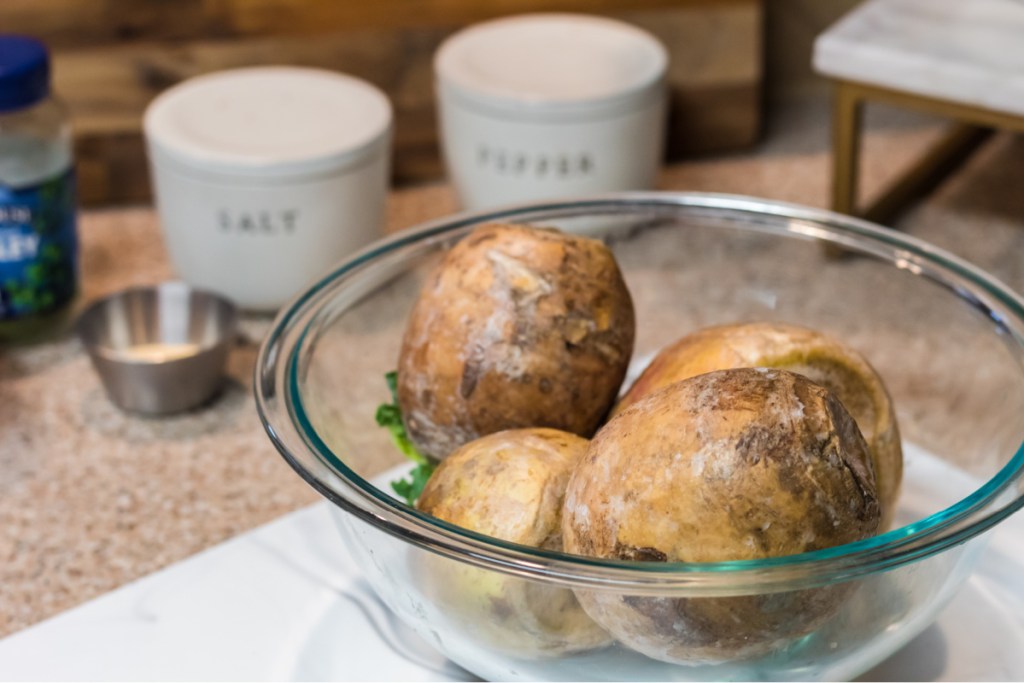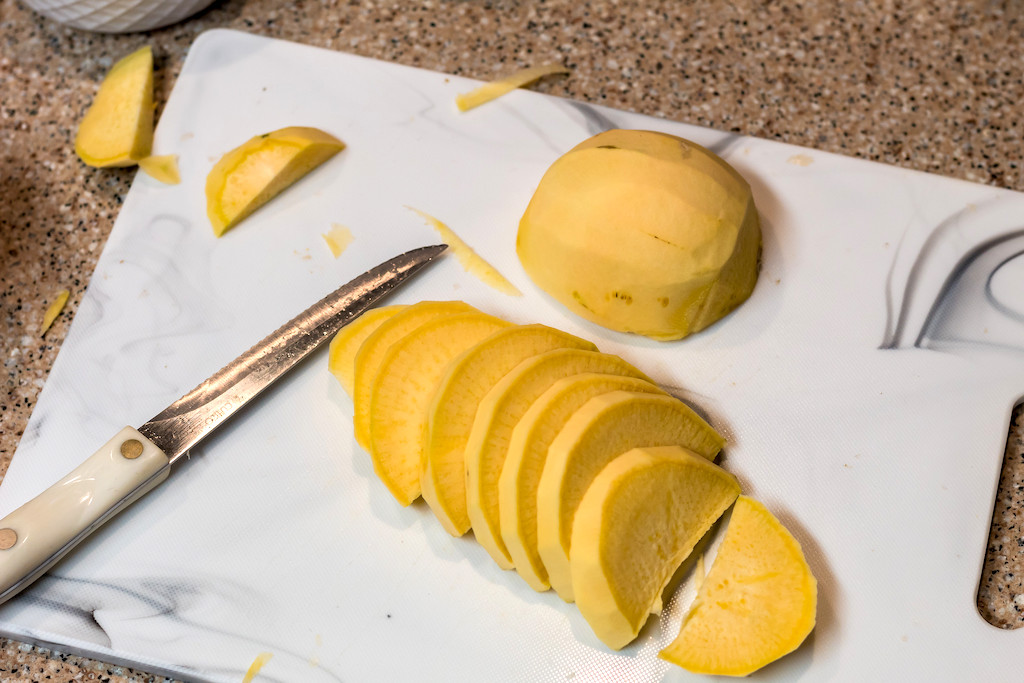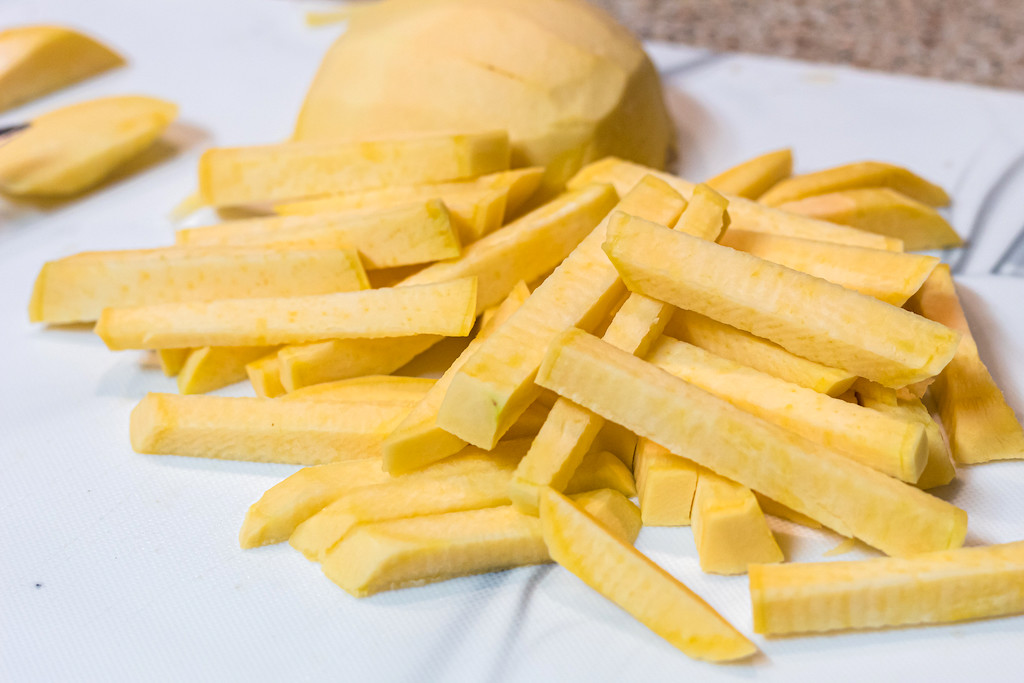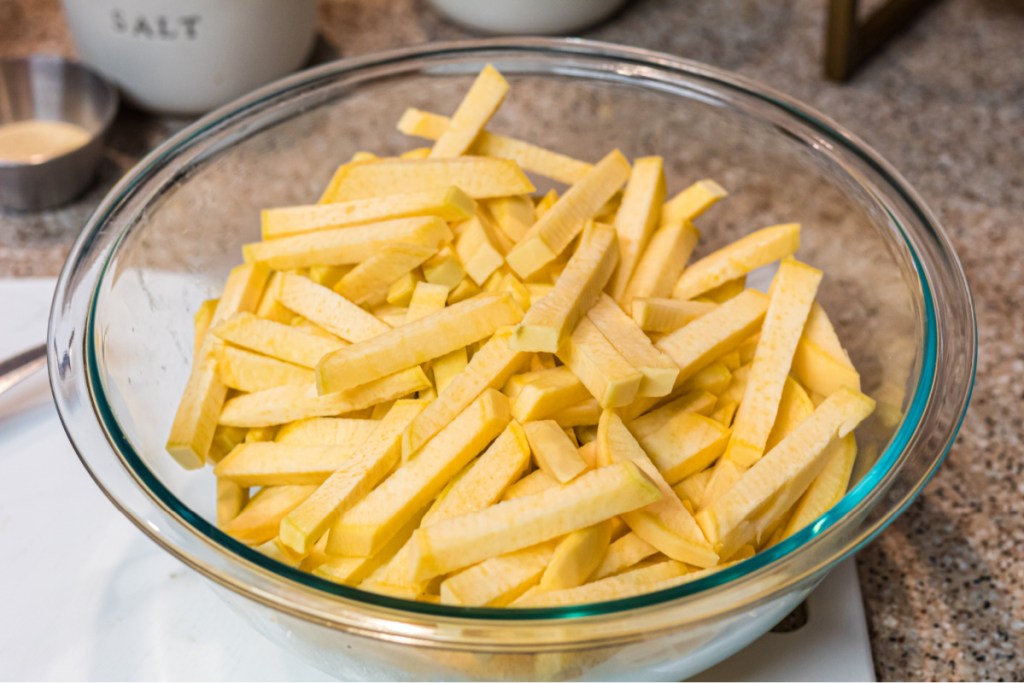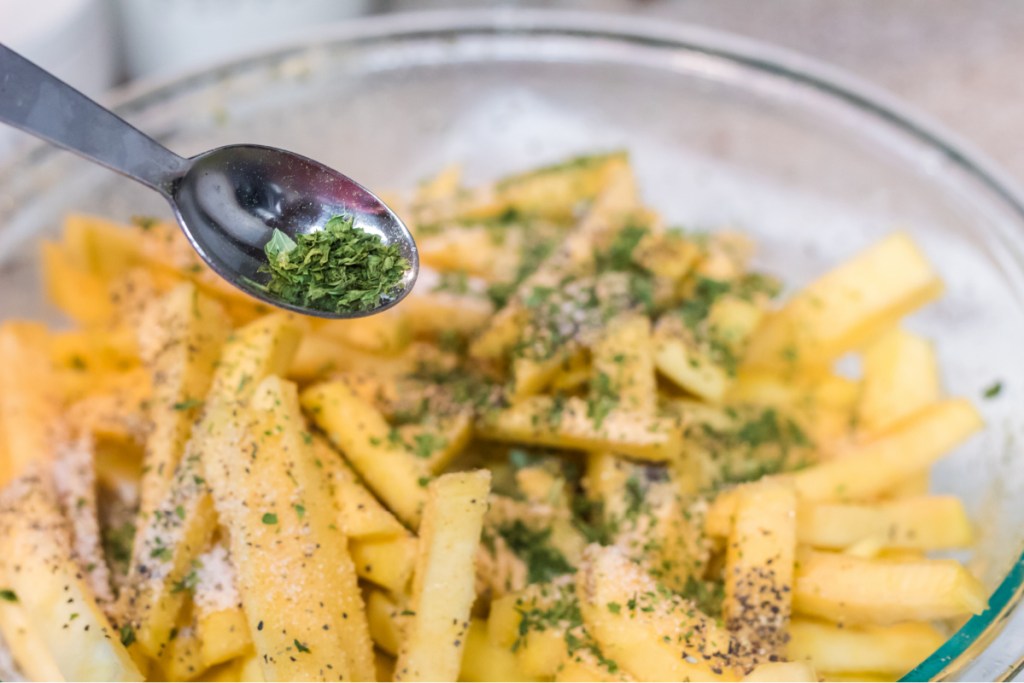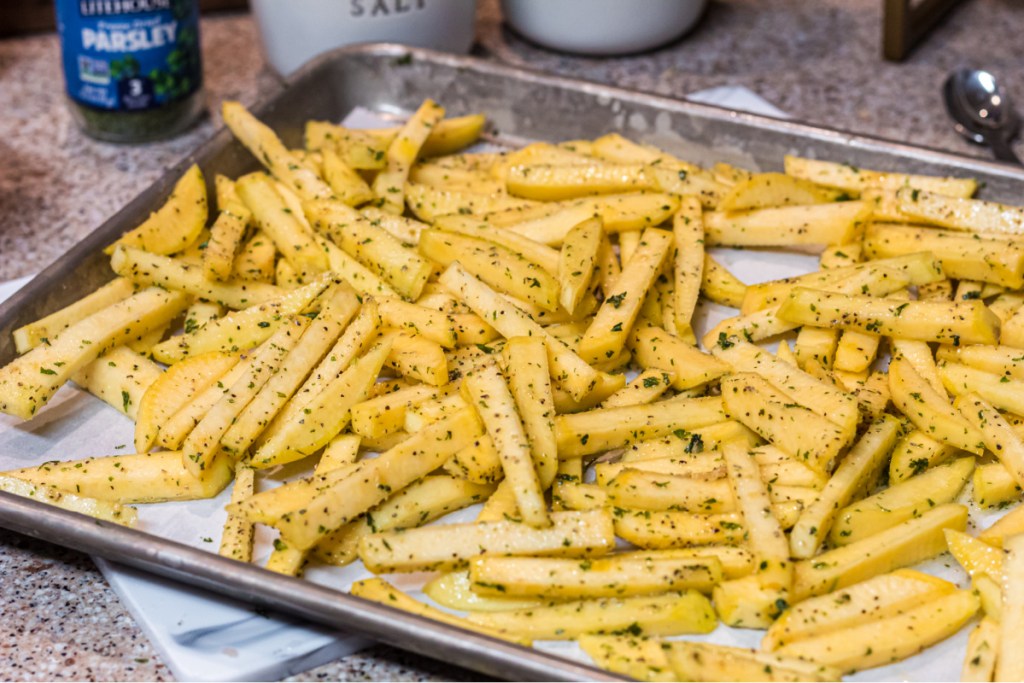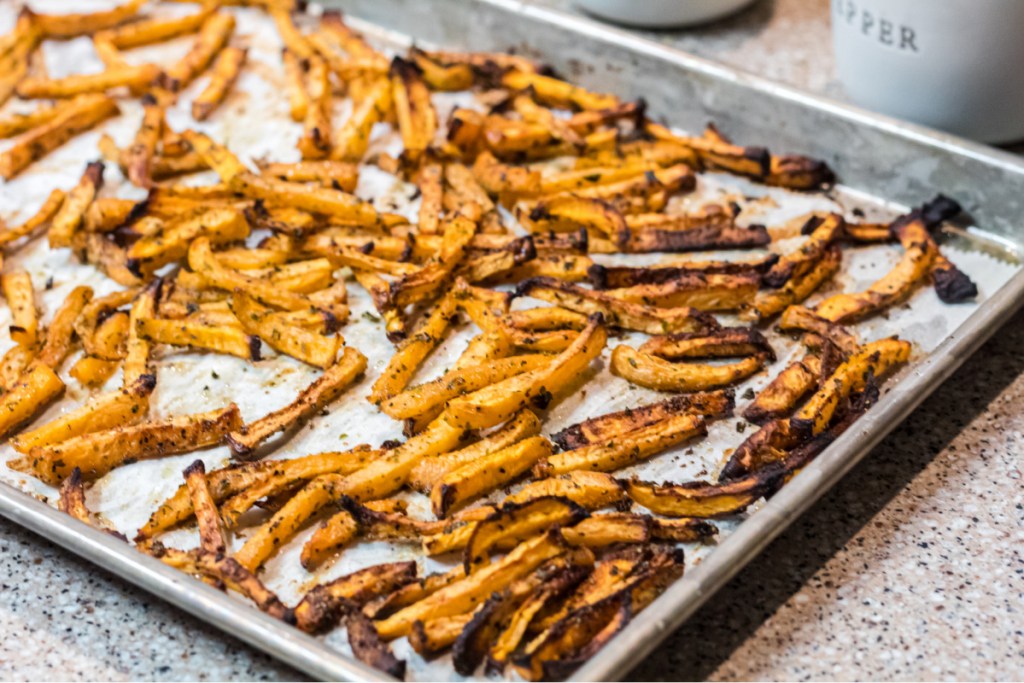 ---
yield: 3 SERVINGS
prep time: 20 MINUTES
cook time: 40 MINUTES
total time: 60 MINUTES
A delicious low carb french fry alternative made from rutabaga!
Ingredients
3 medium-size rutabaga
2 teaspoons salt
3 cups water
2 tablespoons olive oil
1/2 teaspoon pepper
1 teaspoon garlic powder
2 teaspoons dried parsley
Toppings:
1/2 cup shredded parmesan cheese (optional)
1/4 cup bacon bits (optional)
Directions
1
Peel rutabaga and cut into 1/4" thick pieces resembling fries. If you want more of a steak cut fry, you can cut them thicker, but note you may need to add an additional few minutes to the cooking time. To make the rutabagas easier to cut, place in the microwave for 30 seconds or so to soften.
2
Toss cut rutabaga pieces into a bowl of cold water with 1 teaspoon of salt. Let soak for about 20 minutes.
3
Preheat oven to 400 degrees.
4
Drain water from the bowl. Add in olive oil, the other 1 teaspoon of salt, pepper, garlic powder, and parsley. Toss making sure all fries are evenly coated.
5
Pour seasoned fries on to a baking sheet lined with parchment paper. Spread out evenly and bake in the oven for 30 minutes. Toss fries around and flip. Bring oven to 425 degrees and bake for an additional 10 minutes.
Nutrition Information
Yield: 6, Serving Size: 1/2 cup
Amount Per Serving: 115 Calories | 5g Fat | 17g Total Carbs | 5g Fiber | 0g Sugar Alcohol | 2g Protein | 12g Net Carbs
Note: While these fries do clock in at 12 net carbs per serving and are quite higher than what you'd expect for a low carb alternative, we still think they're a nice option to have occasionally when the fries craving hits. A typical order of regular French fries ranges from 30-50 grams of carbs, so this is a much better alternative!
---
Bye-bye sweet potatoes — we don't need you anymore!
Using rutabaga to create these tasty sweet potato-like fries is such an awesome low carb veggie hack! Keto or not, rutabaga fries are worth trying out to change things up when searching for the perfect side, especially if you have kiddos that don't normally love eating their vegetables.
---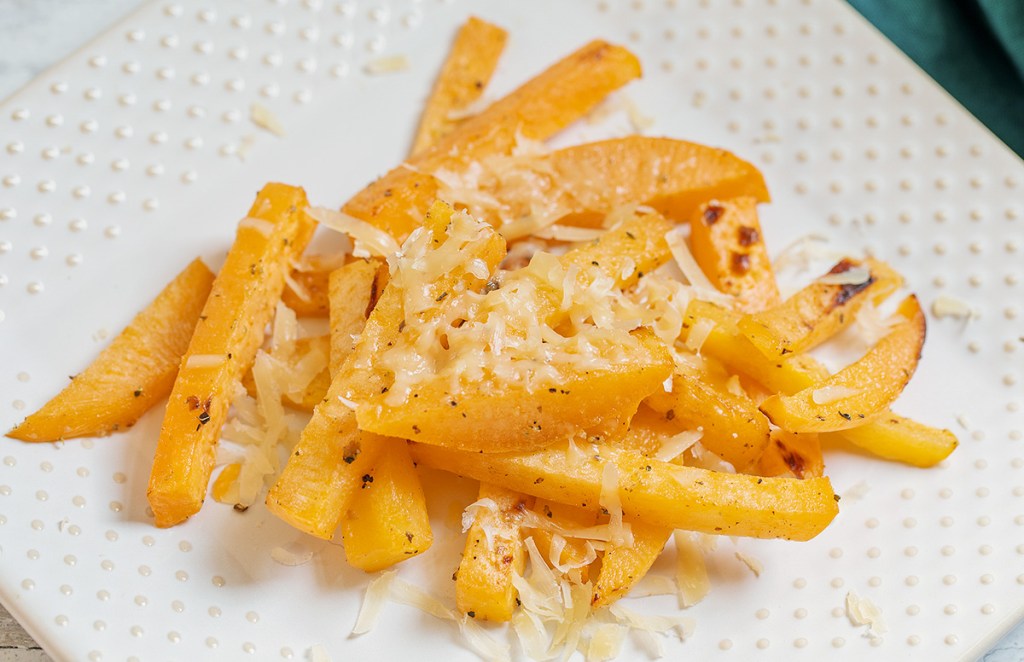 My team member, Jenna, gave this recipe a test for me (as pictured above), and here's what she had to say:
"These turned out so great! We usually add rutabaga to our mashed potatoes (when I'm cheating on keto 😂), and it is one of my favorite side dishes. I can honestly say I've never imagined eating them like fries, but they were amazing and even my vegetable-hating son loved them! 🙌🏻
The flavor and texture were a home run and I loved how the thinner fries crisped right up, so keep that in mind if you love crispy fries. The seasonings truly were the star of this recipe – so flavorful!" – Jenna
---