Here's How to Make the Best Keto Mayo
Mayo makes everything better.
Whether it's for chicken salads, sandwiches, or our creative BLT sushi, keto mayo is so easy to make and it's absolutely delicious.
While this mayonnaise recipe is so simple, the real key is the gadget required to whip everything together. Immersion blenders are the best kitchen gadget for dressings and dips—it's a must-have for any kitchen.
However, if you do not have an immersion blender, you can use a regular blender for this recipe just as well.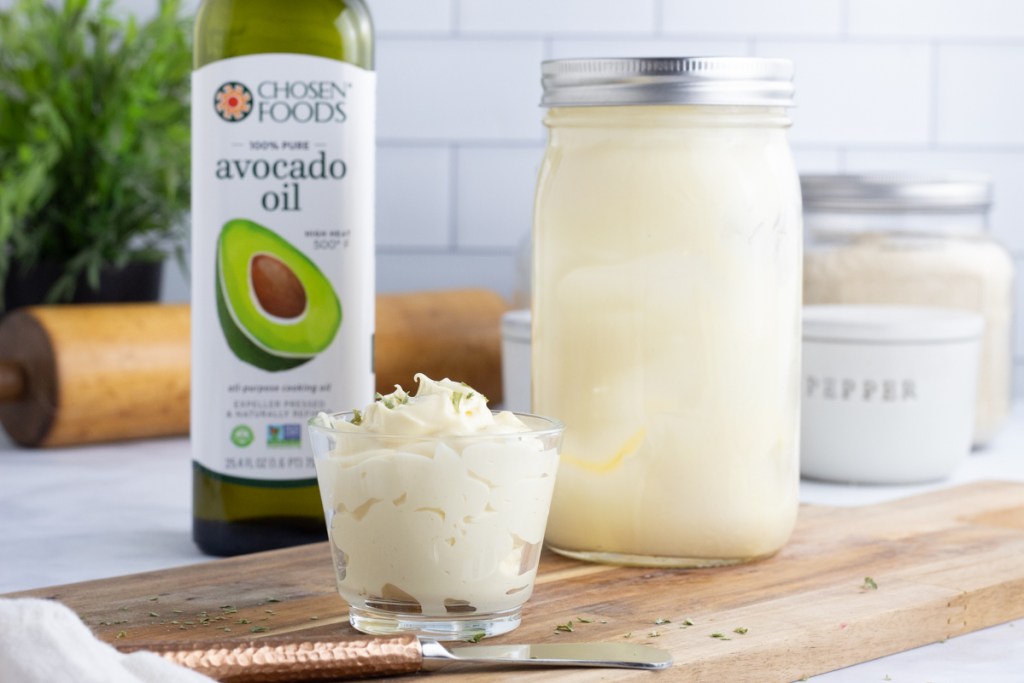 Hip Tips:
Make sure you slowly add in the oil to create the proper emulsion.
Why avocado oil over olive oil? The neutral flavor and benefits of the avocado outweigh the olive oil. You can absolutely make this with olive oil but you may get a strong oil taste.
The mayo may not appear as firm as store-bought brands. Keep in mind there are not the same processed chemicals in it. However, ensuring you add in the oil slowly and letting the mayo chill in the refrigerator will help it firm up.
You can store a jar of homemade mayo for 2 weeks in the refrigerator.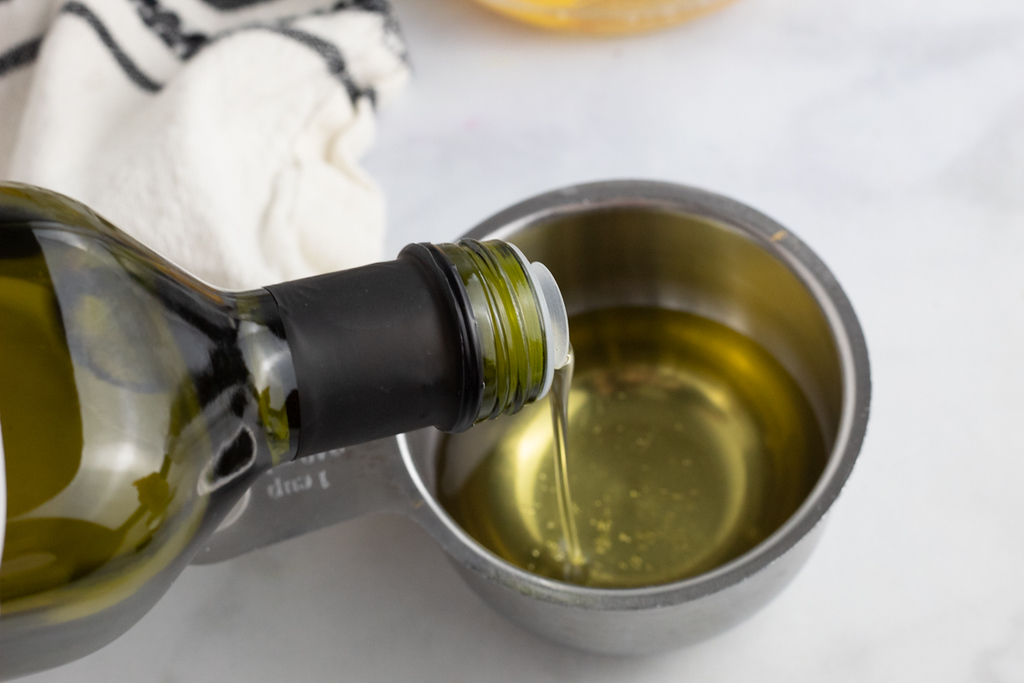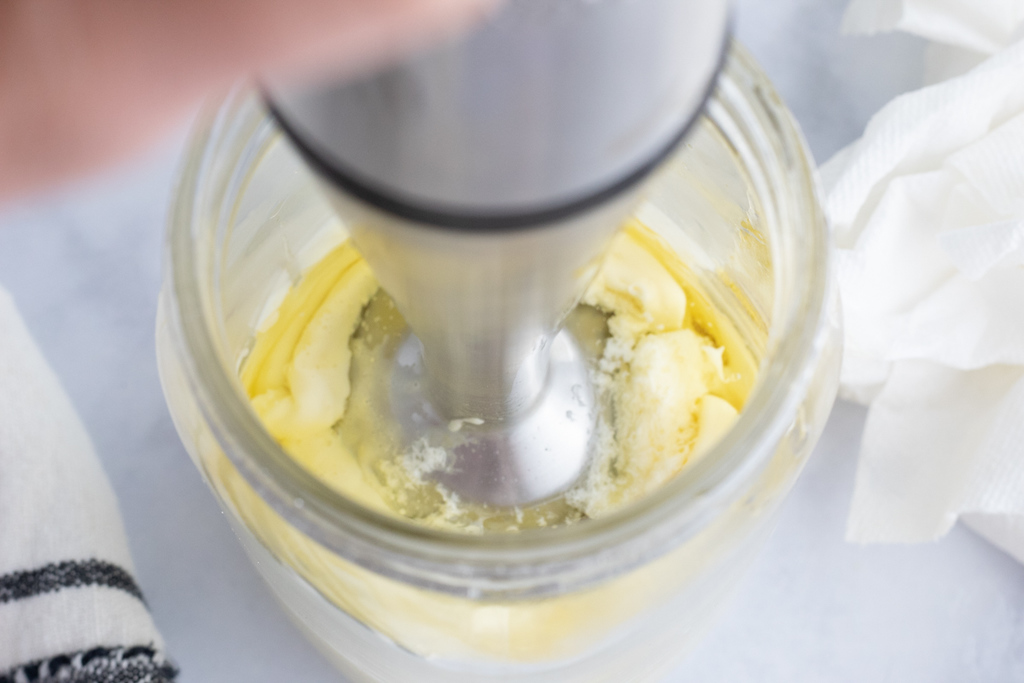 ---
yield: 15 SERVINGS
prep time: 5 MINUTES
total time: 5 MINUTES
Easy avocado oil keto mayo that whips together in under 5 minutes.
Ingredients
2 large whole egg (farm fresh is the best but a store-bought egg will also work)
1/2 teaspoon dijon mustard (or ground mustard if preferred)
2 teaspoons apple cider vinegar
1/4 teaspoon garlic powder
1/4 teaspoon salt
1 cup avocado oil
Directions
1
Add all ingredients except avocado oil to a tall jar, such as a 32 oz. wide mouth mason jar. Blend ingredients with an immersion blender.
If you do not have an immersion blender, you can also use a regular blender to start whipping the ingredients into a thick consistency.
2
Slowly start to add the avocado oil. You want to make sure you add slowly so this gives time for the ingredients to blend well together. This should take 1-2 minutes.
3
Tightly screw on jar cap and store in the fridge for up to 2 weeks.
Nutrition Information
Yield: 15 tablespoons, Serving Size: 1 tablespoon
Amount Per Serving: 103 Calories | 12g Fat | 0 Total Carbs | 0 Fiber | 0 Sugar Alcohol | 1g Protein | 0 Net Carbs
---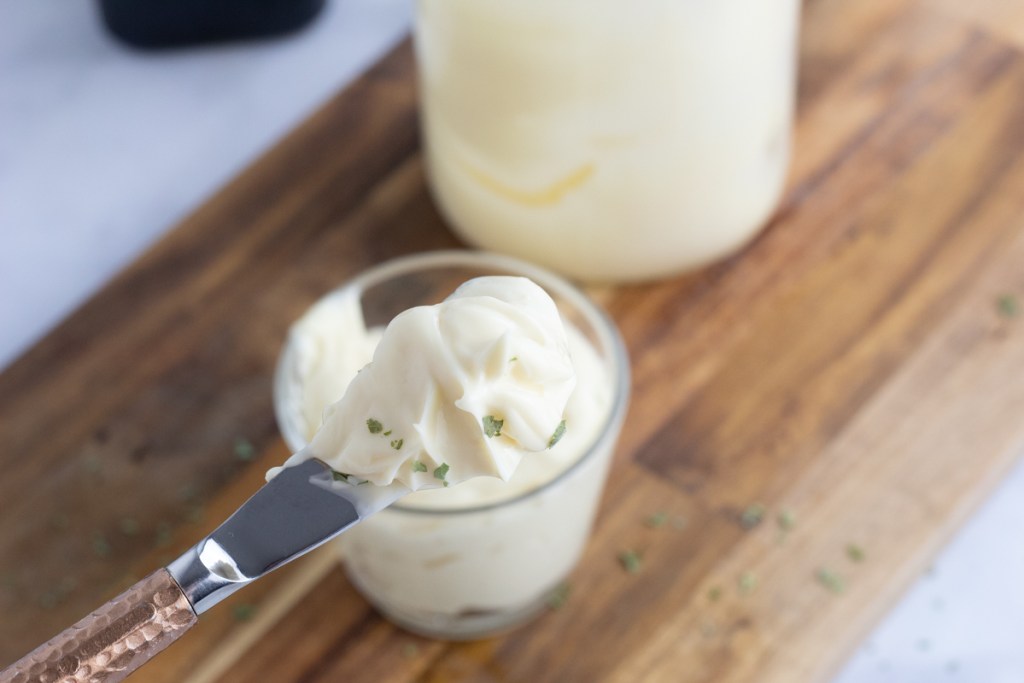 So simple!
We love how easy it is to whip together this keto-friendly mayo. However, if you prefer to just buy a jar from the store, here are some other healthy keto mayo options:
---