Your Tastebuds Called… They Want You to Try This Keto Smash Burger Recipe ASAP!
This easy copycat keto Smash Burger recipe will quickly become a favorite thanks to the perfectly crisped patty edges and tangy sauce.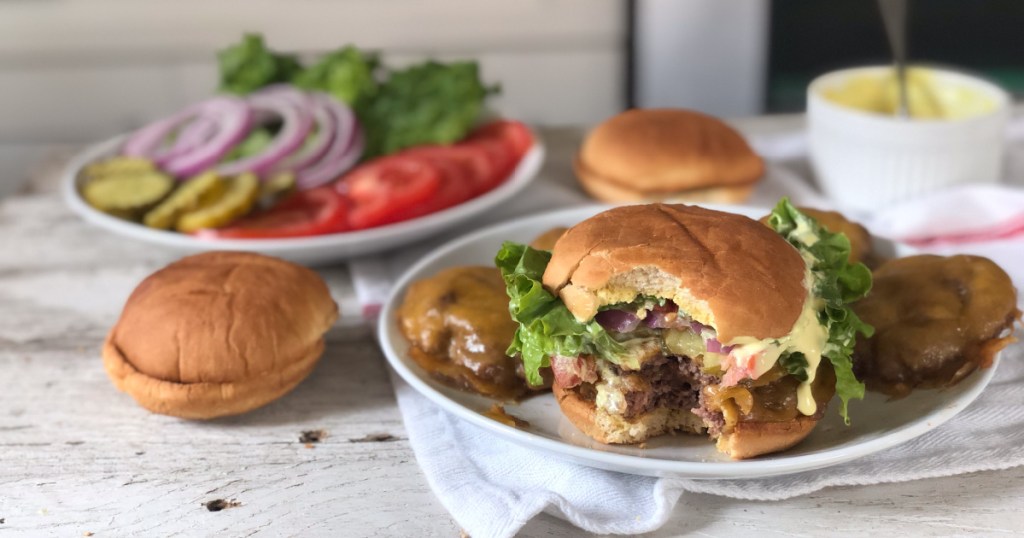 Are you ready to make mouthwatering keto burgers at home?
There's nothing like biting into a perfectly grilled burger. 🍔 The crunch of a slightly toasted keto bun slathered in a delicious sauce, the crispy edges of the patty, the gooey, melted cheddar cheese, all topped with fresh slices of tomato, onion, lettuce, and finished off with a few dill pickle slices. It's like heaven on earth.
This keto version of the popular Smash Burger recipe is so easy to make and I promise your family will love it! You can use your favorite brand of keto hamburger buns, try our keto bun recipe, or use a lettuce wrap to keep the carbs really low.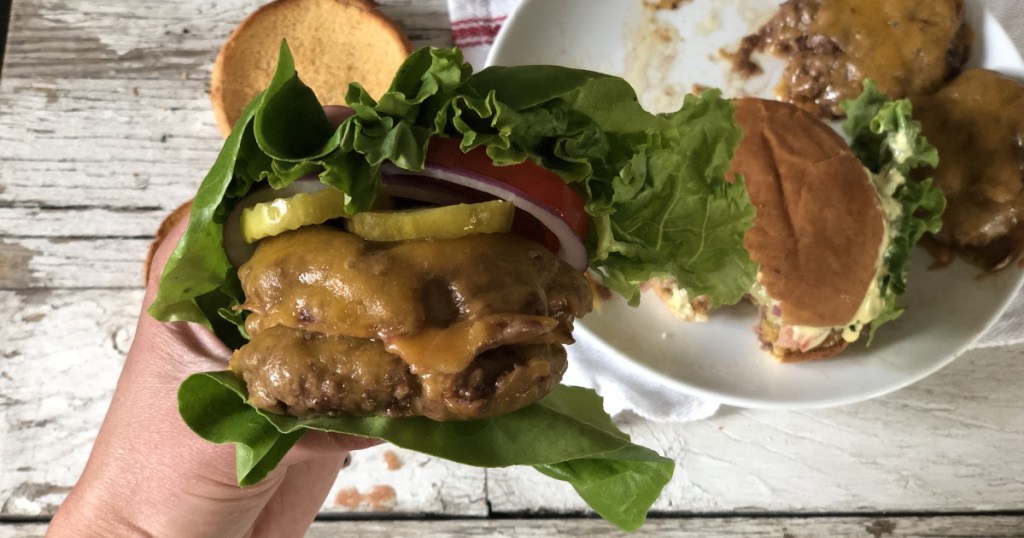 If you haven't tried a Smash Burger yet, you're missing out!
Do you have a Smash Burger where you live? This popular chain started in Denver, Colorado, and has since expanded across the United States. What makes their burgers special is that they form the ground beef into a ball and place it directly on a hot grill top. That ball of ground beef is then smashed down flat with a large metal spatula or a grill press to form the patty. This creates those delicious crispy edges. 🤤
You'll want to cook this burger in a cast-iron skillet or on a flat grill top on your barbeque. Because of the "smashing", you don't want to cook this directly on the barbeque grill as it will crumble through the grates.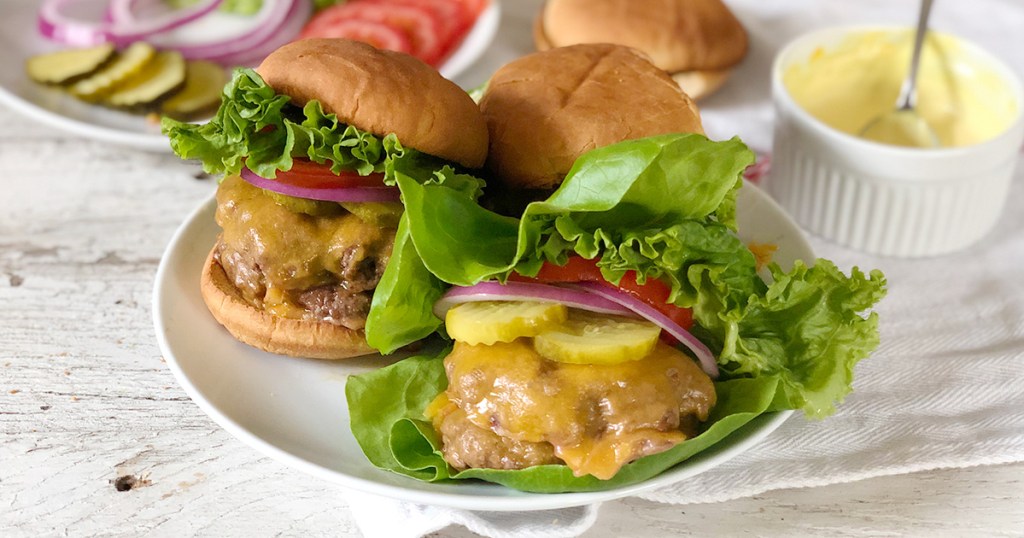 Tips for making the best Keto Smash Burger recipe:
This recipe makes 3 double-patty burgers. If you want single-patty burgers, just form the pound of ground beef into 3 balls instead of 6 balls and enjoy larger patties, or cut the recipe in half.
It's debatable whether Smash Burger uses cheddar cheese or American cheese for their burgers, but we used cheddar cheese for this recipe and it goes really well with the sauce!
The patties cook very quickly, only about 2 minutes per side if you want them medium. If you like them more well-done, cook them closer to 3 to 4 minutes per side.
If you use a cast-iron skillet, you'll likely have to cook the patties in batches, depending on the size of your skillet.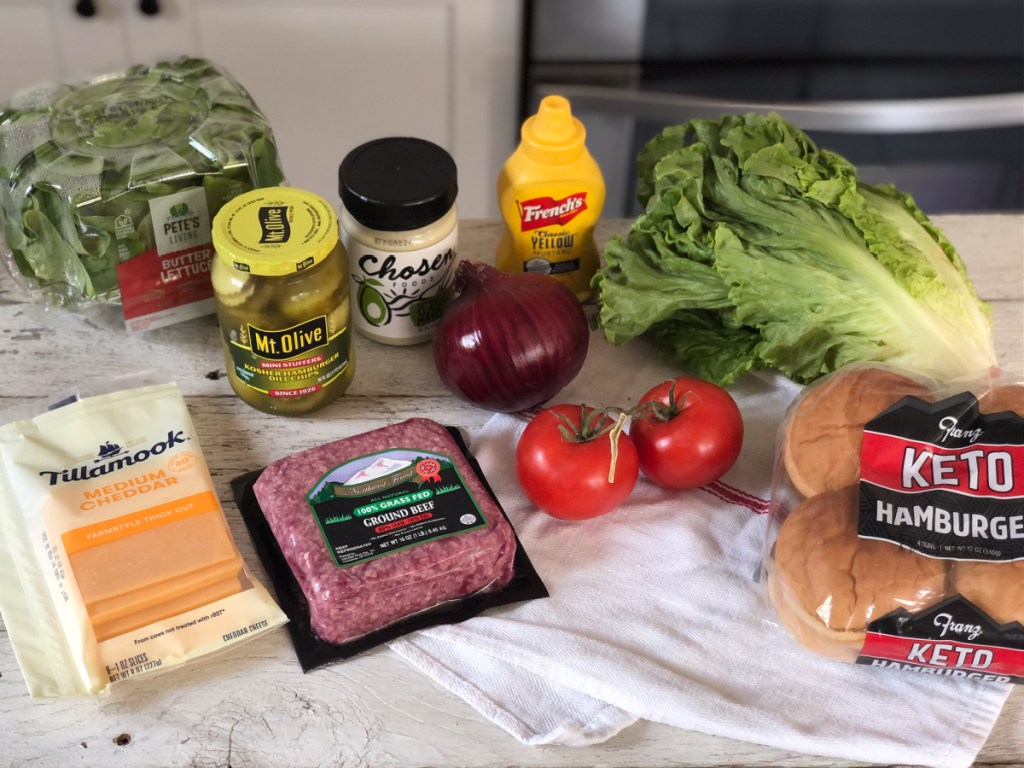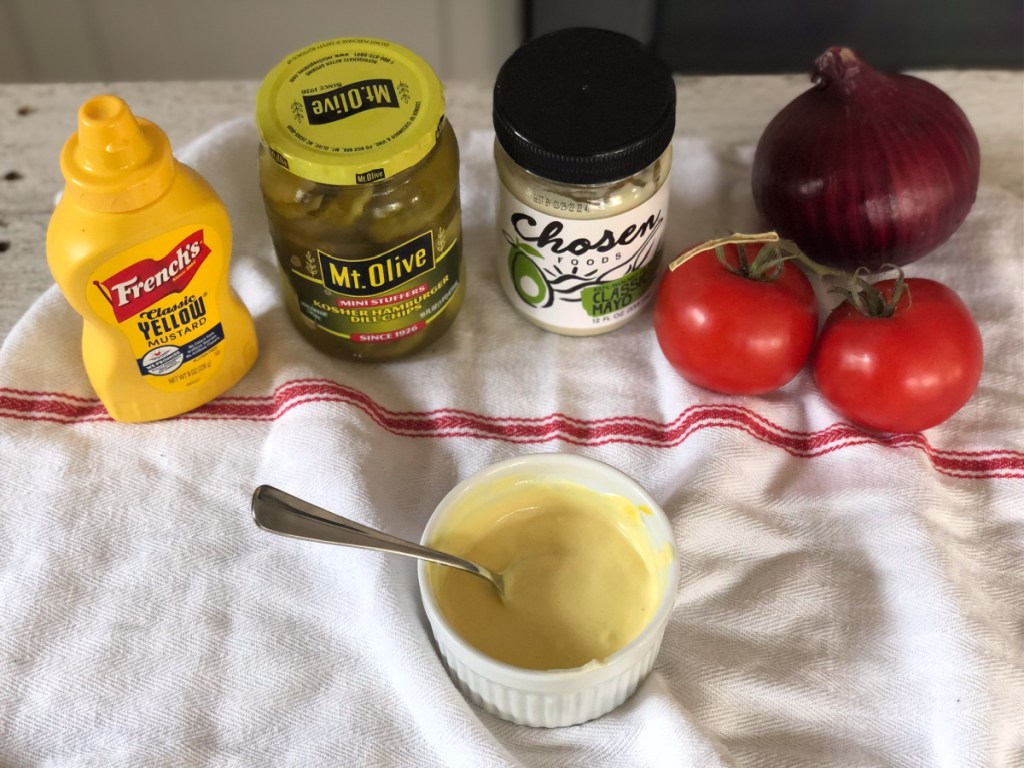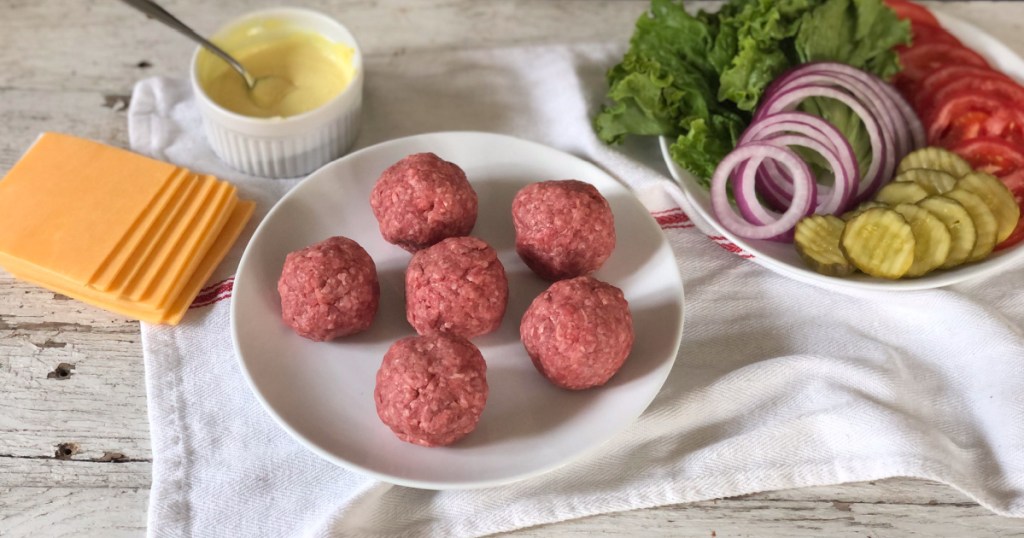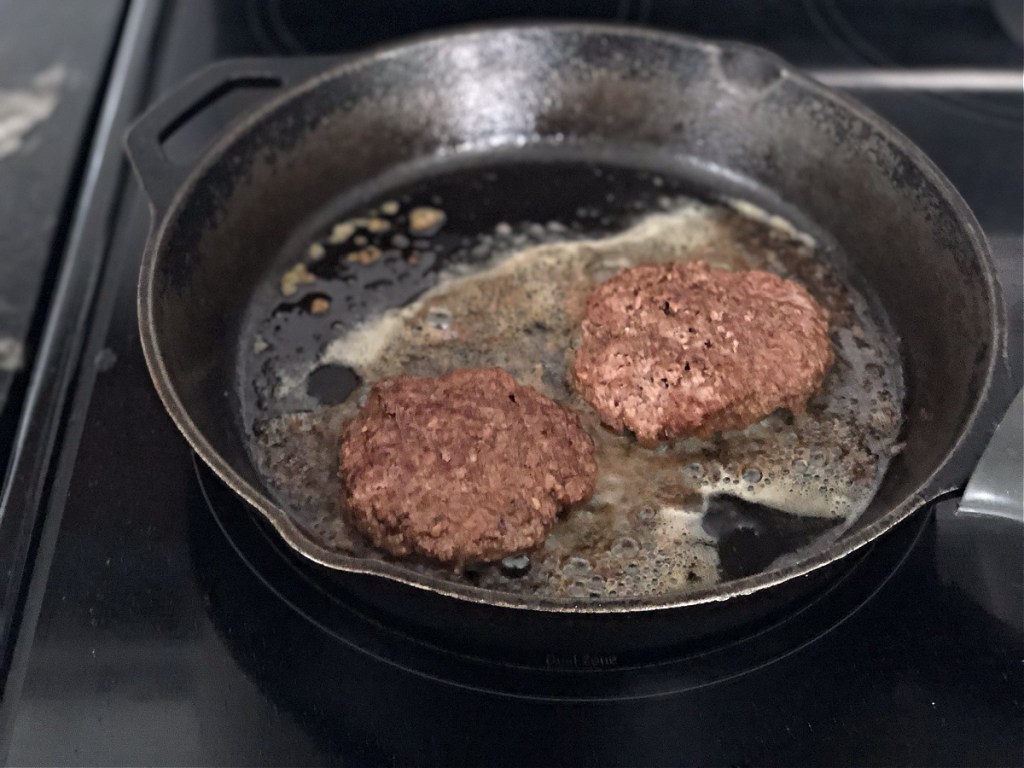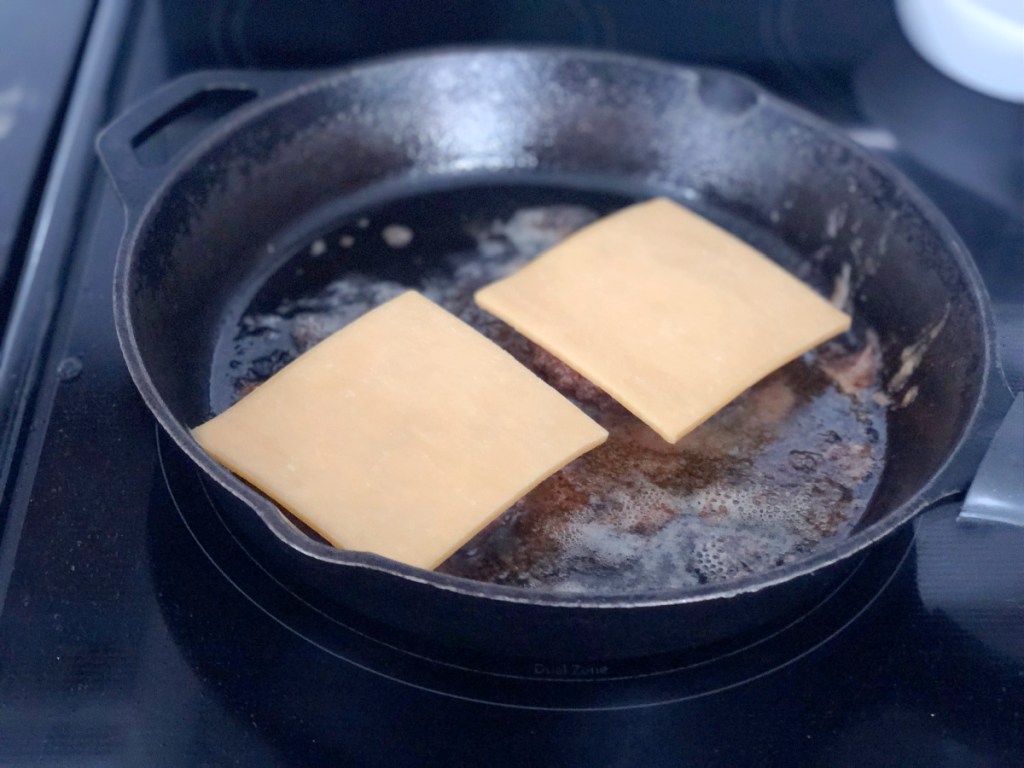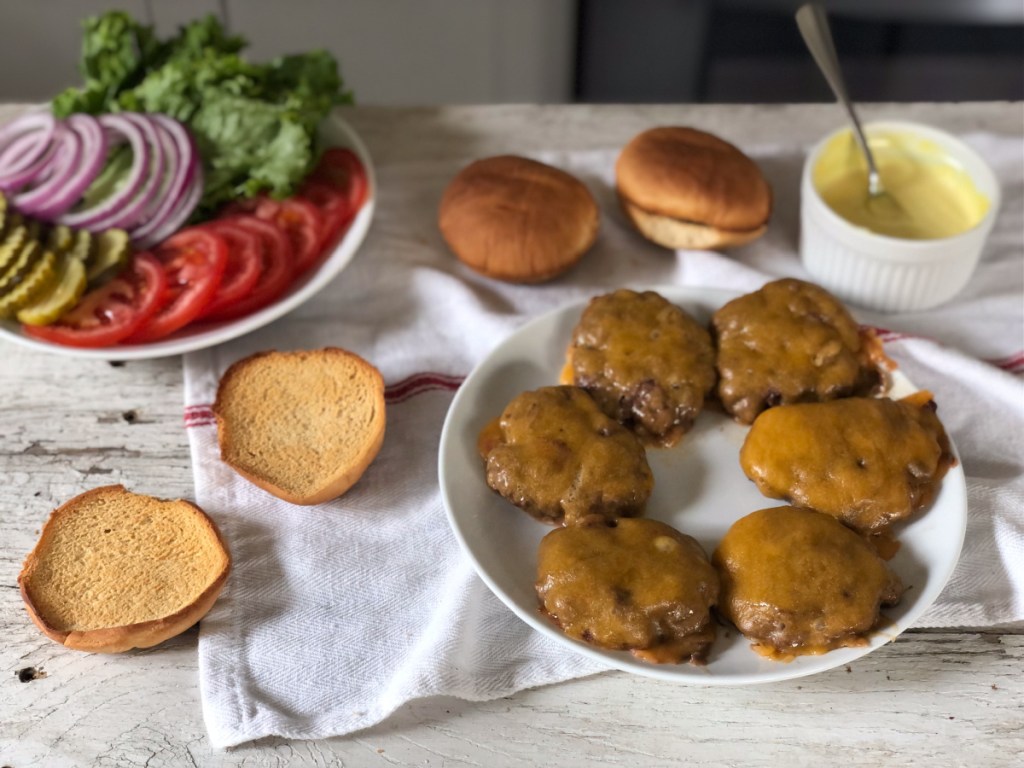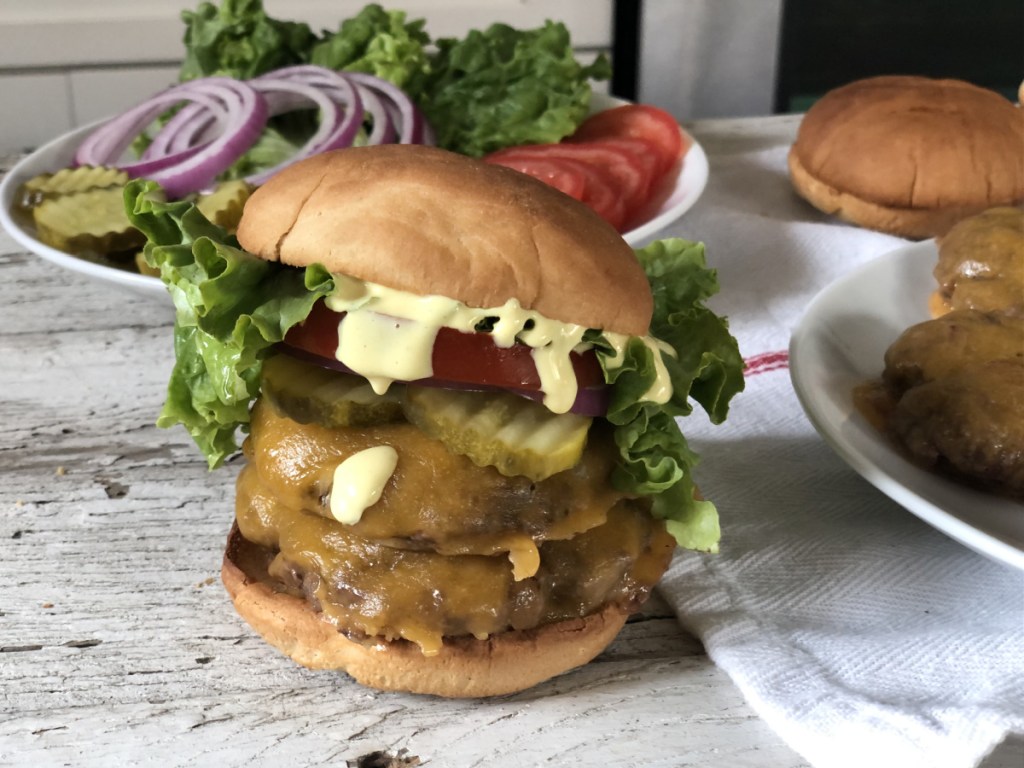 ---
Print
The Absolute Best Smash Burger Recipe
yield: 3 SERVINGS
prep time: 15 MINUTES
cook time: 15 MINUTES
total time: 30 MINUTES
Balls of ground beef are placed on a hot grill top and then smashed to create a perfectly grilled patty. Serve with toasted keto buns, a tasty sauce, lettuce, tomato, onion, and pickles.
Ingredients
Smash Burger Sauce:
1/4 cup mayonnaise
1 tablespoon yellow mustard (you can sub in brown or dijon, if preferred)
2 teaspoons pickle juice
Smash Burgers:
1 pound of 80/20 ground beef
2 tablespoons butter, for frying the burger patties
pinch of salt
1 small red onion, sliced thin
1 large tomato, sliced thin
1 head of green leaf lettuce
9 dill pickle slices
Directions
1
To make the Smash Burger sauce:
In a small bowl, mix together mayonnaise, mustard, and pickle juice. Stir well to combine. Set aside until ready to use.
2
To make the Smash Burgers:
Form ground beef into 6 equal-sized balls (about 2.5 oz. per ball).
3
Heat a cast-iron skillet over medium-high heat. Melt about 1-2 teaspoons of butter in the skillet for each batch of burgers.
4
Add ground beef balls to the skillet and then firmly press down on the ground beef ball with a large metal spatula to form about a 1/4 inch thick patty. You will likely need to do this in two to three batches, depending on the size of your skillet.
5
Once flattened, sprinkle with a pinch of salt and cook the patties for 2 minutes and then flip them over. If you want more well-done burgers, cook them for approximately 3 minutes per side. Top with a slice of cheddar cheese and cook until melted. You may need to cover the skillet to help the cheese melt.
6
Once the patties are all cooked, assemble the burgers.
If using keto buns, toast them prior to assembly. Put about two tablespoons of sauce on the top bun. Place two patties on the bottom bun, followed by 3 pickle slices, red onion slices, a slice of tomato, lettuce, and then the top bun with the sauce on it. Enjoy!
Additional Notes
Nutrition information does NOT include keto buns.
Nutrition Information
Yield: 3 double-patty burgers, Serving Size: 1 double-patty burger
Amount Per Serving: 681 Calories | 56.9g Fat | 4.2g Total Carbs | 0.9g Fiber | 1g Sugar | 36.2g Protein | 3.4g Net Carbs
---
Get ready to sink your teeth into this keto smash burger recipe!
That first bite into this juicy and crispy burger is what summer burger dreams are made of. 😍 Making burgers at home is a great way to save money – and with this recipe, it'll be just like going out to eat but in the comfort of your own home. Enjoy!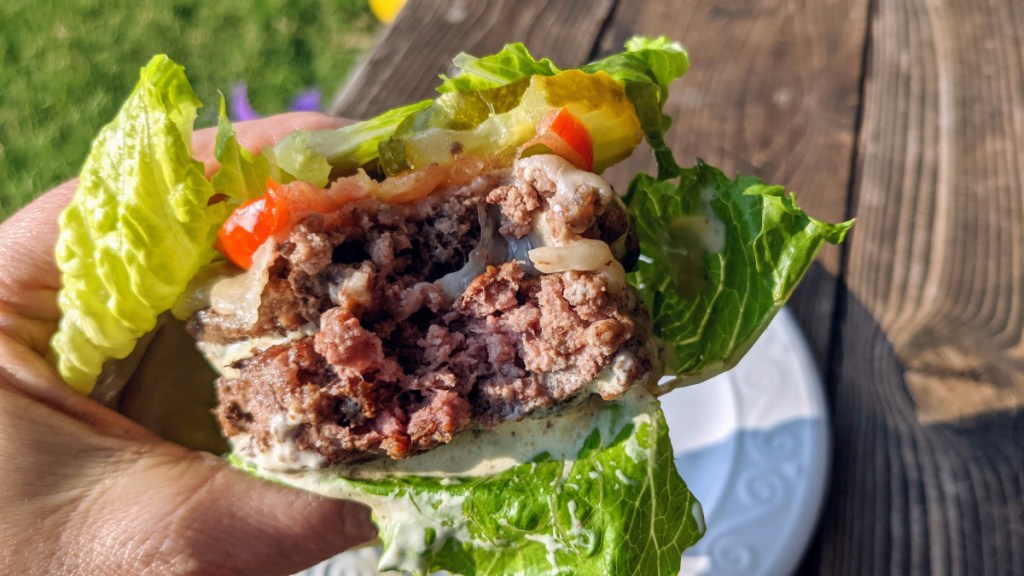 My Hip sidekick Jen made these burgers and here's what she had to say:
"My whole family loved these burgers! Frying them in butter really keeps them juicy and flavorful! The crispy edges are yummy, the cheese is gooey, and the sauce is delicious! This is hot meaty satisfaction at its best!"
---
Craving more burgers? Check out our recipe for Keto Cheddar Bacon Ranch Stuffed Burgers!