Crispy Keto Avocado Chips—Chip, Chip Hooray! (Only 2.4g Net Carbs)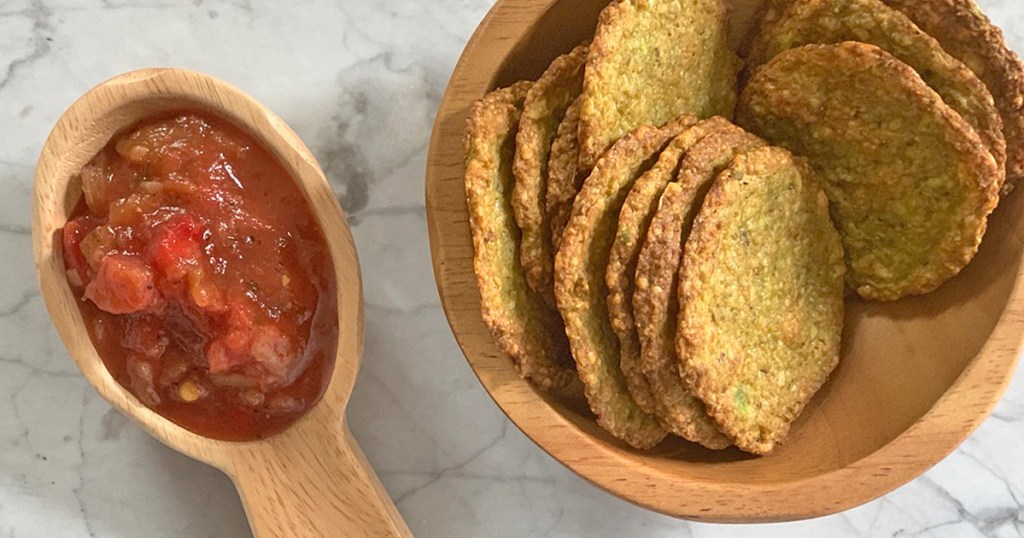 These flavorful keto avocado chips make for some seriously satisfying snacking!
Chips are a quintessential snack food. And now, even those of us living a keto lifestyle can enjoy them! These crispy keto avocado chips are not only crunchy, but they're dippable too. Each bite has a savory cheesy zing mixed with hints of guacamole. So good and so EASY.
Five minutes of simple prep, and these babies are oven-ready!
Hip tips for making the best keto avocado chips:
When pressing mounds of batter into flat circles, grease your fingers or spoon to keep the batter from sticking.
Chips are best eaten immediately after they've cooled. Stored chips may lose some of their crisp. Although you may be able to use an air fryer to crisp them back up.
For avocado cutting ease, check out this super handy 5 in 1 tool by Auony. It cuts, pits, and mashes avocados in a snap!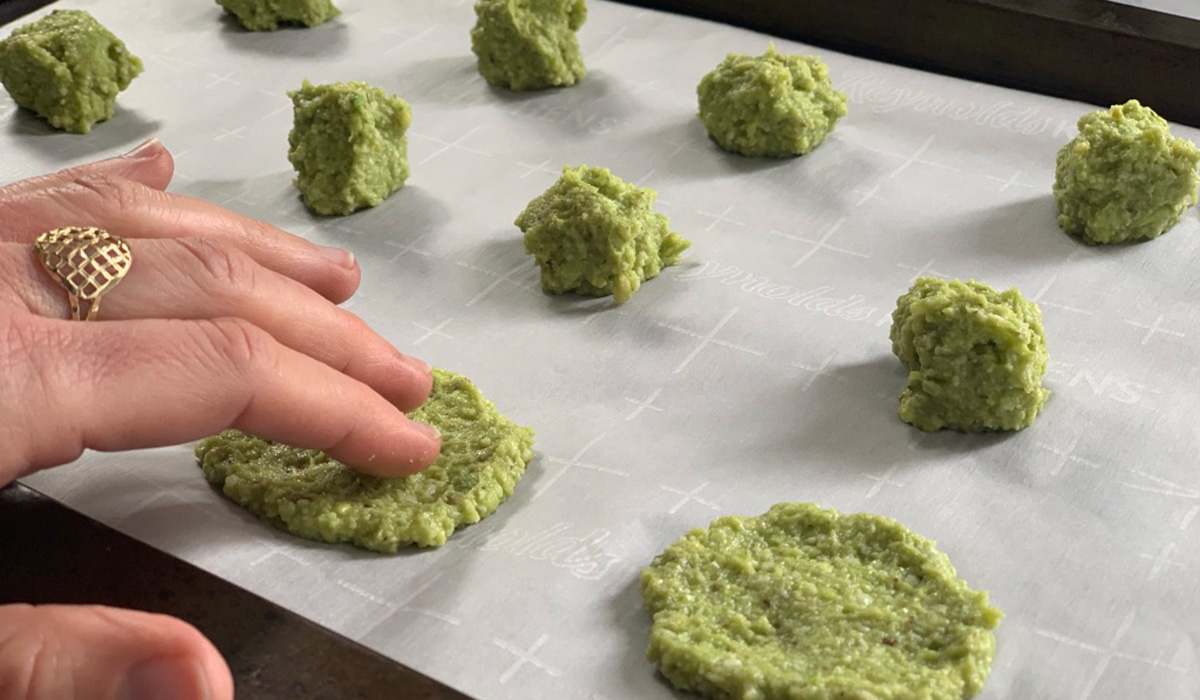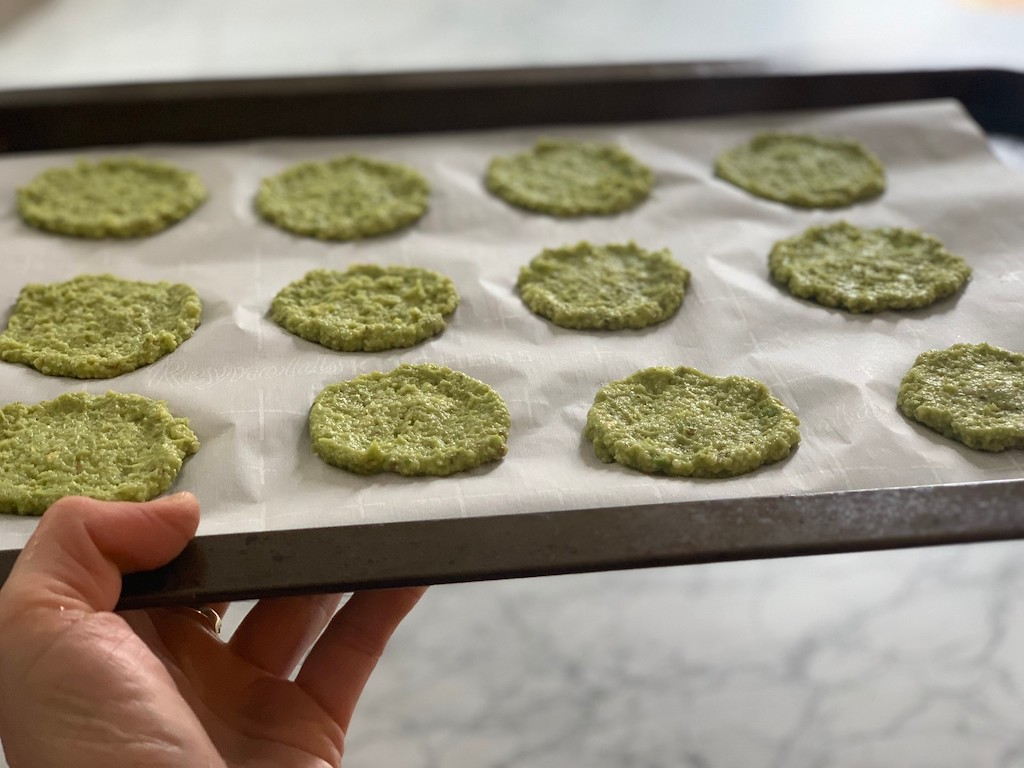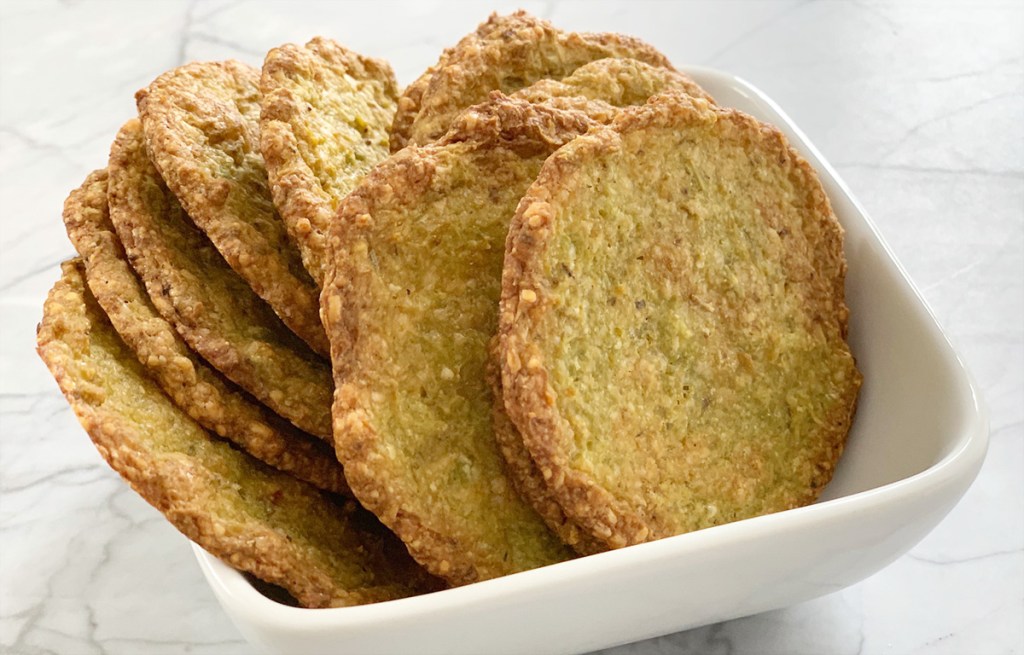 ---
yield: 2 SERVINGS
prep time: 5 MINUTES
cook time: 40 MINUTES
total time: 45 MINUTES
Flavorful keto chips made with avocado, cheese, and a few other simple ingredients. So crunchy and oh so low carb!
Ingredients
1/2 cup packed avocado (about 1 small)
1/2 cup fine-grated parmesan (not shredded)
1 teaspoon lemon juice or lime juice
1/2 teaspoon garlic powder
1/2 teaspoon onion powder
1/2 teaspoon oregano
sea salt to taste (I use 1/8 teaspoon)
Directions
1
Preheat oven to 325 degrees. Prepare a baking pan with parchment paper.
2
Place all ingredients in a bowl. Use a fork to mash together until well combined and fairly smooth. Drop heaping teaspoonfuls onto prepared pan leaving 2-3 inches between each scoop. Use your fingers or the back of a greased spoon to press each scoop down into a circle, about 3 inches wide. (Note that the mixture does not spread very much while cooking.)
3
Bake in preheated oven for 35-40 minutes (flip them at the 20-minute mark, and check them at the 30-minute mark to ensure they cook evenly on both sides). Chips are done when edges are brown and are crisp. Remove from oven and place on a cooling rack. Chips will crisp up even more as they cool. Best if you let cool completely before serving.
Additional Notes
Store chips in a sealed container at room temperature. They are best if eaten within 24 hours.
Nutrition Information
Yield: 2 servings, Serving Size: 6 chips
Amount Per Serving: 342.4 Calories | 8.9g Fat | 6.5g Total Carbs | 4.3g Fiber | 17.4g Protein | 2.2g Net Carbs
---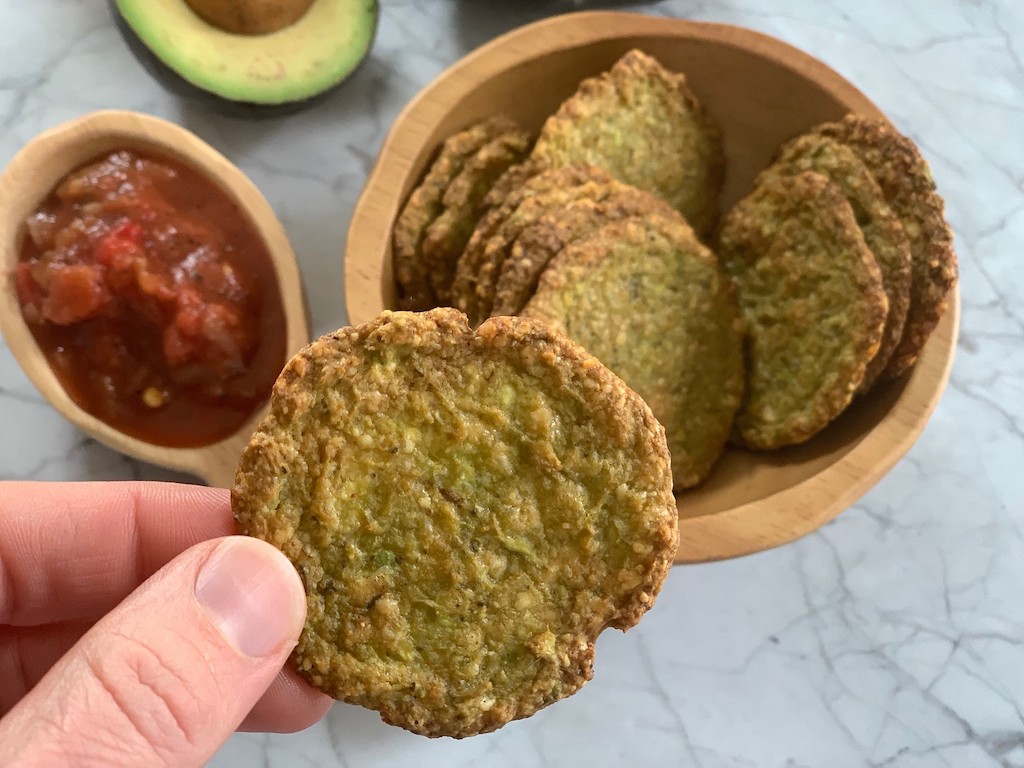 With only 2 net carbs per serving, it's time to get your snack on!
Not only are these avocado chips tasty, but they're also healthy! One serving of keto avocado chips has 4.3 grams of fiber, 17.4 grams of protein, and 8.9 grams of wholesome fat! Woohoo!
I like to serve these chips with salsa, pico de gallo, low sugar marinara, sour cream, avocado feta dip, spinach dip, low-carb queso, keto pimento cheese, and – you guessed it… guacamole!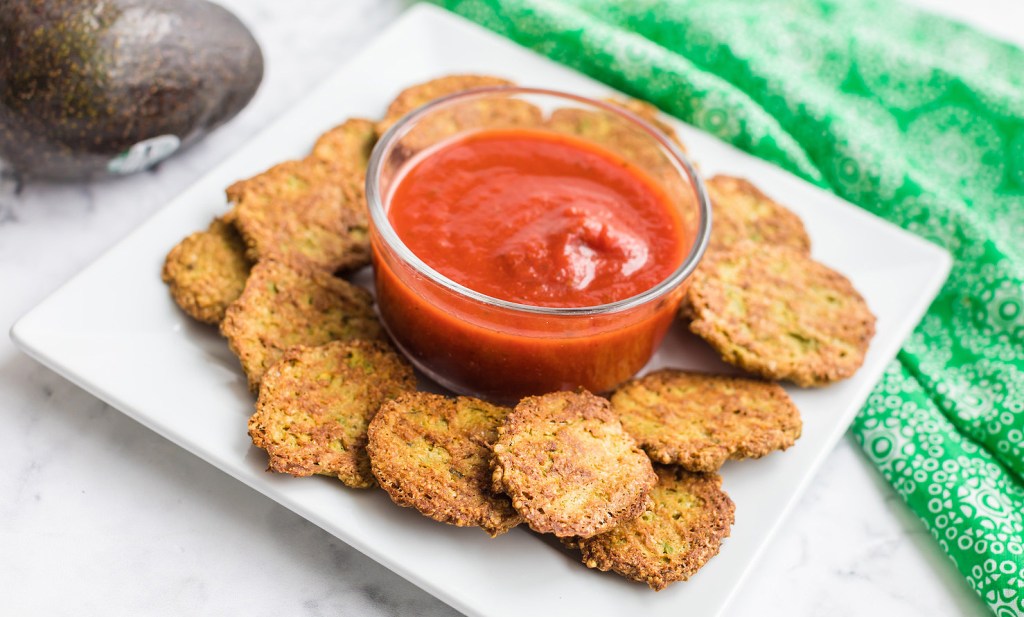 Here's what my teammate Jenna had to say after making these keto avocado chips:
These chips are AWESOME! Such great flavor and fun to snack on, and best of all, you can dip them. Even better, it only takes one avocado to make them. I love it!! I think these would be great to pair with our keto avocado chicken salad for a delicious quick and easy lunch idea.
---
If you LOVE crispy keto snacks, try these parmesan almond crackers!