4-Ingredient Avocado Chicken Salad Salad (with Bonus Keto Roll Recipe)
This 4-ingredient avocado chicken salad recipe is a simple and yummy keto lunch idea!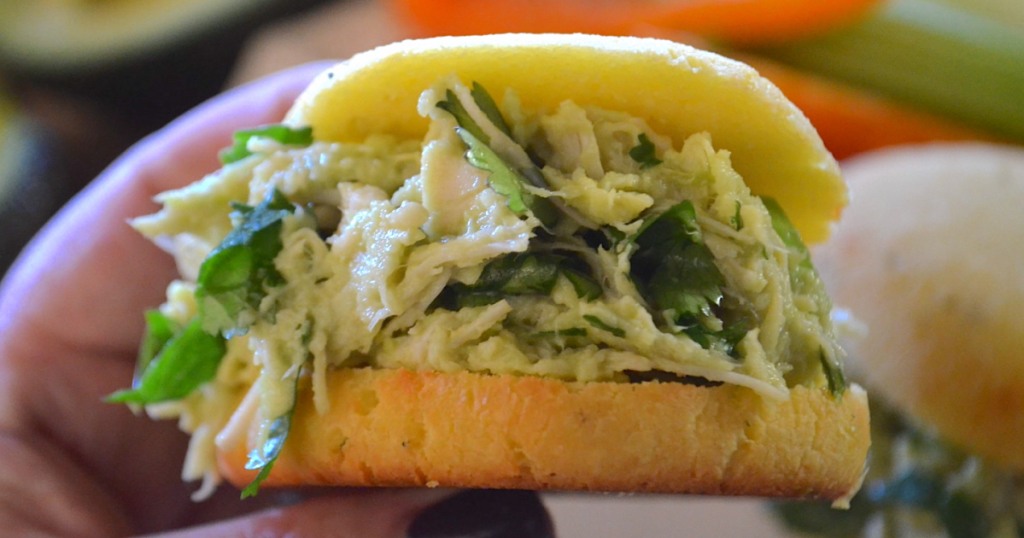 Anyone else avocado-obsessed like me?! 🙋‍♀️
If so, this 4-ingredient avocado chicken salad is a delicious and extremely easy keto lunch idea. When served on top of fathead keto-friendly bread (recipe below), this might just become your most favorite low-carb sandwich!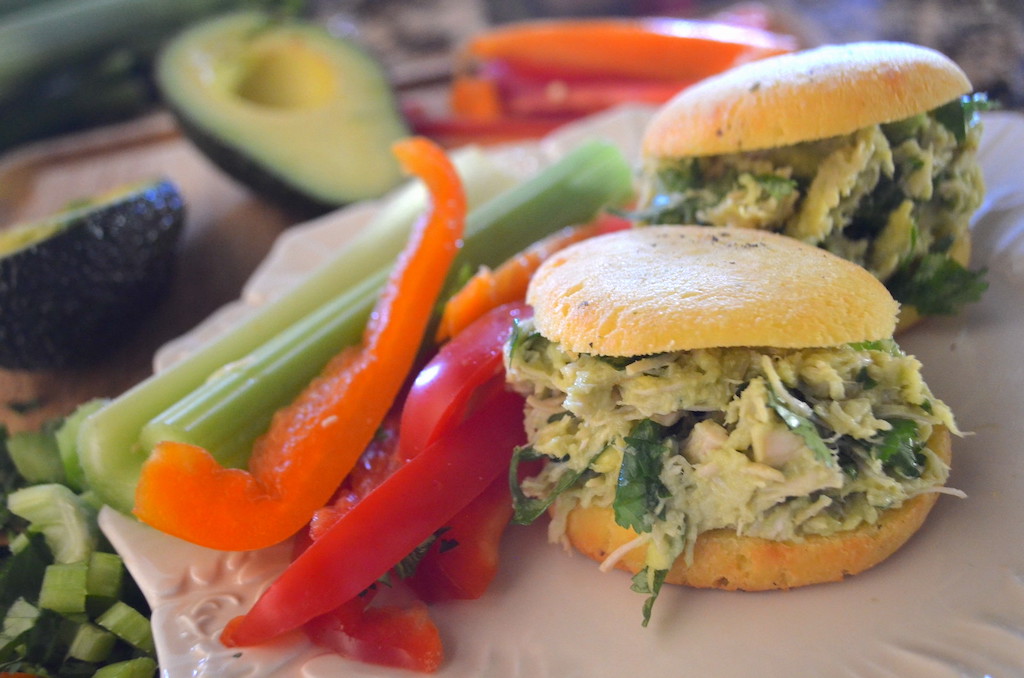 There are so many keto-friendly ways to serve this yummy avocado chicken salad. It's very adaptable to a wide range of taste preferences or dietary needs.
We love to eat it on fathead rolls, but you could also try putting it on top of celery, inside a bell pepper, on a chaffle, or inside lettuce wraps. YUM!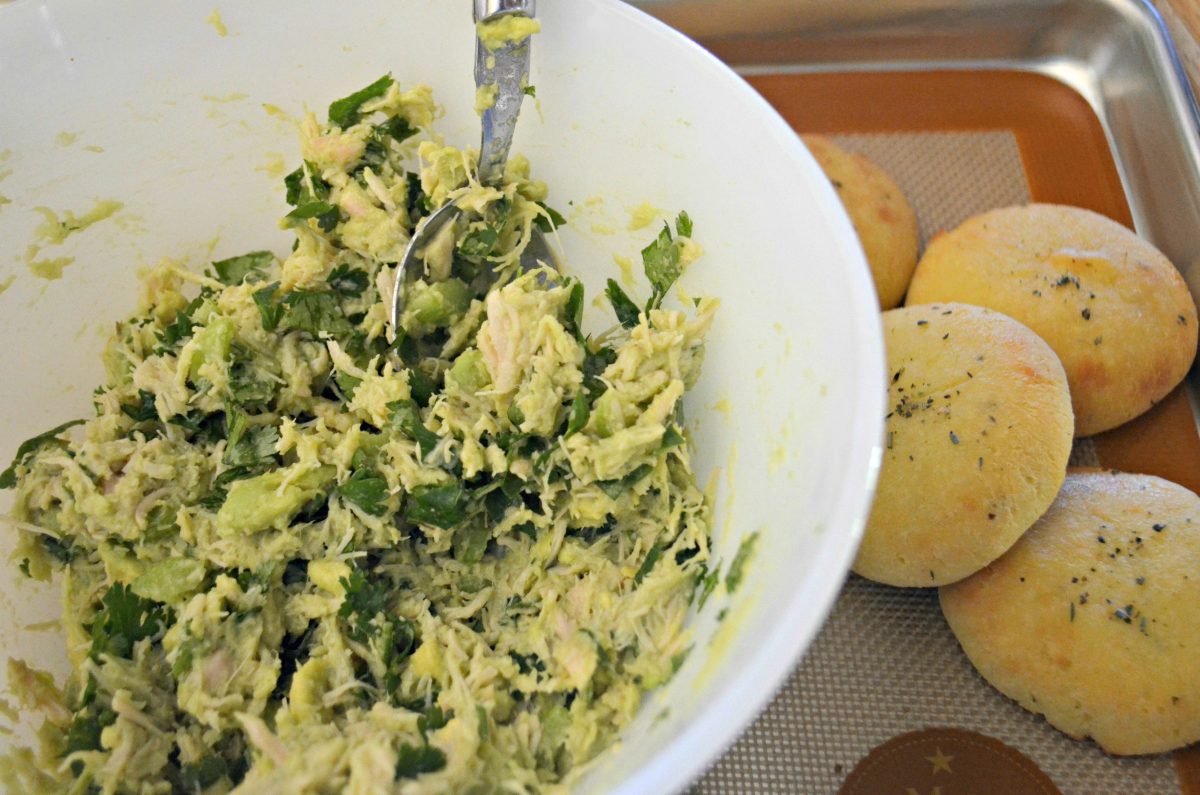 If you don't happen to have leftover shredded chicken for this recipe, consider purchasing a rotisserie chicken from the grocery store to chop or shred. You could also go with canned or pre-packaged shredded chicken too. Or you could cook the chicken using our boiling method which we've done before in our Keto Chicken Fajita Casserole recipe.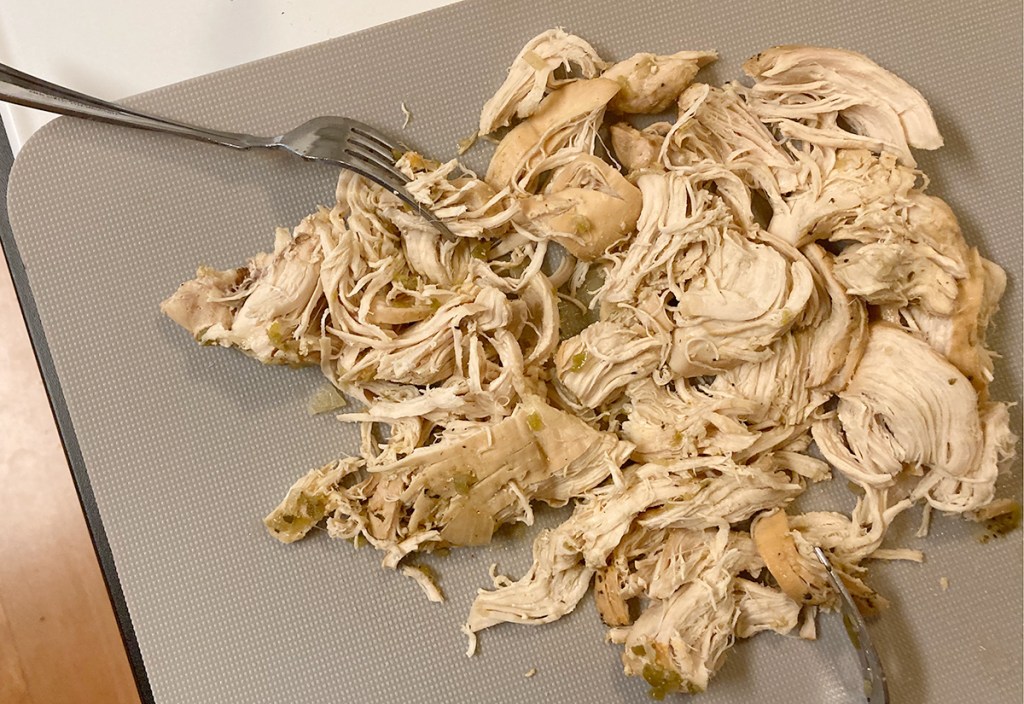 How to cook and shred chicken using the boiling method:
Place chicken breasts in a large pot and pour in enough water to cover the breasts.
Add 1 tablespoon of salt to the water.
Place over medium/high heat, bring to a boil, then reduce heat to low and simmer until no longer pink, for about 40 minutes.
Allow chicken to cool, then shred it into small pieces using two forks.
---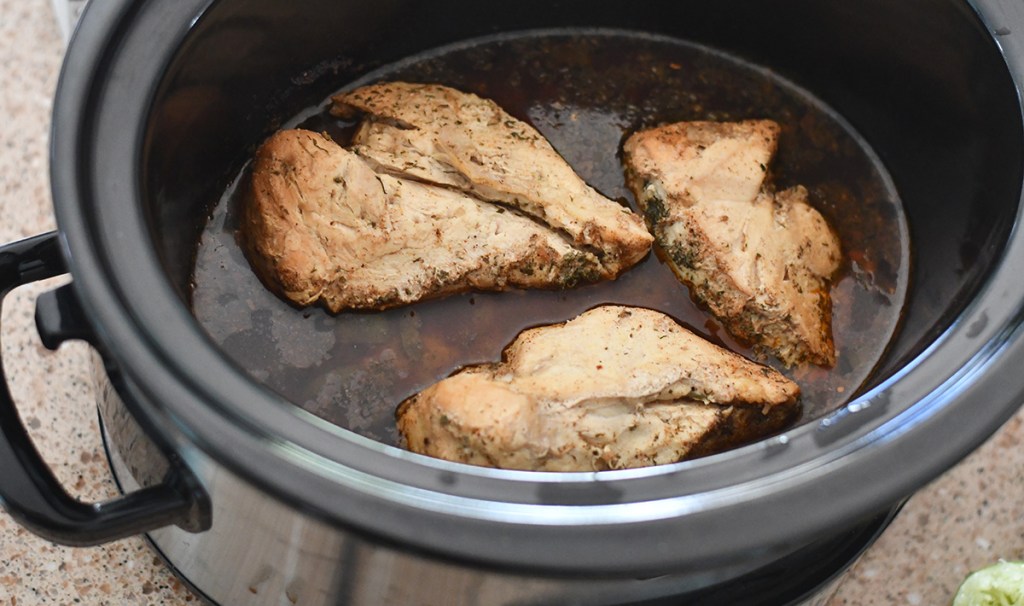 Another method is using the slow cooker as we did for this shredded chicken taco recipe.
How to cook and shred chicken using a slow cooker:
Place your chicken breasts seasoned with salt and pepper in the slow cooker with some chicken broth.
Put the lid on and cook on LOW for 3-4 hours or HIGH for 2-3 hours.
Remove the chicken, and shred!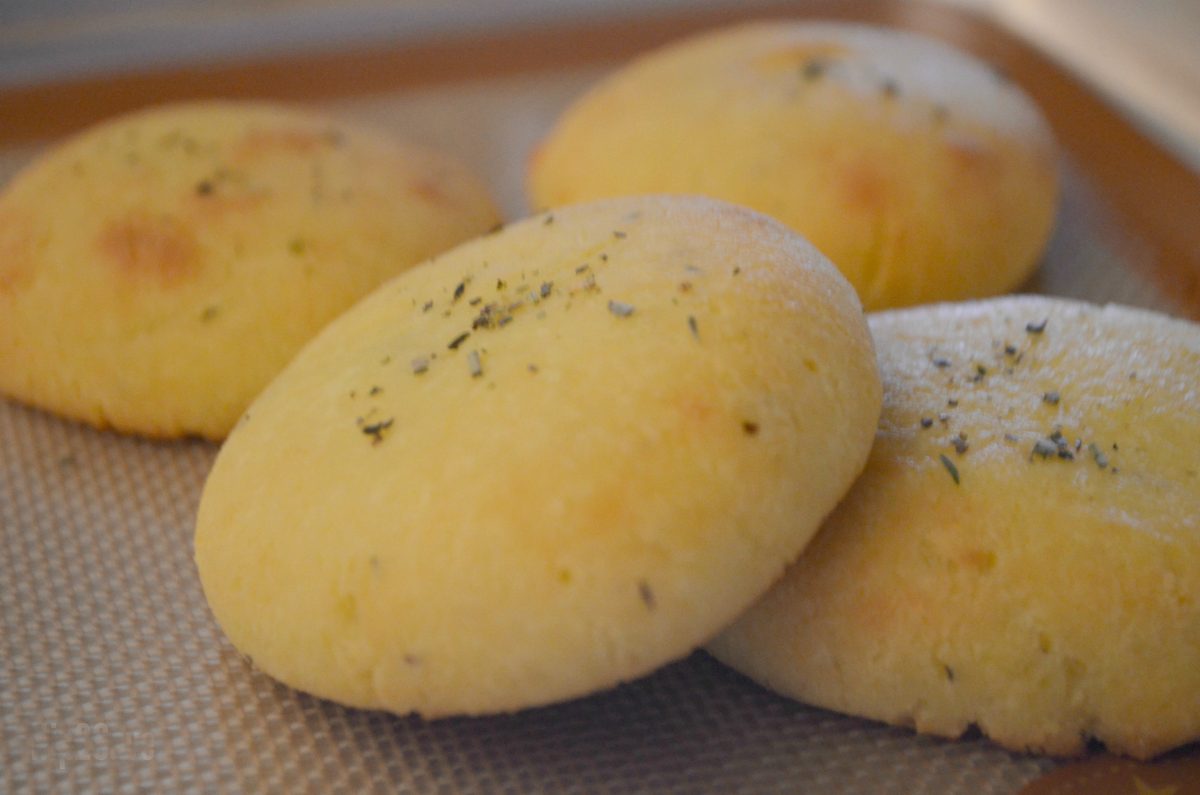 And what's a sandwich without the roll!
To make some rolls for your chicken salad sandwiches, make a batch of Fathead dough, then divide the dough into fourths and roll into balls. Smash the balls down a little, and bake them on a parchment paper-covered pan for about 13-15 minutes at 400 degrees. Let cool, slice in half, and you're ready to roll.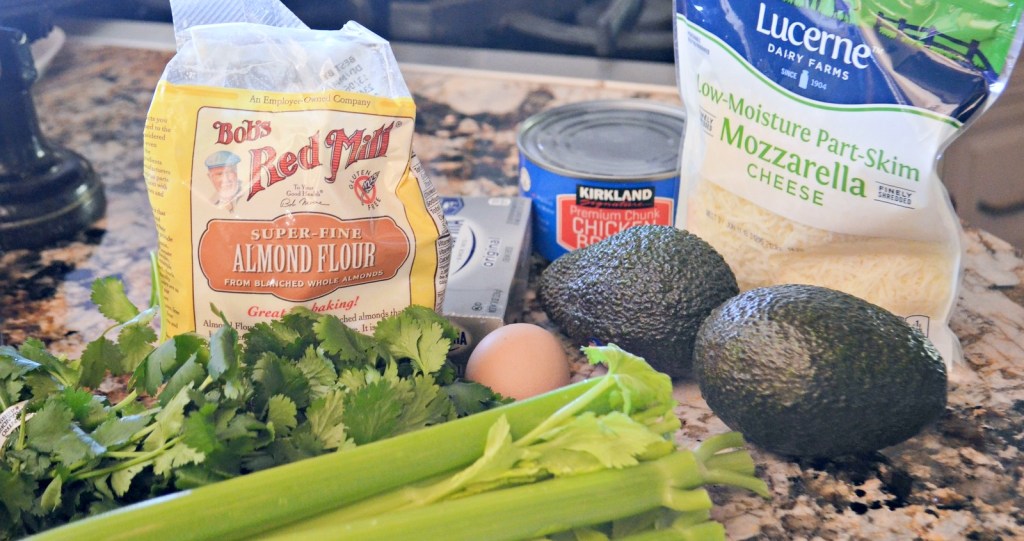 Hip tips for making this keto-friendly Avocado Chicken Salad:
This recipe is super easy to customize to your liking. You can season it however you'd like, throw in any additional add-ins that sound yummy to you, and change up the fresh herbs in case you're not a fan of cilantro.
This only requires four ingredients and can be made even if you're short on time. Add a small amount of lime juice or finely chopped red onion to give it an extra punch of flavor.
You can serve this as a dip for a fun party appetizer. Pile the chicken salad into a bowl in the center of a plate and surround the dip with celery and keto crackers, but be sure to include a small spreading knife to make scooping a little bit easier.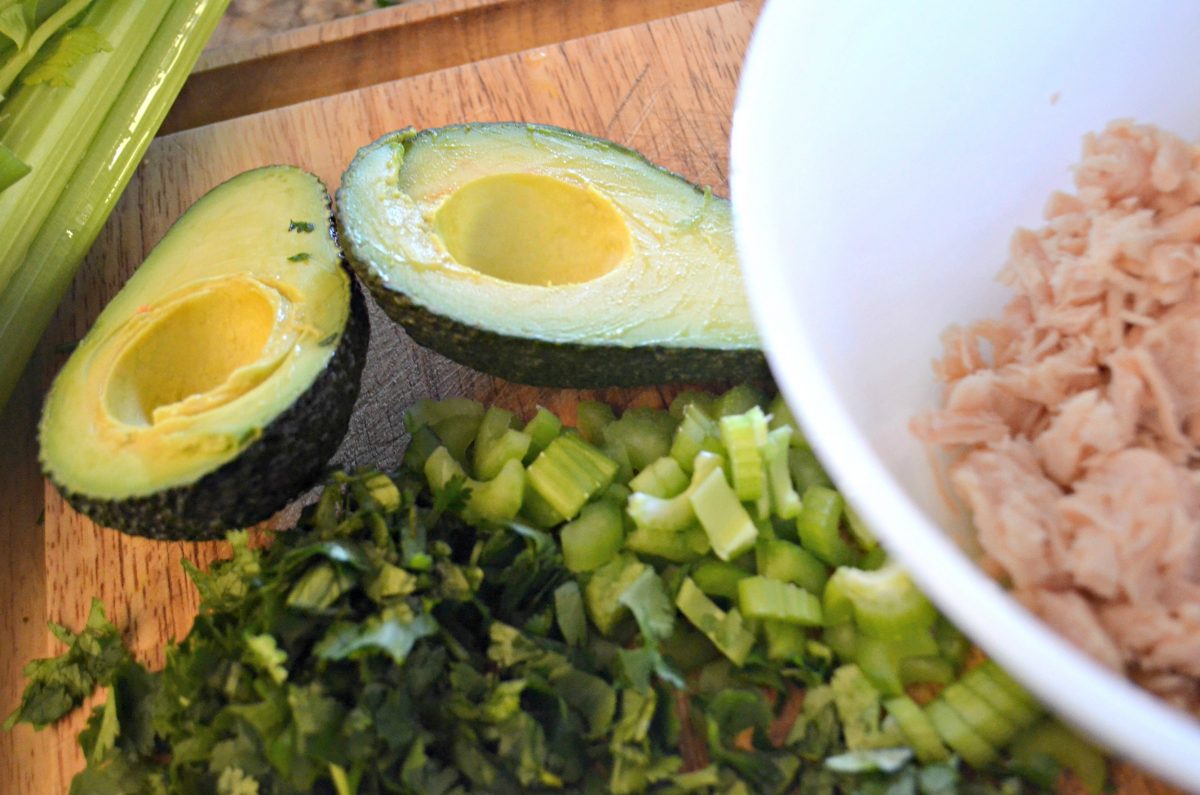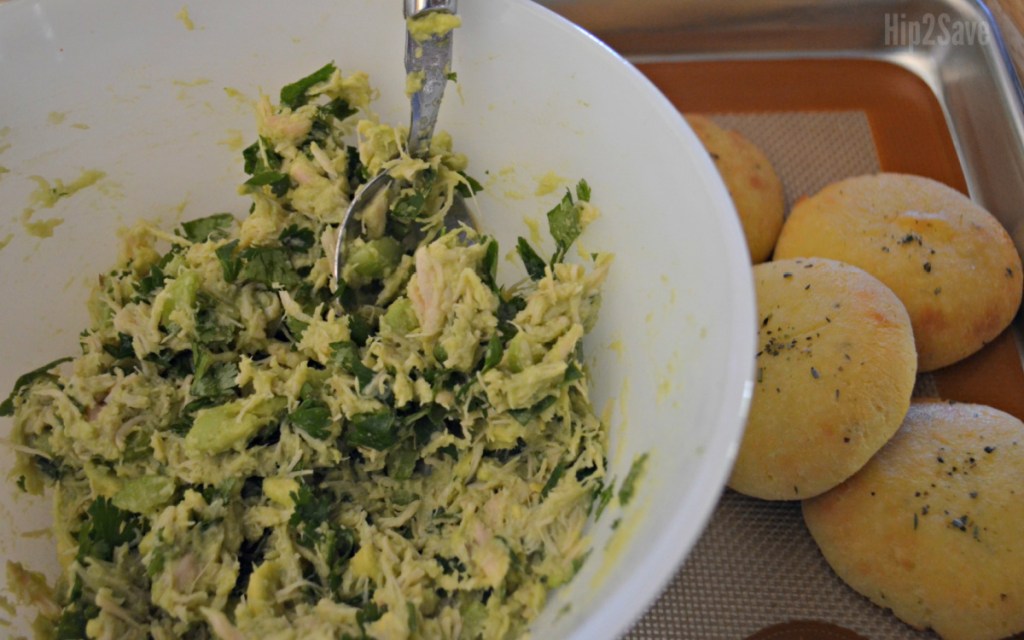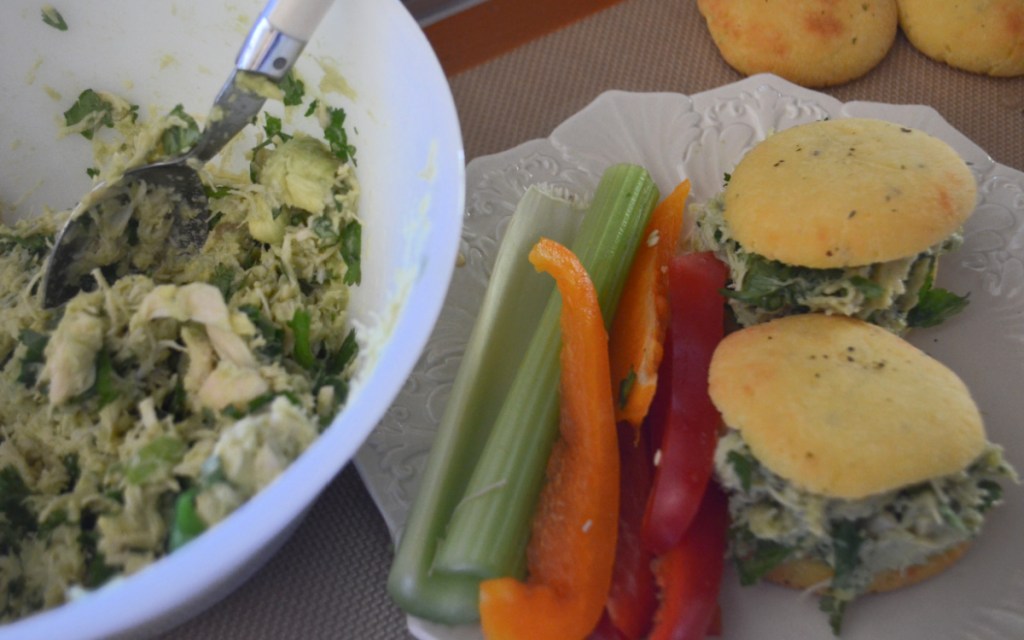 ---
Print
Keto Avocado Chicken Salad
yield: 4 SERVINGS
prep time: 10 MINUTES
cook time: 2 MINUTES
total time: 12 MINUTES
If you're an avocado fan, then you're sure to love this flavorful and easy to make chicken salad!
Ingredients
1 large ripe avocado
1/2 cup cilantro, chopped
1/2 cup celery, chopped
salt & pepper to taste
Directions
1
Add ingredients to a bowl and mash with a fork until well combined. Tips on how to shred your chicken are listed above!
2
Serve on a keto roll, on a lettuce wrap, or eat straight from a bowl. Enjoy!
Nutrition Information
Yield: 4 servings, Serving Size: 1/4 portion prepared chicken salad
Amount Per Serving: 246 Calories | 14.6g Fat | 4.7g Total Carbs | 1.1g Fiber | 0.6g Sugar | 25.5g Protein | 1g Net Carbs
---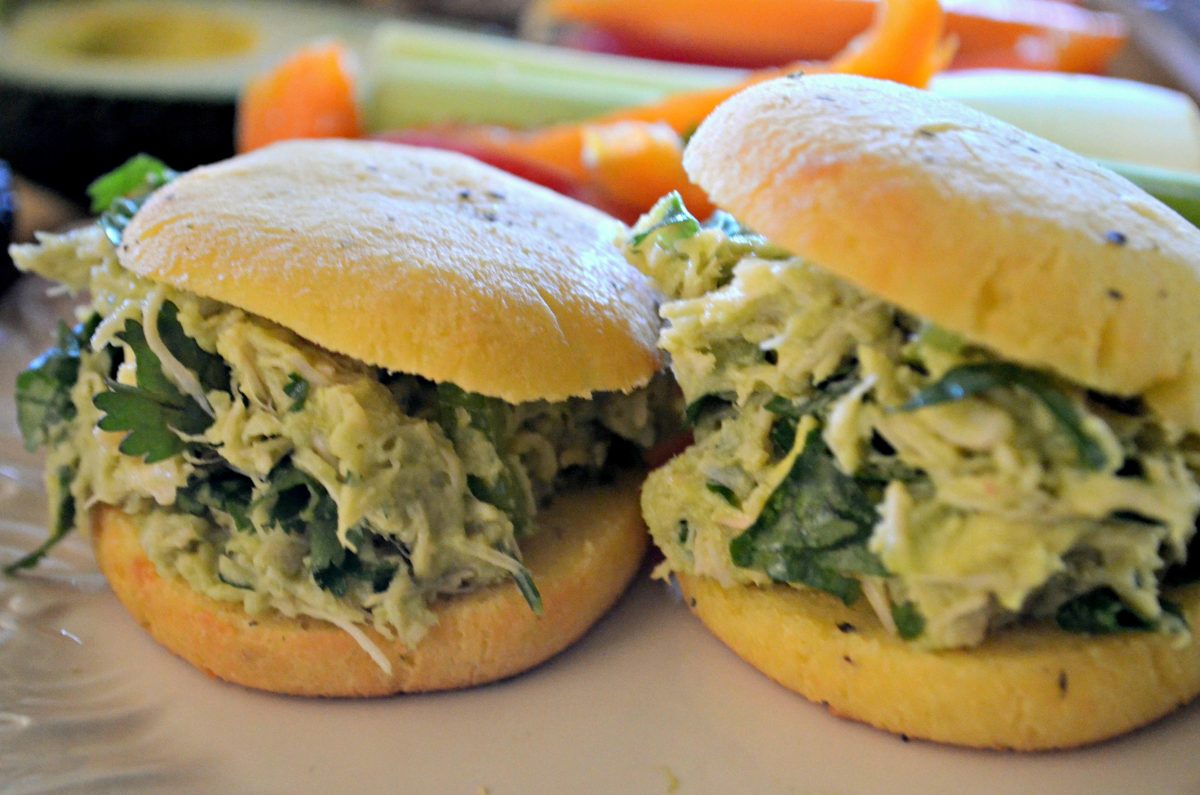 These sandwiches are SOOOOOO yummy!

My family is avocado-obsessed, and this variation of chicken salad has quickly become a family favorite in my home.
I love that you can serve this recipe in so many different ways, and each one is absolutely delicious. It's such a simple and easy meal idea, and it would make a wonderful lunch to throw together in a hurry for guests. Enjoy!
---