Here's the Keto Avocado Feta Salsa Appetizer of Your Dreams!
Need a winning low-carb, keto-friendly appetizer?
You've gotta try out this bright and fresh-tasting avocado feta salsa!
It's like a Greek version of salsa you won't be able to get enough of because it's so delicious and tastes super fancy! Except guess what? This snack is super easy and quick to put together for any last-minute gathering or occasion! Whoohoo!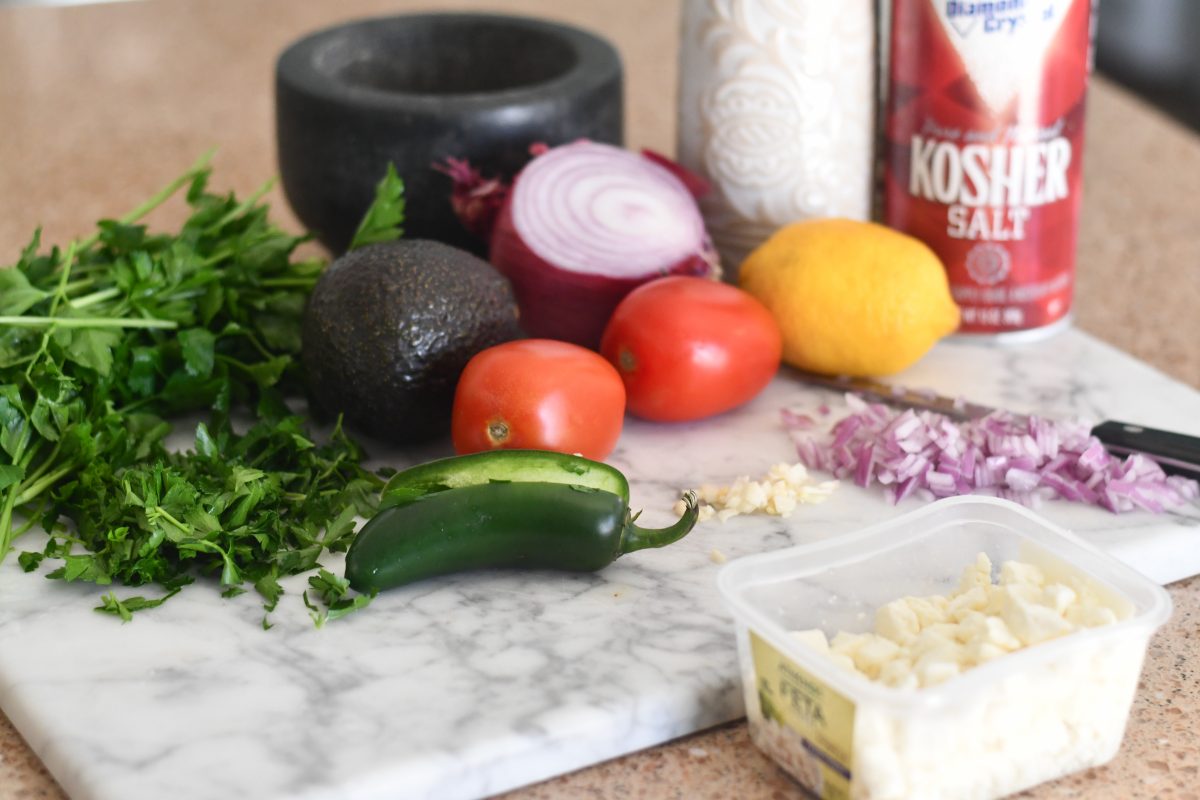 These fresh ingredients mixed together are so TASTY!
If you're a huge avocado fan like me, you'll love this salsa. Chopped avocado mixed in with diced tomatoes, onion, garlic, feta cheese, lemon, and parsley produces such a yummy array of flavors!
I even mixed in a little chopped jalapeno for additional flavor, but if spicy isn't for you, no worries — just leave it out. In fact, most of these ingredients can be switched up as desired. For instance, parsley can be swapped for fresh basil or cilantro. I used lemon, but lime can be used instead. It's easy to adapt this recipe to your liking!
Hip Tip: I would choose avocados on the firmer side if possible, instead of super soft ones that may make this salsa mushy. Just something to keep in mind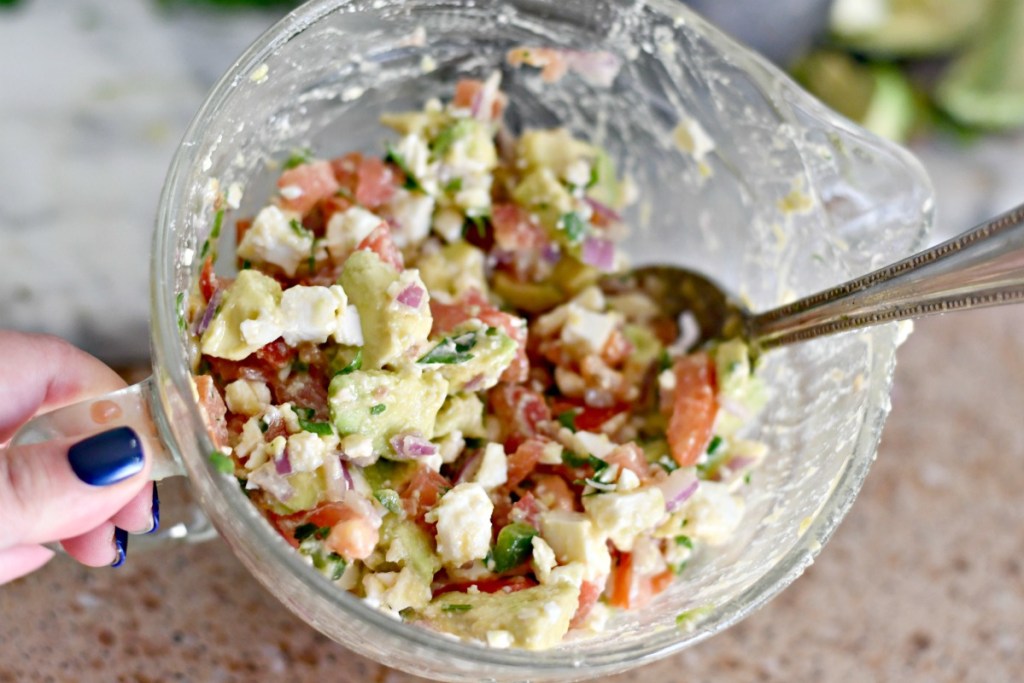 Just chop up ingredients, mix together and serve with your favorite dippers! It's that easy. You can use any smaller type bowl, but if you're interested in mine, I'm using this pretty mortar and pestle for serving in these photos.
If you plan to make this a little bit ahead of time, I would leave out the avocados until right before serving to avoid browning.
---
Print
Keto Avocado Feta Salsa
yield: 8 SERVINGS
prep time: 15 MINUTES
total time: 15 MINUTES
Chopped fresh avocado and tomatoes get mixed with feta cheese and parsley, for a bright and fresh tasting KETO dip all will LOVE!
Ingredients
2 plum tomatoes, chopped
2 medium-sized avocados, chopped
1/4 cup red onion, chopped
1 garlic clove, diced
1/4 cup fresh parsley, chopped
1/2 jalapeno, diced, seeded
juice from 1/2 a lemon
1 tablespoon olive oil
1/4 teaspoon salt
pinch of pepper
4 oz. feta cheese crumbles
Directions
1
Mix tomatoes, avocado, onion, garlic, parsely, and jalapeno. Mix in lemon juice, olive oil, salt & pepper. Mix in crumbled feta.
2
Chill for an hour in the fridge. Serve with desired keto cheese whisps or crackers, and veggie dippers as desired.
Nutrition Information
Yield: 8 servings, Serving Size: 2 tablespoons
Amount Per Serving: 110 Calories | 9g Fat | 5g Total Carbs | 3g Fiber | 3g Protein | 2g Net Carbs
---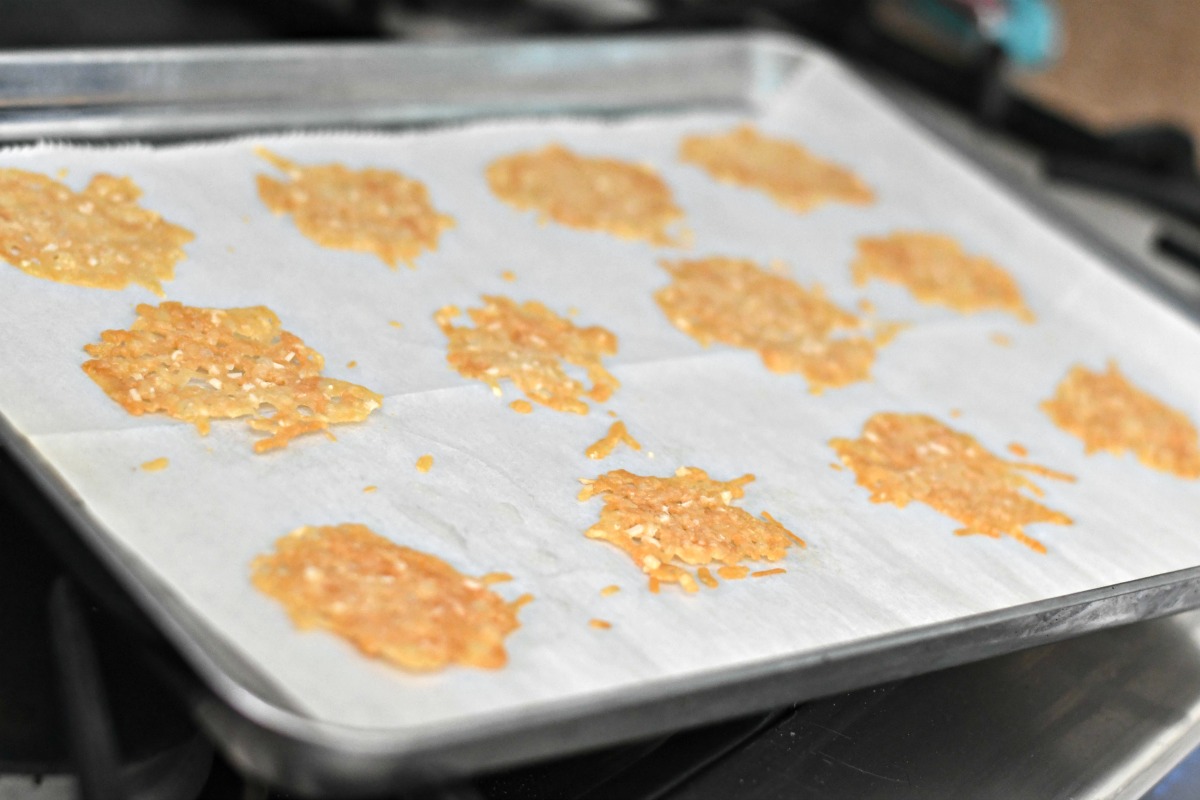 I made my own keto parmesan cheese whisps for serving!
To make these crispy whisps, spread out small piles of grated parmesan cheese on a parchment paper-covered baking sheet. Bake at 400 degrees for about 6-8 minutes or until the cheese is browned and melted. Once cooled, they will be crispy and so great to serve with this salsa!
You could always buy cheese whisps instead and/or consider serving this salsa with celery or other low carb veggie dippers!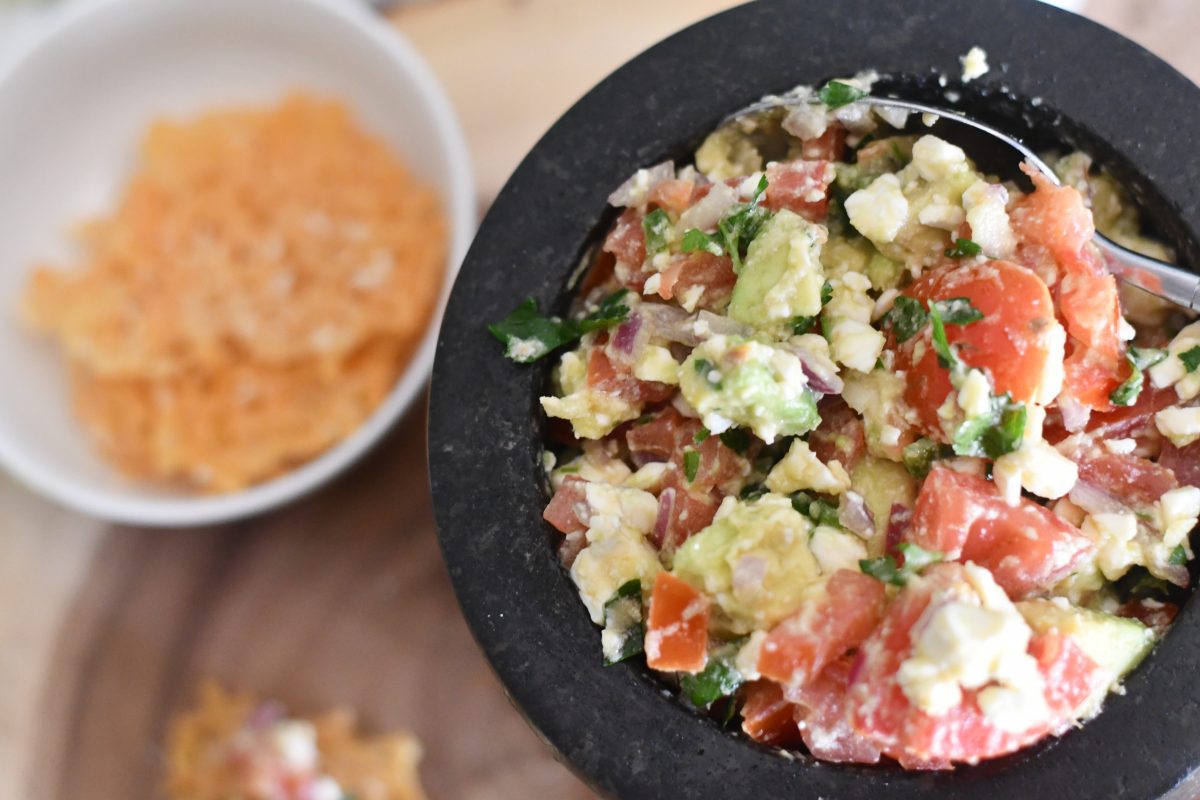 Such a YUMMY and unique appetizer idea!
We ate this while watching March Madness basketball this weekend, and everyone loved it. In fact, it was my dinner, and so delicious. Such a great keto snack to consider!
P.S. I would try to enjoy this within the first 24 hours of refrigeration, as avocado has a tendency to brown–but that's assuming you couldn't eat it all in one sitting like we did–ha!
---
These crispy keto parmesan almond crackers are addictive & guilt-free!