Here are the Best Sugar-Free Sweeteners for Keto Baking (+ Free Printable Guide)
Check out this sugar-free sweeteners conversion chart to get your keto baking on!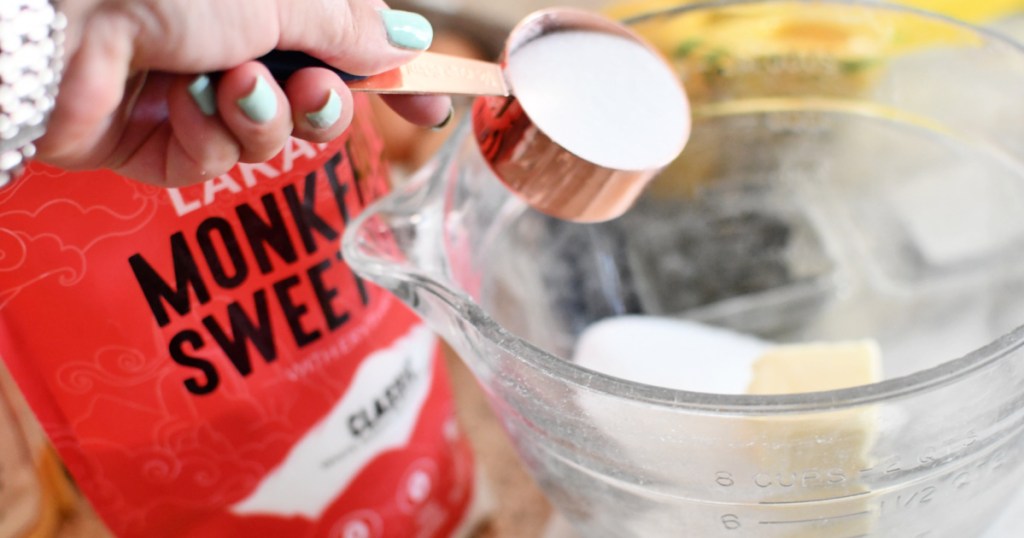 Calling all keto bakers!
Alternative sweeteners are a crucial part of the ketogenic diet for those who love to indulge in sweets and desserts. The only problem? It's tricky switching between sugar-free sweeteners in recipes, especially when some sweeteners are more potent than others.
Luckily, we have a handy sugar free sweeteners conversion chart that makes swapping sugar for your sweetener of choice super easy!
That being said, not all sugar free sweeteners are created equal.
Some of the low-carb sweeteners out there are notoriously hard on your tummy, including maltitol, which is often found in sugar-free candies, or aspartame, which is used to sweeten several brands of diet soda.
While you can technically enjoy everything in moderation, some options are better than others when it comes to sweetening your keto baked goods.
---
Here are some of our favorite sugar free sweeteners:
---
Xylitol closely matches the sweetness level of real sugar.
Traditionally sourced from birch bark, xylitol is pretty much on par with sugar in terms of sweetness. We're also huge fans of the mouthfeel of xylitol as it's crystalline just like sugar, and it doesn't have the aftertaste of other sweeteners.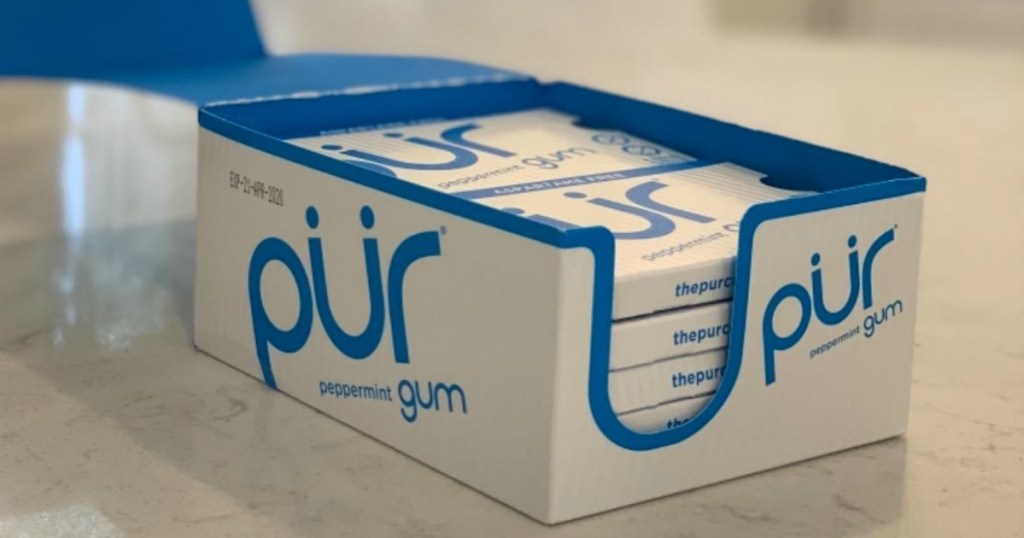 If you've never had xylitol before, chewing gums like Pur are a favorite thanks in part to its antibacterial nature. In fact, because Xylitol is a nonfermentable sugar alcohol, studies suggest that xylitol users may enjoy improved mouth health among many other health benefits as well. 😁
WARNING: Xylitol is toxic to dogs, cats, and other pets. In humans, consuming too much can also cause stomach upset and bloating, so use caution until you know how your body responds.
---
Erythritol is one of the best all-around keto sweeteners.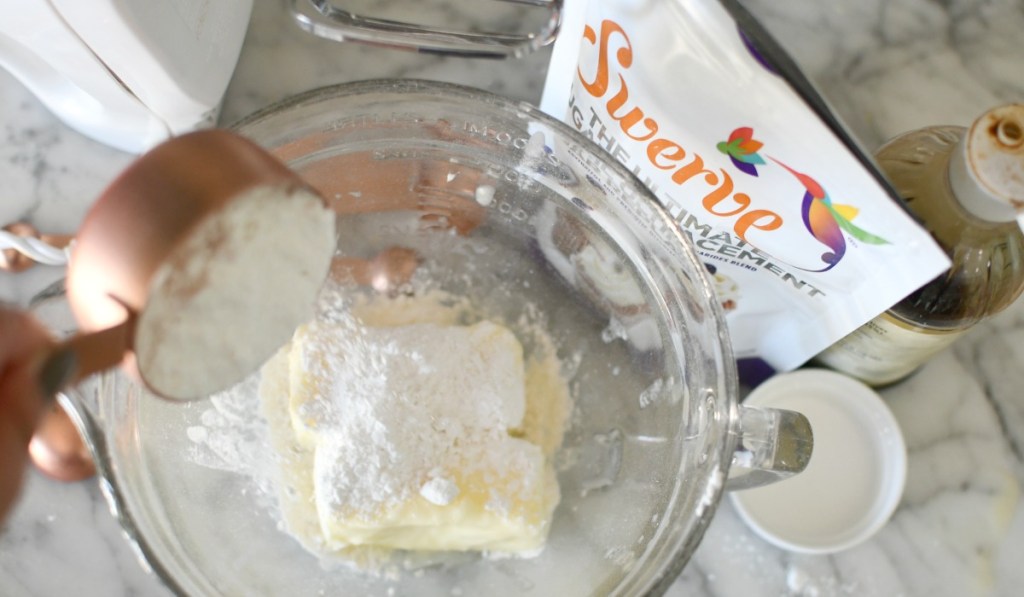 Thankfully, erythritol has become increasingly popular, especially since it doesn't pose the danger to pets as xylitol does. Chocolate bars like Lily's and ChocoPerfection both use erythritol, and they taste pretty close to the real thing!
If you plan to bake your own keto baked goods, brands like Swerve come in confectioners, granular, and even brown for richer sweetness, so you can use Swerve for everything from the cake to the frosting!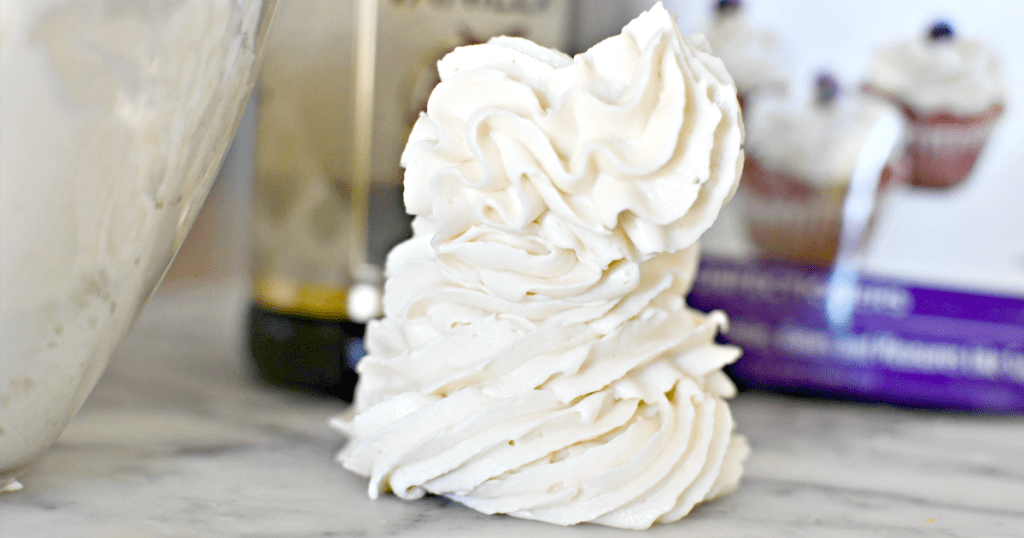 Speaking of frosting, try making our delicious buttercream frosting with Swerve!
Note erythritol can have a cooling effect, depending on the amount you use. If you're sensitive to it, try reducing the amount you use in recipes.
Also, erythritol doesn't necessarily dissolve completely in recipes and tends to keep its crystalline, crunchy structure. If you don't like the texture, you can run granular erythritol through a Ninja or other food processor before adding it to recipes. Or you could just use the Swerve confectioners and bypass this step.
---
Stevia is ultra-sweet and a little goes a long way.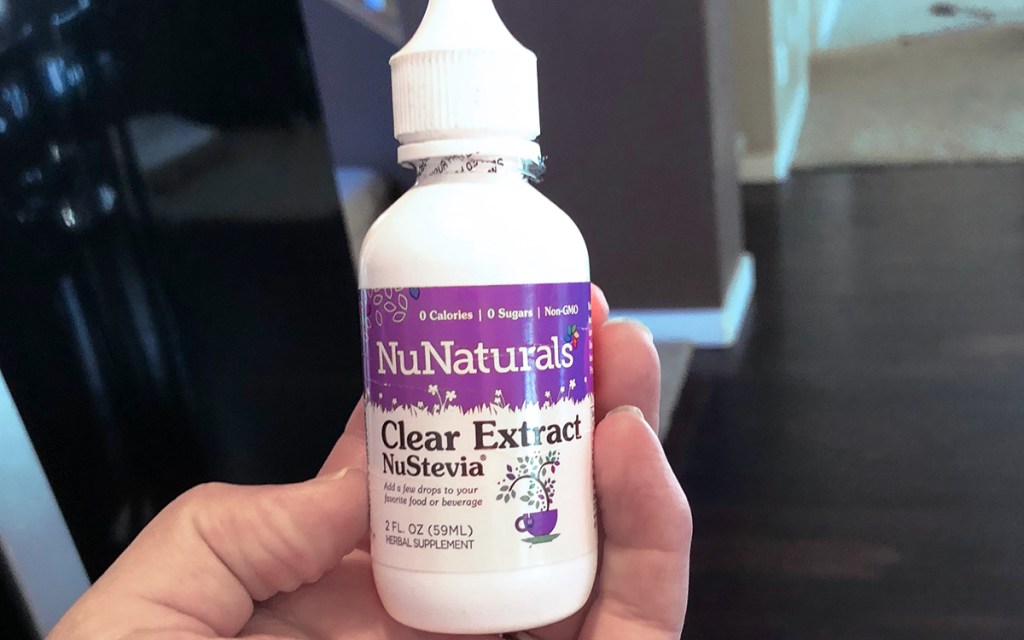 Stevia has been emerging as a popular keto option for a few years now. Related to the daisy and ragweed family, the species Stevia rebaudiana is found in South America, where for centuries people have used leaves from the stevia bush to sweeten their foods.
Stevia is 150 times sweeter than sugar, so use it sparingly. As little as 3/4 teaspoon is enough to replace a cup of sugar according to our sweetener conversion chart. Sure, to supertasters the flavor can be off-putting, but the hybrid sweeteners (stevia + another sweetener, like erythritol) are GREAT for baking, hot drinks, and more.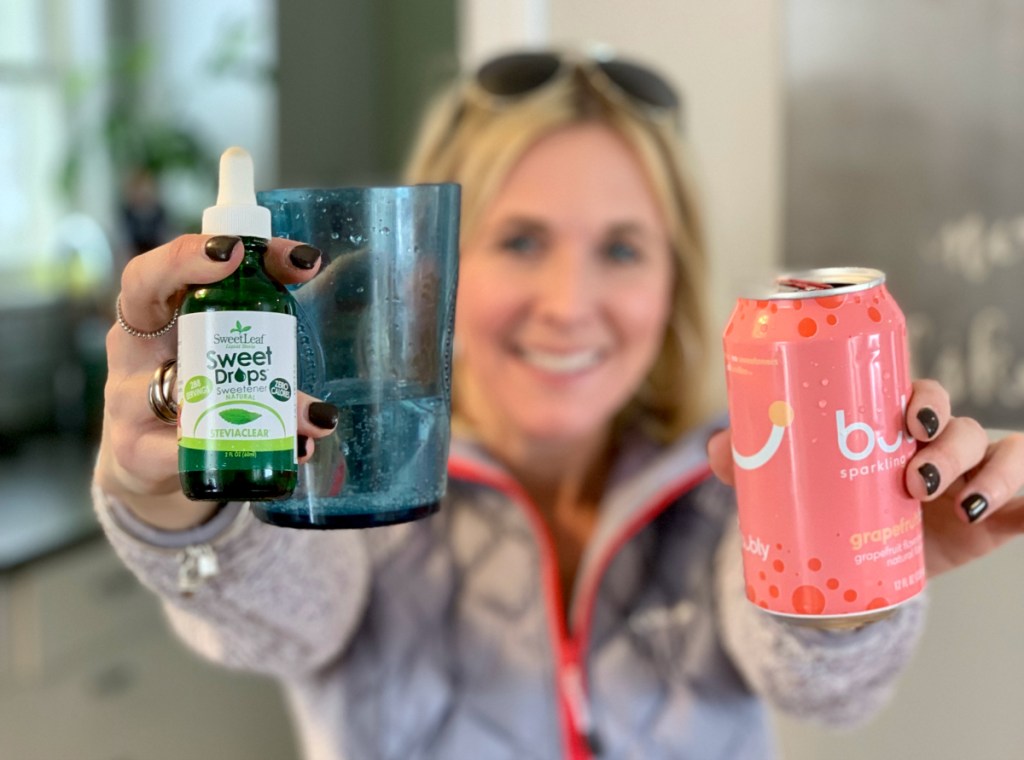 (Collin loves sweetening her sparkling water with liquid stevia!)
---
A few other brands of Stevia that you may want to try include:
---
Monk Fruit (Lo Han) is versatile and is becoming more & more popular!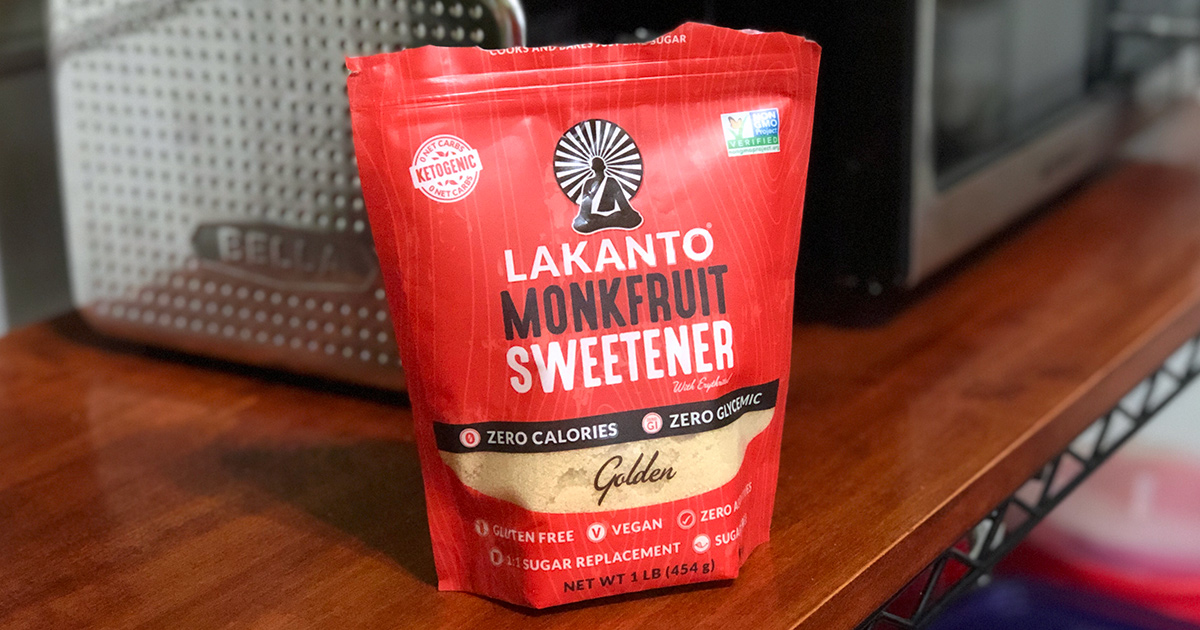 Monk fruit is a type of small melon found in South East Asia. Antioxidants called mogrosides (found only in monk fruit) create its sweet taste. Monk fruit is 150-200 times sweeter than sugar, which means a little goes a long way, and it's often blended with erythritol.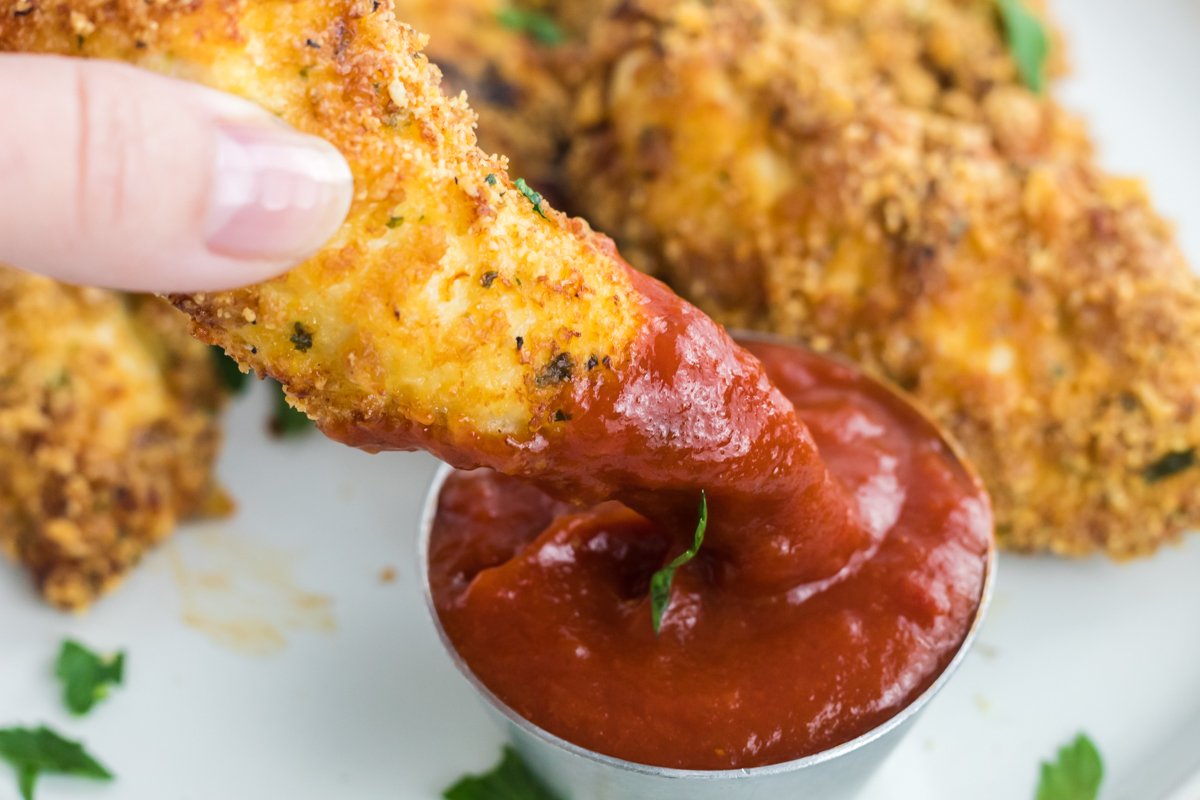 We use monk fruit to sweeten our homemade keto ketchup and our keto margaritas, though it's quickly becoming a staple in keto baking as well. Outside of at-home use, you'll see it increasingly used often by brands like ChocZero.
---
Chicory Root is especially good when used in combination with erythritol.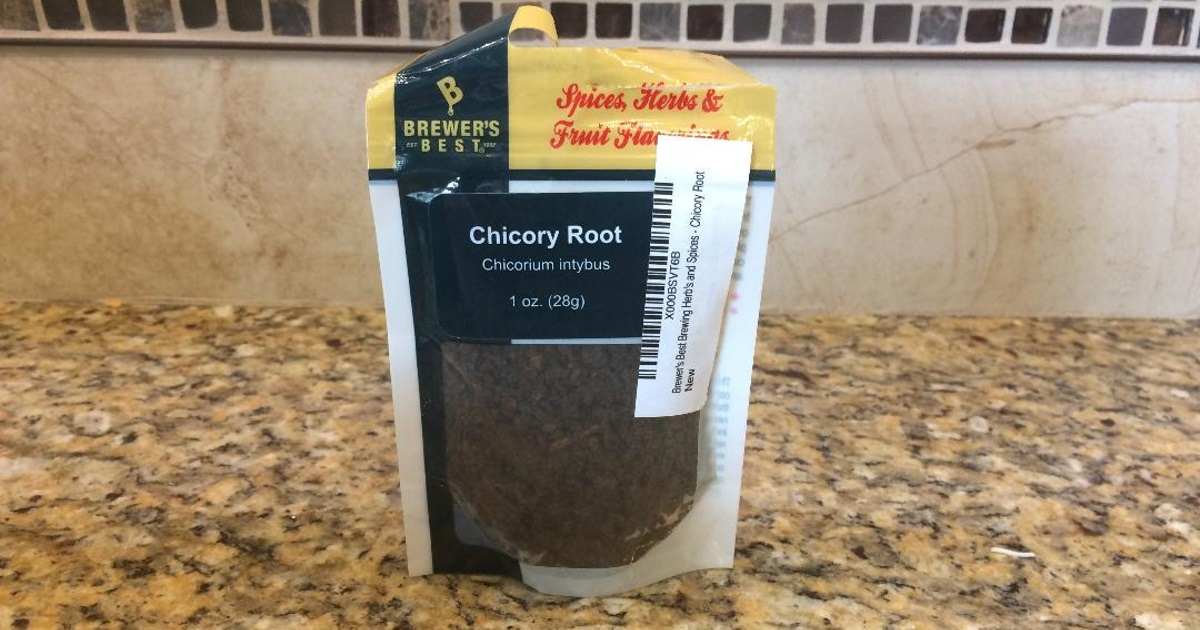 Chicory root is a fiber of a perennial plant that's fairly high in soluble fiber. Studies suggest chicory may prevent constipation since it stabilizes gut health. Before using, be sure to check the label to make sure the sweetener contains just chicory, or if there are other added sugars or alcohols as well.
You can either buy it in its natural form and process it or purchase an easy-to-use granulated version.
In baking, chicory root has a wonderfully warming effect, which offsets the cooling effect of erythritol.
---
Allulose is a tasty choice when used alongside other sugar free sweeteners.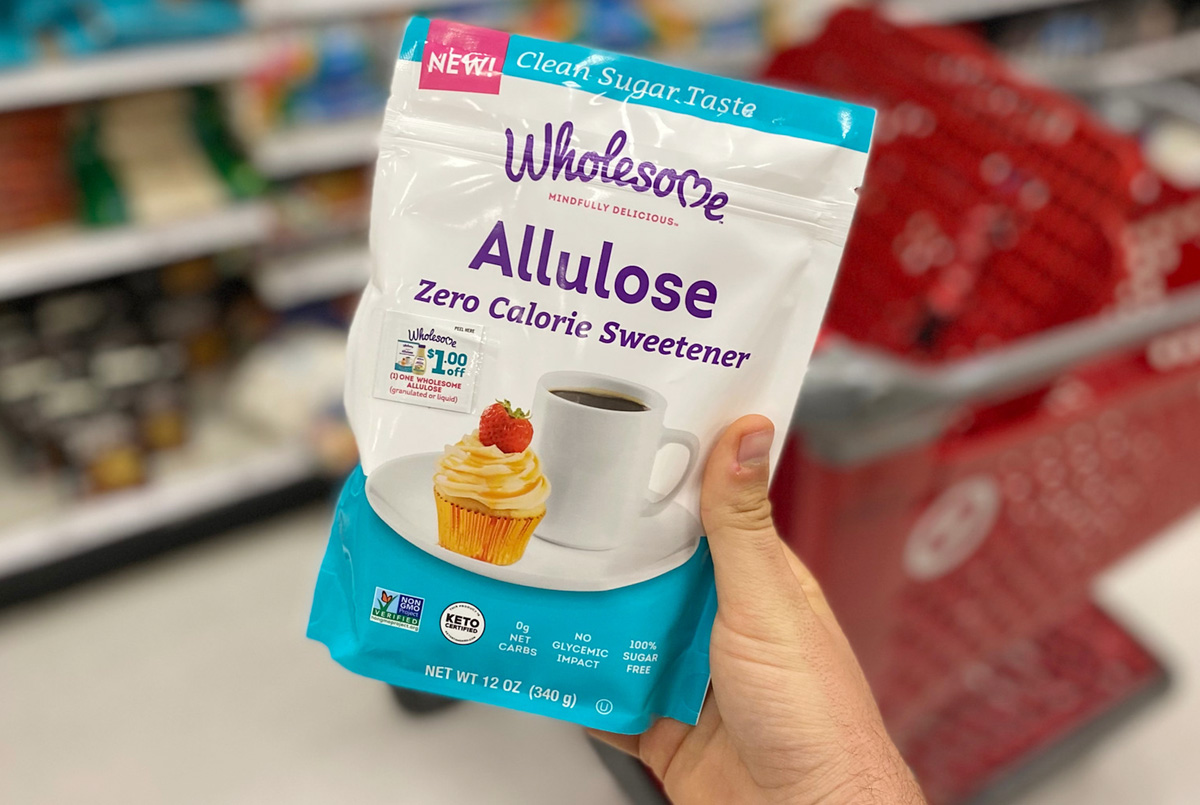 Also known as D-psicose, Allulose is fairly rare since it's only found naturally in wheat, raisins, and figs. Notably, more keto products than ever are using this sweetener, and it's very good.
Since Allulose is roughly only 60-70% as sweet as sugar, in recipes, you'll want to either combine allulose with a more concentrated sweetener (like Stevia) or add 40% more allulose in your recipes (I've converted to account for the 40% more below).
Either way, taste test and be careful to not overdo it… too much of this sweetener can cause stomach discomfort.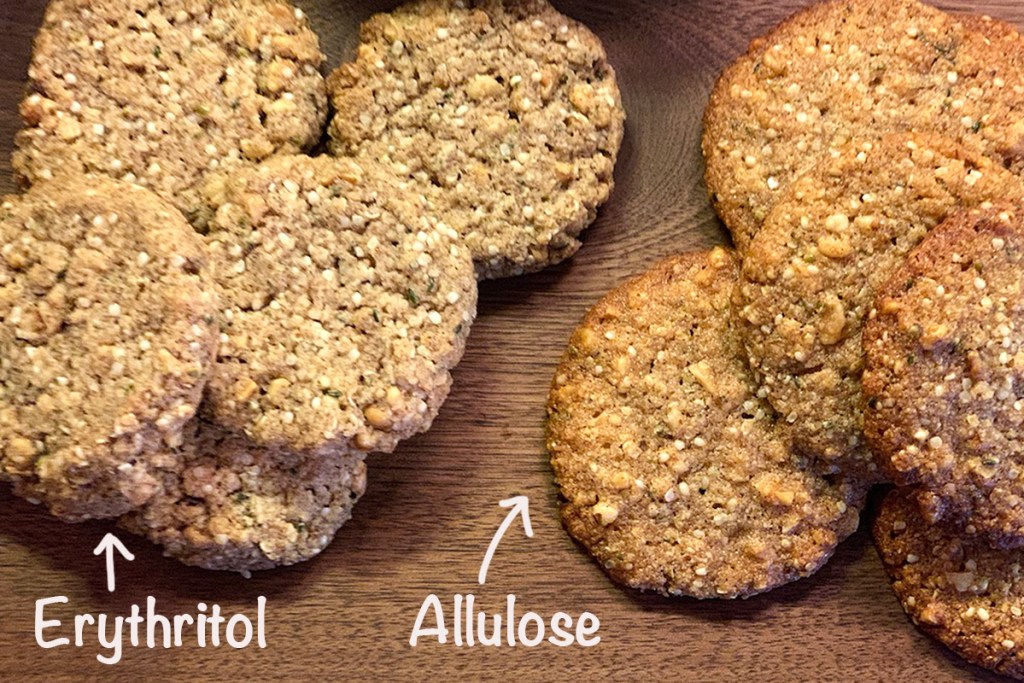 We used Allulose in our "oatmeal" cookies recipe and it made the cookies soft and chewy with caramelized edges. We also tested using erythritol, and it made the cookies crunchy.
Want to give Allulose a try? Check out Wholesome Allulose, Whole Earth, and Keystone Pantry brands.
---
EZSweetz, Liquid Splenda, or Sucralose aren't the healthiest options, but they're potent enough to use in small doses.
Used in sugar-free Davinci and Torani syrups, liquid Splenda (or generic sucralose) is much better than when compared to powdered products (which contain carby fillers for bulking).
This really isn't the best sweetener for folks who prefer natural sweeteners, but it can be added to coffee or in very small applications where a potent, single drop often satisfies what a few tablespoons of sugar (or sugar substitute) used to.
And as you'll see in our sweetener conversion chart, concentrated sucralose is easily 600 times sweeter than sugar, so you need only the smallest amount to make a sweet impact.
Note: These sugar free sweeteners are considered dirty keto by many, so keep that in mind when deciding if you want to incorporate it into your diet.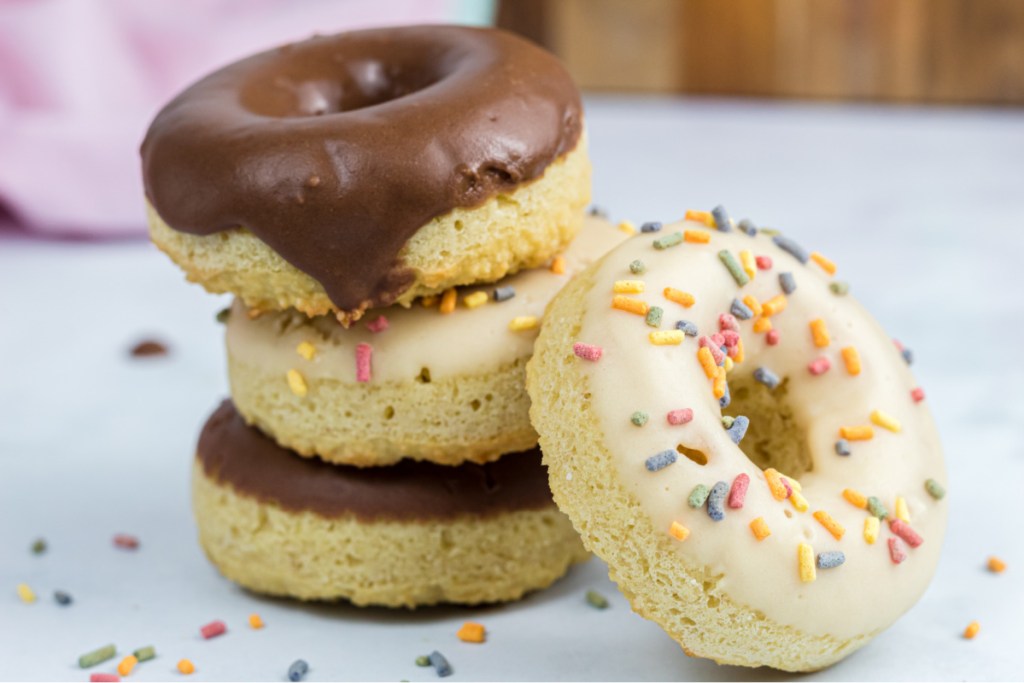 Hip tips for using these sugar free sweeteners:
If you find the taste of Stevia off-putting, try a hybrid sweetener that combines stevia with another sweetener, such as erythritol.
Have pets in your household? A reminder that Xylitol is toxic to dogs, cats, and other pets. It can even cause stomach discomfort in humans.
Brands like Swerve have a 1:1 ratio to replace sugar in recipes, and come in confectioners, brown, or granular form! We're loving the brown variety – SO good!
Since erythritol doesn't break down as well as other sweeteners, add the amount you need to a food processor and pulse into a powder, or buy confectioners.
Chicory root may help prevent constipation (yay!), but it's sometimes mixed with other sweeteners (boo!), so check the package label for unwanted additives.
Unlike other sweeteners, Allulose is less sweet than sugar, requiring more in recipes. Be careful to not overdo it to avoid stomach discomfort.
Sucralose, on the other hand, is super concentrated and can be 600 times sweeter than sugar! Use sparingly and avoid it if possible, but it does work in recipes where sugar bulk isn't important.
Now that you know our favorite sweeteners, here's how to use them!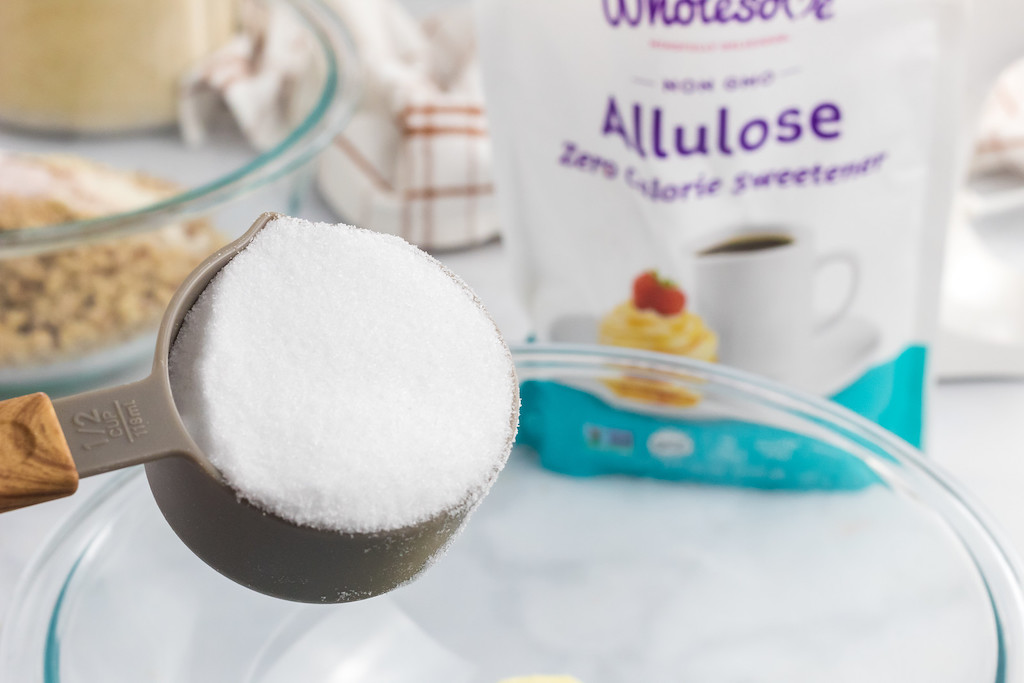 Instead of memorizing each sweetener's conversation rate or breaking out your calculator every time you bake, download and print this handy sweetener conversion chart!
This guide shows popular non-sugar sweeteners and how much you should use for each 1 teaspoon, 1 tablespoon, 1/4 cup, 1/3 cup, 1/2 cup, or 1 cup of sugar.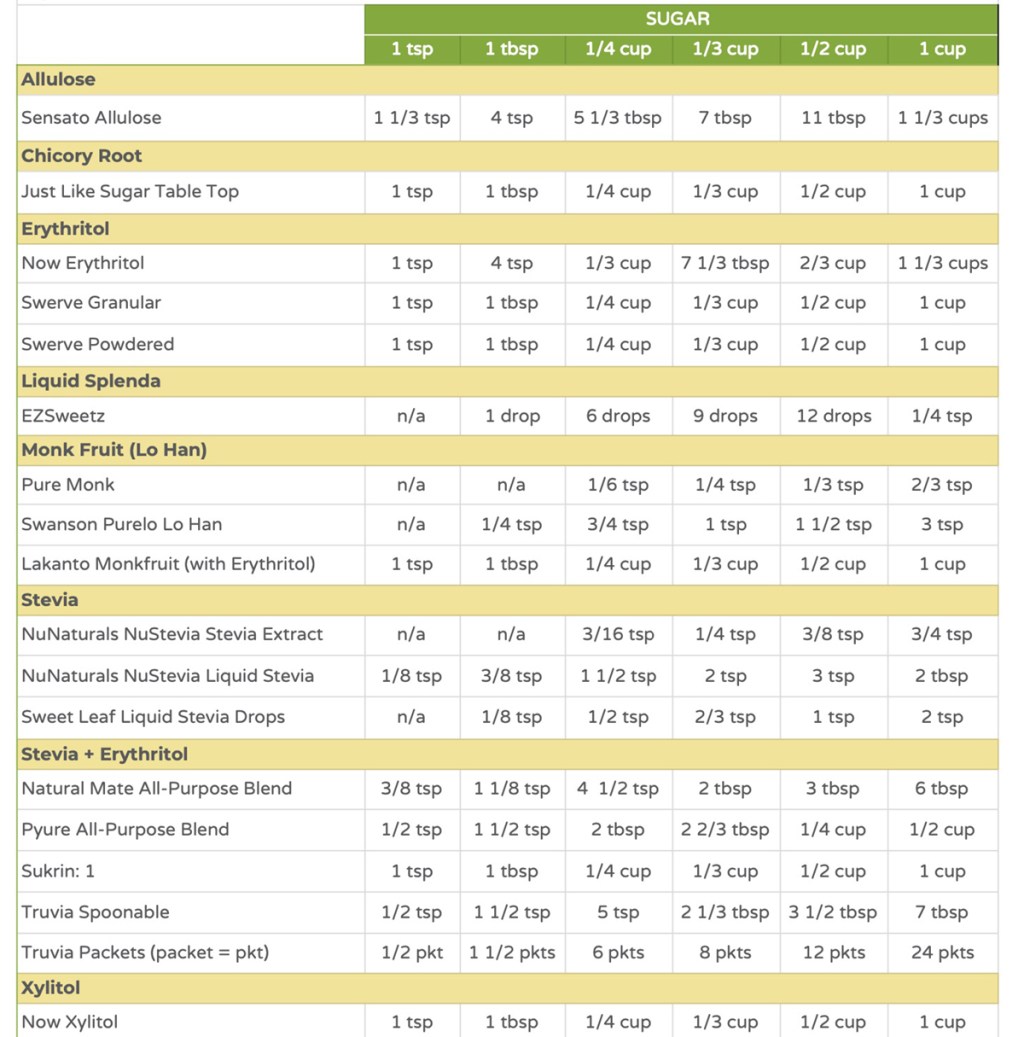 ---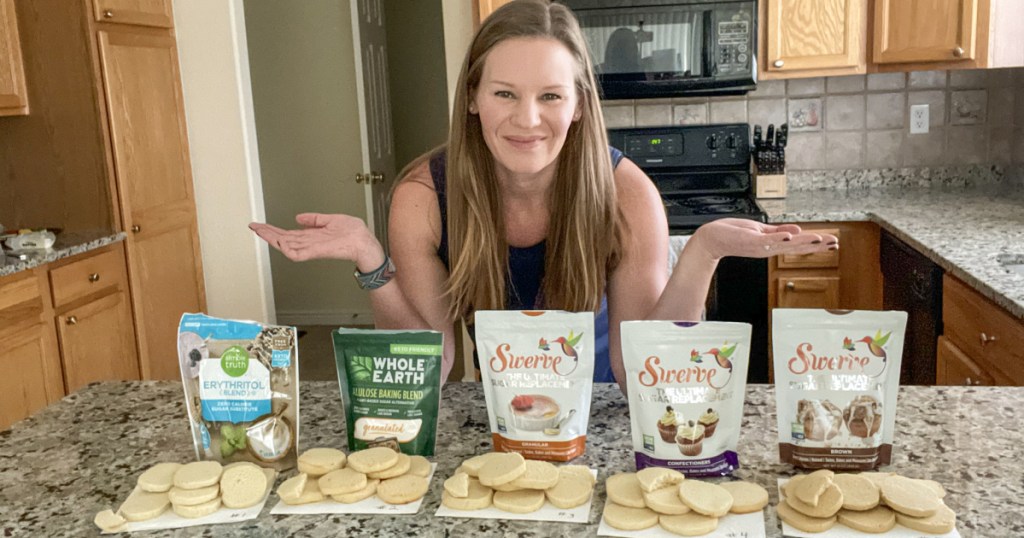 How much sweetener do you actually need in a recipe?
Once you've been baking with keto sweeteners for a while, you'll figure out how much sweetener you prefer. Because not all keto sweeteners are created equal, you might notice that the sweetness levels change if you use 1/2 cup of Swerve granular one time in a recipe and then 1/2 cup of allulose the next time.
You might also find that if a recipe calls for 1 cup of a sweetener and then when you taste the recipe, it's way too sweet for you. This could also be based on your personal taste preferences as some people do prefer sweeter desserts and others like more rich desserts. You might also notice some stomach issues like bloating and gas from too much sweetener.
The following information is meant as a guide to help you adjust the amount of keto sweetener used in recipes to best meet your personal taste preferences. There's no perfect formula as everyone's tastes are different. These adjustments are not going to alter a recipe.
When the recipe calls for…
1 teaspoon of sweetener – If you like it sweeter, increase to 1 1/2 to 2 teaspoons, and if you prefer less sweet, reduce to 1/2 teaspoon or omit it altogether
1 tablespoon of sweetener – If you prefer sweeter, increase to 1 1/2 to 2 tablespoons and if you like less sweet, decrease to 1 to 2 teaspoons
1/4 cup of sweetener – increase to 1/3 cup or 1/2 cup if you like really sweet treats and decrease to 2 to 3 tablespoons for less sweet desserts
1/3 cup of sweetener – increase to 1/2 cup and you can even add an additional tablespoon or two for extra sweetness and for a less sweet taste, reduce sweetener to a 1/4 cup
1/2 cup of sweetener– increase to 2/3 cup or 3/4 cup for more sweetness and reduce to a 1/4 cup or 1/3 cup for less
2/3 cup of sweetener – increase to 3/4 cup for a sweeter dessert and reduce to 1/2 cup for less sweetness
3/4 cup of sweetener – increase to 1 cup for sweeter and cut back to 1/2 cup for less sweet
1 cup of sweetener – increase to 1 1/4 cup or 1 1/3 cup for more sweetness and reduce to 2/3 cup or 3/4 cup for less sweet flavor
---
Get your recipe inspo on with these yummy keto desserts!