Keto Oatmeal Cookies… With a Secret Ingredient!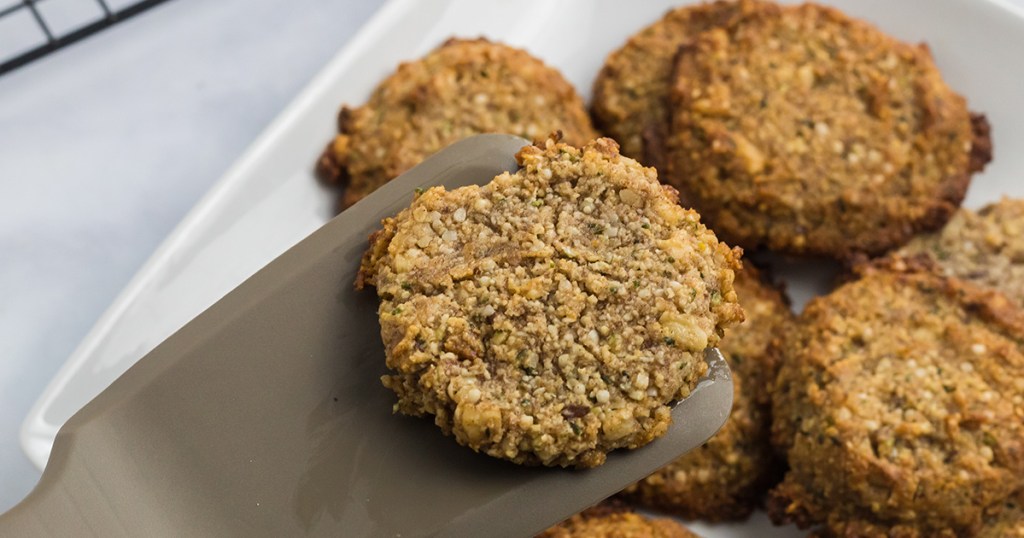 Our keto oatmeal cookies recipe is wholesome, sweet, & hard to beat!
I've always been a big fan of oatmeal cookies, especially when they're soft, chewy, and filled with warm and cozy feels. If I could, I'd wrap myself in an oatmeal cookie. And then I'd happily eat my way out of it! 😋
Fortunately, these keto oatmeal cookies are just as good as traditional… with a colossal amount of health benefits to boot! Oh, and did I mention that they're ONLY 1 NET CARB per serving?!
What's the secret ingredient that we're using in place of high carb oatmeal?! Hemp Seeds! 🙌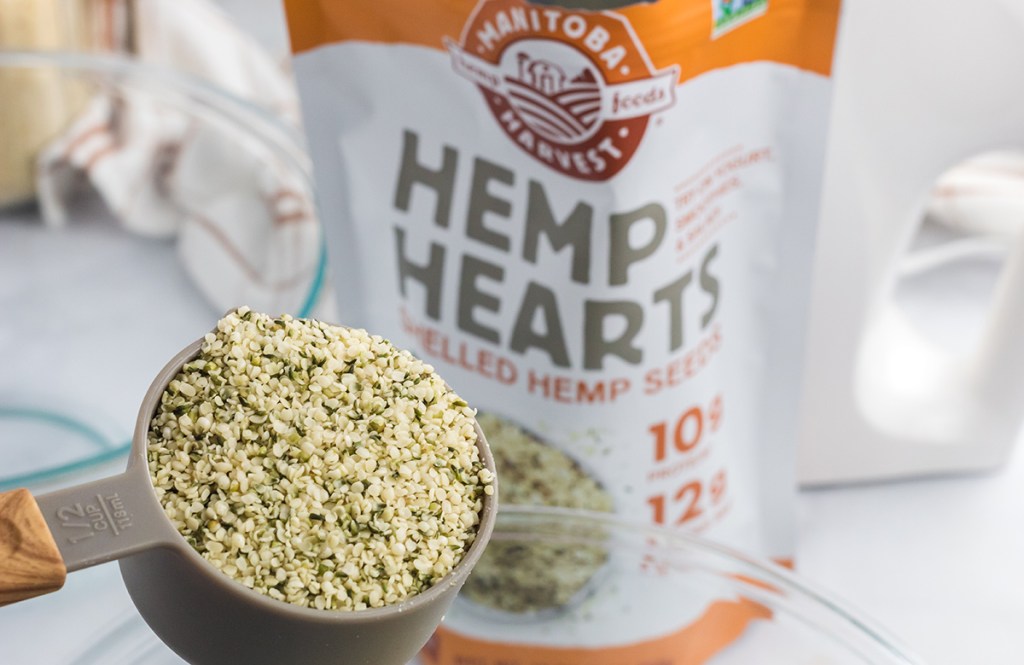 Here's a little Hemp Seed 101.
Hemp seeds, aka hemp hearts, are the seeds of the hemp plant Cannabis sativa. Yes, they come from the same species as cannabis (marijuana), BUT they are a different variety. That being said, they can't get you high but they can get you HEALTHY!
Hemp seeds are remarkably nutritious with lots of healthy fat, ample protein, and numerous minerals. Considered a nut, hemp seeds have a mild and nutty taste. They are loaded with fat – over 30%! And, they are exceptionally rich in two super crucial fatty acids, linoleic acid (omega-6) and alpha-linolenic acid (omega-3). Hemp hearts are an exceptional source of protein. For this reason, hemp seeds are a fabulous addition to a vegetarian keto diet.
Moreover, hemp seeds provide our bodies with loads of vitamin E, as well as vital minerals including magnesium, sodium, phosphorus, potassium, sulfur, calcium, iron, and zinc. With so many health benefits, hemp has been used as a food and medicine in China for over 3,000 years. Who knew this tiny little seed could pack such a punch?!
Now for a very important chat. Which sweetener to choose and why?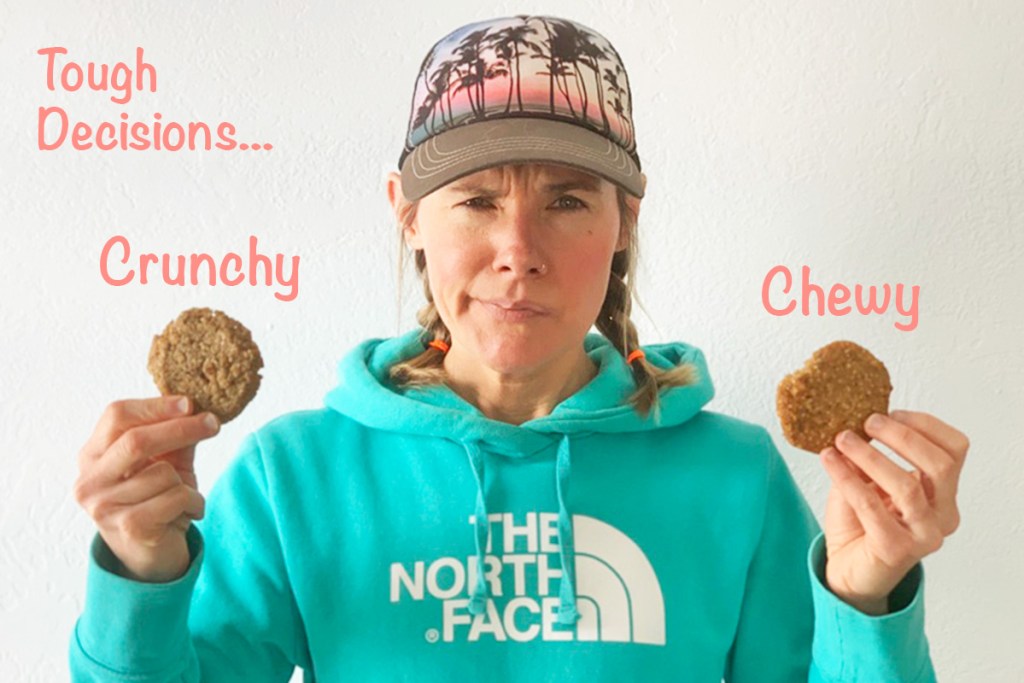 Without gettin' too nerdy on ya, it's important to explain how allulose vs. erythritol produces a very different keto cookie.
Allulose is a naturally occurring zero glycemic, zero-calorie sugar that behaves like conventional table sugar. This means it melts, caramelizes, and creates a lovely chew when used in baking. On the other hand, erythritol is a sugar alcohol that offers a similar sweetness and bulk as sugar without melting or browning.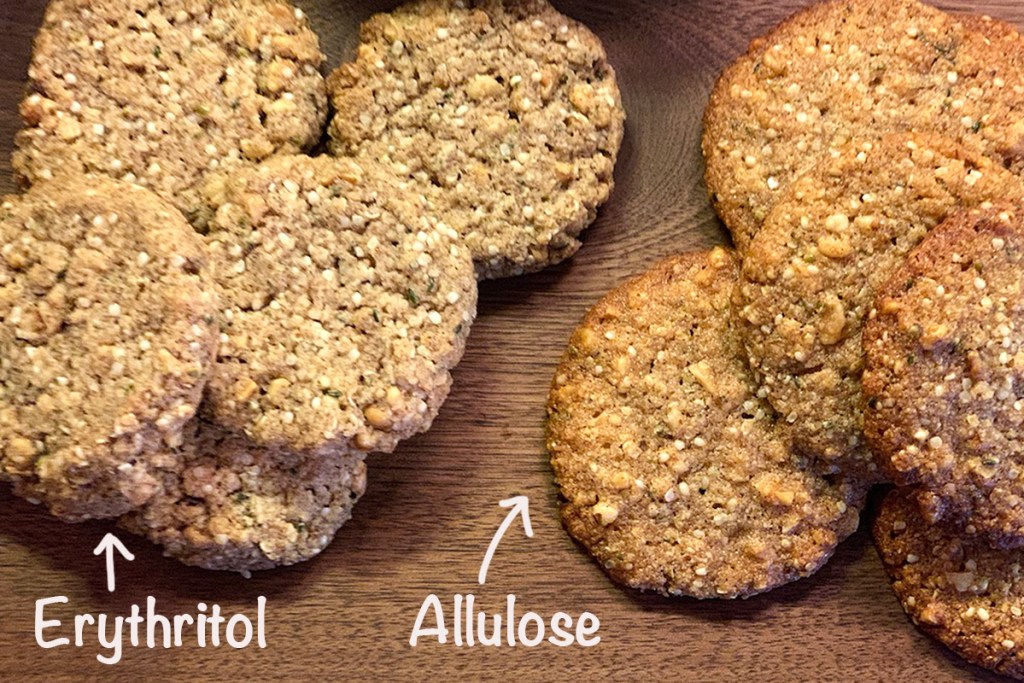 So, what's this have to do with you?
It means that you should first decide whether you want a chewy cookie or a crunchy keto oatmeal cookie. When using allulose, your cookie will be soft and chewy with caramelized edges. Alternatively, if you choose erythritol, you'll get an airy, crunchy cookie. Nonetheless, BOTH cookies are delicious, satisfying, and sure to bring a big, sweet smile to your face!
Hip Tip: I usually buy my Allulose and Erythritol from Amazon IN BULK using Amazon Subscribe and Save (I receive an additional 15% off). Buying in bulk saves me money AND ensures that my pantry is always well-stocked, so I'm never in a pinch. (I live in a small mountain town where specialty food items are very limited.)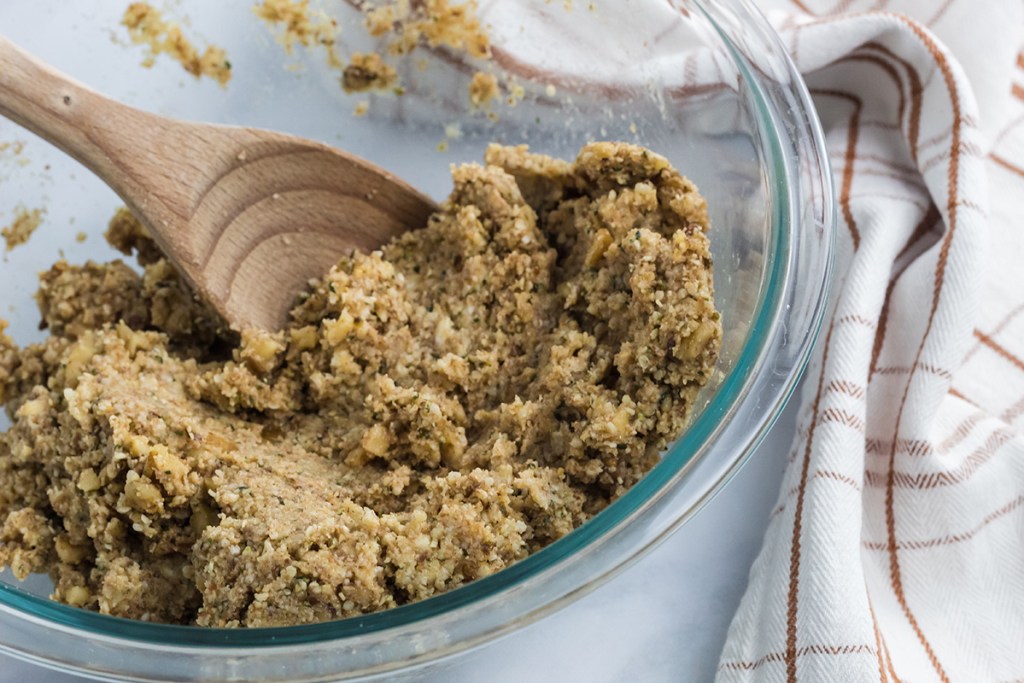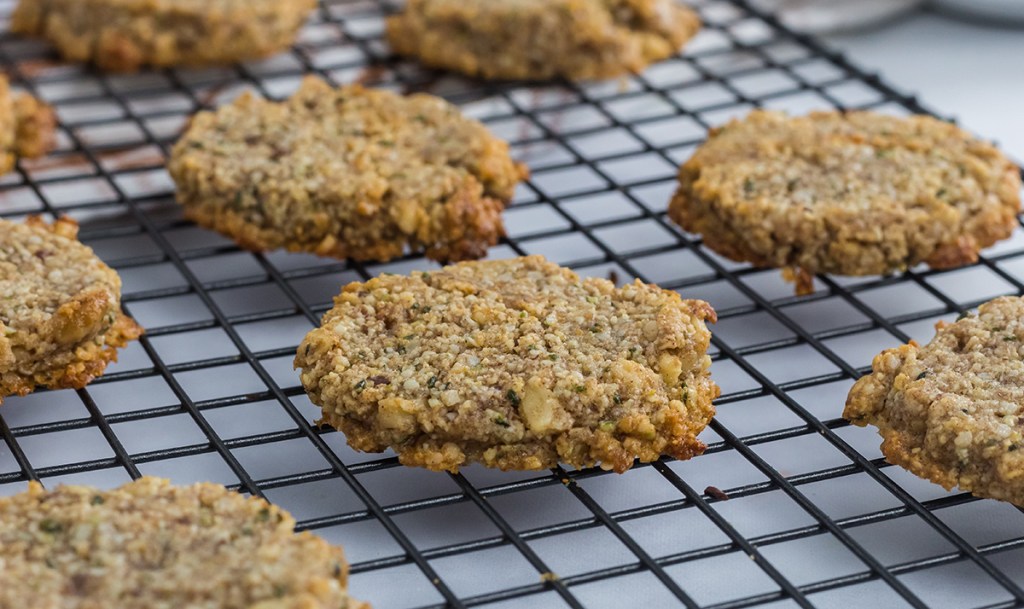 ---
Print
Keto Oatmeal Cookies
yield: 24 SERVINGS
prep time: 10 MINUTES
cook time: 15 MINUTES
total time: 25 MINUTES
This keto oatmeal cookie is wholesome, sweet, & hard to beat--and uses hemp hearts!
Ingredients
1 cup almond flour, super fine
1/2 cup hulled hemp seeds (a.k.a. hemp hearts)
3/4 cup finely diced walnuts (I buy Diamond, finely-diced)
2 tablespoons flax meal
1 teaspoon xanthan gum
1/2 teaspoon baking powder
1/4 teaspoon salt
1 teaspoon ground cinnamon
1/2 cup keto-friendly sweetener (check the post for sweetener suggestions)
8 tablespoons (4 oz.) butter, softened
1 large egg
1 teaspoon pure vanilla extract
Directions
1
Preheat oven to 350 degrees. Prepare a baking sheet with parchment paper.
2
In a medium bowl, mix together dry ingredients: almond flour, hemp seeds, walnuts, flax meal, xanthan gum, baking powder, salt, and cinnamon. Set aside.
3
In a separate bowl, using an electric hand mixer, cream together sweetener of choice, softened butter, egg, and vanilla.
4
Pour dry ingredients into wet ingredients. Using a hand mixer on low speed or a wooden spoon, gently combine ingredients until well blended.
5
Using a tablespoon-sized scoop, drop cookie dough onto lined baking sheet.
For allulose, be sure that you leave at least 3 inches between dropped cookie dough as the dough will spread as it cooks.


---

For erythritol, you must flatten the dough prior to baking as it will not spread on its own. Press down with your thumb or a fork until dough is 2-3 inches in diameter (about 1/2 inch thick).
6
Place cookies in a preheated oven.
For allulose: Bake for 12-15 minutes or until edges begin to brown.


---

For erythritol: Bake for 15 minutes.
7
Once cooked, wait at least 5 minutes before transferring to a cooling rack. Cookie texture is best when cooled completely.
8
Storage:
For allulose: I prefer storing these cookies in the refrigerator. Although counter storage is fine, I feel the texture is best right out of the fridge.


---

For erythritol: Store at room temperature.
Additional Notes
Both varieties can be frozen. I often freeze half the batch after they're finished cooling to have tasty keto oatmeal cookies available when a sweet craving strikes. Surprisingly, I enjoy eating them slightly frozen in addition to thawed.
Nutritional values were calculated using allulose.
Regarding Nutritional Information: Allulose carb values are shown in the nutritional breakdown under sugar alcohols. While allulose is NOT a sugar alcohol, we deem it can be subtracted from total carbs to determine the net carb value. Researchers have found allulose to have no impact on blood glucose levels.
Nutrition Information
Yield: 24 servings, Serving Size: 1 cookie
Amount Per Serving: 110 Calories | 10g Fat | 7g Total Carbs | 1g Fiber | 5g Sugar Alcohol | 3g Protein | 1g Net Carbs
---
Yummy and only 1 net carb per cookie!
This calls for a celebration, and may I suggest cheering with another keto oatmeal cookie in hand? You and your whole family will love these cookies, no matter if you're team soft and chewy or team crispy and crunchy!
---
Serious cookie monster?! Try our keto chocolate chip cookie recipe next!