I Taste Tested Sugar Cookies with 8 Different Keto Sweeteners – Here's My Favorite!
Have you ever done a keto sweeteners taste test?
Let the keto sweeteners taste test begin!
Since making our keto sugar cookies, it got me thinking about which keto sweeteners are the best for baking desserts and treats. There are so many alternative sweeteners out there now, it can be kind of overwhelming to know which one to use.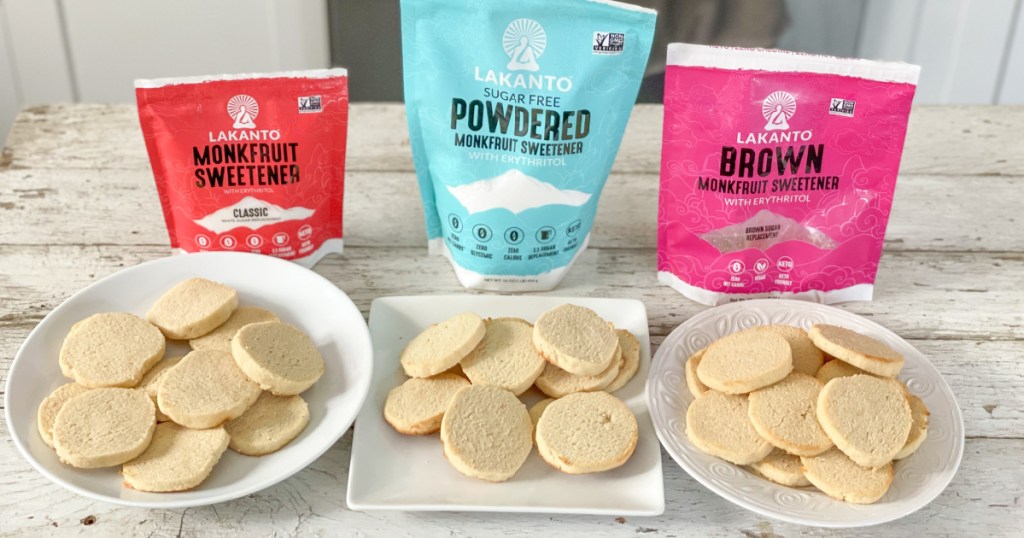 I tested out eight different keto sweeteners to see how they held up (and how good they tasted!) in our keto sugar cookies recipe.
The ones I tested are: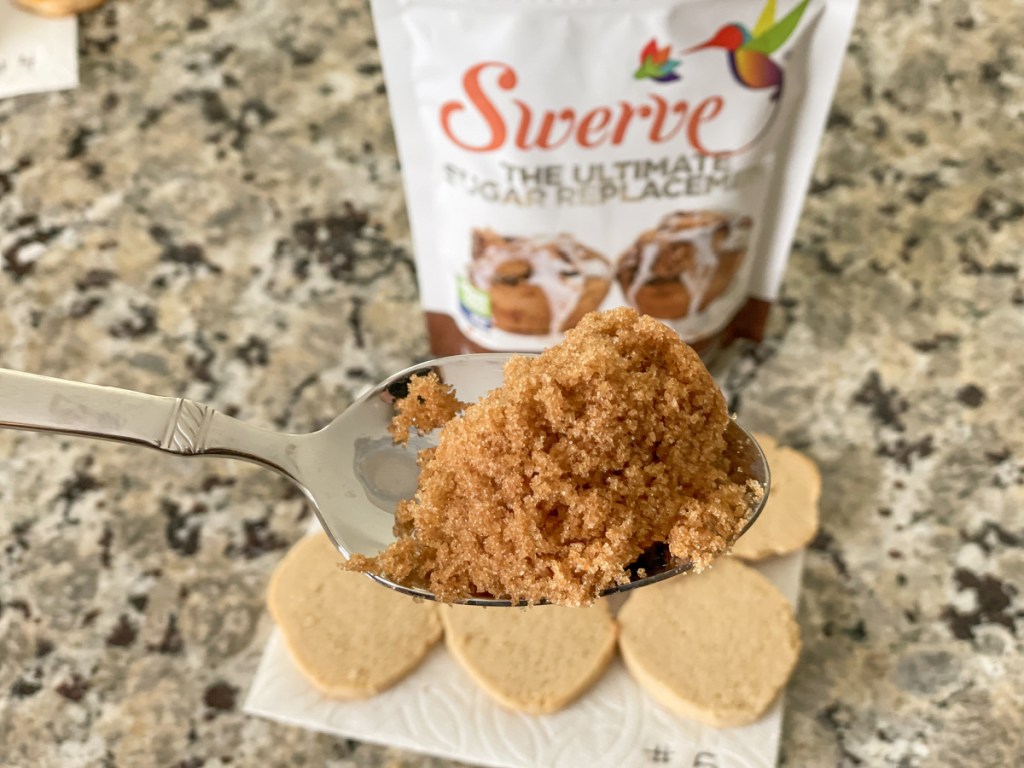 So many different keto sweeteners on the market!
It was hard to decide which keto sweeteners to even taste test! I know that I don't like Stevia for baking, so I decided not to test that one. Lately my go-to for baking has been Swerve Confectioners, but I worry that I might be overusing it! 😂
I don't mind Swerve Granular but sometimes I get that cooling aftertaste from the erythritol. I used a Kroger brand Erythritol Blend to compare to the Swerve Granular. I wanted to see how a generic compared with a name brand as the generics are so much more affordable.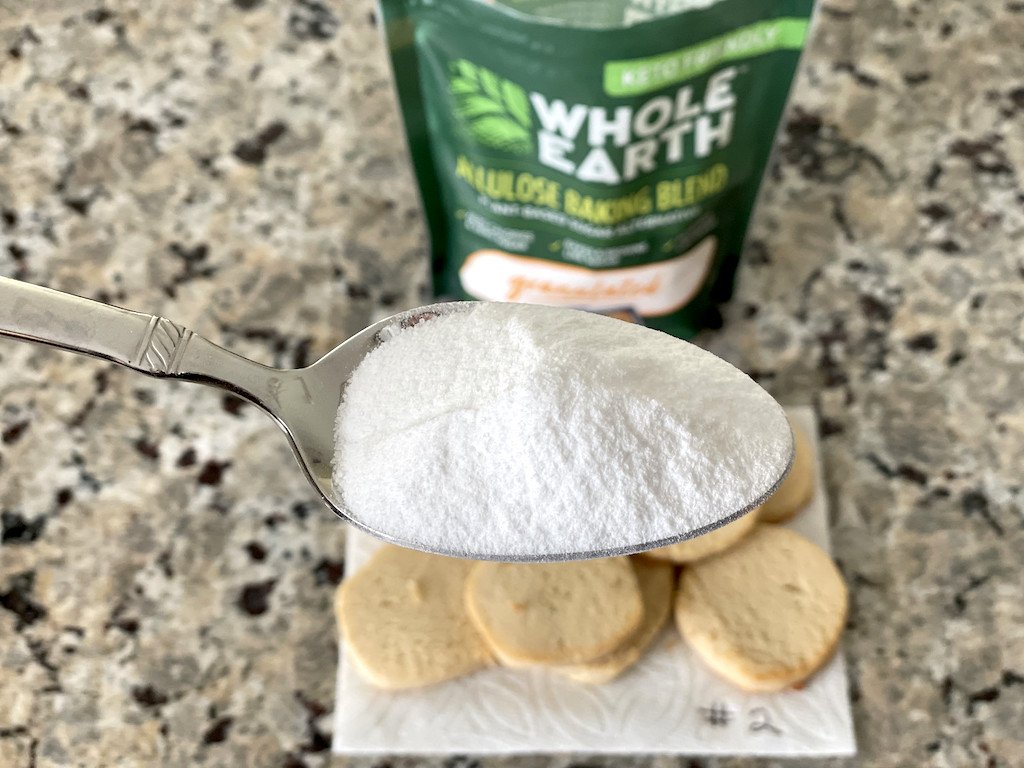 This was the first time I've used Allulose, and I do want to point out that it was an allulose blend with xanthan gum. And then of course I also had to try the Swerve Brown to compare all the Swerve varieties, as this is one of Collin's favorite keto sweeteners.
Lakanto, which uses a blend of erythritol and monk fruit, has also been expanding its line of keto sweeteners, so I tried their Classic Granular, Powdered, and Brown. If you love Lakanto's monk fruit-based products as we do, make sure to use our promo code HIP2KETO for 15% off your entire order!
Be sure to check out our keto sweetener conversion chart for substitutions in recipes. We even include a free printable!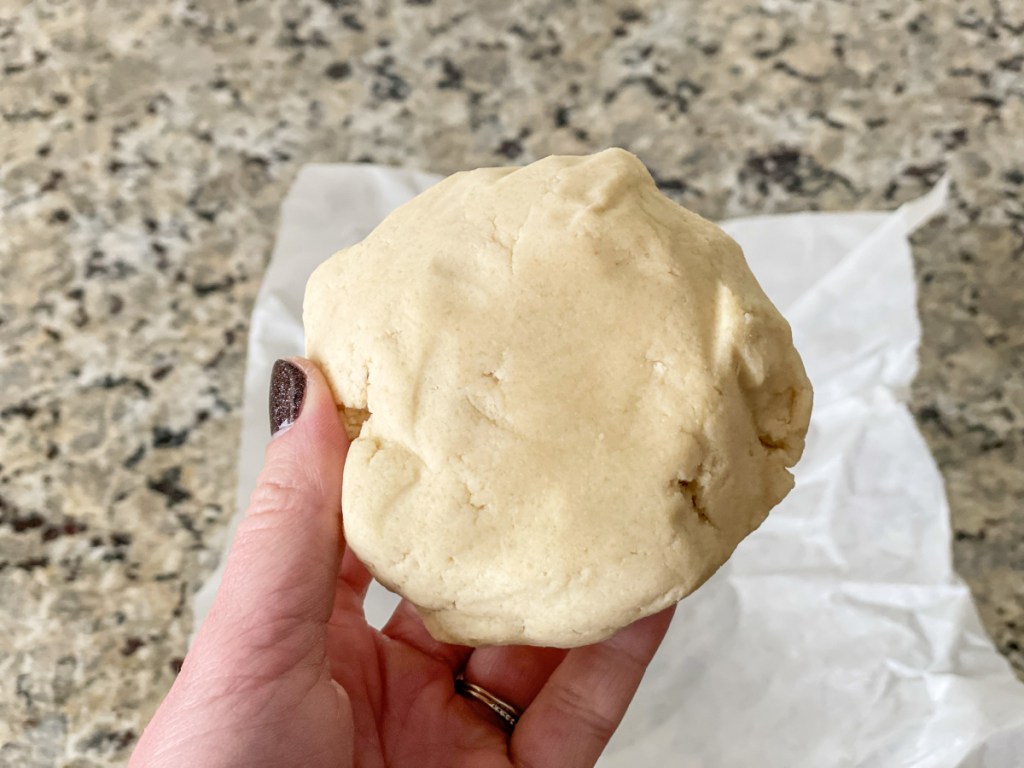 So let's get to it!
I used my basic keto sugar cookie recipe only switching out the sweeteners for this keto sweeteners taste test. The results were fairly surprising as you don't really think that switching out just one ingredient would make SUCH a big difference.
It was pretty fun to do a keto sweeteners taste test. I even got my husband to participate!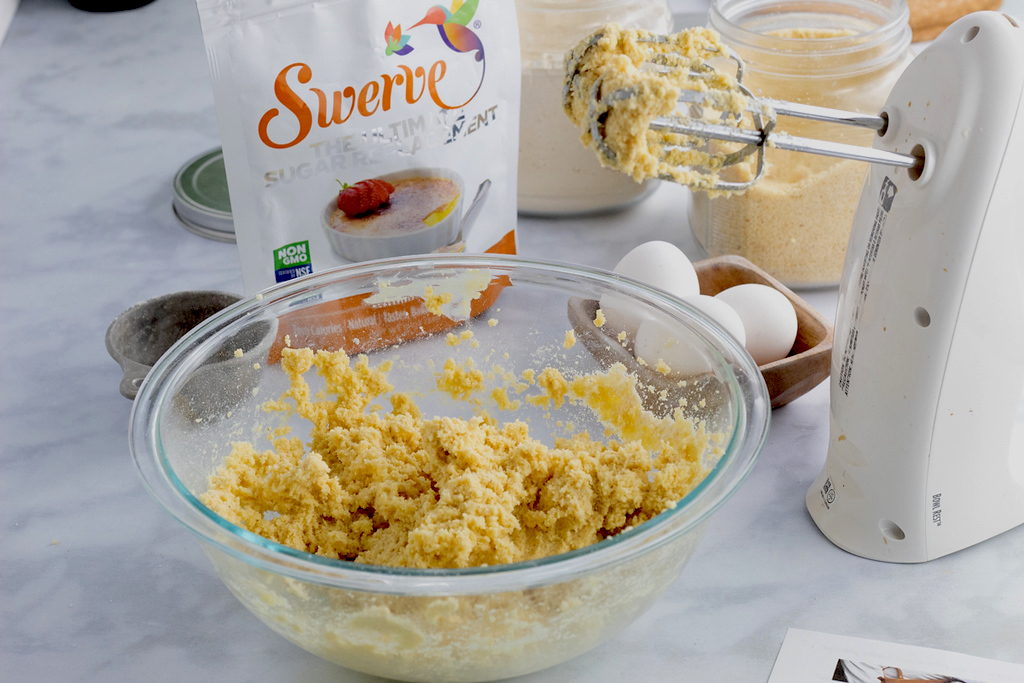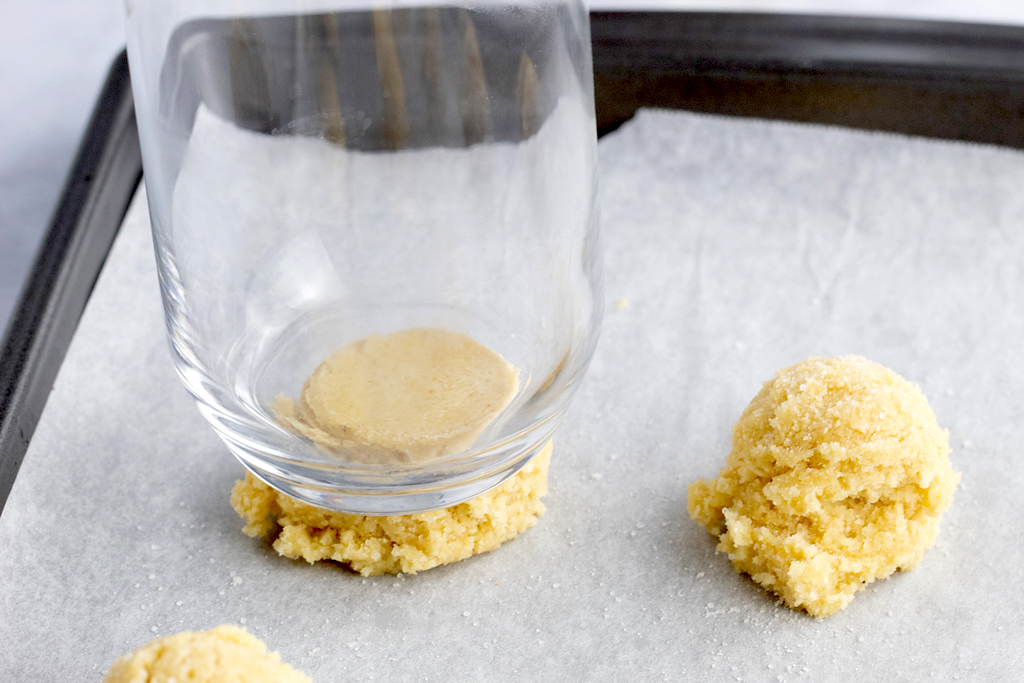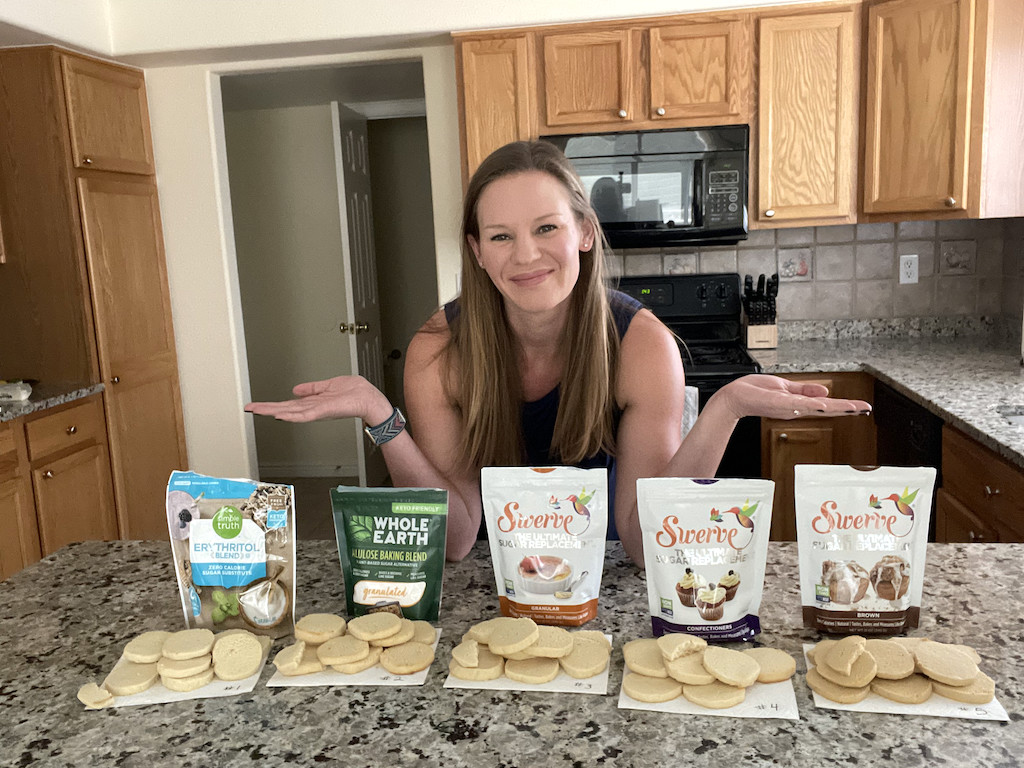 ---
yield: 28 SERVINGS
prep time: 1 HOUR 15 MINUTES
cook time: 8 MINUTES
total time: 1 HOUR 23 MINUTES
The best sugar cookies allowing for your preference of keto-friendly sweetener alternatives.
Ingredients
1/2 cup butter
1/3 cup keto sweetener of your choice
3 tablespoons cream cheese
1 egg
1/2 teaspoon lemon or almond extract
2 teaspoons vanilla extract
1/2 teaspoon baking powder
1/4 teaspoon salt
1 1/4 cups almond flour
1/2 cup coconut flour
Directions
1
In a large bowl, using an electric mixer, cream together butter, cream cheese, and keto sweetener* until combined. Add in egg and extracts, mix on high until fluffy, about 2 to 3 minutes.
*See the notes below the recipe for the keto sweeteners we tested.
2
Add the baking powder, salt, almond flour, and coconut flour into the bowl and mix on low until well combined.
3
Shape cookie dough into a log and wrap with plastic wrap.  Refrigerate for at least 1 hour.
4
Preheat over to 350 degrees. Line a baking sheet with parchment paper.
5
Once chilled, remove the dough from the refrigerator and slice it into 1/4 inch rounds. Place on a parchment-lined cookie sheet.
Optional: Since these do not flatten like other cookies, you can dip a cup that has a flat bottom in water and press the cookie down.
6
Bake in the oven for about 8 to 10 minutes or until the edges turn slightly golden brown. Remove the cookie sheet from the oven. Do NOT remove cookies from the cookie sheet until they are completely cooled. Cooling will take about 10 minutes. Enjoy!
Nutrition Information
Yield: 28, Serving Size: 1
Amount Per Serving: 79 Calories | 6.4g Fat | 4g Total Carbs | 1.4g Fiber | 0.7g Sugar | 1.7g Sugar Alcohol | 1.9g Protein | 0.9g Net Carbs
---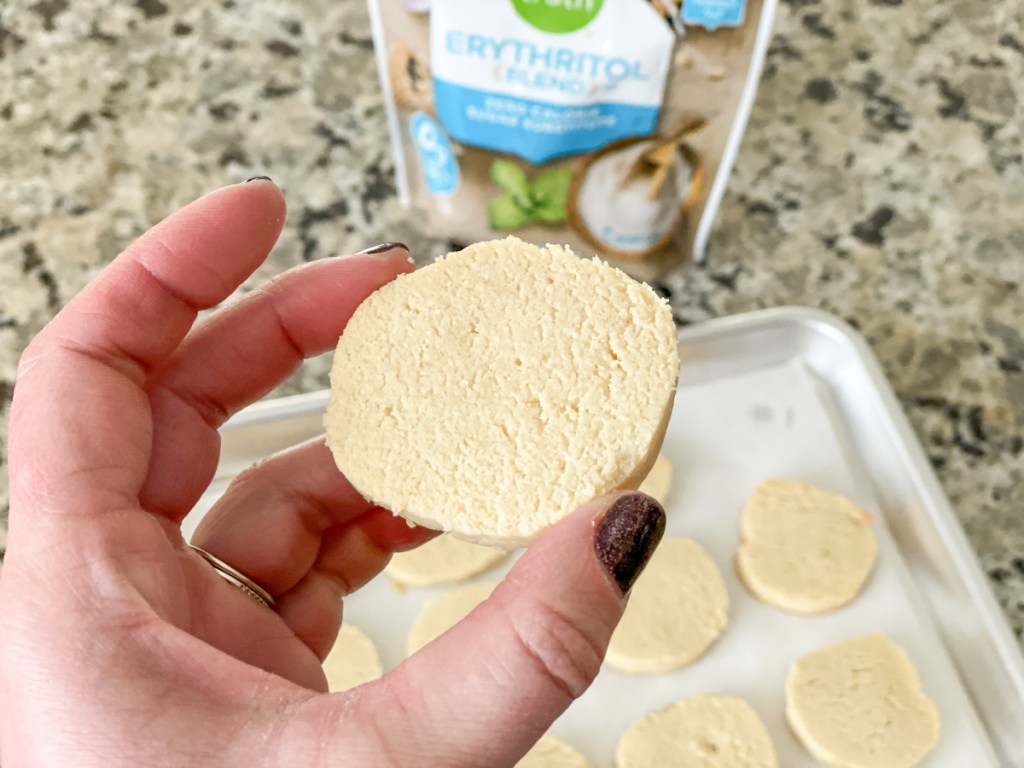 I actually like this sweetener. It dissolves well when mixed into recipes and tastes like sugar. It's a generic version of Swerve Granular and bakes up very similarly. It does have a slight cooling aftertaste from the erythritol. Overall, I think it's a great product for the price. It's usually $2 to $3 cheaper than a name-brand product.
---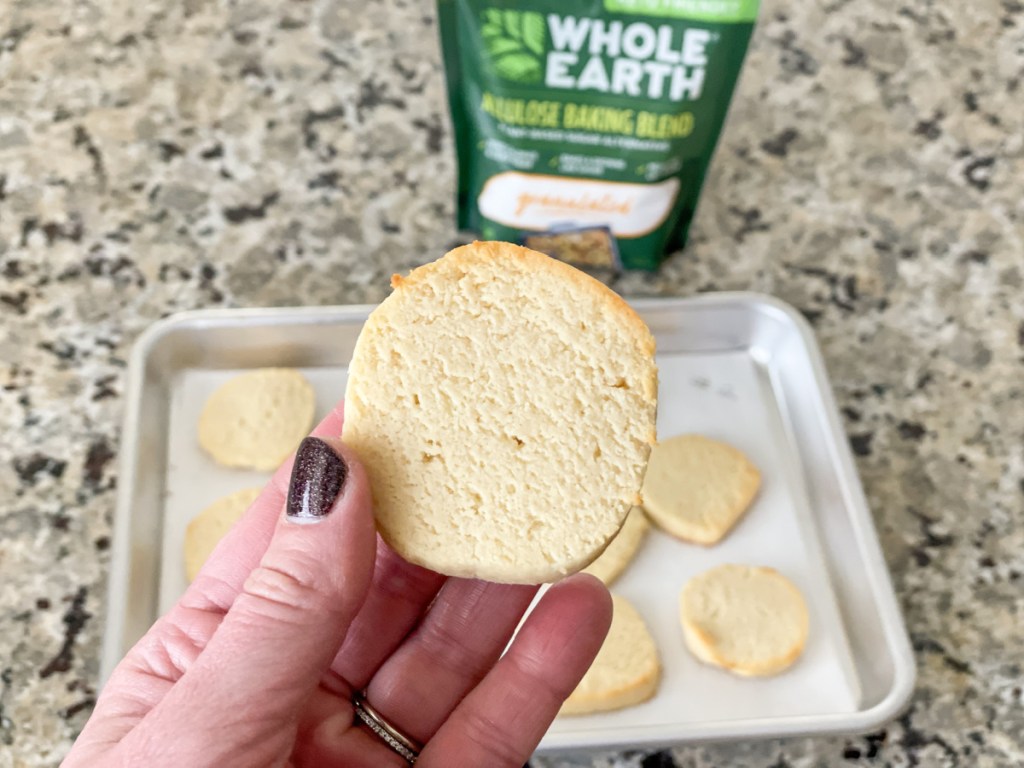 This keto sweetener made the softest cookie in the taste test. The blend is made with allulose, erythritol, xanthan gum, stevia leaf extract, and monk fruit extract. Allulose is the main ingredient but I do realize it isn't pure allulose. In fact, I think these cookies were the softest because of the xanthan gum.
That said, I didn't particularly care for the flavor of these cookies though. They weren't very sweet by themselves. So I think if you tried frosting them or increased the amount of the sweetener, they'd be better. One plus is that I did not pick up on any cooling aftertaste but they were almost gummy to me, as if there was too much xanthan gum.
---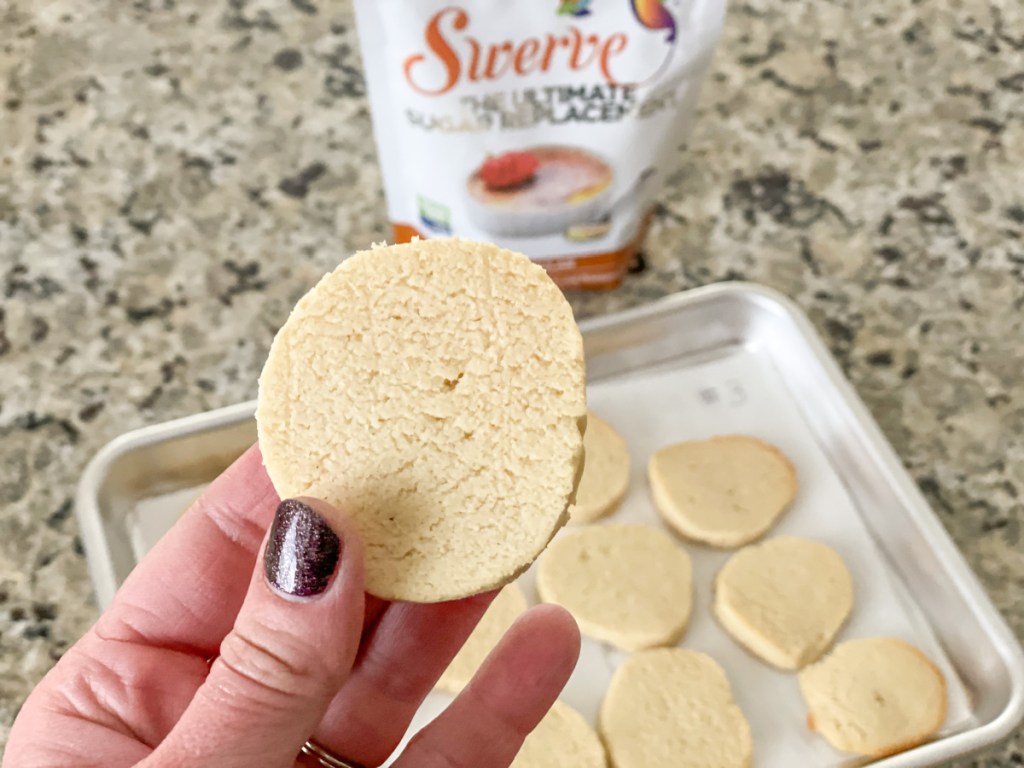 These cookies were my favorite when I first tried them in the sweeteners taste test. But then I tried them again the next day and I didn't like them at all. I could totally pick up on that cooling aftertaste and it was strong.
On the plus side, the texture was perfect and they browned up around the edges nicely. I think if I made these sugar cookies again with Swerve Granular, I would reduce the amount used in the recipe.
---
These cookies turned out great! As I mentioned above, Swerve Confectioners has been my go-to for keto baking. The flavor tastes the most like real sugar to me and I never pick up on any of the cooling aftertaste.
I also think that the confectioners sweetener gets blended in the best and helps create a wonderful texture and the perfect sweet flavor. Sometimes it seems that the granular keto sweeteners don't dissolve very well.
---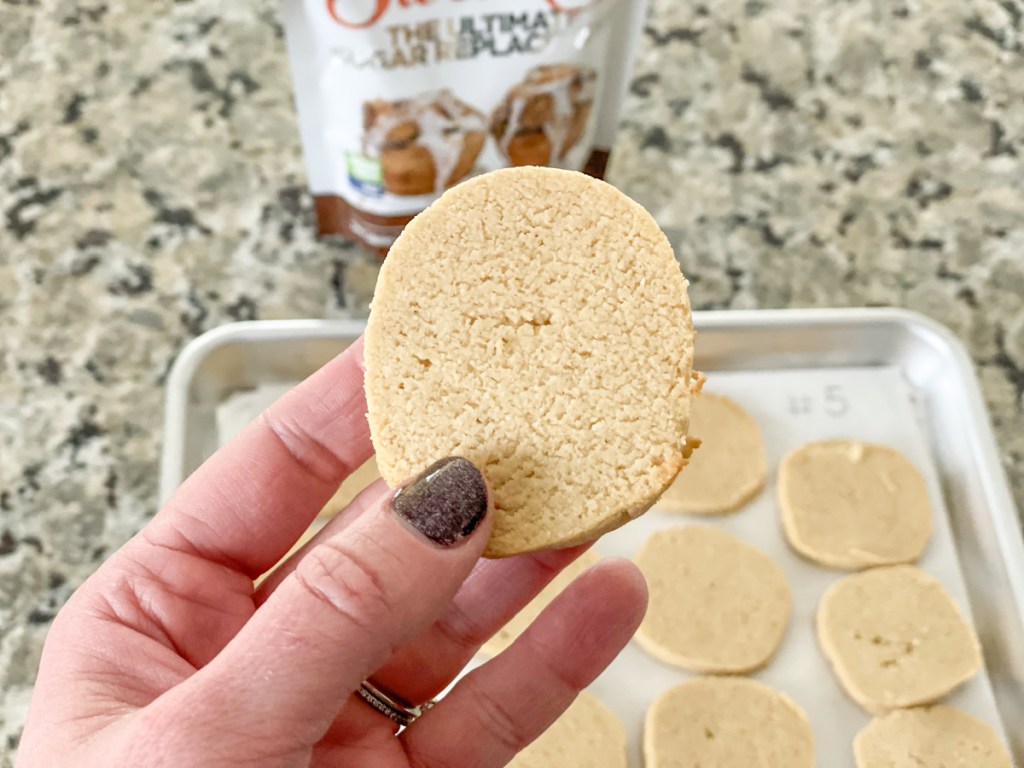 While brown sugar isn't typically used in sugar cookies, I had to try Swerve Brown. This was the first time I'd used Swerve Brown. I'd only ever used other brands of brown keto sweeteners, and to be honest, I wasn't a big fan of the other brands. I felt like they did not dissolve at all and created a really granular crumb that was not very good. 🤷‍♀️
So I was pleasantly surprised with the Swerve Brown! It was actually my husband's favorite. Yay! The cookies had a richer flavor than the others, almost a little molasses and caramel hint to them. And I really like them too but to me, they just didn't taste like traditional sugar cookies.
---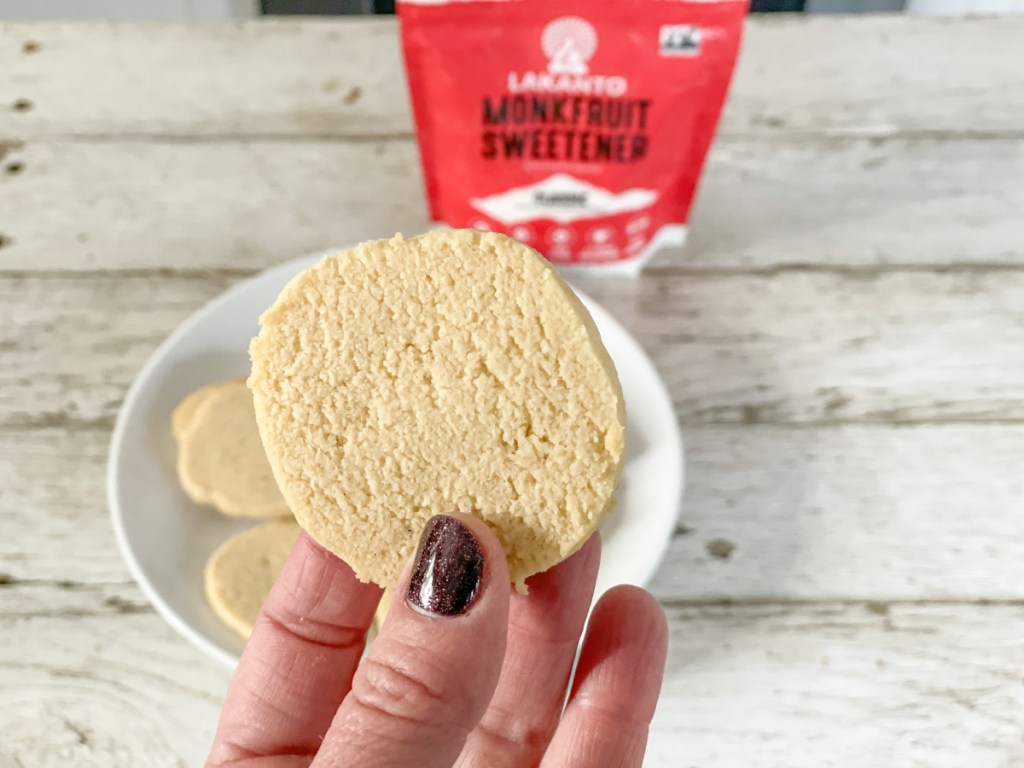 Another popular keto sweetener brand is Lakanto, which uses both monk fruit and erythritol by coating the erythritol granules with monk fruit. I tested out three Lakanto varieties – classic, powdered, and brown.
I liked the way this cookie turned out. It had a great soft texture and was just barely browned underneath. I did slightly detect a bit of cooling aftertaste but not as much as with the Swerve granular. Overall, I'd recommend this sweetener for baking!
---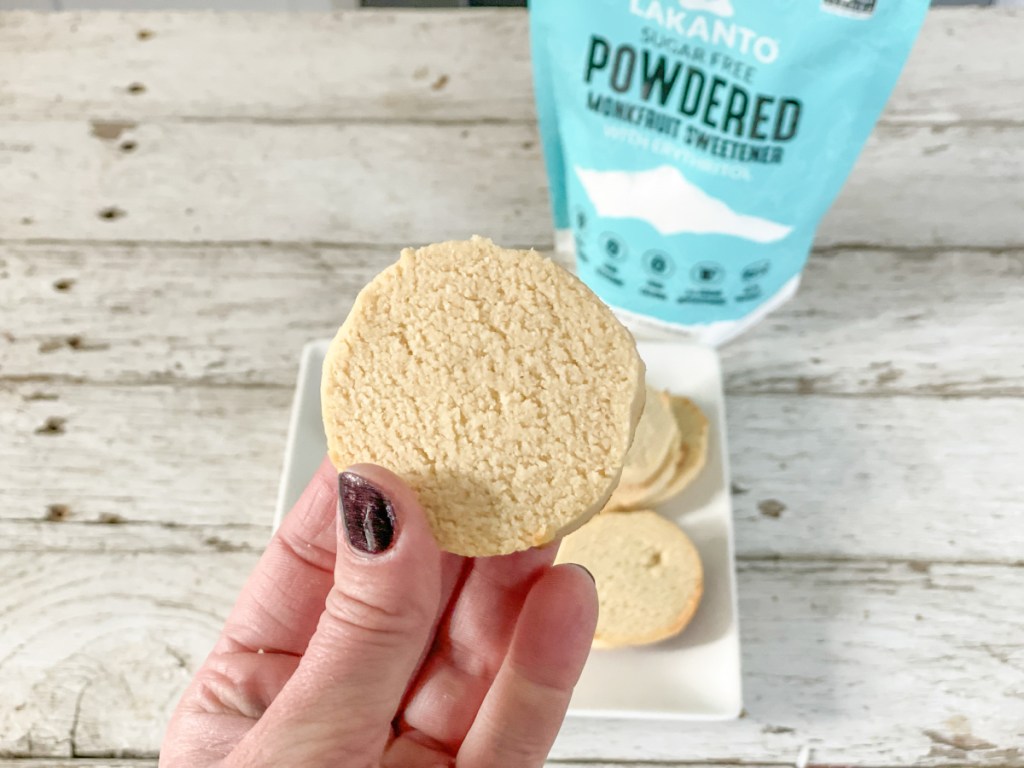 Okay, I have to admit that I might be biased towards powdered keto sweeteners because I really liked how this cookie turned out! It's on par with the Swerve confectioners sugar cookie.
For me, the powdered keto sweeteners aren't overly sweet and I can't pick up on any of the cooling aftertastes from the erythritol. I also like the texture better with the powdered sweeteners as I think they dissolve better and get incorporated more evenly into baked goods. Another solid baking option if you love using monk fruit sweeteners!
---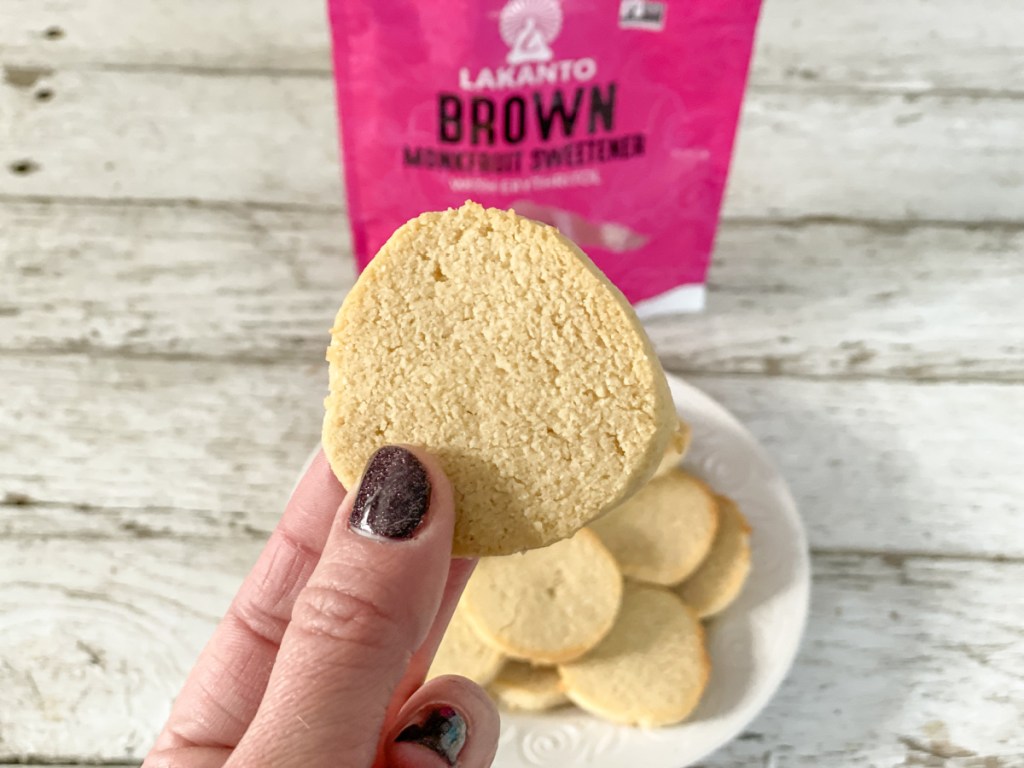 The final sweetener I used for the keto sweetener taste test was Lakanto Brown Sweetener. When you open the bag of Lakanto Brown sweetener, it smells like true sugar. It has delicious strong maple syrup and a molasses scent. 🤤
These cookies were slightly darker in color than the granular and powdered sweeteners, similar in color to the Swerve brown, but they tasted way too sweet for me. Unfortunately, I did not like how these cookies turned out. 😕
---
So which was the winner for me in this keto sweetener taste test?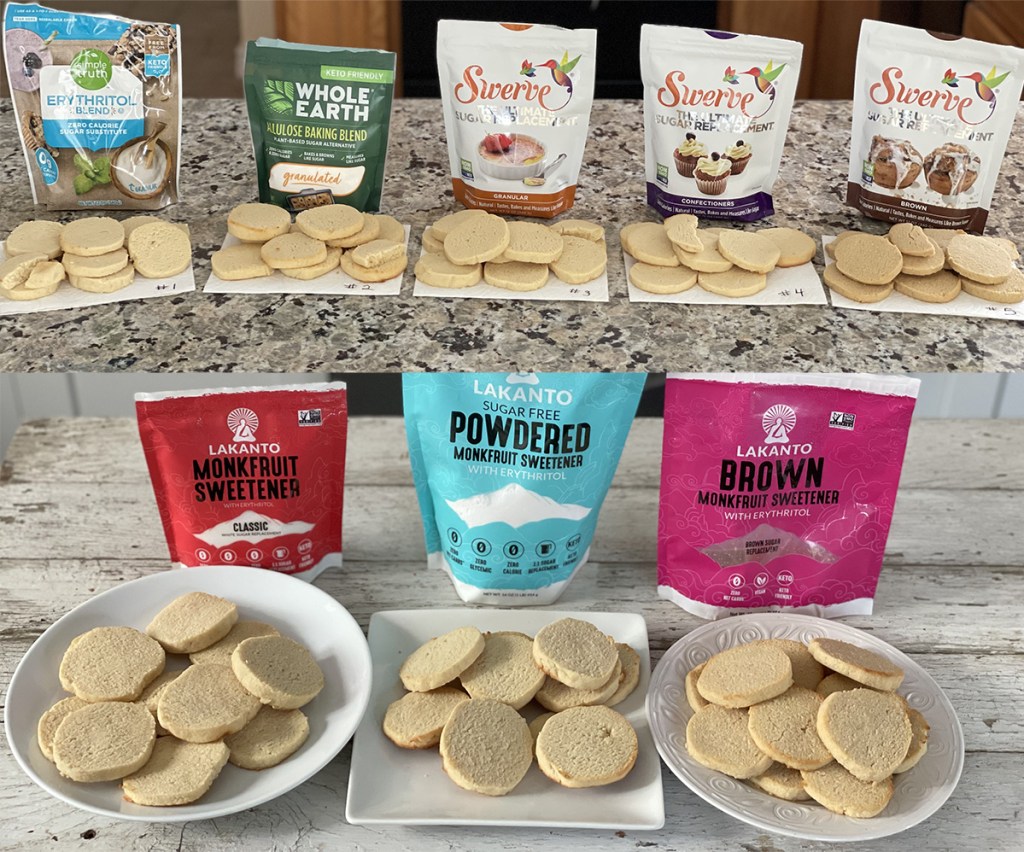 Swerve Confectioners!
The cookies with the Swerve Confectioners had the best flavor and reminded me the most of the sugar cookies I grew up eating. I do love using Swerve Confectioners in baking and it won the keto sweetener taste test for me!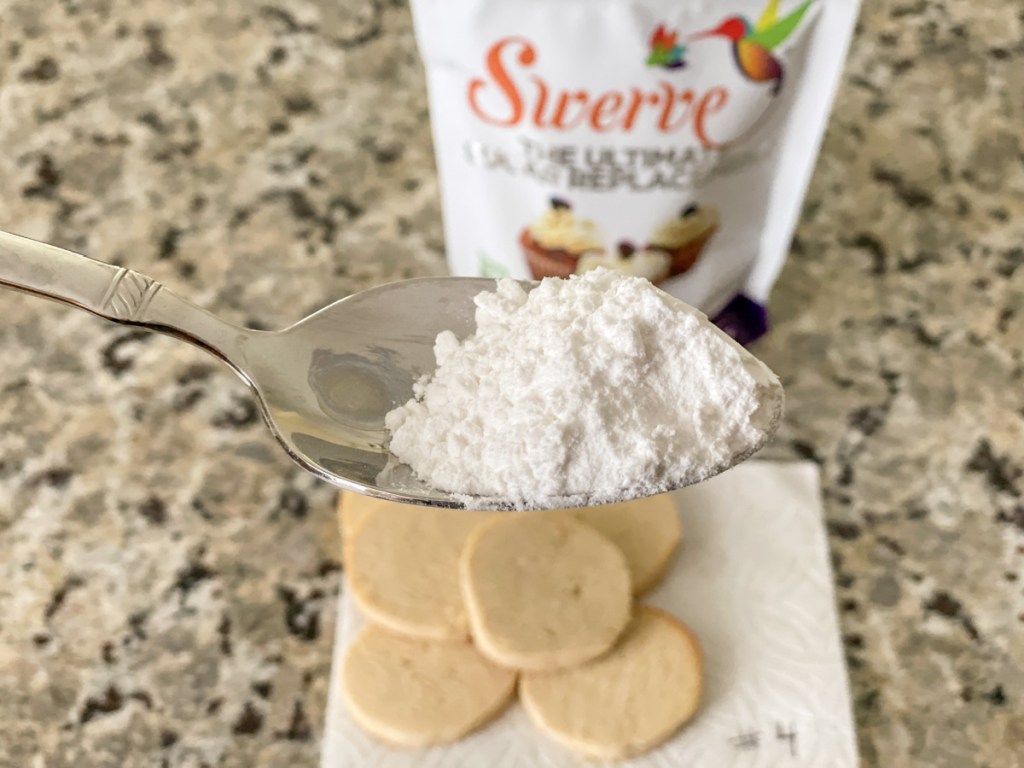 Since Swerve Confectioners sweetener is already powdered, it dissolves quickly and gets incorporated the best into recipes. I've used it in keto cookies, keto cakes, keto pies, pumpkin bread, and brownies and have never picked up on the cooling aftertaste.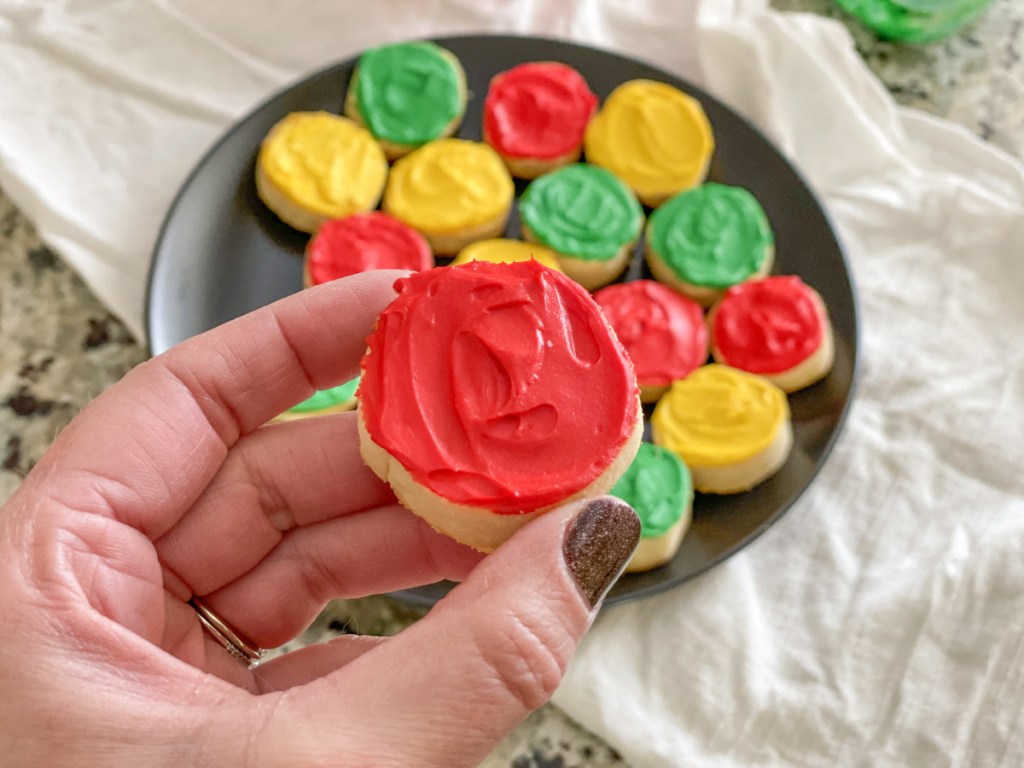 That being said, I do think everyone's tastebuds are a little different and you might not pick up on any aftertaste with Swerve Granular. Or maybe you really do prefer the flavor of a keto brown sweetener, or want to use a sweetener with monk fruit, which is why I'm happy to provide insight into each option!
Lastly, the amount of sweetener used in a recipe can make a huge difference. Sometimes if I reduce the amount of sweetener, that will take away the cooling aftertaste.
No matter your preference, I'd love for you to try out this recipe with your favorite keto-friendly sweetener and let me know your thoughts!
---
Need some milk for those cookies? We taste-tested non-dairy keto milk, too!