Super Soft Keto Sugar Cookies with Icing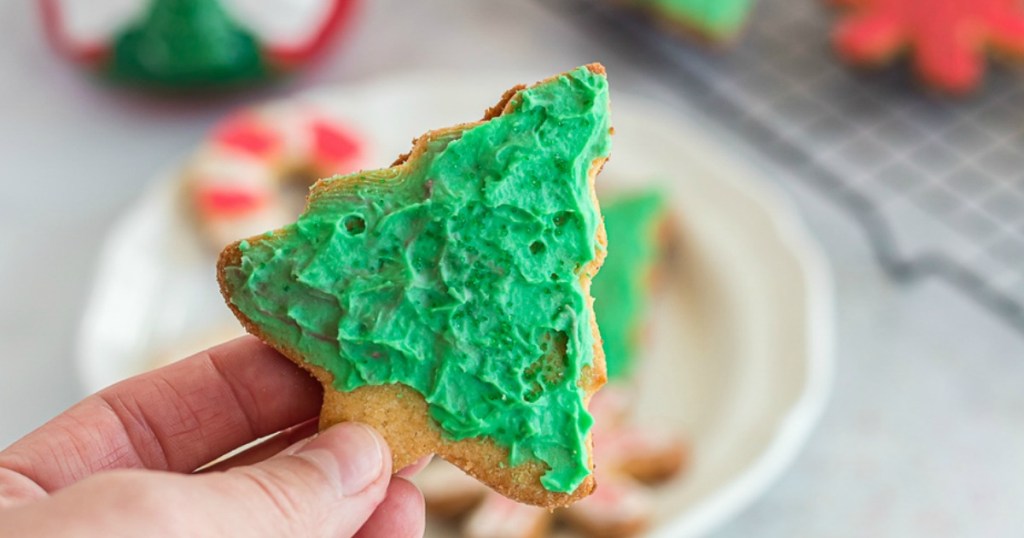 You can still bake keto cookies during the holidays! 🎄

Iced sugar cookies are back on the list to make this Christmas. The tradition of decorating cookies around the table for hours is still going strong in my family thanks to this keto sugar cookies recipe! They taste just like grandma's sugar cookies, with that buttery almond flavor and smooth, sweet icing – but without all of the sugar and carbs!
Say hello to the best keto sugar cookies around! 👋 They are soft and delicious.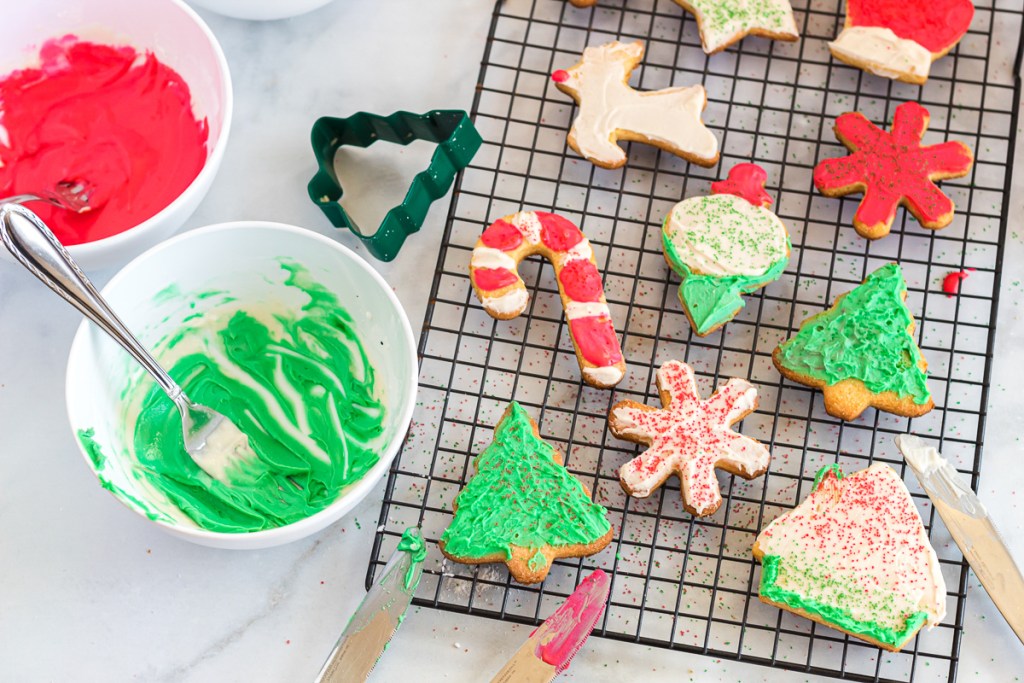 HIP TIPS:
If you don't have a smooth surface to roll out your cookie dough, you can simply place the cookie dough between 2 pieces of parchment paper.
Do NOT transfer cookies from the cookie sheet right after they are removed from the oven. You will actually want to let them cool on the pan for about 10 minutes before transferring to a cooling rack or plate.
Keep in mind that these keto cookies do brown more than typical sugar cookies, but they'll still remain really soft due to the high-fat content.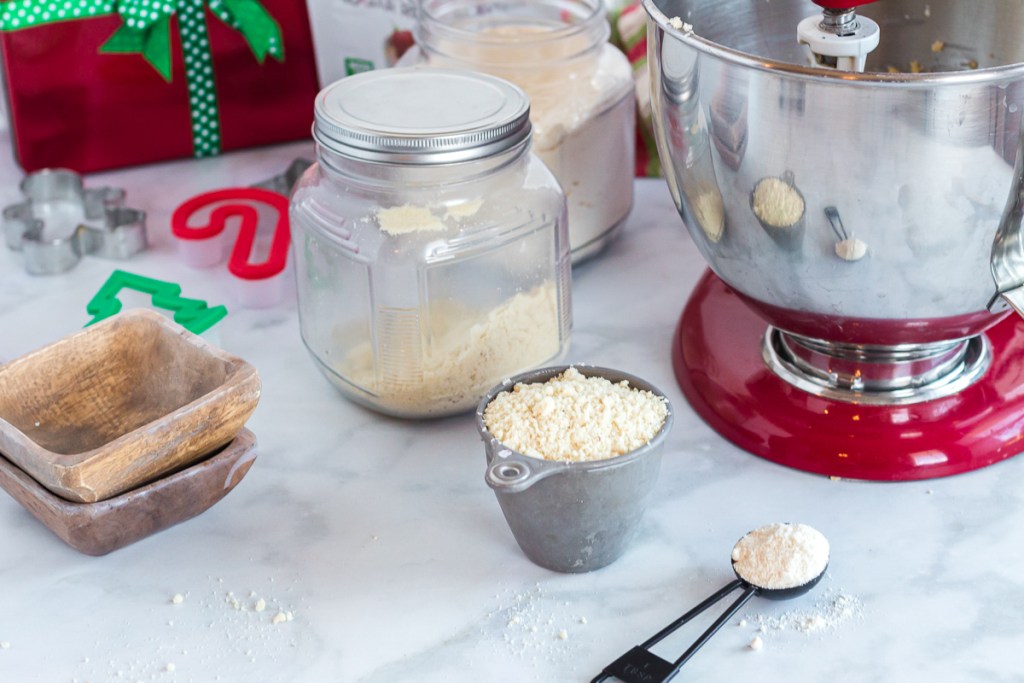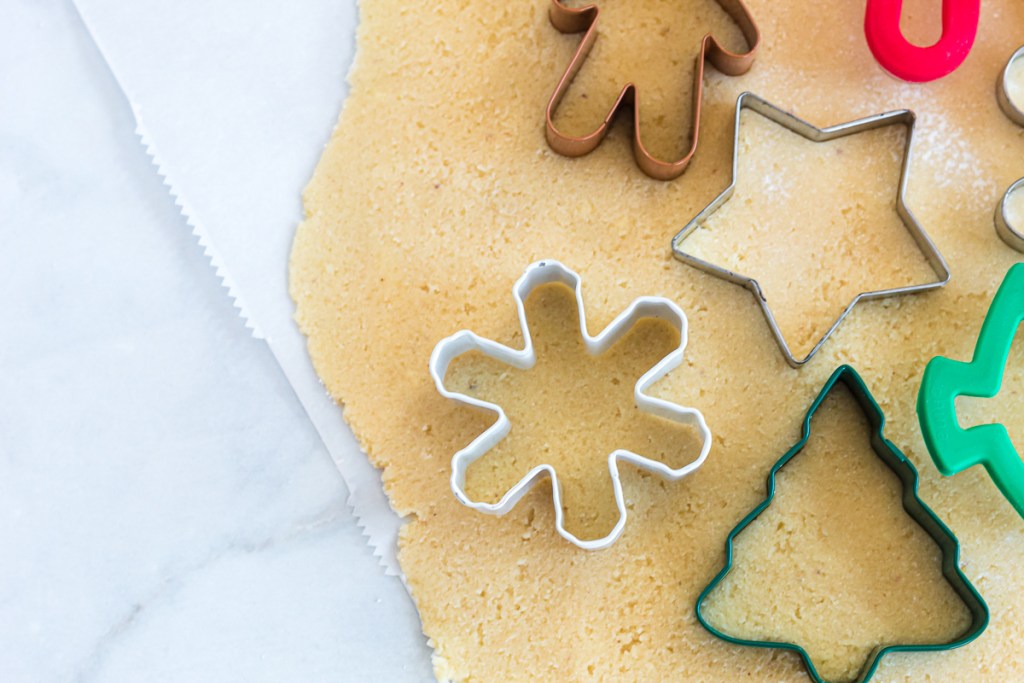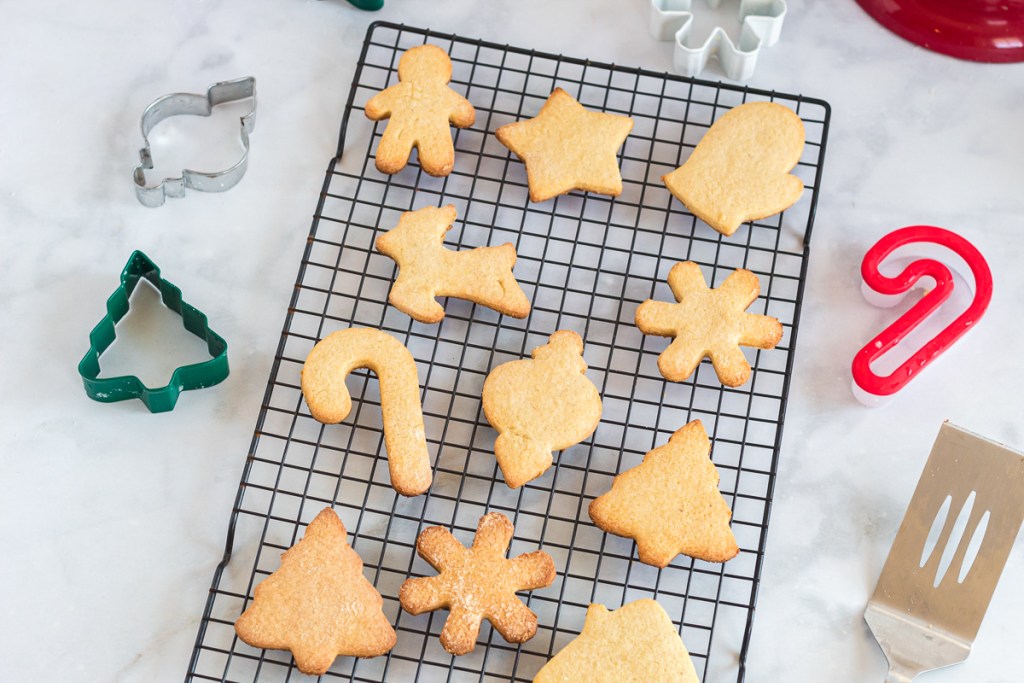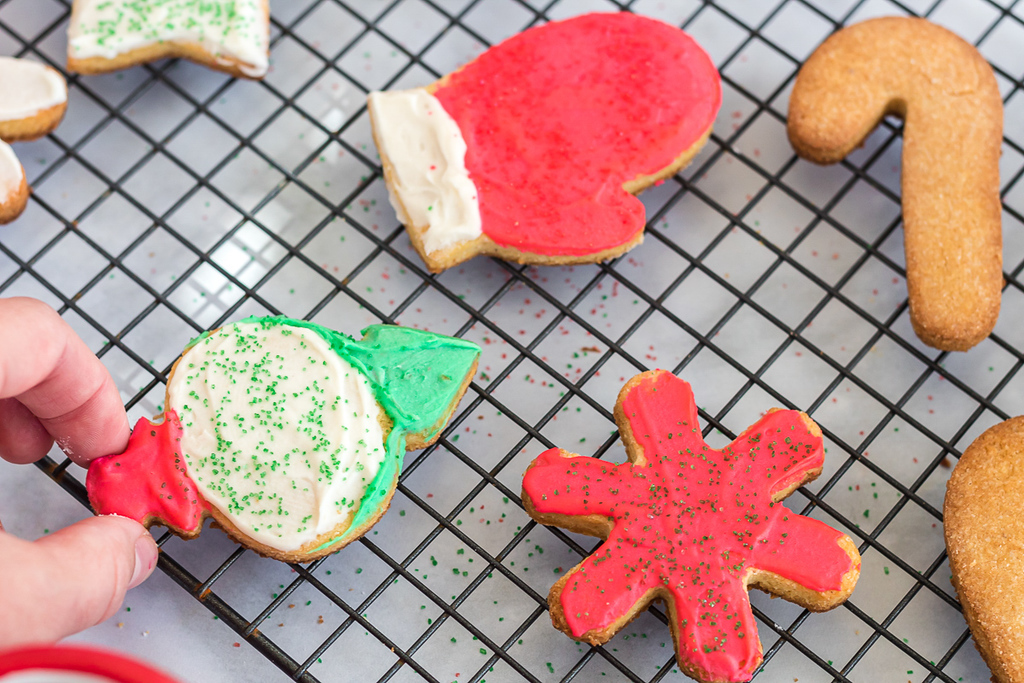 ---
yield: 24 SERVINGS
prep time: 1 HOUR 15 MINUTES
cook time: 8 MINUTES
total time: 1 HOUR 23 MINUTES
It's time to start holiday baking, and these low-carb and super soft sugar cookies don't disappoint!
Ingredients
1/2 cup butter
2 tablespoons cream cheese
1 egg
1 teaspoon almond extract
1 teaspoon vanilla extract
1/2 teaspoon baking soda
1/2 teaspoon baking powder
1 cup almond flour
1/2 cup coconut flour
Keto Confectioner Icing:
3 tablespoon heavy whipping cream
food coloring (optional)
Directions
1
Preheat oven to 350 degrees.
2
In a large bowl, using an electric mixer, cream together butter, cream cheese, and Swerve granular until combined. Add in egg and extracts, mix on high until fluffy.
3
Add remaining dry ingredients into the bowl and mix on low making sure everything is mixed well.
4
Shape cookie dough into a large ball and cover with plastic wrap.  Refrigerate for at least 1 hour.
5
Once chilled, sprinkle coconut flour over the surface and roll out dough. If you do not have a smooth surface, you can roll out the dough between 2 pieces of parchment paper. You will want the dough to be 1/4" thick. Cut out dough with cookie cutters and place on a parchment-lined cookie sheet.
6
Bake in the oven for about 8 minutes or until the edges turn slightly golden brown. Remove cookie sheet from the oven. Do NOT remove cookies from the cookie sheet until they are completely cooled.  This will take about 10 minutes.
7
While cookies are cooling, you can make the simple confectioner icing. To frost all of the cookies, you'll mix together 6 tablespoons of Swerve confectioners and 3 tablespoon of heavy whipping cream. You can double this if you are icing an even larger batch of cookies.
Additional Notes
The nutritional information below is for the cookie only and does not include the icing.
Nutrition Information
Yield: 24 cookies, Serving Size: 1
Amount Per Serving: 77 Calories | 6g Fat | 4g Total Carbs | 1g Fiber | 1g Sugar Alcohol | 2g Protein | 2g Net Carbs
---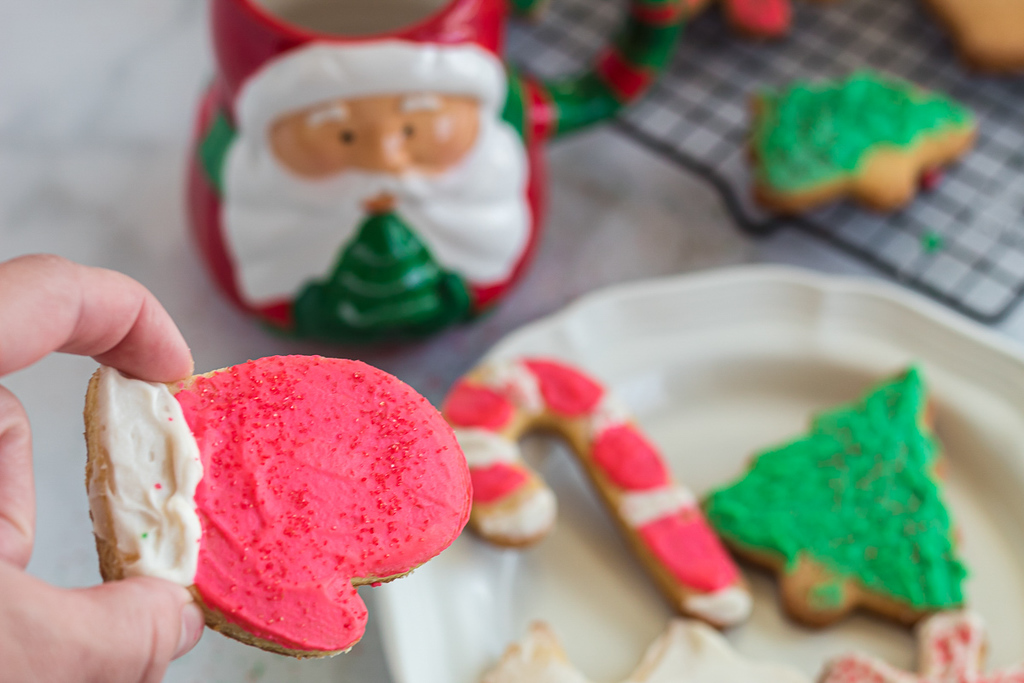 These sugar cookies were so simple and easy to make.
Now we can all continue the fun Christmas cookie decorating tradition with these keto-approved sugar cookies!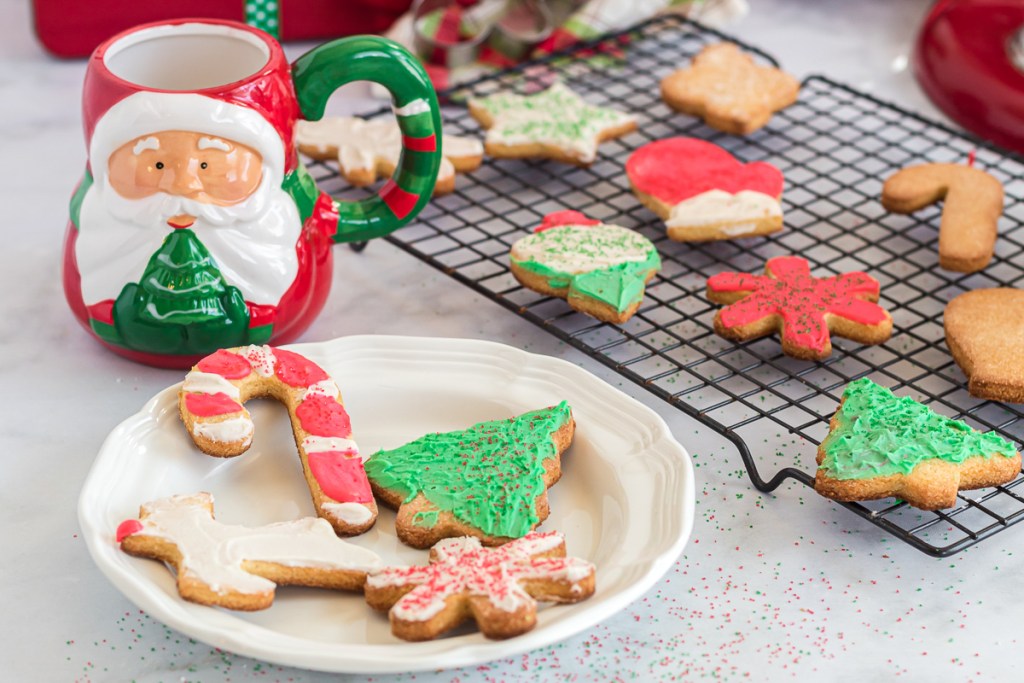 Looking for another keto cookies recipe to make this holiday season? You've got to try these Keto Gingerbread Cookies!