I Baked Sugar Cookies with 3 Different Keto Sweeteners — Here's the Best One!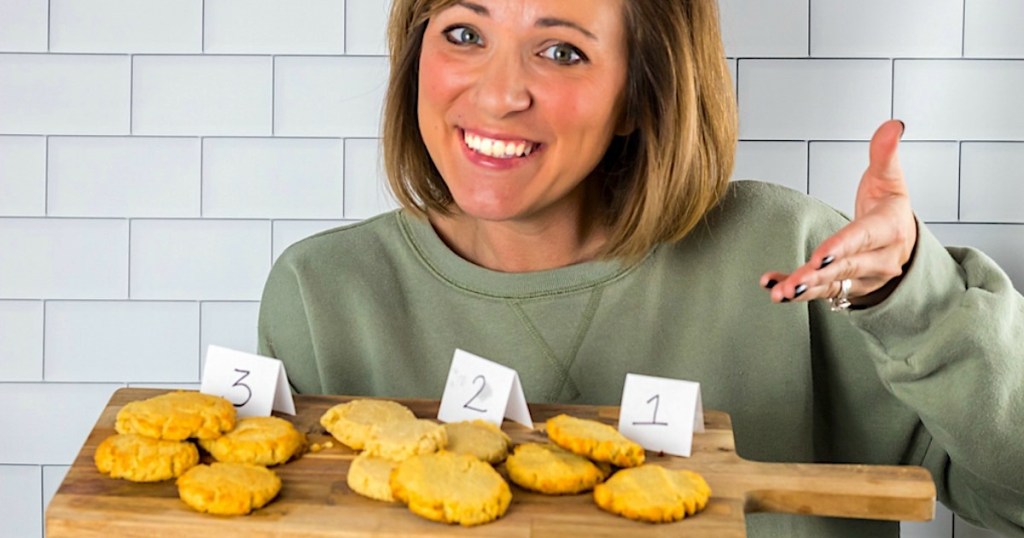 Let the cookie baking taste test begin!
Since making my keto sugar cookies, it got me thinking about which low-carb sugar substitution is the best for baking sweets. There are so many alternative sweeteners out there now, it can be kind of overwhelming.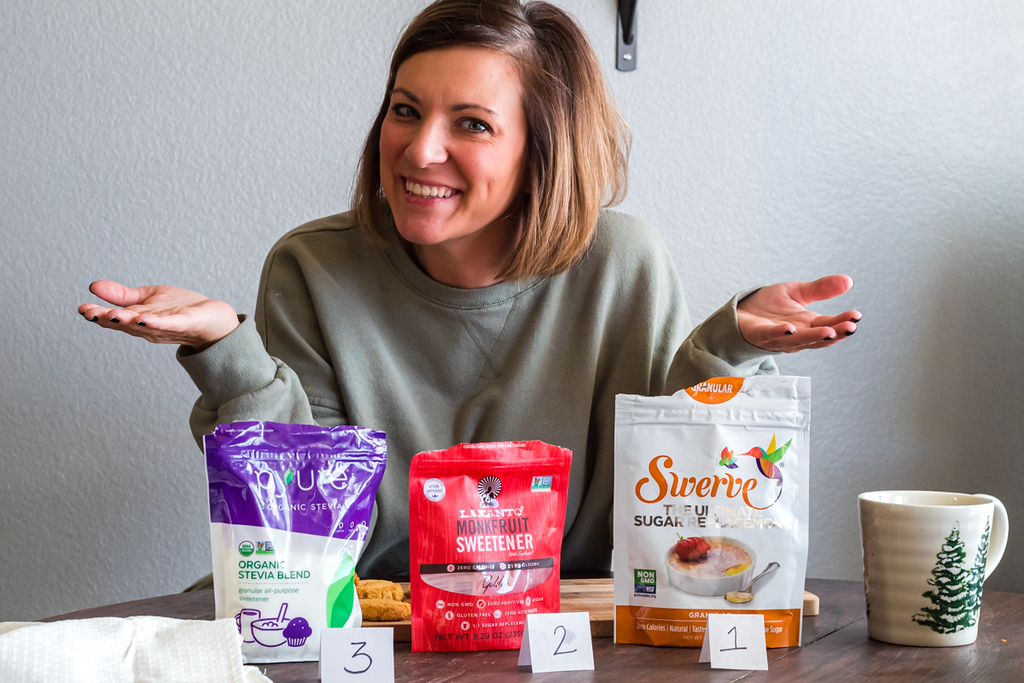 I decided to put 3 popular keto-approved sugar replacements to the test to see which one actually worked the best for baking my cookies.
Be sure to check out our keto sweetener conversion chart for recipes. We even include a free printable!
So let's get to it! I used my basic Keto Sugar Cookies recipe only switching out the sugars. The results left me really surprised as I guess I didn't realize that switching out just one ingredient would make SUCH a big difference.
---
yield: 24 SERVINGS
prep time: 1 HOUR 15 MINUTES
cook time: 8 MINUTES
total time: 1 HOUR 23 MINUTES
The best sugar cookies allowing for your preference of keto-friendly sweetener alternatives.
Ingredients
1/2 cup butter
1/2 cup alternative sweetener or more*
2 tablespoons cream cheese
1 egg
1 teaspoon almond extract
1 teaspoon vanilla extract
1/2 teaspoon baking soda
1/2 teaspoon baking powder
1 cup almond flour
1/2 cup coconut flour
Directions
1
Preheat oven to 350 degrees.
2
In a large bowl, using an electric mixer, cream together butter, cream cheese, and alternative sweetener* until combined. Add in egg and extracts, mix on high until fluffy.
*See the notes below the recipe for the 3 alternative sweeteners we tested.
3
Add remaining dry ingredients into the bowl and mix on low making sure everything is mixed well.
4
Shape cookie dough into a large ball and cover with plastic wrap.  Refrigerate for at least 1 hour.
5
Once chilled, remove from refrigerator and scoop with a cookie scooper about a 1-2" dough ball.  Place on a parchment-lined cookie sheet. Since these do not flatten like other cookies, I dip a cup that has a flat bottom in water and press the cookie down (if you do not do this, you will end up with a ball-shaped cookie).
6
Bake in the oven for about 8 minutes or until the edges turn slightly golden brown. Remove the cookie sheet from the oven. Do NOT remove cookies from the cookie sheet until they are completely cooled. Cooling will take about 10 minutes.
Nutrition Information
Yield: 24, Serving Size: 1
Amount Per Serving: 77 Calories | 6 Fat | 4 Total Carbs | 1 Fiber | 1 Sugar Alcohol | 2 Protein | 2 Net Carbs
---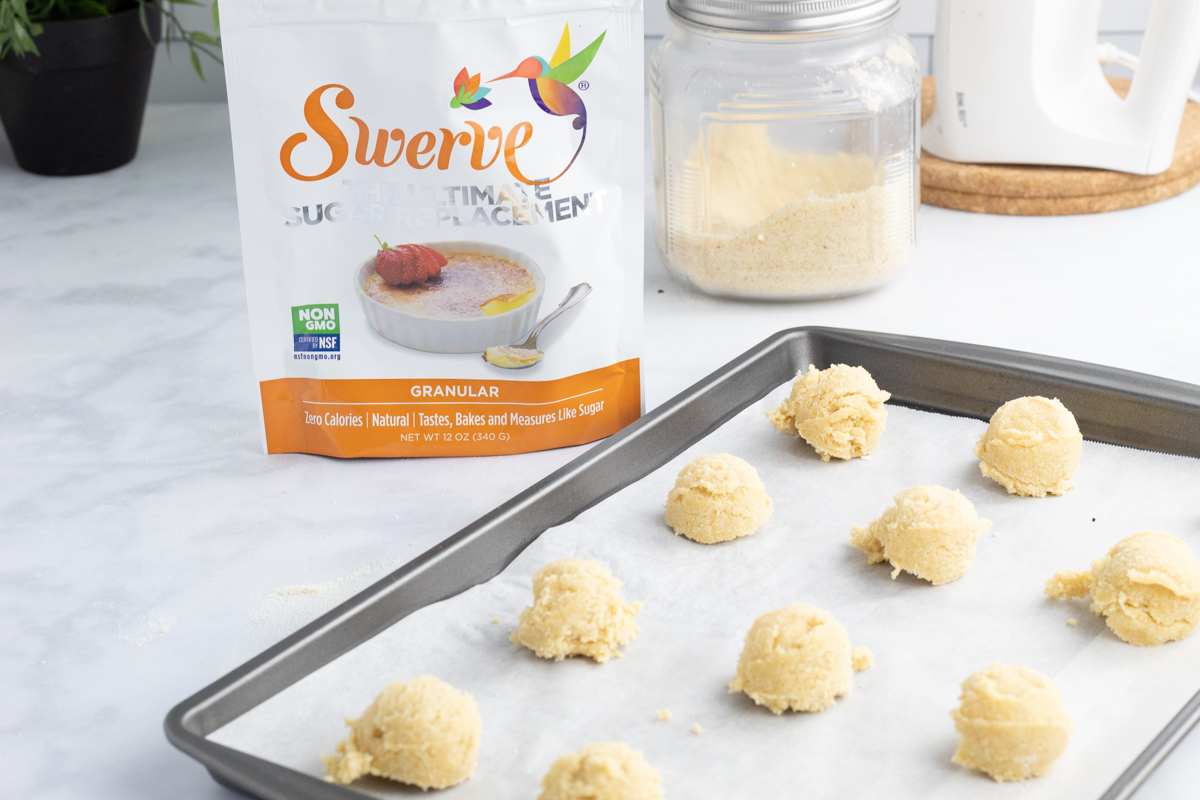 Keto Sugar Cookie baked with Swerve Granular
I personally am a huge fan of Swerve as I feel the taste is very similar to regular sugar. I kept everything else the same so I could get an honest result. The verdict? These sugar cookies came out like the perfect old fashion sugar cookies—the taste reminded me of grandma's! Plus, I did not get a cooling after taste as some do with Swerve.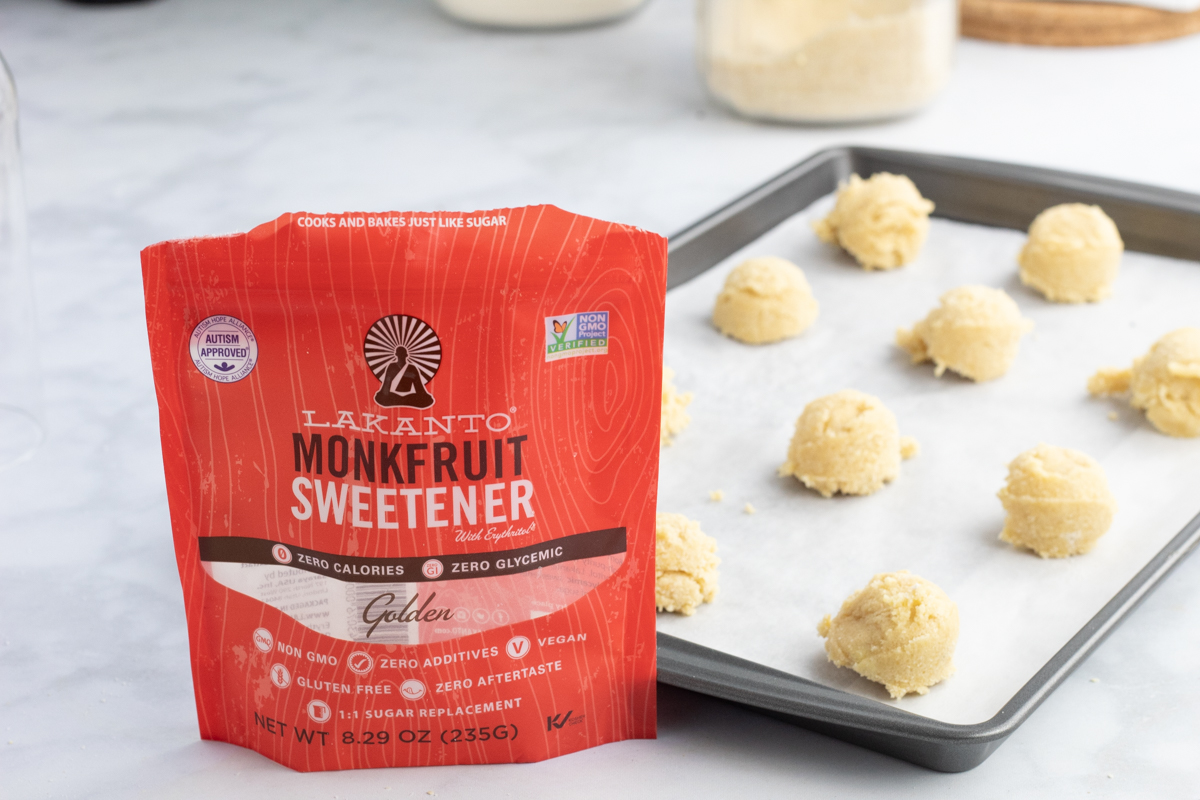 Keto Sugar Cookie baked with Monk Fruit
Monk Fruit has a more subtle sweetness, and I feel it's not as powerful as Swerve. With that said, I should have added a little more than a 1:1 ratio but I did enjoy the mild taste to the cookie. Using Lakanto Monkfruit Sweetener, this cookie was the softest out of the three though I could taste the almond flour more in this cookie than the others.
All in all, I would add an additional 1/4 cup of monkfruit to the 1/2 cup the original recipe calls for.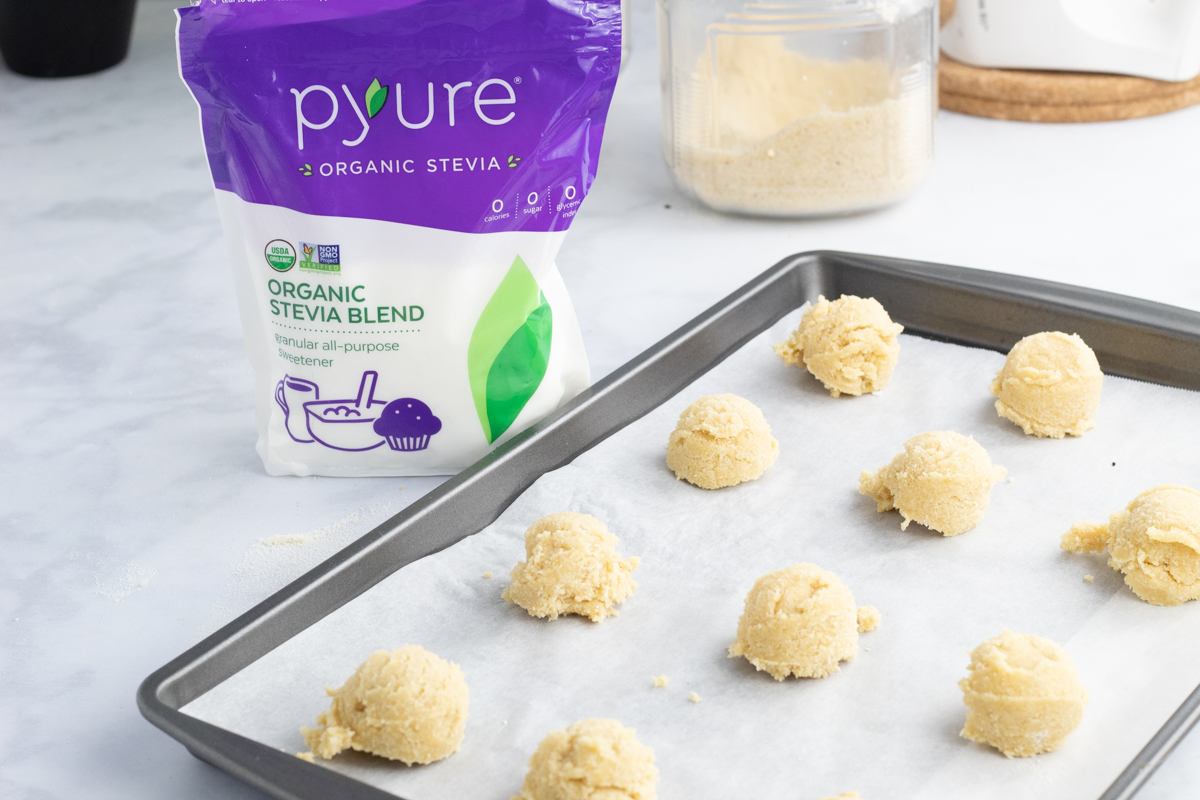 Keto Sugar Cookie baked with Pyure
For the final cookie, I was excited to test this sugar alternative since I was a newbie to Pyure, which is made from erythritol and stevia leaf extract. When adding to the bowl, it was very powdery and had a powerful smell. Baking seemed fine as the color and texture of the cookie was very similar to the first with Swerve, but this cookie did have a cooling after taste I was not a fan of.
---
So which was a winner for me?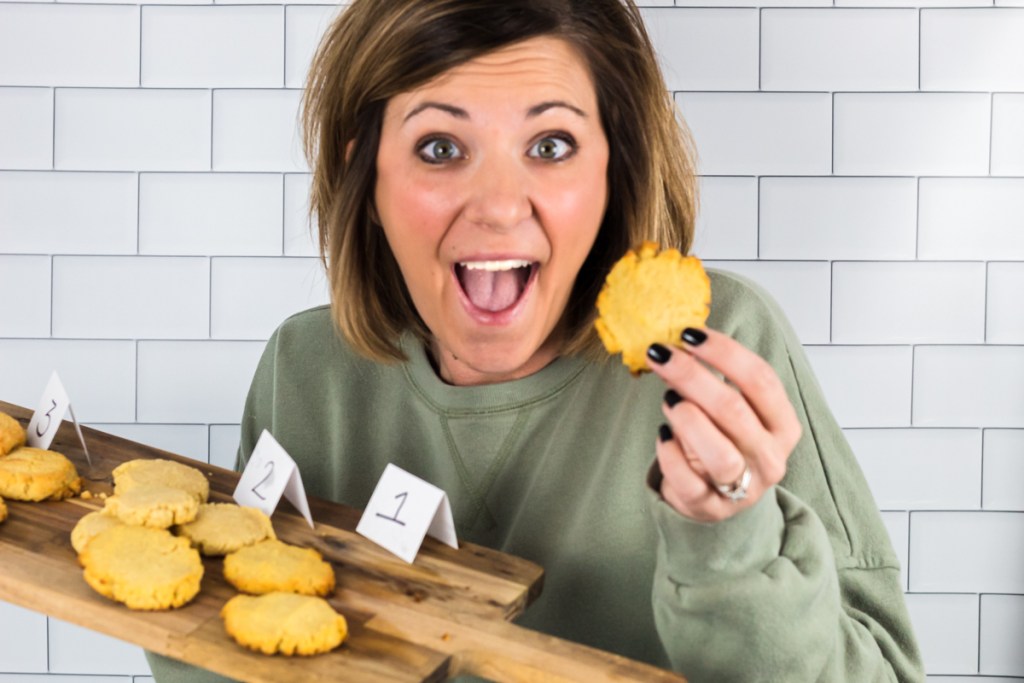 I could eat all of these cookies all day long but I will say my favorite alternative sweetener was Swerve hands down. In my experience, it behaves the most similar to regular cane sugar and delivers a delicious flavor and texture in a classic sugar cookie.
That said, feel free to try out this recipe with your favorite keto-friendly sweetener and let me know your thoughts!
---
Check out more keto cookie recipes!