These Baked Pepperoni Chips are the Easiest Zero-Carb Snack Ever!
Make keto pepperoni chips in a snap for an easy snack.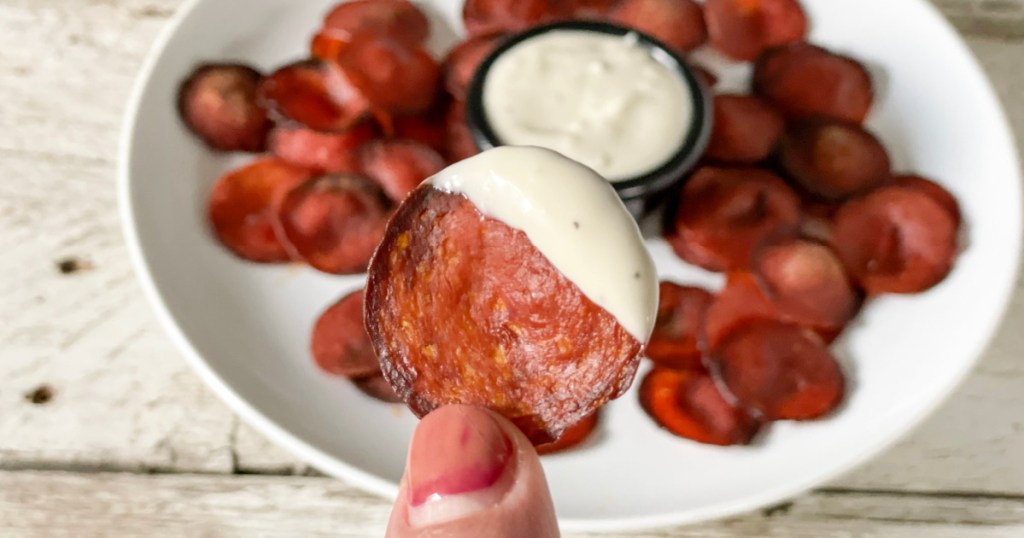 Salty and savory with a hint of spices, this zero carb snack is irresistible!
When it comes to my all-time favorite keto snacks, there's always a common denominator – they've got to be EASY. If you feel the same, let me introduce you to baked keto pepperoni chips.
You guessed it; they're simply pepperoni slices, baked to perfection, and capable of making all your wildest dreams come true.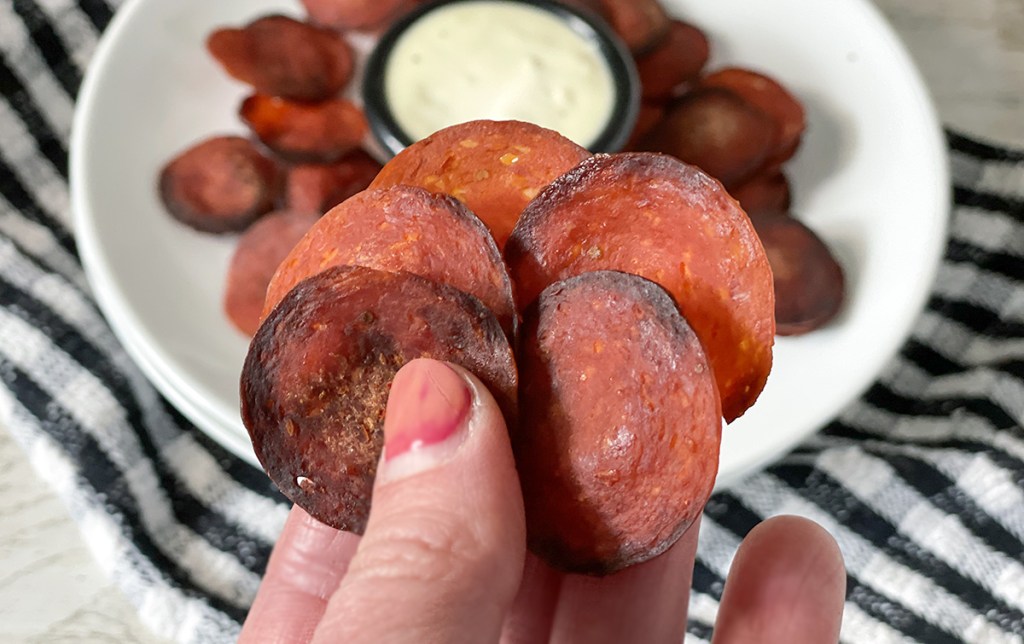 Okay, maybe they don't have the power to make all your dreams come true, but this snack is pure genius! Pepperoni slices have always been part of my keto diet; however, I'd never heard of or even thought of making them into chips until Collin turned me onto this method.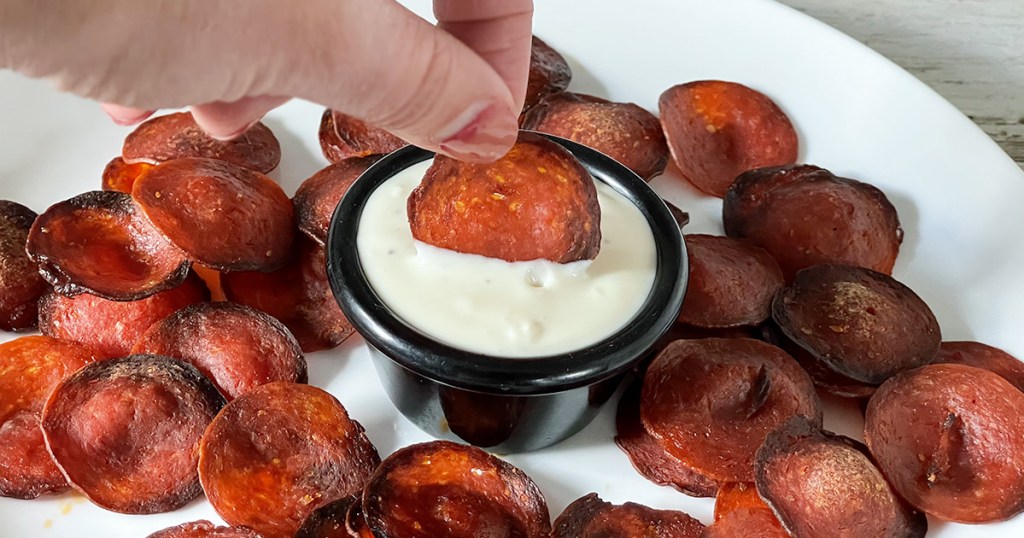 How to make keto pepperoni chips:
These seriously are super easy to make. You place the pepperoni slices on a baking sheet lined with parchment paper and broil them for two to three minutes. That is IT!
You can make air fryer pepperoni chips or use the microwave, too:
Air Fryer: Cook in the air fryer for about 4 to 5 minutes at 380 degrees.
I did set the pepperoni chips on a plate lined with a paper towel to remove some of the grease after cooking, but other than that, you can start snacking immediately.
I can't say it enough that they take hardly any time to make and you can eat them plain or dip them in any sauce your heart desires. Be careful though, it's hard to stop eating them after you start. I won't tell you how many I ate!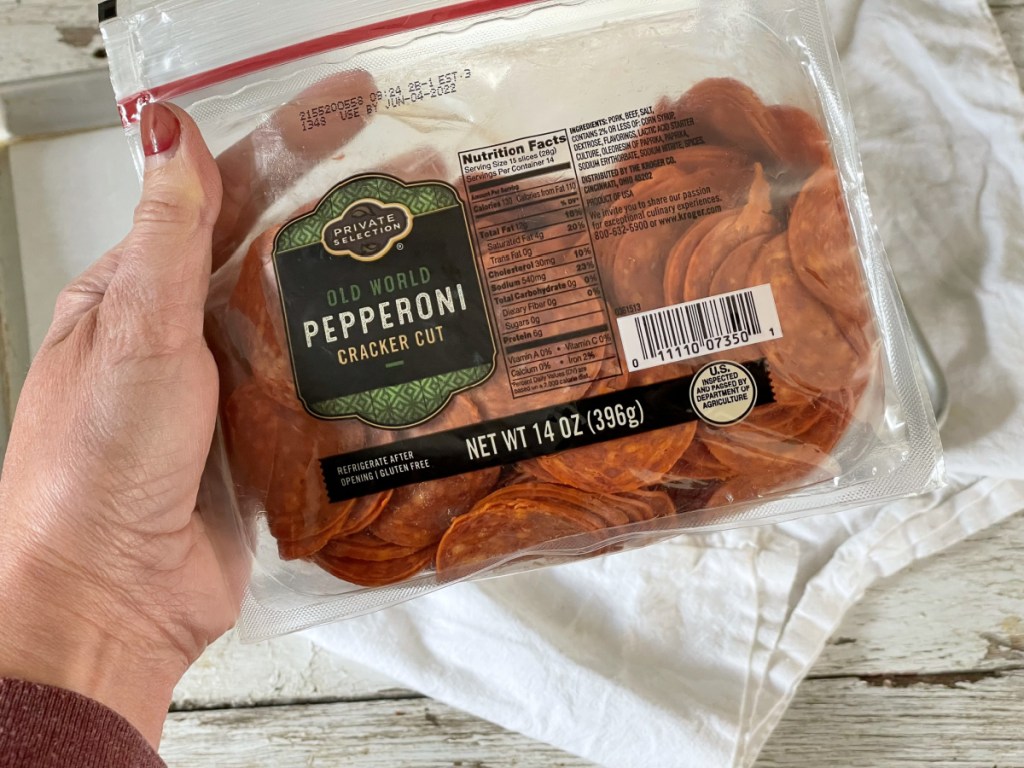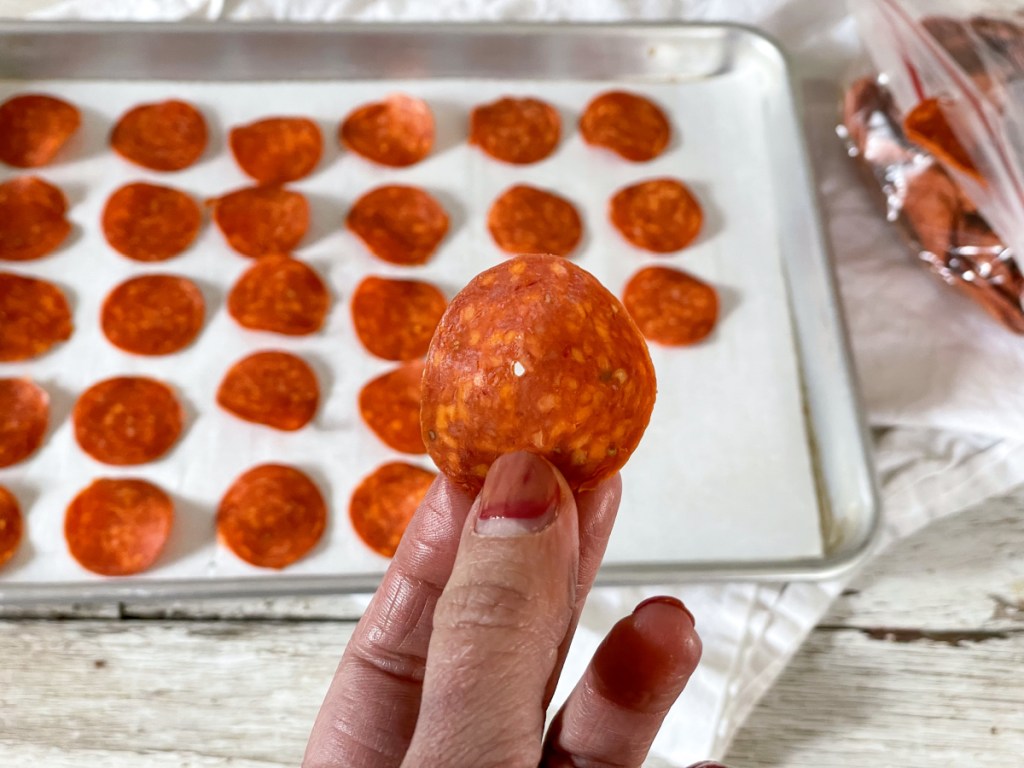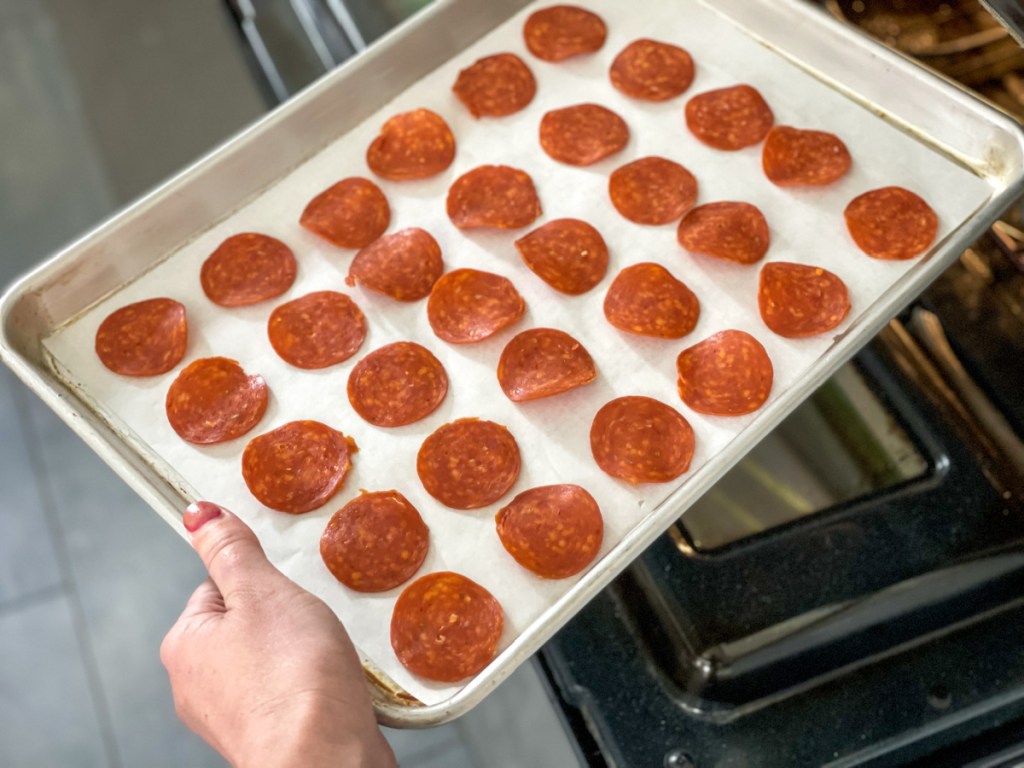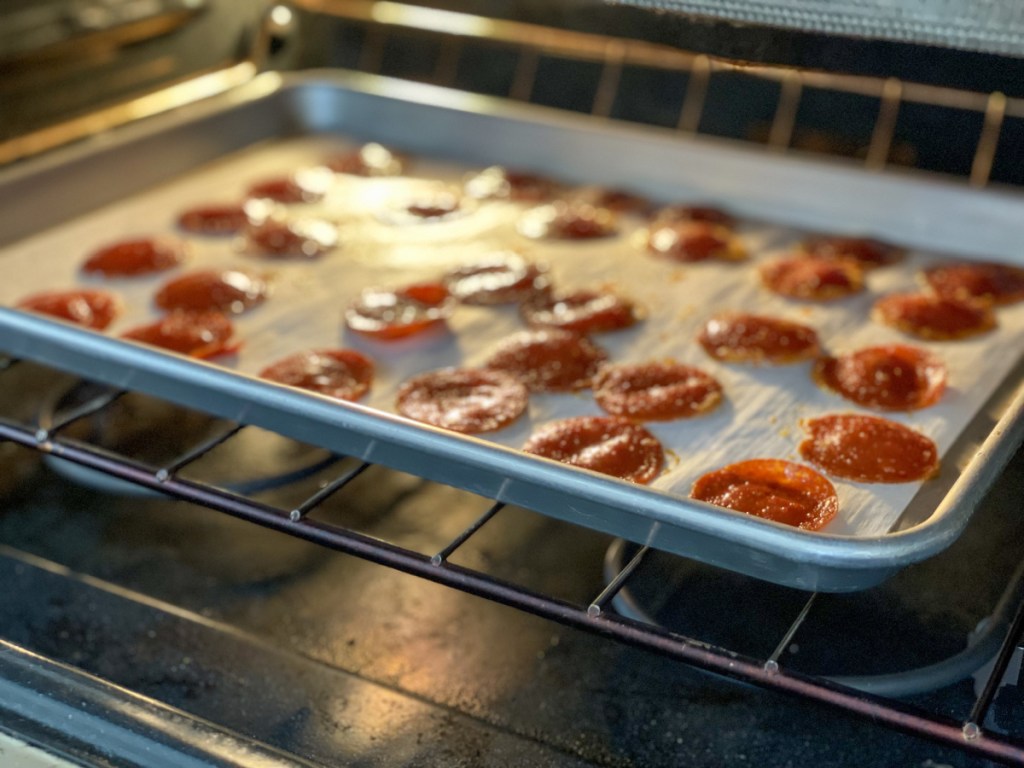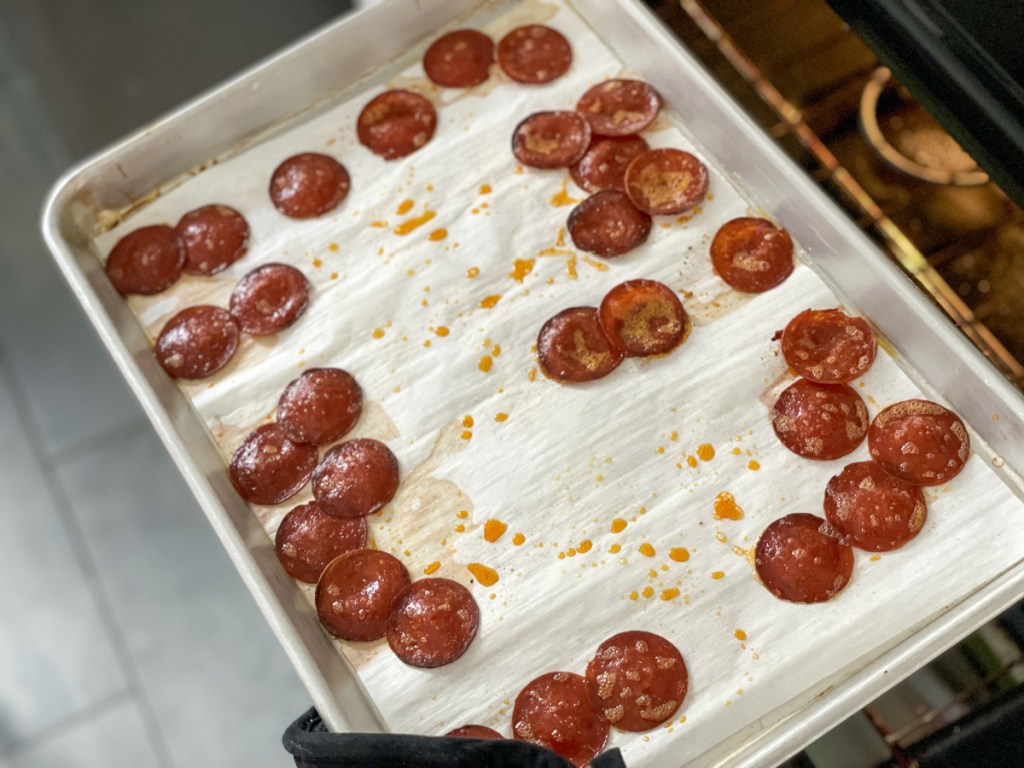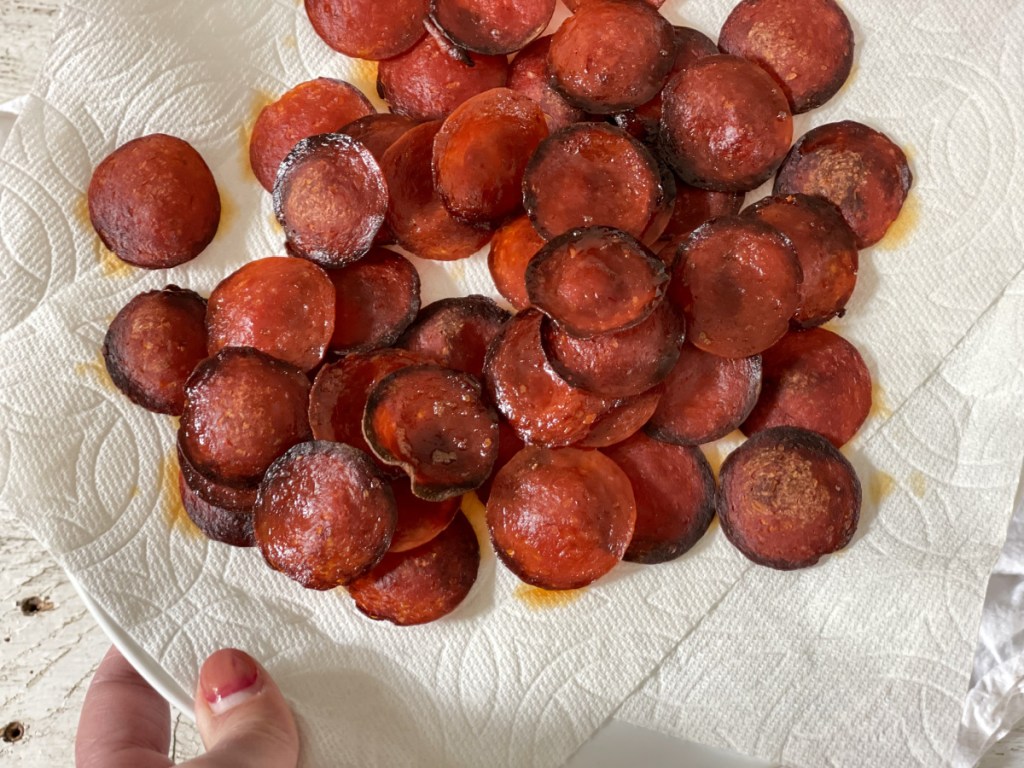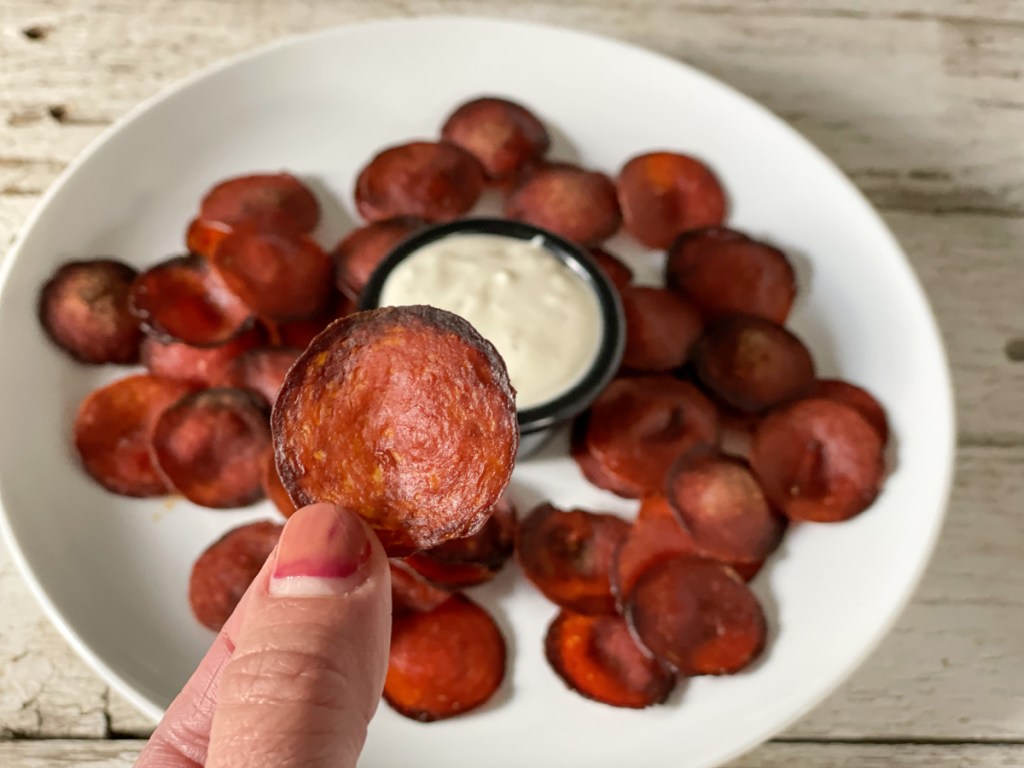 ---
Print
Keto Pepperoni Chips
yield: 2 SERVINGS
prep time: 2 MINUTES
cook time: 2 MINUTES
total time: 4 MINUTES
Pepperoni slices are broiled to create the most delicious chips.
Directions
1
Turn oven to broil. Place an oven rack in the top position.
2
Line a baking sheet with parchment paper.
3
Arrange pepperoni slices on the baking sheet in a single layer.
4
Broil for 2 minutes, until the pepperoni slices are lightly browned. You shouldn't have to broil them for longer than 3 minutes. The pepperoni slices will get crispy when they cool.
5
Let the pepperoni slices cool and then transfer to a serving dish and enjoy. You can place them on paper towels first to remove some of the grease if desired. Dip in your favorite keto sauce and enjoy!
Nutrition Information
Yield: 30 slices, Serving Size: 15 slices
Amount Per Serving: 183 Calories | 16.7g Fat | 0g Total Carbs | 0g Fiber | 0g Sugar | 10g Protein | 0g Net Carbs
---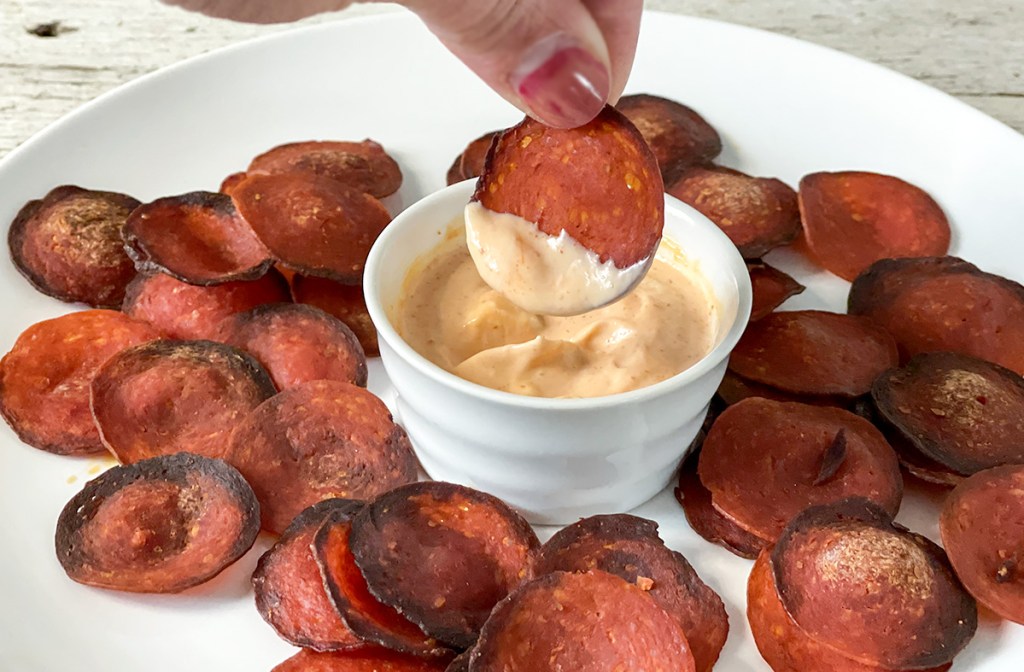 Tips for how to make pepperoni chips (though trust me, this hack is fool proof):
Watch the chips closely when broiling them. They can go from perfection to burnt in a matter of seconds. If you notice that some chips are done, remove them from the pan and then continue to broil the rest until they're done.
The chips will harden and get crunchier as they cool. So as soon as they start to look a little browned, they're done.
My pepperoni chips moved around the baking sheet like crazy while in the oven, almost like they were dancing! If you have kids, they might find this very entertaining. I mean, as an adult, I was entertained and couldn't stop watching them.
The nutrition information for this recipe is for one serving of pepperoni (15 slices). This might vary depending on the brand of pepperoni you use.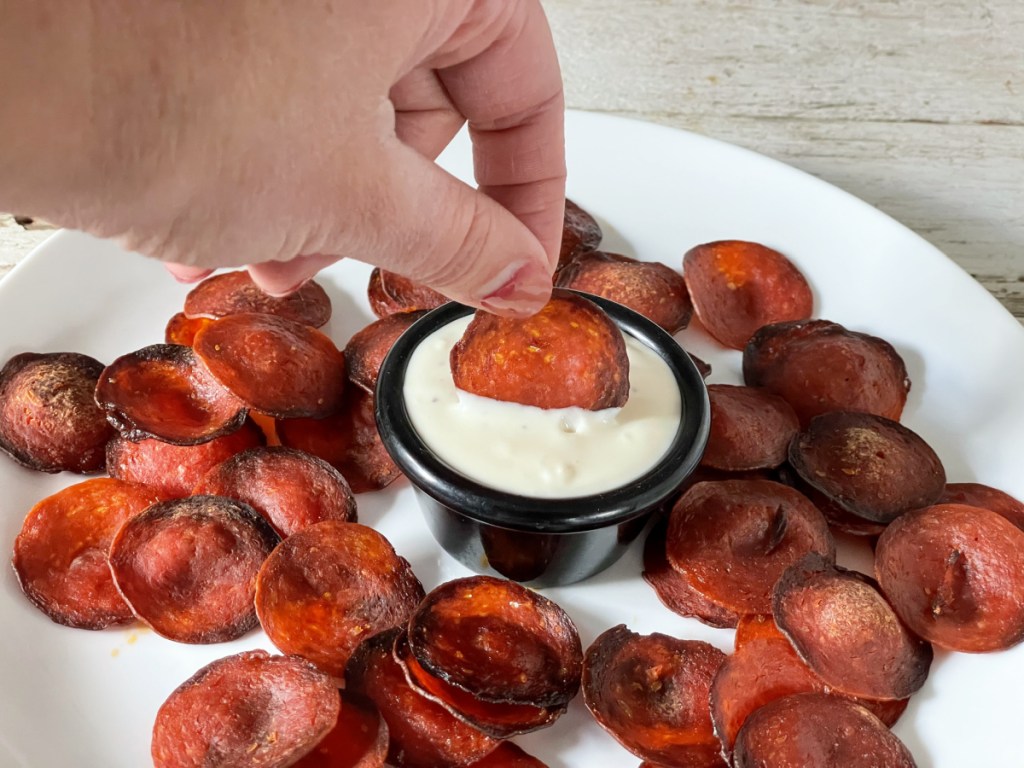 Your zero carb chips will be ready in no time!
I ate these keto pepperoni chips for lunch the day I made them. They're a quick and easy idea for an after-school snack that the kids can help make too! But honestly, I think adults would gobble these up all the same, so bringing a bowl of them to an upcoming party is another brilliant serving idea.
Let us know what you think and if your pepperoni "dances" in the oven, too! 😂
My Hip sidekick had this to say about these keto pepperoni chips:
"I LOVE the simplicity of this recipe! I had no idea just one simple step could make such a good snack. These come together fast and are perfect to make as a quick appetizer for friends. I dipped them in sriracha and ranch mixed together and they were amazing! This is a winning recipe!"
---
Check out these easy pizza roll-ups next!