Easy Keto Marinara Sauce – Flavorful & Ready in 30 Minutes!
Say bye-bye to the added sugar in store-bought marinara sauces! 👋
Marinara sauce goes with so many delicious dishes — think of your favorite pizza, spaghetti with meatballs, lasagna, garlic breadsticks dipped in spicy marinara, shrimp cocktail, the list goes on!
If you're like most people on keto, you quickly discovered keto pasta so you could still enjoy your favorite Italian dishes. But then you realized the store-bought marinara sauces are full of sugar, which is totally disappointing when you're wanting the convenience of just opening a jar. And you might not always have the time, energy, or ingredients to make a keto marinara from scratch.
If this sounds at all familiar, this recipe is for you!
It will quickly become your go-to keto marinara sauce. It's a delicious easy marinara that works great on its own or can be dressed up to your heart's desire.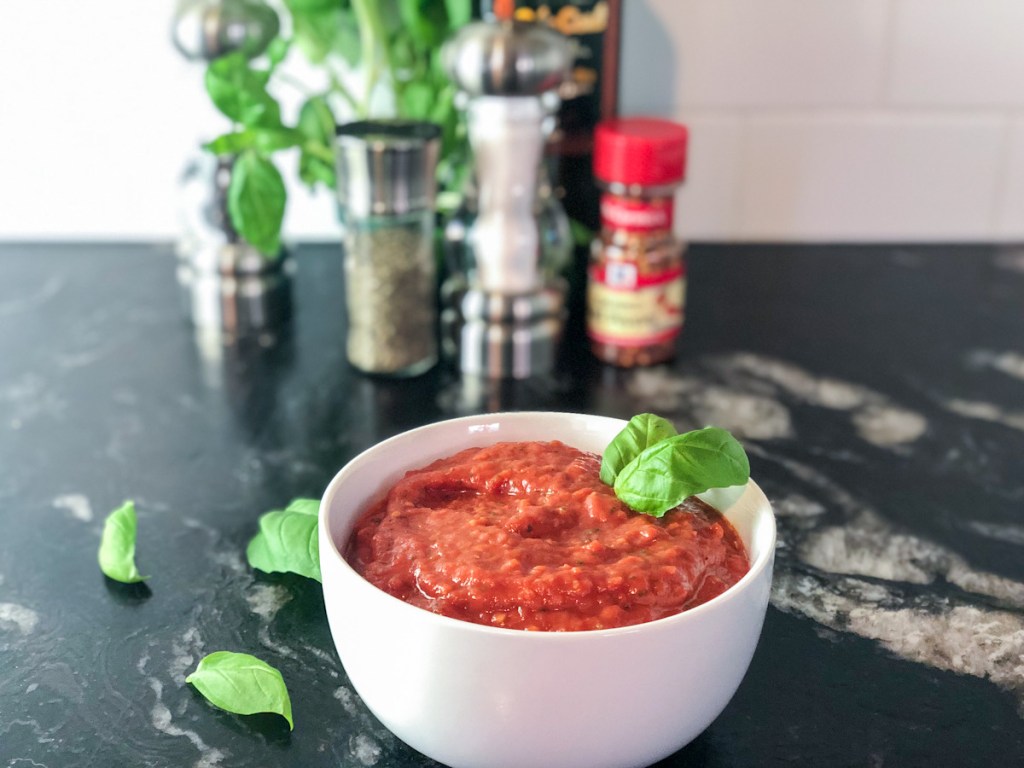 This keto marinara sauce recipe is a keeper for several reasons!
You just throw all the ingredients into a food processor or blender. Super easy!
It uses ingredients you likely already have in your pantry like canned whole tomatoes, tomato paste, olive oil, and seasonings. You don't even have to use fresh herbs — dried herbs work just as well.
Leftovers freeze well. You can easily make several batches of this keto marinara at once and keep the extra in the freezer for quick weeknight meals.
This sauce is very versatile! Use it as a pizza sauce on Fat Head pizza or make spaghetti with meatballs using zoodles or add sausage to the keto marinara sauce and serve over spaghetti squash topped with parmesan – definitely a favorite!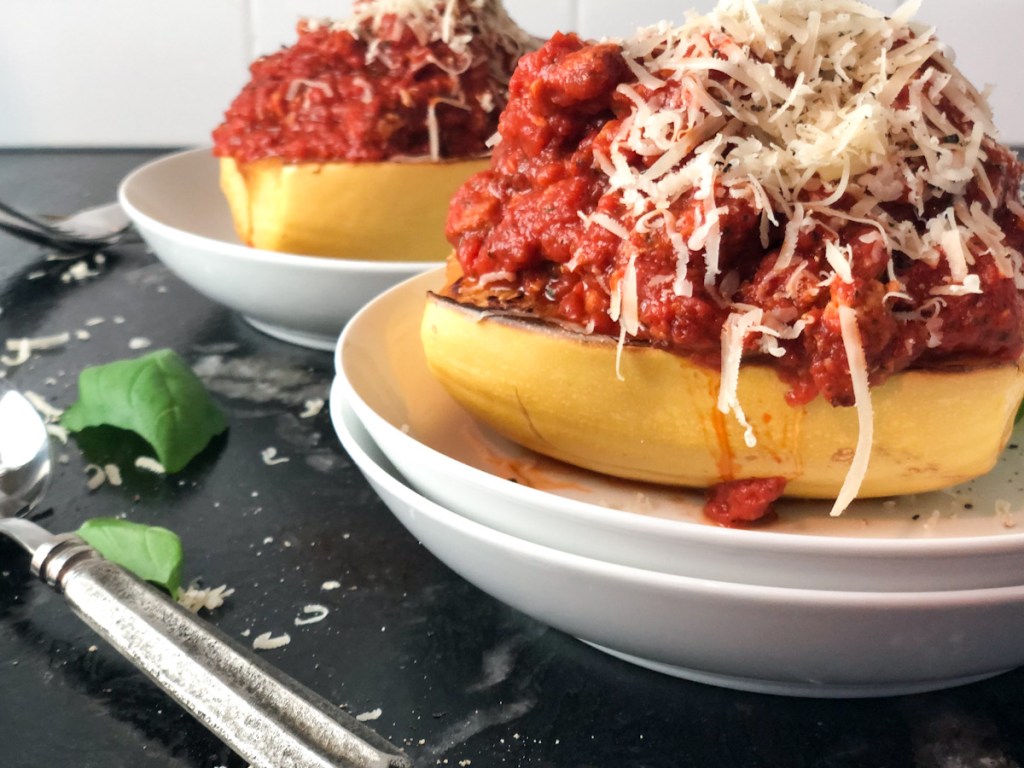 My best tips when making easy keto marinara sauce
Open the can of whole tomatoes and let it start draining while you gather the rest of your ingredients. You want to get as much of the liquid drained as possible to make a thick, full-bodied keto marinara sauce. Save the drained liquid and drink it as tomato juice or use it for Bloody Mary's!
You can lightly smash open the tomatoes with a spatula to help get out any remaining liquid.
Purée the whole tomatoes in the food processor before you add the rest of the ingredients.
For an added depth of flavor, don't skip the simmering step mentioned at the end of the recipe. It really helps blend the keto marinara sauce flavors together.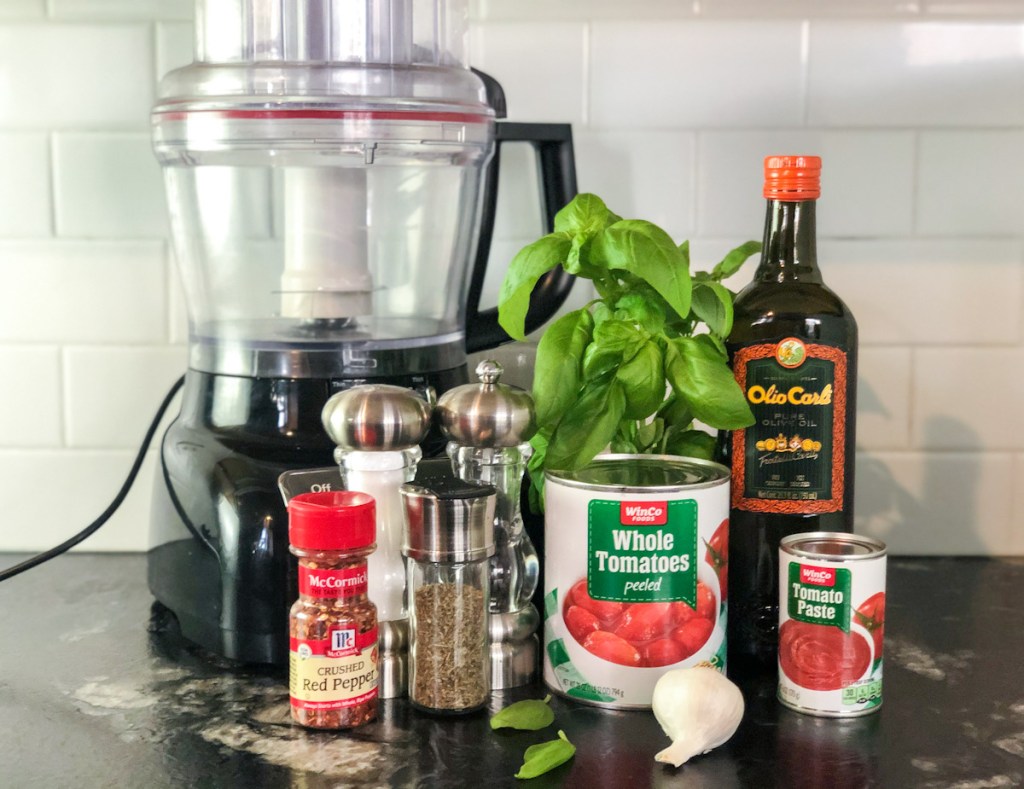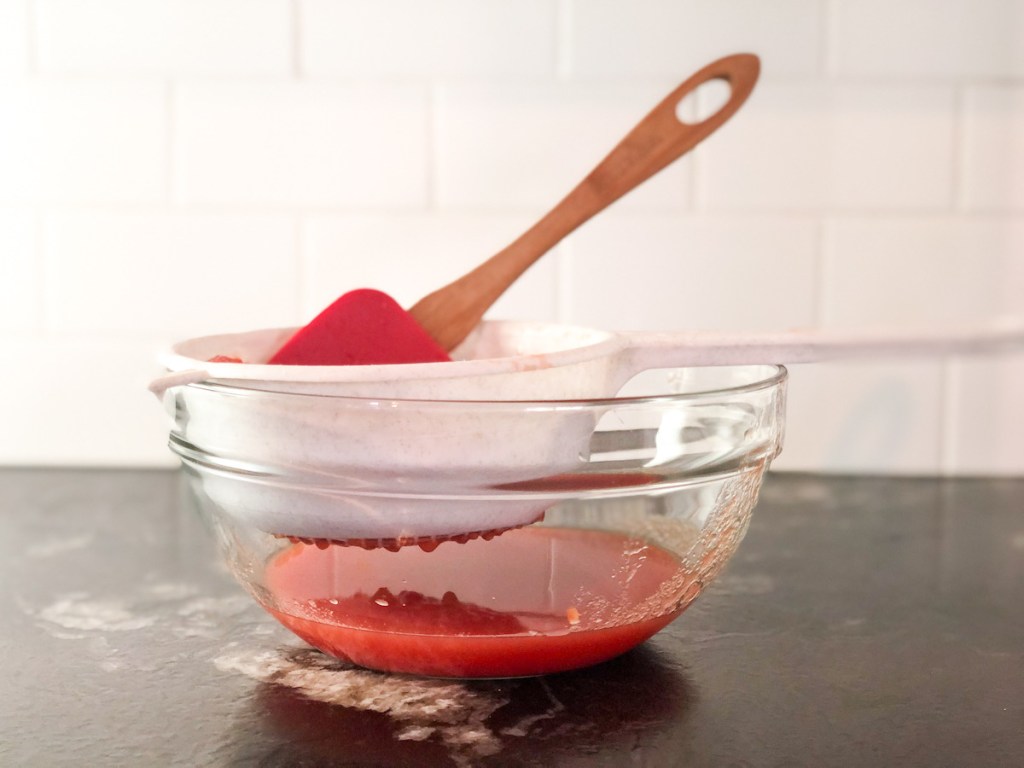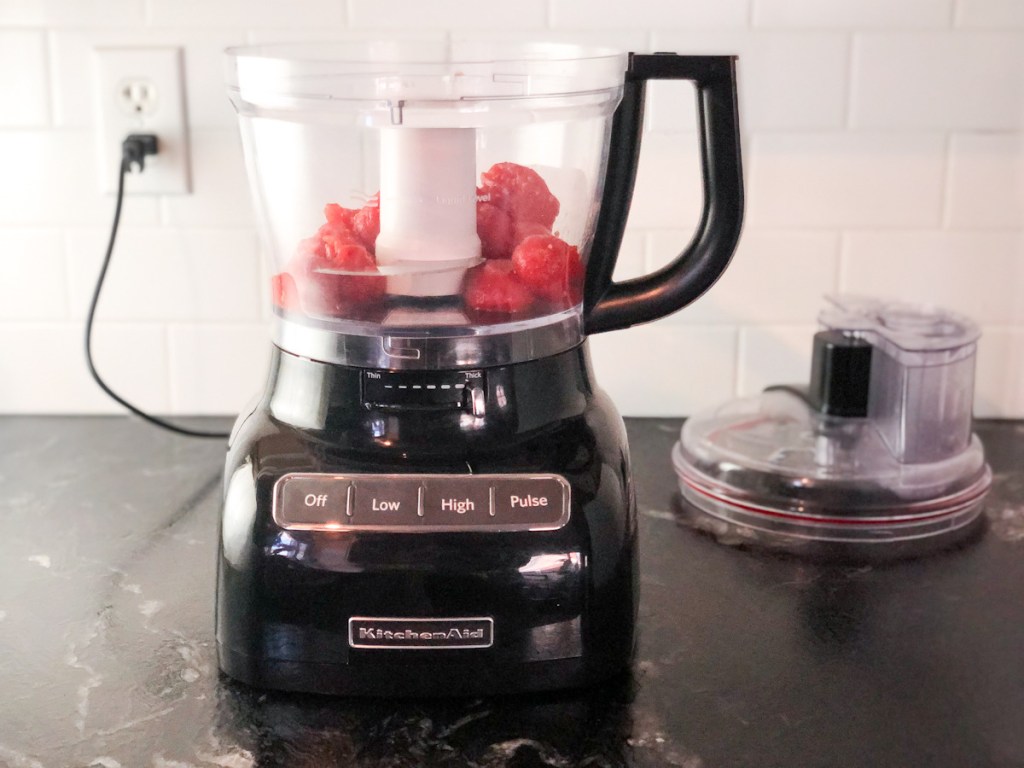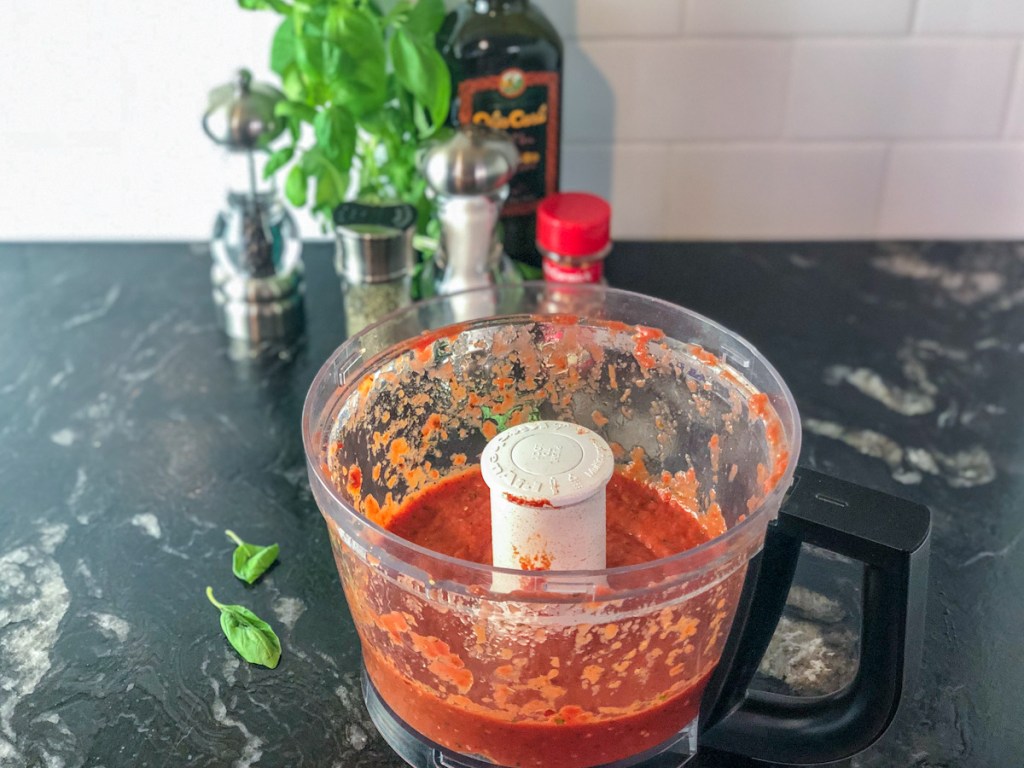 ---
Print
Easy Keto Marinara Sauce
yield: 6 SERVINGS
prep time: 10 MINUTES
cook time: 20 MINUTES
total time: 30 MINUTES
A simple, delicious keto marinara sauce that pairs beautifully with all your favorite Italian inspired dishes.
Ingredients
1 -28 oz can of whole tomatoes
1 - 6 oz can of tomato paste
3 tablespoons of olive oil
1 teaspoon salt
1/4 teaspoon ground black pepper
2 teaspoons Italian seasoning
2 teaspoons garlic powder or 2-3 garlic cloves, whole or chopped (they will get puréed in the blender)
2 teaspoons dried basil or 1/4 cup fresh basil, lightly packed
1/4 - 1/2 teaspoon of red pepper flakes (optional, for heat)
Directions
1
Set a strainer over a large bowl.
2
Open the can of whole tomatoes and pour it into the strainer to drain. You can break open the tomatoes with a spatula to help drain out even more liquid if you want a thicker sauce.
3
Once the liquid has drained from the tomatoes, place the tomatoes into a food processor.
5
Add in the tomato paste and remaining ingredients:  olive oil, salt, pepper, Italian seasoning, garlic, basil, and red pepper flakes (if desired). Purée until smooth.
6
Optional, but delicious: Simmer the marinara sauce in a saucepan over low to medium heat for 20 to 30 minutes to blend flavors, stirring occasionally.
Nutrition Information
Yield: 6, Serving Size: 1/3 cup
Amount Per Serving: 115 calories Calories | 7.1g Fat | 11.1g Total Carbs | 3.2g Fiber | 4.6g Sugar | 3.4g Protein | 7.9g Net Carbs
---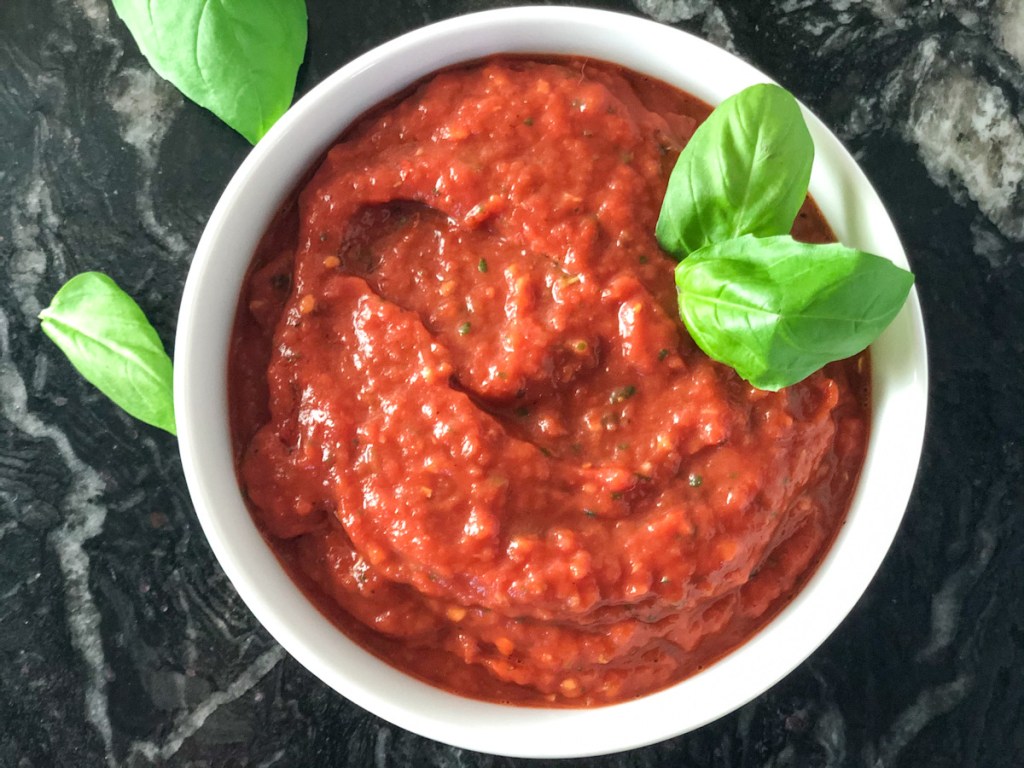 This easy homemade keto marinara sauce will become a staple recipe in your house!
It's such a quick and simple recipe. Make it for dinner tonight to go with your favorite keto Italian dish! Your family will love this recipe. You can use it as a dipping sauce for our buttery garlic keto breadsticks 😋(as pictured below) or put it on pizza or pair it with your favorite keto pasta.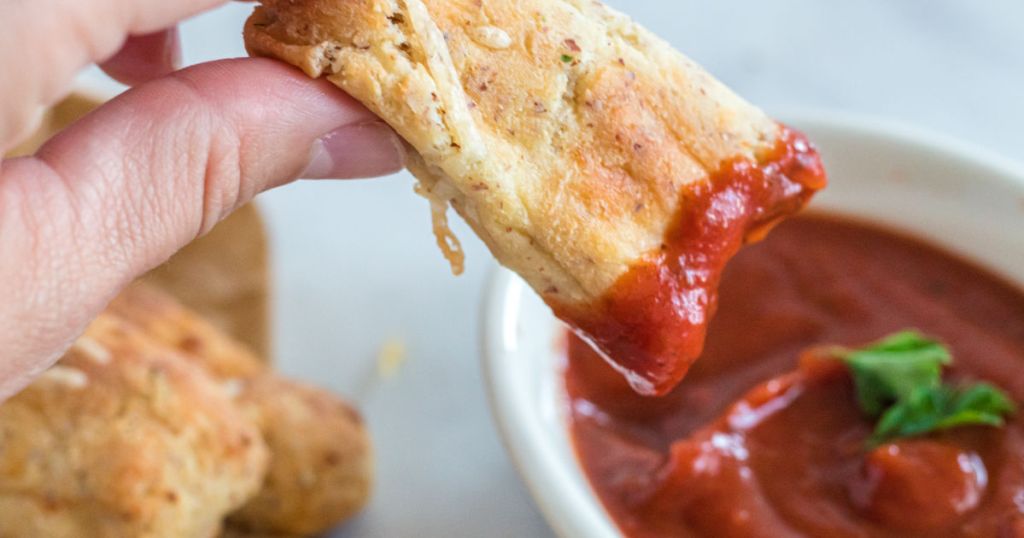 My Hip sidekick Jen tried out this recipe and here's what she had to say:
"This homemade keto marinara is far superior to any store-bought sauce! The recipe is so easy and comes together in minutes. The best part is that I don't have to pay $8 – $10 a jar for low sugar sauce anymore. My ingredients were less than $2.50 and this is very flavorful! For me, it's a game-changer and my whole family loved it! We are using it to make keto pizza tonight."
---