Our Creamy Keto Coleslaw Recipe is the Perfect Summer Side Dish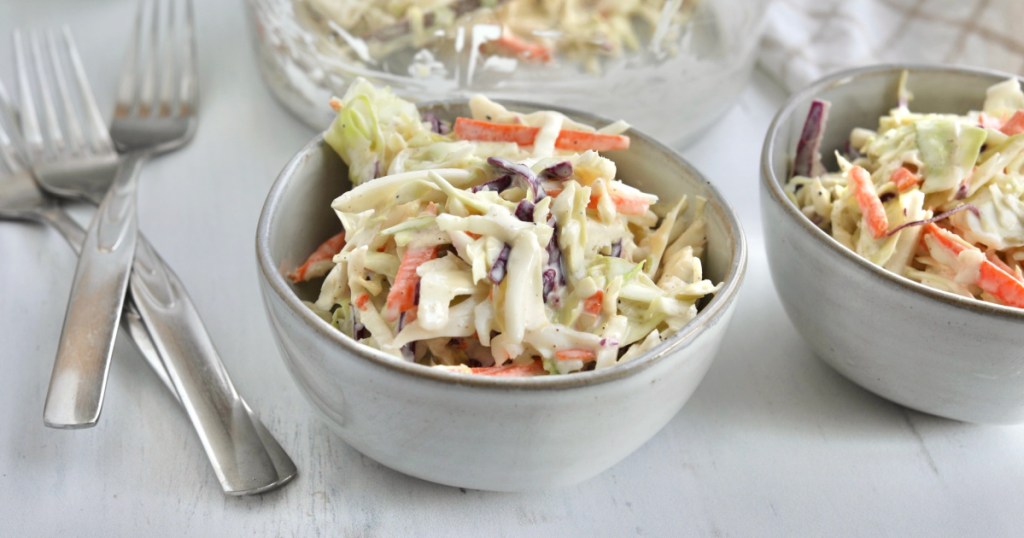 Kick-off barbeque season with this yummy keto coleslaw!
You can always count on coleslaw. It's the perfect companion next to sticky ribs, a juicy stuffed burger, or keto fried chicken. What's more, this keto coleslaw recipe is fast and easy to whip up. Make it ahead and allow the flavors to mingle until serving time!
How well do you really know coleslaw?
Coleslaw comes from the Dutch word, koolsla, which is a shortened version of the term koolsalade, meaning, cabbage salad. Further down the road, the name changed again from koolsla to coleslaw when Dutch immigrants came to America. Shredded cabbage tossed in a mayo-based dressing (usually spiked with vinegar or lemon juice) is what we've come to know as Americanized coleslaw.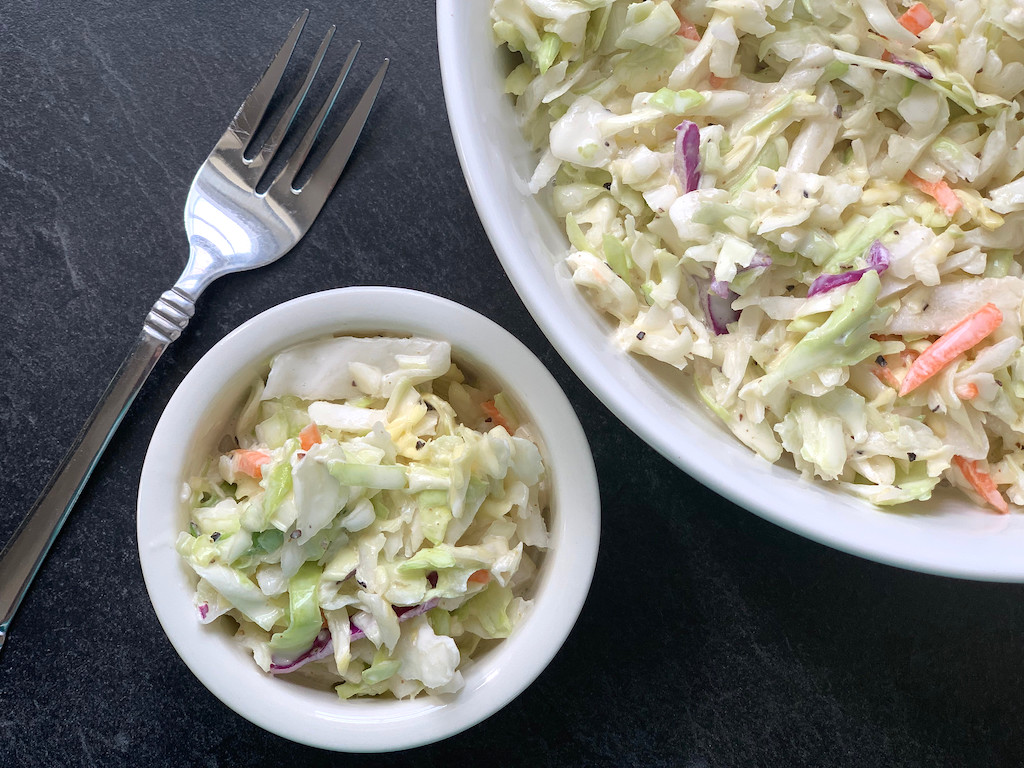 Some strange coleslaw facts:
Believe it or not, there are coleslaw recipes that include beer in the ingredient lineup. You can find them under the names Beer Slaw or Man Slaw. 🍺
The heaviest cabbage recorded to date weighed 138.25 pounds! Scott A. Robb proudly presented it at the Alaska State Fair in Palmer, Alaska on August 31, 2012. Now that's A LOT of slaw!
Fayetteville, Tennessee, hosts an annual Slawburger Festival every April. This huge event is centered around their famous tradition of coleslaw topped burgers. Activities include a coleslaw recipe contest, live music, a slaw burger eating contest, and a scavenger hunt. Fun!
Coleslaw wrestling is a thing. Yep, a bunch of gals grappling in a pile of slaw. Furthermore, this interesting (and slightly disgusting) activity was actually featured on the Discovery Channel, National Geographic, and the Travel Channel. 😱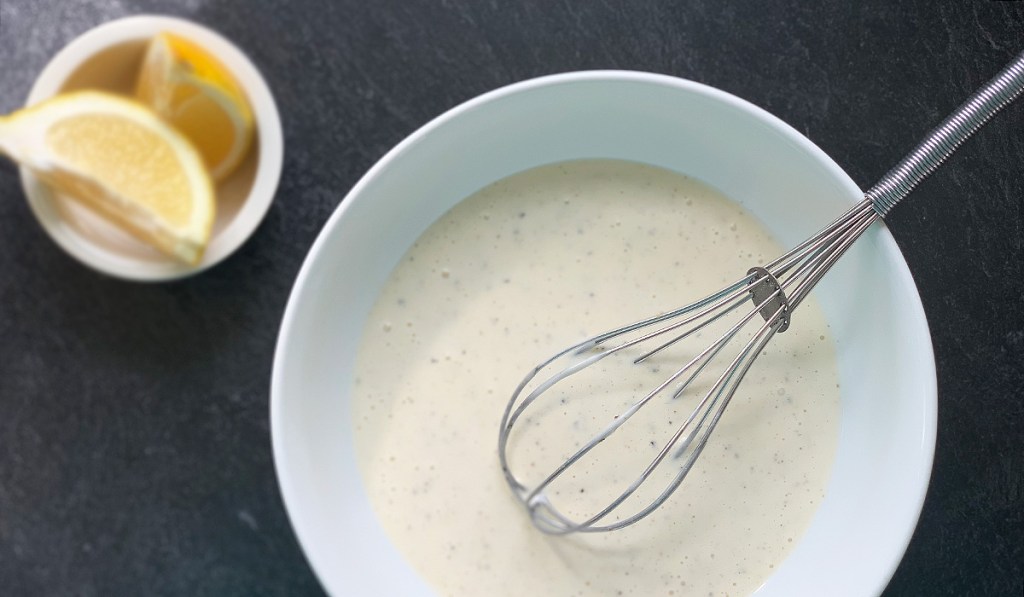 Hip tips for making the best keto coleslaw:
Don't skip the refrigeration step! Giving the cabbage shreds time to "marinate" in the sweet and tangy mayo dressing only enhances the flavor of this yummy low carb side dish.
Feel free to make swaps with the ingredients to your preference. Readers have mentioned swapping the apple cider vinegar for balsamic and the Dijon for brown mustard.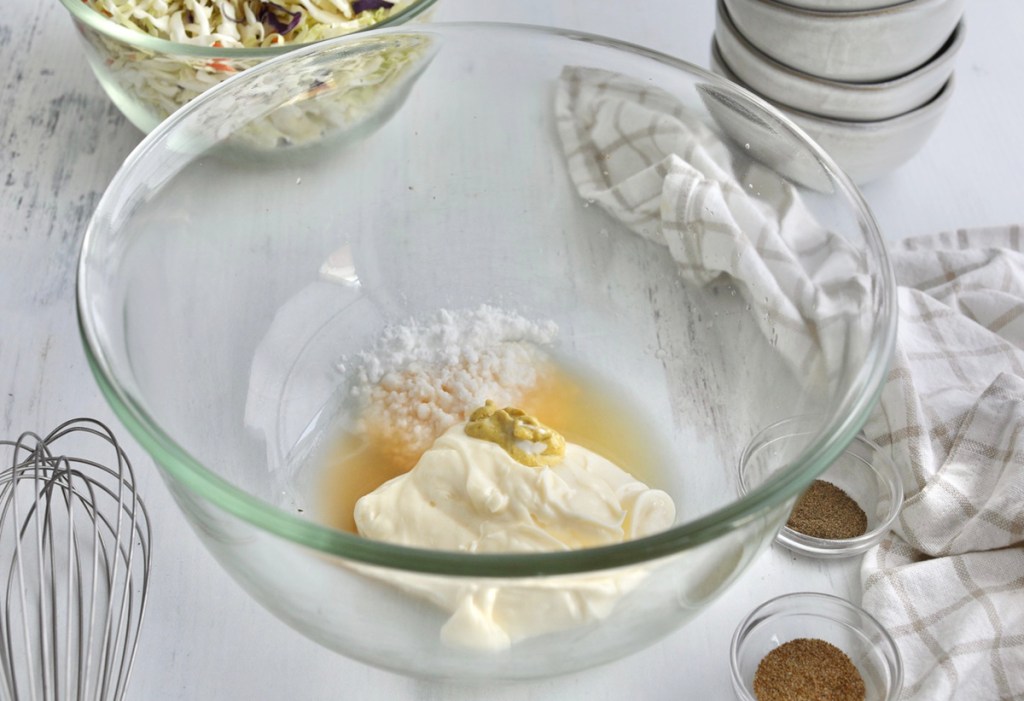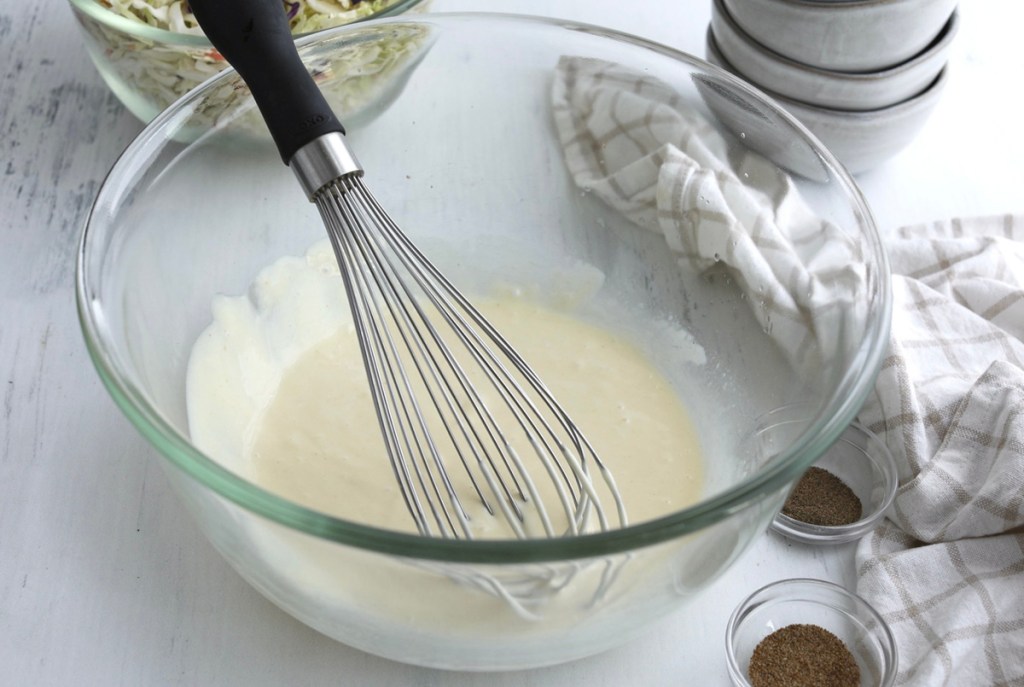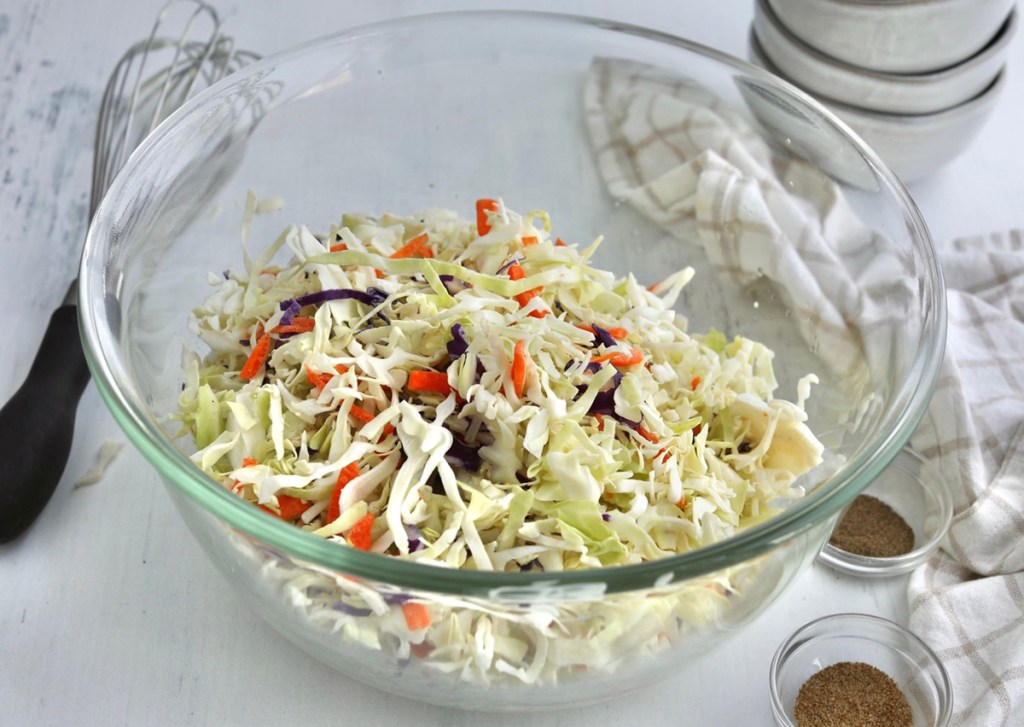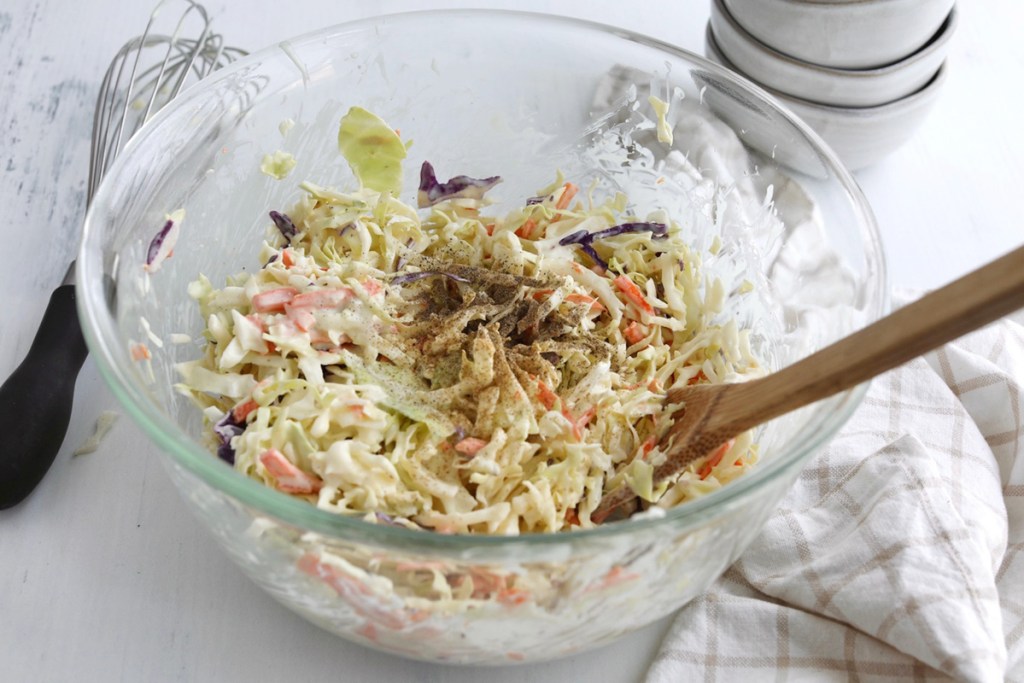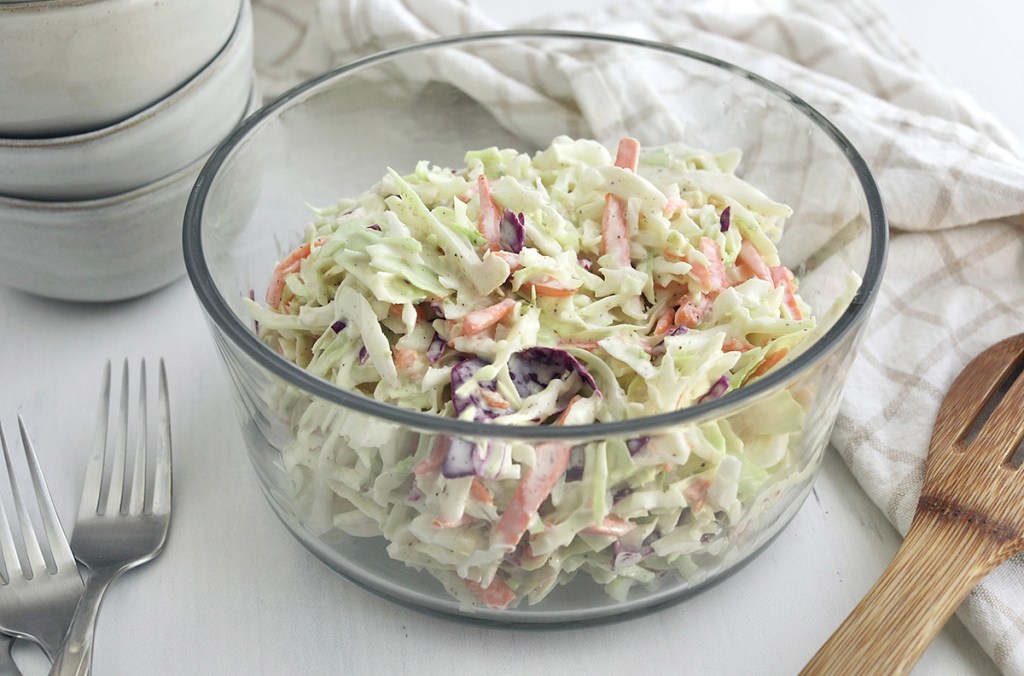 ---
Print
Creamy Keto Coleslaw
yield: 6 SERVINGS
prep time: 5 MINUTES
total time: 5 MINUTES
This creamy, zesty keto coleslaw is a fan favorite and is ready in just minutes!
Ingredients
14 oz. bag coleslaw mix
3/4 cup mayonnaise
1 tablespoon apple cider vinegar
1 1/2 tablespoons lemon juice (I prefer freshly squeezed)
1 teaspoon dijon mustard (like Grey Poupon)
1/2 teaspoon black pepper
1/2 teaspoon celery salt
Directions
1
In a medium to large bowl, whisk together mayo, erythritol, vinegar, lemon juice, dijon mustard, black pepper, and celery salt.
2
Add the bagged coleslaw and mix well to combine. Adjust salt & pepper to taste, and enjoy!
Additional Notes
For best results, refrigerate for an hour or longer to allow flavors to mingle. Mix again before serving.
Nutrition Information
Yield: 6 servings, Serving Size: 1/2 cup
Amount Per Serving: 205 Calories | 20.6g Fat | 4.5g Total Carbs | 1.6 Fiber | 2.6g Sugar | 0g Sugar Alcohol | 1.1g Protein | 2.9g Net Carbs
---
Top it with some keto coleslaw!
Personally, I love adding a scoop of coleslaw to keto cheese-shell street tacos. Whether they're stuffed with carnitas or grilled fish, the coleslaw adds a whole new dimension! Yum!
My Hip sidekick Jenna tried out this recipe and here's what she thought:
"Keto or not, this is the best tasting coleslaw I've ever had! The sauce is creamy, tangy, and full of flavor. I also love the ease of using a bag of coleslaw mix. No need to prep or chop anything, just mix the sauce, toss, and you've got a delicious low carb coleslaw!"
---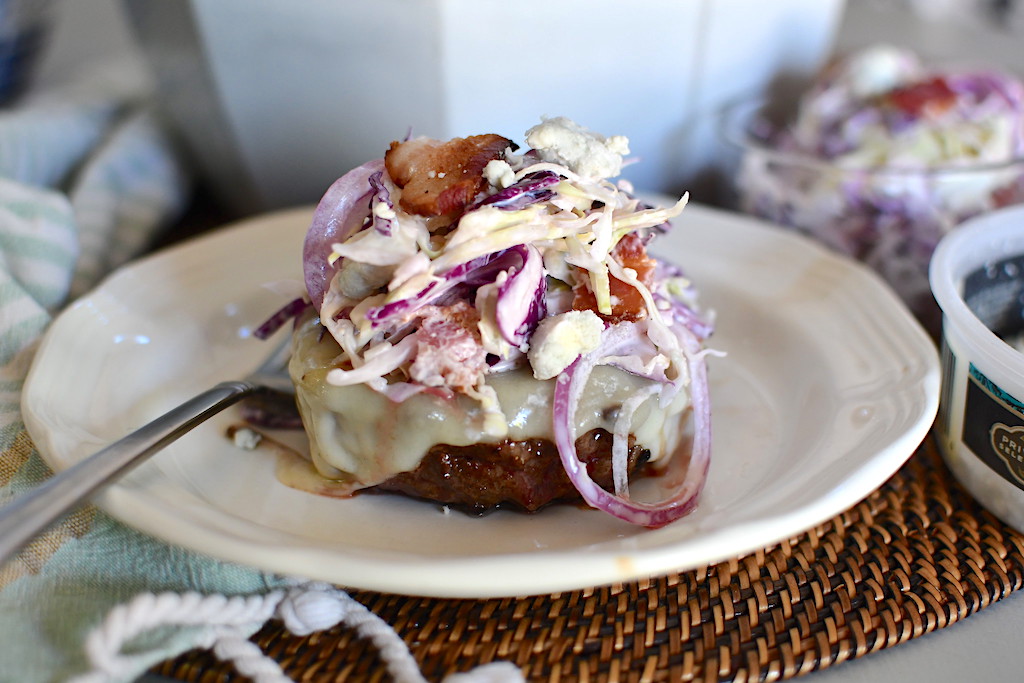 Can't get enough coleslaw? Try our bacon and blue cheese version next!