The Most Amazing Keto Cheddar Bacon Ranch Stuffed Burgers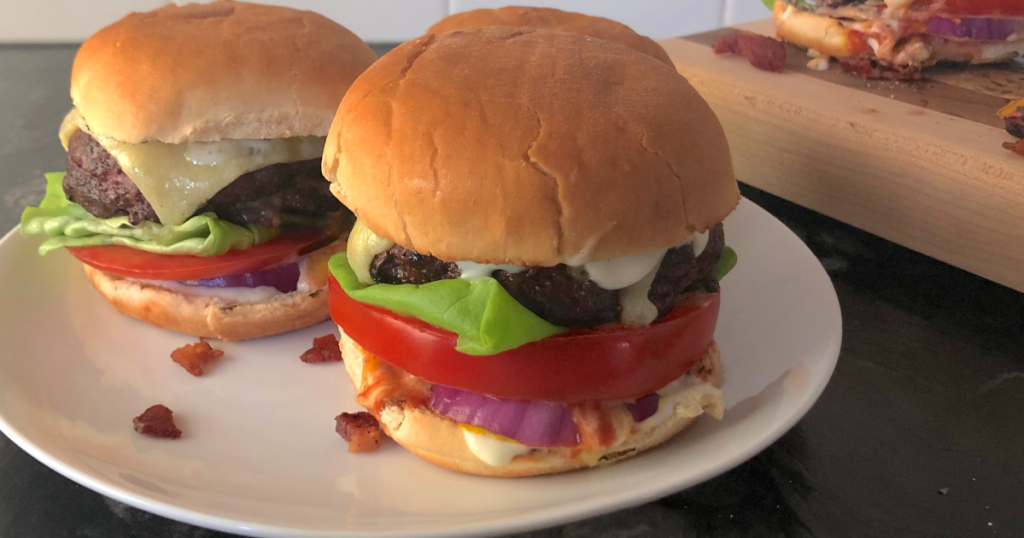 You'll never be able to look at burgers the same after trying this keto stuffed burgers recipe.
We've all had the classic bacon cheeseburger and maybe you've made stuffed burgers before at home. But have you ever had a cheddar bacon ranch stuffed burger? Or even a ranch bacon cheeseburger? This recipe takes stuffed burgers to another level entirely. Trust us, you have to try this burger recipe.
This tasty stuffed burger gets a double hit of flavor from both Ranch seasoning and cheddar. The burger filling is made with a Ranch seasoning packet and Ranch dressing! And there's Ranch dressing on the keto buns too. Believe me, there's no lack of herby Ranch goodness here. 😂 You could even make your own Ranch seasoning using this recipe.
Love cheese? Shredded sharp cheddar cheese is used in the filling and a slice of sharp cheddar is melted on top. Yum! Is your mouth watering yet?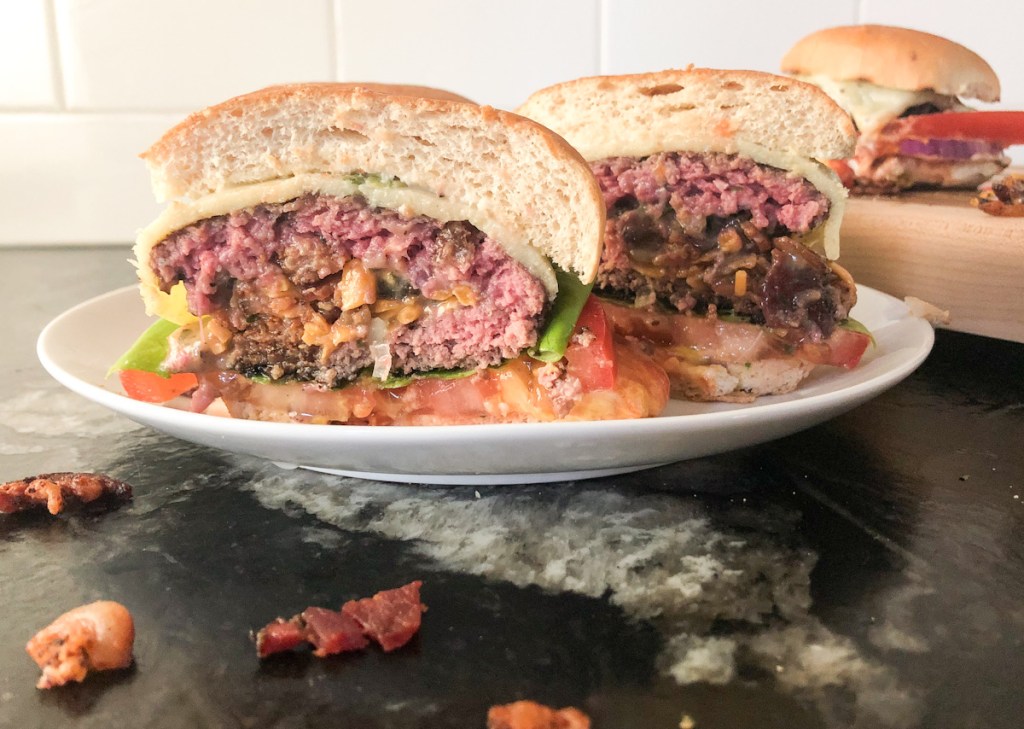 Get ready to impress with these keto stuffed burgers!
Making stuffed burgers is a great way to kick off barbeque season. These are definitely a crowd-pleaser and have the perfect balance of flavor with the cheddar, bacon, and ranch in the filling. It's hard to believe that something that tastes this good is keto!
A store-bought keto bun is pictured but you could eat these with a lettuce wrap, use our homemade keto bun recipe, or on their own to reduce the overall carb count.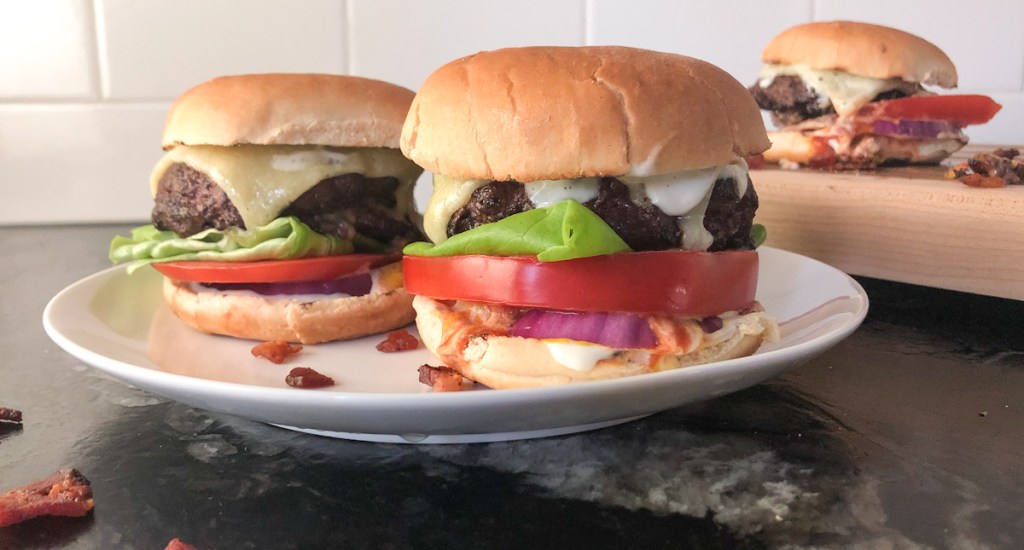 Helpful tips for making keto cheddar bacon ranch stuffed burgers:
The recipe does make extra filling. You could use the extra filling to make more burgers or as a topping for your burgers
Bacon ends and pieces are great for bacon crumbles. You can usually find them for much less than regular bacon. The package I bought was less than $5 for three pounds!
When you're stuffing the burgers, make sure you pinch the edges of the patties together really well to "seal" in the filling, otherwise, it might open up when you're grilling.
Keep in mind that the pictured burgers are medium-rare (that's how we like them at my house!), but if you like your burgers medium or well-done, you'll need to increase the cooking time.
If you don't have a barbeque, you can pan-sear the burgers in a skillet over medium-high heat for approximately five to six minutes per side.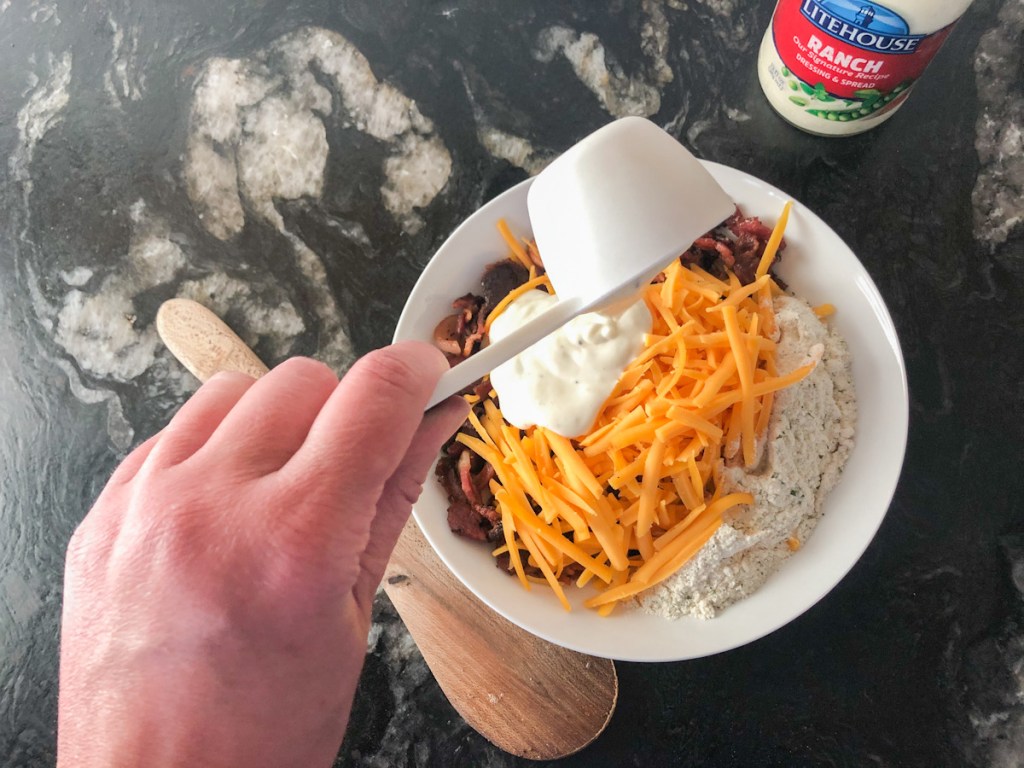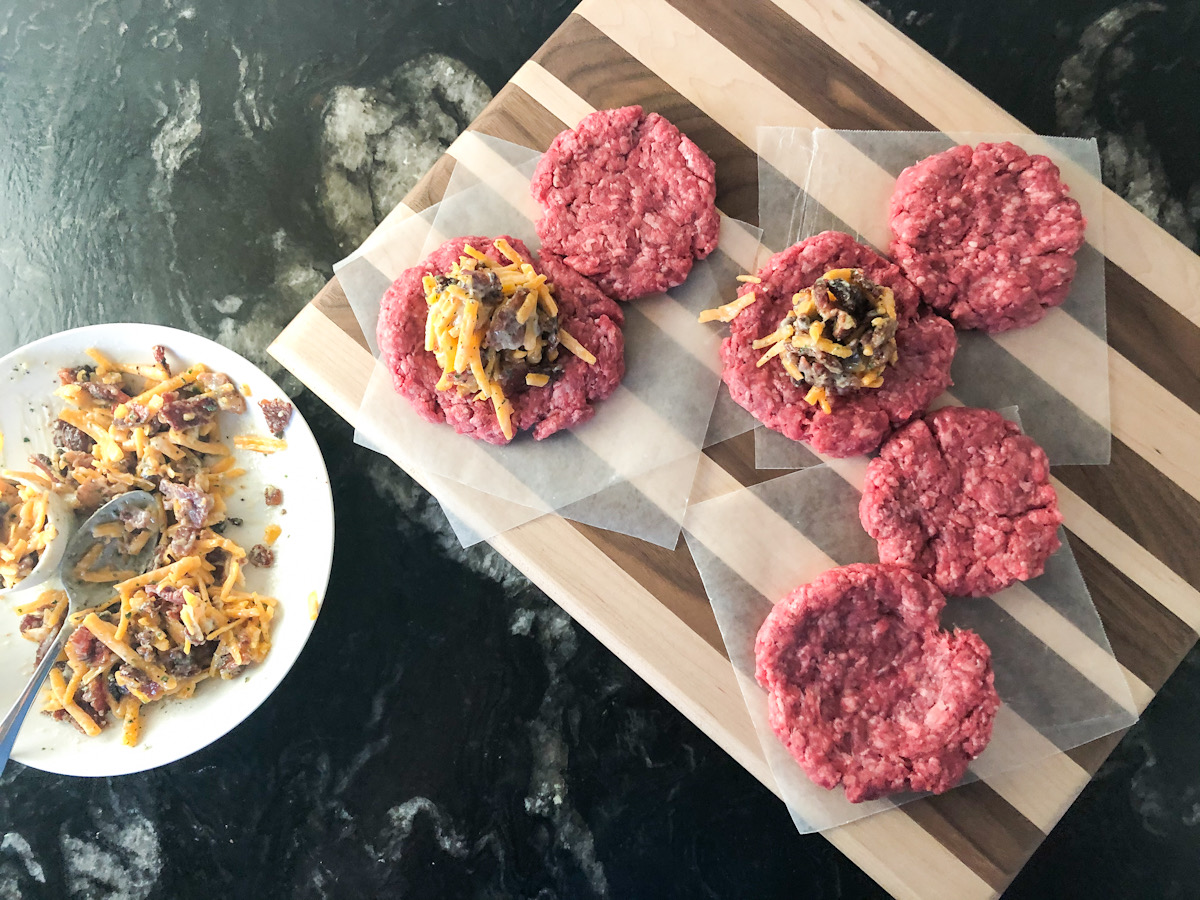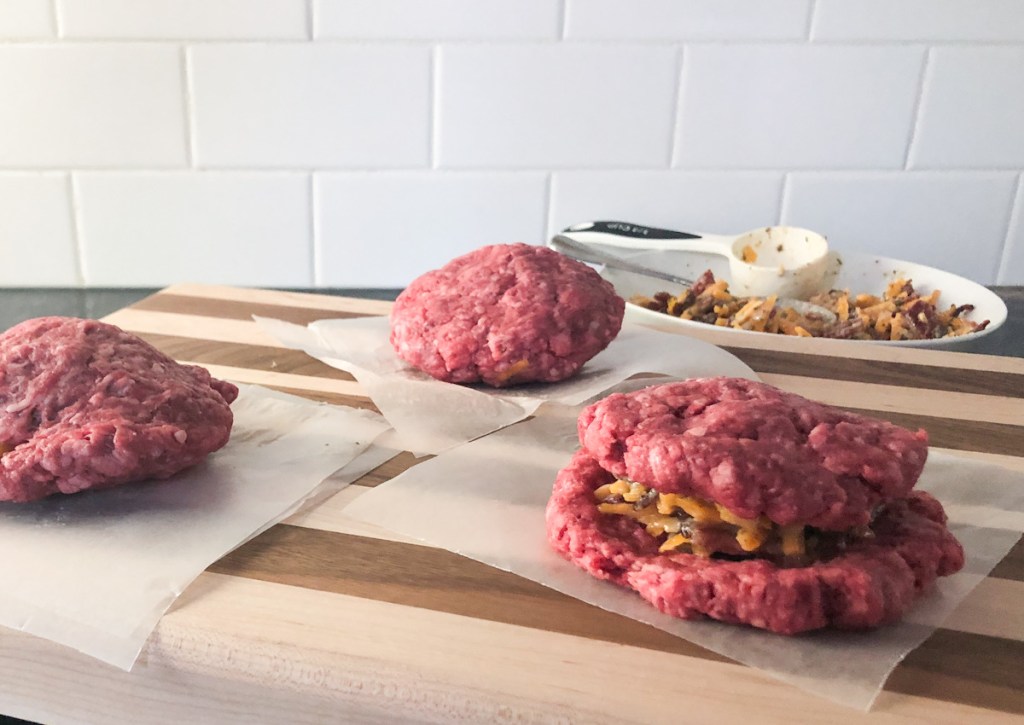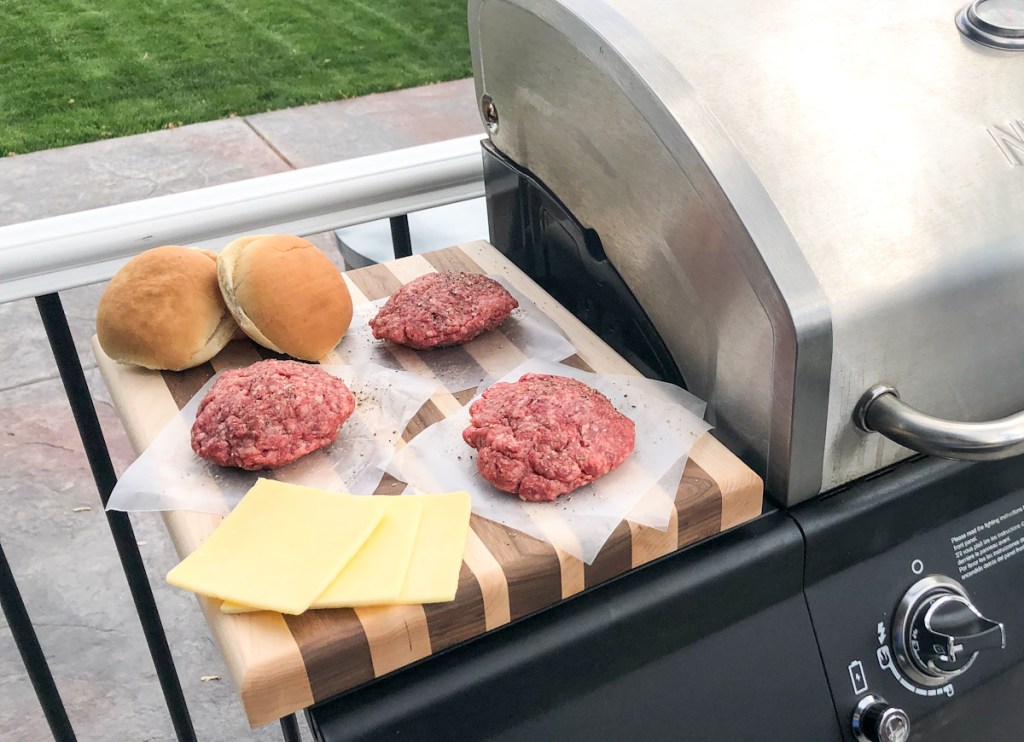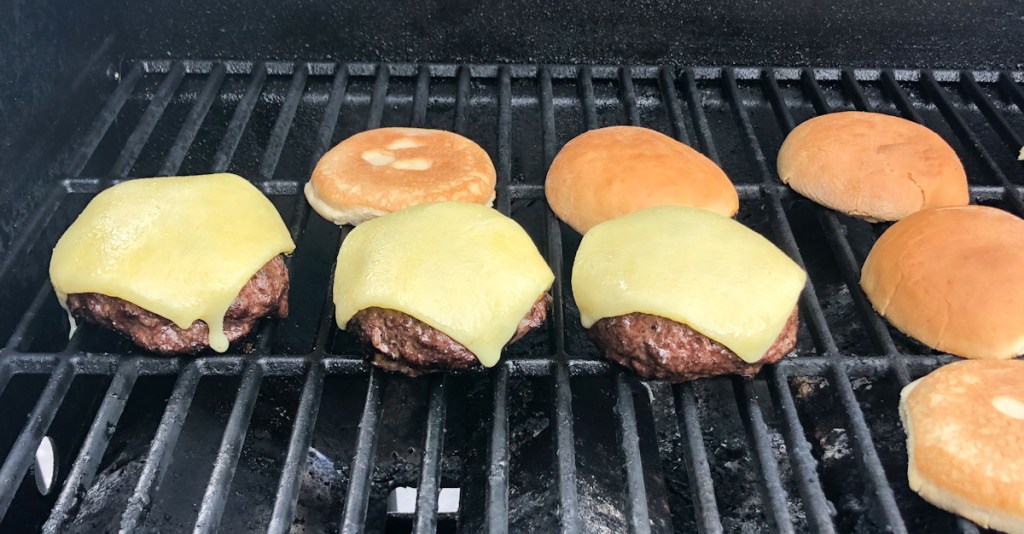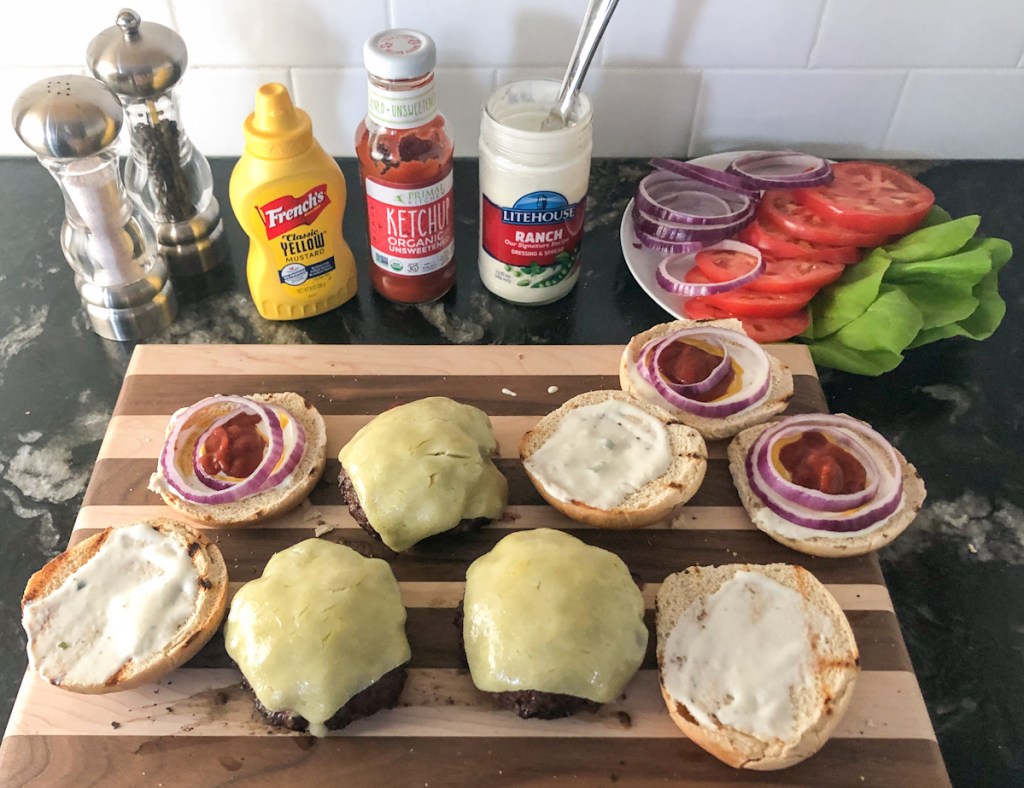 ---
Print
Keto Cheddar Bacon Ranch Stuffed Burgers
yield: 3 SERVINGS
prep time: 25 MINUTES
cook time: 15 MINUTES
total time: 40 MINUTES
The amazingly, delicious flavor combination of cheddar, bacon, and ranch stuffed inside a burger.
Ingredients
For the stuffed burger filling:
2 cups of bacon ends and pieces, roughly chopped prior to cooking
1 cup of shredded sharp cheddar cheese
1/4 cup keto Ranch dressing
For the burgers:
1 pound 80/20 ground beef
1 tsp salt
1/2 tsp pepper
3 slices of sharp cheddar cheese (white cheddar pictured)
1 head of butter lettuce, usually found as "living butter lettuce" at the store
1 large tomato, sliced 1/4 inch thick
1 medium red onion, thinly sliced about 1/8 inch thick
Optional condiments:
yellow mustard
Ranch dressing
Directions
1
To make the stuffed burger patties:
Cook up the bacon ends and pieces in a large skillet over medium heat to desired crispness. Place bacon on a paper towel when done cooking to drain excess grease. Let bacon cool to room temperature, about 10 minutes.
2
While bacon is cooking, start preparing the filling. In a medium bowl, add in shredded cheddar cheese, ranch packet, and 1/4 cup ranch dressing. Add in the bacon once it has cooled. Stir well to combine.
3
Turn barbeque on high to preheat it for grilling the stuffed burgers.
4
Form the ground beef into six patties about 1/2 inch thick. In the three "base" patties, press the middle down to 1/4 inch thick to form a "bowl". This is for the cheddar bacon ranch filling.
5
Add a 1/4 cup of the cheddar bacon ranch filling to the "bowl" of each base patty. You will have leftover filling. You can use it for more stuffed burgers, as a topping for these burgers, or save for another use.
6
Place the top patties over the base patties with the filling. Pinch around the edges of the top and bottom patties to seal in the filling.
7
Sprinkle salt and pepper on both sides of the stuffed burgers.
8
To grill the stuffed burgers:
When the barbeque is ready, place burgers on the grill for approximately 5 minutes on each side for medium. Shorten or lengthen the cooking time depending on your desired level of doneness.
9
When burgers are almost finished cooking, top with the sliced sharp cheddar cheese. You can also add your keto hamburger buns to the grill to toast them at this time. Continue cooking burgers until the cheese has melted, approximately 2-3 more minutes. Transfer burgers to a clean surface when finished grilling.
10
To assemble the burgers, use your favorite condiments. We recommend using Ranch dressing on both sides of the bun and then adding mustard, sugar-free ketchup, red onion slices, and a tomato slice to the bottom bun. Place the stuffed burger on top of the tomato and then add the top bun.
Additional Notes
Nutrition information for the burger with keto bun, sugar-free ketchup, mustard, and Ranch dressing:
909 Calories | 27.6g Total Carbs | 10.5g Net Carbs | 17.1g Fiber | 4.2g Sugar | 54.2g Protein | 68.1g Fat
Nutrition Information
Yield: 3, Serving Size: 1
Amount Per Serving: 839 Calories | 65.9g Fat | 8.9g Total Carbs | 1.1g Fiber | 4.1g Sugar | 48g Protein | 7.8g Net Carbs
---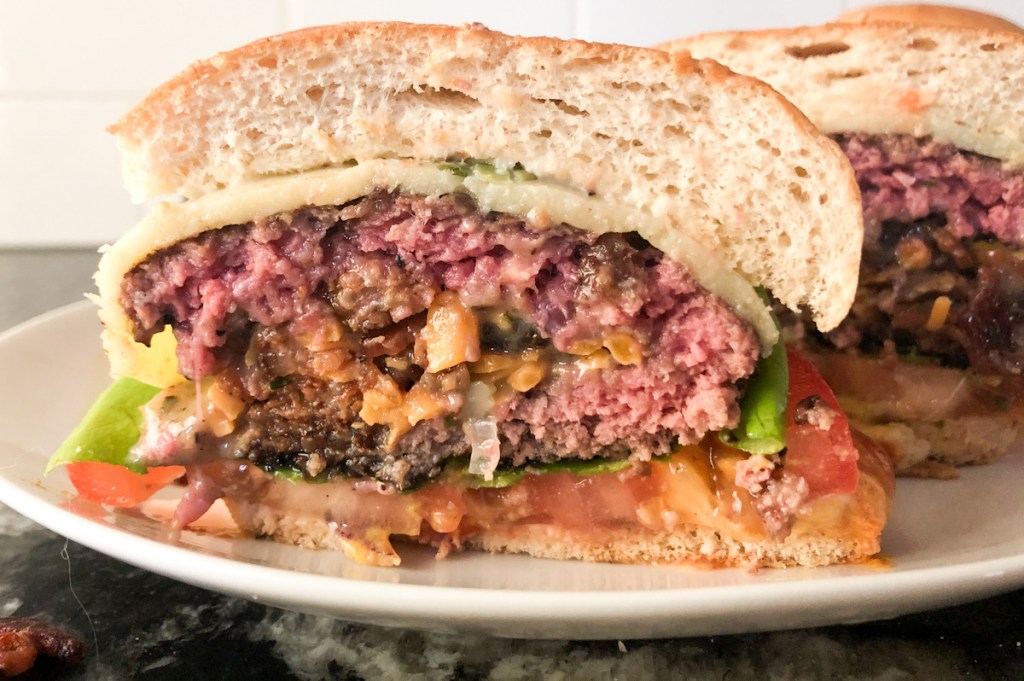 Out of this world flavor!
If burgers are your jam, this keto cheddar bacon ranch stuffed burger is for you! It will become one of your favorite burgers and if you make it for guests, be prepared for ongoing requests every time you host a gathering.
Here's what my Hip teammate Jen had to say about this recipe:
"This was my first time making a stuffed burger and it went perfectly. The burgers are moist and full of flavor with the bacon and ranch stealing the show. We used lettuce instead of buns and it was fantastic! These are the best burgers and super easy to make, plus very filling! My whole family loved them!"
---