Keto Instant Pot Pulled Pork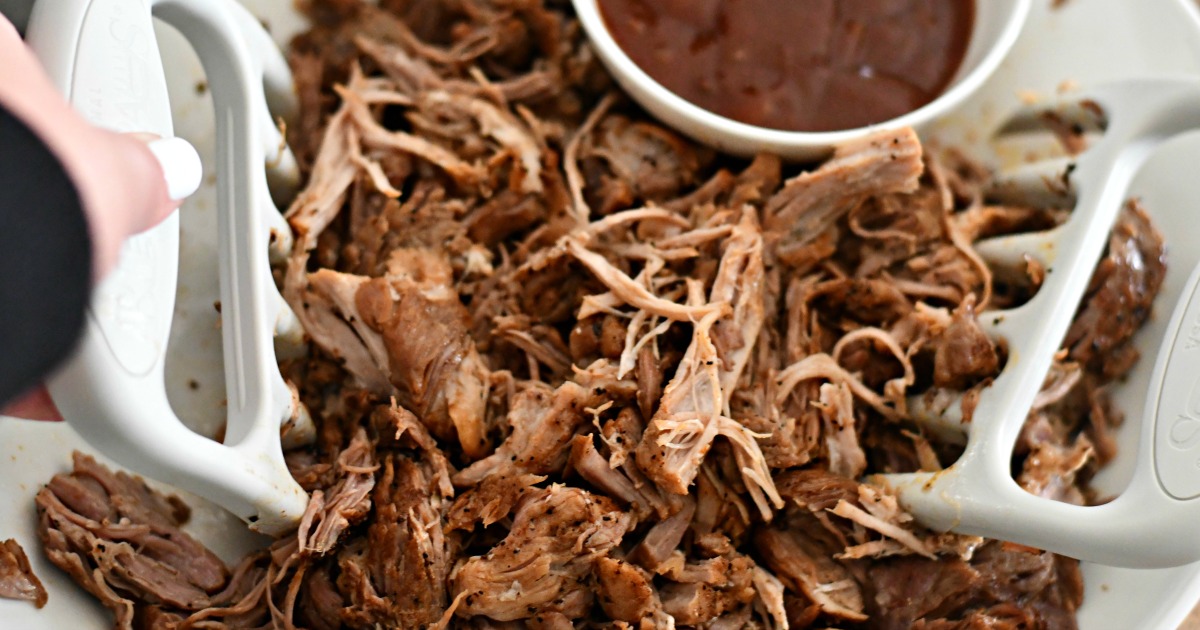 Love using your Instant Pot pressure cooker for easy meals?
Make this yummy keto Instant Pot pulled pork for a delicious and easy-to-make meal idea! This is a fun dinner the entire family will LOVE, and as you may have guessed, it's actually super easy to make like many Instant Pot meals. Cooking an entire 4-pound pork roast into fall-apart, shreddable pulled pork takes a little over an hour, which is definitely appealing for last-minute meals.

Didn't plan for dinner?
Yep, that's me, ha! I'm honestly not great at planning dinners and putting things in the slow cooker in the morning. I'm more of the, "Oh crap, it's 5 pm and my family is gonna want dinner again," type of person. That's where I think the Instant Pot comes in most useful for me. You can cook meals at the last minute and easily – like this pulled pork.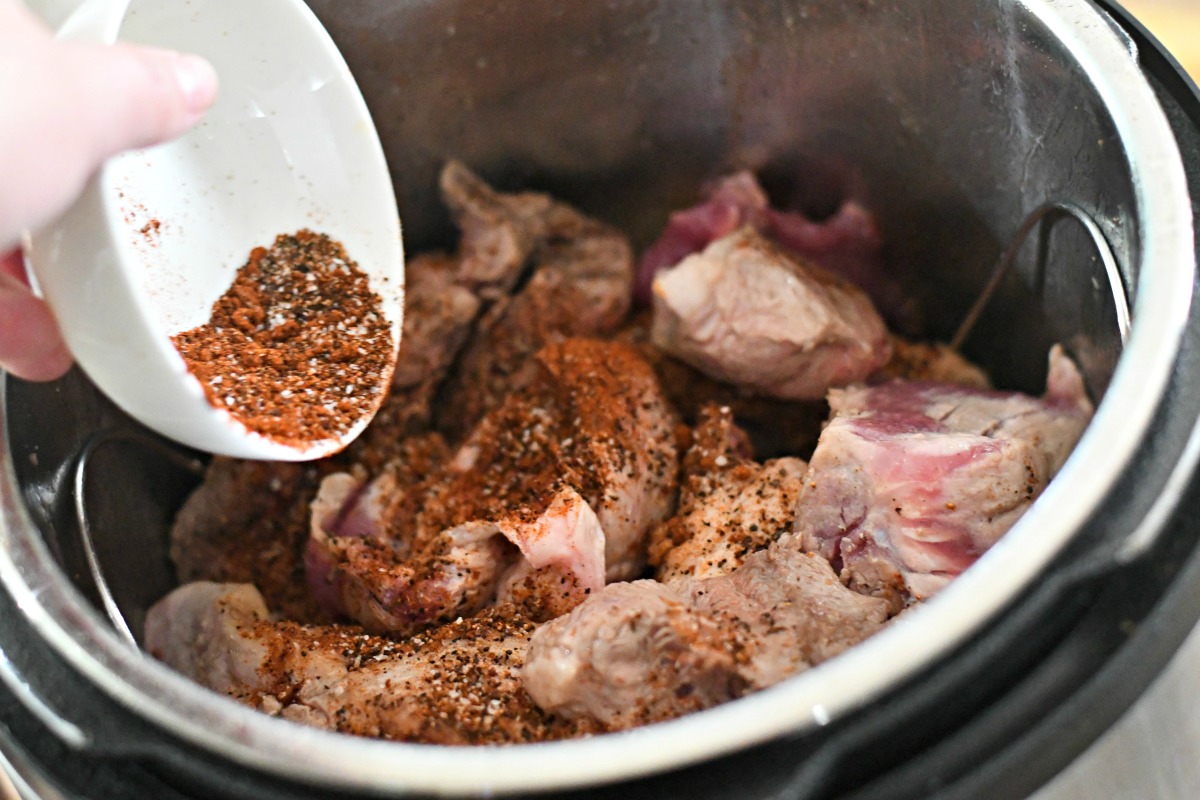 Brown, season, pressure cook.
This idea is a low effort one, which is nice. All we have to do for this roast is brown it right in the Instant Pot on saute mode, season it, and then set it for 45 minutes to pressure cook. You'll want to do a slow release for another 20 minutes or so, shred it, and add your favorite BBQ sauce. To keep things keto-friendly, make sure to use a sugar-free BBQ sauce. We personally love this G Hughes brand, as my kids can't tell the difference, and it tastes yummy.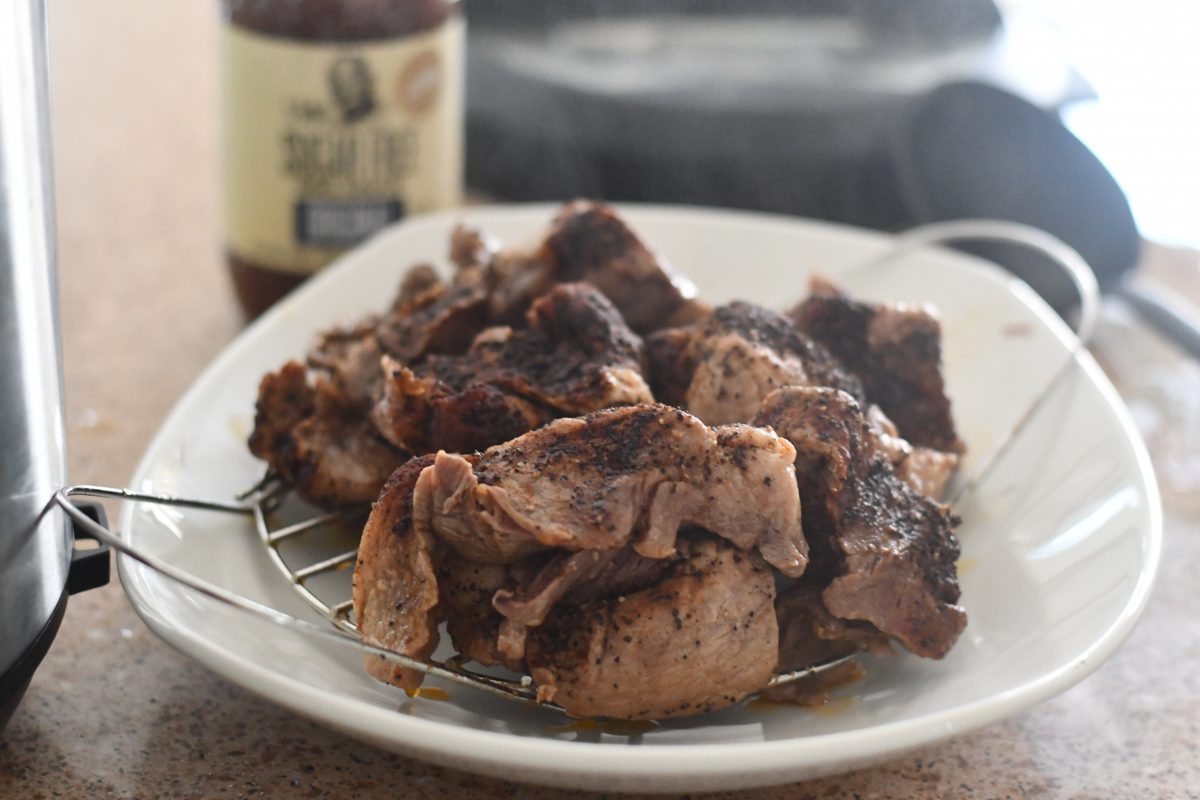 You can definitely season as desired using your favorite BBQ spices. I decided to make a fun coffee rub featuring coffee grounds, paprika, garlic, and cumin. It turned out to be super yummy and sugar-free! Keep in mind most seasoning blends from the store contain brown sugar, so I used a little Swerve brown sugar sweetener in mine to keep it keto-friendly.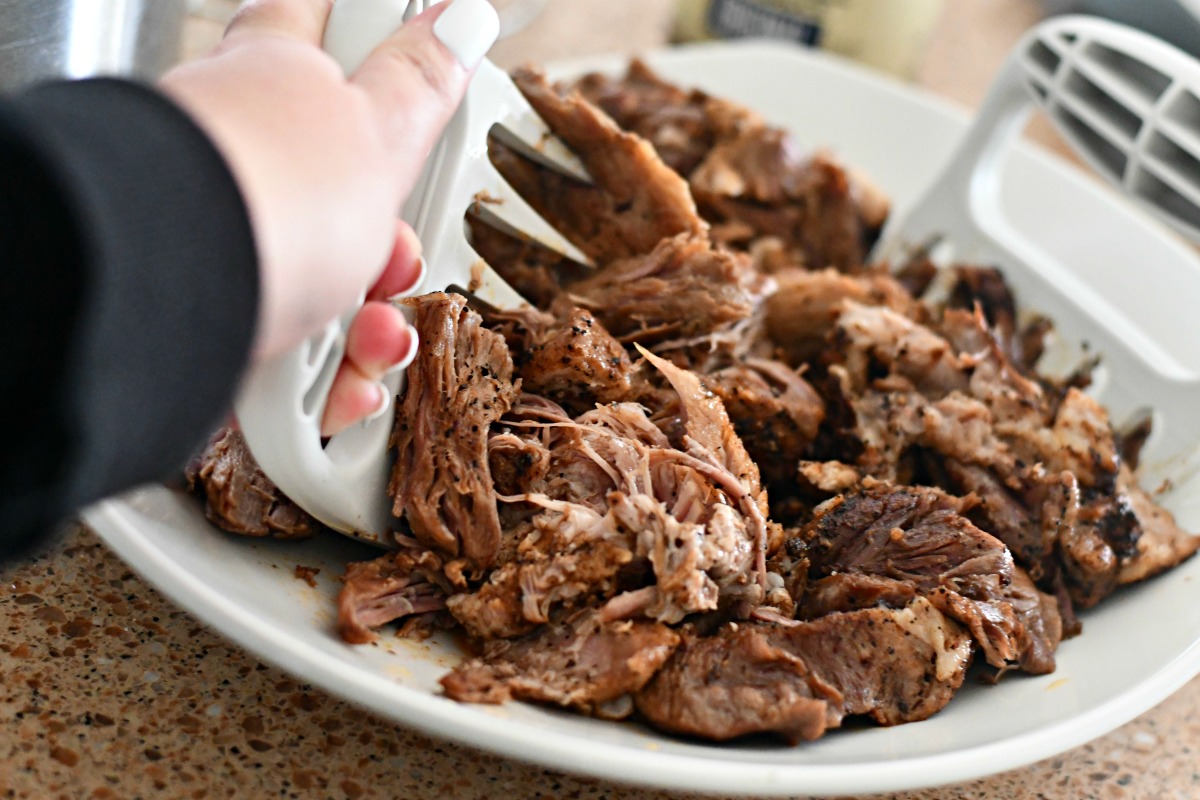 Hip Tip: Want an easy way to shred meat? Check out these handy Bear Claws that I loved using for this recipe!
---
Print
Keto Instant Pot Pulled Pork
yield: 7 SERVINGS
prep time: 15 MINUTES
cook time: 1 HOUR 5 MINUTES
total time: 1 HOUR 20 MINUTES
Tender and flavorful shredded meat done in a little over an hour using the Instant Pot!
Ingredients
For the Roast:
4 pounds pork shoulder or pork butt
2 tablepoons olive oil
1/2 teapoon salt
1/4 teaspoon pepper
3/4 cup chicken broth
1/2 cup sugar-free BBQ sauce
For the Coffee Rub:
2 tablespoons finely ground coffee
1 tablespoon Swerve, brown sugar
1 teaspoon salt
1/2 teaspoon black pepper
1 teaspoon paprika
1 teaspoon ground cumin
1 teaspoon garlic powder
1 teaspoon onion powder
pinch of ground cayenne
Directions
1
Mix seasoning rub ingredients together and set aside.
2
Set Instant Pot to saute mode and heat up olive oil in the bottom.
3
Cut up roast into smaller pieces for faster cooking. My roast actually had a small bone and I removed it. 
4
Brown pieces of roast in the bottom of pressure cooker and add salt and pepper. You may have to do this in two batches. Remove pieces back to cutting board. Deglaze the bottom of the pot by adding broth and using a spoon to remove any stuck on pieces. This is an important step as otherwise, the cooker may not come to pressure. 
5
Add meat back to the Instant Pot on top of the metal trivet that comes with the pot, and season with the rub.
6
Secure lid and set the Instant Pot to 45 minutes. After that beeps, let the meat do a natural release for about 20 minutes.
7
Remove lid and place the meat on a plate to shred. I like to reserve a little of the liquid to put back on the meat if it gets dry later. Add BBQ sauce to serve.
Nutrition Information
Yield: 7 servings, Serving Size: 6 oz.
Amount Per Serving: 224 Calories | 17g Fat | 4g Total Carbs | 1g Sugar Alcohol | 13g Protein | 3g Net Carbs
---

My family LOVED this flavorful pulled pork!
This was so yummy and bursting with lots of flavors. You really don't need a ton of BBQ sauce, either. I just used half of a cup, and it was perfect. I set my Instant Pot on warming until after my kids got home so we could eat, and it worked out great.
You could serve this so many ways, as lettuce wraps, in a salad, or even in a cheese taco shell. The kids can have a keto bun if they'd like, and everyone is happy! I think you could make a great BBQ bacon crust pizza with the leftovers, too! YUM.
---