Trader Joe's Everything But The Bagel Salmon is the Perfect Keto Snack
Trader Joe's Everything but the Bagel Salmon is a delicious addition to keto bagels w/ cream cheese!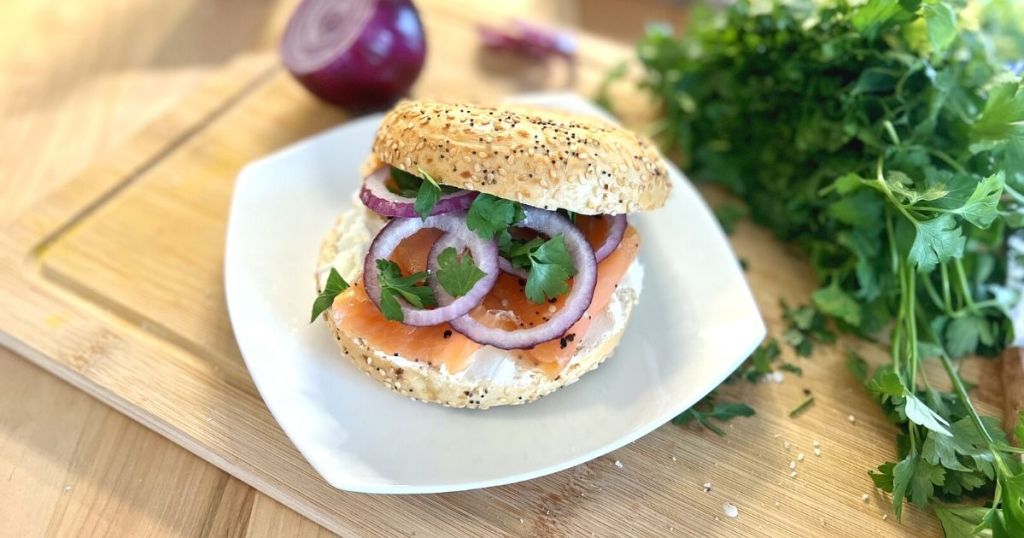 I found my new favorite snack at Trader Joe's.
Even as someone who really does not enjoy going to the grocery store 😆, I always look forward to a Trader Joe's run–but I guess it doesn't hurt that they're basically a haven for delicious, affordable keto products!
We have a whole list of the many keto items you can score at Trader Joe's, but today, I wanted to talk about one in particular that I've become all but addicted to.
Since I'm about to rave about my latest keto snack find, I wanted to let you all know this post is not sponsored. I couldn't resist sharing this yummy savory and salty keto smoked salmon with you all!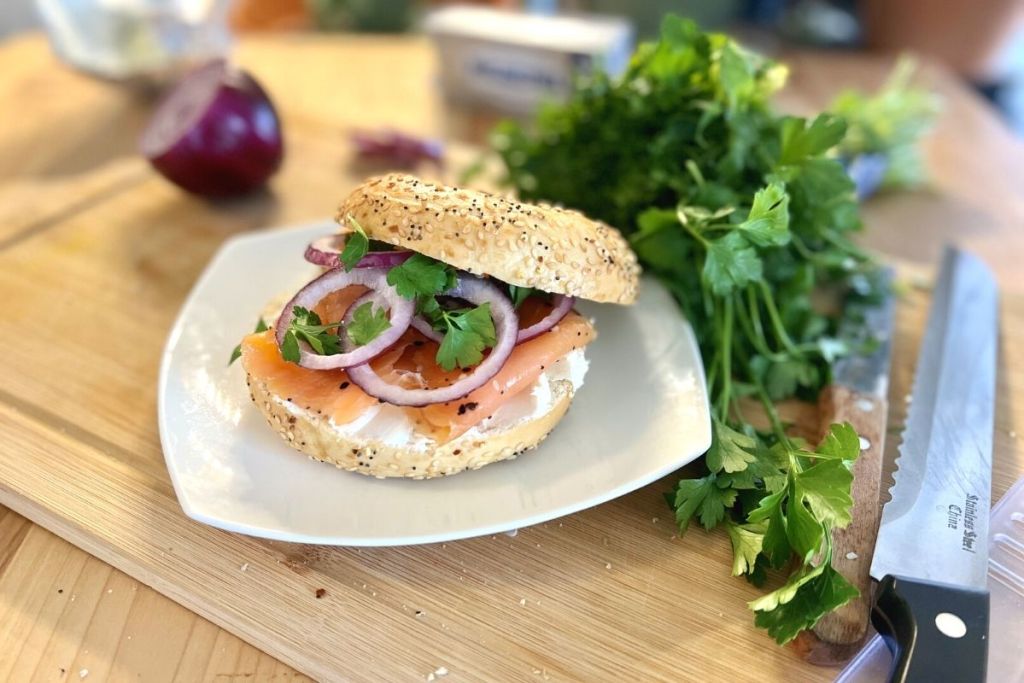 If you're a bagel & lox fan, you have got to try Trader Joe's Everything but the Bagel Salmon. 😍
Everything but the Bagel Salmon Nutrition Info
Serving Size: 2 Slices | 80 Calories | 3.5g Fat | 0gTotal Carbs | 0g Fiber | 0g Sugar | 11g Protein | 0g Net Carbs
Ingredients: Atlantic salmon, salt, sesame seeds, dried garlic, dried onion, poppy seeds, natural hardwood smoke.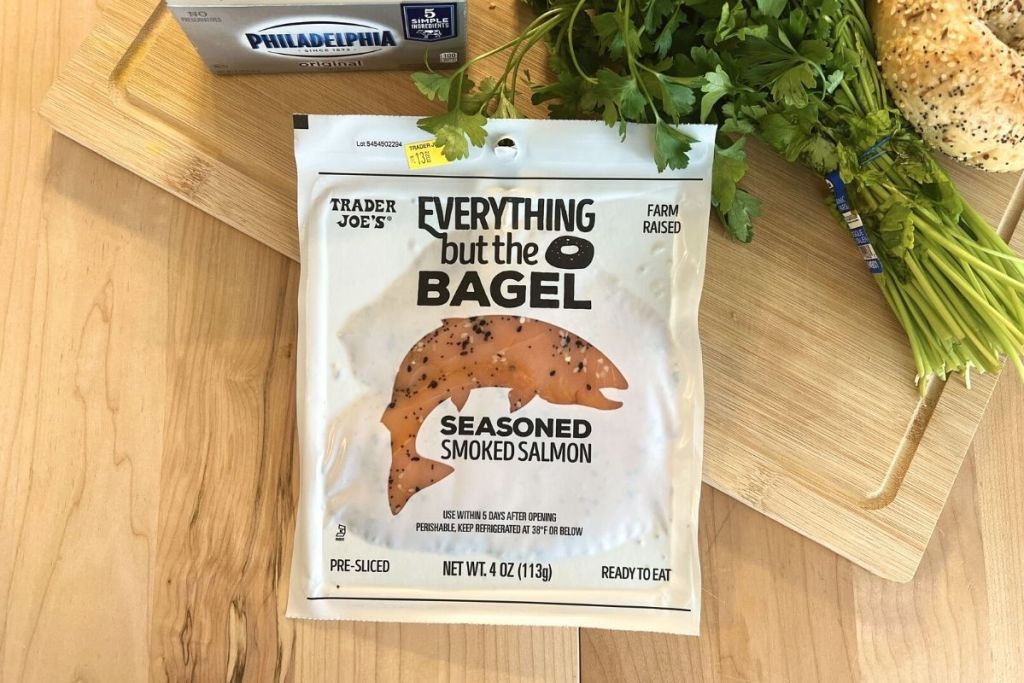 Every once in a while, I get a craving for salmon with a big, delicious schmear of cream cheese. I usually get regular smoked salmon, but I was feeling adventurous the other day and tried Trader Joe's Everything but the Bagel version. It's since become my new favorite snack. 😍
I know, I know–this product has been out for a while and I'm late to the party.
But I want to prevent others from making the same mistake & let y'all know that it is delicious and you should try it if you haven't yet!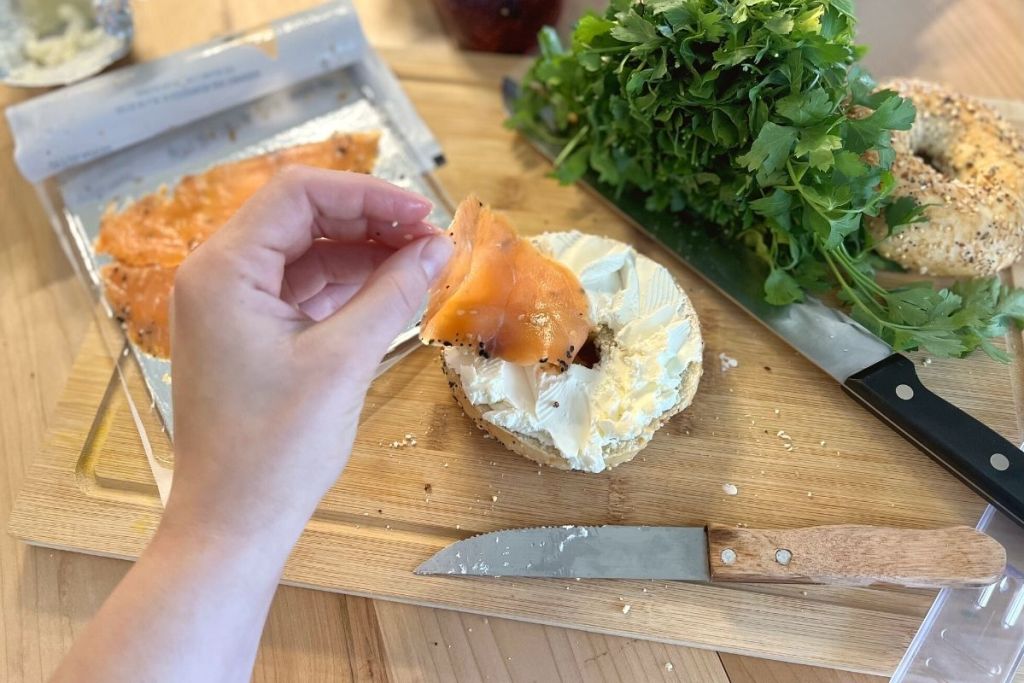 If you have Trader Joe's Everything but the Bagel seasoning (or the ingredients to make a batch of your own), you could definitely add that to regular smoked salmon, although it probably wouldn't taste quite the same.
I think the EBTB Salmon is just slightly saltier and smokier than other salmon I've had, and it goes so well with the garlic & onion flavors in the seasoning.
Did I mention it's also so good for you?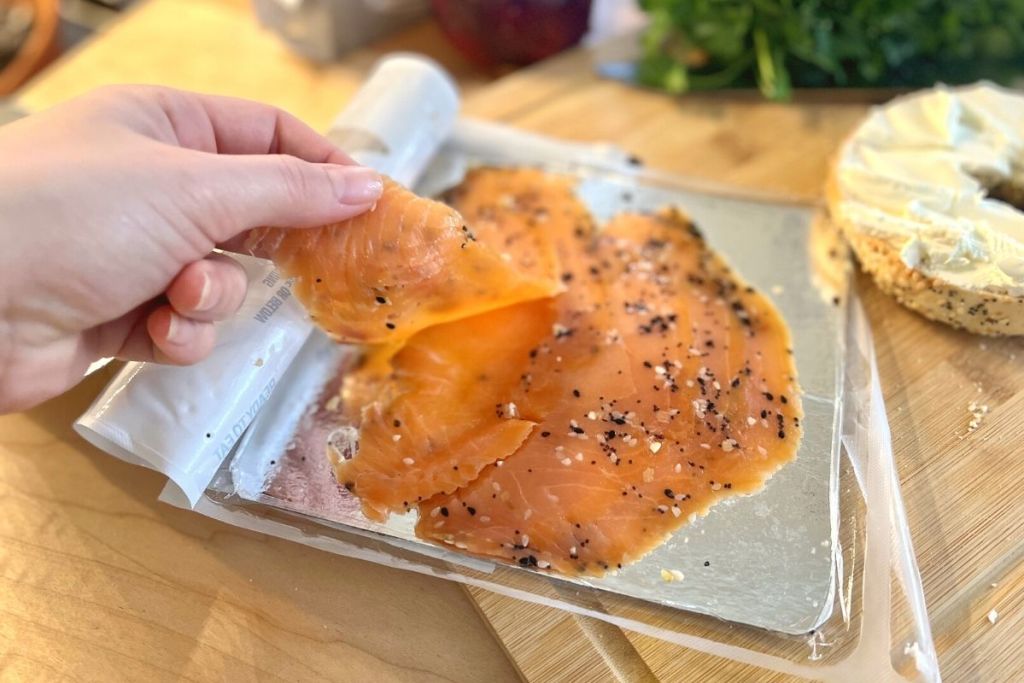 One serving of Trader Joe's Everything but the Bagel Salmon doesn't contain any carbs (woohoo!), but it does contain a hefty dose of protein, Vitamin D, omega-3 fatty acids, and other health-boosting nutrients.
I know that personally, I struggle to get enough vitamin D in the wintertime, so I'll definitely be keeping some of this salmon on hand!
Note: Like almost all smoked salmon, Everything but the Bagel salmon contains a good bit of sodium, so just keep that in mind when deciding if this snack fits your diet.
Here's how I make my now-favorite keto bagel & lox: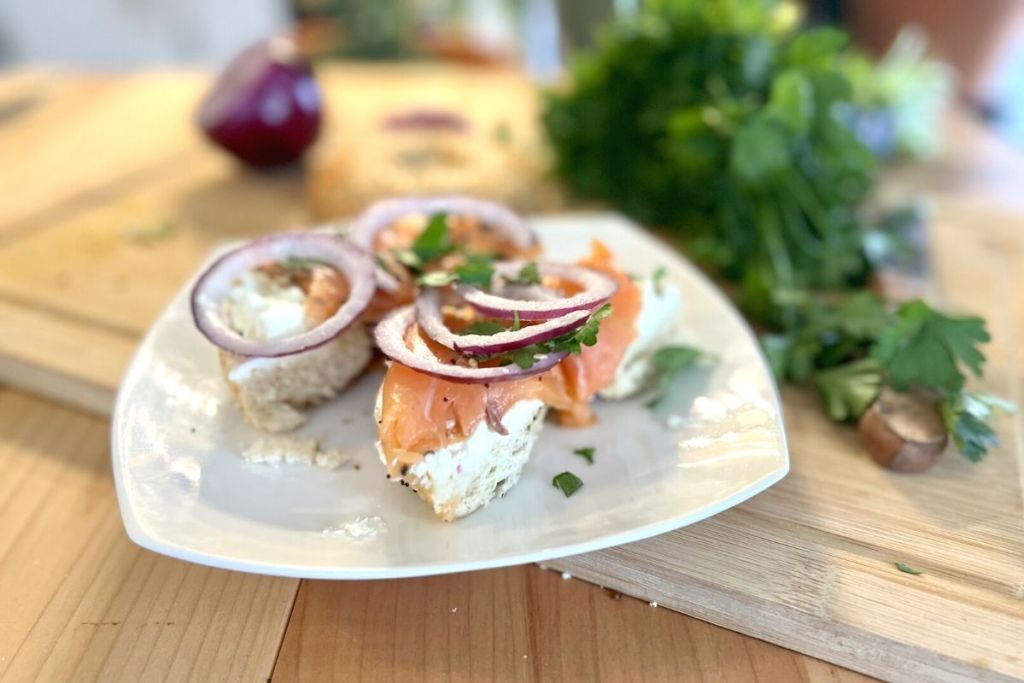 By now, you guys can probably guess the first ingredient you'll need. 😉 So if you haven't stopped by Trader Joe's yet, head over there and pick up your Everything but the Bagel Salmon.
Next, I just lightly toasted a keto bagel.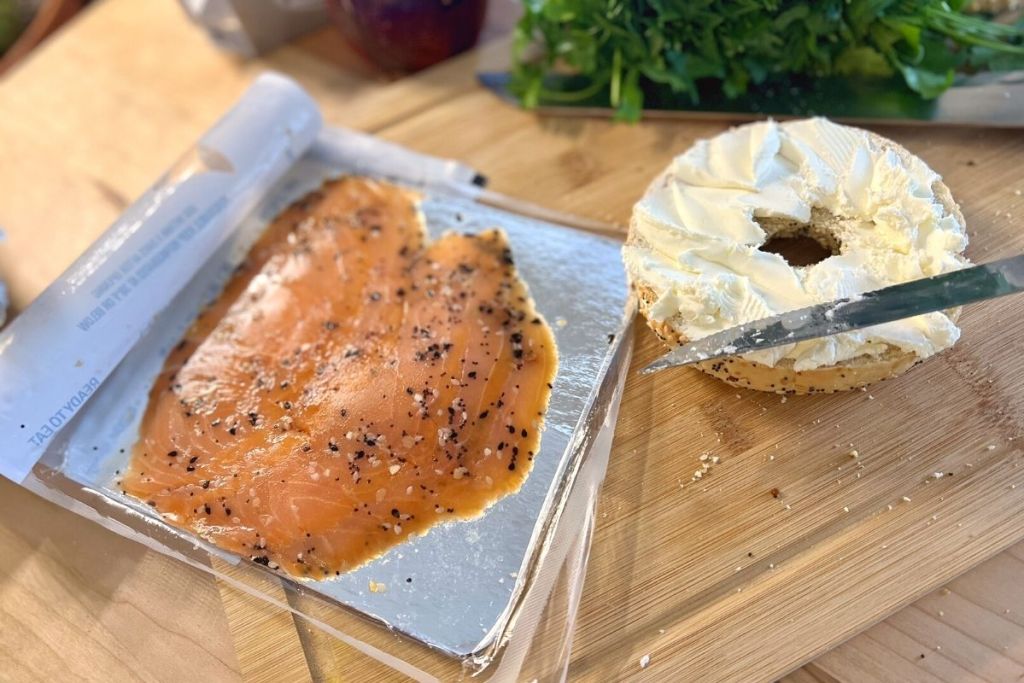 I'll be honest, I don't love the texture of the untoasted keto bagels I've tried, but I find that crisping them up a bit gets rid of that cakiness some keto varieties have.
I happened to have the ingredients on hand to whip up a batch of keto bagels at home. If you'd rather save time, you can find some really good keto bagels at ALDI!
Then just layer on the other ingredients!
As you can probably tell, I'm a little heavy-handed with the cream cheese. 😅 Still, the flavor of the EBTB Salmon came through with no trouble!
I added red onion and parsley on top of the salmon, and while I didn't happen to have any capers on hand, I would definitely toss a few on if I did.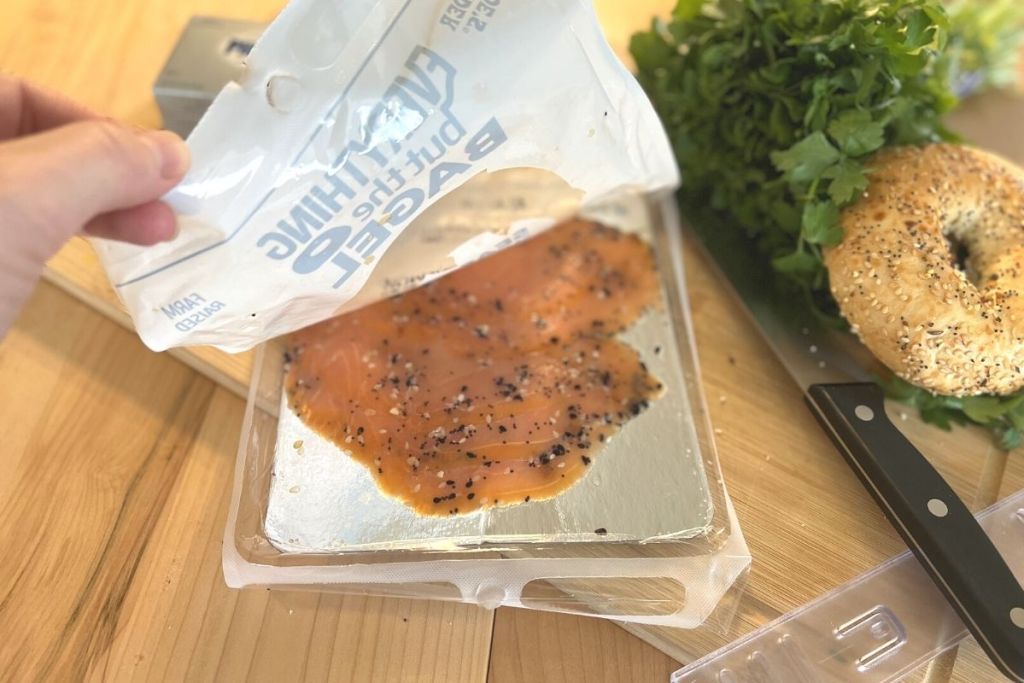 It's so simple & satisfying, and the best part? It's actually affordable!
Smoked salmon can get super pricey unless you get lucky and manage to find it on sale.
At Trader Joe's, I can pick up the Everything but the Bagel Salmon for only $6.99 per pack. Each one has enough salmon for 2-3 bagels with lox, so when combined with the other ingredients, each portion will end up costing you less than $5.
Considering how expensive the same meal is in restaurants (and how hard it is to find a keto version), I'm all about this healthy, frugal treat! And to be fair, all of Trader Joe's smoked salmon is pretty affordably priced. I just happen to like the EBTB salmon the best. ❤️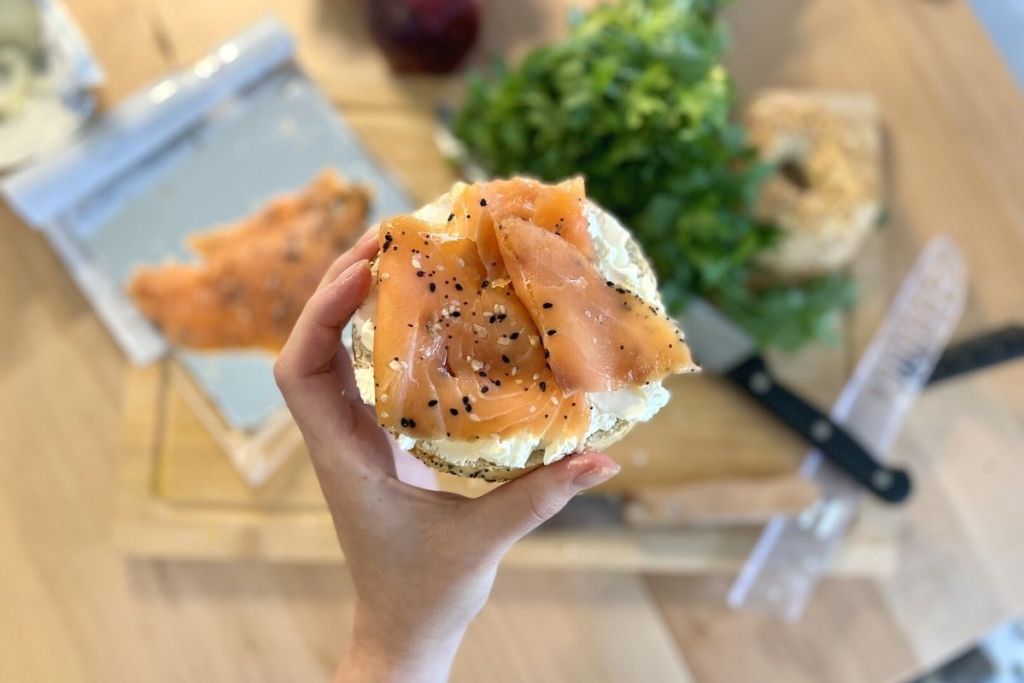 Everything but the Bagel salmon is great on more than just bagels, too!
It's sliced nice and thin and ready to eat, so you could use it as a fun addition to a keto charcuterie board or serve it alongside some other savory dishes for a tasty keto breakfast.
My only regret about this salmon is that I waited too long to try it–so don't make my mistake! Head out to any Trader Joe's to get this goodness ASAP & thank me later. 😋
---
This essential keto shopping list makes grocery runs a breeze!