Craving Some Crunch? Keto Shake and Bake to the Rescue!
Grab some keto chips to get started on our crunchy keto shake and bake coating for chicken strips & pork chops.
Introducing a keto twist on a classic dinnertime favorite — Keto Shake and Bake!
One thing I definitely miss on keto is chicken strips. I love the crunchy outside and moist chicken on the inside, and it's my guilty pleasure food. 😋 But here's a keto-fying hack — use keto chips as part of the coating to bread chicken strips… pure genius!
This shake and bake reminds me of the crunchy coated dinners I had growing up. You can get the whole family involved in making this dinner too by getting your kids to do the shaking part!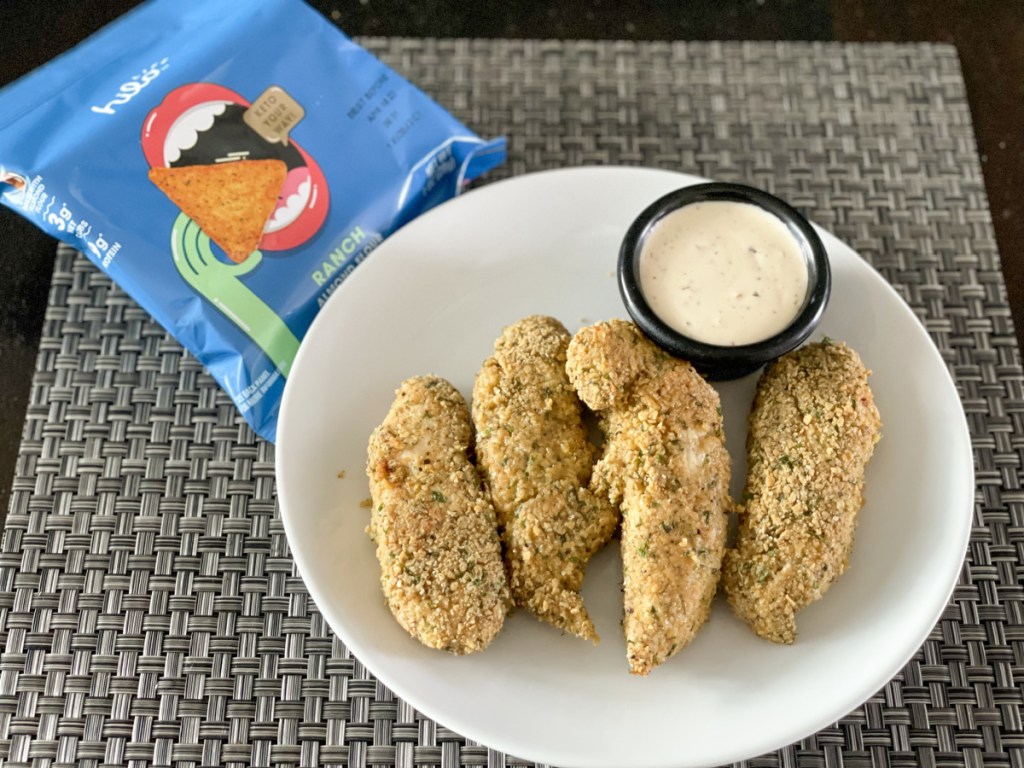 This is one of the best ways to eat chicken (and pork)!
Needless to say, this recipe turned out delicious. Much better than just plain baked almond flour breaded chicken or pork chops. It's perfectly crispy on the outside and tender on the inside.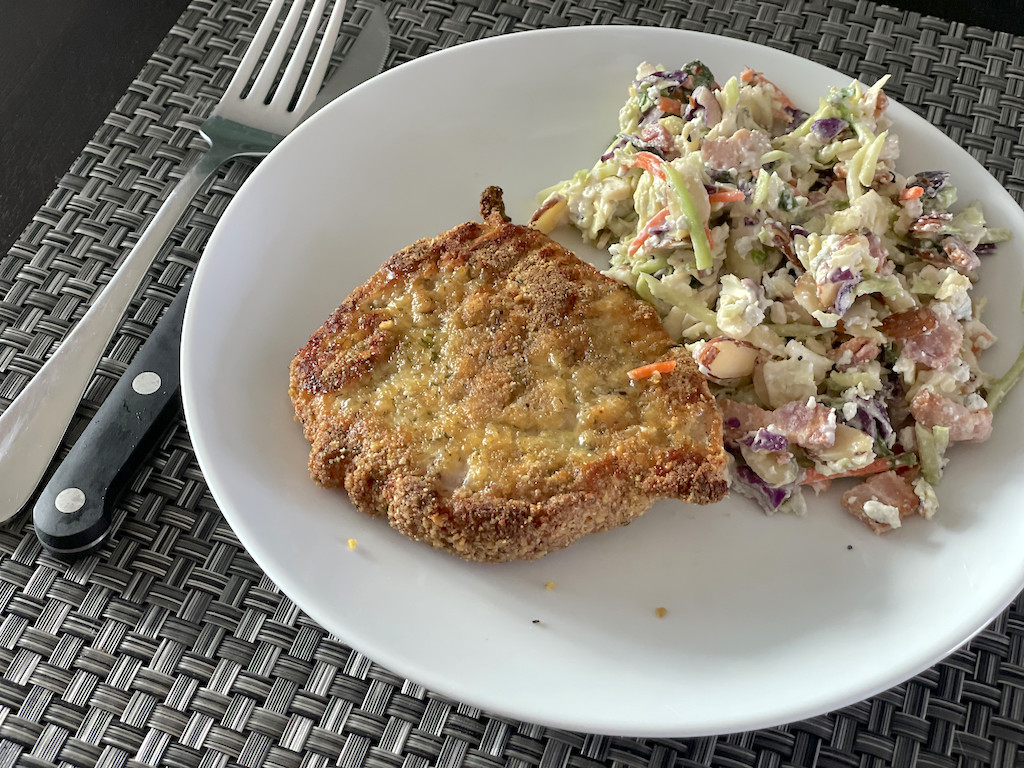 If you want more of the cornflake type of texture for your keto shake and bake coating, skip putting the keto chips in the food processor and just crush them by hand in the bags. You really can't go wrong!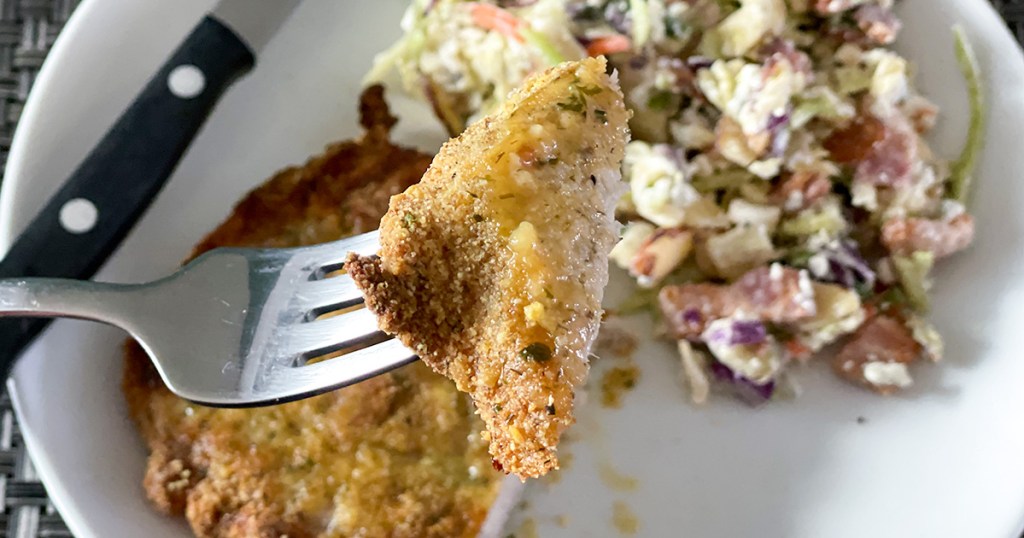 Tips for making the best keto shake and bake:
I tested this out with both Quest Chips and Hilo Chips, and while they both worked great, I liked the Quest chips better. I also recommend using Ranch flavored chips, but you can use your favorite flavor of keto chips of course.
Try adding some grated or shaved parmesan cheese to the breading mixture for an even tastier coating.
While you're going through the work of prepping the shake n bake mixture, consider doubling to make a big batch to keep on hand for easier weeknight meals.
Have an air fryer? You can cook the chicken strips or the pork chops in the air fryer at 400 degrees for 20 minutes.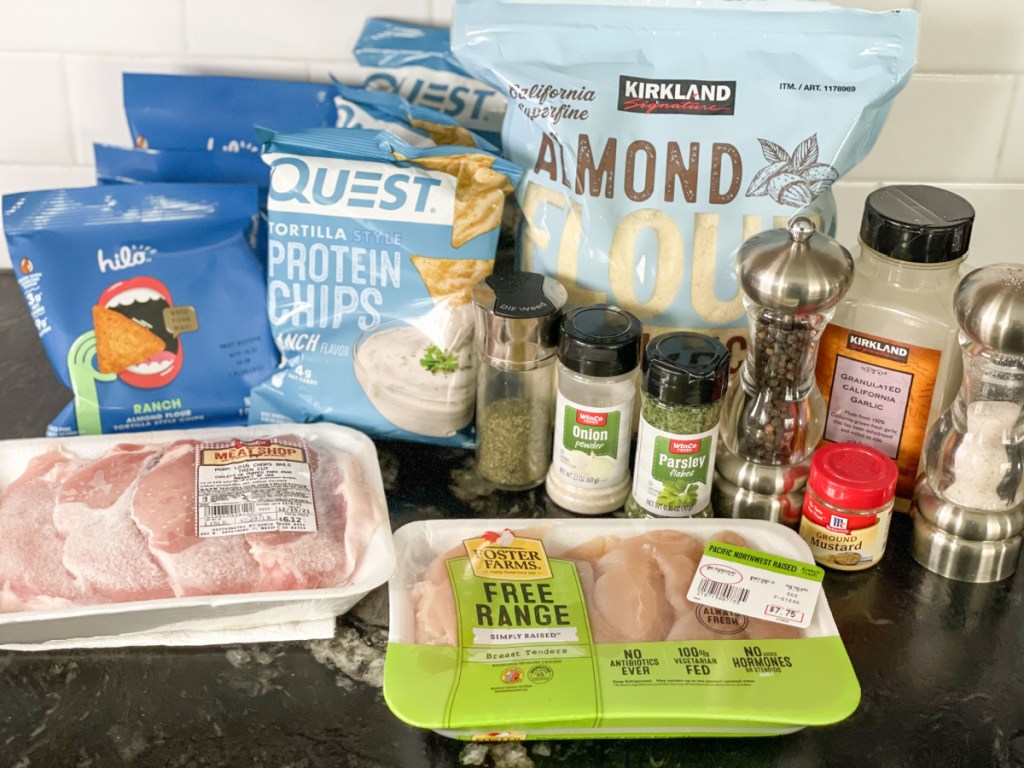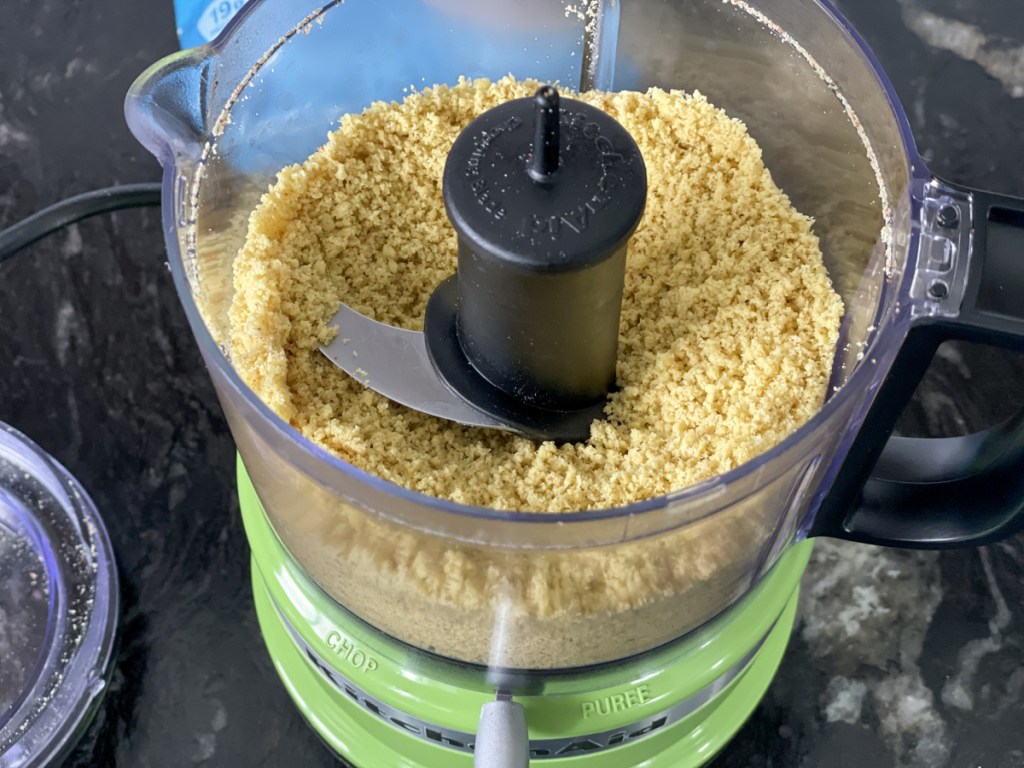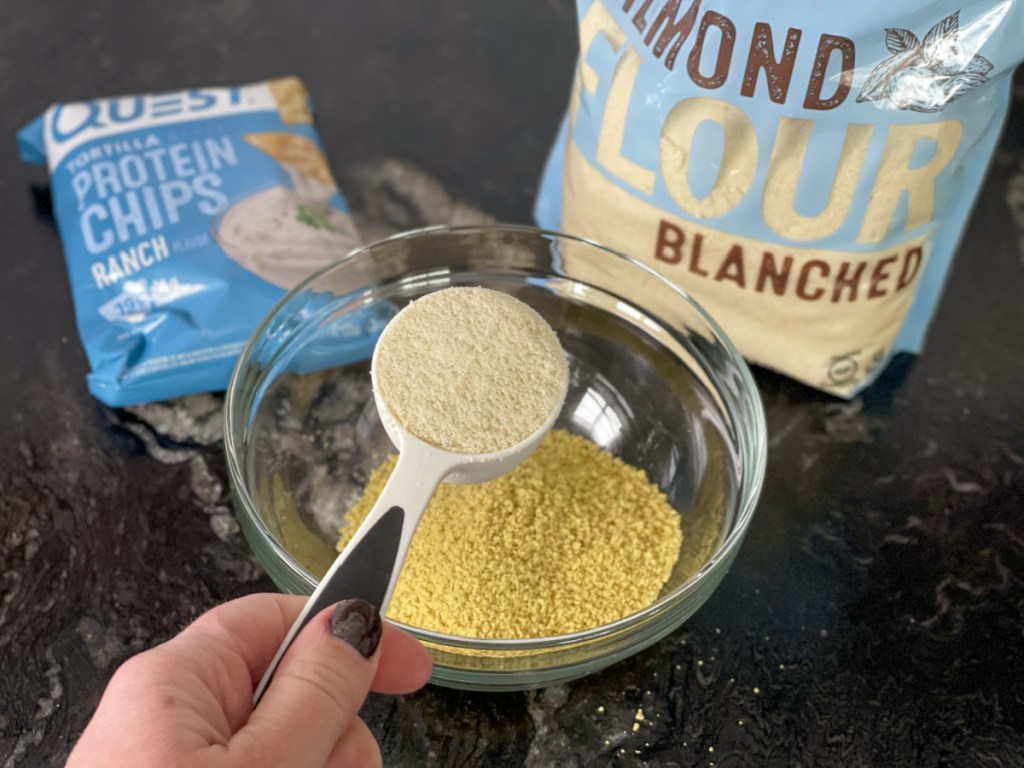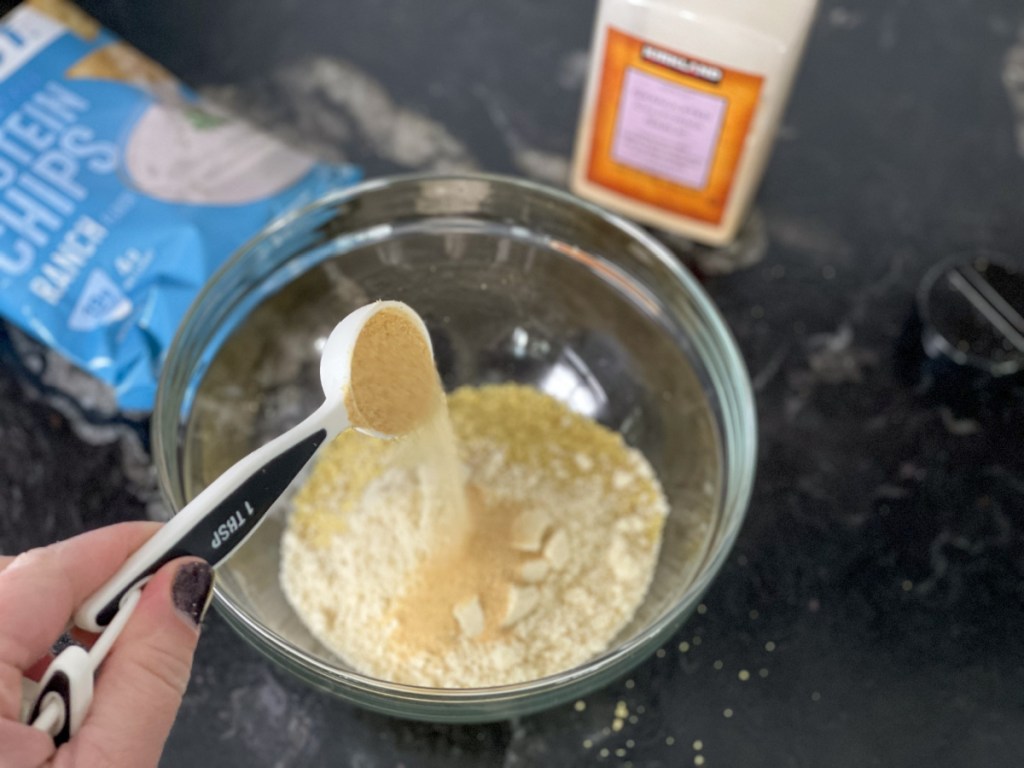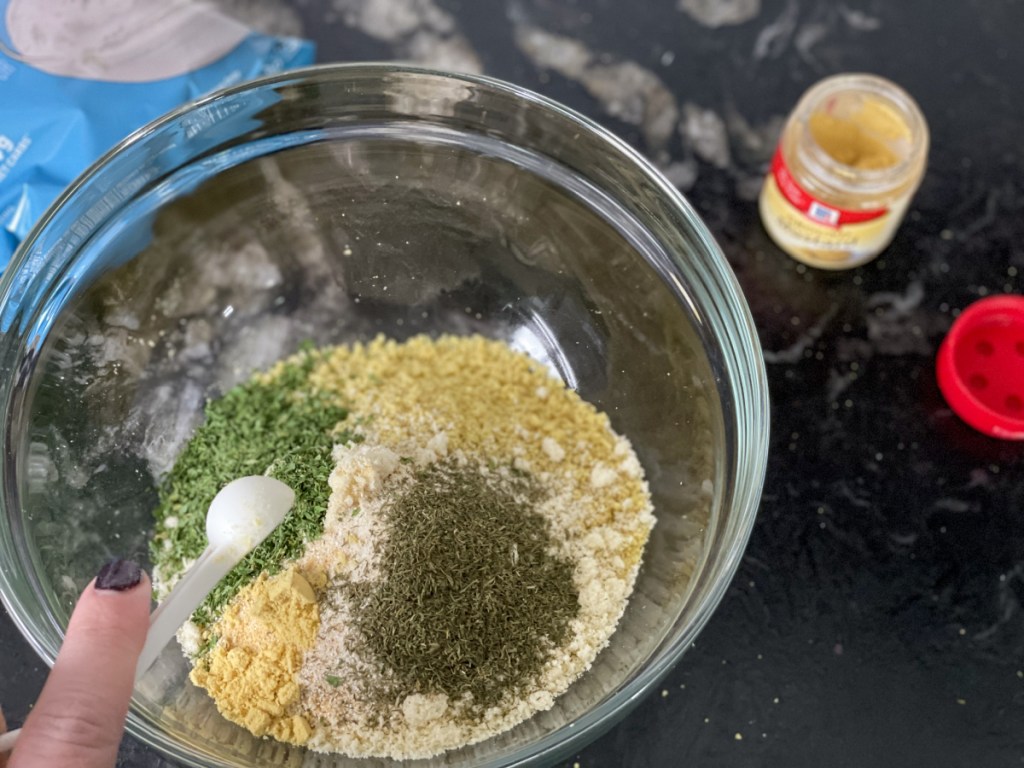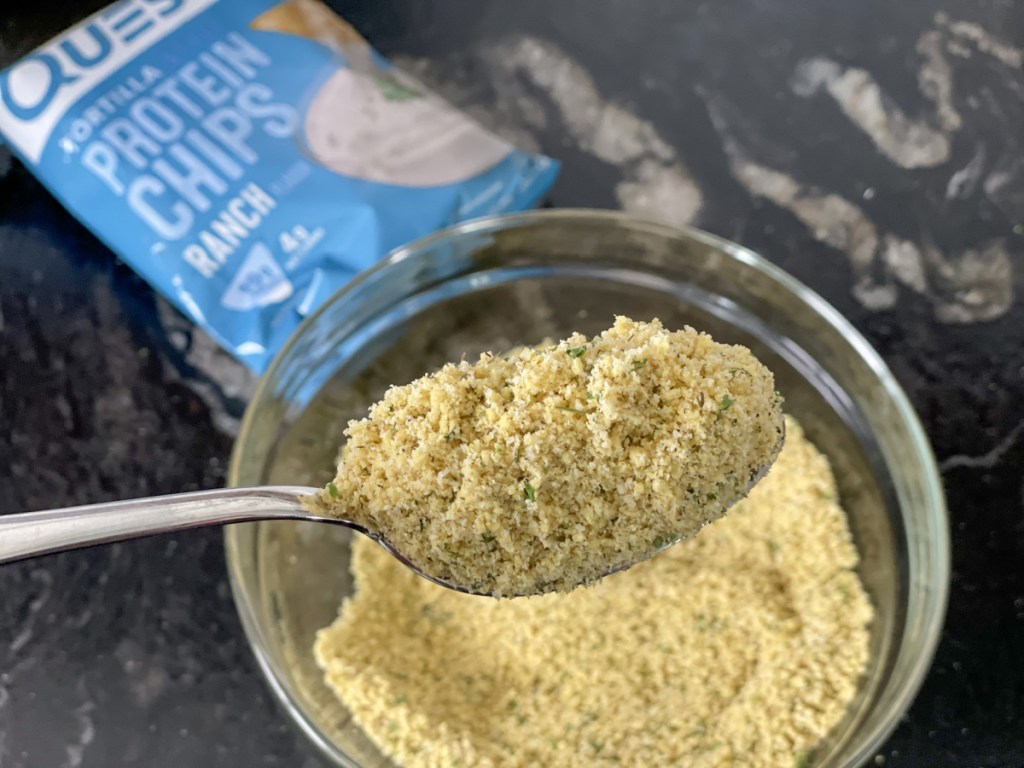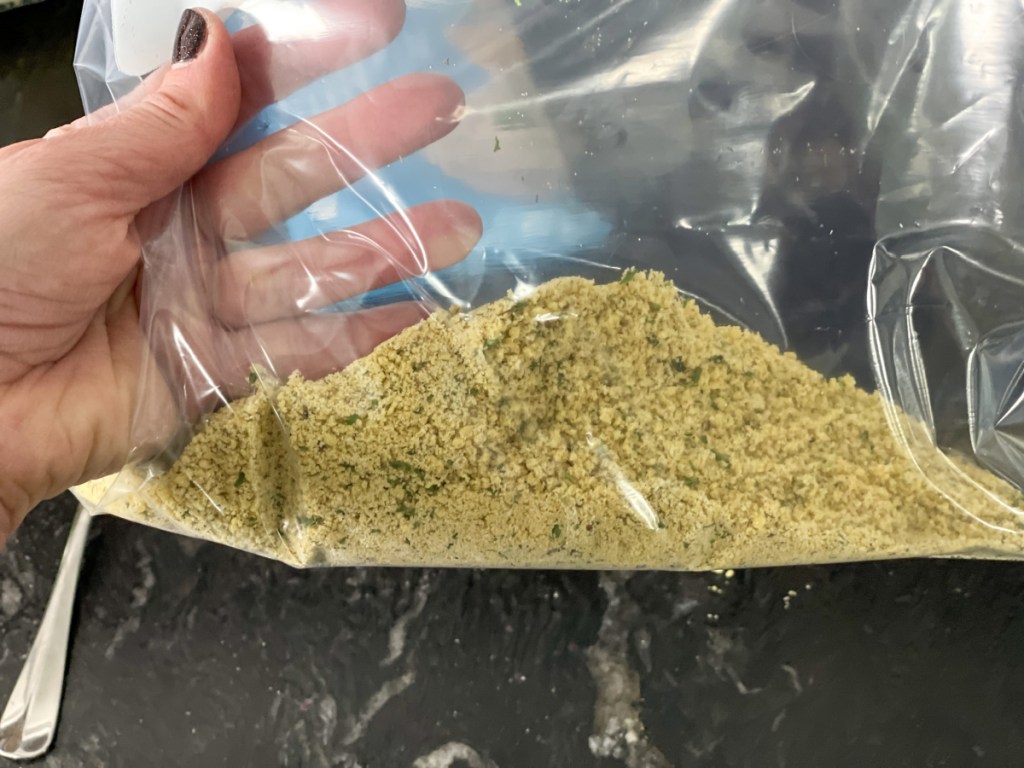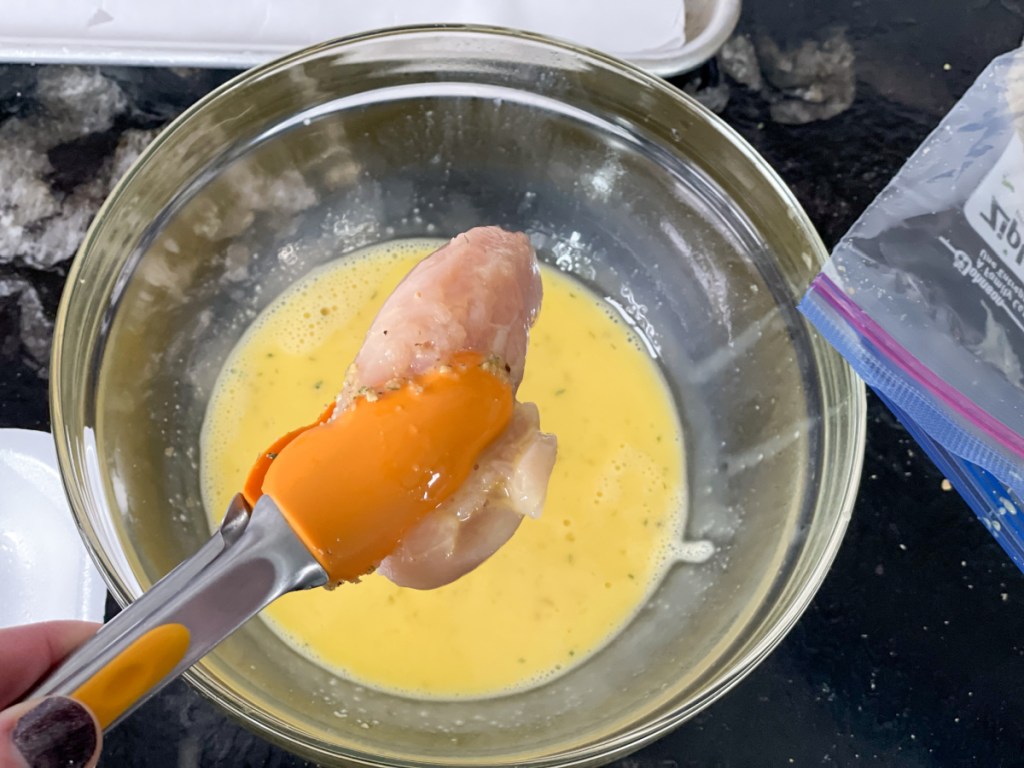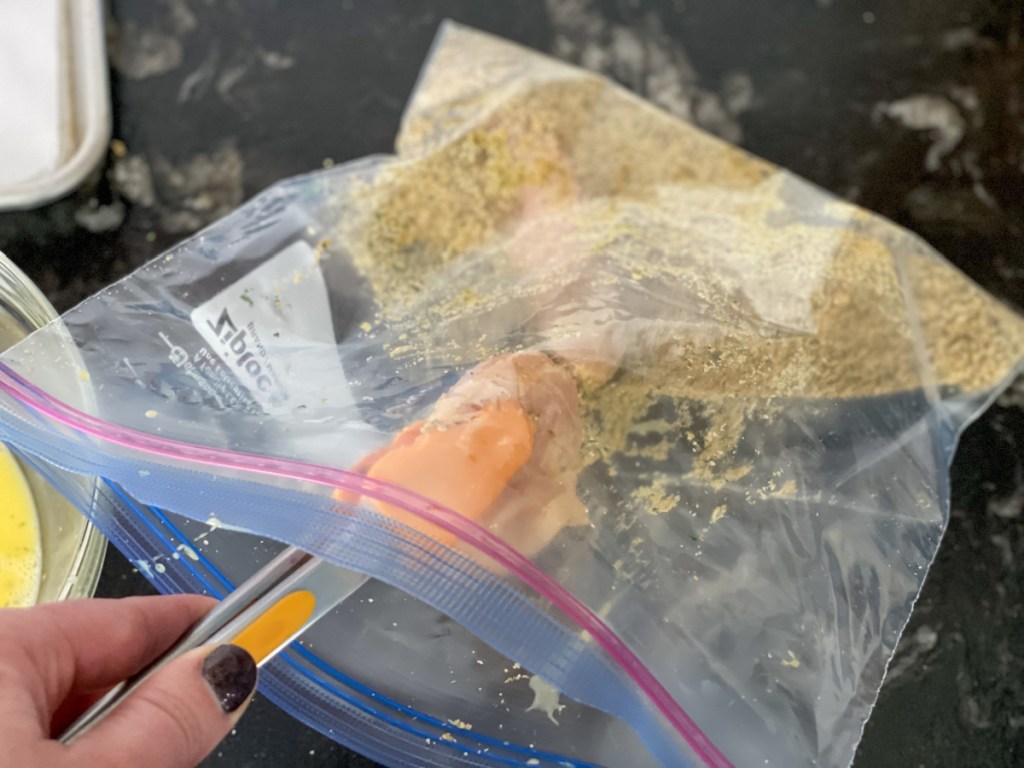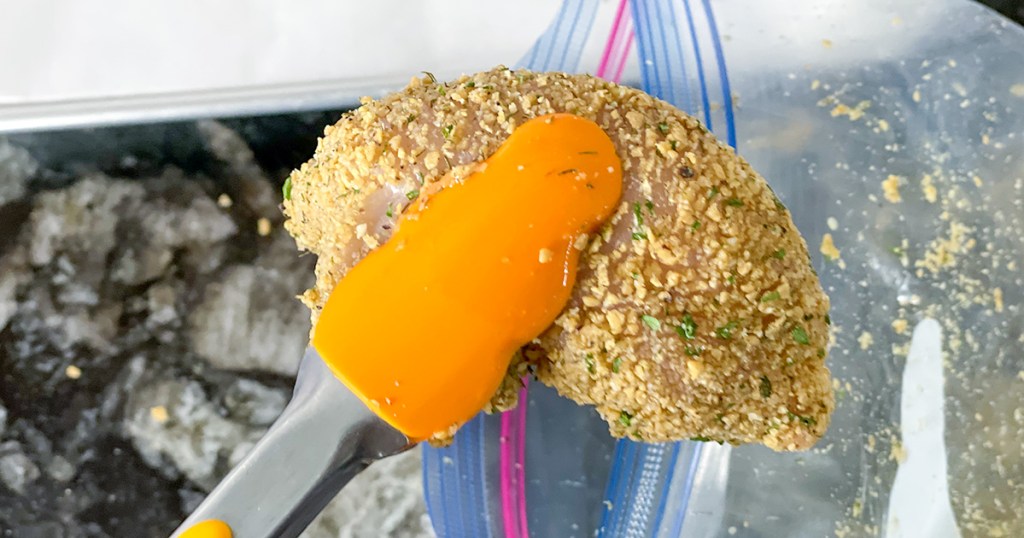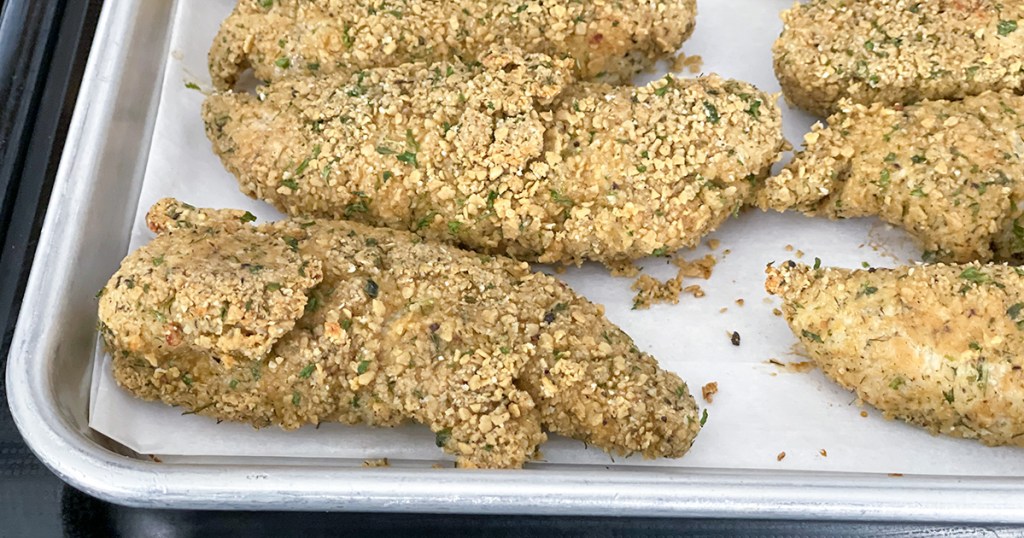 ---
yield: 4 SERVINGS
prep time: 10 MINUTES
cook time: 30 MINUTES
total time: 40 MINUTES
Crispy shake and bake coating for chicken and pork made with keto chips and zesty seasonings.
Ingredients
Keto Shake N Bake Mix:
1 tablespoon garlic powder
2 teaspoons dried parsley
1 teaspoon dried dill
1 teaspoon onion powder
1/2 teaspoon mustard powder
1/2 teaspoon salt
1/2 teaspoon pepper
1 pound of chicken tenders or thin cut pork chops
1 egg, beaten
1 tablespoon water
Directions
1
To make the Shake N Bake Mix:
Crush the keto chips in their bags. Place the crushed chips in a food processor and pulse until they resemble breadcrumbs. Mix the chip crumbs with almond flour and seasonings. Place the mixture in a gallon Ziplock bag.
2
To cook the chicken or pork:
Preheat oven to 350 degrees. Line a baking sheet with parchment paper. Mix the egg with the water and place the egg wash in a shallow dish or bowl.
3
Coat the chicken tenders or pork chops in the egg wash.
4
After coating the meat in the egg wash, place each piece of meat in the Ziplock bag with the keto shake n bake mixture and shake until well coated.
5
Remove the meat from the Ziplock bag and arrange it on the baking sheet. Bake for 25 to 30 minutes, until pork is 145 degrees or chicken is 165 degrees. Serve with your favorite keto condiments and enjoy!
Additional Notes
Pork Chops with Quest: 372 Calories | 16.3g Fat| 4.8g Total Carbs | 1g Fiber | 1.1g Sugar | 48.8g Protein | 3.8g Net Carbs
Chicken Tenders with Hilo: 333 Calories | 14.1g Fat | 4.8g Total Carbs | 1.8g Fiber | 1.1g Sugar | 43.6g Protein | 3g Net Carbs
Pork Chops with Hilo: 380 Calories | 20.4g Fat | 4.8g Total Carbs | 1.8g Fiber | 1.1g Sugar | 41.1g Protein | 3g Net Carbs
Nutrition Information
Yield: 4 servings, Serving Size: 2 chicken strips (using Quest chips)
Amount Per Serving: 326 Calories | 9.9g Fat | 4.8g Total Carbs | 1g Fiber | 1.1g Sugar | 51.1g Protein | 3.8g Net Carbs
---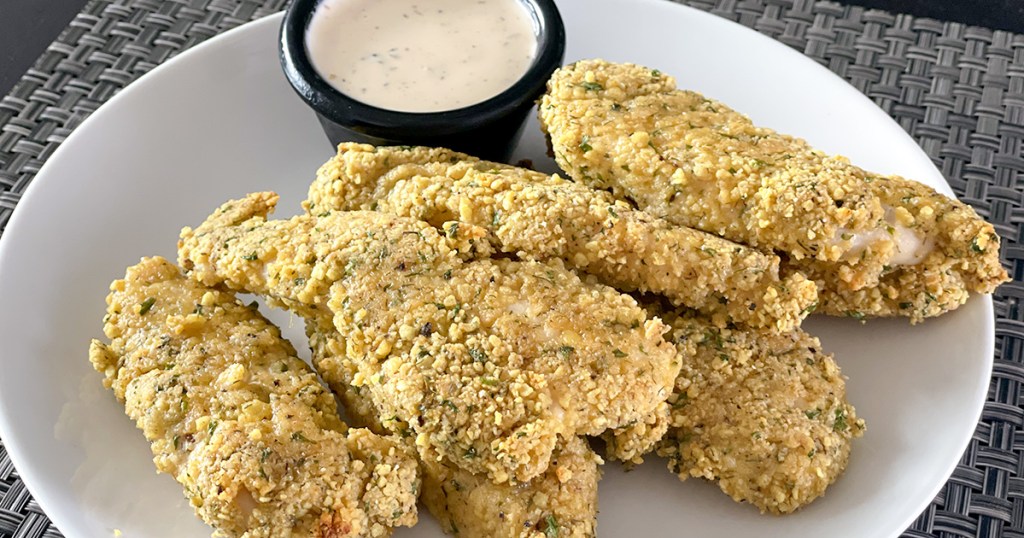 Make extra because everyone will be asking for more!
This meal did not last long in my house. I served the chicken strips with ranch dressing as an easy lunch and then we had the pork chops for dinner with a salad. There's no doubt I'll be making this again in the near future!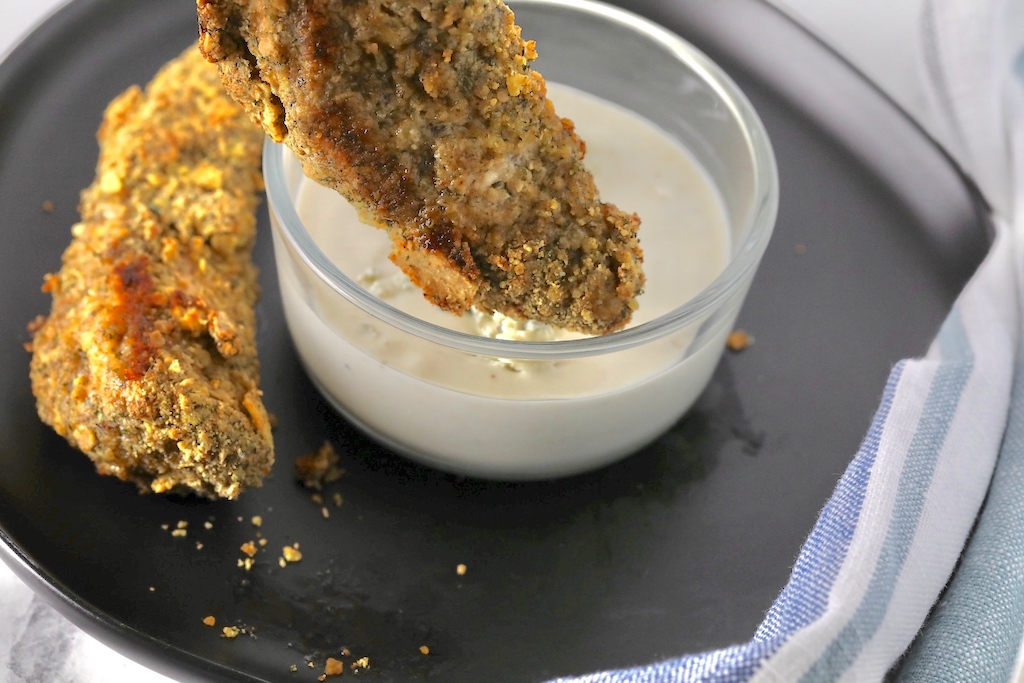 My Hip sidekick Jenna tried this keto shake and bake recipe and here's what she thought:
"The whole family loved these keto "breaded" chicken strips! The coating is so crispy and flavorful. We couldn't get enough of the savory chicken strips that I can't wait to try this on pork chops. I love the idea of using crushed keto chips (a great way to use up the broken chips at the bottom of the bag) and some seasonings to bread the meat, so clever!"
---
Looking for more easy dinner ideas? Check out this recipe for Walking Tacos!