Get Your Crunch on With Sour Cream & Chive Keto Crackers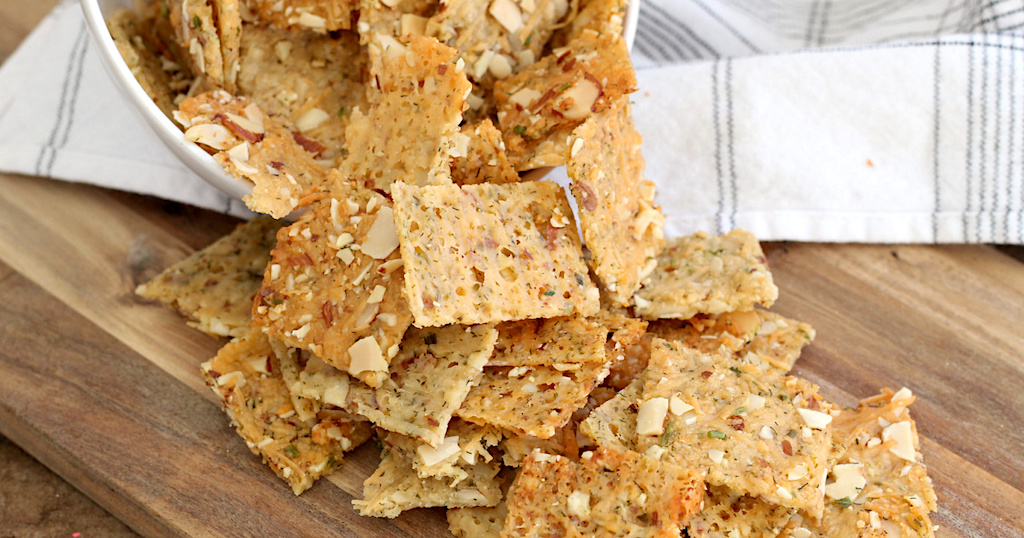 A crispy keto cracker that will have you reaching for more!
This sour cream and chive keto cracker recipe is so delicious that I've already made two batches. Finally, a low-carb cracker that is full of flavor and has an actual crunch to it!
It's the perfect keto snack when you want to grab something to take with you on the go.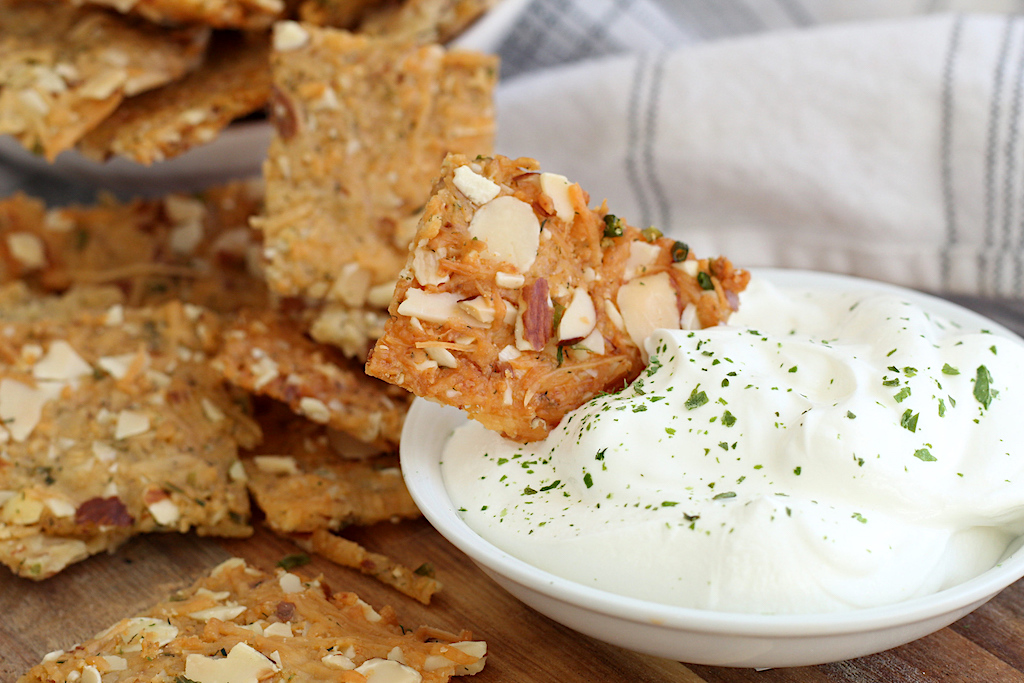 I love a keto recipe that is super simple and required minimal ingredients. Now you can make delicious and crunchy keto crackers at home – and have yourself a handful for only 1 net carb!
Don't get me wrong, I sure do love Whisps but they can get costly, plus, let's face it, not a whole lot comes in the bag. Even better, you can make as many of these crackers as you want for under $10, and I personally think they taste better too!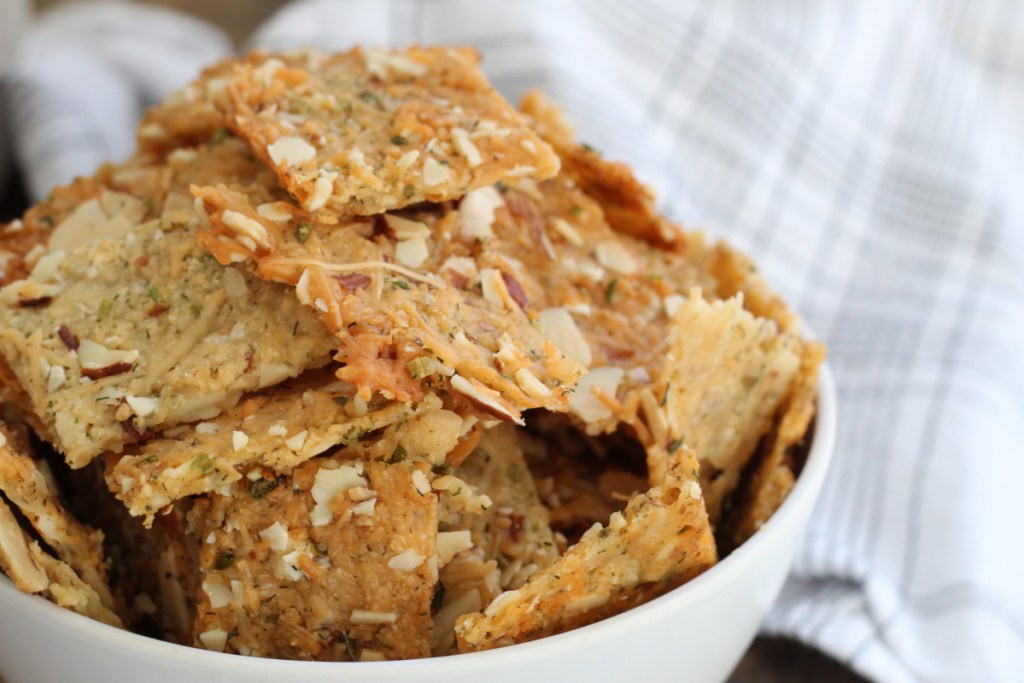 Tips for making the best sour cream & chive keto crackers:
For this recipe, I've made my own sour cream and chive seasoning which can be used on anything! Pork King Good also has their own sour cream and chive pork rinds you can crush and use if you want to save some time. Either way, this seasoning makes everything so flavorful!
You can use any leftover sour cream and chive seasoning on our keto cauliflower mash, roasted veggies, or even on chicken breasts or a roast. There are so many possibilities!
To crush the sliced almonds, I used a food processor and just pulsed them two times. You can also gently place them in the palm of your hand and squeeze slightly. The goal is to break the fine almond slices just a bit. Once crushed, the almonds should be similar in size to whole oats, certainly NOT a fine meal.
I love the flavor that these keto crackers hold, but if you would like to try out your own seasoning then consider adding taco seasoning or your favorite keto-friendly seasoning! There is no wrong way to season these crackers.
I would recommend using freshly grated Parmesan cheese, but if you're in a pinch pre-shredded Parmesan cheese will work as well. I will say the pre-shredded Parmesan cheese should be baked just a little longer, about 3 minutes more.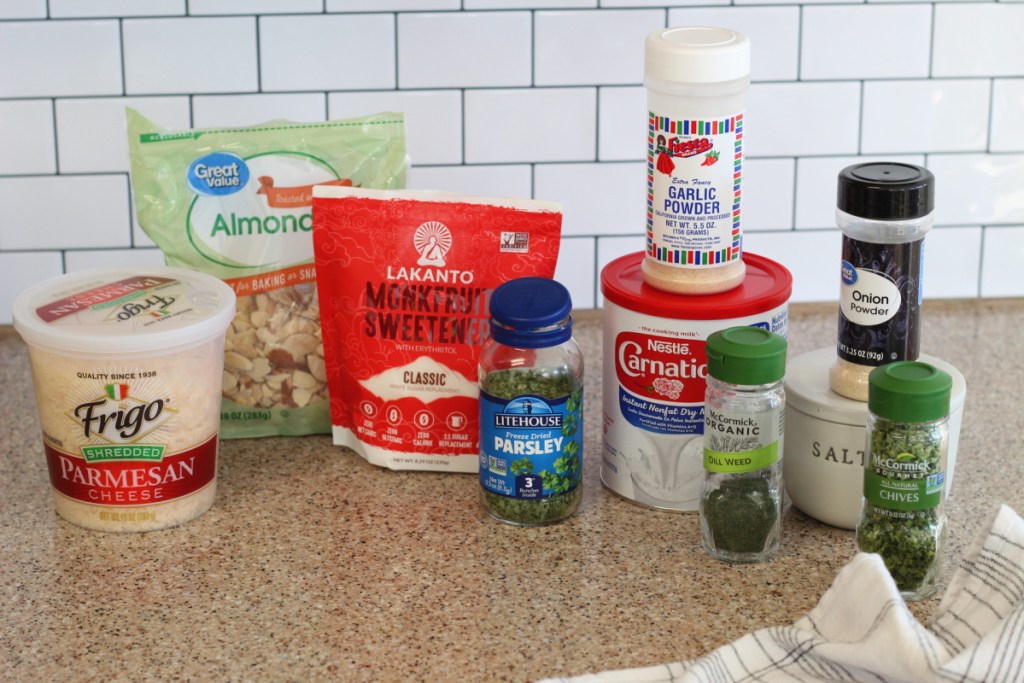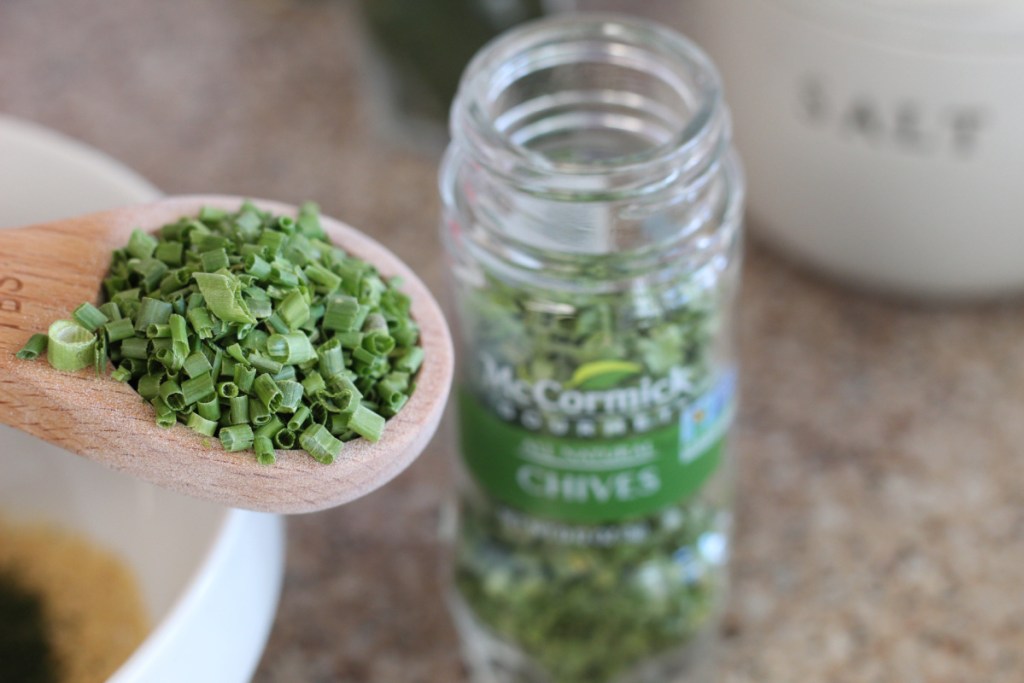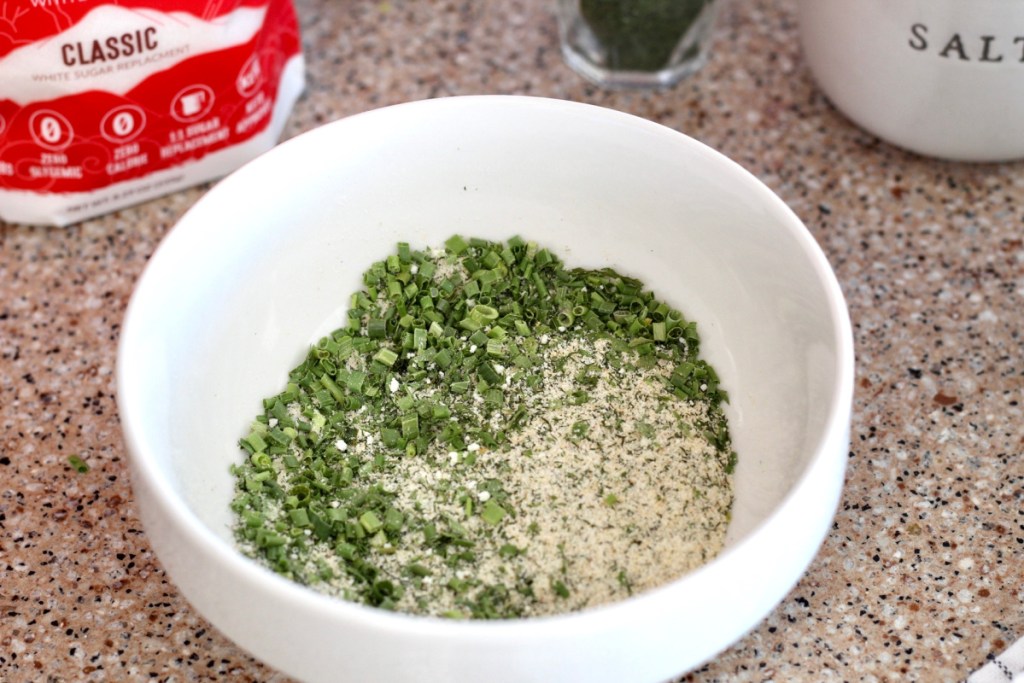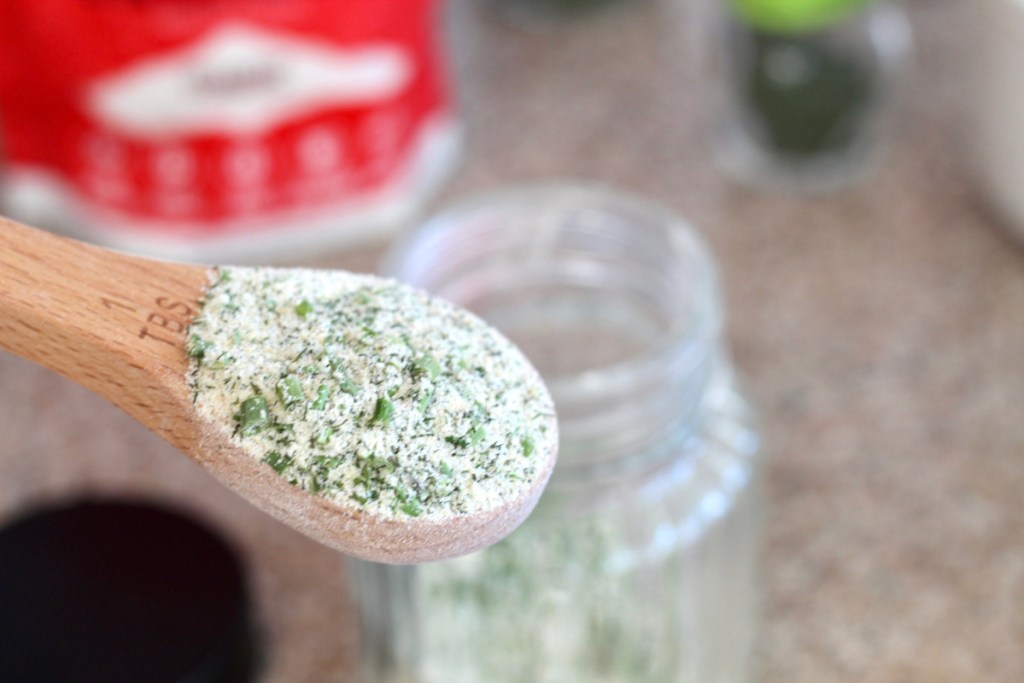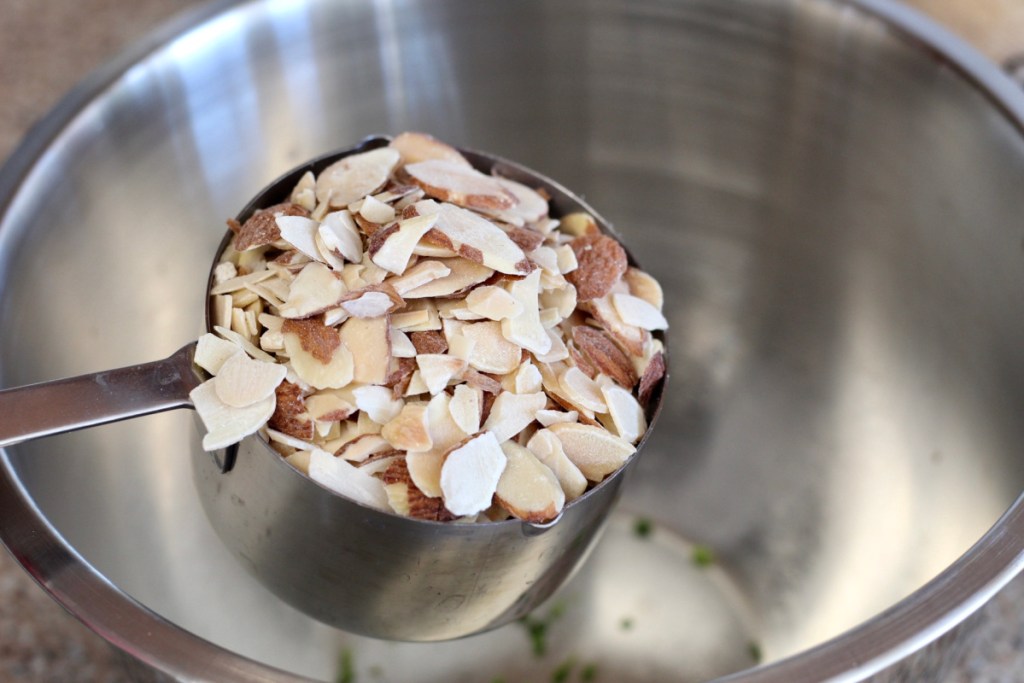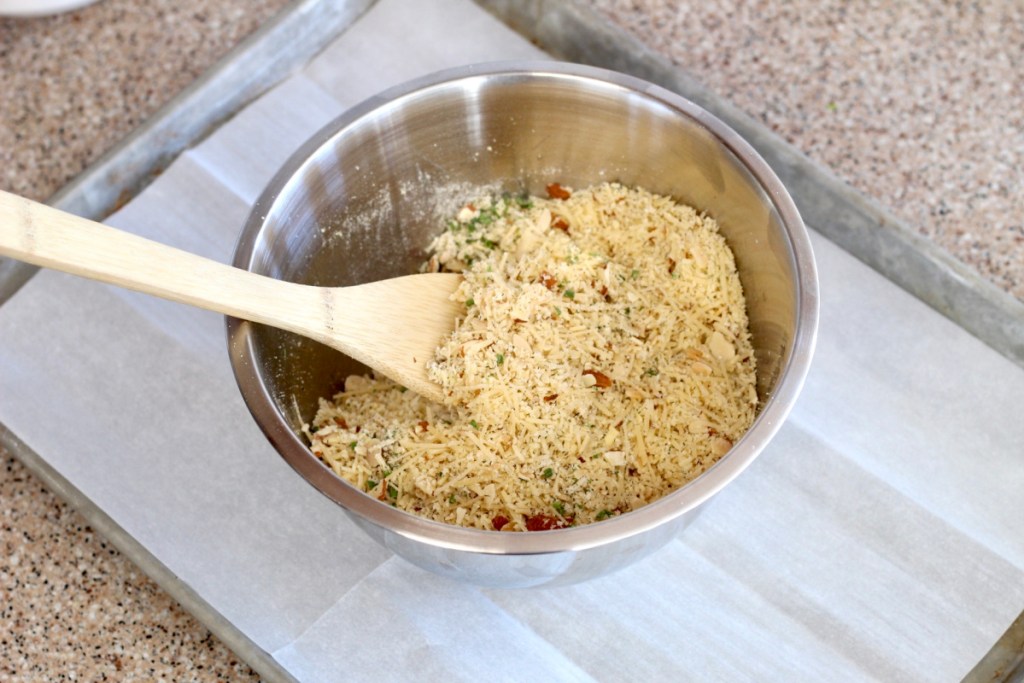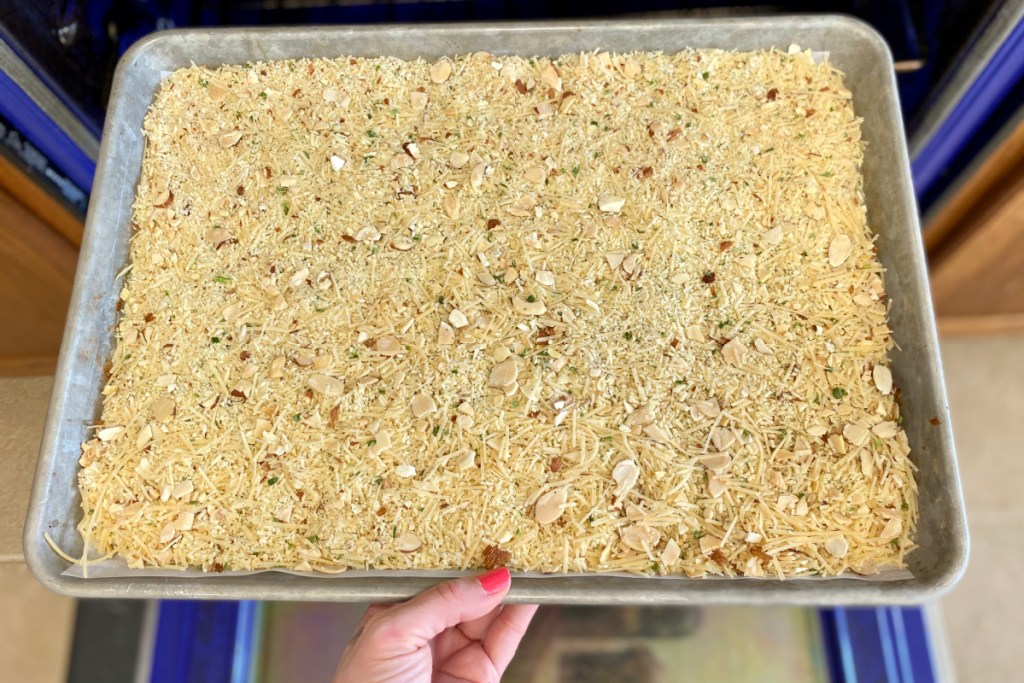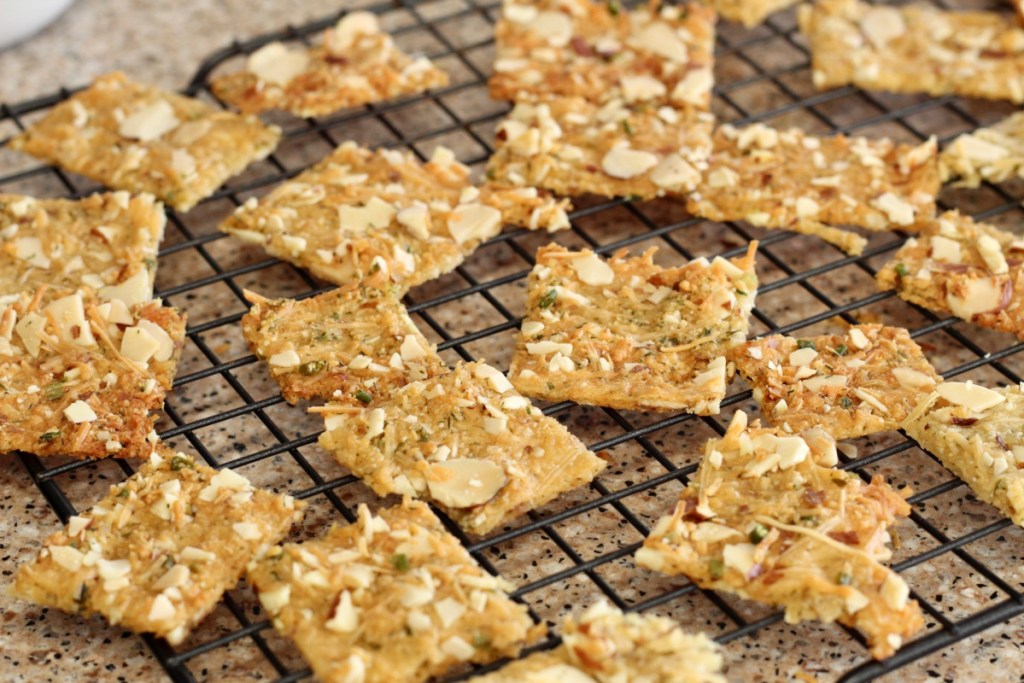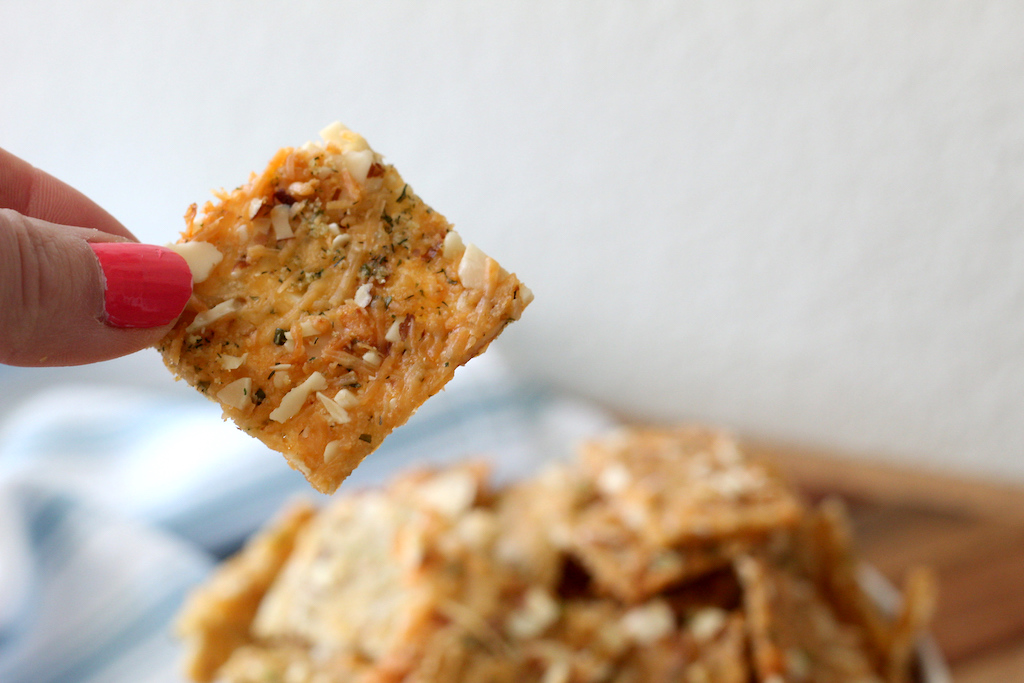 ---
Print
Sour Cream & Chive Keto Crackers
yield: 6 SERVINGS
prep time: 10 MINUTES
cook time: 20 MINUTES
total time: 30 MINUTES
Delicious sour cream & chive keto crackers packed with crunch, and made with parmesan cheese and a few simple ingredients!
Ingredients
Crackers:
10 oz. parmesan cheese, finely shredded
1 cup sliced almonds, crushed in a food processor
Sour Cream & Chive Seasoning:
2 tablespoons dried milk
2 teaspoons onion powder
1 teaspoon garlic powder
1 teaspoon dill weed
1 tablespoon dried chives
1/2 teaspoon salt
1 teaspoon parsley
Directions
1
Preheat oven to 350 degrees. Line a baking sheet with parchment paper.
2
In a small bowl, mix together sour cream and chive seasoning ingredients and set aside.
3
In a large bowl, add crushed sliced almonds, shredded parmesan cheese, and 2 tablespoons of sour cream and chive seasoning. Toss together making sure everything is mixed well.
4
Pour mixture over lined baking sheet creating a rectangle. Use your hands to push any stray bits into the rectangle forming an even edge.
5
Bake for 12 minutes until cheese is bubbly and melting. Remove from the oven and allow the crackers to rest for about 1 minute.
6
Use a pizza cutter and slice the crackers, first lengthwise, then widthwise. Gently separate each cracker. Return to the oven to bake for an additional 7 minutes or until golden brown in spots.
7
Remove from the oven and place crackers on a cooling rack until cooled.
8
Store in a sealed container. Enjoy!
Nutrition Information
Yield: 3 cups, Serving Size: 1/2 cup
Amount Per Serving: 303 Calories | 21.0g Fat | 7.7g Total Carbs | 2.2g Fiber | 0.6g Sugar | 0 Sugar Alcohol | 0 Erythritol | 21.4g Protein | 5.5g Net Carbs
---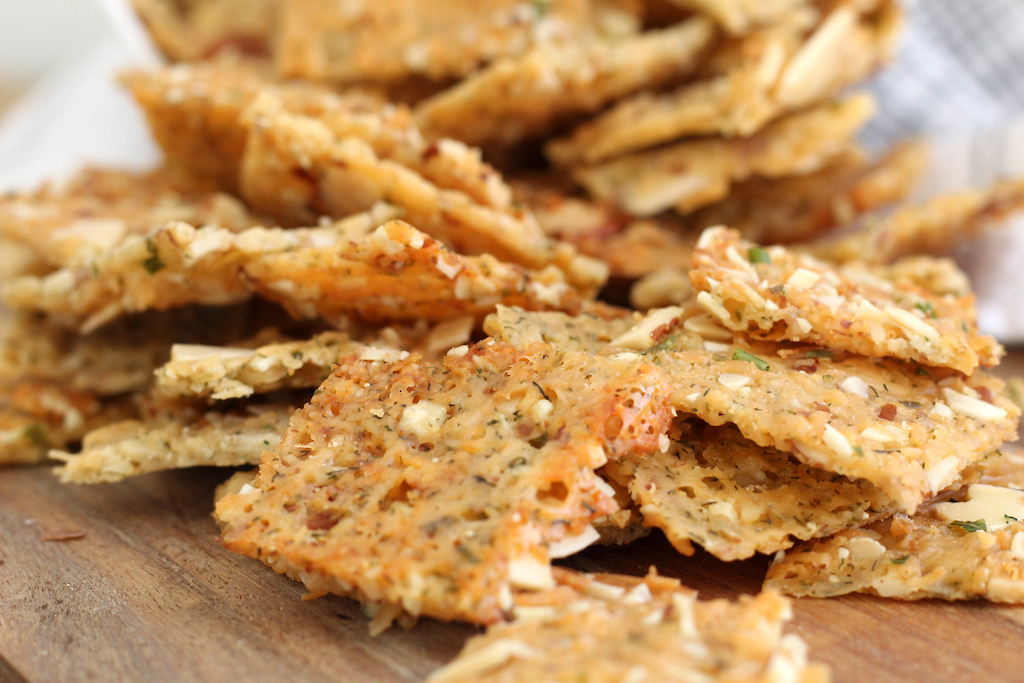 Get your crunch on!
There's nothing better than biting into a snack that packs a crunch, and these keto crackers sure do deliver it. I love using them to combine with our yummy keto dips like pimento cheese, spinach artichoke, or our everything but the bagel seasoning cheese ball! YUMMO!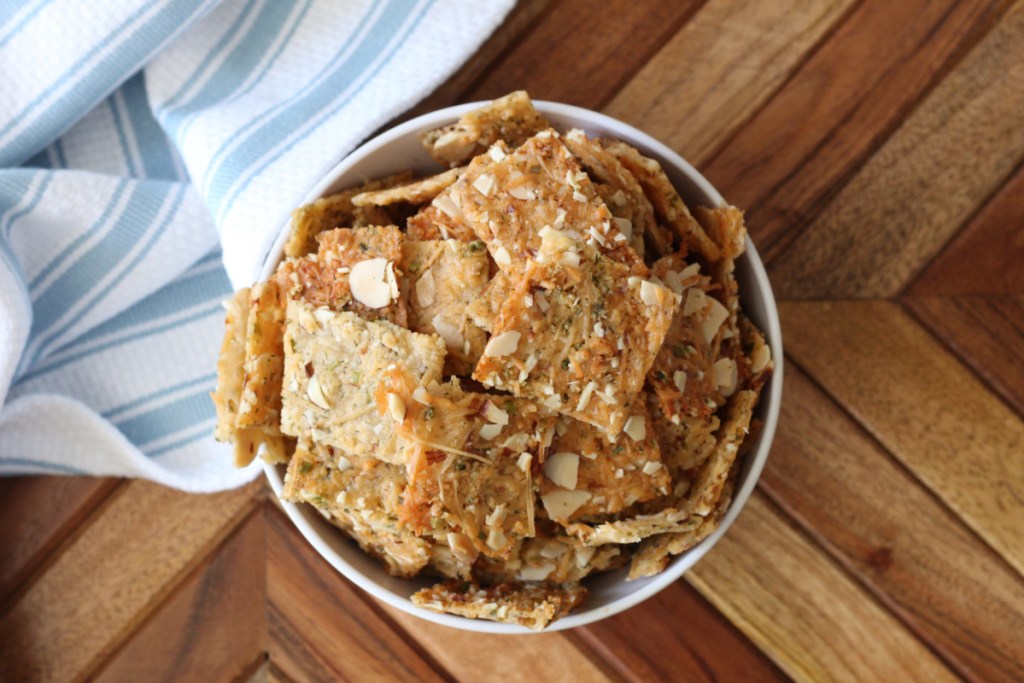 Here's what my teammate Jenna had to say after making these sour cream & chives keto crackers:
"I'm already a huge fan of our parmesan almond crackers, and these sour cream and chive crackers are totally tasty too! I love this new twist on a classic flavor, it's just so dang good! I love the fun addition of the sour cream and onion flavor, and using the dried milk is brilliant. These are awesome and I give them two thumbs up!"
---