Pull-Apart Keto Pizza Rolls – Easy to Make & Delicious!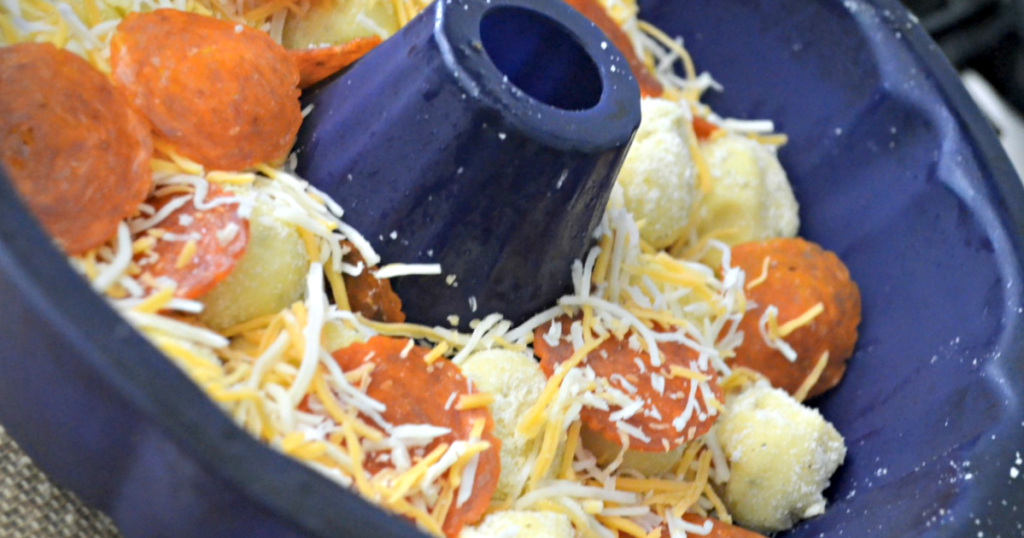 Love gooey appetizers? Then you'll love these pull-apart keto pizza rolls!
Who doesn't love pizza… especially an easy recipe for pull-apart keto pizza rolls. This is an amazingly delicious appetizer that you can take to parties or serve it up as a snack for the fam.
No one will even know it's keto because of all the cheesy goodness.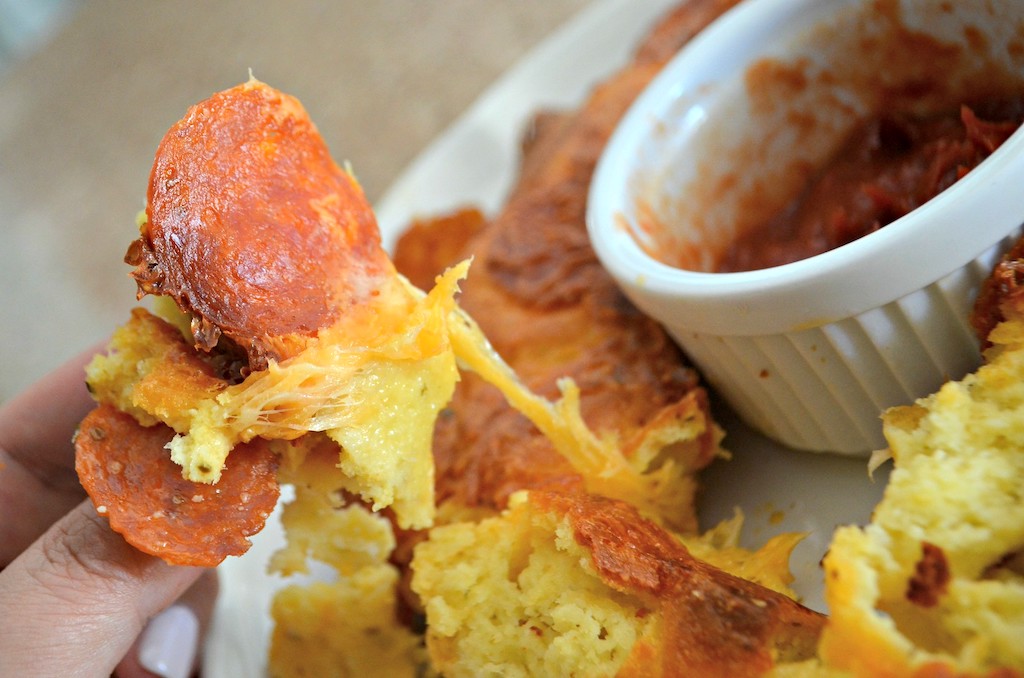 This keto pull-apart pizza recipe is extremely versatile!
This batch is made with pepperoni, fresh basil, and Italian blend shredded cheese. We highly recommend making our easy keto marinara sauce to dip them in. So incredibly good (and easy to make!).
You can customize your pull-apart keto pizza rolls to your taste buds by using any toppings of your choice! You could even end up having this as a meal, but you'll probably want to double the recipe if serving this to the whole family. A pesto and chicken version of this pull-apart pizza roll recipe would be yummy as well, or even a ham and swiss cheese variation! YUM!
The process of making the pull-apart keto pizza rolls is pretty easy and consists of making a quick fathead dough, rolling it into small balls, and then place the dough balls in a bundt pan with the toppings. When it's done cooking, you'll end up with heavenly bite-sized balls of pizza!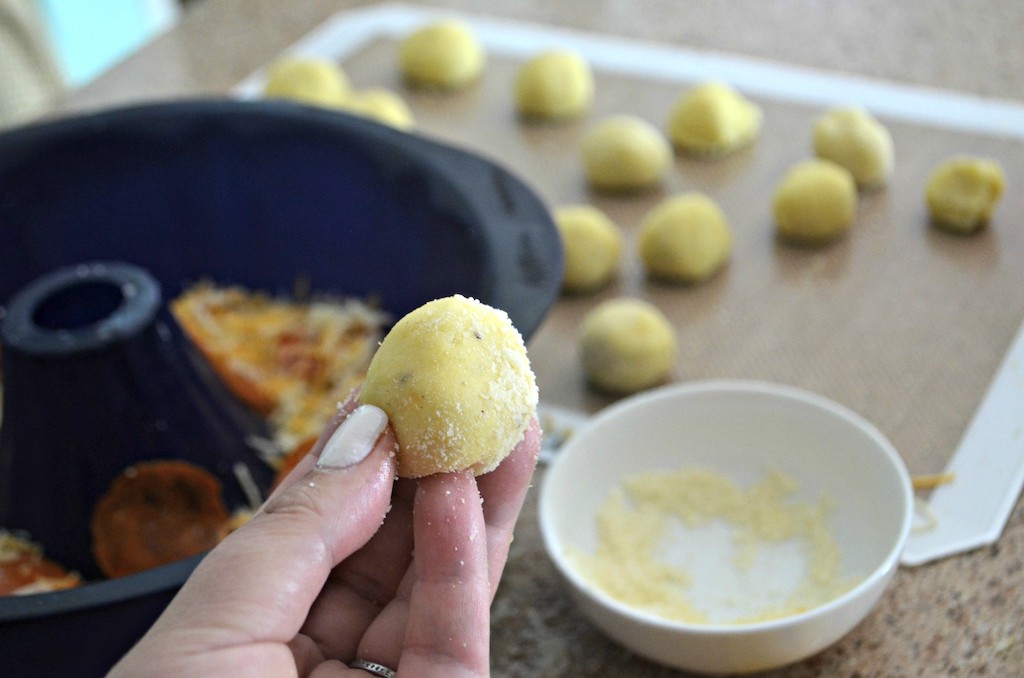 The secret to maintaining individual bites is to roll dough balls in the Parmesan cheese to keep them from sticking together too much after baking.
Tips for making the best pull-apart keto pizza rolls:
Make sure to grease your bundt pan well or use a silicone one!
Loosen the edges of the pizza rolls with a spoon or knife before removing them from the bundt pan.
You could bake this in a bread loaf pan if you don't have a bundt pan or make them personal-sized by using a muffin pan and placing two to three pizza rolls and toppings in each muffin spot.
Mix it up! Try using cheddar cheese, mozzarella, or aged parmesan cheese. Add in all your favorite pizza toppings like sausage, olives, onions, peppers, jalapeños, or mushrooms. Just sauté your veggies first to help remove some of the moisture.
If you have any leftover grated parmesan from rolling the dough balls in, add it to the top!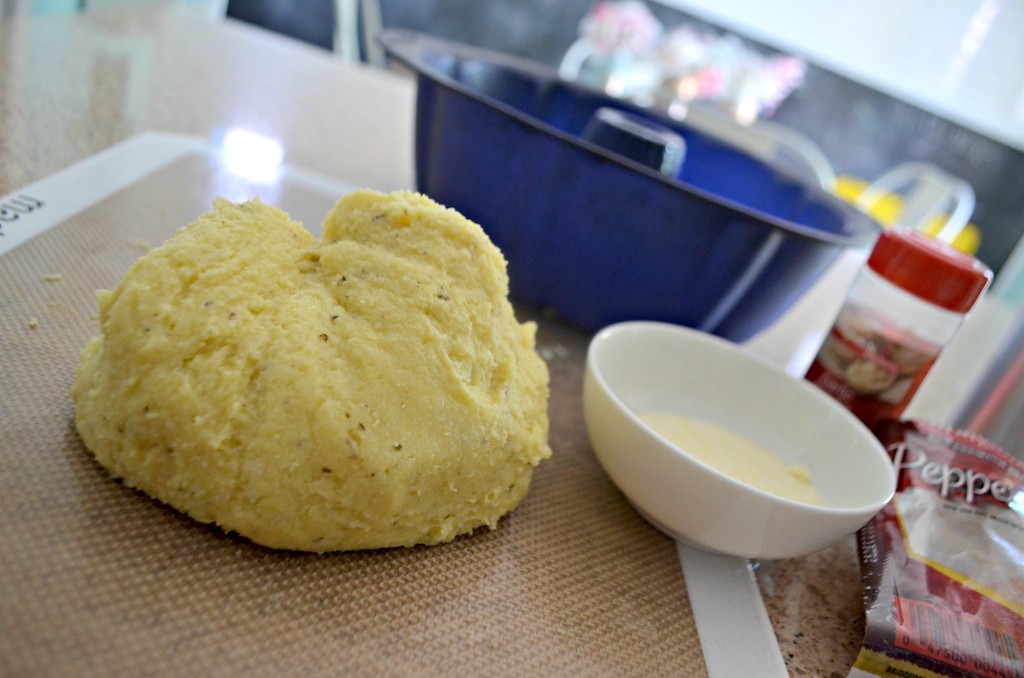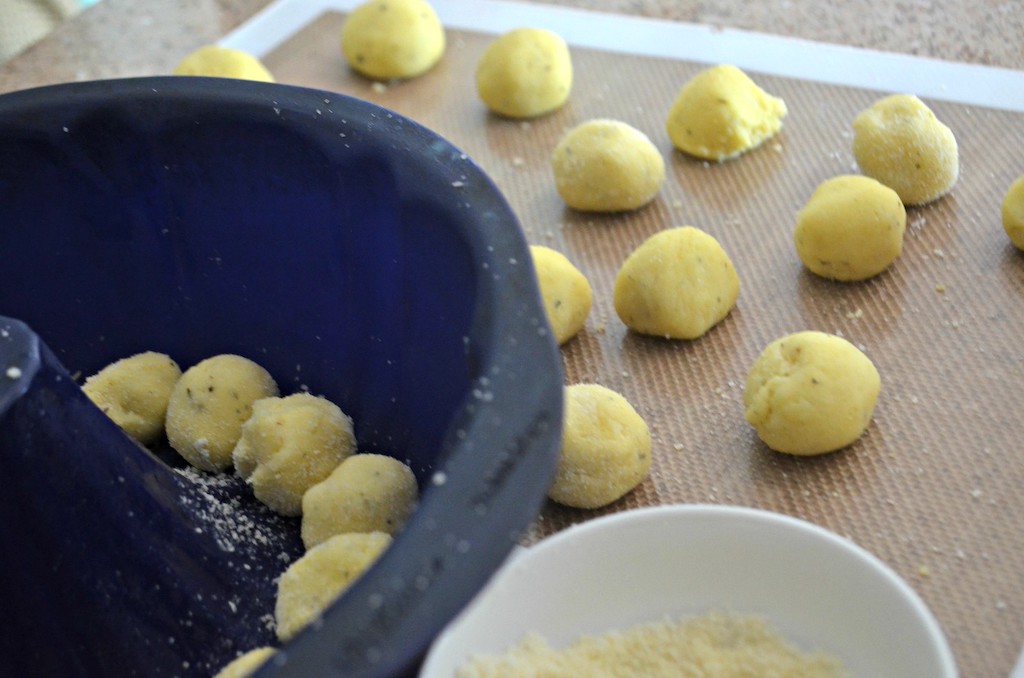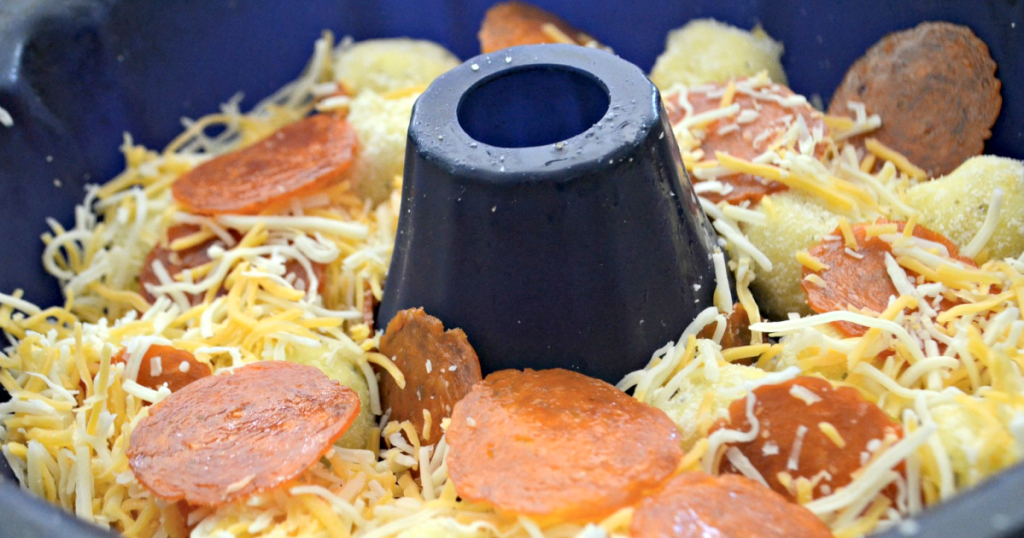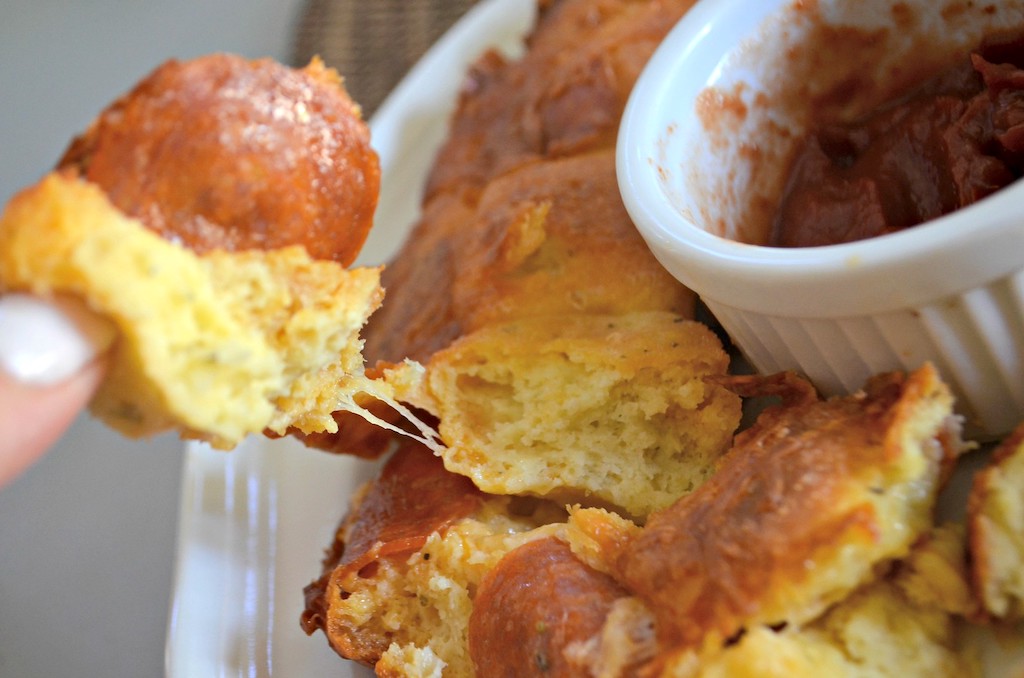 ---
Print
Pull-Apart Keto Pizza Rolls
yield: 8 SERVINGS
prep time: 15 MINUTES
cook time: 30 MINUTES
total time: 45 MINUTES
This mouth-watering pull-apart pizza will become your new family favorite recipe!
Ingredients
1 teaspoon baking powder
1/2 teaspoon Italian seasoning
1 teaspoon garlic powder
1/4 teaspoon red pepper flakes (optional)
2 1/2 cups mozzarella cheese, shredded
2 oz. cream cheese
2 large eggs
1/2 cup Parmesan cheese, grated
4 oz. pepperoni slices, cut into quarters if needed
1 cup Italian blend shredded cheese (or whatever cheese you prefer)
1/4 cup fresh basil, sliced into strips (optional)
Directions
1
Preheat oven to 350 degrees Fahrenheit.
2
Combine almond flour with baking powder, Italian seasoning, garlic powder, and optional red pepper flakes. Set aside.
3
In a microwave safe dish, melt the mozzarella cheese and cream cheese together in the microwave for about 30 seconds. Stir and add another 30 seconds. Repeat until melted.
4
Once the cheese has melted, add it to the flour mixture. Add in the eggs. Knead the dough for a bit until it forms a ball. You can use a stand mixer or mix by hand. If your dough is too sticky, keep mixing! If it's still very sticky, you can add in an extra one to two tablespoons of almond flour, try covering it and leaving it in the fridge for a few minutes, or lightly coat your hands in olive oil.
5
Separate the dough in half and then keep dividing in half until you have 32 evenly-sized pieces. Roll the dough into balls.
6
Spray a bundt pan with non-stick cooking spray.
7
Roll each ball in Parmesan cheese and build a layer of half the dough balls on the bottom of pan.
8
Top first layer with half of each of the shredded Italian blend cheese, pepperoni, and basil.
9
Add another layer of dough balls, and top with remaining cheese, pepperoni, and basil. Top with any remaining grated Parmesan.
10
Bake at 350 degrees for 25-30 minutes until cooked through and lightly browned.
11
Let cool slightly and then flip out onto a plate to serve. You will likely have to loosen the edges before removing them from the bundt pan. Serve with marinara sauce if desired.
Nutrition Information
Yield: 8 servings, Serving Size: 4 pizza balls
Amount Per Serving: 394 Calories | 32g Fat | 6g Total Carbs | 2.3g Fiber | 1.7g Sugar | 21.2g Protein | 3.6g Net Carbs
---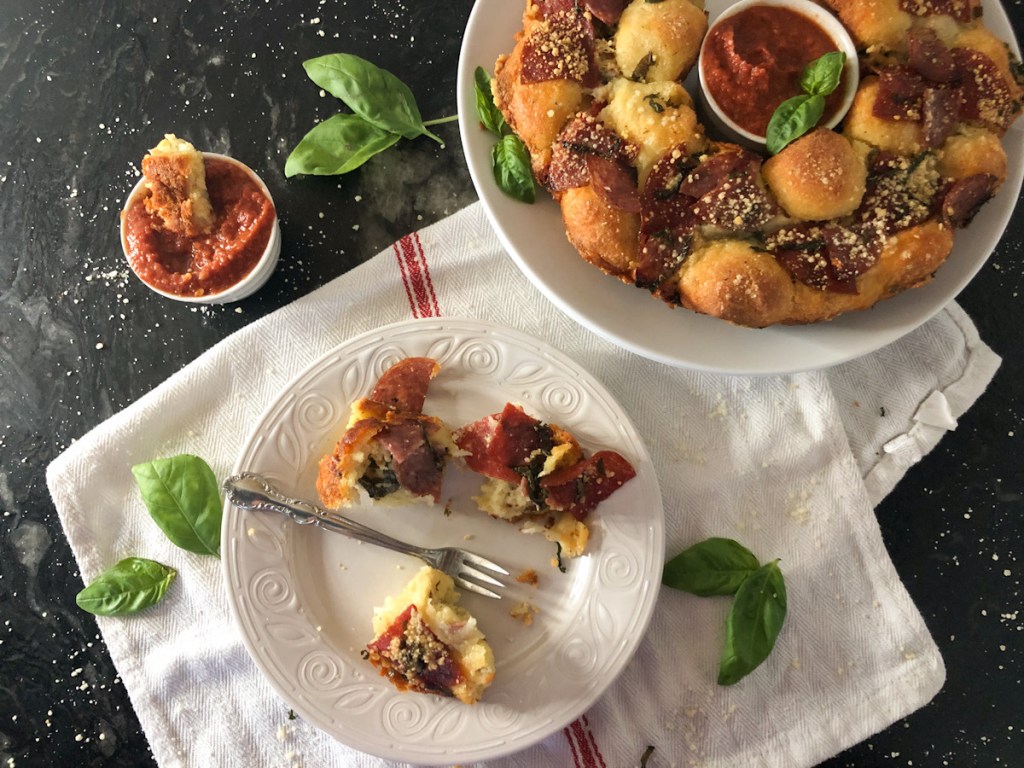 Such a fun way to enjoy keto pizza!
This won't last long once it's on the table, plus it's simple to make and delicious too! Who doesn't want cheesy pizza bread?!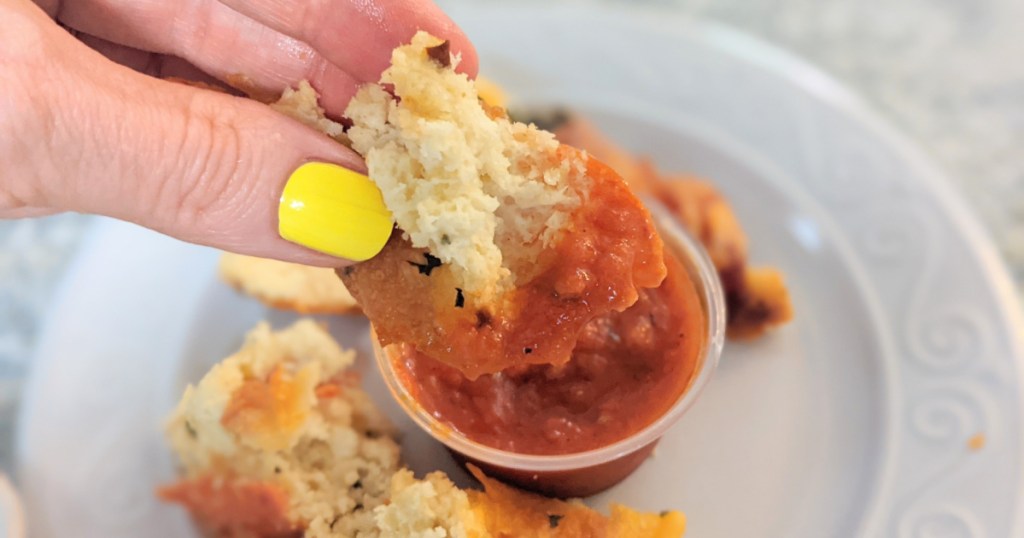 My Hip sidekick Jen tried out this recipe and here's what she had to say:
"The recipe is easy, flavorful, and filling!! This bread is delicious and the flavors blend really well together! The fresh basil really puts this one over the top. Pull apart bread is perfect to make and share with family (or friends) while playing games! It's fun when everyone is pulling off pieces and enjoying this together."
---
Craving more pizza? Check out this chicken pizza crust!