Pull Apart Keto Cinnamon Sugar Breadsticks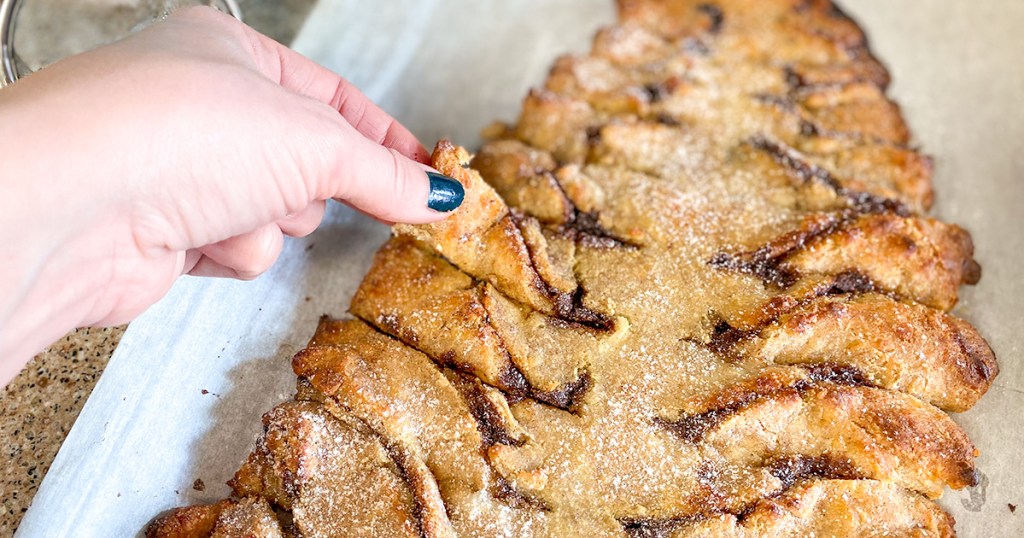 A festive holiday keto treat!
If you're looking for a low-carb dessert that is sure to delight your family this Christmas, then I've got just the recipe for you.
This pull-apart keto sweet bread Christmas tree is a treat for the tastebuds and a treat for the eyes! 🤩 With all that cinnamon sweetness, you'd never know it's keto!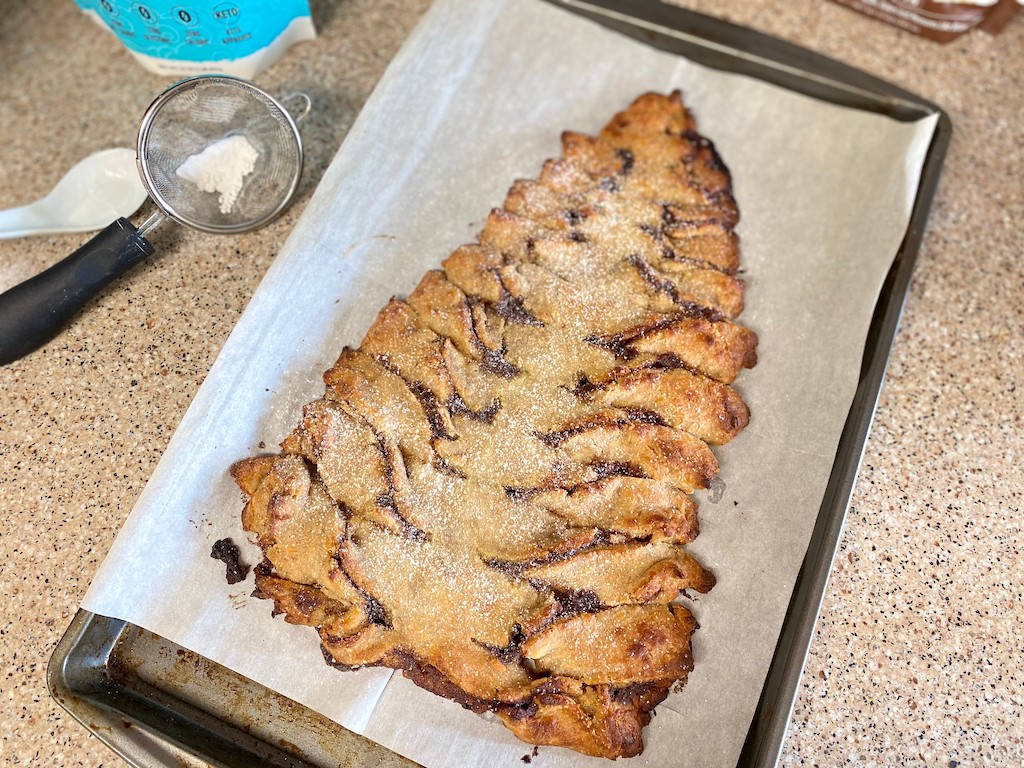 Who needs sugary cinnamon rolls Christmas morning when you can make this instead!
I'll be frank — there is a lot of cheese in this recipe (is that really such a bad thing 🤷‍♀️), but don't let it fool you as the taste is still sweet and decadent, just like any good dessert should be. That sweet cinnamon flavor from the filling sure shines through!
Of course, the standout feature of this recipe is the festive Christmas tree shape making it a delicious option as an ending to a holiday feast, or as a holiday breakfast to serve to your family while opening presents. Word around the North Pole is that it's even Santa approved! 🎅
Prefer something savory? Make these Keto Christmas Tree Pull-Apart Cheesy Garlic Breadsticks!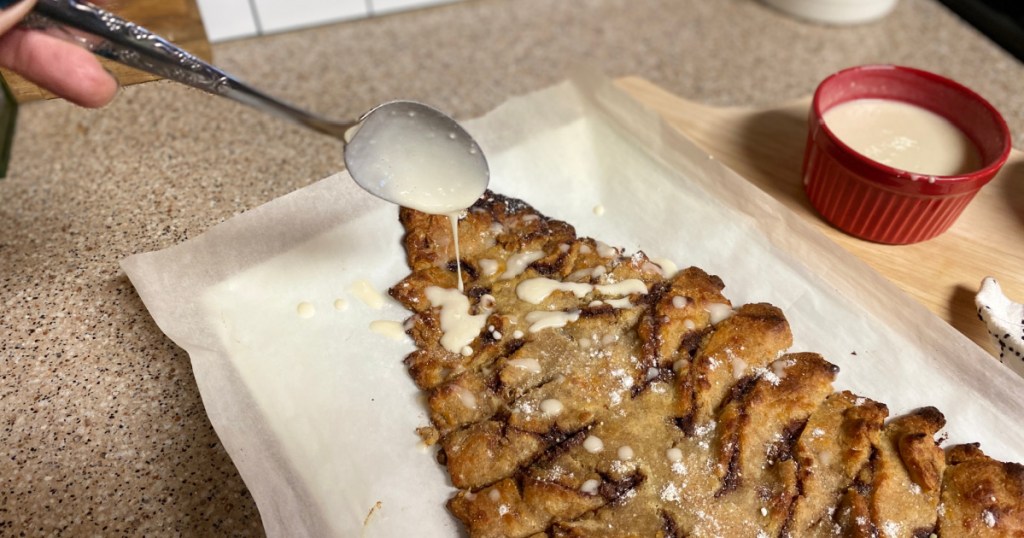 Want to dress up your keto sweet bread Christmas tree?
We've included a simple sugar-free icing idea in the recipe, though you could do a dusting of keto confectioner sweetener such as Swerve, drizzle over some sugar-free melted chocolate, or make it ultra-rich with a thick keto frosting. Consider adding chopped pecans to your filling to add a little crunch, too!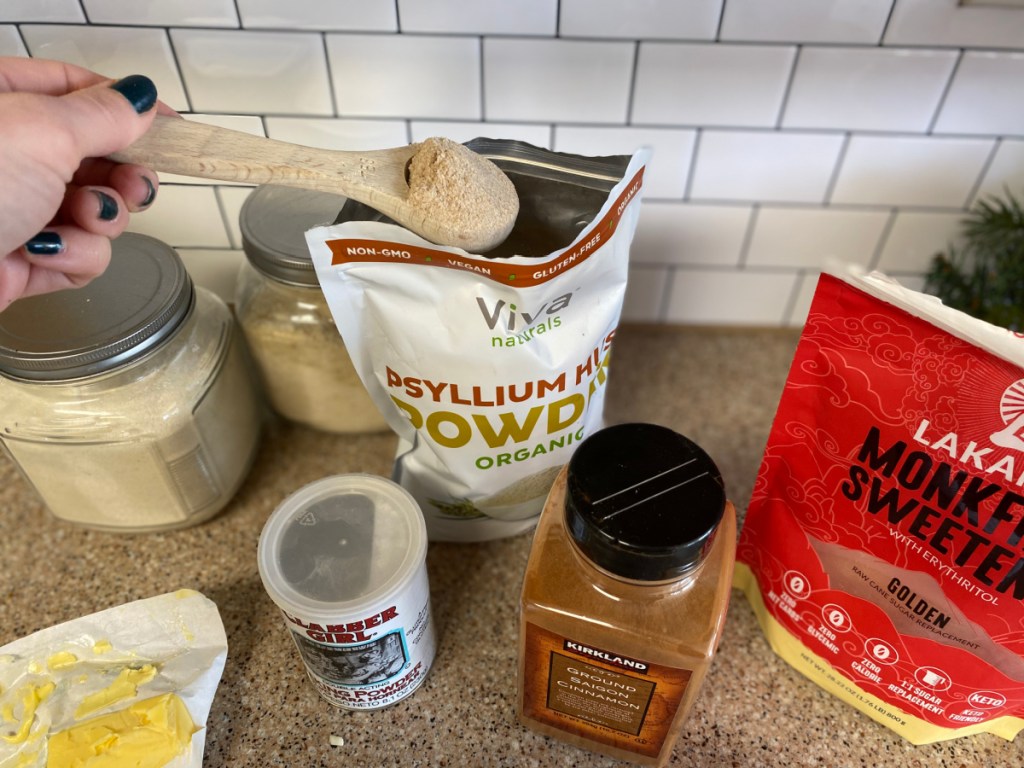 Hip Tip: The psyllium husk powder is used as a binder to hold everything together. If you want to sub it out, you can try using an extra tablespoon of coconut flour or 2 tablespoons of almond flour.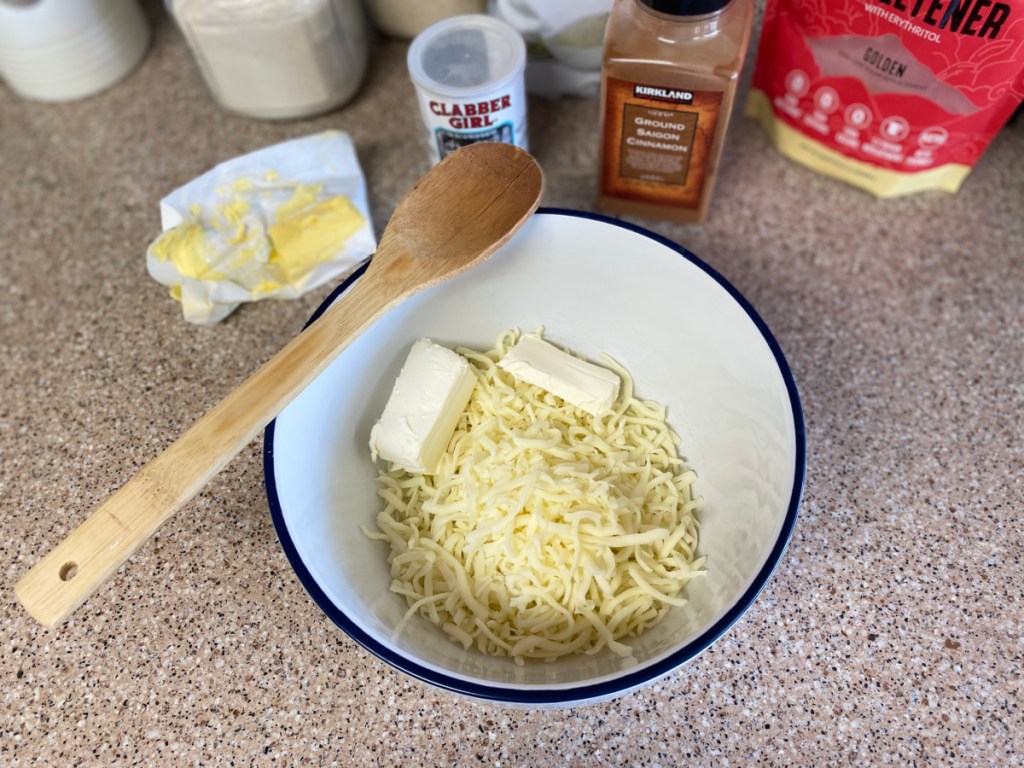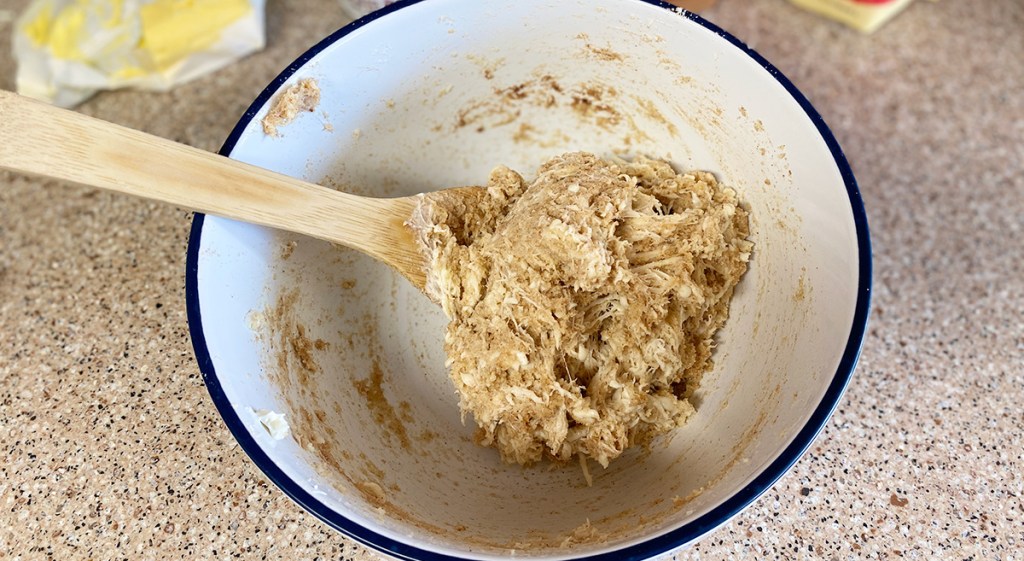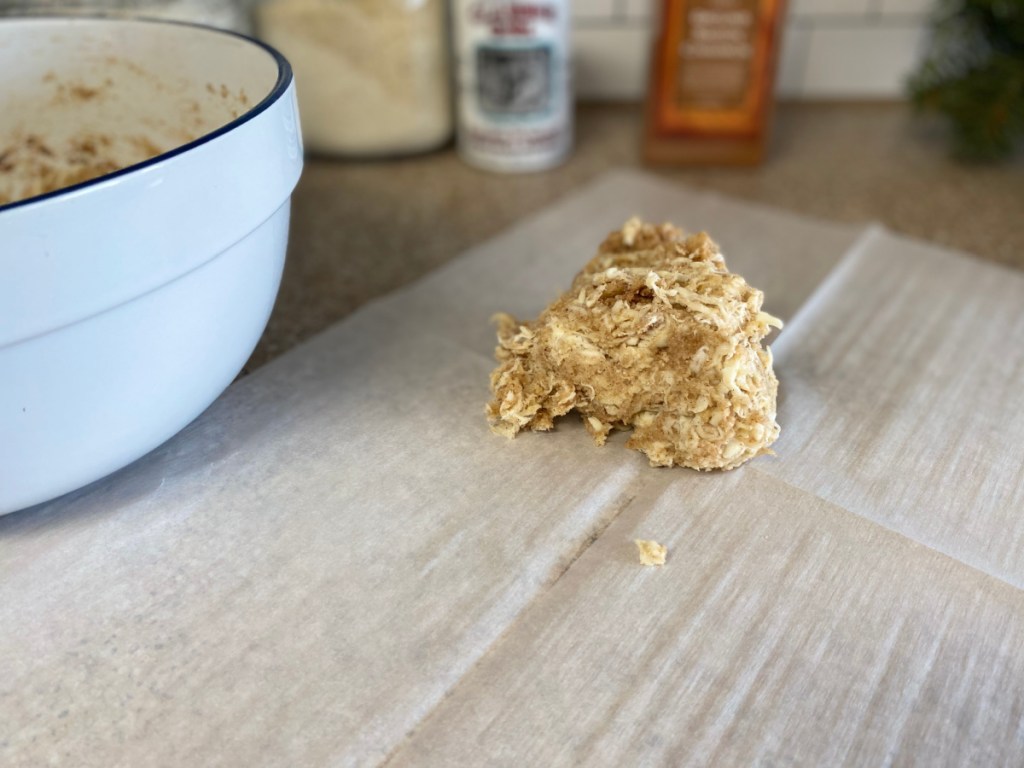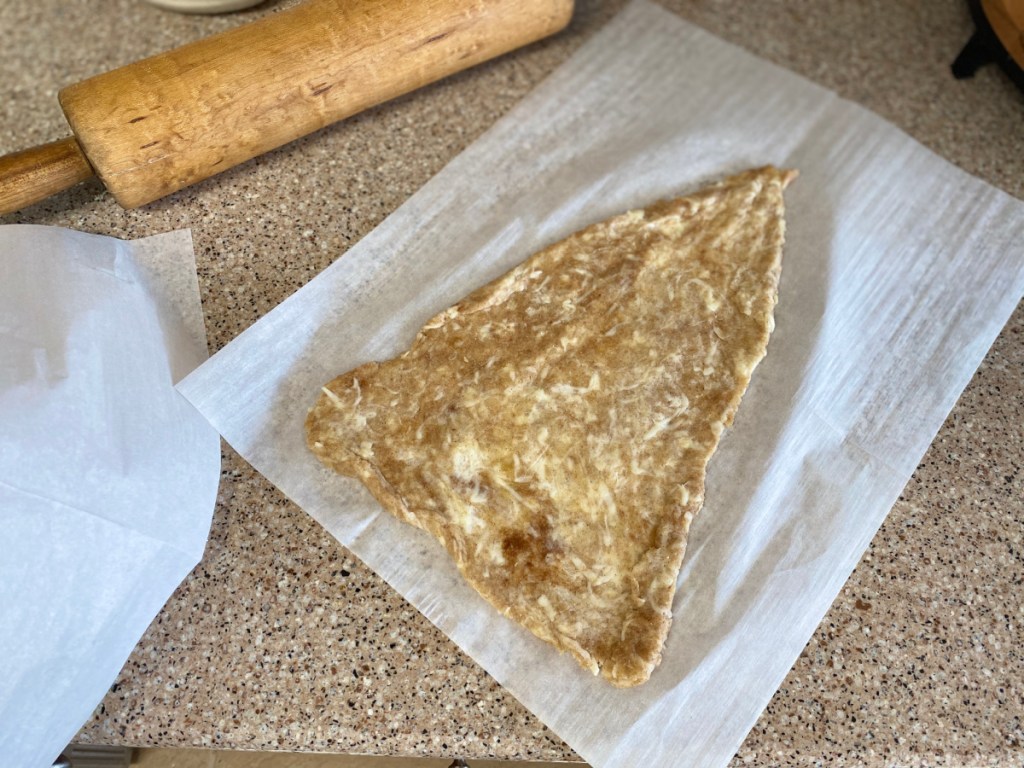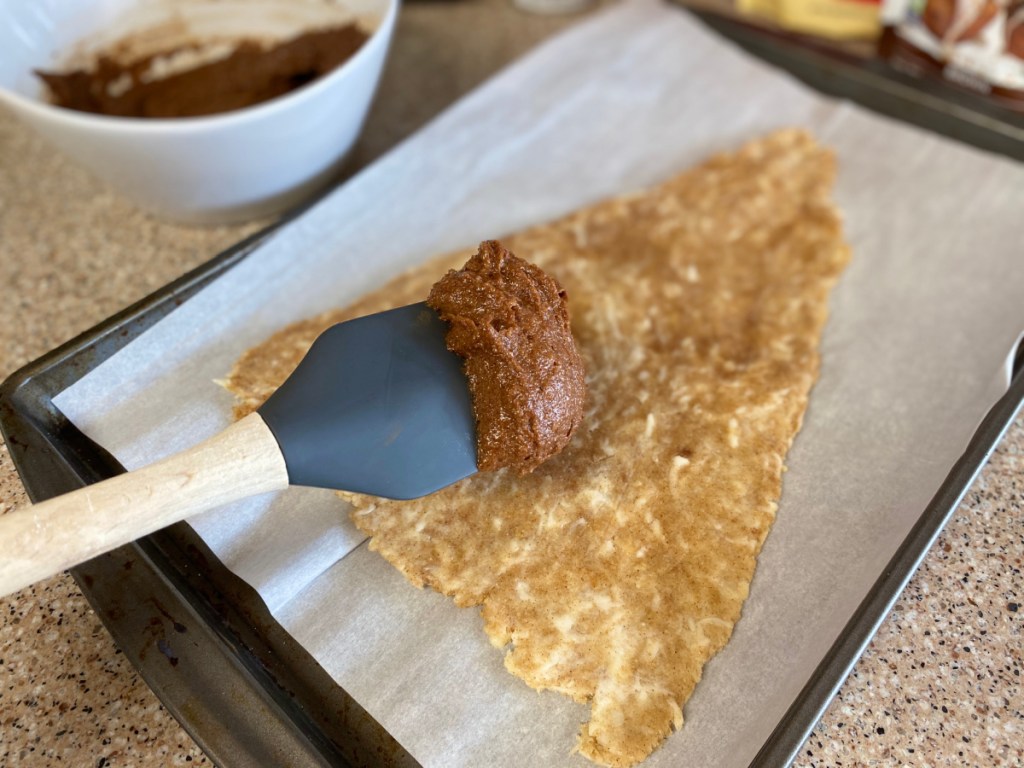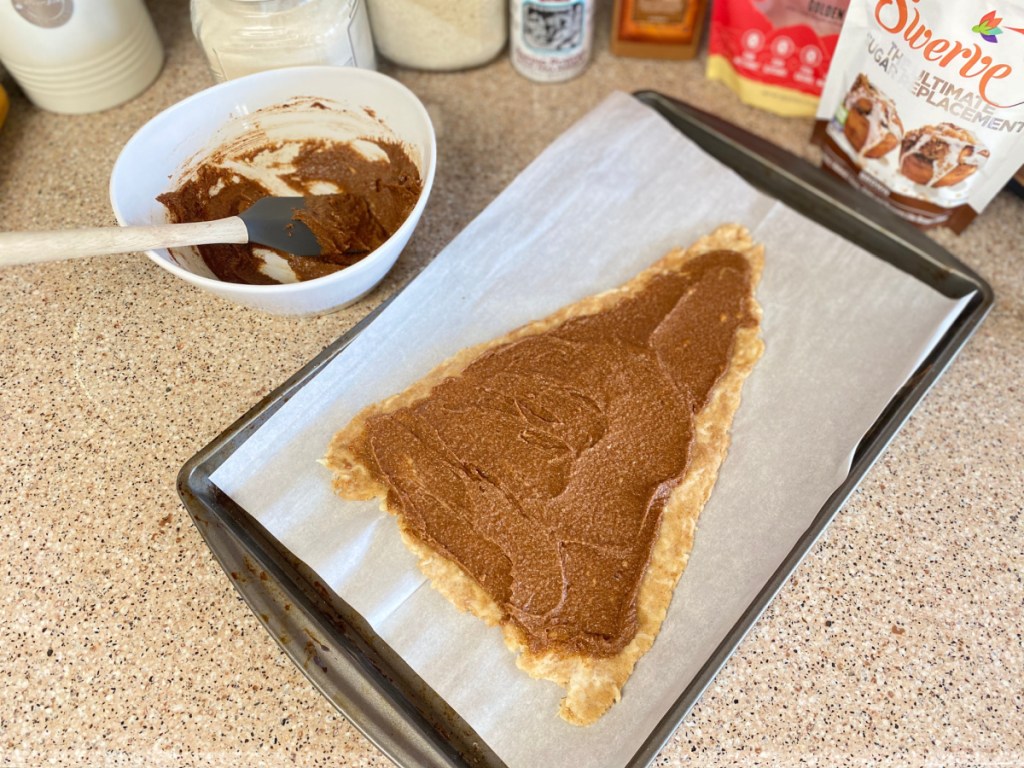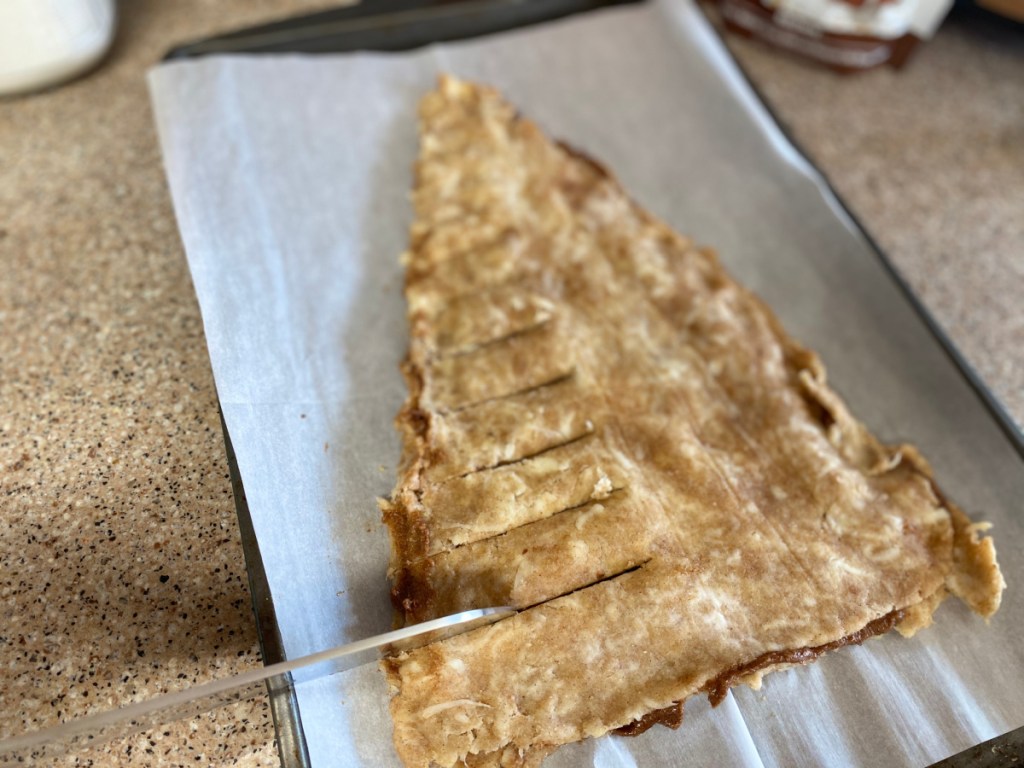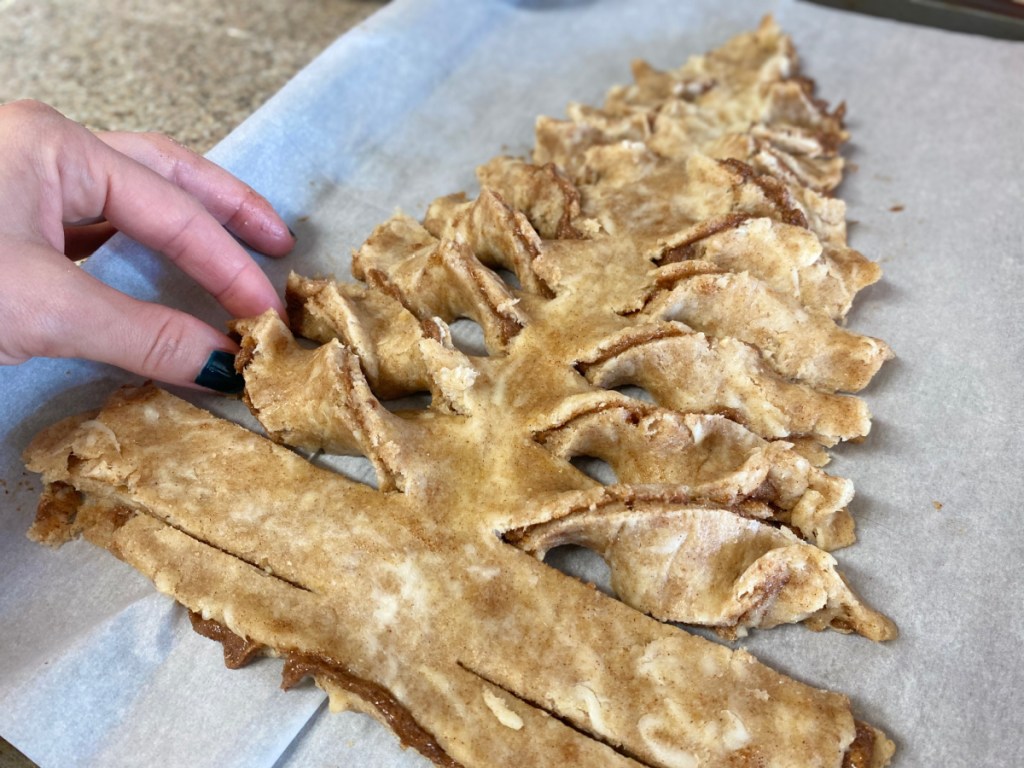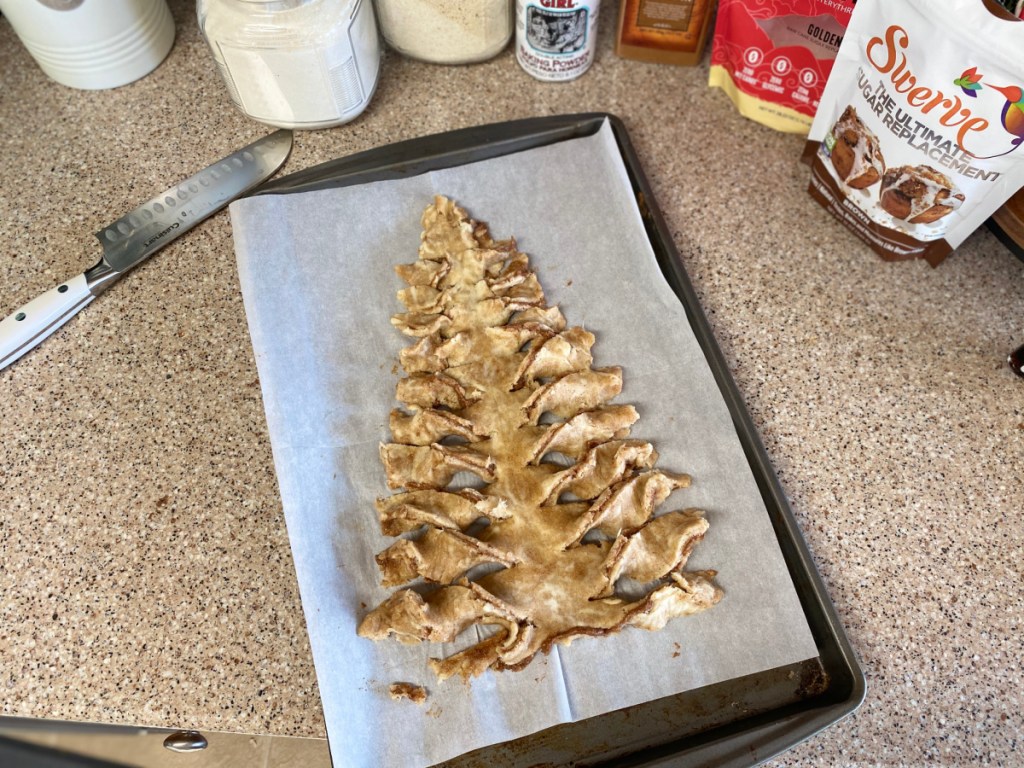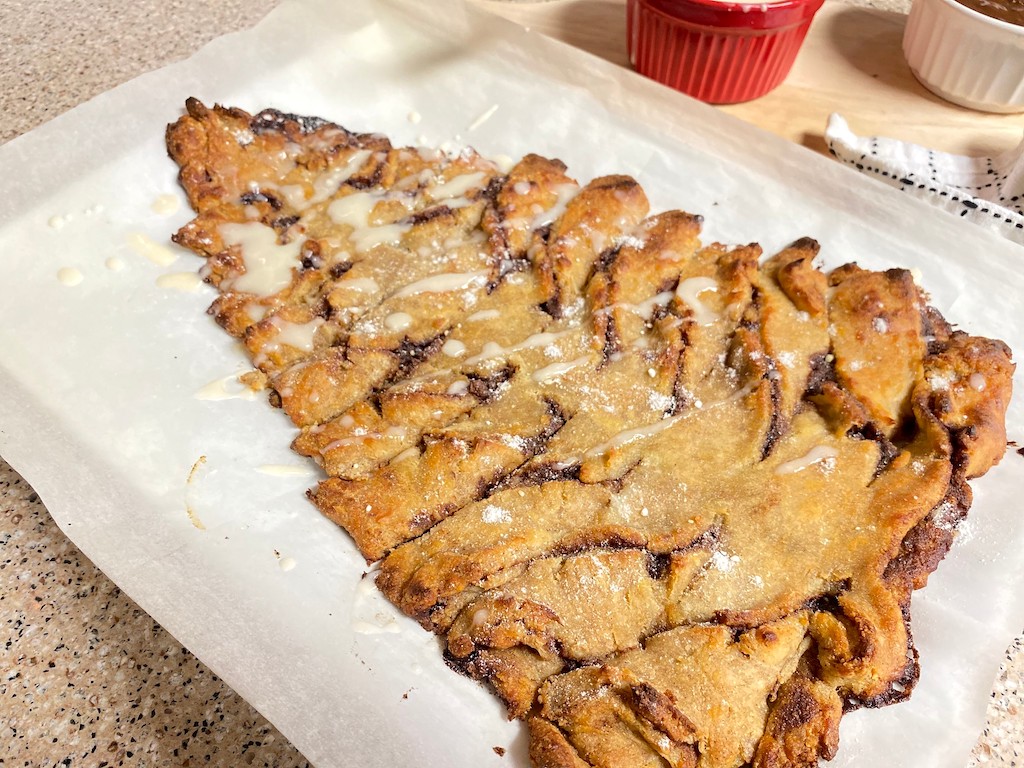 ---
Print
Keto Cinnamon Sugar Christmas Tree Bread
yield: 12 SERVINGS
prep time: 20 MINUTES
cook time: 20 MINUTES
total time: 40 MINUTES
A festive Christmas tree-shaped bread made from our easy keto dough and a sweet cinnamon sugar filling.
Ingredients
Easy Keto Dough:
2 cups mozzarella cheese, shredded
2 oz. cream cheese
1 egg
1 teaspoon baking powder
1 teaspoon cinnamon
Cinnamon Sugar Filling:
6 tablespoons butter, softened but not melted
1 tablespoon cinnamon
2 teaspoons vanilla extract
Keto Icing (optional):
1/2 cup keto confectioners sugar, such as Swerve
2-3 tablespoons of almond milk
1/2 teaspoon of vanilla extract
Directions
1
To make the dough:
Combine the mozzarella cheese and cream cheese in a microwave-safe bowl. Melt in the microwave for 30 seconds. Stir and then cook for an additional 30 seconds or until the cheese has melted completely.
2
In a small bowl, add together almond flour, coconut flour, psyllium husk, baking powder, cinnamon, and sugar, then stir to combine.
3
Add in egg and dry ingredients to the melted cheese and stir. Add bowl back to the microwave for 30 seconds (this helps mix the dry ingredients). Once everything is mixed well and blended, you can make the dough into a ball shape.
4
Divide dough into two equal pieces. Place one dough ball between two pieces of parchment paper and roll it out 1/4" thick into the shape of a long triangle, similar to a Christmas tree. Repeat the same identical triangle shape with other dough. Place one triangle on a parchment-lined baking sheet.
5
Preheat the oven to 375 degrees.
6
To make the cinnamon sugar filling:
In a bowl, mix together all the cinnamon sugar filling ingredients. With a spoon or spatula, spread filling over the dough that is on the parchment-lined baking sheet.
7
Add the other triangle dough on top of the filling. Pinch sides to make sure everything is lined up evenly.
8
With a knife or pizza cutter, cut 1" strips "branches" into the center of the triangle leaving about 1" in the center "tree trunk" until you have reached the bottom. Repeat on the other side as well.
9
Slowly grab a strip or branch and gently twist one at a time. The dough might be firm, so just be gentle twisting and pinching. If the dough is too firm to twist, pop the tray in the oven for 30-60 seconds to slightly warm it up. Twist all branches until you have reached the bottom.
10
Place in oven and bake until nice and golden brown, about 20 minutes. If the twisted breadstick "branches" start to turn too brown before the center does, place foil over the edges of your baking sheet to prevent burning.
11
Remove from the oven and let sit for about 5 minutes to slightly cool.
12
To make keto icing (optional):
In a small bowl, whisk together keto confectioner's sugar, almond milk (start with 2 tablespoons and add more if you would like a thinner glaze), and vanilla extract. Drizzle over top and serve. Enjoy!
Nutrition Information
Yield: 12, Serving Size: 2
Amount Per Serving: 193 Calories | 14.3g Fat | 10g Total Carbs | 2g Fiber | 5.6g Sugar | 0.3g Sugar Alcohol | 6.2g Protein | 8.3g Net Carbs
---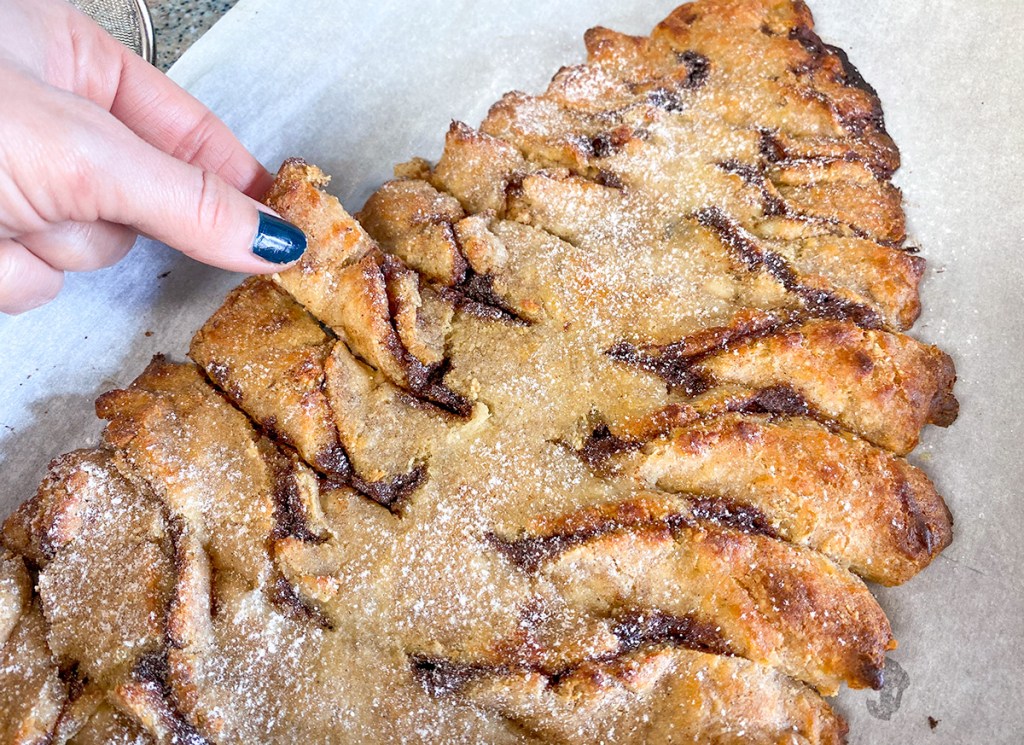 It's a keto Christmas!
I don't know about you, but it really seems so much easier this year to stay on track with keto during the holidays. We've keto-fied so many of my traditional holiday favorites like pecan pie, gingerbread lattes, butternut squash soup, and even eggnog so that I don't feel deprived and can avoid cheating.
This pull-apart keto sweet bread Christmas tree fits right in with any holiday meal, guaranteed to make even Kris Kringle consider the keto life. Enjoy!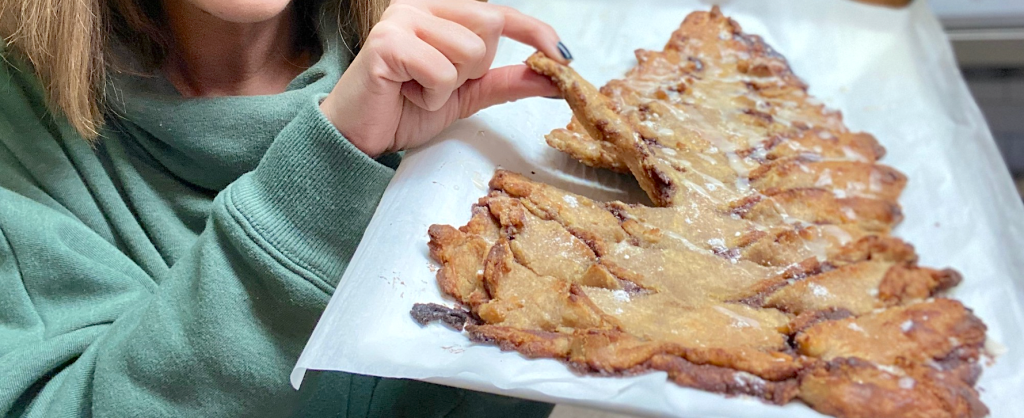 My team member, Jenna, gave this keto sweet bread recipe a test for me, and here's what she had to say:
"I loved the cheesy savory version of this, but the sweet version is my new favorite dessert. The dough is super easy to work with and twisting the branches was so simple with no cracks, tears, or breaking. And the filling…OMG, it is so flavorful. I can't wait to make this again for my family on Christmas morning!"
---
Looking for low-carb holiday candy? Try these simple keto peppermint patties!